Last Updated on January 11, 2023 by DMEditor
Ever tried to create a WordPress website? Is that a yes? Ok, I presume you have.
If you haven't, I bet you can if you gave it a try. It doesn't take much, to be honest. You'll only need a couple of minutes with a responsive site builder ow WordPress developer, then voila! You get to launch a considerably decent WordPress-based online store.
Well, that might feel like an accomplishment worth a toast or two. But, let's face it. Creating a WordPress ecommerce site is the easiest part- you don't even need coding skills.
The subsequent process of running and maintaining the site, however, is where the bulk of the work lies. And sadly, much of it is not a walk in the park.
To put it into perspective- how many merchants, for instance, do you think would be able to set up Nginx files or use SSH to patch their own servers with operating system upgrades?
And that's how managed WordPress hosting companies came to be.
Currently, there are numerous possible options you might consider for your site. But, there are these two managed WordPress hosting service options that are consistently creating buzz. Word on street is that they're seemingly superior compared to their counterparts.
Main Differences Between Kinsta vs WP Engine
The main differences between Kinsta and WP Engine are:
Kinsta has server level caching in-house, whereas WP Engine features individual site caching
Kinsta has more 10+ different pricing plans, whereas WP Engine is less flexible with just 3 pricing plans
Kinsta is generally more affordable compared to WP Engine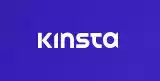 Best WordPress Hosting
It's not necessarily cheaper than SiteGround, but it DOES offer quite a bit MORE VALUE. Google Cloud platform and auto-scaled resources combined with an easy to handle interface and EPIC customer support. The BMW of managed WP hosting!
View Kinsta Plans
We earn a commission if you click this link and make a purchase at no additional cost to you.
So, let's see them go-head-to-head in an ultimate face-off contest of primary features and pricing. Where are you placing your bet- Kinsta or WP Engine?
Kinsta vs WPEngine Web Hosting Company Overview
Kinsta
Founded in 2013 by a WordPress programmer and developer called Mark Gavalda, Kinsta is a renowned managed hosting solution that exclusively deals with WordPress sites. Its headquarters are based in Los Angeles, from where continues to offer its services worldwide- with supplementary offices in Budapest and London.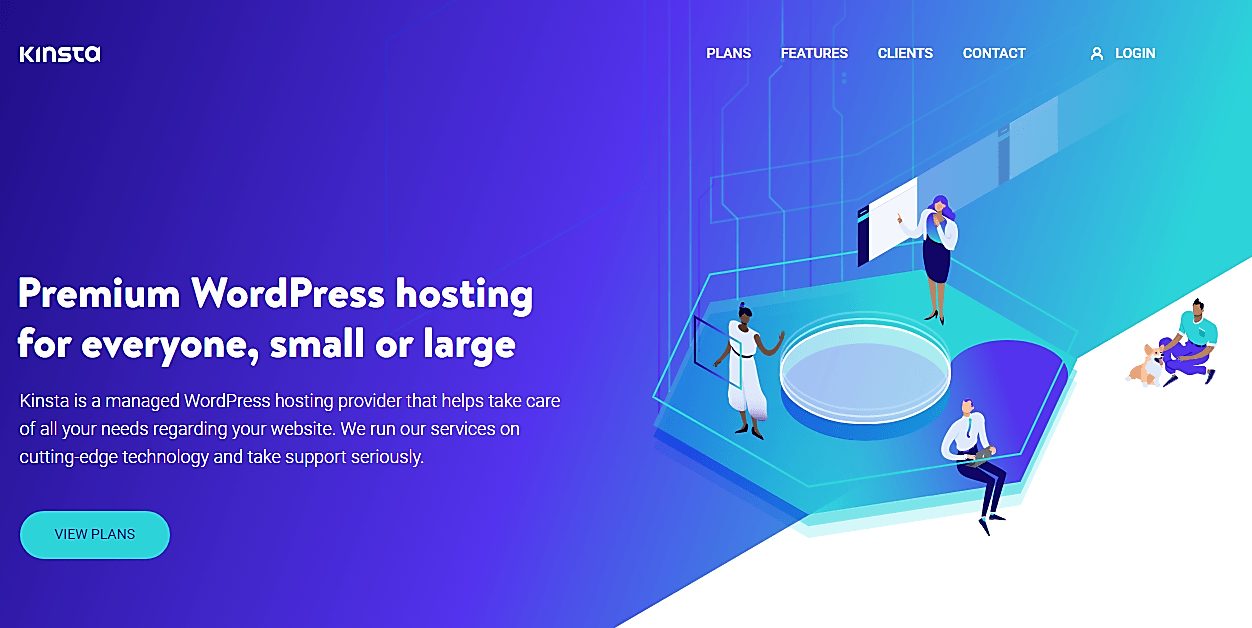 For almost six years now, Kinsta has grown tremendously in the managed WordPress hosting space as a service that focuses on stability, security, and speed. It's also one of the premier WordPress hosting solutions to leverage Google Cloud, which is one of the most expansive networks on the globe.
The consequent link has facilitated Kinsta with, among other features, automatic scaling and LXD containers. As a result, the hosted WordPress sites are isolated individually and can even be scaled without sharing resources. And that's in addition to the benefit of capitalizing on Google Cloud's numerous data centers.
Some of its principal features include staging environments, site migrations, and daily backups. We'll review the rest shortly.
WP Engine
Since it was launched in 2010, WP Engine has been around longer than Kinsta. But, make no mistake. That doesn't necessarily mean that it's superior as a managed WordPress service. So, hold on for now, because we'll be looking into that in a bit.
That said, WP Engine is also a managed hosting service that provides migration, maintenance, and optimization of WordPress sites. Its headquarters are based in Austin, Texas, from where it continues to serve users globally.
As a matter of fact, it boasts of over 70,000 customers across more than 130 countries– some of whom are governments, Fortune 500 companies, and international corporations.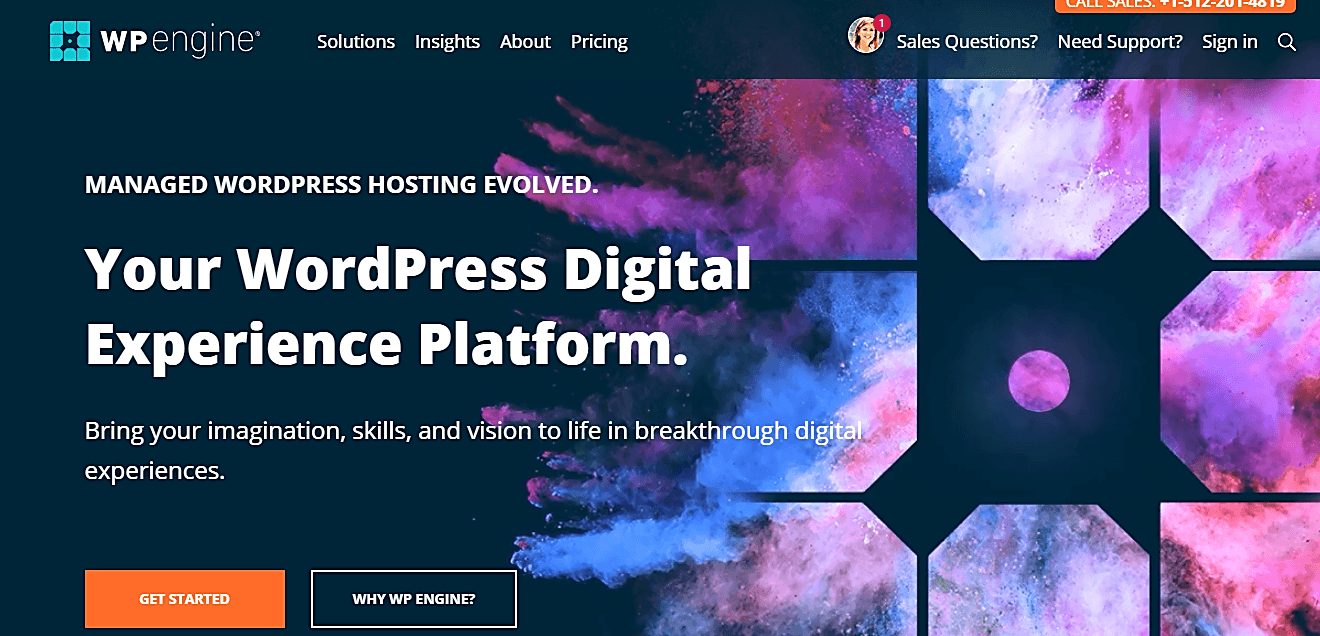 Above everything else, WP Engine prides itself as a solution that systematically combines service and software innovation. This subsequently facilitates brands with tools they require to establish remarkable WordPress apps and sites to boost their businesses.
Among its primary features are automatic caching, one-click restore points, daily backups, automatic security updates, plus much more.
Verdict
Kinsta and WP Engine have focused on pretty much the same service space. They are both managed hosting solutions that handle only WordPress sites.
Although WP Engine is older by three years, Kinsta has been catching up steadily over the past six years. The two are now fierce competitors who target the same market demographics with powerful managed WordPress hosting and site optimization features.
Fair enough. But, you know what they say- there can only be one king. So, stick with me as we compare their features and pricing to determine what's best for you.
WordPress Hosting Providers Features Compared
Migration
Kinsta
Moving your website to Kinsta managed WordPress hosting is fairly simple. In fact, you don't have to worry about hiring a developer to handle it. Kinsta has a team of dedicated experts who'll take care of the whole migration process for you.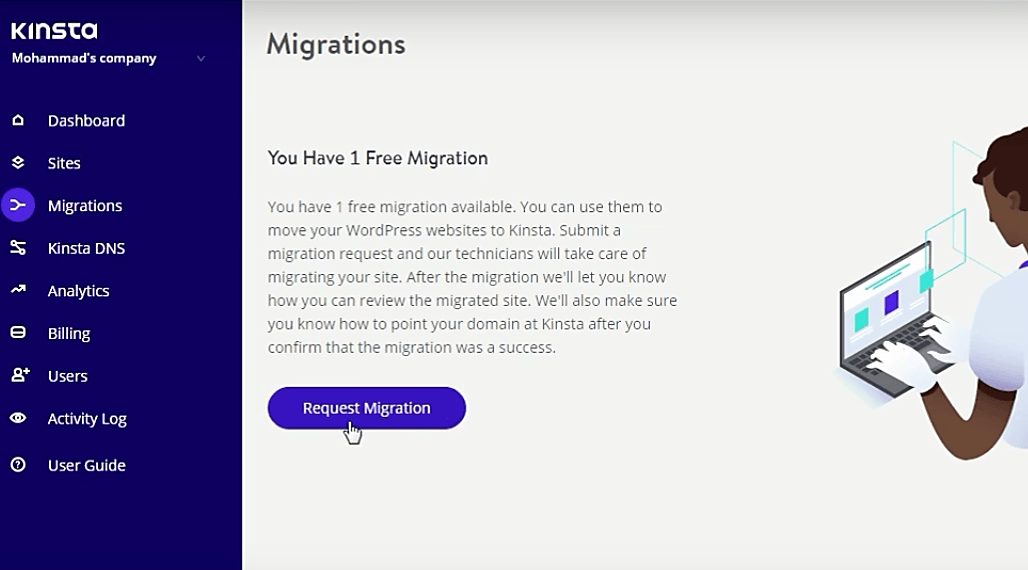 And no. In case you're concerned, the site won't go offline at any point. They'll systematically move its resources to their servers while keeping your site online. This is then followed by an inspection process before concluding the transition.
Sadly, this process doesn't come free for all types of users. You have to subscribe to Kinsta's Pro Plan or higher to get the service as part of the package.
However, even when you do, it turns out that the number sites is limited. On Pro and Business 1 plans, for example, you won't be able to migrate more than one site for free. The allowance then increases incrementally to five sites for Enterprise plan users.
On the bright side though, at least the restrictions are flexible. You can migrate more sites, but you'll be forced to pay for them. And if you happen to end up on the base Starter package, you can score a free migration by paying for one year's worth of subscription.
Now, here's the most interesting thing about it all. As a strategy to win over customers from its primary competitors, Kinsta offers free unlimited migrations from specific hosts. And you know what? WP Engine is one of the targeted platforms.
WP Engine Hosting Company
Well, unlike Kinsta, migrating your site to WP Engine is completely free for all user levels.
But, get this. There's a significant caveat that might lock you out of free migration.
You see, the problem here is that WP Engine's developers will not handle the process for you. You have to do everything yourself.
WP Engine basically provides an automated migration plugin to download after creating a new site environment. When you're done, generate a set of SFTP credentials, enter them into the plugin, and click "Migrate". The system will subsequently direct you to the Blogvault dashboard to keep tabs on the migration process.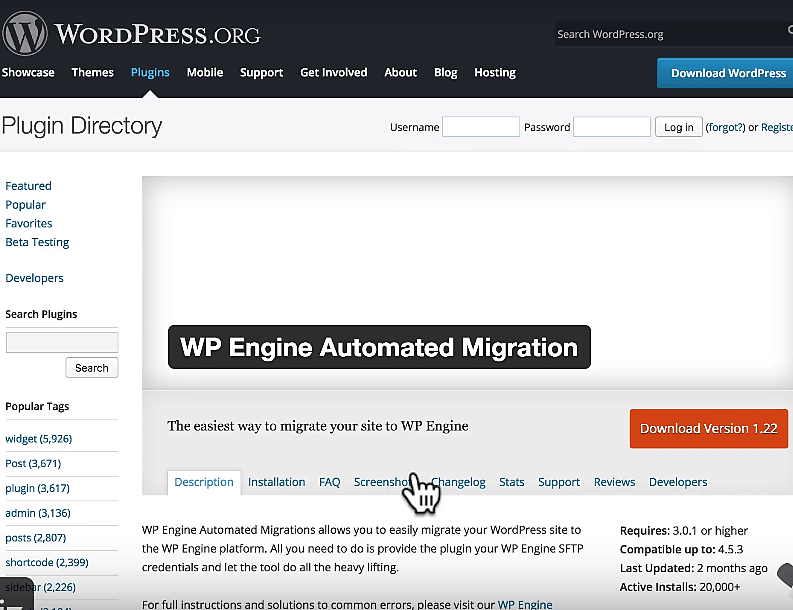 Ultimately, after your content has been transferred, you might have to run the plugin again to introduce any additional live site tweaks that may have been missed. The next steps entail adding the domain to the user portal, updating your DNS records, then introducing the Let's Encrypt SSL, before finally going live.
Now, let's be honest. This is not quite the simplest procedure. There are many possible errors that might develop along the way, especially when you're dealing with a complex site. So, it's always advisable to hire a reputable developer to handle it for you. If they face a challenge, they can always rely on WP Engine's manual migration checklist.
Well, come to think of it, that alone translates to additional costs for you. In all fairness, therefore, while the automatic plugin might be free, the process of migration will eventually force you to dig into your pocket.
Verdict
The winner here is pretty obvious, I presume. It's commendable that WP Engine provides an automatic migration plugin for free to move your site to its platform. However, and rather unfortunately, WP Engine does not provide a team of WordPress experts to handle the operation for you. The best additional facilitation you can get is a manual migration checklist, plus customer support. Ironically, this cancels out the benefit of being free since you'll be forced to hire a developer to migrate your site.
Compare that with what's available on Kinsta. Your entire site migration process, for starters, is handled by a team of expert developers. Pro plan users are entitled to one free site migration, then the numbers increase systematically to five for Enterprise level subscribers. And to top it off, Kinsta offers free migrations for an unlimited number of sites hosted on specific platforms, including WP Engine.
Developer Tools
Kinsta
Kinsta not only supports regular users but also facilitates developers with a wide range of tools for managing and customizing sites.
First off, you get WP-CLI, Git and SSH access regardless of your specific user package. Everyone is covered from Starter to Enterprise subscribers.
If you happen to experience any performance problems, you can get in touch with Kinsta's support team to enhance troubleshooting. They'll, in turn, temporarily allow you to feed MyKinsta dashboard with your unique New Relic Application Performance Monitoring (APM) API key.
And speaking of which, it's also possible to capitalize on add-ons like Redis to boost database performance. Another notable add-on you might consider is Elasticsearch, which is developed to accelerate the search function.
When it comes to managed WordPress staging, Kinsta supports a multi-program structure by allowing varying PHP versions for each staging site and live sites. Then the subsequent procedure of shifting between them is very simple since it only takes a single click.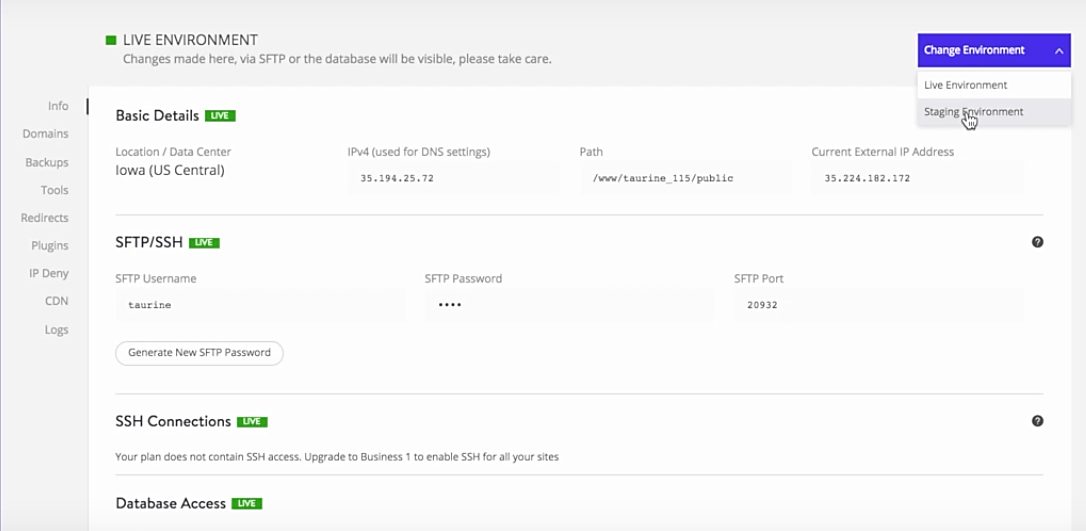 And that's not all. The one-click function has been replicated all around the staging environment to make it easy for users to drive site adjustments to production. But, in case you mess things up, you can take advantage of automatic site backups by restoring them to either staging or production site versions. Both are supported.
Unfortunately, the staging environment can only accommodate one site copy. Consequently, you might feel a bit limited when you want to test out multiple staging instances at a go. On the flip side, however, I'll admit that a single instance helps keep things simple and well-streamlined.
But then again, I feel like Kinsta might have taken the concept of simplicity a bit too far. The whole staging environment, to be honest, is pretty basic. It forces you to push everything from migration to production without the option of selecting specific elements. You cannot even move just the database or a couple of files.
Well, of course, this makes it challenging to implement minor site adjustments. You have to work on the entire site version in the staging environment regardless of the type of changes you need.
WP Engine WordPress Host
While WP Engine shares some of the developer features with Kinsta, there are several notable differences between the two services.
Just like Kinsta, to begin with, WP Engine provides developers with New Relic's Application Performance Monitoring and SSH Gateway. You also get git push to facilitate lifting of code to WP Engine from your local development instance.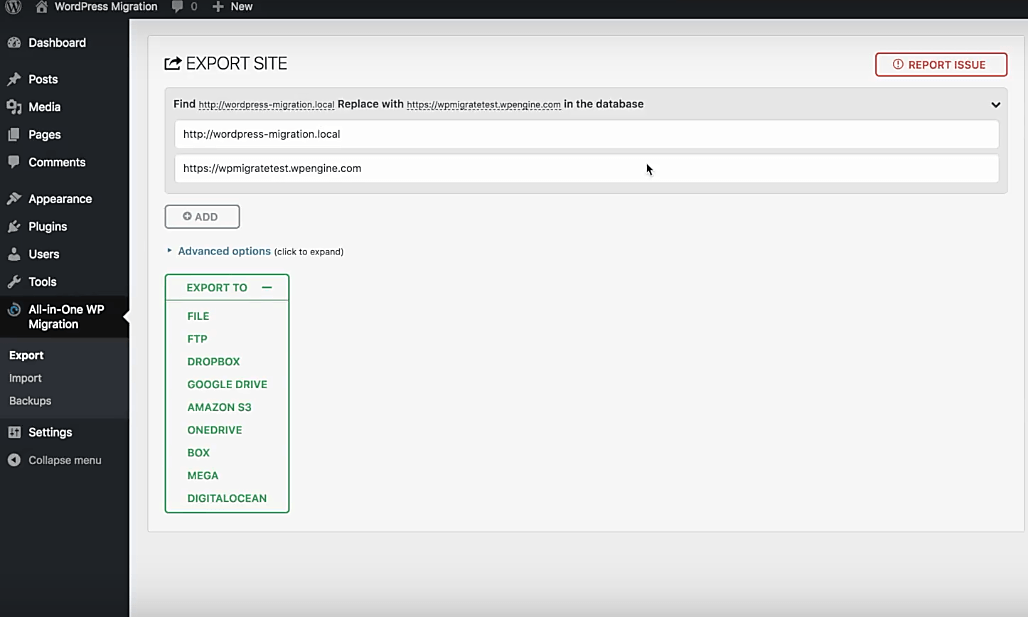 As a matter of fact, git and SFTP links support a variety of CD/CI tools like Bitbucket Pipelines, Deploybot, Codeshit, and many others. When you trigger a build, therefore, the system will transfer the code to WP Engine automatically.
Now, the problem with the Application Performance Monitoring is that it's not accessible by all types of users. It only comes as an add-on for the custom Enterprise package.
But, I guess WP Engine makes up for that by providing two varying staging environments- legacy and their new version. You can create several instances of development, staging and site production.
Then guess what? The entire process is not as restrictive as Kinsta's. You can choose to make minor site adjustments by migrating just the database or files from staging to production.
Sadly, it's not all good news. The legacy staging environment is, admittedly, cumbersome and confusing for many developers. You'll notice that it has several wp-config.php problems and it's incapable of copying across your complete uploads folder.
That said, you can leverage WP Engine's Page Performance Testing functionality to analyze your website's responsiveness. Consequently, you'll be able to determine specific elements that need to be worked on to enhance your pages' loading speeds (load time).
If you're working on multiple client websites, you'll be pleased that WP Engine development projects accommodate unlimited transferable sites. You can set up numerous client sites for free, before moving them to your clients' respective accounts when they are good enough to go live.
Verdict
All things considered, we can agree that Kinsta's developer features are built to offer simplicity and streamline the whole development process. WP Engine, on the other hand, provides dynamism with extended functionalities for an enhanced holistic development process.
Although Kinsta's staging environment is extremely basic and incapable of minor tweaks, it supports varying PHP versions for each site. The process of moving to production is also as simple as one click. Contrastingly, WP Engine allows minor tweaks and a multi-faceted development process utilizing two environments. But sadly, the wide array of tools complicates the whole thing.
Therefore, we can conclude that while Kinsta is simple to developers, WP Engine is dynamic. So, there's no direct winner here. The choice is yours at the end of the day.
Cloud Hosting Performance
Kinsta WordPress Hosting Plans
By now, you're aware that Kinsta works hand in hand with the Google Cloud Platform premium tier network to enhance website performance.
How do you ask?
For starters, Google Cloud avails multiple servers. It essentially runs 18 data centers spread across the globe in five different continents. The precise locations are for their cloud servers:
Los Angeles, California, USA
Hamina, Finland
Eemshaven, Netherlands
Tokyo, Japan
Jurong West, Singapore
Frankfurt, Germany
São Paulo, Brazil
Moncks Corner, South Carolina, USA
Ashburn, Virginia, USA
The Dalles, Oregon, USA
Mumbai, India
Changhua County, Taiwan
St. Ghislain, Belgium
Sydney, Australia
London, UK
Council Bluffs, Iowa, USA
And what does this mean for you?
Well, simply said, you have the option of saving your site on one of the 18 server locations. In other words, you get to enhance your page loading times by choosing a server that's geographically positioned closest to your core traffic source.
Thankfully, Kinsta hosting service avails the whole set of data centers to pretty much all the subscription levels- from the cheapest Starter package to the most advanced Enterprise-level users.
Another notable thing about leveraging the Google Cloud platform is the use of LXD managed hosts and orchestrated LXC software containers for all websites. So, forget about traditional dedicated, VPS or shared hosting infrastructure.
Kinsta basically capitalizes on that to isolate your site and house it in its own special container. As a result, your site ends up utilizing its own set of resources without sharing them with other hosted websites.
And in the event of unexpected load and traffic surges, Kinsta's virtual machines kick in to automatically scale your container's hardware resources on an as-needed basis. Your site then proceeds smoothly without any interruptions.
Interestingly, Google Cloud is not the only power source here. Kinsta has also linked up with KeyCDN (vs Cloudflare CDN), which is far cheaper, and arguably less complicated than Google Cloud CDN. According to Kinsta, the latter is not only in its infancy stages but also seemingly misaligned to the managed host's principal mission.
But, don't get me wrong. Google Cloud Platform and Google Cloud CDN are two completely different systems. Kinsta is only utilizing GCP.
While the Cloud platform provides the primary server for your website, KeyCDN supplements that with an IPv6-enabled Content Delivery Network spanning across 34 locations worldwide.
Enabling the CDN, therefore, will turbocharge your site loading process to ensure that content is always delivered from the closest server.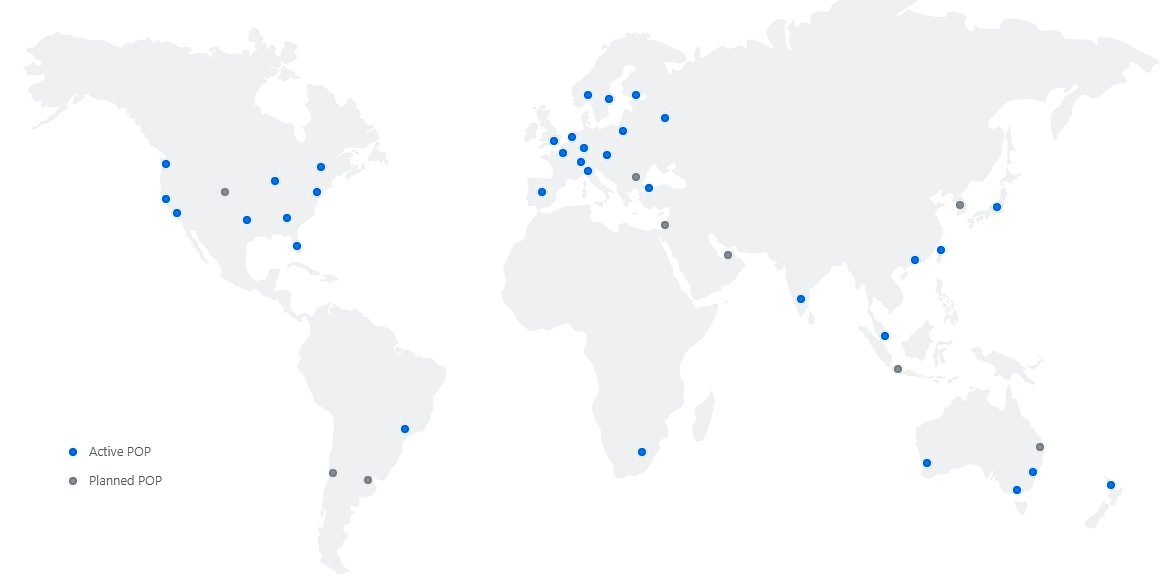 Sounds like a solid framework, you've got to admit. But, what are the corresponding numbers?
With just the Google Cloud platform, the average Time to First Terabyte (TTFB) measured across all regions on Kinsta is 412ms. Enabling the CDN, on the other hand, reduces the TTFB by about 75%.
That said, a quick test on WebPageTest revealed a TTFB of 284ms from Dulles, Virginia.

WP Engine
One particularly outstanding feature here is something they like to call "EverCache". It's a technology that handles website traffic flow by scaling server resources accordingly to manage surges without compromising loading speeds.
WP Engine has also developed a custom NGINX extension to facilitate traffic multiplexing. Consequently, you're guaranteed that servers will prioritize requests from human visitors over automated requests from bot traffic.
Then when it comes to server locations, it turns out that WP Engine has also partnered with Google Cloud Platform. But, that's not all. It also goes ahead to integrate with Amazon Web Services to boost overall site performance and minimize latency.
As a result, you get to choose between 18 different data centers- Google avails 10 while AWS adds 8.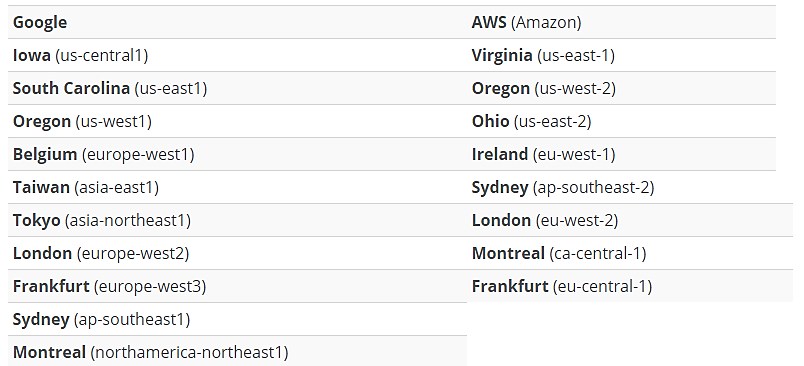 And to top it off, WP Engine has partnered with MaxCDN to further minimize the geographical distance between your traffic sources and server location. The resultant content delivery network substantially accelerates your site loading speeds by systematically coordinating content from 31 different server locations.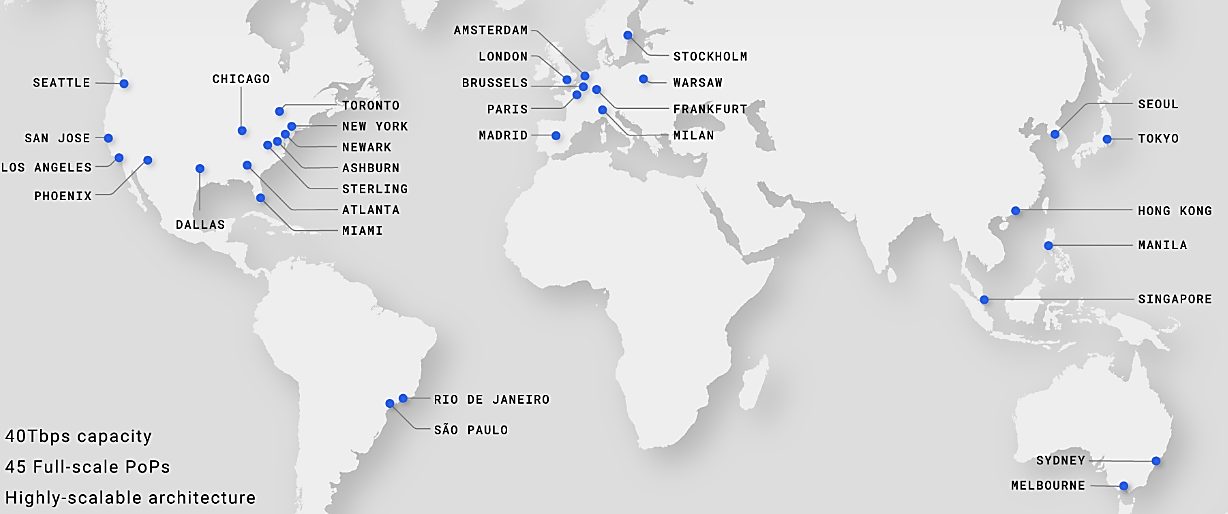 Now, to confirm the numbers, we ran a quick test on WebPageTest. And the subsequent TTFB was 247ms from Dulles, Virginia.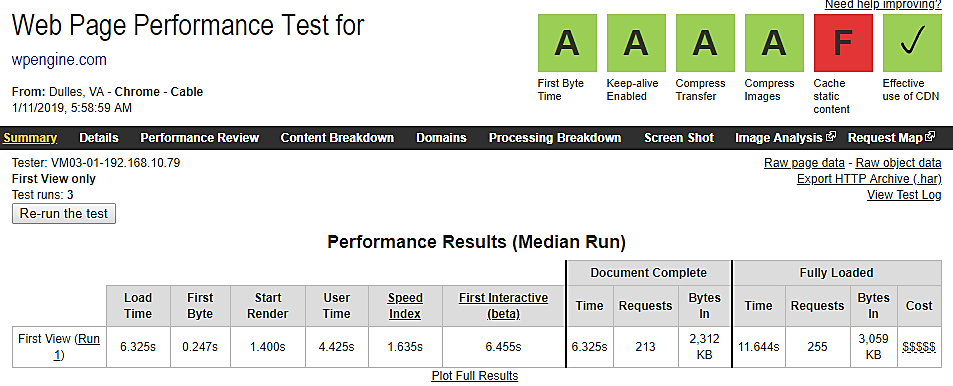 Verdict
Kinsta capitalizes on orchestrated LXC software containers and LXD managed hosts to manage your site's resources accordingly. WP Engine, on the other hand, has developed EverCache to handle this effectively.
Then when it comes to server locations, Kinsta has partnered with Google Cloud Platform to grant you 18 different data centers to host your site. However, interestingly, WP Engine is also leveraging the Cloud Platform along with Amazon Web Services to offer 18 data center options for your site.
If you need better loading speeds, Kinsta further provides access to KeyCDN's content delivery network, which is made up of 34 different server locations. And WP Engine prefers to work with MaxCDN to offer a content delivery network of 31 servers to supplement your site.
Quick assessments of these two ultimately generated TTFB numbers that were very close. Therefore, it's fairly obvious that while Kinsta and WP Engine have implemented effectual technologies to boost your site's performance, the end result is almost similar when you compare the two.
Website Hosting Security
Kinsta
Kinsta's security features stretch from typical user protection mechanisms to complex server-based systems for monitoring, detecting, and preventing attacks.
If attackers attempt to gain access from your end, for example, you can rely on two-factor authentication to prevent unauthorized entry. And if they happen to persist, Kinsta's system will block their IP addresses automatically once they exceed six unsuccessful login attempts in 60 seconds.
But then again, they might consider circumventing that by simply switching their PCs. Well, that shouldn't worry you either because you can take advantage of GeoIP blocking to ban all IP address emanating from the hackers' geographical locations.
Kinsta then goes ahead to safeguard your site by scanning for potential malware 24/7. And this is essentially the second line of defense behind firewalls and other advanced tools for preventing infiltration.
Now, even with these strong measures, it would be unwise to leave your data exposed. Therefore, Kinsta encrypts SFTP and SSH connections to protect transferred data. You also get Let's Encrypt certificates for free to facilitate HTTPS.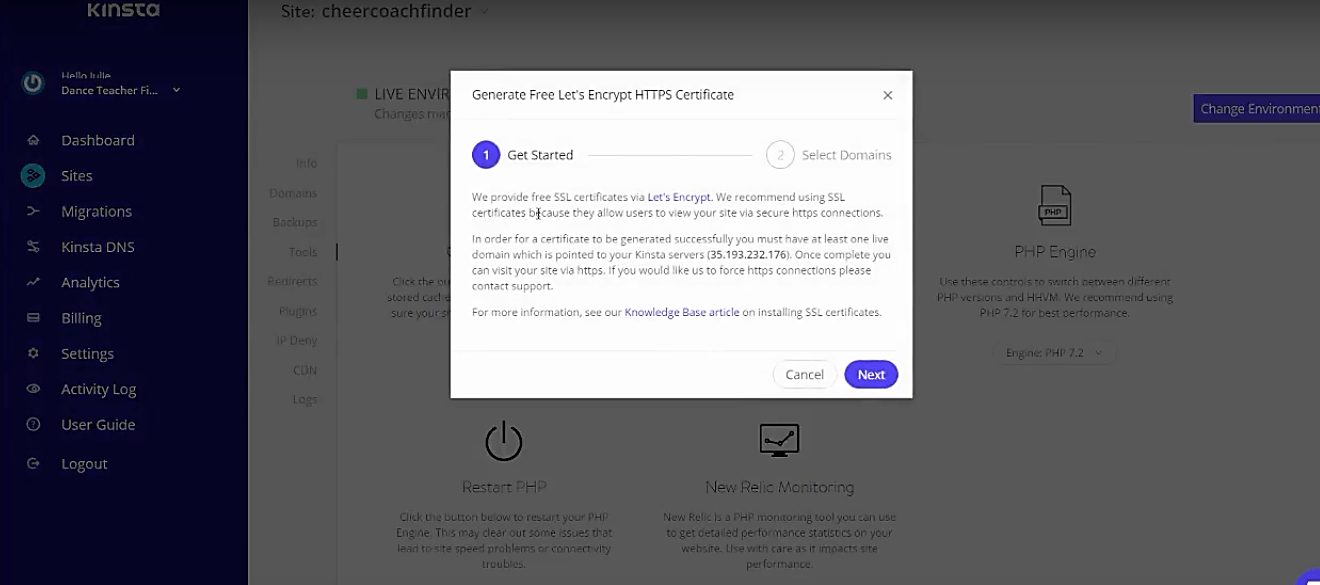 Coming to think of it, however, the sad truth is that nothing is ever completely hack-proof. And so, Kinsta attempts to contain possible setbacks by maintaining data backups that stretch back two weeks.
The platform also guarantees to fix everything to undo any damage on your site in the event of a successful breach.
WP Engine
Above everything, WPEngine is known for blocking numerous WordPress plugins. While this might feel restrictive at first, you'll eventually appreciate its efficacy at sealing security loopholes that develop from selected plugins.
Attackers are particularly fond of searching for potential vulnerabilities from any weak links formed by third-party plugins. So, WP Engine's system scanner tries to stay ahead of them by identifying possible susceptibilities, most of which are usually unintentional, before disabling the affected plugins.
But, in case this fails, you can bet that the attackers will still not be able to fully exploit any vulnerable plugins. The WPEngine security framework applies strict limitations on disk write privileges. Only a handful of legitimate processes are allowed to write to the disk.
Well, these measures might force some attackers to consider an alternative approach. Many of them, for instance, have tried camouflaging malicious code with regular site traffic. But then they end up with dead ends, thanks to WP Engine's traffic monitoring protocol.
Although the platform processes more than 2 billion site hits a day, it manages to keenly assess the whole flow to detect any potentially harmful requests. Consequently, WP Engine is currently blocking about 150 million of them each month, as its developers work continuously to set up new protocols for combating new hacking tactics.
And that's not all. The developers are also rushing to keep up with WordPress security patches. That's how they've been able to respond to each new release with prompt upgrades of WP Engine-hosted sites.
Now, combine all that with firewalls, data encryption, personnel screening, SSL certificates, plus site backups- and you have yourself a security system you can count on.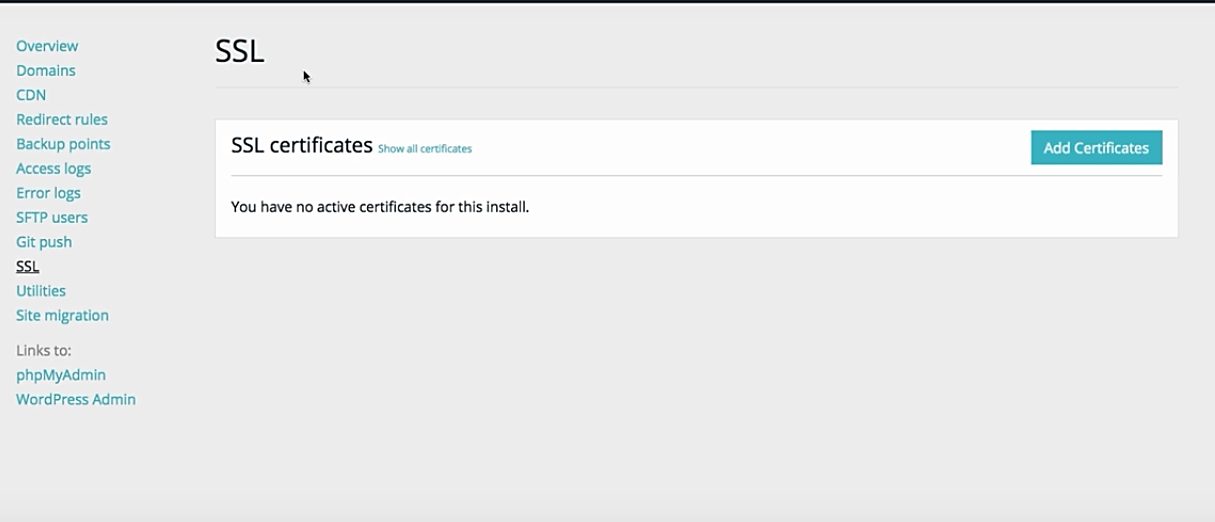 Hosting Services Verdict
In addition to malware scanning, both Kinsta and WPEngine have implemented strong user password requirements, daily backups, spammy login blocking, free SSL certificates, two-factor authentication, plus data encryption in motion and at rest. To top it off, they also promise to rectify any possible issues if your site is actually attacked.
All in all, we can call this a tie. Kinsta and WP Engine are both extremely secure.
Overall WordPress Host Features
Kinsta
Actionable bandwidth and traffic analytics
Free site migrations and WordPress installs
Simple staging options
Daily site backups
Customizable multi-user interface
Developer tools like WP-CLI, SSH, and Git.
Uptime monitoring
SSL Support
Firewalls
Powerful centralized dashboard
24/7 ticket and live chat support (rapid response time)
Google Cloud Platform
Fully managed
99.9% uptime guarantee
Access to KeyCDN
WP Engine
99.95% uptime guarantee
Site development and staging
Multiple SSL certificate options
Daily site backups
Free access to the Genesis Framework and more than 35 themes developed using it
A page performance tool for tracking your site's speed plus other critical metrics
Google Cloud Platform
Amazon Web Services data centers
MaxCDN access
SSL certificates
EverCache
Malware Scan
Firewalls
24/7 technical support
Hosting Solution Pricing Compared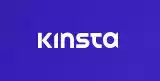 Best WordPress Hosting
It's not necessarily cheaper than SiteGround, but it DOES offer quite a bit MORE VALUE. Google Cloud platform and auto-scaled resources combined with an easy to handle interface and EPIC customer support. The BMW of managed WP hosting!
View Kinsta Plans
We earn a commission if you click this link and make a purchase at no additional cost to you.
Kinsta Hosting Services
Kinsta is available in 8 different varying hosting plans– catering to small, mid-sized and large businesses.
But, here's the kicker- it doesn't offer a free trial. The best you can get here is a 30-day money back guarantee period.
That said, the packages vary in SSD storage space, number of WordPress sites, plus traffic size. They include:
Starter Plan– $30/month or $300/year
Free CDN and SSL
3GB storage space
20,000 traffic hits
1 WordPress site
Pro– $60/month or $600/year
Free CDN and SSL
6GB storage space
40,000 traffic hits
2 WordPress sites
Business 1– $100/month or $1,000/year
Free CDN and SSL
10GB storage space
100,000 traffic hits
3 WordPress sites
Business 2– $200/month or $2,000/year
Free CDN and SSL
20GB storage space
250,000 traffic hits
10 WordPress sites
Business 3– $300/month or $3,000/year
Free CDN and SSL
30GB storage space
400,000 traffic hits
20 WordPress sites
Business 4– $400/month or $4,000/year
Free CDN and SSL
40GB storage space
600,000 traffic hits
40 WordPress sites
Enterprise 1– $600/month or 6,000/year
Free CDN and SSL
80GB storage space
1,000,000 traffic hits
60 WordPress sites
Enterprise 2– $900/month or 9,000/year
Free CDN and SSL
120GB storage space
1,500,000 traffic hits
80 WordPress sites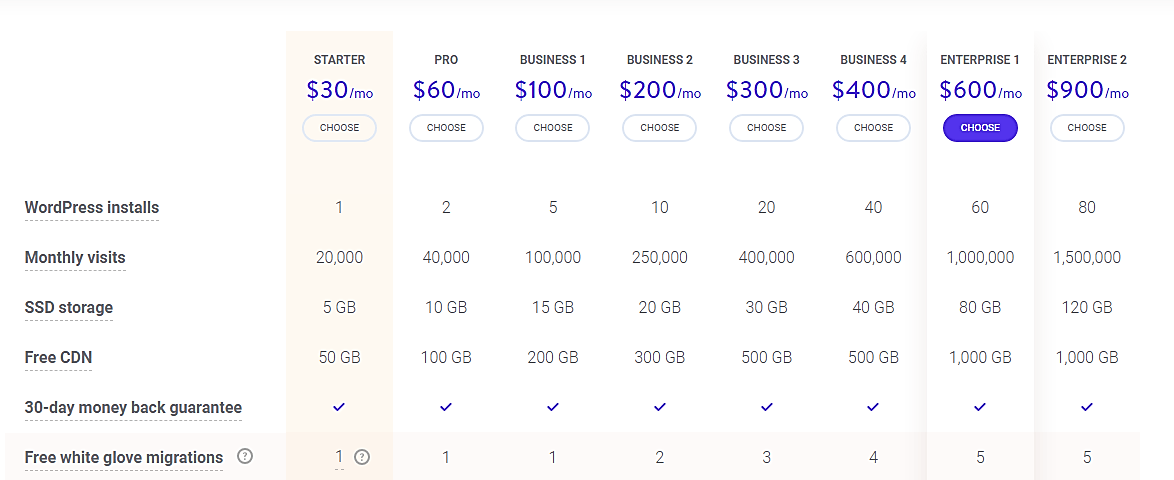 WP Engine Hosting Services
WP Engine is not generous either when it comes to free trials. However, at least it offers a 60-day money back guarantee period.
The pricing structure here is simpler than Kinsta's since it basically outlines only four packages, with the primary variables being the number of sites, storage size, traffic size, and bandwidth.
Upon closer scrutiny, however, you'll notice that the prices are not quite straightforward. WP Engine has only quoted the starting cost of each plan, without the corresponding breakdowns of other allowable sub hosting plans.
That said, here are your options
Startup– Starting at $35/month or $3,500/year
SSL and CDN
50 GB bandwidth
25,000 traffic hits
1 site
Standard features
Growth– Starting at $115/month or $1,150/year
Standard features
SSL and CDN
200 GB bandwidth
100,000 traffic hits
5 WordPress sites
Scale– Starting at $290 /month or $2,290/year
Standard features
SSL and CDN
400 GB bandwidth
400,000 traffic hits
15 WordPress sites
Custom– Negotiable
Quickest support response
Millions of traffic hits
More than 400GB bandwidth
25 WordPress sites
Onboarding managed
Best redundancy
Best performance
Dedicated hosting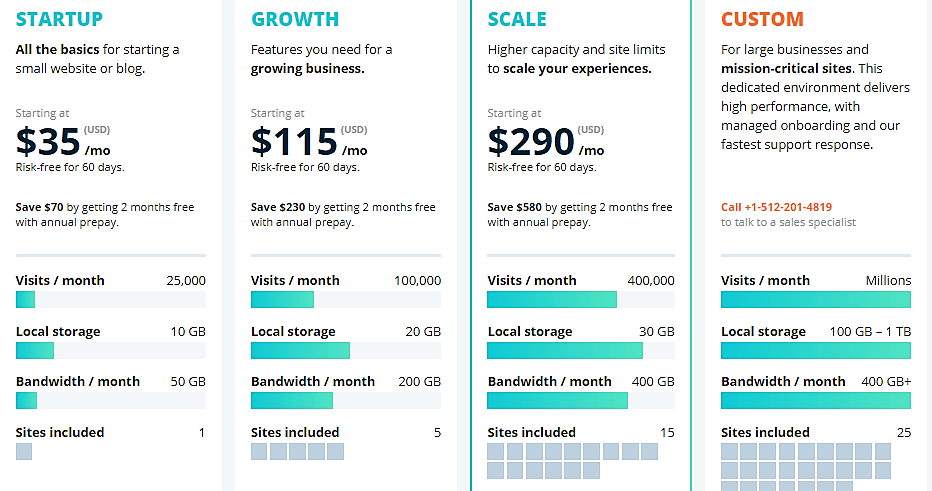 Frequently Asked Questions
Do plugins slow down WordPress?
Any WordPress site has multiple lines of code behind, and every line of code you add, including plugins, will decrease the site speed. With the right WordPress developer and the correct plugins, the performance shouldn't be much affected.
What Are SSL Certificates and How Do They Work?
Hearing about SSL Certificates might sound confusing at first. SSL Certificates refer to small data files that work to bind a cryptographic key. It helps web servers to activates the padlock and the https protocol, ensuring the security connections from a web server to the browser.
How many plugins should a WordPress site have?
There is not a correct amount of plugins you should have to run your site. Don't be scared of adding too much if you are completely sure those plugins will help you run your online business. Is it common that every site has between 20 and 30 plugins.
Summary of Kinsta vs WP Engine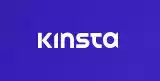 Best WordPress Hosting
It's not necessarily cheaper than SiteGround, but it DOES offer quite a bit MORE VALUE. Google Cloud platform and auto-scaled resources combined with an easy to handle interface and EPIC customer support. The BMW of managed WP hosting!
View Kinsta Plans
We earn a commission if you click this link and make a purchase at no additional cost to you.
To recap:
Launched in 2013 by Mark Gavalda, Kinsta is a well-known managed hosting service that only deals with WordPress sites.
Since 2010, WP Engine has been a managed hosting solution that offers migration, upkeep, and performance-enhancement of WordPress sites.
WP Engine offers a free automatic migration plugin.
Sadly, WP Engine doesn't come with a dedicated team of migration developers.
Oddly enough, you'll incur costs by hiring a developer to handle the migration process.
Kinsta, on the other hand, offers a team of expert developers to move your site to its platform without downtimes.
Pro plan users get can migrate one site for free while Enterprise level users qualify for five.
Kinsta offers free unlimited migrations from particular hosting companies services like WP Engine.
Kinsta seeks to provide offer simple developer tools for streamlining site development.
WP Engine, contrarily, offers dynamism with a richer range of features for extensive development projects.
Kinsta uses orchestrated LXC software containers and LXD managed hosts to isolate your website's resources.
WP Engine, on the other hand, leverages EverCache to scale resources based on traffic numbers.
Kinsta is built on Google Cloud Platform to offer 18 different data centers to hold your site.
WP Engine has also linked up with Google Cloud Platform plus Amazon Web Services to avail 18 data center options for hosting your site
To further accelerate site loading, Kinsta embeds KeyCDN's content delivery network, composed of 34 server locations.
WP Engine is supplemented by MaxCDN's content delivery network of 31 servers.
WP Engine and Kinsta sites have almost similar TTFBs
Apart from malware scanning, both Kinsta and WP Engine have set up strong login credential requirements, regular backups, login blocking, free SSL certificates, two-factor authentication, plus data encryption.
Bottom Line: All things compared, clearly both WP Engine and Kinsta are relatively evenly matched WordPress hosts. That said, the slight advantage of lower starting pricing + dedicated migration specialists gives the edge to Kinsta here.
Which of these two WordPress hosting providers do you think deserves the crown? Would you be kind enough to explain why?
Here are some other related articles on WordPress hosting companies you may be interested in: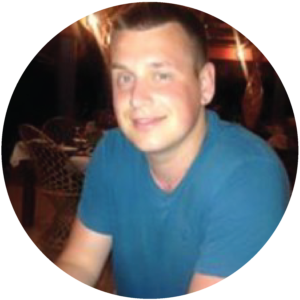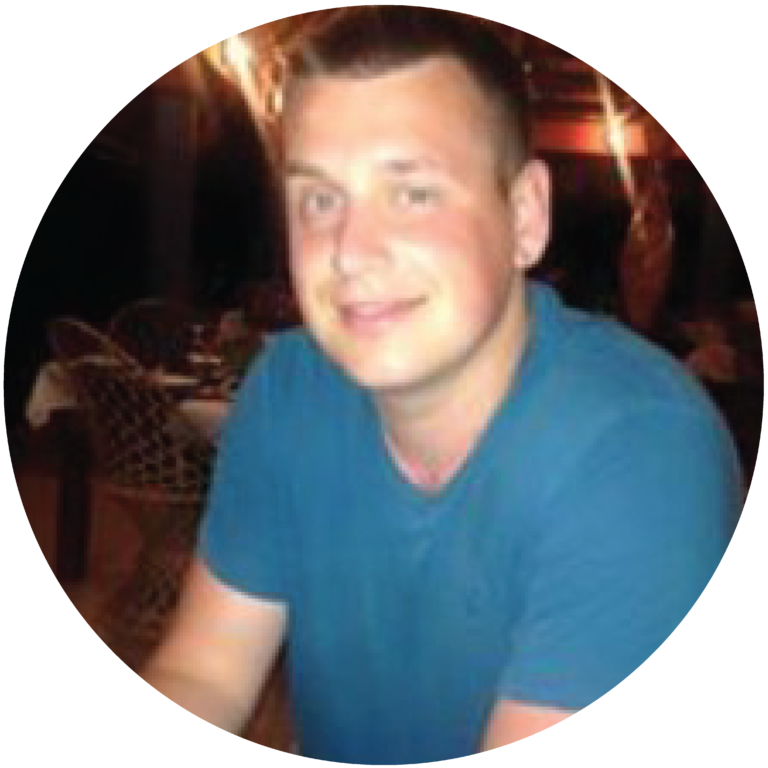 Latest posts by Ewen Finser
(see all)