Last Updated on May 6, 2022 by DMEditor
Kinsta offers managed WordPress hosting for business websites. The service is intended for an assortment of companies and professional website types, from online shops to agencies and enterprises. Through the easy-to-navigate dashboard, you can see important data at a glance, like site metrics and resource usage.
You can also take care of website maintenance tasks with one click, like clearing the site cache and debugging your site. However, the real draw of managed WordPress hosting is that most of this will be taken care of for you – so if you want to leave it in their hands, you can.
If you're here, though, you probably already know that you want Kinsta – or it's at least a frontrunner as you explore managed WordPress hosting options. (Bonus: Kinsta offers free migration from any host, making it pretty easy to get set up with them.)
Let's get into what you get from each plan that Kinsta offers and how much it'll all cost. The good news is that while there are a ton of plans to consider, the differences between them are very easy to understand.
An Overview of Kinsta Pricing Plans – Understanding Kinsta Cost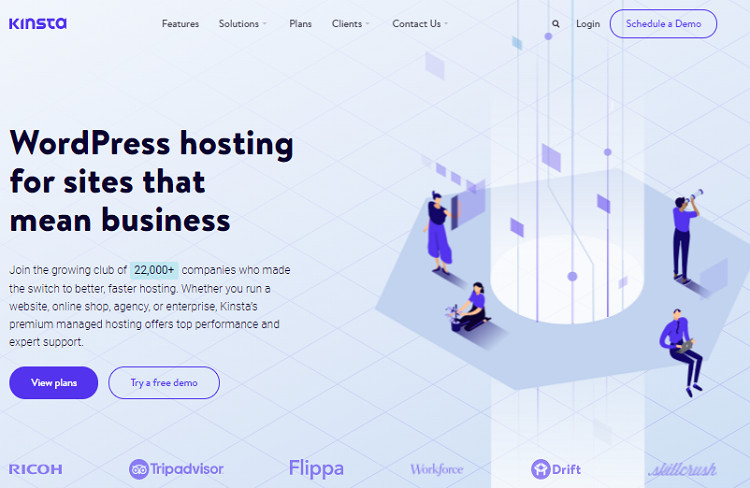 Kinsta has several plans, and there's no free option. (We have some info about the free demo below, though.) Below is a glance at the plans and pricing that Kinsta offers.
It's pretty easy to figure out what each one offers in comparison to the others – as you go up in price, you also increase the number of WordPress installations, monthly visits, and storage space you're allowed.
Kinsta Starter Plan
The Start plan is $30 per month or $300 when paid annually. With this plan, you get:
1 WordPress install
25K visits
10GB of disk space
1 free migration
14-day backup retention
Note that the Starter plan is not recommended for e-commerce or membership sites. You also can't perform site cloning with this plan, which is important if you create websites for clients and need to show them a preview.
Kinsta Hosting Plan – Pro
The Pro plan is $60 per month or $600 when paid annually. With this plan, you get:
2 WordPress installs
50K visits
20GB of disk space
2 free migrations
14-day backup retention
Note that the Pro plan is not recommended for e-commerce or membership sites.
Business 1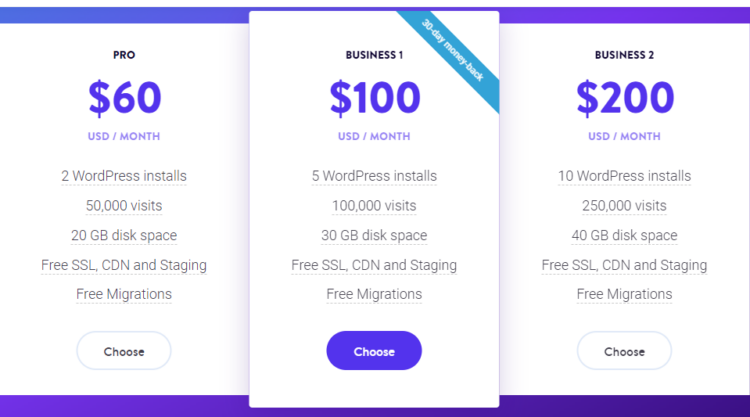 The Business 1 plan is $100 per month or $1,000 per year. With this plan, you get:
5 WordPress installs
100K visits
30GB disk space
3 free migrations
14-day backup retention
Business 2
The Business 2 plan is $200 per month or $2,000 per year. With this plan, you get:
10 WordPress installs
250K visits
40GB disk space
3 free migrations
14-day backup retention
Business 3
The Business 3 plan is $300 per month or $3,000 per year. With this plan, you get:
20 WordPress installs
400K visits
50GB disk space
3 free migrations
20-day backup retention
Business 4
The Business 4 plan is $400 per month or $4,000 per year. With this plan, you get:
40 WordPress installs
600K visits
60GB disk space
4 free migrations
20-day backup retention
Enterprise 1
The Enterprise 1 plan is $600 per month or $6,000 per year. With this plan, you get:
60 WordPress installs
1,000,000 visits
100GB disk space
5 free migrations
30-day backup retention
Enterprise 2
The Enterprise 2 plan is $900 per month or $9,000 per year. With this plan, you get:
80 WordPress installs
1,500,000 visits
150GB disk space
5 free migrations
30-day backup retention
Enterprise 3
The Enterprise 3 plan is $1,200 per month or $12,000 per year. With this plan, you get:
120 WordPress installs
2,000,000 site visits
200GB disk space
5 free migrations
30-day backup retention
Enterprise 4
The Enterprise 4 plan is $1,500 per month or $15,000 per year. With this plan, you get:
150 WordPress installs
3,000,000 visits
250GB disk space
5 free migrations
30-day backup retention
Even More Options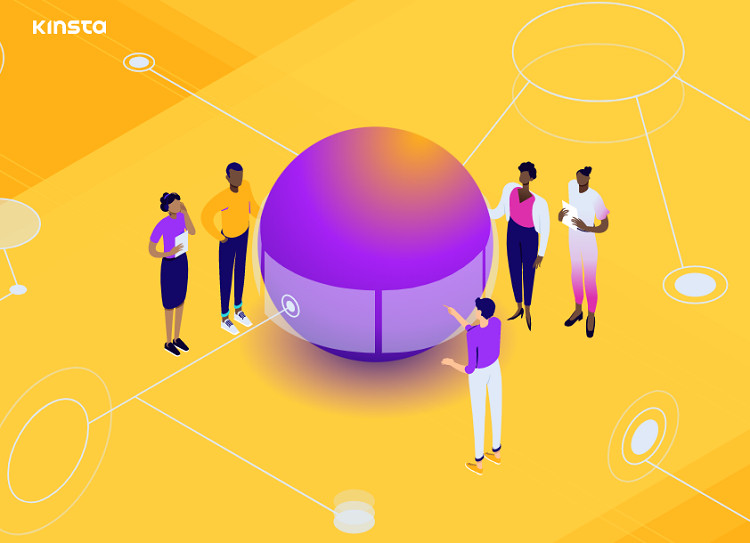 If you need an even bigger plan, you can speak with a sales agent to customize one that will suit your needs.
The Free Demo and Money-Back Guarantee
If you want to play around with Kinsta before committing to a plan, you can check out the MyKinsta demo. You'll be able to check out the dashboard features, but you can't use the demo on an actual WordPress site.
There's also a 30-day money-back guarantee, so if you're not happy with the service, you should be able to get a refund.
Why Is Kinsta Hosting So Popular? Features Included in Every Kinsta Plan
There are a number of features that are included in every Kinsta plan:
Application-performance monitoring, allowing users to find out which performance issues are slowing down their website.
Cloudflare Enterprise, which is a cloud platform that offers a network-as-a-service to businesses.
High-end CPUs and global availability, provided by Google C2 machines. According to its website, Kinsta clients see a 30% to 200% increase in performance.
Global content-delivery network with 29 data centers around the world. This means that web pages are delivered super fast.
SSL, CDN and staging, plus a hack-fix guarantee.
A support staff of engineers, developers and other website experts who offer one-on-one help.
Migration from another host.
Overage Charges and Optional Add-Ons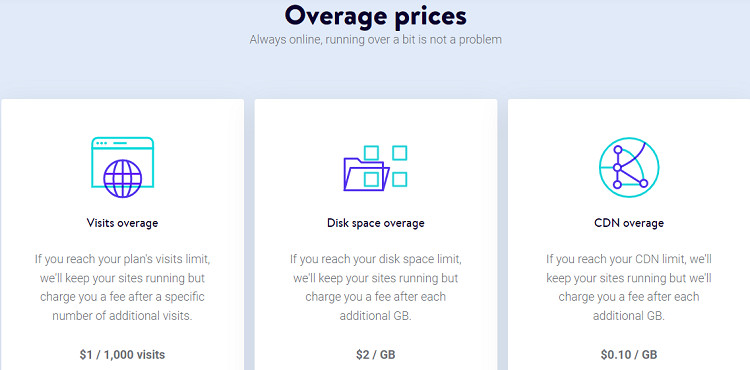 If you go over your plans limits, these are the overage charges you can expect:
CDN: 10 cents per GB
Disk Space: $2 per GB
Visits: $1 per 1,000 visits
If you need more power in your hosting plan, you can select add-ons for an additional fee. The add-ons offered are:
Disk Space Increase of 20GB: $20 per month per company
External Backup: $2 per month per site, plus $1 per GB of bandwidth
Extra Backups: $50 per month per site for every six hours; $100 per month per site for every hour
Nginx: $50 per month per site
Redis: $100 per month per site
How to Choose a Kinsta Plan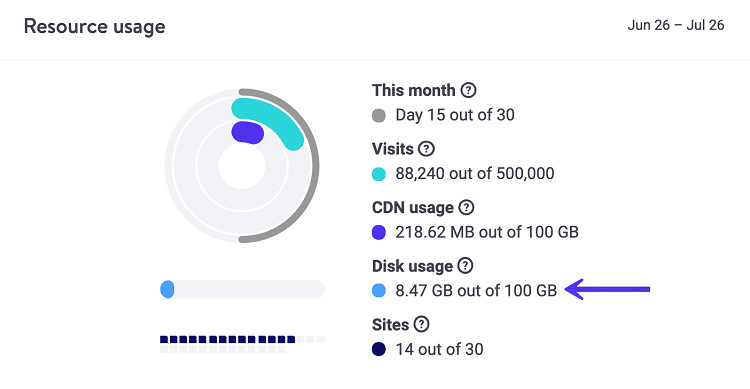 Here's the simple way to choose a Kinsta plan: you want to select the one that matches the resources you need – with a little wiggle room built-in. Let's say your website had 90,000 visits last month, but it's growing fast. You'll want to choose the Business 2 plan, which allows for 250K visits; if you opt for the Business 1 plan at just 10K visits, you could quickly out-pace it.
Also, after using Kinsta for a month, you can get a realistic view of how many visits your site gets according to the host, not Google Analytics – they're not counted the same across the platforms.
Disk space is also a consideration, and you can check your disk space in WordPress to get started. The good news is that you need more disk space but aren't ready to bump up to the next tier, you can opt for the disk space extender add-on instead.
Of course, the number of WordPress installations you need is a major consideration. But a multisite installation counts as one on Kinsta, not several, so you may not need as large a plan as you think in order to accommodate all of the websites you need to host.
Upgrade and Downgrade Whenever You Like
A benefit of Kinsta is that you can upgrade or downgrade at any point, even if you're in the middle of your monthly billing cycle. The cost will be prorated, so you can add resources or remove them as you plan for ebbs and flows.
For example, before the holidays, you can upgrade to a plan that can handle more, then downgrade once the holiday rush is over.
FAQs about Kinsta Cost
Question: What is the Best WordPress Hosting?
Answer: There are a number of hosts that can be used with WordPress, and Kinsta is among the top contenders. Other options include SiteGround, Bluest, Flywheel, WP Engine, and DreamHost. It's always best to go with a host that works only with WordPress like Kinsta does because you can be sure that they're experts in the service they deliver.
Question: What is Kinsta Used For?
Answer: Kinsta is a user-friendly hosting service for non-technical users. With Kinsta, you can easily create WordPress sites and create clone and staging sites, too, all without having to worry about the technical side of keeping your site up and running.
Question: How Does Kinsta Managed WordPress Hosting Work?

Answer: Managed WordPress hosting means that the service has hosting plans that are specifically meant for WordPress. So, the features that are offered are designed to do things like manage, speed up and secure WordPress sites – not just any site out there.

And on top of having services geared toward WordPress, Kinsta will also manage it all for you, instead of you having to care for it yourself. You can focus on creating content and reaching your audience while Kinsta ensures your site runs smoothly.
Question: Is the Kinsta dashboard easy to use?
Answer: It is! There's a lot of useful info available there, but it's all laid out and spaced out in a very easy-to-read-and-navigate manner. You won't have trouble finding your way around, learning it and then getting to whatever data you need as soon as you need it.
Question: Is Kinsta Better than Liquid Web?
Answer: Liquid Web is a solid competitor to Kinsta, but where the two differ is in the types of businesses they cater to. Liquid Web is designed primarily for enterprises, while Kinsta can support practically any size business. There are a few other differences to compare when choosing between the two as well to determine which is better for you, like Kinsta's better performance versus Liquid Web's lower-cost options.
Final Thoughts About Kinsta Pricing Plans
Kinsta has dedicated, managed WordPress hosting for professionals and businesses of all sizes. And while there are a number of plans and prices to choose from, all of Kinsta's plans come with the same core features.
What you're ultimately choosing is the number of resources you need, which is based on considerations like how many sites you run and how much traffic they get. Plus, you can scale up or down as needed at any point during the month or year – pricing is prorated when changes like this take place.
If you love working with WordPress but want to free yourself from the hassle of managing your site from the backend, a service like Kinsta can take care of the technical stuff for you so you can focus on what you love most.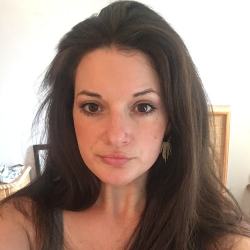 Latest posts by Lindsay Pietroluongo
(see all)