Last Updated on January 15, 2023 by DMEditor
Today we are going to be looking at Cloudways vs SiteGround, two popular managed to host providers for your website.
Whether you're looking to move to a new host from your existing web hosting provider, or you are starting a brand new website, you will no doubt be wanting to find the best hosting available for your website to ensure that your content is safe and that you receive the best service possible.
Bottom Line Up Front Summary: Here's my ultimate conclusion after reviewing these two services in depth…
Main Differences Between Cloudways vs Siteground
The Main Differences Between Cloudways vs Siteground are:
Cloudways offer a completely free trial with no need to give your card details, whereas SiteGround does not offer a free trial
Cloudways do not offer unlimited email accounts with your website domain at no extra cost, whereas SiteGround does
Cloudways do not have collaboration tools and white label services, whereas Siteground does offer this option
Cloudways offers a massive 160GB of storage on its largest plan, whereas SiteGround has a cap of 30GB of storage on its largest plan
Cloudways its a 'pay as you go' system, whereas SiteGround has fixed pricing
There are a few things you should be on the lookout for when choosing new web hosting for your website, to ensure you get everything you need. Not all hosting companies are created equal, so be sure to look out for and compare these things when you are checking out your web hosting options:
Speed: Slow page loading speeds can quickly drive visitors away from your site, so make sure your host offers lightning-fast page loading speeds for your website.
Scalability: As your site grows and you get more traffic, will your host be able to cope with the extra traffic, and are they able to provide you with all the storage you need for your content?
Security: Do they take backups of your content automatically? What security measures are in place to stop your site getting hacked?
Customer Support: how easy is it to get in touch with customer support if you need help? What are the customer reviews saying?
Now that you know what to look for, we are going to have an in-depth look at Cloudways vs SiteGround hosting, so that you can see for yourself which of these hosting providers offers the best service at the best price.
We will be comparing what each of these hosts offers in their main packages, as well as their pros and cons, their reviews and ratings, and the pricing.
Let's have a look.
Cloudways vs Siteground: Cloudways Review 2021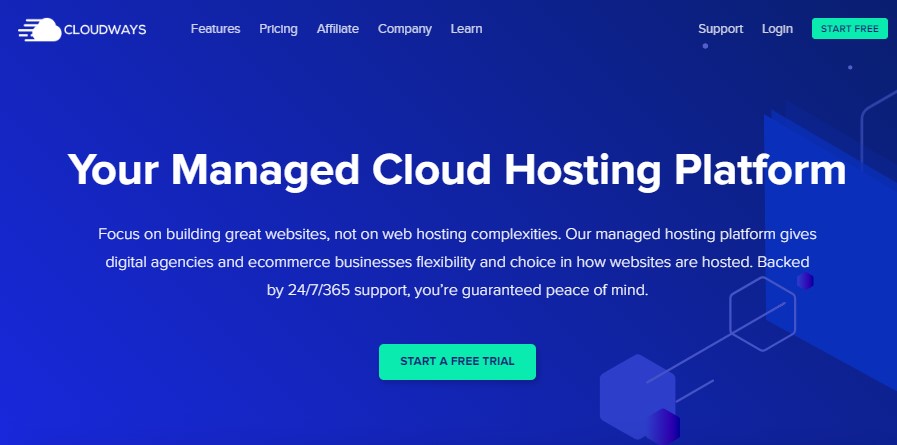 Cloudways Hosting is a managed cloud hosting platform (a leader in cloud-based hosting) that takes all of the stress out of using web hosting, allowing you to get your new website up and running in a matter of minutes on a server dedicated entirely to your site.
They promise super-fast performance, scalability, and ironclad security for your website, leaving you able to relax knowing that your content is in safe hands.
The Main Features of Cloudways Hosting
Free 1-Click SSL Certificate app (all plans)
24/7/365 Support
Free Migration
Build-in CDN (not Cloudflare CDN – a custom CDN)
Unlimited application installation
Team Management
Dedicated Firewalls
Automatic Backups
24/7 Monitoring
Staging environment
Optimized with advanced caches (caching)
Auto Healing
HTTP/2 Enabled Servers
VPS standard offerings
Regular security patching
SSH and SFTP Access
All cloud-based dedicated server environments
Free Trial without a card
Cloudways Page Loading Speeds
Cloudways has worked hard to ensure fast page loading speeds for all its users. They have undertaken a number of measures and processes to ensure high performance for your website, including:
A dedicated environment: All servers on Cloudways have dedicated cloud server resources, taking away the common problems that come with shared cloud hosting.
SSD- Based Hosting, 3 x Faster, therefore, reducing page load times for your websites.
Built-in Advanced Caches (caching)
PHP 7 Ready Servers – Significantly faster than its predecessor
CloudwaysCDN – A simple yet powerful service that delivers superior performance
Auto-Healing Managed Cloud Servers
Free WordPress Cache Plugins (free plugins for WordPress sites included in plans)
Redis Support
Free Magento Full Page Caching
Pre-configured PHP-FPM Dramatically speeds up your website and improves page loading times
Using HTTP/2 Supported Servers
Cloudways Customer Support and Reviews
Cloudways offers a great customer support service to its users, so if you ever run into any issues you can be sure that you will be able to speak to someone who can help you. The quickest way to get in touch is through their live chat support service, which is available 24/7, 365 days a year, so you can quickly speak to one of their experts whenever you need to.
If you have a more complex issue, you can use the online ticketing support system where your query or issue will be tracked online as one of their experts' works on it. You can submit your own tickets, or speak to one of the team and they will create a ticket for you.
If you prefer to communicate with the support team by phone, there is a premium support add on which allows you to speak on the phone with a Senior Support Engineer at any time.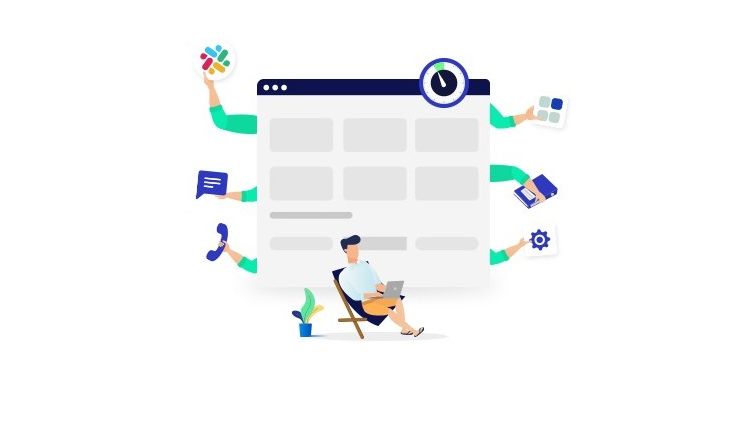 If you need help with something simple, then you can take advantage of the Cloudways Knowledge Base where you can find answers to FAQs and common problems without needing to contact support. There is also a blog full of useful articles, as well as a community forum where you can ask questions and receive support from your peers.
Cloudways have excellent reviews from their customers on Trustpilot, with a rating of 'Excellent' (4.5 out of 5 stars) from over 205 customer reviews, and 8.3 out of 10 on TrustRadius.
Cloudways Security

All Cloudways hosting plans come with managed security to keep your website safe and secure. They use a number of security measures, including:
Dedicated firewalls to filter out malicious traffic
Free 1-Click SSL Installation
IP Whitelisting allowing you to collaborate with networks or regions with unrestricted access to SSH and SFTP
Regular security patching to minimize vulnerabilities
Two-factor Authentication to keep your account safe from any intruders
Backups are available to be automated or on-demand. They are created at an off-site location and can be restored with just one click if required.
Migrating to Cloudways Hosting
If you are thinking of moving your existing WordPress site to Cloudways hosting (managed WordPress host), you can do this easily by using the free Cloudways WP Migrator Plugin.
Cloudways also offer free manual migration for your first website by one of their experts, with a guarantee that they won't break your live site on the old web host. This is a great option to take advantage of if it's the first time you are migrating your website to a new host, as they will take care of everything for you.
The Benefits of Using Cloudways
Cloudways provides free SSL certificates with their hosting plans. SSL certificates can be added to your site with just one click.
Cloudways offer a completely free trial, with no need to hand over your card details to try it out.
Cloudways offer automatic or on-demand backups for you site, and backups can be restored at any time with just one click.
Fast page loading speeds for your website with SSD- Based hosting on PHP 7 ready servers.
One-click staging for WordPress websites, so you can make changes and see how they will look before you go live.
Easy to use control panel.
Unlimited applications on all plans.
Cloudways offers affordable 'pay as you go' plans, so you only pay for what you need to use.
There are 5 different cloud hosting services to choose from.
The Downsides to Using Cloudways
Cloudways don't offer domain names, so if you don't already have a domain registered you will need to do that with another provider. Cloudways also doesn't include email hosting, which may put some potential users off using this service.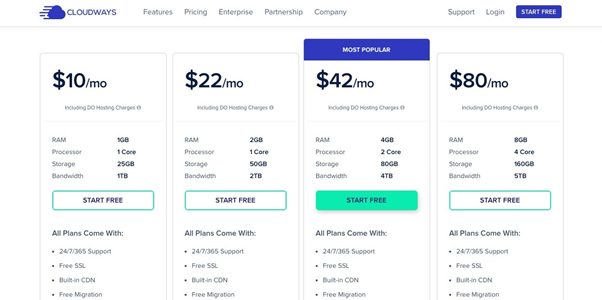 Cloudways pricing offers 'pay as you go' billing with no contracts, so you can use the service for as little or as much time as you need without being tied in. You pay for what you use, and you are billed on the first week of the month, for the month that has just passed.
There are a total of 5 different data centres to choose from DigitalOcean, Linode, VULTR, aws (Amazon Web Services), and Google Cloud platform. The pricing varies depending on which Cloud provider you choose (e.g. Google Cloud or AWS, etc…), but the cheapest is DigitalOcean, starting at just $10/month.
There are four plans available:
$10/month, which will give you 1GB of RAM, 1 Core processor, 25GB of storage, and 1TB of bandwidth.
$22/month, which will give you 2GB of RAM, 1 Core processor, 50GB of storage, and 2TB of bandwidth.
$42/month, which will give you 4GB of RAM, 2 Core processor, 80GB of storage, and 4TB of bandwidth.
$80/month, which will give you 8GB of RAM, 4 Core processor, 160GB of storage, and 5TB of bandwidth.
All plans include all of the other features listed above, and you can add on Advanced or Premium support if required.
If you would like to find out more about Cloudways hosting platform, you can try them for free here, with no credit card required.
Cloudways vs Siteground: SiteGround Review 2021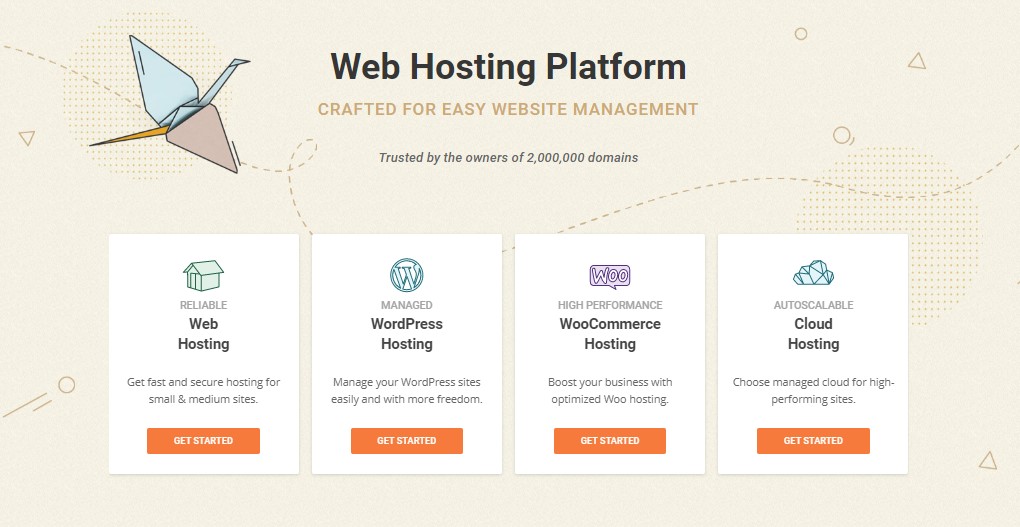 SiteGround hosting is without a doubt one of the most well known managed WordPress hosting providers around, and they are even officially recommended by WordPress.
They are currently hosting over 2,000,000 websites, and they have offices around the world, so wherever you are located, you can be sure that you will receive a reliable and reputable managed hosting service (cloud hosting service) when you sign up with SiteGround.
They are famous for their excellent customer support, reliable fast service, and affordable pricing, making them the perfect hosting choices for most small to medium-sized businesses and blogs.
The Main Features of SiteGround
Free 1-click install SSL Certificates with all hosting plans
Daily Backups
Email service
Staging tool
Dev Toolkit
Free WordPress migration
Free WordPress plugins for website performance optimization (SG Optimizer plugin)
Free Cloudflare CDN
WordPress Auto-updates
Collaboration tools and White label access for your clients
24/7 Support by Phone, Chat or Tickets
Dedicated cloud platform for those who need it
Dedicated WooCommerce hosting

Most User Should Start with Siteground
Siteground offers higher end performance for budget prices. I have yet to find a better mix of value and performance for $5.95 or less per month. This is why I PERSONALLY start with Siteground for sites under 100k visits per month.
Start with Siteground!
We earn a commission if you click this link and make a purchase at no additional cost to you.
SiteGround Page Loading Speeds
SiteGround is known globally for its fast page loading speeds. It uses servers which have been specifically built with site speeds in mind.
SiteGround take advantage of all of the latest available software and hardware to dramatically enhance page loading speeds and site performance, including:
SSD drives for their shared and cloud hosting platforms.
The latest PHP releases with built-in opcode cache.
Application Optimizations.
They have partnered with Cloudflare to provide a free CDN.
Unique SuperCacher technology.
Nginx used in conjunction with web server software to cache and speed up delivery of static content.
SiteGround Customer Support and Reviews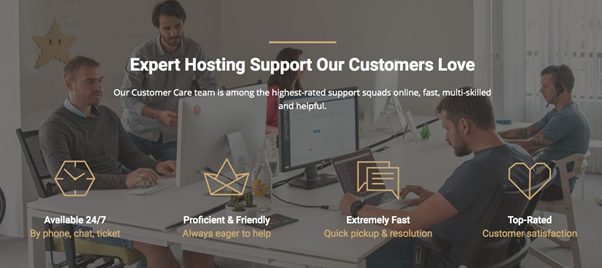 SiteGround is famous for its top-notch customer support, with customer satisfaction rates of almost 99.7%.
Everyone on their customer support team has undergone extensive training on the software as well as the product and service, followed by a long mentorship period so they have real-world experience before being thrown in the deep end. This means that whoever you come into contact with on the SiteGround customer service team will be well equipped to handle any problems you are having.
You can get in touch with the support team 24 hours a day, 7 days a week, by phone, live chat, and helpdesk tickets. Live chat is the fastest way to get help, with responses almost instantly. If you prefer to chat with someone on the phone you can expect to speak to someone on the team within 2 minutes.
If your problem is more complex, then helpdesk tickets are your best bet. Response time for tickets is a little longer at around 15 minutes, but you will be helped by SiteGround's most advanced technicians, and they will usually resolve your issue in a single reply.
SiteGround's previous customers are clearly very happy with the service. They have over 3562 reviews on Trustpilot and a rating of 5 stars (Excellent). They also have an overall satisfaction rating of 4.9 out of 5 stars on ShopperApproved from over 5,414 reviews.
SiteGround Security
SiteGround offers managed security and updates to its managed WordPress hosting users. WordPress application updates can be done automatically with SiteGround's automatic WordPress software and plugin updates, and you can schedule how soon your site is updated after a new version is released in case you need time to prepare for the update.
Custom firewall rules are used to patch vulnerabilities to protect your site from malicious attacks before official developers have even released their security updates. Siteground also conduct health checks on their servers every 0.5 seconds, so any issues are detected automatically and resolved immediately before any malicious activity can reach the hosted websites.
Automatic daily backups are available for all websites using SiteGround's hosting services, and free one-click install SSL certificates are available to all WordPress users too.
Migrating to SiteGround
If you are moving your blog or WordPress website to SiteGround from another hosting provider then migration is an easy process. If you have purchased either the GrowBig or GoGreek plans then SiteGround's migration experts will move your site from your old host to your new hosting plan with SiteGround.
Each of these plans offers free migration for one site, but if you need to move more than one site you can pay a fee of $30 per site for professional migration.
You can also migrate your site from your old hosting to your new plan yourself by using SiteGround's free WordPress migrator plugins which will complete the transfer for you with just a couple of clicks, and won't affect your configuration.
The Benefits of Using SiteGround
SiteGround provides SSL certificates to all new websites created SiteGround hosting plans. You can also add free SSL certificates to your existing websites with just a couple of clicks.
Daily backups are provided automatically and saved for 30 days so you can access them if you need to.
The staging tool allows you to make a copy of your website which you can make changes to before taking it to live, removing any danger of accidentally damaging your existing site while trying to make changes.
SiteGround provides free WordPress migration with the WordPress migrator plugin and free manual migrations for one website with the GrowBig and GoGeek plans.
SiteGround provides unparalleled 24/7 customer support via phone, support tickets, and live chat with a 99.7% customer satisfaction rate.
Average uptime of 99% for their servers, so there is no need to worry about your site being down.
Excellent customer satisfaction rates with almost 5 stars on both Trustpilot and ShopperApproved.
Good value hosting plans.
Customized SG Optimizer plugins for performance tuning
White label hosting and client management available for agencies and designers.
Cloud hosting plans available
Create unlimited email accounts with webmail.
Quickstart site launch with WordPress themes and tools like Elementor.
The Downsides to Using SiteGround
SiteGround tempt people to sign up with them using a low priced offer, but the offer is usually only for your first invoice, so you need to take the full pricing into account before making a decision.
SiteGround also caps storage with a maximum 30GB available on their highest plan.
This is suitable for most medium to large websites, however, some much larger websites with very high traffic may need to consider using another hosting provider, unless they switch to cloud hosting which is more expensive (relative to other cloud providers) but is not restrictive on SSD storage capacity.
SiteGround has three hosting plans available: StartUp, GrowBig, and GoGeek.
The StartUp plan starts from $3.95/month for the first invoice and then goes up to $11.95/month going forward. This plan gives you 1 website with up to 10GB of storage. You can have up to 10,000 visitors to your site per month, this plan also includes all of the essential WordPress Features.
The GrowBig plan starts at $5.95/month for the first invoice and then goes up to $19.95/month after that. This plan allows you to host an unlimited number of websites, with up to 20GB of webspace. Your sites can have up to 25,000 visitors each month. This plan includes both the essential and the premium WordPress Features.
The GoGeek plan starts at $11.95/month for the first invoice and then goes up to $34.95/month after your renewal. This plan allows you to host unlimited sites, with up to 30GB of webspace. You can have up to 100,000 visitors to your site each month, and you also get access to the premium and 'Geeky' WordPress features.
All plans include:
Free WordPress install
Free WordPress migrator
Free SSL and HTTPS Certificates
Free email address
Free Cloudflare CDN
Free daily backups
WordPress auto-updates
WP CLI and SSH
24/7 Support
Unmetered traffic
Unlimited MySQL BD
SiteGround don't offer a free trial for their service, but they do offer a 30-day money-back guarantee, so if you aren't 100% happy with the service you can get a full refund.
SiteGround also has dedicated cloud hosting plans if you need to scale beyond their standard WordPress hosting plans. Similarly, they offer customed hosting for e-commerce platforms, specifically customizing an option for WooCommerce hosting.
If you would like to find out more about SiteGround, and what they offer, you can visit their website here.

Most User Should Start with Siteground
Siteground offers higher end performance for budget prices. I have yet to find a better mix of value and performance for $5.95 or less per month. This is why I PERSONALLY start with Siteground for sites under 100k visits per month.
Start with Siteground!
We earn a commission if you click this link and make a purchase at no additional cost to you.
Cloudways vs Siteground Frequently Asked Questions:
What payment methods does Cloudways support?
Cloudways takes an acceptable amount of payment methods, including Visa, Mastercard, American Express and PayPal.
Does Cloudways platform support WHM, Cpanel or File Manager?
Cloudways has created its out platform, so they don't need to use ay of these control panel options. This tool is very user-friendly and intuitive. When it comes to File Manager, the platform will aks for access to your web application through SFTP or SSH.
How do I get to cPanel SiteGround?
To access to the cPanel control panel, go to your "User Area", and then click the "My accounts tab", finally go to the "Go to cPanel" section.
Conclusion: Cloudways vs SiteGround – Which hosting provider is the winner?
There are quite a few differences between Cloudways and SiteGround, but they each have their own pros and cons, so which one is better? It's a tricky one because it depends on your needs.
For most small to medium businesses and blogs, SiteGround is the obvious choice. SiteGround provides unparalleled customer service, and as you can see from their customer reviews, almost 100% of people who have used their service are very happy with it.
They also offer good value for money, even after the initial special offer pricing goes up to the normal rate, and the ability to create unlimited email accounts for your website's domain. The downside to SiteGround though, is that if you have a larger website with very high traffic, you can outgrow their plans quickly.
If this is the case then Cloudways is a great affordable alternative for you. Although there are some downsides (like not being able to create email addresses for your domain, or register new domains) Cloudways has loads of positives.
They have very fast page load times at a very affordable price, and there are no limits to the number of applications you can host, as well as high storage limits.
Overall, we would say that SiteGround is the better option for most people. It does work out a little more expensive overall, but for the ease of use, and the service provided, we think it's all worth it!
Still undecided? Check out our article on 5 of the best SiteGround alternatives to see if any of these take you fancy.
We also compared SiteGround side by side with Bluehost and Dreamhost to see how they are measured up.
If you would like to find out more about Siteground, and what they offer, you can visit their website here, and if you think Cloudways hosting is the one for you then, you can try them for free here, with no credit card required.
Further Reading on WordPress Hosting and Hosting Company Alternatives
Check out these additional reviews and comparisons of popular alternative hosts like HostGator, InMotion Hosting, and other WordPress Hosting and Cloud Host Platform options…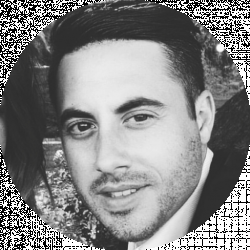 Latest posts by David Borgogni
(see all)