Your graphic designs are an integral part of your branding. Not least because they go a long way in establishing the first impressions new customers have of your business.
Once they click on a website or walk past a store, they'll take in the colors, logos, and fonts before anything else. So, whether you like it or not, they'll make a subconscious judgment as to whether they can trust you. 
Bottom Line Up Front: Objectively speaking, a freelance marketplace is really as good as it's marker share. The best in class offering with the highiest tiers of quality content is definitely 99Designs here. While they charge more for listing fees, the end results are more consistently better. You get what you pay for.
Main Difference Designhill vs 99Designs
The main differences between Designhill vs 99Designs are:
Designhill can be a lot cheaper with a limited number of design options, whereas 99Designs is more expensive with a larger selection of design options
99Design is less flexible but it offers a broader range of designers, whereas Designhill provides more flexibility and is more of a versatile design solution
99Designs provides more submissions per hosted contest, whereas Designhill might be the more budget-friendly option
Why I Use 99Designs
I know I want my logos to look NICE, but I don't know how to describe what I want... Sound familiar? Let someone else sweat it! 99Designs literally takes the guesswork out of it and delivers clean, professional, crowd-sourced designs. #win
We earn a commission if you click this link and make a purchase at no additional cost to you.
So, the better your graphics are, the more credibility you establish. It really is that simple. So, your company's design front is of no small importance. If you, like hundreds of others, are starting up a business this year, or if you're looking to rebrand yourself, you might be in the market for a graphic designer to create some graphic design concepts. 
Getting the job done professionally is a must. But, if you've contacted freelance designers and graphic design agencies, you might quickly find that your budget doesn't stretch far enough. You might even feel out of your depth speaking to a professional designer when you can't preview the design you're going to plaster all over your business. 
If you can relate, design competition websites might be the answer for you!  
These are platforms where thousands of freelance designers compete for your business by submitting a design based on a brief you post.  
You, as the competition host, can peruse through all the designs and choose the finalists you want to keep working with. When you've found the right design for you, and adjustments have been made, you pay a fee to have the copyright transferred to you.  
Straightforward, right? 
But of course, any successful concept comes with several options, and design competition sites are no exception. In light of that, we've reviewed two market-leading design competition platforms to help you choose where you'll find the right design for you.  
So, without further ado, let's take a look at Designhill and 99Designs to see how they measure up. 
Designhill vs 99Designs: How Do They Work? 
Before we take an in-depth look at both Designhill and 99Designs, we should first take a look at how platforms like these operate. Why might you choose them instead of a design agency? 
In short, design competition sites often help you out by assigning you to a designer that you can work with from start to finish. Still, they also give you the option of hosting a design competition (as we previously alluded to in the intro). You simply fill out a brief provided by the website, and they post it in front of thousands of designers. Anyone who wants to participate can hand in a concept, and those you like the best you can opt to work with further.  
To host a design competition, you pay a one-off price (at different tiers). This allows you to post the brief, and from there, you can expect to receive designs with unlimited revisions.  
The advantages of design competitions are simple: 
You can crowdsource hundreds of concepts to choose from, giving you options across many different ideas, skill-sets, and approaches.  
The final design is often much more affordable than what a single designer or design agency might quote, as you pay a one-off fee independent of the hours worked. 
Designers are actively competing for your approval, which puts you, as the buyer, in an advantageous position.  
You get tons of options much faster, as timely submission may factor into the victory of the designer. 
As you're opening up your brief to so many different designers, you're bound to find an expert in precisely the style you're looking for. Whereas, when you work with a single designer or agency, you'll only be presented with techniques the particular team is comfortable with…which might not overlap with your ideas. 
If you're not design-savvy, this crowdsourced approach means you can see sketches of your desired design before sealing the deal. As you can imagine, this is a much more straightforward way of picking a designer than finding and working with a traditional freelancer or agency.  
Designhill Overview
Designhill offers a diverse set of design services. Alongside design competitions (design contest site), you can also use their AI-fuelled creator or hire a single designer.  
You can even purchase premade logo templates or sign up for an on-demand monthly design subscription. This comes in handy if you require new designs frequently.  
The range of services provided by Designhill makes them a versatile design solution, featuring options that suit every budget. 
The most notable service on their site is, however, their design contests. As a business, you choose the price tier that best complements your budget for hosting your competition, and from there, you just await designs to come in.  
Since starting as a crowdsourcing platform in 2014, Designhill now consists of over 125,000 designers and artists from nearly 52 countries. It's a global creative marketplace, trusted by over 100,000 businesses.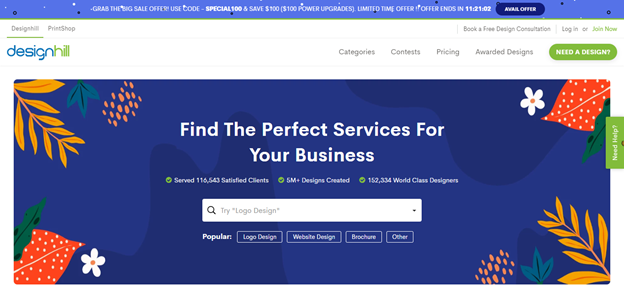 99Design Overview
99Designs is slightly more focused on design competitions, but also offers to connect you with one particular designer that you can work with from the get-go.  
Compared to Designhill, it's less flexible with the services it provides. But, it offers a broader range of designers that are likely to compete for your business. At 99Design, you choose a design category that best meets your needs, and then you'll receive a competitive quote. 
99Design's was first founded back in 2008 by a group of designers. Previously, they'd been competing on the SitePoint forum to create the best designs. Now, this platform boasts offices located all around the world and has connected over 500,000 businesses with the right design. 
Pricing: Designhill vs 99Design
As your budget will (probably) be one of the primary decision-makers when choosing the right design site, the difference in price might lock in the choice for some.  
Overall, Designhill can be a lot cheaper than 99Designs, but typically, fewer designs will be submitted to your competition overall. With this in mind, let's take a look at how the pricing works in both cases. 
On Designhill, you choose the design category that best suits you. Then you can choose between four different pricing tiers (all are a one-off cost) for hosting a competition.  
The higher prices unlock access to DesignHill's more experienced designers, and you can, generally, expect more submissions for your log design contest or branding graphics contest. Namely, because the more you pay, the more DesignHill promotes your competition amidst their designers.   
Here's what you can expect to pay when you opt for a logo design using DesignHill: 
Fast Track ($199): This gets you around 20 designs, where each designer can submit a maximum of four designs. Your competition is presented to an unlimited number of designers, and you get a 100% money-back guarantee. 
Standard ($399): This generally attracts more than 40 designs, and your competition is promoted via Logo Design's newsletter and social media profiles. Plus, each designer can hand in a limitless number of designs.  
Executive ($699): This attracts Logo Design's expert designers that boast higher skill levels. More than 60 designs are expected, you get unlimited designs and designers and additional blog promotion. 
Premium ($999): This ensures that only the best designers submit work to your contest. You can expect more than 80 designs, your competition will be heavily promoted, and you get one free invite to the designer of your choosing.  
All of Logo Design's price points come with a 100% money-back guarantee and full ownership of the final product. 
You should note: There are discounts available to non-profits and educational institutions.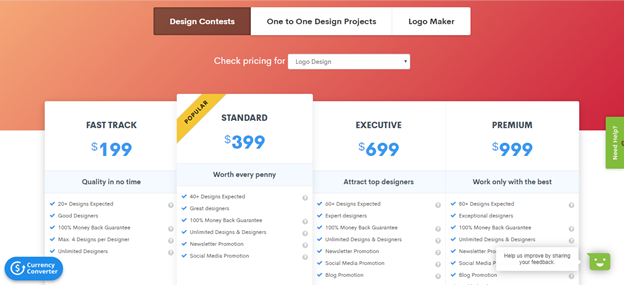 Just like DesignHill, 99Design also varies its pricing depending on the category. On their website, you'll also find packages for the more popular types of graphics you need to set up your business's brand. For example, logo and brand identity designs, web designs, or whole social media packages. 
Once you've chosen a category, you can decide whether you want to host a competition. Similar to Designhill, there are different pricing tiers associated with the kind of graphics you require. Also, the more you pay, the higher the number of designs you unlock, and you get access to more experienced designers.  
To make a direct comparison, here's how much you can expect to pay for a logo from 99Design: 
The Bronze Tier ($300): This gives you approximately 30 designs, full copyright ownership, and a 100% money-back guarantee.  
The Silver Plan ($500): Unlocks up to 60 designs. 
The Gold ($800): Provides access to mid and top-level designers only, and you can expect to receive up to 90 designs. 
The Platinum package ($1300): You can expect around 60 designs from top-level designers, a dedicated account manager, and prioritized customer support. 
Each month, 99Design also chooses a group of non-profits that get their designs for free!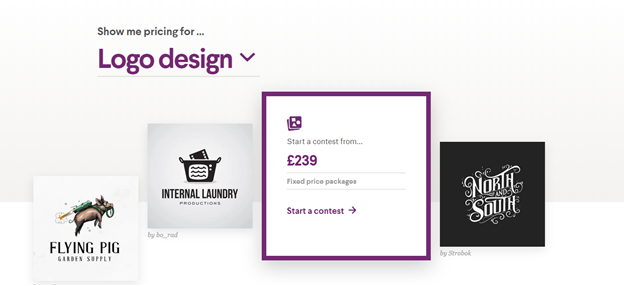 The Process: Designhill vs 99 Designs
How do the processes differ between these two solutions? Let's take a closer look… 
Designhill
At Designhill, you host a competition after choosing your design category and pricing tier. You fill out a brief that gets uploaded to the designers, where you can also upload reference images. 
There's also an option to send free or paid invites to designers of your choosing. So you can request those who specialize in the design style(s) you particularly like to have a go at your brief.  
Contests usually run between 24 hours and 10 days (depending on the contest length you choose when you post the brief). A competition can always be ended early if you want to select a winner before the deadline. Plus, you can also provide contestants with real-time feedback, while the competition's still running. 
Designhill also provides the option for you to create and run polls so you can capture the opinions of your friends, family, colleagues, customers, etc. That's in addition to an interactive feedback tool, which makes sourcing feedback much easier if you're unsure what to ask and what data to collect.  
Whenever a designer is declared the winner, you get the full copyright and ownership of the work, along with the final source files and a high-quality image.  
Unlimited revisions are offered with a 100% money-back guarantee. You can also purchase additional designs from the competition at a discounted rate. Rest assured, Designhill also offers a Whitelabel service so you can present these outsourced designs as your own to your clients.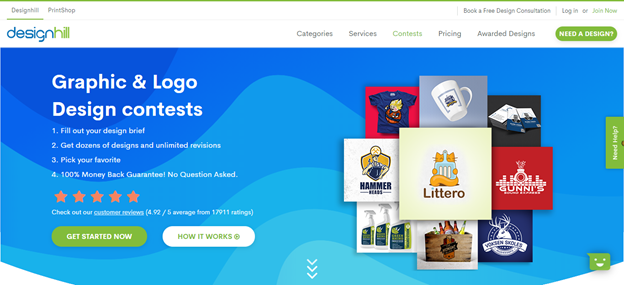 Designhill's vs 99Designs: Here's How 99Designs does it
On the 99Designs website, you go to choose a category and select whether you'd like to hire a designer for a package or host a competition. This then populates the prices for that category and provides you with more info about the design process. 
99Designs asks you to fill out a simple yet interactive brief. It provides prompts to help you describe your desired design. You'll see slider options that let you define, for example, whether you want a more abstract or literal style, something playful or sophisticated, etc.  
Once you've finalized your brief, you can post your competition. Then, all that's left is to sit back and wait to receive dozens of ideas unique to your brand. You have seven days to work with the designers, select a winning logo, and refine it. 
Each pricing tier comes with unlimited revisions, so you can work with the successful designer to tweak it until you're happy. If you don't get a design you're 100% satisfied with, you can then make use of the money-back guarantee. 
99Designs also provide you with high-resolution source files and printable, scalable PNGs files.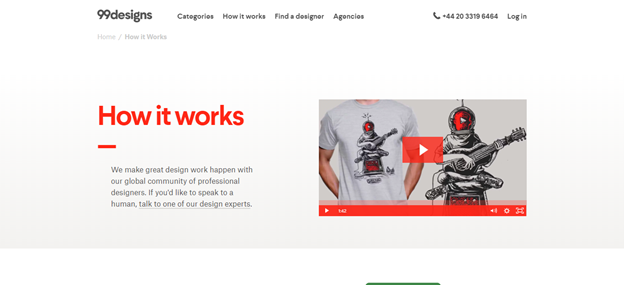 Clients 
Both Designhill and 99Designs feature an impressive client list, which just goes to show the quality of service these solutions provide.  
Some of Designhill's more notable clients include Microsoft, Deloitte, the BBC, Winzip, and Ticketmaster. Whereas, 99Design's has worked for the equally impressive BBC, The New York Times, TechCrunch, and WallStreet Journal.  
Customer Service 
When your brand's at stake, and you're handing over your hard-earned cash for a logo to be created by a remote designer, you want to guarantee reliability. By this, we mean, you want to ensure that the team behind the platform will step in and settle any problems – should they arise. 
Designhill offers 24/7 live support via online chat and email. Not to mention, they also enjoy a high customer satisfaction rate. You can also book a free design consultation to try and clarify any issues in communication. 
99Design can be contacted by phone, email, and has a detailed FAQ and support section. Here they extensively cover the entire design process, screening of designers, and any other questions you might have. Similar to DesignHill, you can also book a free design consultation. 
Categories 
Between Designhill and 99Design, you'll find a significant overlap when it comes to the many categories on offer. So instead of comparing them side by side, here are the main categories you can expect both design platforms to cover: 
Logo and Brand Identity: 
Covering Letterheads, envelopes, stationery and business cards 
Social Media designs:  
Banners for Facebook, youtube, twitter, social media icons, etc 
Clothing and Merchandise:
T-shirt design 
Sticker Design 
Personalized cups or mugs 
Bags and totes 
Hats and caps 
Art and illustration: 
Card or invitation designs 
Illustration and graphics 
Characters and mascots 
Book illustrations 
Tattoo designs 
Photoshop design 
Book and magazine design
Magazine design 
Book cover design 
eBook cover design 
Business and advertising: 
Tradeshow banners, signs and posters 
Car, truck or van wraps 
Email design 
Brochures and infographics 
Calendars 
Newsletters 
Posters 
Powerpoint presentations 
Website and app design: 
Banner ads 
Blog designs 
App icons and buttons 
Mobile apps 
Websites 
Landing pages 
Package and labels:
Mobile covers 
Cd covers 
Packaging and label designs 
A Comparison of Designhill's vs 99Designs' Pros and Cons
For a quick comparison, let's recap some of the main advantages and disadvantages of both platforms. Overall, the services offered are quite similar, using similar categories and featuring a large number of graphic designers. 
Designhill Pros: 
100% money-back guarantee and unlimited revisions 
Less expensive than 99Designs, with cheaper packages 
A versatile design service that offers flexible options  
Free consultation 
You can invite specific designers to your contest 
Desgnhill Cons: 
Typically you receive fewer responses than 99designs as there are fewer designers registered with this platform 
All the services offered can be overwhelming – especially, if you don't know what you're after 
99Design Pros:   
99Design boasts a very high project success score 
A typical logo design contest provides designs from over 100 designers 
Quick turnaround times – you'll receive your first submissions within hours 
A 100% money-back guarantee and unlimited revisions 
A free consultation 
99Designs Cons: 
99Design is a more costly design contest platform with packages typically more expensive by as much as $100. 
Why I Use 99Designs
I know I want my logos to look NICE, but I don't know how to describe what I want... Sound familiar? Let someone else sweat it! 99Designs literally takes the guesswork out of it and delivers clean, professional, crowd-sourced designs. #win
We earn a commission if you click this link and make a purchase at no additional cost to you.
Frequently Asked Questions [FAQ]
Which is better, 99designs or Designhill?
While 99designs is more expensive, the site is easier to use and has thousands of more designers.
Designhill is certainly a cheaper option than 99designs, offering additional printing services as well. 
How does a design contest work?
You would launch a design contest as per your budget and multiple designers participate by submitting designs as per the design brief provided. Check out this article to learn more about the process of running a contest.
What happens if I don't like any of the designs for Designhill?
Designhill offers a 100% money-back guarantee! No questions asked! Just make sure you have selected the refundable option while launching your contest.
What kind of freelance designers are on 99designs?
Whether you need websites and applications, art and illustrations, or logo and brand development, a design expert available for you as freelance designer.
Designhill's vs 99Designs: To Conclude… 
Both Designhill and 99Designs can fulfill your design needs by crowdsourcing ideas. You'll have a design in next-to-no time, and there's no risk involved as you can access their money-back guarantee, no questions asked.  
As both design services provide similar features and don't differ too much in their process, it may come down to your budget, gut feeling, and how many designs you want for your money.  
99Designs provides more submissions per hosted contest, whereas Designhill might be the more budget-friendly option. If the results of the competition mean a lot to your business, consider investing the extra money to go with 99Designs. But, if this is the first time you're dabbling in graphic design, and you want to hit the ground running fast, Designhill wires you up with professional designers (for cheaper).  
As we've already said, both provide similar packages and categories. So, you'll undoubtedly find what you're looking for. Plus, each platform offers free design consultation, so you have nothing to lose by calling them up and seeing what they have to offer. 
But, if design by a contest isn't what you're after, both platforms can hook you up with a dedicated designer who can produce design work to meet your specific long-term needs.  
Bottom Line: Objectively speaking, a freelance marketplace is really as good as it's marker share. The best in class offering with the highiest tiers of quality content is definitely 99Designs here. While they charge more for listing fees, the end results are more consistently better. You get what you pay for.
However, we have to say that Designhill provides more design services and features outside of competitions. So, if that's the way you want to go, this is probably the more versatile solution for you.  
Why I Use 99Designs
I know I want my logos to look NICE, but I don't know how to describe what I want... Sound familiar? Let someone else sweat it! 99Designs literally takes the guesswork out of it and delivers clean, professional, crowd-sourced designs. #win
We earn a commission if you click this link and make a purchase at no additional cost to you.
We hope this review helps you narrow down your options and informed you as to the processes involved in commissioning graphic design projects via these two design contest sites. 
We can't wait to see your new look! Let us know in the comments how you got on and which (if any) platform you used to bring your brand to life. Speak soon! 
Further Reading on Design Contest Site Options and Freelance Platform Reviews: