Last Updated on April 22, 2023 by Ewen Finser
In our post, we will be comparing Flippa vs MotionInvest, find out which one is better for buying and selling websites online.
Have you managed a website for years and are ready to sell? Are you looking to get into the website game without having to start from scratch?
Either way, as a seller or buyer, you already know that completing a successful website transaction can be a challenge. Let's face it: most of the people you encounter "in real life" don't own or understand web-based businesses.
That's why online business marketplaces like Flippa and MotionInvest have popped up to connect website buyers and sellers. The question is, which service is right for you?
Main Differences Between Flippa vs MotionInvest
The main differences between Flippa vs MotionInvest are:
Flippa works great for bigger sites, whereas MotionInvest is best for smaller sites.
Flippa is a broker and marketplace that lists businesses, whereas MotionInvest is a party in every transaction.
Flippa has a higher risk as the company does minimal verification for listed sites, whereas MotionInvest has reduced risk due to the buyer and seller's vetting process.
Flippa has a cluttered marketplace and it can take a lot of time to find those "diamonds in the rough," whereas MotionInvest marketplace is fully vetted and has a more accessible portfolio to choose from.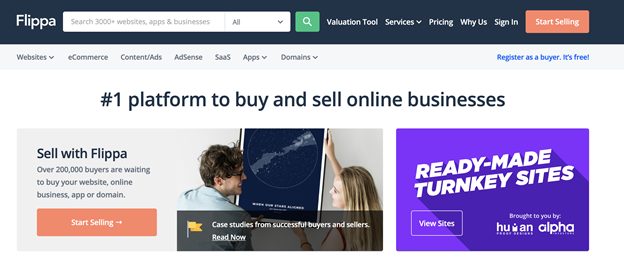 The successful online business marketplace Flippa has been around since 2009 – and one of its biggest claims to fame is its sheer size.
Over the years, Flippa has gained a massive audience of buyers and sellers, numbering more than 1.5 million users. Plus, compared to some of the more premium website marketplaces out there – including Empire Flippers and FEInternational – Flippa serves the lower end with websites worth four-figures and under.
In addition to websites, Flippa also facilitates the buying and selling of web domains, mobile apps, and Amazon FBA businesses.
Buying/Selling a Website With Flippa
Buying and selling with Flippa is a pretty streamlined process. At the top of the home page, you'll see different categories of businesses that people list on Flippa:
Websites
Content/Ads
AdSense
SaaS
Apps
Domains
No matter how you intend to use Flippa, you'll first need to create a free profile. Then, you can decide whether you want to buy or sell.
On the buying side, there's a large and constantly-updated list of businesses for sale that you can search and browse through. If you find a listing that catches your attention, you can either make an offer, contact the seller to discuss further, or add it to your watch list.

On the selling side, you're going to create a listing for your business, including the type of offering and its URL online. As you go through this process, Flippa will prompt you to provide information on the business name, the official start date, the state where your business is registered, and so on.

Who Is Flippa Good For?
Flippa is perfect for savvy online marketers or entrepreneurs with tens of thousands in capital to invest. It's a good fit for anyone who's interested in online businesses beyond just websites. And it's easy to use – you can get your site listed in under 15 minutes as a seller, while buyers have plenty of filtering options to find the exact types of sites they're looking for.
Pros and Cons of Flippa
Pros
Used by millions. A truly huge marketplace provides a wide selection of online businesses for buyers and a large audience for sellers.
Accessible to all. Buyers and sellers with a range of budgets and website sizes can use Flippa.
Low multiples for buyers. With some patience, you can hunt for deals on Flippa and find some great sites for less money.
Cons
High risk. There's potential for scams on Flippa, as the company does minimal verification for listed sites.
Cluttered. It can take a lot of time to find the "diamonds in the rough."
Higher barrier to entry. You'll need more cash or financing to buy the majority of businesses on Flippa.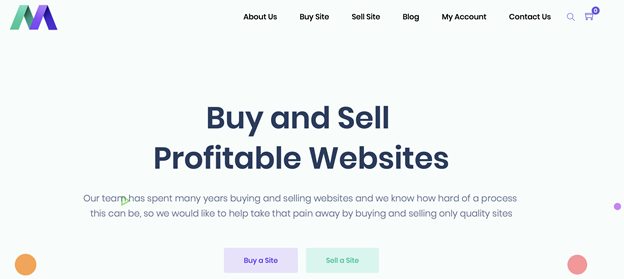 MotionInvest was started by three successful online entrepreneurs – Jon Gillam, Spencer Haws, and Kelley Van Boxmeer – as a service for smaller niche website buyers and sellers.
Maybe your site only generates $500 per month. Maybe you can only afford to buy a website at that level right now. Or maybe you want to diversify your affiliate marketing business by entering a new niche. No matter your story, MotionInvest offers an exciting new approach to the website marketplace model.
Buying/Selling a Website With MotionInvest
What sets MotionInvest apart in this space is that the company actually buys and sells websites directly. In other words, rather than being a broker where people can list their websites for sale, MotionInvest is the buyer or seller in every transaction!
This allows for a more consistent experience for all MotionInvest customers, including buyers and sellers. Plus, MotionInvest vets these websites carefully to ensure they actually are profitable – because otherwise, they're the ones stuck with a dud website, rather than you!
How does it work? Well, before anything else, MotionInvest has you create a free profile. This allows you to view available websites as a buyer or request a free evaluation as a seller.
On the buying side, there's a tab at the top of the website to "buy site." From there, it's a simple process of either viewing the publicly viewable sites for sale or contacting the MotionInvest team to share what kind of site you're looking for. As part of the buying process, you'll also get access to discounted coaching calls, exclusive discounts on other services, and an action plan to set you up for success.


On the selling side, the process begins with a free evaluation. Remember, MotionInvest doesn't automatically buy anyone's website – it needs to meet its standards first. Once you submit your site to get evaluated, and if everything checks out, both sides will sign a buyer's agreement.

Who Is MotionInvest Good For?
MotionInvest is perfect for people with low starting capital or less experience in the world of affiliate websites and online businesses. Because the company vets websites before buying them, they pass along all of that information to the buyer, giving the buyer an accurate assessment and a great starting point for a successful site.
Pros and Cons of MotionInvest
Pros
Reduced risk. Professional vetting ensures both buyers and sellers are treated fairly. Only quality sites are available.
Fast turnarounds. You'll be paid in cash within 48 hours as a seller if everything goes smoothly, and buyers can get everything transferred within 2-3 days.
Smaller sites. Uniquely focused on sites generating between $20 and $2,000 a month.
Cons
No service to help run the site. As soon as you've made the purchase, the site is yours – but there's no follow-up service to help you manage the site, so you're on your own.
Multiples can be lower than in other places. For sellers, the overall purchase price may be lower than what you'd find elsewhere.
Due diligence is done for you. If you're the type of person who wants to find a deal by doing the due diligence yourself, MotionInvest isn't the best choice for you.
Flippa vs MotionInvest Frequently Asked Questions
Is Flippa good for selling domains?
Even though Flippa is focused more on being your leading platform for buying and selling websites, the options to sell domain names have increased. If you are interested in selling domains, Flippa can be a good option.
Can I get a training with MotionInvest?
Yes! MotionInvest offers a coaching calls option to help you out with your starting process. The service is available at a very affordable price.
Flippa vs MotionInvest: Conclusion
The good news about Flippa and MotionInvest is that the two marketplaces make it possible for buyers and sellers of websites to connect.
If you're in the market for a new niche website – or you're looking to sell your own niche website – then be sure to check out Flippa and MotionInvest to explore which option is going to be the better fit for you!