Last Updated on June 13, 2023 by Ewen Finser
Getting on top of your paperwork is crucial if you're running a small business. Part of that involves creating policies and forms for your clients or customers, and this is easier when you have a good PDF creation tool. My PDFfiller review can help you to find what you're looking for!
I work with freelancers and clients across the globe, and I know how important it is to ensure everyone is on the same page. Creating PDF policies and contracts works well for most people as you can easily capture signatures. I've used a lot of different platforms over the years, so I know what works for me (and what doesn't!).
I'll be reviewing PDFfiller today, a helpful platform that works well for small businesses. I'll focus mainly on the ease of use, the flexibility of the PDF creation tool, and how easy it is to collect signatures. Finally, I'll let you know my honest thoughts and give you a round-up of the pros and cons, so you can figure out if PDFfiller is right for you!
The Bottom Line Up Front
PDFfiller is one of the best PDF creation platforms I've tried. I like it for several reasons: it's suitable for new users, it has a lot of flexibility when it comes to creating PDFs, and it has a lot of templates to choose from.
While it could be better, it's a great choice, particularly for smaller businesses, as the pricing is excellent.
How to Find Good PDF Software
There are a few key things to look for in PDF creation software:
Ease of Use
I always look for an easy-to-use platform with a straightforward, intuitive interface. You want to be able to find all the essential tools within a platform without having to hunt them down: easy navigation will make your life much easier.
All new software comes with a learning curve, but some are easier to pick up than others. The best thing to do is to see if they offer a free trial so that you can test it out for yourself. You should also look for beginners' guides, which should be clearly signposted when you sign up, to learn how to use the platform correctly.
PDF Creation Tool

Most PDF file creation tools work a little like word processors or email marketing software: you can drag and drop items where you want them. Look for an editing platform that makes creating PDFs from scratch as easy as possible.
At a minimum, PDF tools should allow you to add the following editing functionality:
eSignature boxes
Text
Images
Radio buttons
Drop-down menus
You can also capture financial details in the editing fields, like account numbers, which is helpful if you need to collect payments from customers or clients.
Templates
It's really helpful if your chosen platform has a selection of templates. Creating all the forms and policies necessary to keep things running smoothly is tiresome if you're a small business. Templates are more accessible and can be edited to suit your branding and needs.
Fillable PDF forms may include:
Financial forms, like tax forms
Policies and procedures document templates
New employee onboarding forms
Legal documents
Invitations
Letter templates
Sometimes you need to dig for these – you may find them on your chosen software's website rather than in the platform itself.
Document Hosting & Organization
Look for a platform that allows you to host documents, to make it easy for you and your clients or customers to access necessary forms and policies. This is document management fundamentals.
You may need to use an integration for this (for example, you may already use OneDrive, Google Drive for Google Doc access , One, or DropBox – in which case, you should look for a platform that integrates with these services).
Keeping your documents organized is another essential tool. A good PDF tool will allow you to keep an eye on your pending documents within a document management view. It should also allow you to quickly view those that have already been returned to you.
Your chosen platform may also have a secure encrypted folder, which is essential for sensitive documents (secure document management). These folders may require extra authentication to access them, which is helpful if you're working with a team and need varying levels of access for different employees or compartmentalized audit trail tracking.
Signature Collection
This is important if you work with clients and customers across the globe! The easier it is for people to sign a document, the more likely you'll get the signature back quickly. Look for software that makes the whole process as straightforward as possible.
If you only need to collect signatures, you may want to check out our guide to the best document-signing software for business.
Customer Support & Customer Service
Having a good customer support team is essential if you run into trouble! Depending on your price tier, you may have access to varying levels of support feature assistance.
For example, you may need to leave a question using a ticketing system and wait for the customer support team to get back to you, or you may have access to a live chat, which will be much faster.
Looking at the support center/knowledge base may be helpful, as you can see the support they offer for new users. For example, they may offer tutorials, video guides, and user forums to allow you to connect with other people.
Pricing
Pricing varies depending on the platform you go for, and some are more expensive than others. This will be a crucial factor for small businesses, as you may be trying to keep costs down as much as possible.
You can usually get a discount by signing up for a year's subscription at once. However, it's worth checking if your chosen software has a free trial before you buy.
The Key Features of PDFfiller
Here's what I thought about my time with PDFfiller, including all the key features you may want to know about!
UI/UX
User experience is key: navigating a platform easily makes a huge difference. So I pay attention to the onboarding process, and I'm happy to report that it was easy to sign up for a free trial with PDFfiller.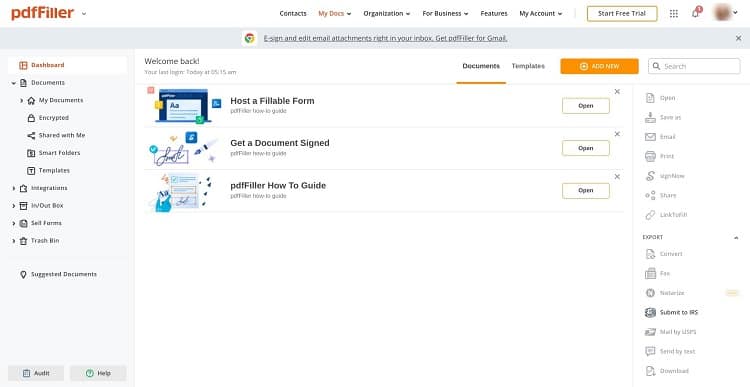 As you can see, some useful how-to guides on the dashboard are perfect for new users. It covers two basic processes (hosting a fillable form and getting a document signed) and a more in-depth how-to guide, which will walk you through the basics.
It's fairly easy to navigate. There are a lot of options on both sides of the screen, but the most useful ones are on the left-hand side, and it's helpful to have your current documents displayed on the dashboard. You can quickly find templates, and the 'add new' button is easy to find, too. Most people will get on well with PDFfiller.
Having said that, the PDF creation tool is a little more challenging to learn. I'll explain that in more detail in the next section.
PDF Creation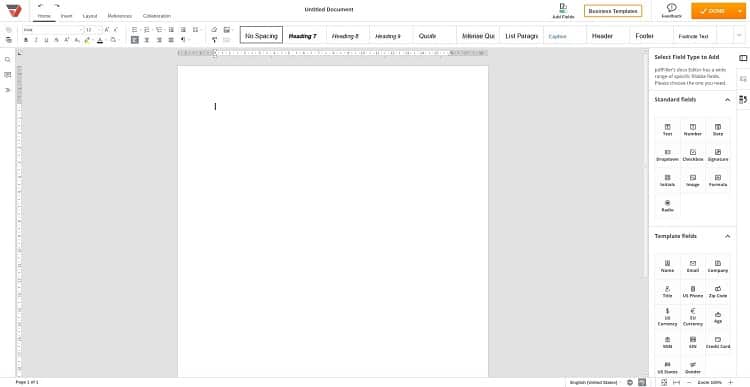 The PDF creation tool is flexible. You can add many fillable fields, including:
Text (text box)
Numbers
Date
Dropdown Menu
Signature
Initials
Image
Formula
Radio Button
You can drag and drop these where you want them. This could be better: they wouldn't place exactly where I wanted to the first time. However, for basic forms and contracts, it works brilliantly. The interface is a little cluttered and doesn't work as smoothly as I would have liked. There's a learning curve here, especially if this is your first time using this software and you're trying to build PDFs from scratch.
If you want creative, bold, beautiful PDFs, this may not be the best option, as it may take a while to get it to look the way you want. It works very well as a form-building tool, however.
I like that you can add some more advanced fields, including:
US Currency
EU Currency
SNN
EIN
Credit Card
This is great if you need to create a form for clients, such as a contract for new work.
At any time, you can preview your PDF document. If you still need to add fields, the auto-add field tool will automatically do it for you. You can download, print, and share your PDFs, too, as well as send them via fax or by USPS. You can also directly send them to the IRS.
You can convert your PDFs into several files, including:
Fillable PDFs (simple convert PDF option)
Word document (all versions)
Powerpoint files
JPEGs
Excel files
Templates
PDFfiller has a range of free templates to choose from. This is very useful if you're just starting your business and need to create policies and contracts from scratch. In addition, they're pretty practical, so don't expect fancy graphics! Instead, you can edit templates with easy to use editing tools and save them for future use, which is nice.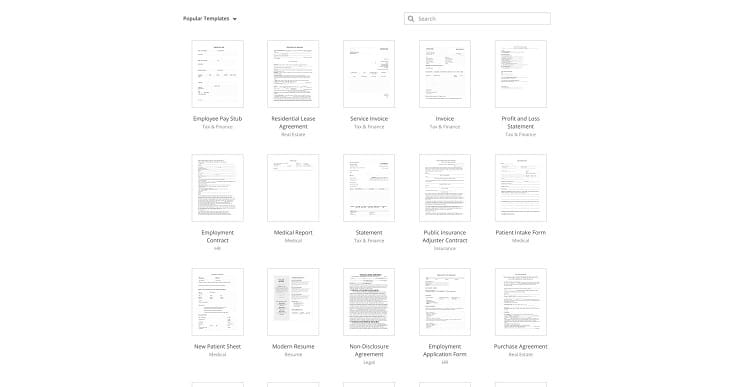 There is a wide range of template categories, including:
Business proposals
CV templates
Canada tax documents
US tax documents
Finance forms
Medical forms
Tickets
Reports
Newsletters
Invoices
Certificates
Timesheets
You can also create templates from scratch if you'd prefer. This allows you to make the exact PDFs you need, using them again in the future.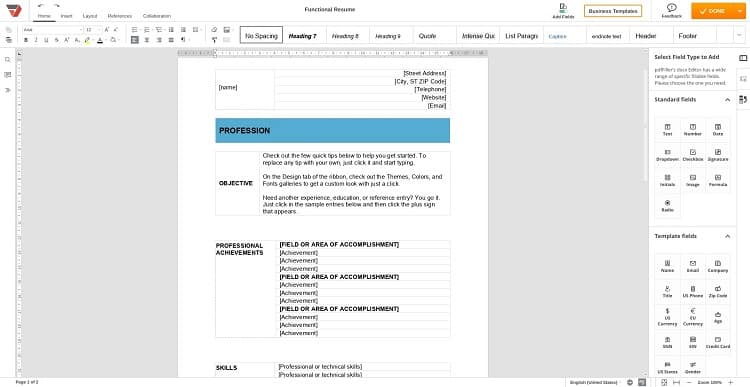 Document Hosting and Organization
You can use integrations to host fillable forms. This allows you to share contracts with freelancers, clients, and customers, so you can access them anytime. Integrations include Dropbox, Google Drive, Box, and OneDrive. It's pretty straightforward to link your accounts, too.
I like the storage tools offered by PDFfiller. The main folders are:
Inbox: these are documents that have been signed and returned to your PDFfiller email account
Outbox: these are forms and documents that you have sent out to be completed by others
Secure Folder: this is for sensitive documents. It requires SMS authentication to access and helps protect documents by storing them in an encrypted folder.
This makes it easy to see where your documents are and to chase up any outstanding signatures you're waiting for. Plus, newly returned documents are displayed on your dashboard, so you'll know when they have been completed. If you're running a small business and you find keeping on top of the admin side difficult, PDFfiller will make it easier.
Signature Collection
Collecting digital signatures is essential if you work remotely, and PDFfiller makes it as simple as possible for your clients or customers. They can give signatures by drawing or typing, or upload it via their mobile device, PC, or webcam.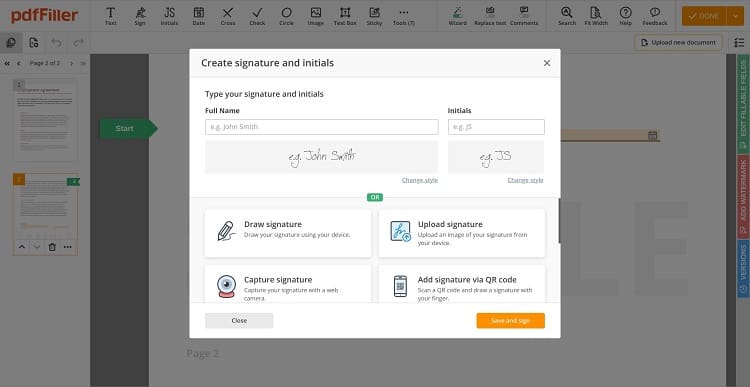 I tested this, and it was super easy to draw a test signature. This is great, as it makes your documents more likely to be returned quickly!
Sell My Form
You can use PDFfiller's online platform, Sell My Form, to sell your PDF creations. This is super easy to do and might be a fun side hustle if you enjoy creating PDFs from scratch!
Mobile App
I downloaded the mobile app to test how it works. It's a great app: it allows you to access your PDFs on the go and is straightforward to navigate.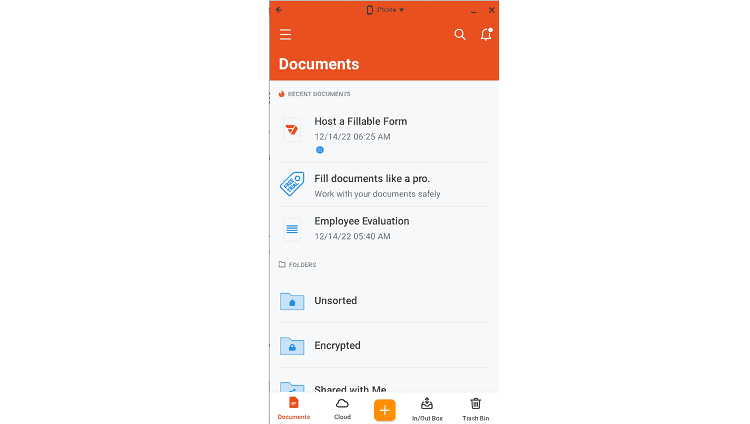 The app is free on Android and iOS (with a PDFfiller subscription). You can view your Inbox, Outbox, and your Encrypted folder. You can also view your notifications, so you'll get an alert when someone returns a document.
PDFfiller Support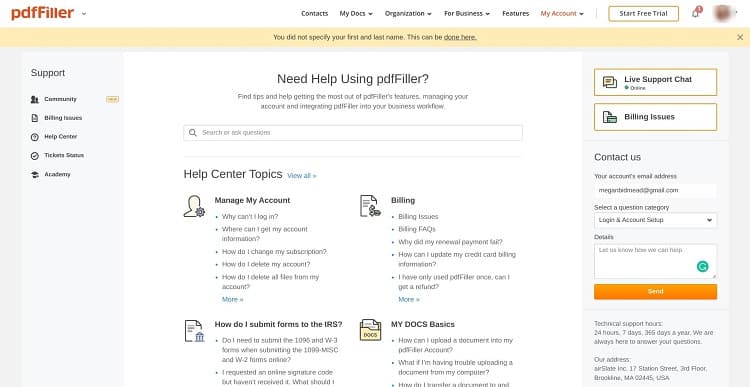 PDFfiller's Support Center is good. It has some useful FAQs, especially if you're new to the platform. They also offer live support chat and a ticketing system for support, but this depends on the price tier you have chosen.
You can also enjoy PDFfiller's Academy, which is great. It will help you learn how to use PDFfiller, go paperless, make your PDFs look professional, and more.
PDFfiller Pricing
Let's take a look at PDFfiller's pricing. There are three to choose from:
One user
Edit, fill, draw, paint, save, or fax
Convert PDFs to editable Word documents
Erase, highlight, and re-write PDFs
Access documents from anywhere
Highlight & annotate documents
Customer support within a day
Premium Plan – from $30 per user per month
Up to 5 users
Send documents out to be signed using SignNow
USLegal Forms Library
Create reusable templates
Collect and export data
Advanced workflows
Instant chat customer support
Minimum 10 users
Business process automation
Enterprise-grade e-signature
The most extensive library of legal forms and documents
The pricing starts at a reasonable level, which is helpful if you're a small business trying to get going. The plans start at $8 per month. You can test it out first by taking advantage of their free 30-day trial on their pricing page.
PDFfiller Pros and Cons
Let's take a look at the pros and cons of PDFfiller:
Pros
A good interface that is easy to navigate
Affordable pricing for small businesses
It makes it easy to keep documents organized
Super straightforward to collect signatures
Decent support available
Good mobile app
Cons
PDF creation tool could be easier to use
Some help is locked away behind higher price tiers
Alternatives I'd Recommend

If you don't want to go for PDFfiller, or you want to test out a few other platforms first, there are a few others I'd recommend:
SignNow – this is a little different, as it doesn't allow you to create PDFs. However, it's a neat little tool enabling you to add document signatures. If that's all you're looking for, you may find it easier to use this.
Foxit PDF – This PDF builder is easy to use and intuitive and has some great templates. It's worth checking out! You can read more in our PDFfiller vs Foxit PDF comparison.
NitroPDF – This PDF creation tool allows you to create and edit PDFs. It has a great range of templates, which is helpful for small businesses and allows you to easily manage PDFs. You can read more in our PDFfiller vsNitroPDF comparison.
Where to Find PDFfiller
You can find out more about PDFfiller, and sign up for their free trial on their home page.
Easier to Use + Affordable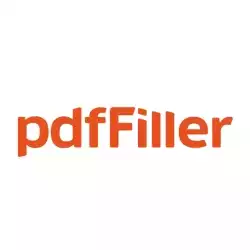 Why Go with PDFfiller?
Dead simple to use, easier than other similar competitors I've tested. Affordable and flexible pricing plans = better for small to mid sized businesses.
Try PDFfiller Now
We earn a commission if you click this link and make a purchase at no additional cost to you.
Frequently Asked Questions
Here are some commonly asked questions about PDFfiller:
Question: Are eSignatures Legally Binding?
Answer: Yes, eSignatures are legally binding in many countries, including the US, the UK, and countries within the EU. This makes it a lot easier to go paperless!
Question: Can I Cancel My PDFfiller Subscription Easily?
Answer: Yes, you can easily cancel your subscription by going to the 'account' page and following the process from there. It's easy to do, although if you've signed up for a year's subscription, you may not be able to get your money back if you decide to cancel early.
Question: Can I Use Grammarly with PDFfiller?
Answer: Yes, you can use Grammarly with PDFfiller! First, you'll need to have the Grammarly extension installed. You can read more about how Grammarly works in our guide to Grammarly pricing plans.
Question: Is PDFfiller Safe to Use?
Answer: Yes, I think PDFfiller is safe to use. It complies with security standards like PCI, DSS, HIPAA, SOC 2, etc. This means you can trust that your data is safe with PDFfiller.
PDFfiller Review: To Sum Up …
Overall, PDFfiller is definitely worth a try. I like how easy it is to use, and it's ideal for smaller businesses or individual users. You can easily keep track of documents, and the signature collection tool is excellent.
It's also affordable on the lowest price tier, and the mobile app is useful. Plus, I like the added security the encrypted folder provides, especially if you're dealing with sensitive information like financial, educational, or medical records.
While it's not a perfect platform, overall, it works well, and I recommend checking out their free trial to see if it suits you!
Still Stuck? See how PDFfiller compares to other popular PDF editor tools: