Last Updated on April 22, 2023 by Ewen Finser
I've tried a few different brands of PDF-filling software for my online business, so I'm aware of how important it is to choose the best software for your needs.
It can be tricky finding sorting through all of the software options out there, only to find it isn't the best fit for your brand.
The correct PDF-filling software makes life easy for you as a business owner, as well as for your employees and clients.
In this extensive guide, you'll discover my choices for the best PDF Form Filler software.
The Bottom Line Up Front
There is plenty of useful and reliable PDF-filling software available to choose from. This article lists five pieces of software that provide a wealth of features, industry-standard security, and a world of integrations. The only important differences are found in the pricing plans.
I would suggest PandaDoc or DocuSign if you want the most basic e-signature software. DocuSign is also a great choice if you want the most comprehensive software, while I'd recommend SignNOW for everyone else as this software provides the best value for money.
Overall, the best value for the most business use cases is going to be PDFfiller here. By focusing on the actual document management and filling side, it stands out as a huge time saver for most organizations.
How To Choose The Best PDF-Filling Software
Here are the factors that you need to compare to find the best PDF Filling Software for your needs.
Ease of Use
You'll want PDF form filling software with a gentle learning curve for the minimum of disruptions to your business.
Ideally, you'll be able to create, edit PDF and send professional-looking documents with rapid speed, even if you don't consider yourself especially tech-savvy.
If it's too complicated to add the necessary PDF form field entries to your document or send them to the appropriate people, it will frustrate you more than it helps. No need a PDF expert here!
Price
Price will always be a factor when buying any type of software for your business. PDF-filling software tends to offer several price tiers to prospective customers, so you'll need to evaluate which tier best suits your needs.
Take a look out for free trials and discounts for annual memberships too.
The Number of Signatures Included in the Package
Each price tier will offer different limits on the software's various features.
In most cases though, the most important limit to look out for is the amount of signatures you can acquire per month. It's therefore a smart idea to compare which packages offer the best prices for the number of signatures you're likely to need.
Large corporations will most likely be better off purchasing packages that allow for unlimited signatures.
Security
The security of your PDF form filler will be of utmost importance since you'll most likely be handling sensitive data within this software.
You'll want to compare what security features will be at your disposal. In most cases, you can expect to be able to access two-factor authentication, as well as audit trails that show the movements of your software's users. More advanced security features are typically available with more expensive tiers.
Integrations With Other Platforms
Most PDF-filling software offers integrations with other platforms to speed up your workflow. In most cases, you can expect hundreds of integrations to be available, including connections with platforms like Google Workspace, Zapier, Microsoft 365, and more.
Best PDF Form Fillers For Business Owners
These are the PDF form fillers that we rate as the best for freelancers, entrepreneurs, and business owners alike.
To create this list, I considered ease of use, security, integrations with other platforms and the best value for money.
PDFFiller: Best Overall Document Management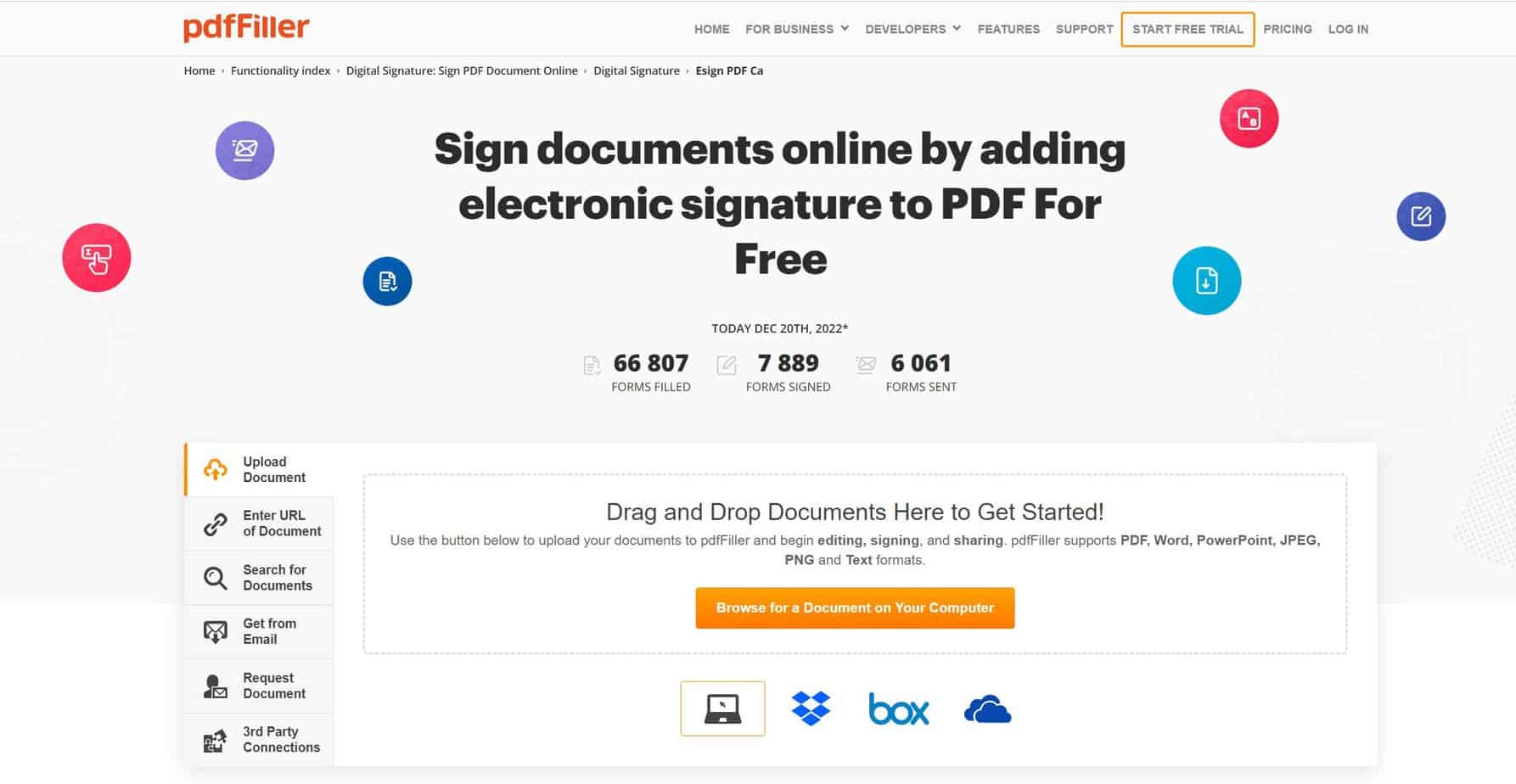 PDFFiller is a recognized piece of software trusted by tens of millions of users, including many famous business enterprises. You can create fillable documents from scratch or edit existing ones and send them to your contacts with ease.
This tool is simple to understand and easy to start using. However, I personally found it a bit fiddly when I tested it out for myself. With other rival software, I was able to work out how to create sample documents within seconds. There's slightly more of a learning curve here.
Customer service is offered via live text chat if you invest in the Premium plan. There's email customer service for everyone else, and they promise to get back to you within 30 minutes if you have the Plus plan. If you can't wait 30 minutes, the PDFFiller YouTube channel will help you with all frequently asked questions too.
Customer service is offered via live text chat if you invest in the Premium plan. The PDFFiller YouTube channel will help you with all frequently asked questions too.
There is a lot of room for customization here. For example, there are seven ways for you to add your own personal signature. What's more, there are over 25 million document templates for you to choose from. That seems like a tiny bit of overkill to me, but it doesn't affect the user experience negatively.
There are three pricing tiers for PDFFiller; Basic, Plus, and Premium. Its lowest tier is available for $8 per month if you pay annually. However, there are useful (and, for many people, essential) features locked away in the software's higher tiers. As such PDFFiller can't be considered as cost-effective as other competitors. Most customers are likely to need to pay $15/month for the Premium tier if they choose to sign up.
PDFfiller Pros
Easy-to-use;

Plenty of customization;

Millions of templates;

A great smartphone app;

30-day free trial.
PDFfiller Cons
Limited font options;

Many useful features are not available in its basic tier.
Easier to Use + Affordable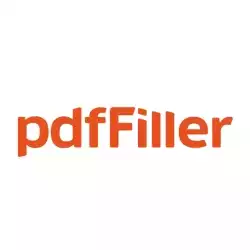 Why Go with PDFfiller?
Dead simple to use, easier than other similar competitors I've tested. Affordable and flexible pricing plans = better for small to mid sized businesses.
Try PDFfiller Now
We earn a commission if you click this link and make a purchase at no additional cost to you.
SignNow: Best for Small Business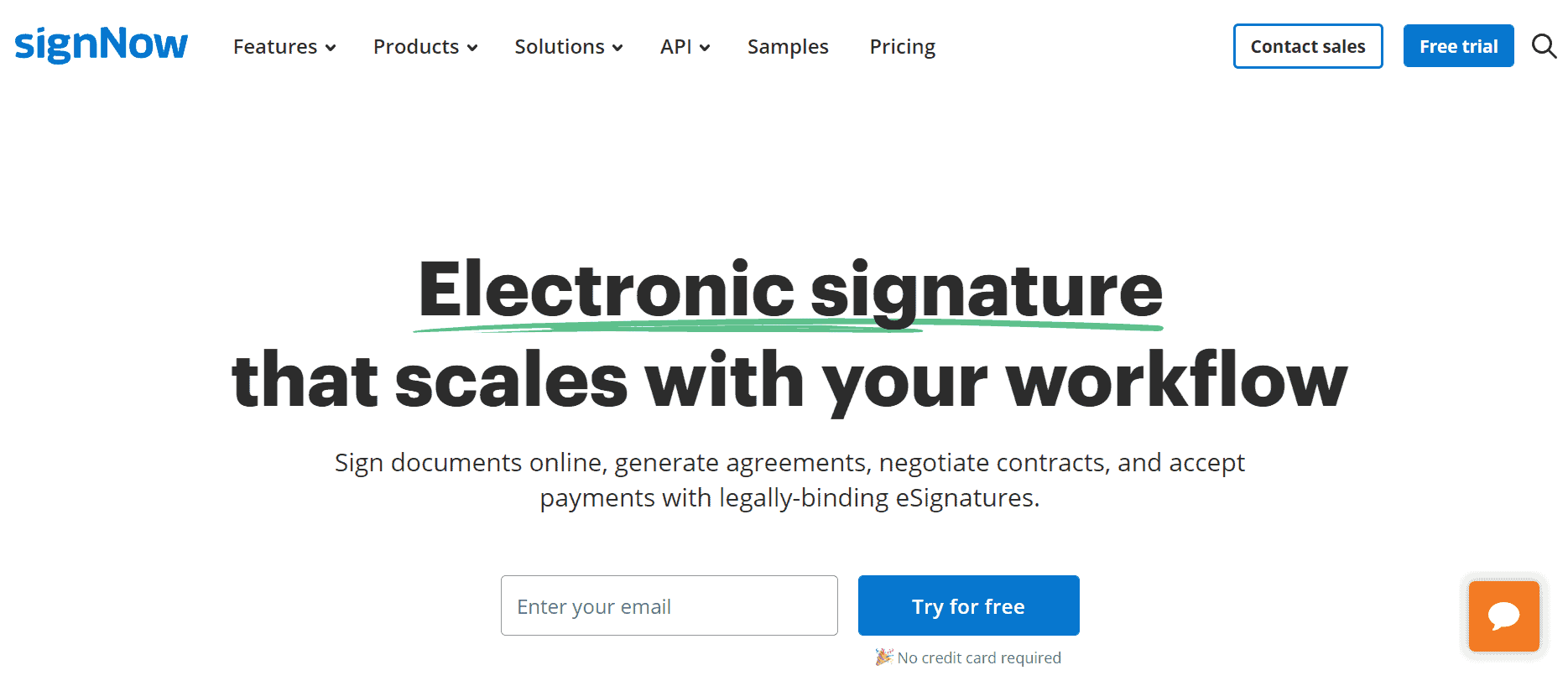 SignNow is one of the newer pieces of PDF form filler software on the block. Still, it's already trusted by more than 28 million users across the world. Once you test it out, it's easy to see why.
This was my favorite piece of software to test if only because it was immediately simple and obvious how to complete the most basic tool actions. This software would speed up the working day of anyone who works with PDFs on a regular basis.
You can create, edit and send all types of fillable documents (like PDF files) with ease using this software. Its intuitive drag-and-drop software can be quickly mastered by even the least tech-savvy users. You'll quickly find yourself using SignNOW to send contracts, payment requests, invoices, or whatever else you need.
On top of that, it's the most competitively-priced software on this list.
There are four pricing tiers: Business, Business Premium, Enterprise, and Enterprise Cloud. Unlike its competitors though, its lowest-priced Business tier is packed with features and will be more than enough for most users. It starts at $8 per month if you pay for one year upfront.
SignNow has even been bold enough to compare the features of its most basic Business tier to those of its competitors on the home page of its website.
That's an absolute power move, which makes it impossible to argue with the incredible value for money offered.
Pros
The drag-and-drop software is very intuitive;

You'll be able to upload, edit and send documents and PDF files with ease;

Its 'Business' plan offers incredible value for money.
Cons
The technical support team isn't too quick to answer queries;

The analytics feature is somewhat clunky. It can take a while to find the data you require.
Better UX + Better Pricing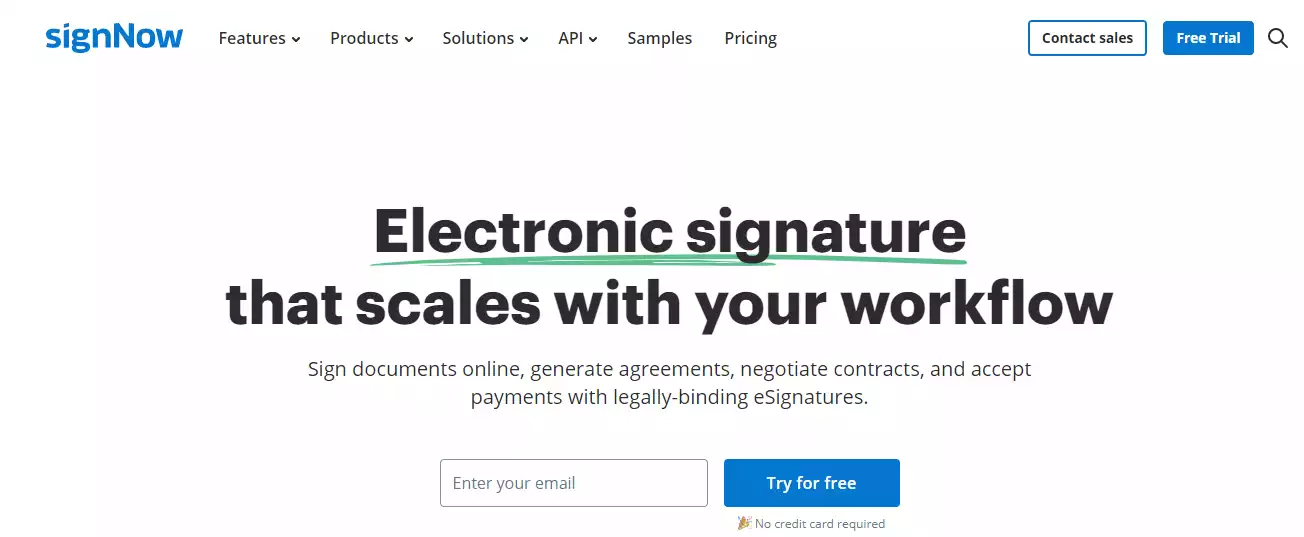 Why Go with SignNow?
If you haven't evaluated your document signing software recently, SignNow is worth a look! Easier to use, intuitive workflows, and better pricing mean it's time to dump that old document signing software for the new upstart.
Try SignNow…NOW!
We earn a commission if you click this link and make a purchase at no additional cost to you.
signNow vs Other PDF Editor Form Fillers
DocuSign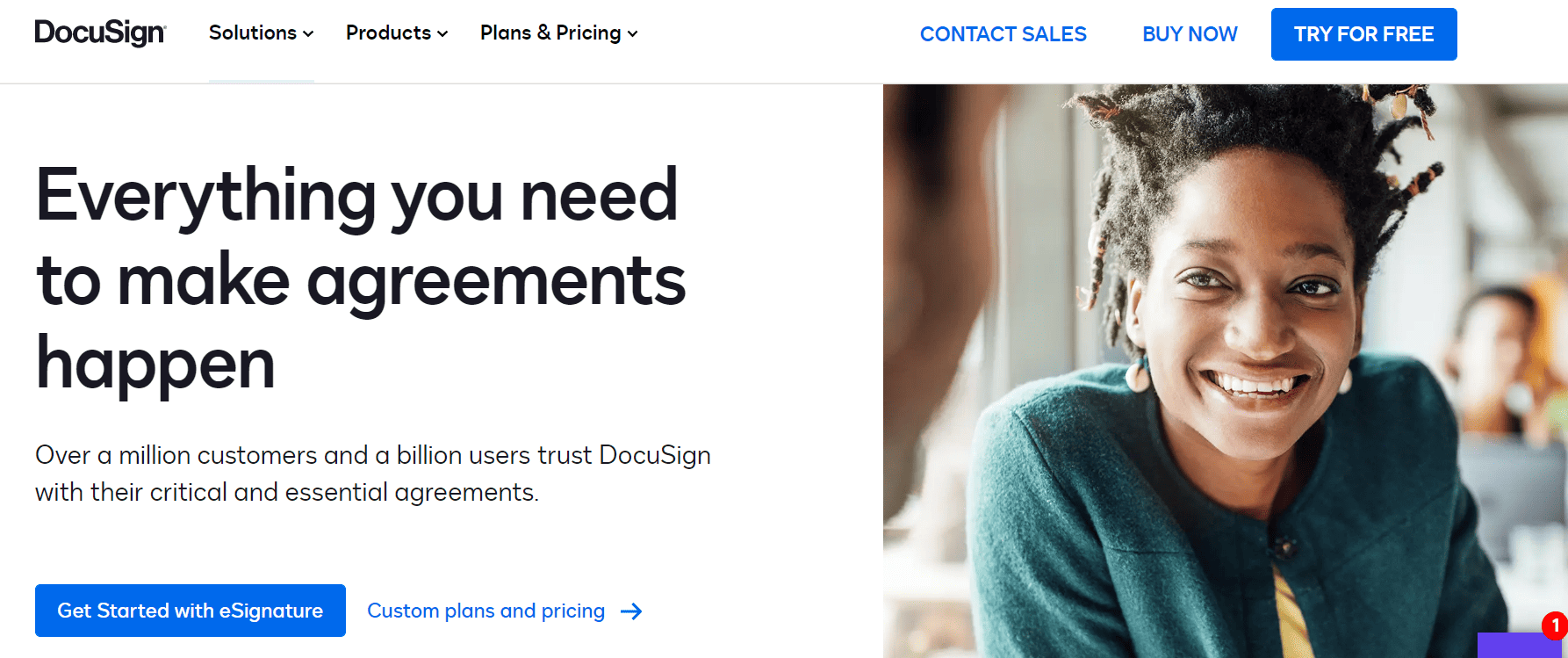 DocuSign is another heavy-hitter in the PDF form filler industry. It has been allowing individuals and businesses to streamline their work processes since 2003, by offering electronic document signing, fillable form creation, payment collection services, and more.
The great thing about DocuSign is how it offers different versions of its software to suit the needs of many different customers. There are three different pricing tiers of its core products – Personal, Standard and Business Pro – but it goes deeper than that.
For starters, there's a free version for those who just want to sign documents and nothing else. On top of that, there's an alternative version of the DocuSign software created specifically for those in the real estate business – and National Association Of Realtors (NAR) members are eligible for a discount on this. That's a clever move targeting a specific niche like this, and one that I'm sure has paid off for the company.
DocuSign is mostly preferred by large corporations, and it does feature a large array of features and options for customization. More than most of its competitors, in fact.
Still, you'll be impressed with the number of methods offered for you to create, edit and send documents. You can expect to integrate with plenty of CRMs, merchant accounts and more.
The downside is it'll cost more to access DocuSign's paid plans compared to its competitors. The learning curve would appear to be slightly steeper too, although perhaps only due to its overwhelming amount of features.
Pros
This is one of the most expansive PDF-filling software available;

There's a free version if you only need to sign documents;

There are versions of DocuSign designed especially for the real estate industry;

A 30-day trial is available without having to give credit card details.
Cons
DocuSign has a slightly steeper learning curve than some of its competitors;

It'll cost you more to use DocuSign than its direct competitors.
Docusign Compared to Other eSignature Solutions:
Dropbox Sign: Best if You Use Dropbox Already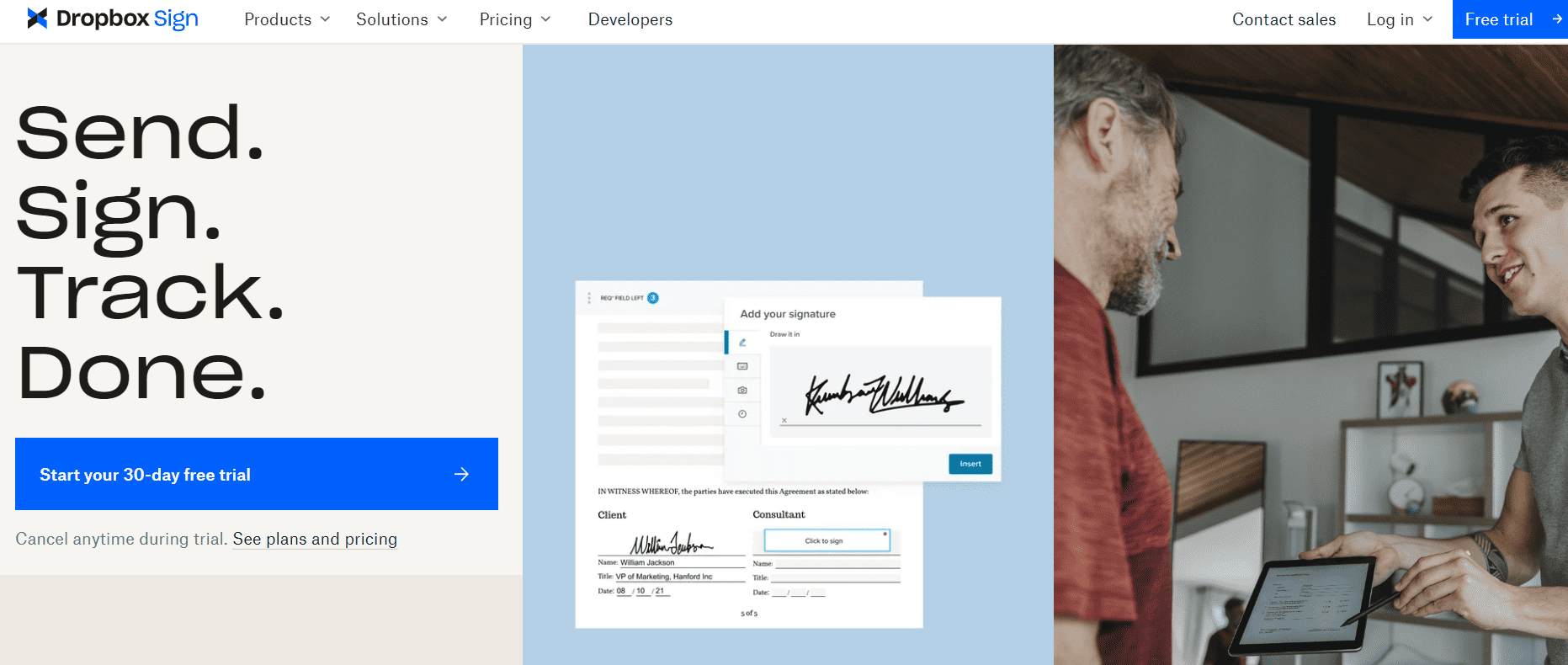 Dropbox Sign was previously called HelloSign, before its acquisition by DropBox in 2019. The most obvious unique selling point for this software is that its higher pricing tiers include Dropbox cloud storage and Dropbox forms.
As a sucker for a money-saving deal, I'd be inclined to choose this package over its competitors, if only because I'm already a user of DropBox cloud storage.
The software retains the simplicity you've come to expect from DropBox products and includes all of the basic features offered by its competitors. The tagline on its homepage is "Send. Sign. Track. Done" and the ease of this process is definitely apparent in Dropbox Sign. I'm sure even my elderly grandmother could figure out how to do it.
It has three pricing tiers: Essentials, Dropbox + eSign, and Standard. The Essentials package includes unlimited signatures and all the basic tools you're likely to need as an individual. However, it will set you back $15/month.
The real value comes with the Dropbox + eSign package at $25/month, as you'll save more than 20% compared to buying both platforms individually.
It doesn't look like there's an easy way to upgrade if you're already a DropBox Cloud user, but perhaps you can strike up a deal following a quick word with the customer service team.
Pros
Easy to learn and use.

Save money on Dropbox Cloud storage by combining it with this software.

A 30-day free trial is available.
Cons
It's not as competitively priced as other options on this list.

There's not as much form filling customization nor as many integrations compared to its competitors.
PandaDoc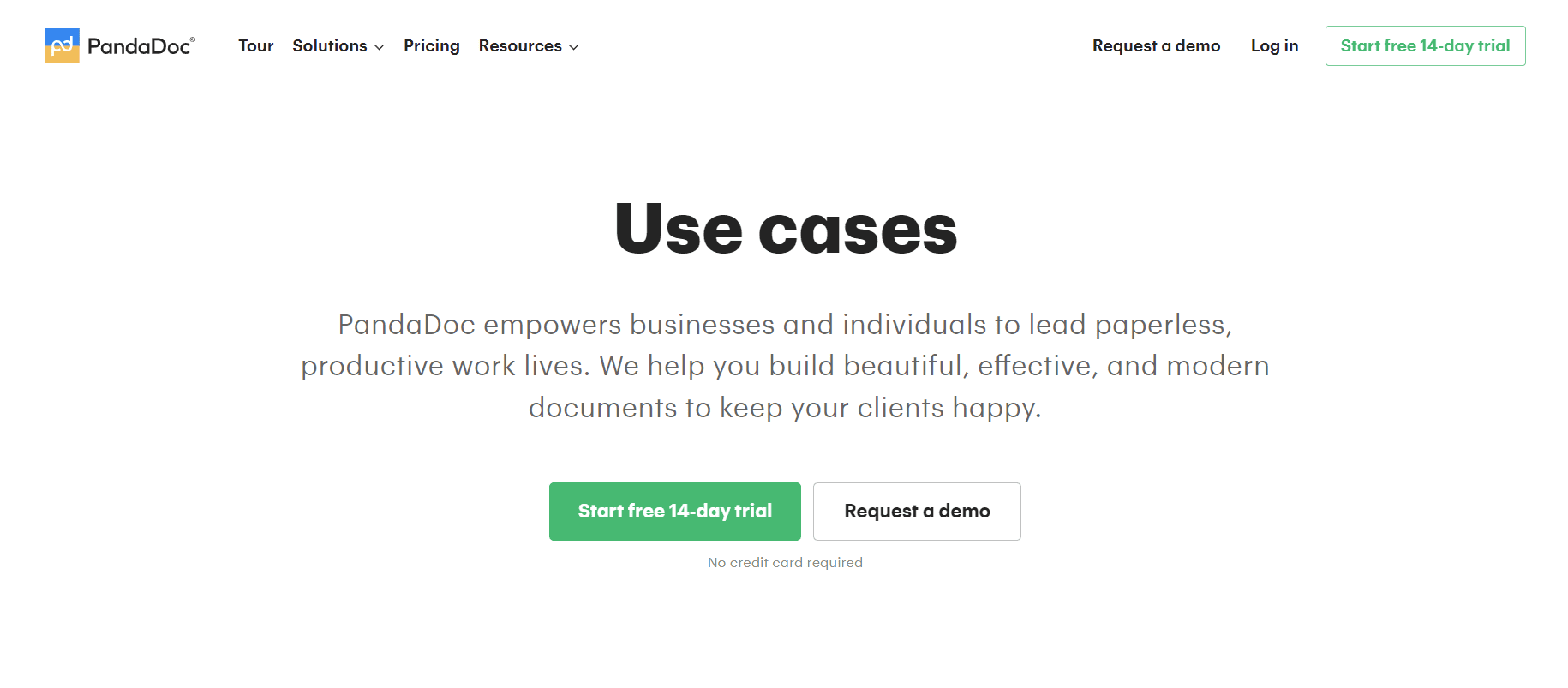 The most obvious advantage of PandaDoc is that it offers a FREE account with unlimited uploads and signatures. The free account is devoid of templates, integrations, and audit trails, although these are available in its paid plans.
Personally, as a casual user of PDF filling software, I'm the kind of guy who would skip these features to save on the monthly fee. These only really serve to save time which might not be that important to casual users anyway.
If you do upgrade to a paid plan, PandaDoc is one of the more expensive options. The paid plans are the 'Essentials' plan at $19 per month or the 'Business' plan at $49 per month. These aren't as competitively priced as the other software featured in this article – and I couldn't find anything to justify this higher cost compared to its competitors. In fact, the features available with PandaDoc wouldn't appear to be as vast.
Sure, I could create basic contracts and invoices with relative ease. PandaDoc would appear to be easy enough to pick up and start using, as evidenced by its mostly positive customer reviews. The problem is: it costs more, while failing to offer as much as other rival software.
Pros
A free account with unlimited uploads and signatures;

A 14-day free trial is available, plus you can request a 15-minute live demonstration from PandaDoc staff;

More than 750 templates and plenty of integrations in its paid accounts.
Cons
PandaDoc's paid plans are on the expensive side;

Its paid plans aren't as jam-packed with features compared to its competitors.
Other Form Filler Honorable Mentions
The following PDF editor and form filler tools didn't make it into my top list, but are worth mentioning as generally reputable alternatives.
FAQs
Question: How Do I Turn A PDF Into A Fillable Form?
Answer: PDF Form Filler software allows you to seamlessly convert PDF documents into fillable forms, which can be used as digital application forms, invoices, surveys, and more fillable form use cases.
Question: Is There A Free PDF Form Filler?
Answer: Yes, many types of PDF Form Filler software include a free version, although this is likely to have limited features, as well as limits surrounding how many forms you can create and send.
Question: Can Any PDF Be Fillable?
Answer: PDFs aren't automatically fillable using word processing software like Microsoft Word. However, using PDF filler software, you should be able to quickly convert any PDF into a fillable document.
Best PDF Form Builders for Business: Conclusion
The truth is: all of the PDF Filling Software reviewed in this guide will allow you to perform basic functions with ease.
They all make it simple enough to create and edit fillable documents. You'll be able to send and track signable documents with no problems.
They all have integrations with the most popular CRM software, merchant accounts, and more. They all include industry-standard levels of security to protect your sensitive data.
The only important difference is how much you'll need to pay to do what you want to do. So, which one is the winner based on these criteria?
I'd recommend choosing PandaDoc or DocuSign if you're ONLY looking to sign documents with no bells or whistles. You'll be able to do what you need for free using these two.
Use SignNOW if you're an individual or small business owner who only needs basic functions. It offers the best bang for your buck.

Use DropboxSign if you're interested in purchasing DropBox services alongside your PDF Filling Software
Invest in DocuSign if you're in the real estate industry or if in charge of a large enterprise. This offers the biggest range of features, albeit at a slightly higher price with a slightly steeper learning curve.
Overall, the best value for the most business use cases is going to be PDFfiller here. By focusing on the actual document management and filling side, it stands out as a huge time saver for most organizations.
Please remember that all of the software listed in this guide offers users a free trial, so you can test out each of them if you're still unsure about the best option for you.
You'll also gain a significant discount if you purchase the annual plan, instead of paying monthly.
Looking for the best document signing API solution to build customized workflows? Read our article on the Best Document Software API Solutions.