Last Updated on April 22, 2023 by Ewen Finser
According to the Small Business Administration's (SBA) latest figures, there are 31.7 million small businesses in the US. If you're considering joining this number and have your finances in order, a business plan, and so on, you're almost ready to kickstart the legalities of registering your business.
If your budget doesn't stretch to a costly lawyer that charges by the hour, fortunately, there are cheaper options out there – especially if your needs aren't super complicated. If that sounds like your situation, keep reading. We're comparing two well-known online legal service providers: LegalZoom vs BizFilings.
Below, we'll look at:
An overview of LegalZoom

An overview of BizFilings

LegalZoom's features and prices

BizFilings's features and prices

LegalZoom and BizFilings's key similarities and differences

FAQs

Our final verdict
That's a lot of detail, so let's dive straight in!
Main Differences Between LegalZoom vs BizFilings
The main differences between LegalZoom vs BizFilings are:
LegalZoom doesn't offer six months of registered agent service and access to online compliance management tools with any of their LLC packages, whereas BizFilings does offer this package.

Bizfilings has an 'expediting upcharge' – this means you can pay them $60 to prioritize your order and increase turnaround time, whereas with Legalzoom, turnaround times are based on your chosen package, and there's no option to pay an expediting upcharge.

LegalZoom includes a 'banking resolution' to help you start a business checking or savings account, whereas Bizfilings doesn't offer this in its base-rate package.

Legalzoom offers services like the power of attorney, divorce proceedings, and last will and testament, whereas Bizfilings doesn't.

The registered agent fees for each company differ – for example, Bizfilings offers you six months free, then $164 per year after that, whereas Legalzoom agent fees are $299 per year.
The main similarities between LegalZoom vs BizFilings are:
Both use Norton Web Security protection, so you're guaranteed safe and secure data transfers every time.

There's no need for paperwork or an understanding of complicated legal aspects – this is all managed for you with either service.

Both offer an array of legal services, including federal tax obtainment, registered agents, and more.

Both providers offer precisely the same starting price: $99

Both providers offer phone and email support
LegalZoom vs BizFilings: An Overview of LegalZoom
LegalZoom's no newbie to the online legal scene. They've been around since 2001, and in that time, they've notched up over four million customers worldwide. LegalZoom offers a business filing service for anyone interested in company formation. On top of that, it also provides services related to legal document creation for both business-related issues and private individuals.
Its website is extensive, so to help users navigate its entire offering, the site splits its services into Business and Personal sections.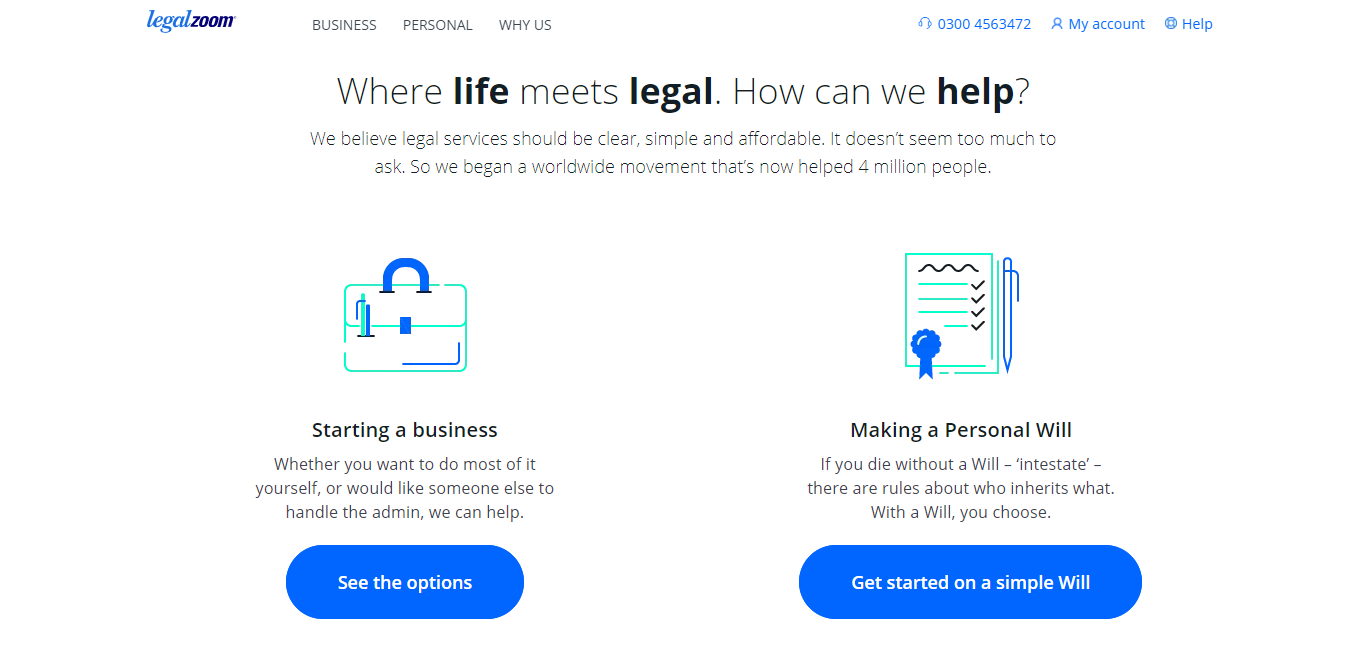 LegalZoom vs BizFilings: An Overview of BizFilings
Founded in 1996 by serial entrepreneurs Brian Wiegand and Rick Oster, BizFilings is now run by a Wolters Kluwer Corporate Legal Services company, which is part of a larger company called CT. Like LegalZoom, BizFilings offers company formation services, including LLC, corporation, and nonprofit creation. While its customer base isn't as large as LegalZoom, BizFilings has helped more than half a million customers.
BizFilings likes to emphasize its fondness for entrepreneurs. That's why their services primarily focus on anyone interested in setting up a:
C Corporation (C Corp)

Limited Liability Company (LLC)

S Corporation – S Corp

Sole Proprietorship

International company

Limited Partnership (LP)

Professional Corporation (PLLC)

Doing Business As (DBA)
We'll go into further detail lower down in this review about both company's offerings.
However, suffice to say, both LegalZoom and BizFilings offer a broader array of legal services than just simple business filings. However, for this review, we're focussing on how LegalZoom and BizFilings handle business filing.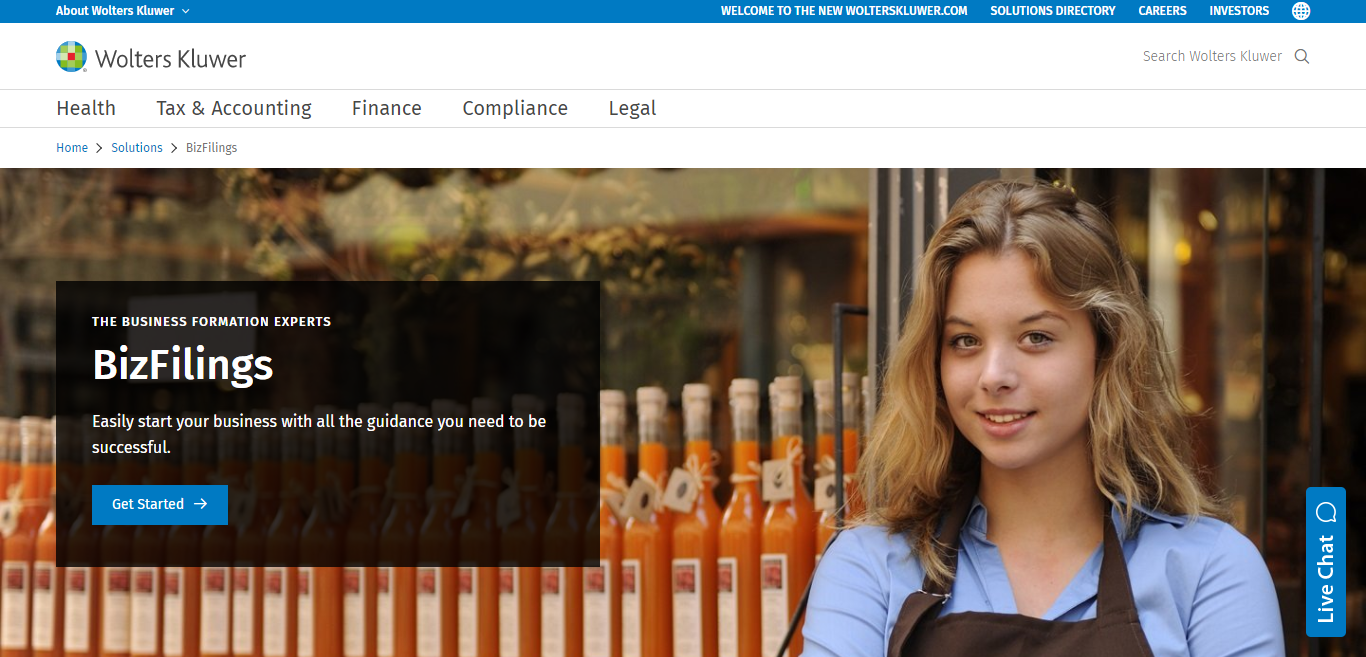 LegalZoom vs. BizFilings: LegalZoom's Features and Prices
LegalZoom splits its services into three main areas as far as business formation is concerned:
Business Formation

Business Operations

Intellectual Property
Within each of those main categories, there are further services, which we list below. Where we don't mention prices, it's because none were available on LegalZoom's website at the time of writing.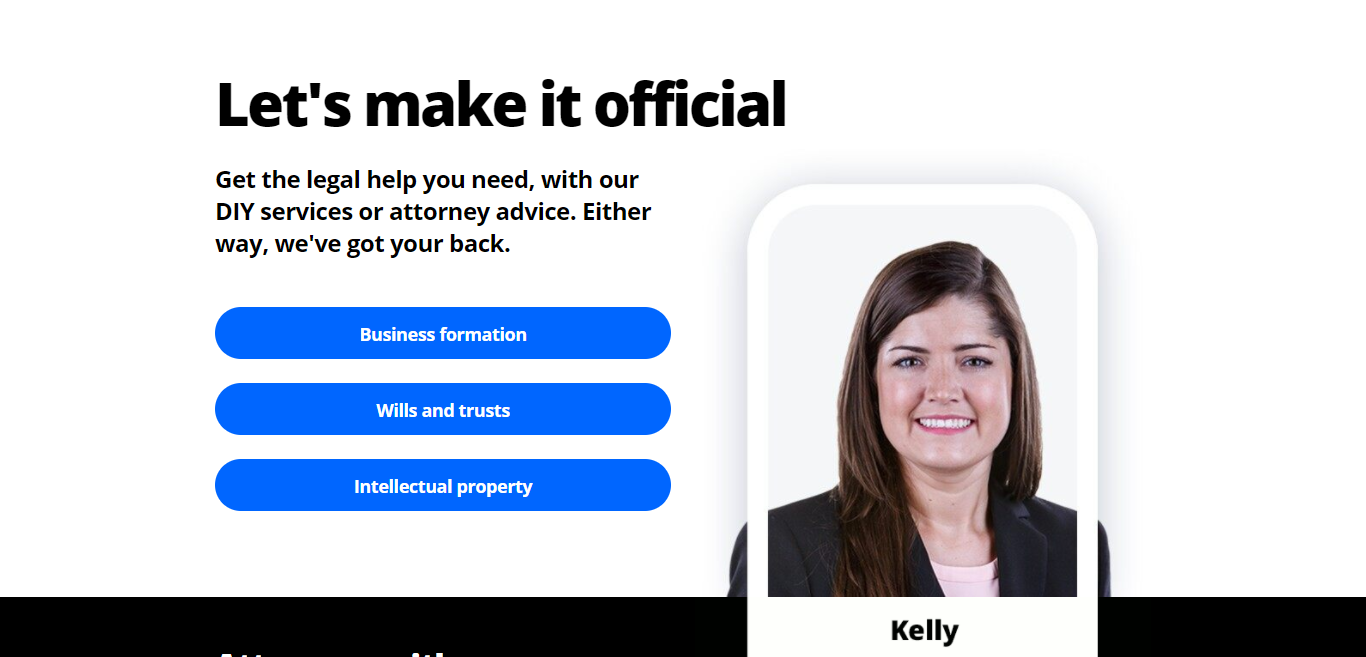 Let's take a look:
Business Formation
LegalZoom can set you up as:
Limited liability company (LLC) costing from $79 + state fees

Corporation (C Corp, S corp) costing from $149 + state fees

Doing business as (DBA) costing $99 + state fees

Nonprofit costing $99 + state fees

A sole proprietorship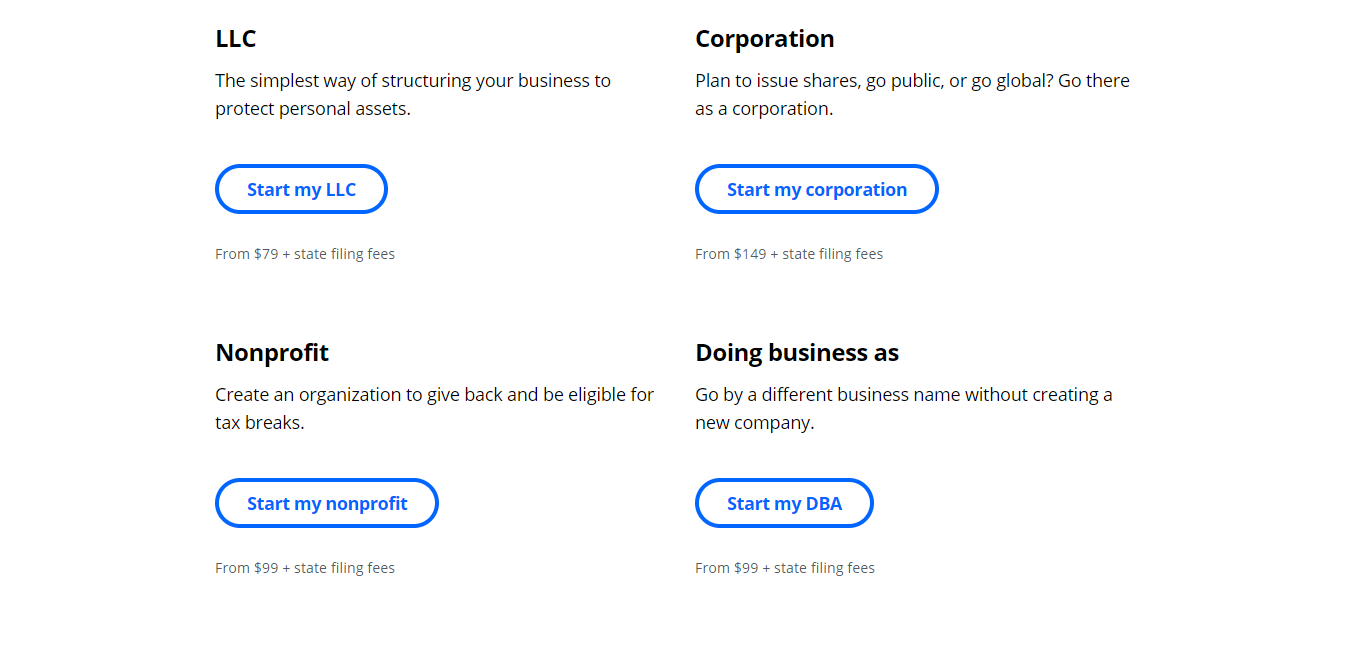 Business Operations:
This includes:
Business compliance services

Business changes and filings

Taxes, contracts, and licenses
Within each of these sub-headings, there are individual services, and each of these has its own costs attached:
Business Compliance Services
This refers to:
Registered agent services from $299 a year.

An annual report from $55 + filing fees.

A compliance calendar for $69 a year. – this comes in handy if you want to avoid getting hit with fines for late filings

An operating Agreement, costing from $99/year.
Business Changes and Filings
Here you'll find services, such as:
Corporate dissolution services from $129 + filing fees

Corporate amendment services from $129 + filing fees

Foreign qualification if you want to operate overseas, starting at $299 + state filing fees.
Taxes, Contracts, and Licenses
This includes 501(c)(3) applications costing from $595, contracts and & agreements, and business licenses, starting from $99.99.
Intellectual Property
Where this aspect of business set up and filing is concerned, there are four areas:
Trademark registration costing

Trademark search from $199

Provisional patent

from $199 + filing fees

Copyright from $114 + filing fees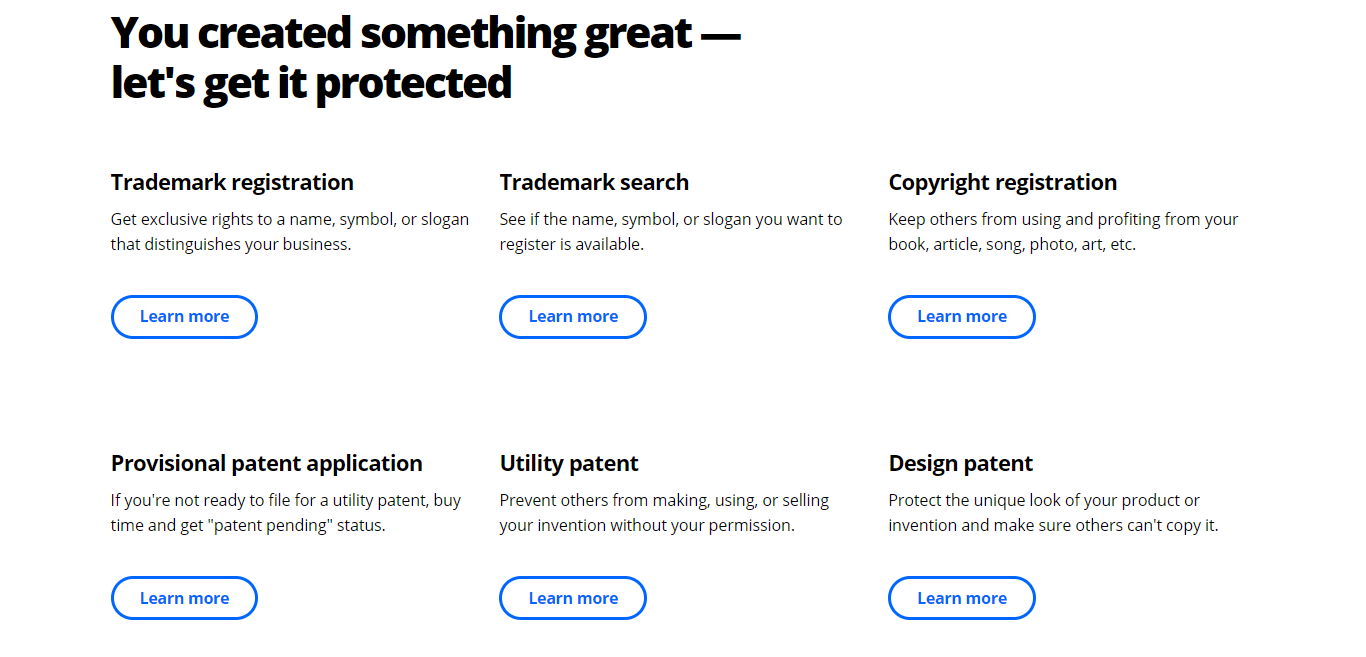 It's fair to say that LegalZoom's costs could quickly rack up depending on what you require. Not only that, their pricing structure seems somewhat unwieldy, and aside from the prices we've already outlined, pricing plans are available too:
There are three plans:
Economy:

$79 + state fees, your company will take an estimated 30 days to get set up

Standard:

$329 + state fees; your company will take an estimated 15 days to get set up.

Express Gold:

$349 + state fees; your company will take an estimated ten days to get set up.
All pricing plans come with:
A name check and business filing

Articles of organization

LegalZoom's LLC Next Steps Guide

A 'Peace of Mind Review ™' – a personal review of your order before your business is formed

Lifetime customer support, seven days a week

A financial account authorization letter
Standard and Express Gold customers also receive:
20 personalized company membership certificates

A company seal

LegalZoom VIP processing

An embossed document organizer file
On top of all the above, Express Gold customers get express shipping and rush order processing (within 7-10 days).
It's worth noting: There's a 30-day free trial for added extras such as legal protection services, but after a month, those cost $300/year. Unhappy customers get a refund after the first 60 days, but state filing fees are non-refundable.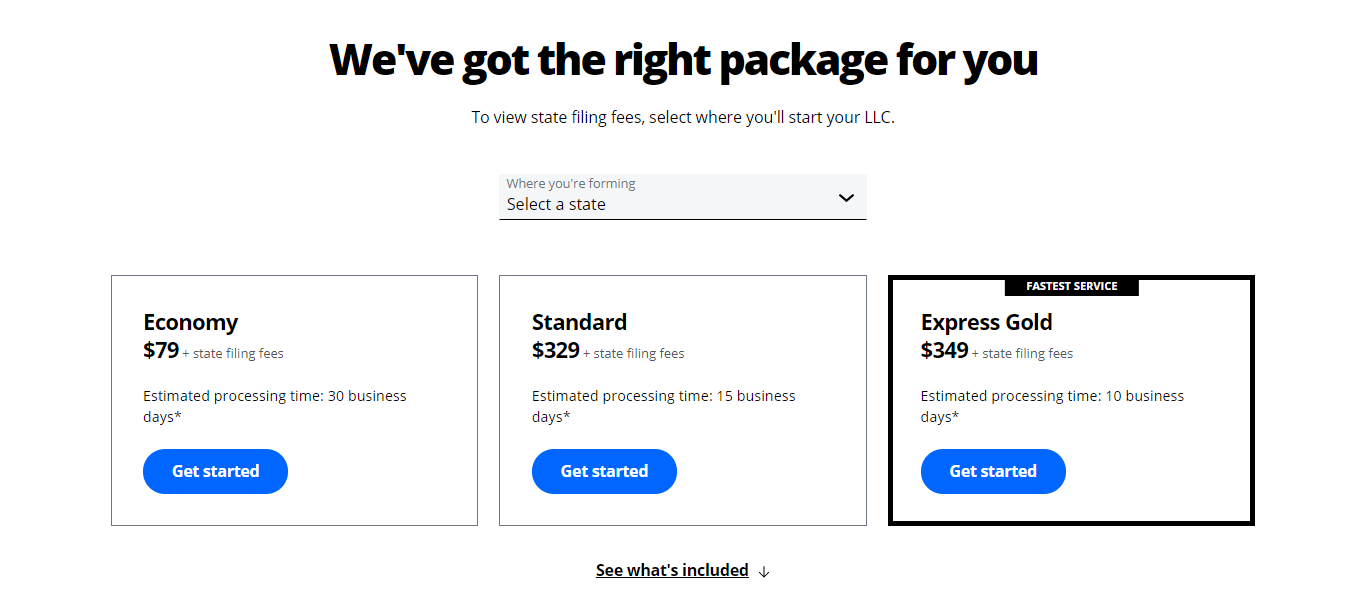 LegalZoom vs BizFilings: BizFilings Features and Pricing
Like LegalZoom, Bizfilings offers clients a choice of different businesses and organizations that they can set up on your behalf, including:
LLC

S Corp

C Corp

Nonprofit

Limited Partnership

Limited Liability Partnership

Professional Corporation or PLLC

Doing Business As (DBA)
At first glance, the BizFilings website is less user-friendly to navigate, making it harder to find more details. However, there's a helpful dropdown menu, and from there, you can find the above types of organizations that BizFilings will help you set up; and two further options:
Packaging and pricing – (which we'll go into in a sec)

State guidelines
State guidelines explain how different states have varying approaches and fees when it comes to setting up businesses. In light of that, BizFilings has created a guide to help you work out how much your costs will be in the state(s) you'll operate in.
BizFilings further splits its services into three areas:
Compliance Services

Filing Services

Other Services
Let's take a look at each in turn:
Compliance Services
Here, several areas are covered to help ensure your business remains compliant:
Registered agent services costing $199 for a year

Business license research from $99 for one city in one county in one state

A managed annual report service

A compliance kit and seal from $99

Ownership certificates costing $1.25 per certificate
Filing Services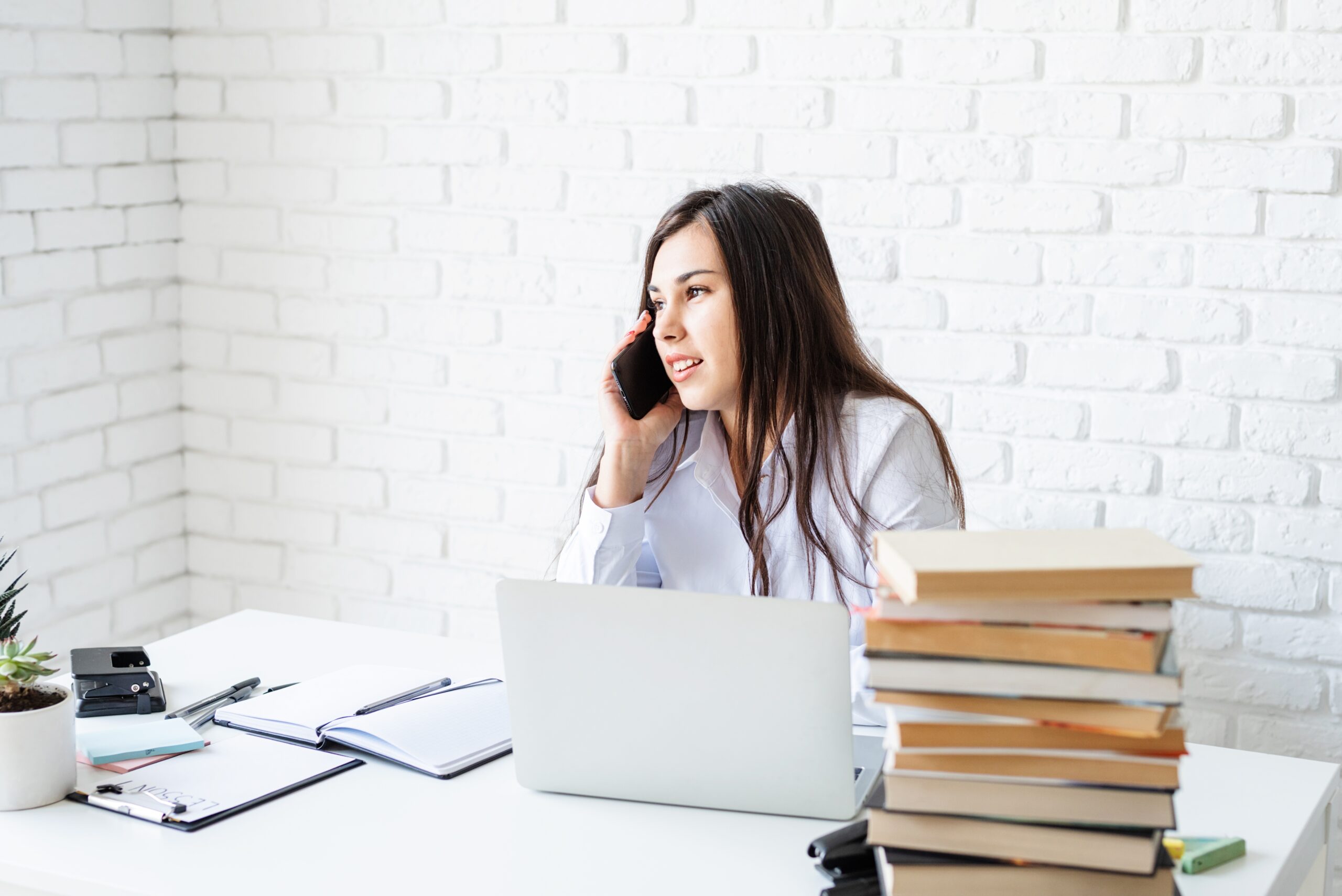 Filing services include the following six areas:
Incorporation

Foreign qualification costing $219 + state fees

Dissolution from $179 + state fees

Name amendment from $149 + state fees for your home state or $199 + state fees outside your home state.

The fees for other amendment types areas above

Reinstatement from $179 + state fees
Other Services
These cover random areas such as payroll and sales tax registration, Federal ID (EIN) Obtainment, Certificate of Good Standing, and certified business formation documents.
Pricing Plans
Like LegalZoom, pricing plans are also available. However, it's also possible to head straight to calculating your costs in a more tailored way. In other words, you click on a link on the homepage to get started, choose the type of company you want to set up, select the state you're filing in, and get a price.
Here's an example:
Say you live in New York and want to set up an LLC. The cost at the time of writing is $399 + state filing fees for an international company.
Now back to LegalZoom's pricing packages…
All plans include the following as part of their package:
Business name verification

Business filing and preparation

Articles of organization

LLC next steps guide

A peace of mind review

Lifetime customer support

A financial account authorization letter
The main programs offered by LegalZoom are:

Economy from $79 per month + state fees

Standard from $329 per month + state fees: You get everything listed above, plus official certificates and seal. You also benefit from LegalZoom's VIP order processing.

Express Gold from $349 per month + state fee: You get everything as well as rush processing with the secretary of state (so your order will be rushed through and completed in 7-10 days) and express shipping for faster delivery.
There are also tons of add-ons, but you'll have to pay for those. You'll see a list of these when your final price is quoted. One example is an additional $199 for sales tax registration and $79 for Federal Tax ID (EIN) Service.
In other words, like LegalZoom, the costs can be both confusing and have the potential to really mount up if you're not careful.
FAQs
Last but not least, let's round off this review by answering some of the most frequently asked questions we hear about LegalZoom and BizFillings:
Question: Can I put my order on hold with LegalZoom and Bizfilings?
Answer: With LegalZoom, you can place your order on hold for up to a year. To do this, contact LegalZoom's customer care team and ask for your order to be placed on hold.
In contrast, Bizfilings doesn't disclose whether they offer this service, so you'll need to contact them directly for more information.
Question: What is a 'registered agent'?
Answer: According to Bizfilings, "The registered agent is responsible for receiving, on behalf of the company, important legal and tax documents including Service of Process (Notice of Litigation), franchise tax forms and annual report forms. The registered agent may be an individual or…a company approved by the state to serve as a registered agent. It must be located at a street address (not a post office box) in the state where the company is incorporated or qualified to transact business."
Question: How long will Bizfilings take to complete my order?
Answer: Bizfilings begins processing orders upon payment. However, the total completion time varies depending on order type (incorporation or other filings) and the state you're filing in. But, in most cases, it's between 1-2 weeks.
Question: Are my documents computer automated, and will I be able to view them?
Answer: With LegalZoom, documents aren't automated, and you can't view them online. Whereas, with Bizfilings, you can view your documents once you log in to your account.
LegalZoom vs. BizFilings: Our Verdict: Which is Best?
Overall, we'd say that BizFilings and LegalZoom's prices are broadly similar. But, with either platform, it's easy to get overwhelmed with all the different costs. The critical thing to note is to do your research first. The package you opt for may offer services you simply don't need, and as such, you could find you're forking out unnecessary costs.
That said, if experience and reputation matter to you, you may be better off choosing LegalZoom. They have a significant advantage in this department with over one million business formation customers to their name and many years in the industry. That said, you shouldn't completely rule out Bizfilings either. Their six months of registered agent service is unparalleled, and it makes them a very worthy opponent to Legalzoom.
So, which (if either) of these legal services has taken your fancy? Tell us all about it in the comments box below