Last Updated on January 11, 2023 by Ewen Finser
Harvest and FreshBooks are both cloud-based accounting software solutions that help small business owners efficiently manage their finances. Both services strive to make things like time tracking, reporting, and project management easier which begs the question, which one is best?
Today I will review Harvest and FreshBooks to find out. I'll rely on user data from my "Tech Troop," an online group of people that understand technology and how to leverage it to make money.
I'll first give an overview of both Harvest and FreshBooks independently and then provide a comparison with input from my operations team to help you find the best solution for your business.
Bottom Line Up Front Summary: Unless you have a large team of 25+ employees, I recommend going with the more nimble, modern, and user-friendly Freshbooks solution here. You can also try it for free here before you buy it.
Main Differences Between Harvest and Freshbooks
First things first. These are the main differences between Harvest and Freshbooks:
Freshbooks is a pure Cloud Based accounting system focusing on usability first
Freshbooks offers recurring automated billing, whereas Harvest does not
Freshbooks can important data from a variety of 3rd party sources, Harvest cannot
Harvest focuses on time and activity tracking
Harvest is more closely tied to Project Management and Project Managers
Harvest offers more customizable reports, whereas Freshbooks is fairly limited to the basics
Harvest offers document approval sign-off, Freshbooks does not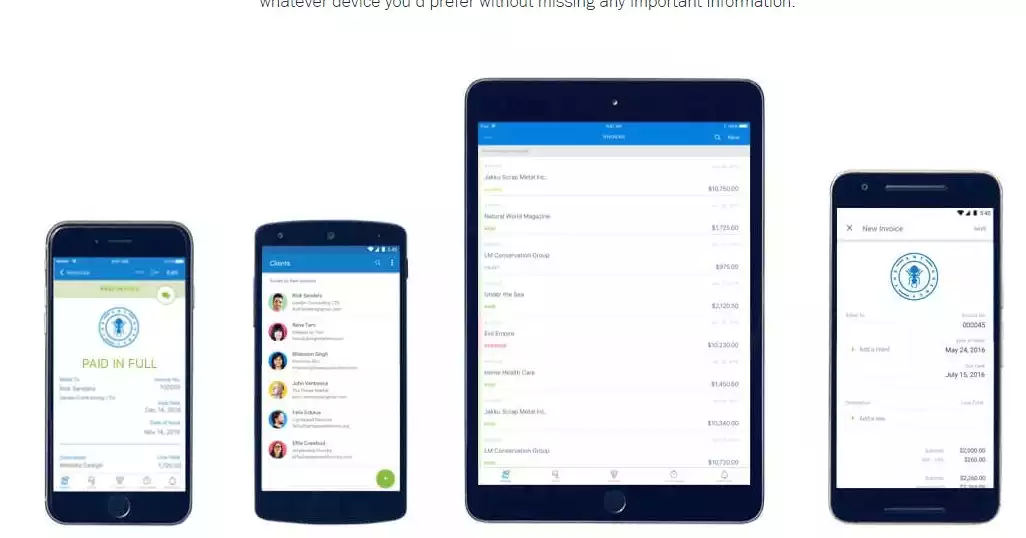 I Personally Prefer Freshbooks
I personally prefer the more user-friendly, feature-rich, and mobile-ready software suite offered by Freshbooks. You get what you pay for and Freshbooks is well worth it, IMO.
Try Freshbooks Free
We earn a commission if you click this link and make a purchase at no additional cost to you.
Continuing on with the in depth analysis…
First up, Harvest.
Harvest

Harvest accounting software focuses on team and time management. It offers time tracking, invoicing, expense tracking and time-based reporting to give owners that real-time financial snapshot they need when managing a business.
To understand how Harvest can help your business, let's go over its five main features: time and expense tracking, team tracking, project management, invoicing, and scheduling.
Main Features of Harvest
Time and Expense Tracking
Clearly for Harvest, it's all about time. If you have ever worked in the service industry, you know how difficult it can be to measure the return on a project when it's largely based on employee hours of productivity. Harvest wants to solve this problem by giving you the tools you need to find out.
It looks like this: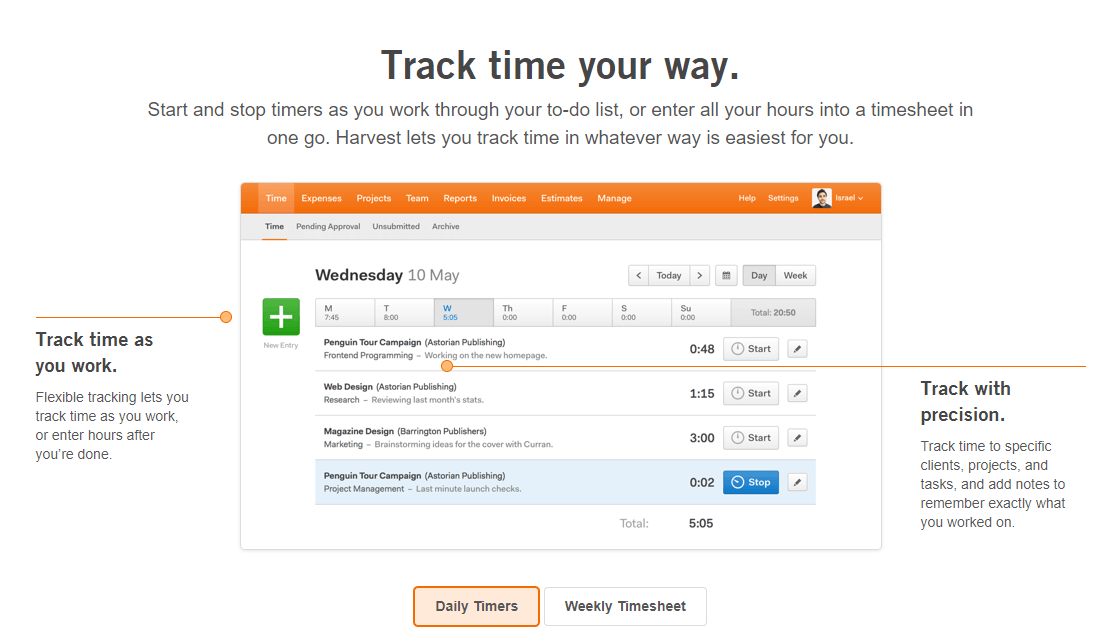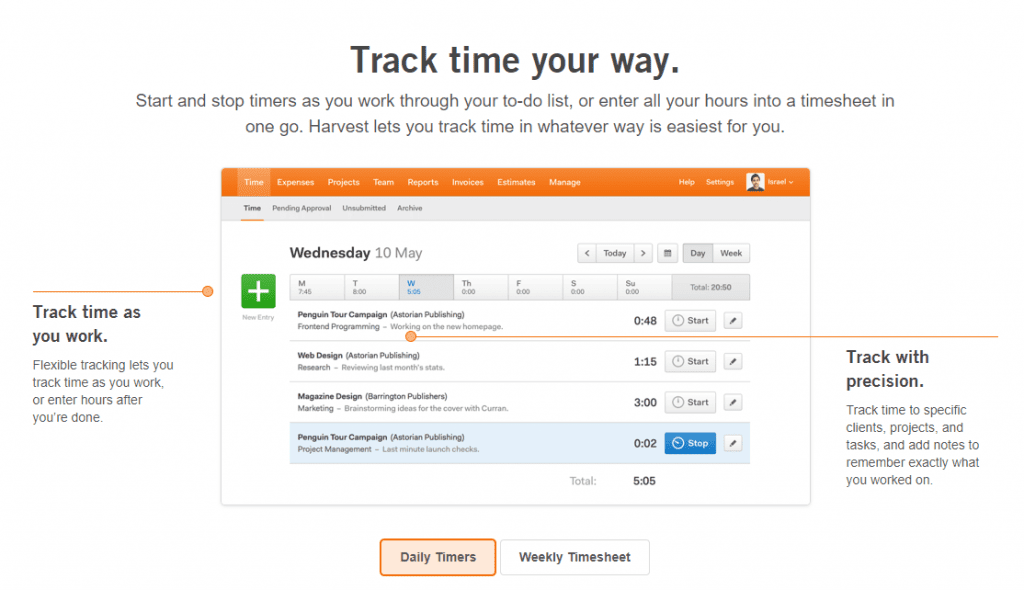 As an owner or manager, this kind of data is critical when running a business. No more emails or Excel spreadsheets to find out the status of a project or chasing down employees to give you an estimate, Harvest makes it easy to find out important real-time data about your business.
Team Tracking
Think of your employees and what they're working on right now. If I asked you right now where each stood on a project, would you know?
That's another big selling point for Harvest: it provides the data you need to manage your employees. As an owner, you want to know what each person is working on and most importantly if that work is producing a return.
From a human resource perspective, you also want to know who is making you the most money and who may need some extra support. This data helps in a variety of ways helping identify top producers to give them the acknowledgment they deserve and letting you know who needs more help to make you money.
It looks like this: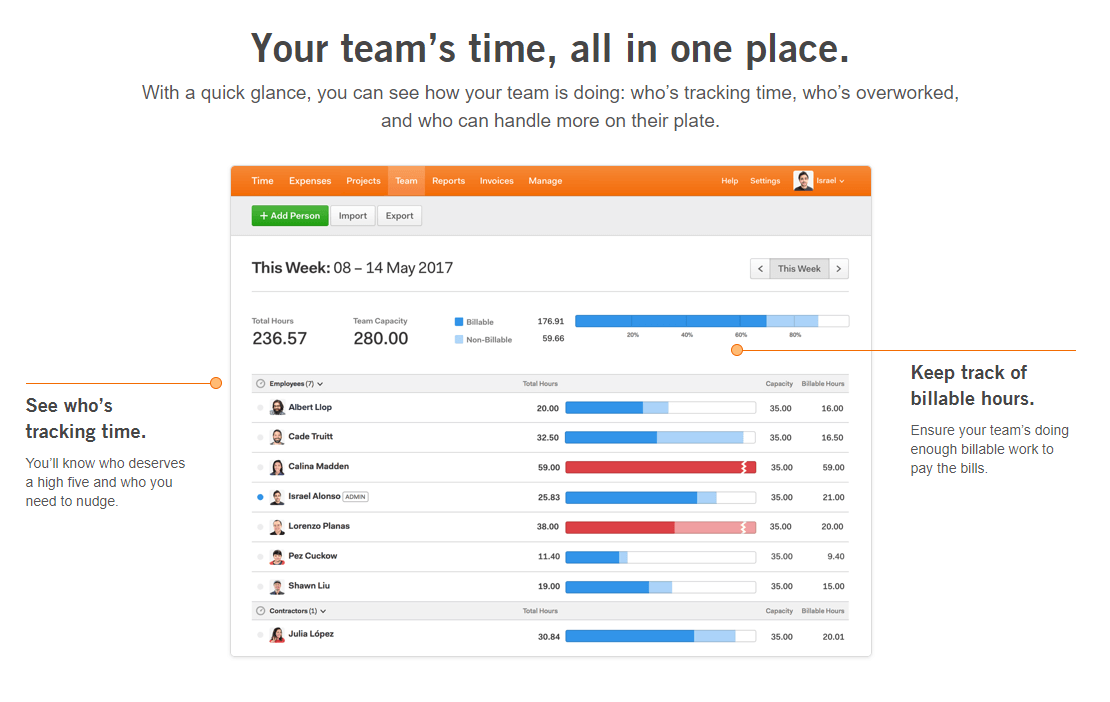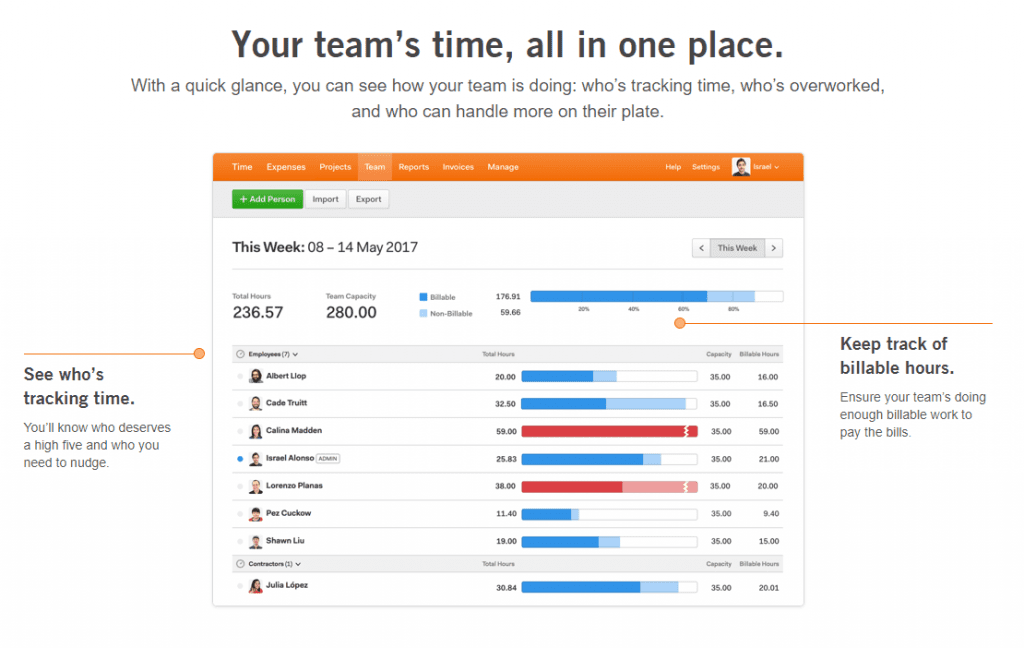 As a manager looking at this data, I would want to check in with Calina and Lorenzo to see if they needed extra support and to thank them for their hard work. For others, I may ask for a status update to understand why their hours are less.
Harvest can break down this data by the employee to show:
Time spent: How much they are working to identify trends based on their hours worked versus their capacity to work.
Total hours: See how many hours they put into your business each day. This feature can also help from a human resource perspective when managing days off and paycheck issues.
Project management: Which projects are your employee working on, and is it worth their time? This feature can help you manage the costs of projects by each employee so that you can match employee skill set to a project to maximize your return.
Broken down, here is what this data looks like: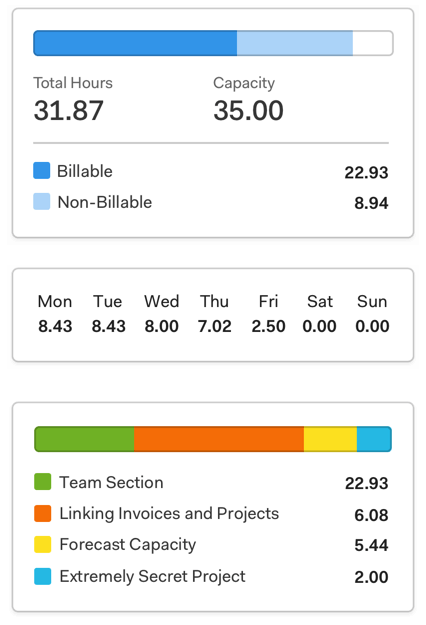 The Team Tracking feature also helps you and your human resource department manage schedules, verify time sheets, make changes to fix mistakes, and it sends a friendly reminder to everyone reminding them to submit their time for approval.
For example: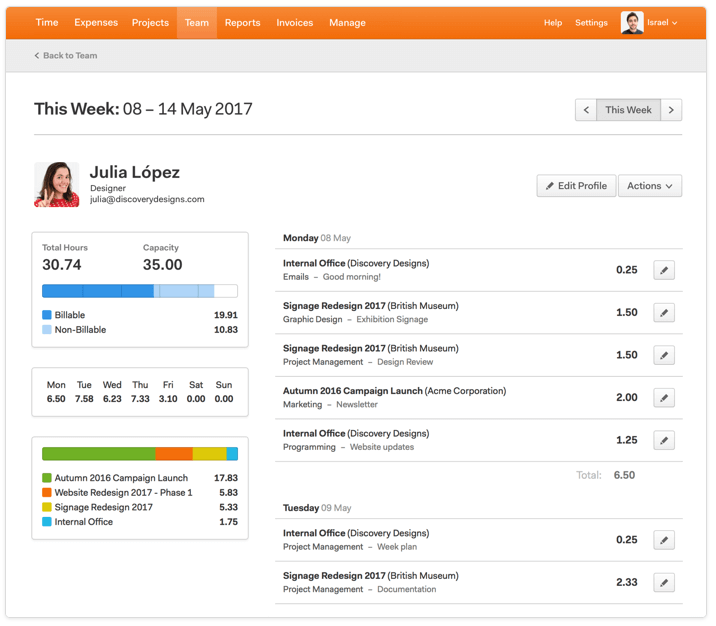 In this example, you can see what Julia worked on and when, and the charts give a quick overview of how your business is benefiting from her work. Data like this will cut down on having to micromanage the payroll process to ensure your employees are paid accurately and on time.
Project Management
As an owner, you want to land that big account or client to pay your bills and lend credibility to your brand. However, this dream client can turn into a nightmare if the time and resources you put into the account don't produce a high enough return.
The Project Management feature of Harvest turns timesheet data into intuitive visual reports giving you the information you need to make executive decisions about the projects you manage. Here is an example: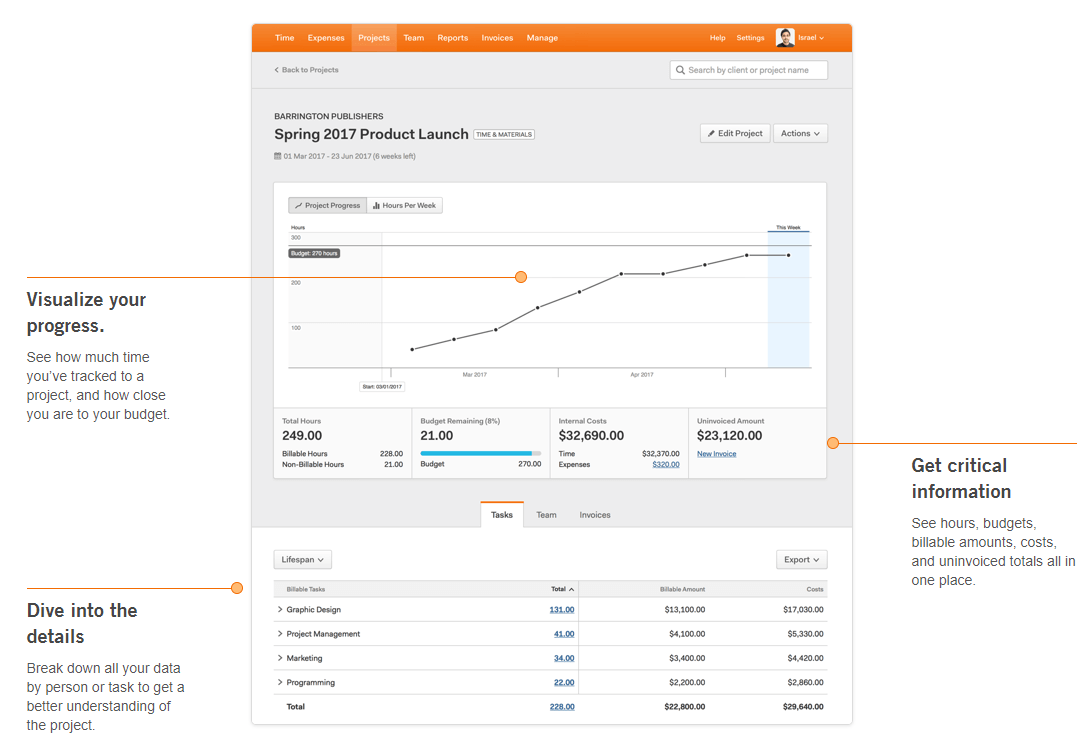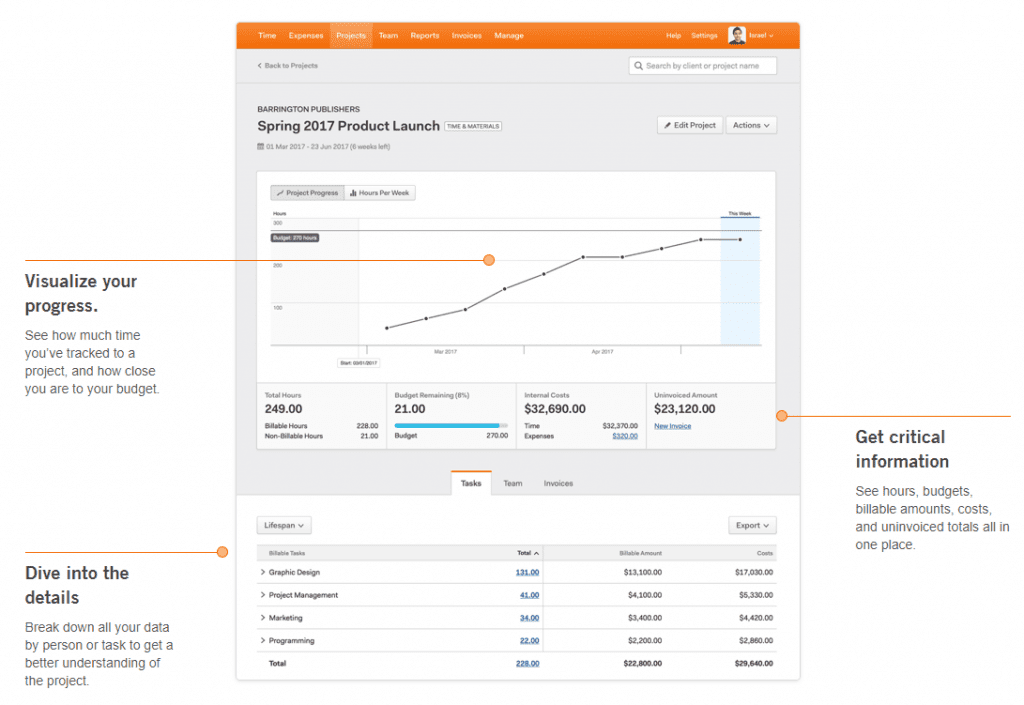 Quickly you can see how your project is progressing based on the total hours worked even giving you the internal cost of labor and invoiced amount, so you know it's not a waste of your time and resources.
What I like about this feature is that each project has a budgeted number of hours, so you can easily see how many committed billable hours you have left to gauge resources and give your clients a reliable estimate regarding deliverables.
If you don't like what you see from the graph and the information below it, you can view the breakdown of the billable amount underneath by task.

Maybe the graphic design of this project took up too much of the budget so next time you can adjust your process and expectations, or you can charge your client more for the service.
Another benefit of having access to this kind of data is you can show your client the cost breakdown based on data, not estimates, showing them how much you care about accounting for their business.
From an operational standpoint, this data is critical in understanding how your business works internally, and what you can do from a management perspective to improve your internal processes.
If you're like me and like the "big picture" daily review of your business, Harvest offers an at-a-glance overview of all your projects. It looks like this:
I love this feature because it quickly shows where I'm making money, and which ones need some more attention. It also lists each project by company, so it's a great relationship management tool; you can ensure each of your clients receive the appropriate amount of attention by you and your team.
Invoicing
Now let's switch gears from accounting for the work you do to getting paid for it.
Harvest accounting software automatically pulls the billable time and expenses you've tracked into invoices eliminating the guesswork and paper trail of more traditional accounting. It also offers a manual option to create a form-free invoice.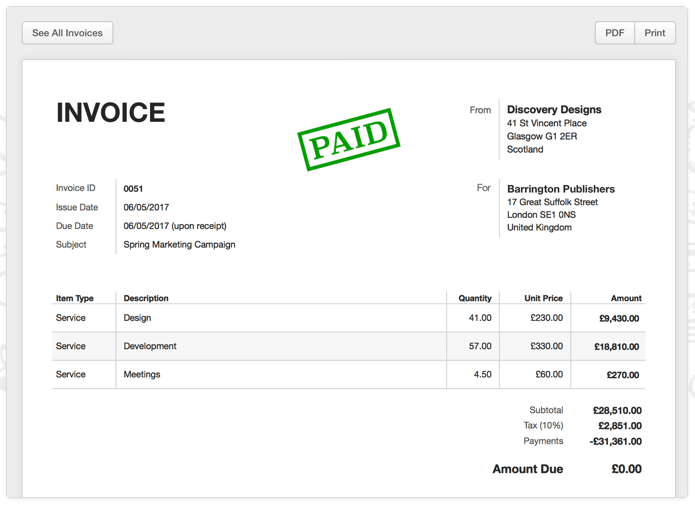 With just a few clicks you can create and email invoices to your clients. You will see when they view the invoice and Harvest will alert you once they have paid. Harvest also includes a PDF version of each invoice as a courtesy to their customers.
The Stripe and PayPal integrations let your clients pay their invoices upon receipt. If they forget about the invoice, Harvest will send a friendly reminder to pay so you don't have to.
Another perk of using Harvest is that you can integrate with QuickBooks Online or Xero, so copies of your invoices are automatically sent to your account.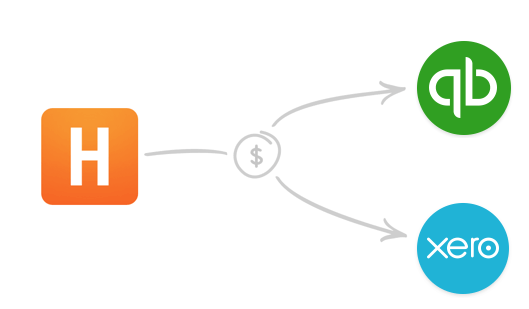 "Did I send that invoice? When did I do that job? Has he paid his balance yet?"
When you run a business, you ask yourself questions like these all the time. Managing invoices is critical when managing accounts, relationships, and your bottom line, so you need constant access to your accounting.
That is why Harvest's "bird's-eye view" is an excellent feature of this software. It looks like this: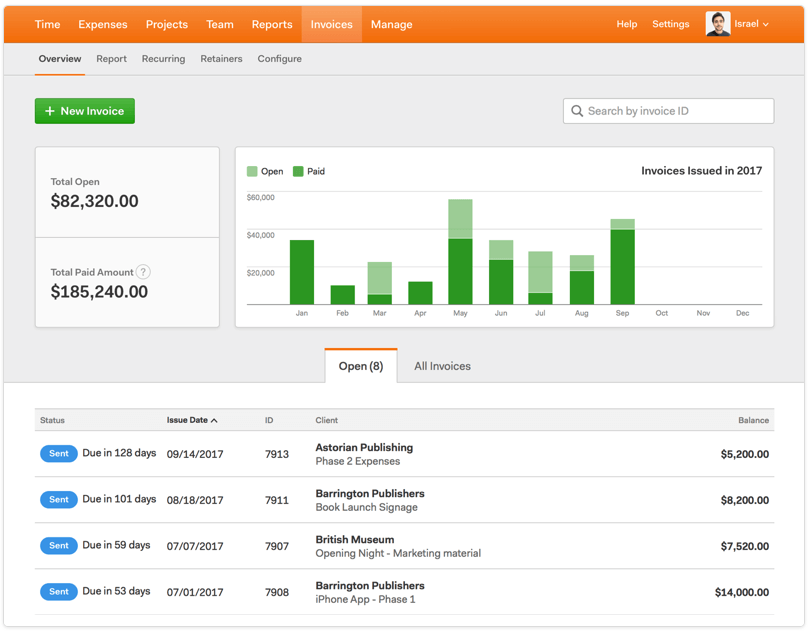 At a quick glance, you can see your paid invoices by month, and how much money they owe. Underneath, there is a status column to let you know you've done your job, how many days left until the invoice is due, and when it was issued.
What I like about this feature is it fulfills different needs simultaneously.
From a sales perspective, it acts as a motivator for everyone to improve each month and gives me the owner data I need to forecast for next year.
From the perspective of an account manager, this data tells me what clients need more attention either because they owe money, or they have the potential to give me more business based on past needs.
To manage relationships, access to this data on-the-go through the Harvest app (will get into that later) will let me check balances quickly while meeting with clients in the field.
You can customize this graph to see your revenue for the year or a specific timeframe, and you can filter it further to isolate a client to view their payment history.
Scheduling
Harvest's "Scheduling" feature links up to its sister app Forecast to schedule your team, see how long projects will take to complete, and improve your estimates.
As an owner and manager, this feature is outstanding.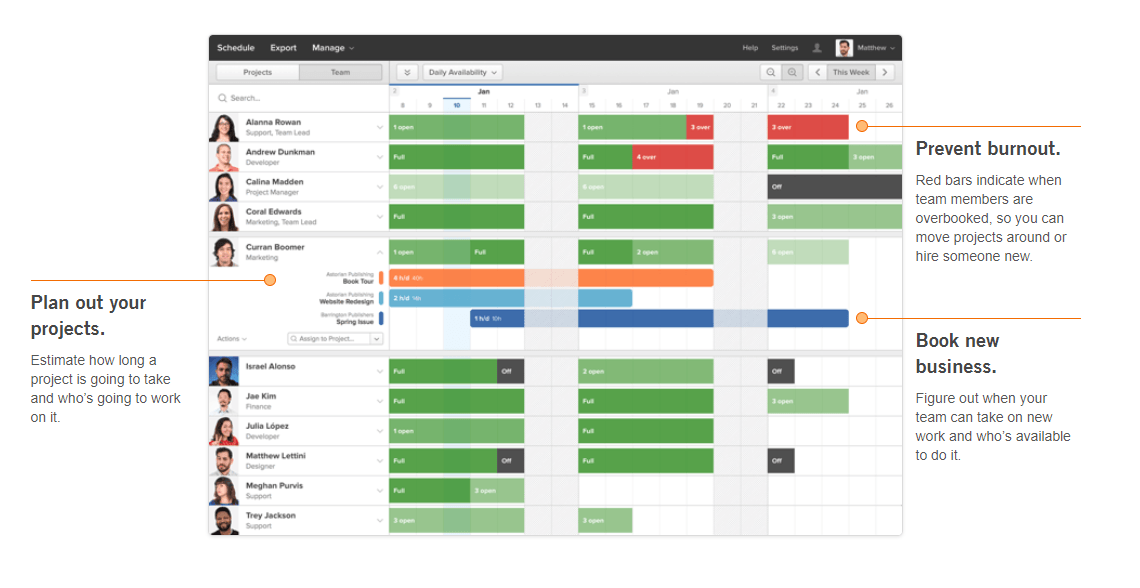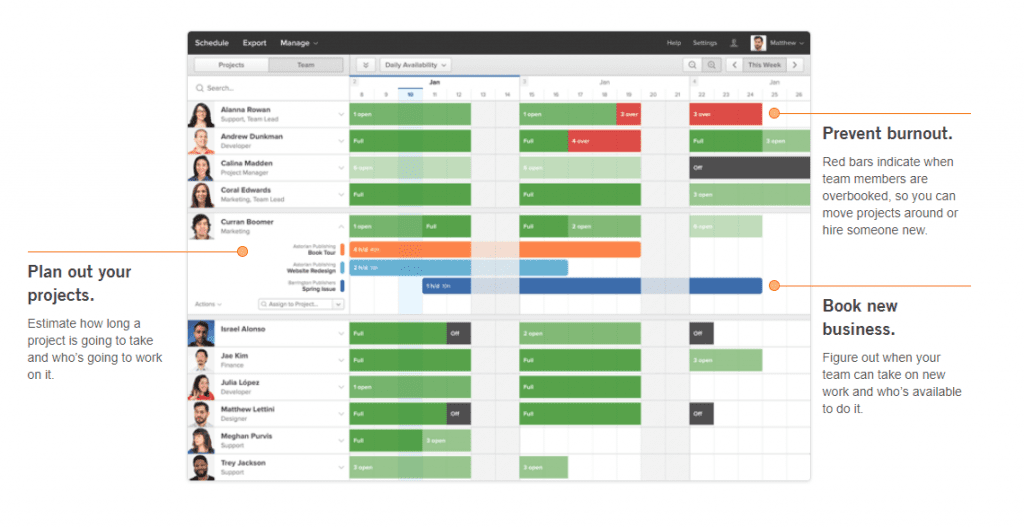 A quick look and you can see what your employees are working on, if you have the capacity to take on more work, and which employees need more support.
Using the Forecast app and Harvest together, you can estimate how much longer a project will take to complete, and the amount of time your employees have spent on it to keep track of its budget in real-time.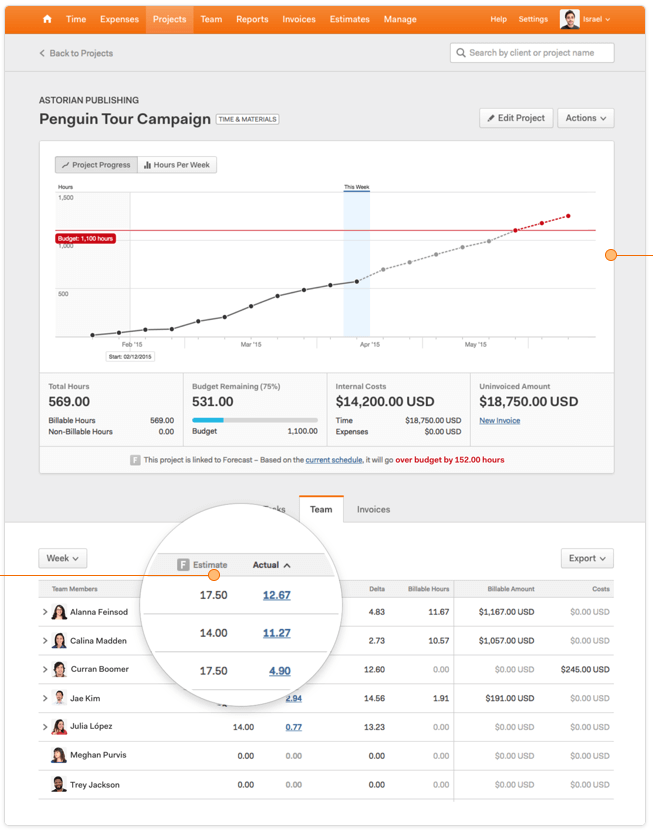 You can also view if employees are meeting the expected budgeted hours for the projects that are open.
Harvest Apps and Extensions
Using smart technology, you can take Harvest with you wherever you go. The Harvest app for your iPhone or Android can let you track time, record expenses, manage invoices, and check in on your team from anywhere.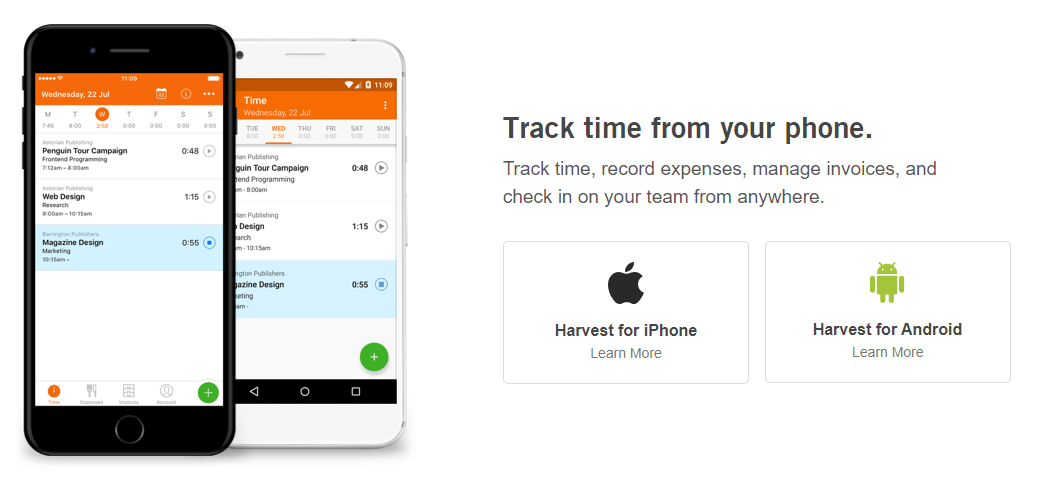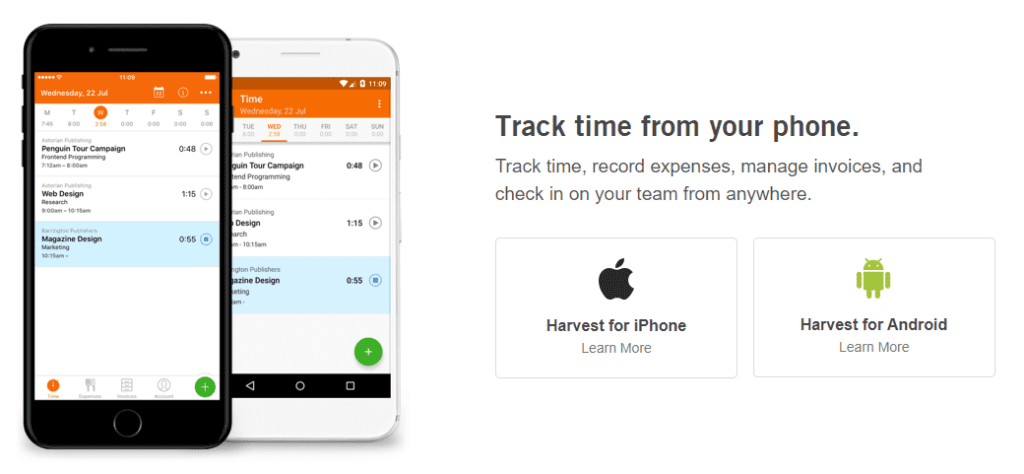 There is also a desktop app for Macs and Windows that has timers for your employees to track their time based on the projects they work on in-house. When home, they can access the same technology integrating Trello, GitHub, and Basecamp on both Chrome and Safari.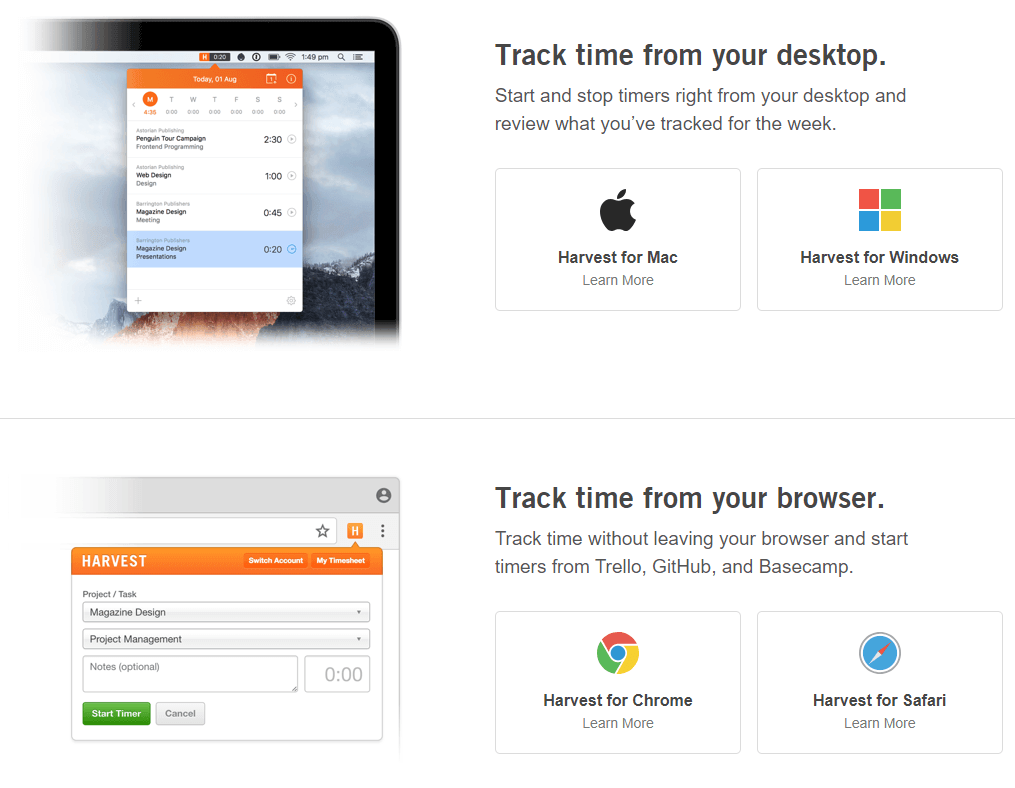 Harvest Integrations
Harvest offers more than 100 integrations as well as six mobile and desktop apps. Here are the integrations featured on Harvest.com: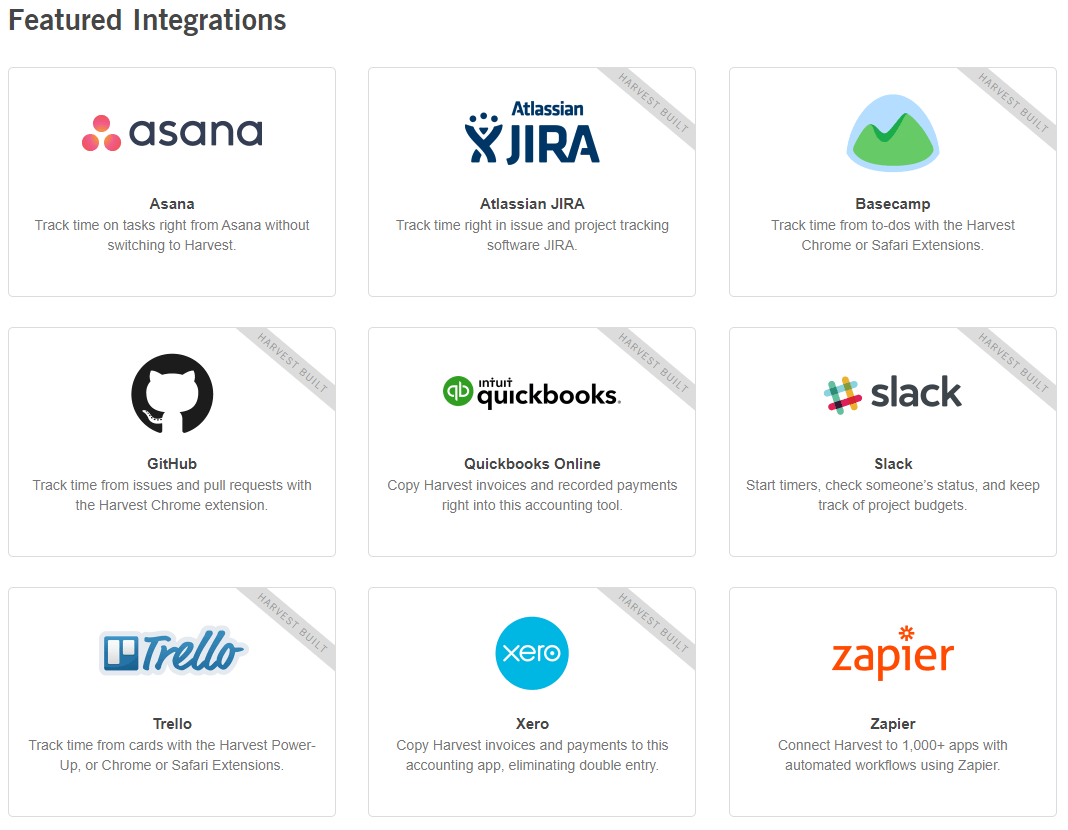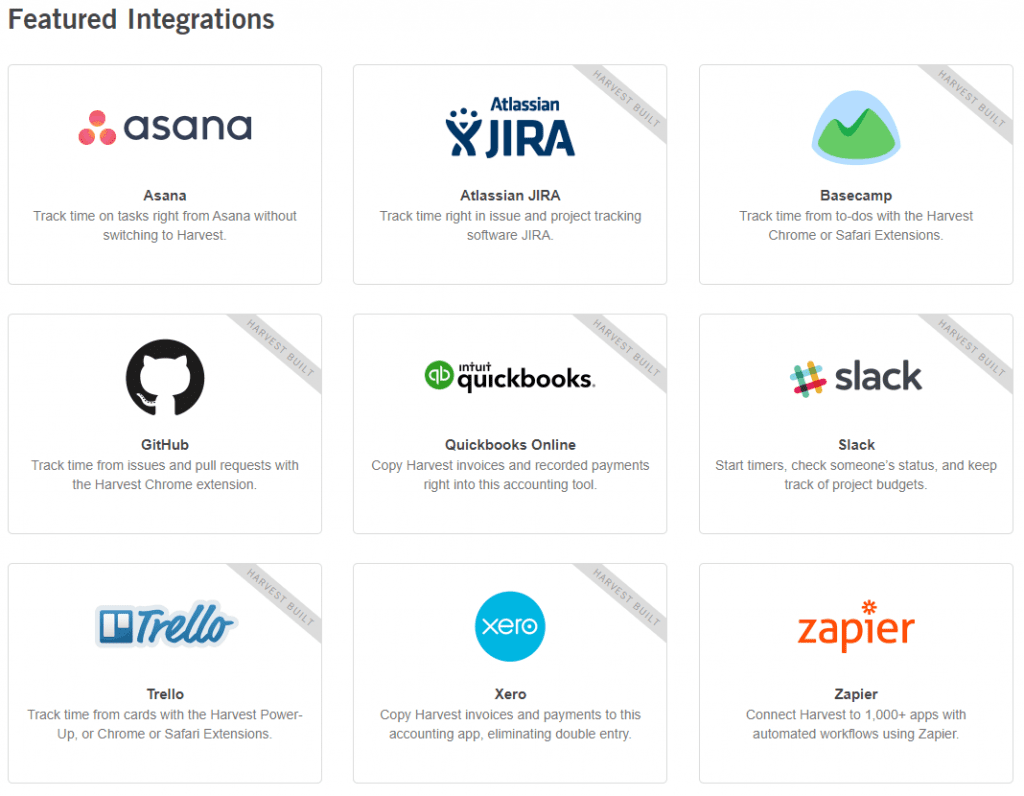 Harvest Security
Harvest uses SSL encryption, firewalls, and redundancy to protect customer data and boasts an impressive 99.99% uptime on average. As a customer, your data is regularly backed up and stored several times a day. These backups are stored for 180 days.
Harvest Pricing
Here are the price options for Harvest-ing: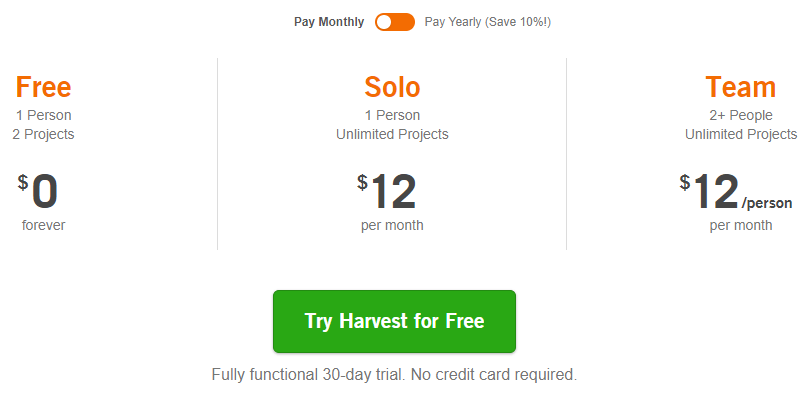 All plans include:
Time and Expense Tracking
Reporting Features
Unlimited Invoices & Estimates
Project Budget Alerts
Timesheet Approval
Integrations with 100+ Apps
Apps for iOS, Android & Mac
Bank-Level Security
Phone & Email Support
You can pay Harvest monthly for whichever plan you chose; however, you can save 10% of your total cost by purchasing an annual plan. You can try out any plan for 30 days with no credit card required.
After reviewing its features, I believe Harvest has a lot to offer small service-based businesses thanks to its time-tracking and reporting features.
Next up, FreshBooks
Freshbooks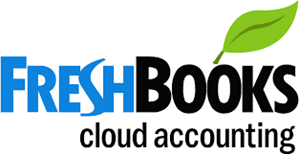 FreshBooks claims their software is "ridiculously" easy to use with features like automated tasks and time-tracking to lighten the administrative load of running of business so owners can do more of what they love.
The main features FreshBooks highlights to sell its cloud-based accounting services are: invoicing, expenses, time tracking, projects, estimates, payments, reporting, and mobile.
Main Features of Freshbooks
Invoicing Feature
Every business owner wants to impress their clients with professional correspondence. FreshBooks helps even the smallest business appear grand with their easy-to-use invoice customization capabilities.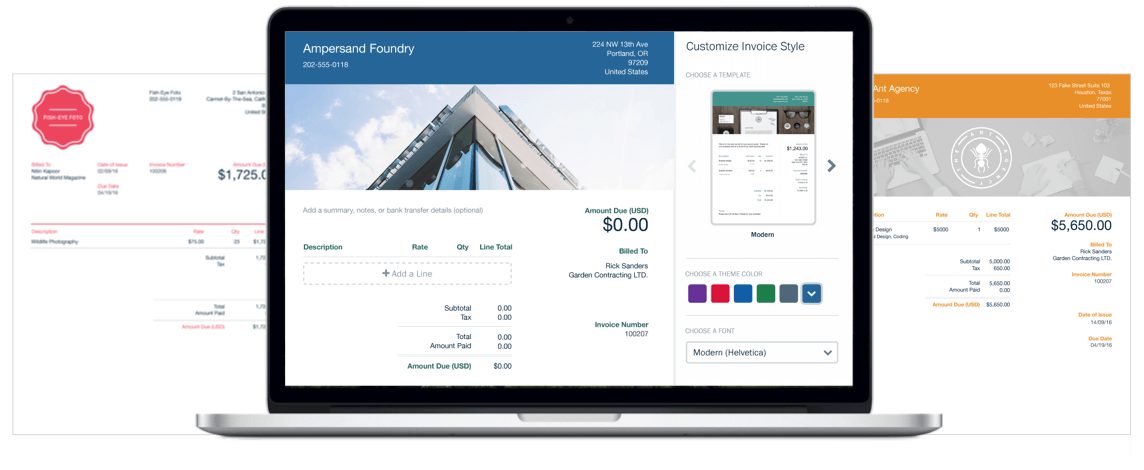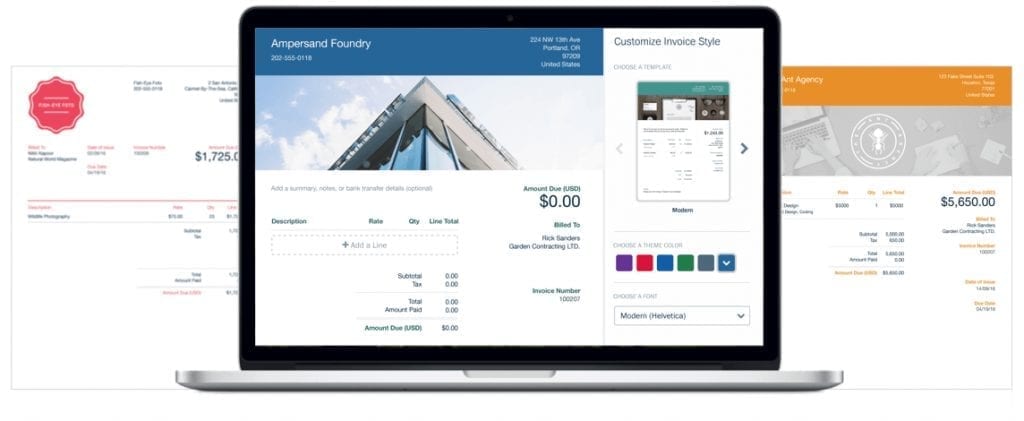 Request a Deposit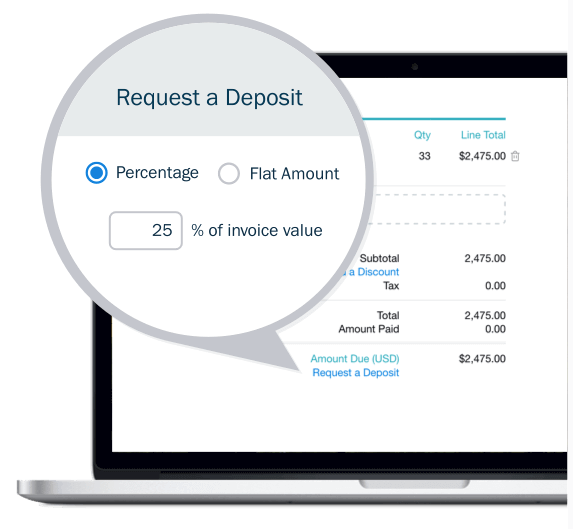 There is also a deposit option for your larger projects that require money upfront, so you can require your clients to pay these expenses beforehand. This capability helps alleviate the stress of paying costs out-of-pocket before you get paid; instead, you can focus on doing a great job for your customer.
On your invoice, you also have the option to accept credit cards making it more convenient for your customers to pay, and easier for you to receive payments quickly.
Additional Invoice Features Include:
Payment Reminders: automatic, customizable payment reminders help get you paid faster
Automatic Late Fees: automatic late fees give clients an incentive to pay on time
Recurring Invoices: create a scheduled invoice for repeat customers
Due Dates: customize when you expect payment from your customers
Received Invoices: collect both the invoices you receive and the ones you send out
Discounts: offer discounts on the invoice
Preview Before Sending: view your invoice as your customer would before you send it
Multi-Currency Billing: customize the currency by the client
Multi-Language Invoices: multi-lingual invoice customization capabilities
Duplicate Invoices: recreate and adjust previous invoices
Automatic Tax Calculations: automatically include the correct sales tax based on the client
Simple Summary: see the status of your invoices quickly and manage overdue invoices
Expenses Feature
FreshBooks makes it easy to track your expenses without manually adding each one. By connecting your bank account or credit card, your account is updated each day helping you keep track of expenses in real-time, so you know exactly how much money your business is spending to make money.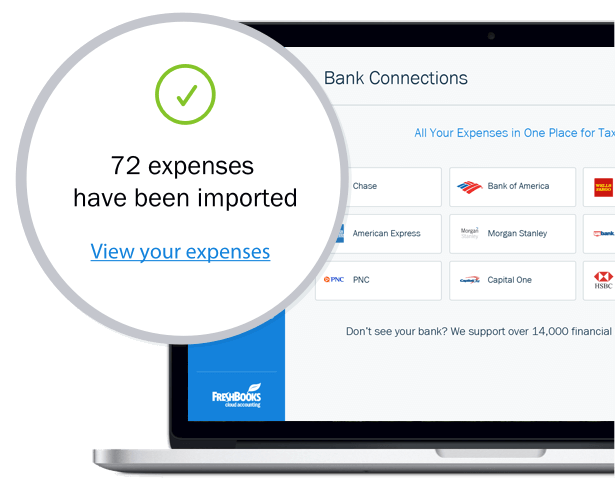 Other Expense Features Include:
Receipt tracking allows you to take a picture of a receipt with your smart device and FreshBooks will log it according to your specifications.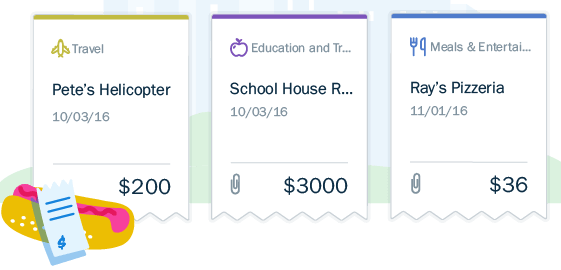 With FreshBooks, you can organize your expenses using categories, making it easier to report these costs for tax purposes.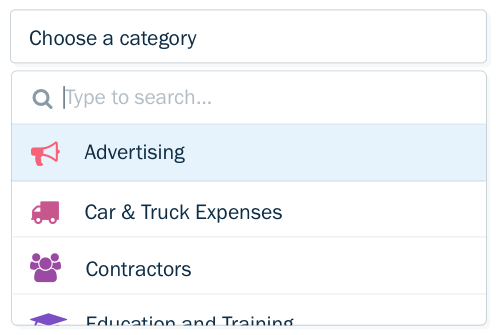 Billable expenses and project spending are easily tracked and stored so you can stay on budget.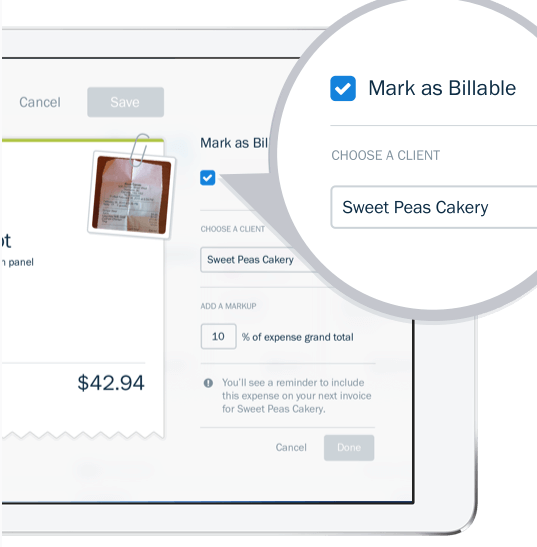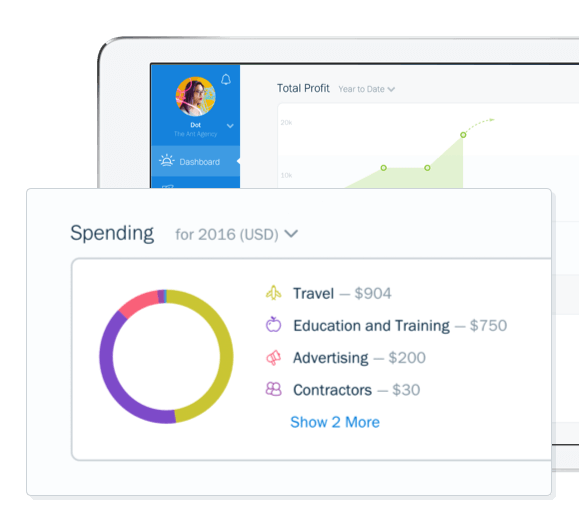 Additional Benefits:
Multi-currency expenses
Auto-categorization of expenses
Tax-friendly categories
Assign recurring expenses
Automatic bank expense import
Rebill clients automatically
Snap and store pictures of receipts in the mobile app
Secure receipt storage in the cloud so mobile and desktop are always in sync
Time Tracking Feature
FreshBooks "Time Tracking" feature allows you to account for the productivity of your business with data to back it up. It can also help you manage your time and employees more efficiently by showing you areas of strengths, and where you need to improve regarding time management.
You will know how long tasks take to complete…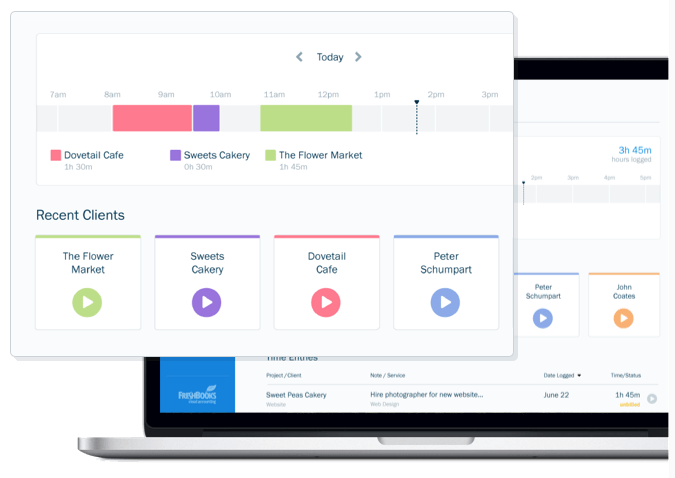 …how much time you spent on a project, so you bill accordingly…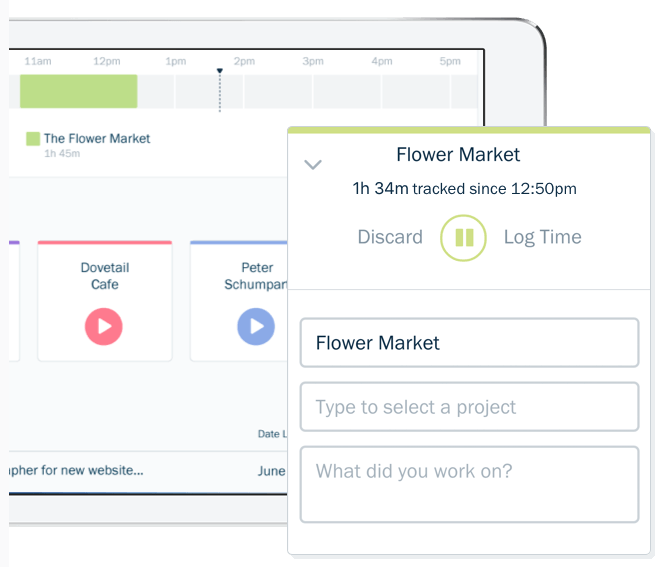 …and you can track your time and your employees' hours from anywhere using mobile technology.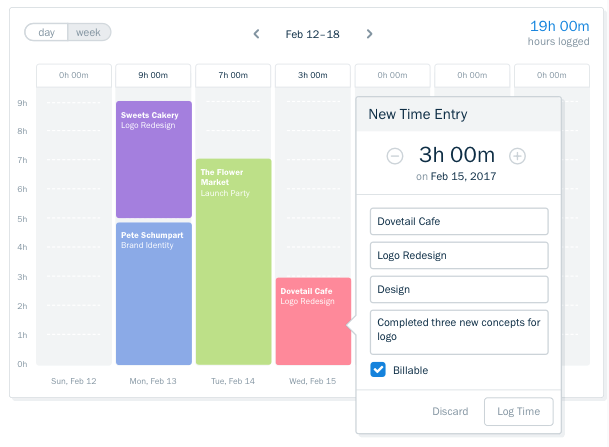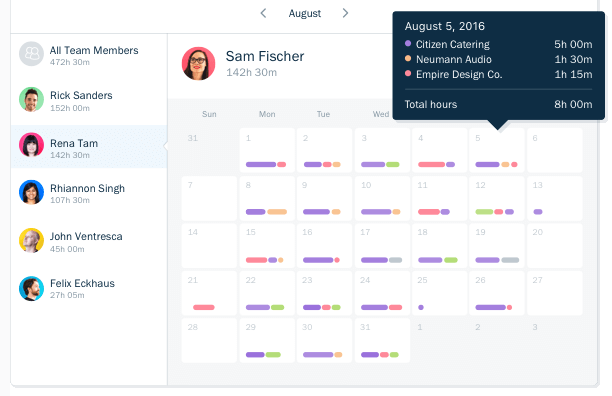 FreshBooks Time Tracking feature also allows you to record time against a specific client, you can add detailed time entry notes and automatically bill for tracked hours, and you can monitor and manage time for a particular project.
You may also view productively by a specific timeframe, or quickly see the productivity of your employees based on a specific project. A built-in timer available on both your desktop and mobile can help make sure you are paid for the hours you put in for a client.
Project Management Feature
FreshBooks can help small business owners and their teams collaborate with one another and with others like contractors, business partners, and clients through their "Project" feature. Fully customizable, this helps keep everyone up to date on the status of a project, and it can allow access to information based on which role they fulfill.
It looks like this:


This feature stops the hunt for the email attachment file you need, it allows a collaborative space for feedback, and it keeps everyone on the same page regarding time expectations and responsibilities.
Estimates Feature
A few clicks can give your client the information they need to close the sale quickly using FreshBooks Estimates feature. Once you get the job, you can quickly transform your estimate into a ready-to-pay invoice saving time on the billing cycle.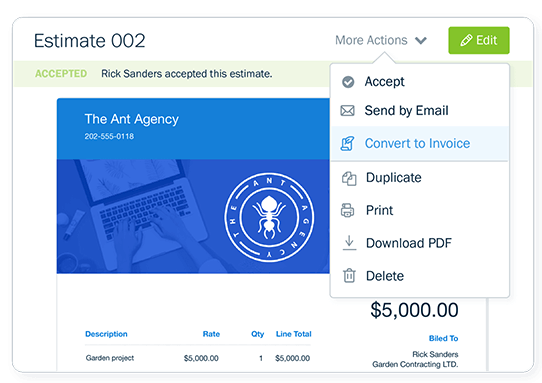 Using FreshBooks Estimates, you can outline a project, provide a timeline and deliverables, track an estimate status, view and respond to feedback from clients, and customize the currency and discount. You don't even have to be in the office to do any of this either; the FreshBooks mobile app makes it easy to create and send estimates anytime.
Payments Feature
FreshBooks Payments allows your customers to securely pay directly through invoices and automatically records each payment in your account.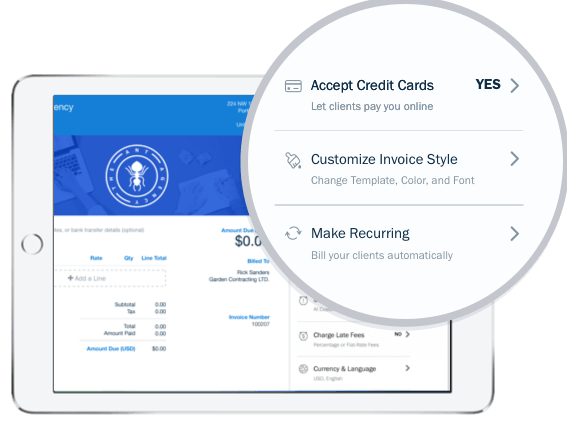 Like most accounting software solutions, there is no setup, monthly, or hidden fees associated with receiving payments, but there is a fee with each transaction to cover the backend cost. If you bill over $150,000 a year, there are lower rates available. FreshBooks accepts VISA, MasterCard, AMEX, and Apple Pay and guarantees you will receive your payment in 2-3 days.
Additional Payment Features Include:
Single-click credit card payment option
Automatic payment recording
Automatic expense recording
Recurring payments and auto-bills
Fast bank deposits
Stripe integration for global payments
Late payment reminders and fees
Reports Feature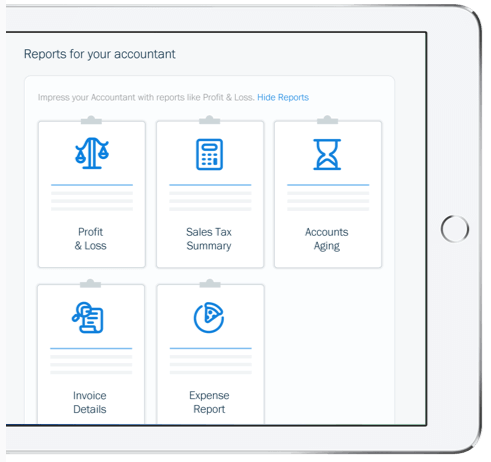 FreshBooks provides ready-made reports, so you can quickly and confidently get a clear picture of your financial health.
A dashboard helps you continuously update and monitor your account so there are no surprises come tax time. It offers a color-coded breakdown of spending and provides a summary of the most recent account activity.
Reports in the feature include:
Activity
Profit and loss
Sales
Accounts aging
Payments collected
General ledger
Trial balance
Chart of accounts
Expense
Invoice details
All reports can be filtered by client, team member, or date and they are easily saved, exported, or printed when needed.
Mobile Feature
To be competitive, you must be accessible all day, every day. That's why cloud-based accounting is so popular because it allows your employees and clients that access which in turn makes you money.
With the FreshBooks mobile app, you can monitor and manage your business wherever it takes you on any mobile device.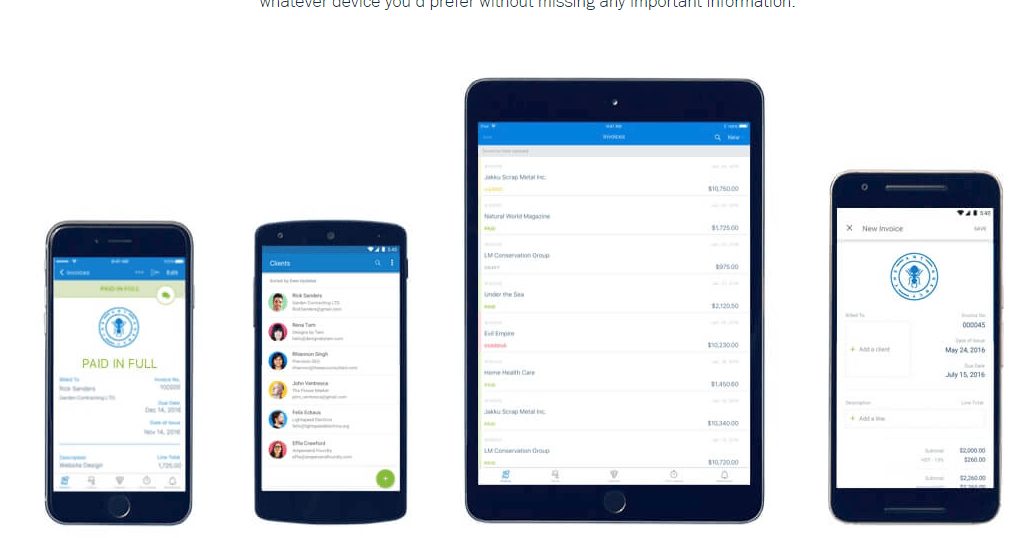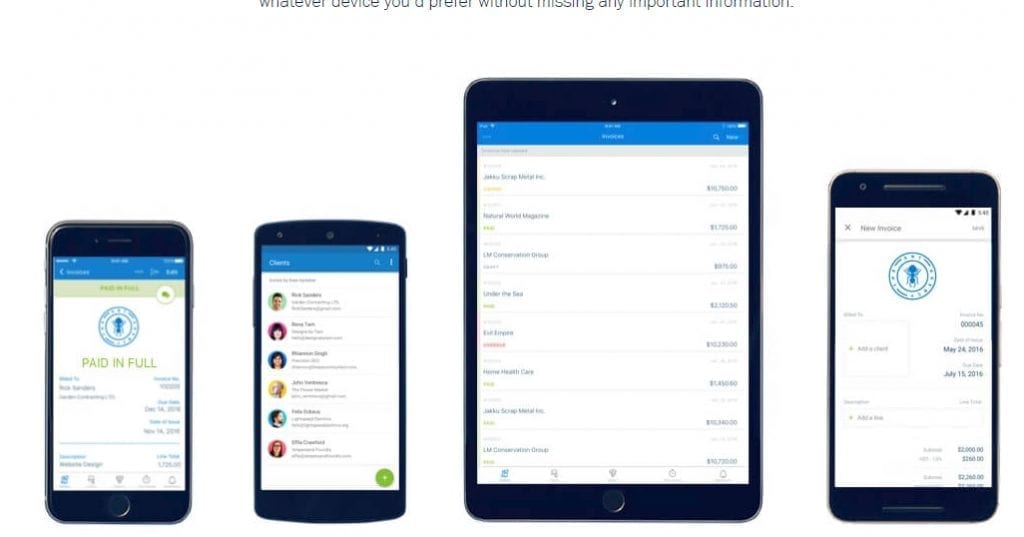 FreshBooks stays in sync across desktop and mobile apps so you can be assured your information is up to date.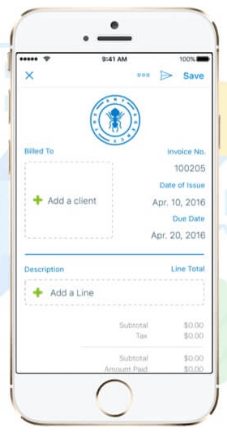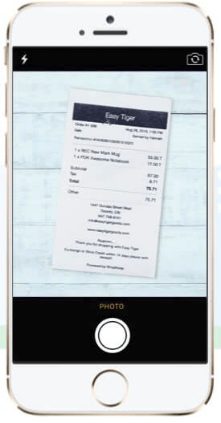 The mobile app has an invoice builder to create invoices on-the-go, and you can submit an expense for reimbursement by simply taking a picture of a receipt.
The mobile app also lets you stay on top of critical updates, chat with clients, and check the status of invoices to the moment it's paid.
FreshBooks Pricing
FreshBooks offer Lite, Plus, and Premium membership packages: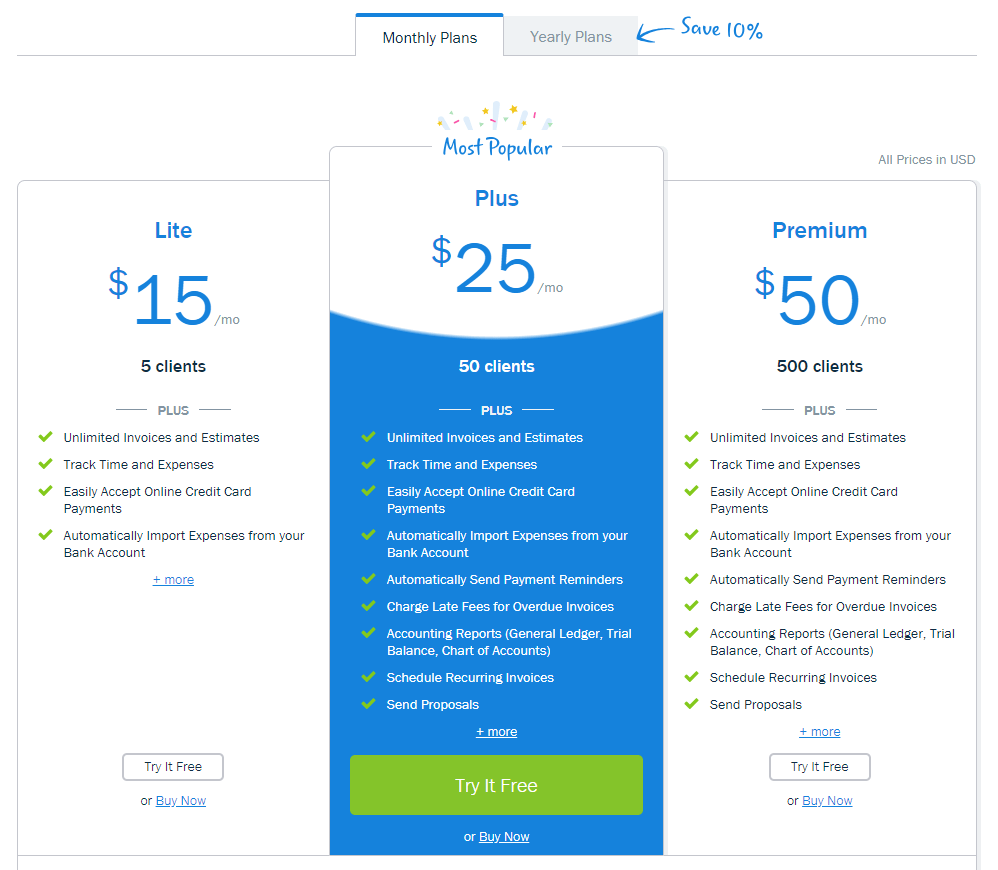 All plans include:
Customized professional invoices
Credit card payment opportunities
Ability to import expenses and track spending
Easy-to-use dashboard
Custom estimate capabilities
Time tracking
Project budgets
Reporting options
You may try all plans for free for 30 days, and if you sign up for an annual plan you can save 10%.
Now that we have a general overview of what both Harvest and FreshBooks have to offer, what do users say about it?
What the Tech Troop Thinks
My "Tech Troop" is an online group of users and other reviewers that love all-things technology and know how to leverage it to make money. For this review, I have only trusted those that have experience with both Harvest and FreshBooks for their opinion.
On Appearance and Usability
As a business owner, I need my accounting software to be easy to use, understand, and interpret. It also helps if it looks nice since it will be on my screen daily.
Some users complained of Harvests' look saying compared to FreshBooks, the website and the forms produced look outdated. Others said more clicks were required to find the links you need.
You want to consider the "look" of your accounting software. If you are a writer like me, it doesn't matter how attractive my invoices are to my clients, but for those in arts and entertainment, it does. You want it to have a tone that reflects what you do for a living, and some felt Harvest lacked this variety.
Winner: In this case, they both win
How FreshBooks Wins: the look and feel of the website work better for me because it's professional and clean. The Tech Troop agrees with me preferring polished over edgy.
How Harvest Wins: some of the troop liked that Harvest's website is like the cooler younger sister of FreshBooks with hipster imaging.
Here are homepages side-by-side: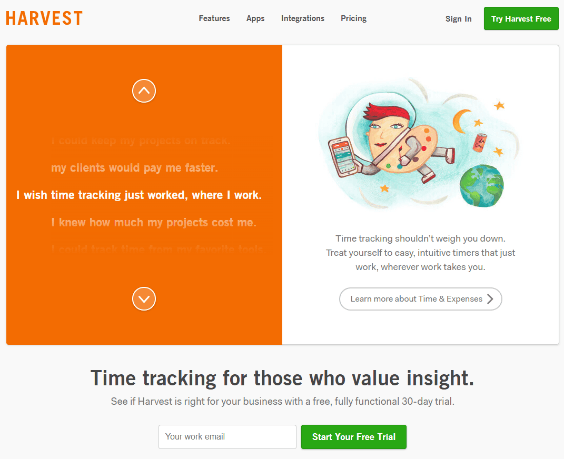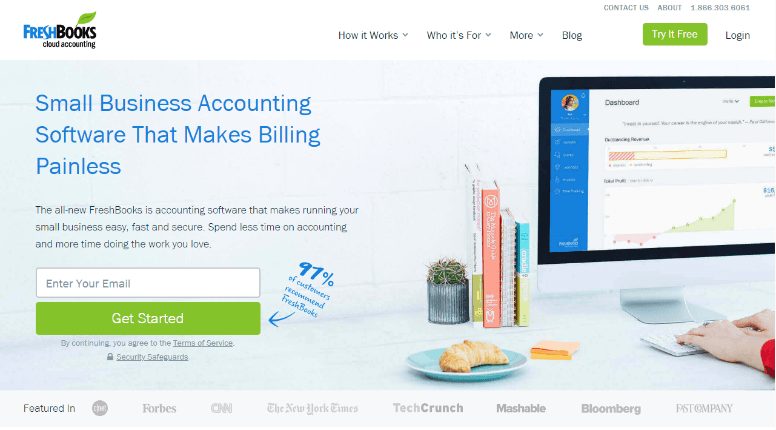 Overall Winner: it depends. Which look do you like best for your business?
On Invoicing
Users unanimously agree that it's great they can see when clients view the invoices using both Harvest and FreshBooks. It creates the paper trail you need as an owner when trying to settle account balances and it helps you manage relationships with their customers when talking about future projects.
Many reviewers love how Harvest includes a PDF-version of the invoice with each electronic invoice sent to their clients. This included document allows them the option for easy printing for their in-house accounting practices.
Winner: Harvest
Harvest wins because of the PDF. Clients appreciate the option of a ready-to-print invoice and Harvest makes it easy by including a PDF with each invoice.
On Time and Team Tracking
Both Harvest and FreshBooks track time and your team's productivity well. They both offer features that allow you to track time while you work, or you may enter it manually.
Winner: Harvest
Harvest wins again because according to reviewers it's easier to use and interpret at a quick glance, and the dashboard is intuitive and attractive. Reviewers especially liked the "Team" dashboard:
On Reporting
Winner: FreshBooks
FreshBooks wins this battle hands down. While both software solutions can help you manage and create reports, FreshBooks excels in making this information readily available and printable. With Harvest, you must "run" reports which can be time-consuming and sometimes annoying when on-the-go according to my Tech Troop.
On Expense Tracking
Both FreshBooks and Harvest offer easy-to-use dashboards, popular integrations, and the option of snapping a picture of a receipt to claim an expense.
Winner: FreshBooks
FreshBooks wins this category as well because it offers the capability of syncing credit card and financial institution's information (aka your bank account) to its dashboard. This synchronization gives you real-time information about where your business stands financially, all expenses consider. My Tech Troop loved that feature and said it makes FreshBooks the clear winner in this case.
Tool
Features
Pros
Cons
Price
Harvest
• Excellent invoicing
• Easy to use and has a simple interface
• Tasks can be edited and managed
• You can use it online, on browser or phone

• Integrates with Basecamp, GitHub, Trello, Chrome, Slack and Asana
• Sends professional invoices to your employers
•You can easily track employees work
• Harvest doesn't allow people to be admins for clients
• Lacks permissions
• Invoices can sometimes be sent to a spam folder
• Free Plan – $0
• Solo Plan – $12/m; $10.80/m for annual subscription
• Team Plan – $12/m (per person); $10.80/m for annual subscription

FreshBooks
• Easy to Use
• Funds tracking, team work progress and sending invoice
• Great reports for tax times
• Easy to track and manage expenses
• Easy invoicing and payment
• Responsive customer service
• Requests review on every finished task with a client
• Expensive
• Doesn't allow payments to be deposited in a bank account
• Lite Plan – $15/m; $13.50/m for annual subscription
• Plus Plan – $25/m; $22.50/m for annual subscription
• Premium Plan – $50/m; $45/m for annual subscription
• Select Plan – custom prices
Overall Winner: Harvest or FreshBooks?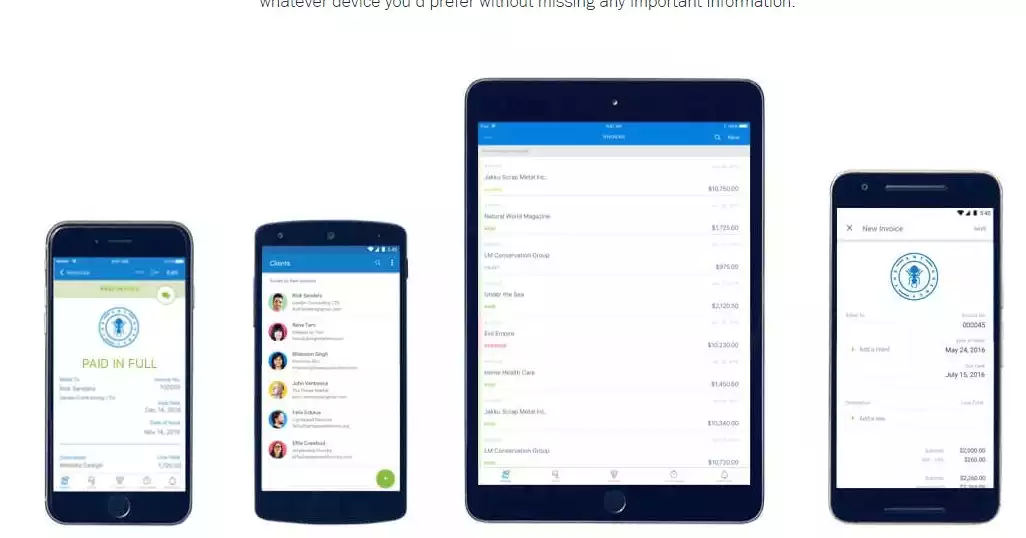 I Personally Prefer Freshbooks
I personally prefer the more user-friendly, feature-rich, and mobile-ready software suite offered by Freshbooks. You get what you pay for and Freshbooks is well worth it, IMO.
Try Freshbooks Free
We earn a commission if you click this link and make a purchase at no additional cost to you.
This was a tough call for my Tech Troop, but they chose FreshBooks over Harvest because of the reporting features and the attractive, professional-looking user interface. While most still lauded Harvest for its time and team-tracking capabilities, they thought FreshBooks had more to offer their business.
Go with FreshBooks Here… If you want a more affordable "Quickbooks" alternative for bookkeeping and invoicing
Go with Harvest Here and use code DIGITALMERCH to save 50% off of your first month… If you have a larger team and need to track time and manage virtual employees.
You be the judge! Depending on your business model one of these options may work better than the other. If you want to explore more options check out Wave vs FreshBooks, Wave vs Quickbooks, Freshbooks vs Zoho or Xero vs FreshBooks to see how they match up with the competition.
What cloud-based accounting software are you going to choose for your business? I hope this information helped find the right one for you!