Last Updated on July 25, 2022 by DMEditor
Printify vs Printful– which one offers the right balance between print-on-demand features and pricing?
Choosing between these two services is not easy at all. And to make matters worse, there's a lot at stake here.
The future of your custom print business substantially depends on the print services that you pick to support it. So, of course, a random selection here is out of the question.
Bottom Line Up Front: For most domestic US-based print businesses, the better option is the more cost effective Printful here. However, if you are expanding internationally, or primarily shipping internationally, the more cost effective option is Printify here. Otherwise, these are very similar services.
Main Differences Between Printify vs Printful
The main differences between Printify vs Printful are:
Printify sources for its products from a variety of third-party suppliers (Printify outsources), whereas Printful produces everything in-house. It supplies all its products without relying on third parties.
Printify can be embedded with Etsy and eBay, whereas Printful works with Bonanza much more platforms.
Printify offers three pricing plans, whereas Printful doesn't have anything like a monthly subscription package.
Printify has printing facilities in some countries, whereas Printful covers more countries with its service.
Printify spreads its operations between 90 fulfillment centers, whereas Printful only runs 5.
Printify offers custom branding via neck labels only, whereas Printful supports neck labels, pack-ins, logos on packages, etc.
Printify gives you the privilege of choosing your preferred printing service provider (print provider) and location, whereas Printful doesn't offer such a feature.
Our Pick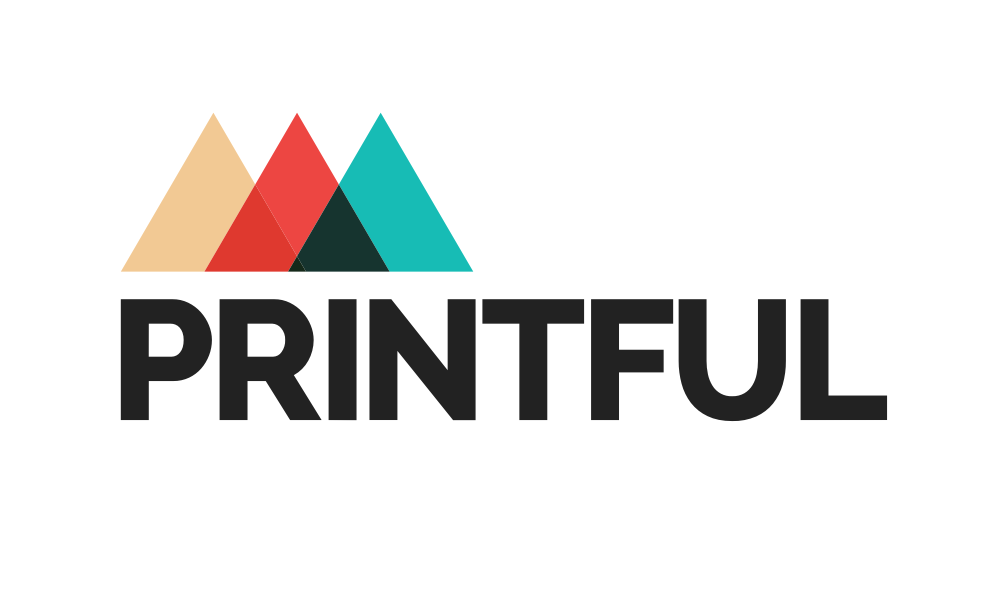 Printful Worked Best for Us
Printful requires a lower up front dollar committment, more customizable product options, an easier to use interface, and flexible integration with more third party tools. This makes it the ideal solution to VALIDATE your idea first.
Try Printful Risk Free
We earn a commission if you click this link and make a purchase at no additional cost to you.
Now, from the look of things, Printify is a pretty solid print-on-demand service, and so is Printful. They both serve a wide range of drop shippers and e-commerce businesses worldwide, and they are reportedly still expanding their global footprint.
So far, merchants who've had the chance to try them out continue to make different remarks about their capabilities. Some praise Printify for its best-in-class efficiency in handling printing orders, while others feel that Printful is lightyears ahead of its competitors.
In all fairness though, it also turns out that both Printify and Printful are print on demand companies that have attracted criticisms from unsatisfied users. Most of them are mild, but there are a couple of issues here and there that could eventually make a huge difference in your business. Therefore, you might want to watch out for not only the strengths of Printful and Printify but also their accompanying weaknesses.
Luckily for you, you've stumbled upon the most comprehensive comparative review of Printify vs Printful. We've thoroughly analyzed both platforms for months now, and even conducted a couple of tests to give you an accurate picture of everything.
More specifically, this Printify vs Printful comparison guide digs beyond their pricing schedules and standard features to reveal exactly what you should expect.
Printful and Printify go head-to-head in an ultimate showdown that covers their overall usability, types of services, order fulfilment efficiency, available products and suppliers, product quality, product catalog options, print quality, plus general cost-effectiveness.
So, stick with me as we explore each element in detail.
But, before we get our hands dirty, let's make sure we're on the same page about the whole concept of on-demand printing. What does it entail, and why would you even need a specialized print-on-demand printing service?
What is Print on Demand (POD Provider)?
Well, since you're already looking into Printful vs Printify, I guess you're probably planning to sell products with custom prints. That's a very promising venture if you ask me, but the survival of your business ultimately comes down to how you set up your printing and order fulfilment operations with demand products.
To get started, you need a supplier for the products you intend to print on. Tshirts, pillows, hoodies, hats—just about any apparel product. They all have to come from somewhere, right?
And then, of course, there's the printing part. You could choose to produce the custom prints yourself. But, as you've probably figured out already, that can be pretty hectic and expensive.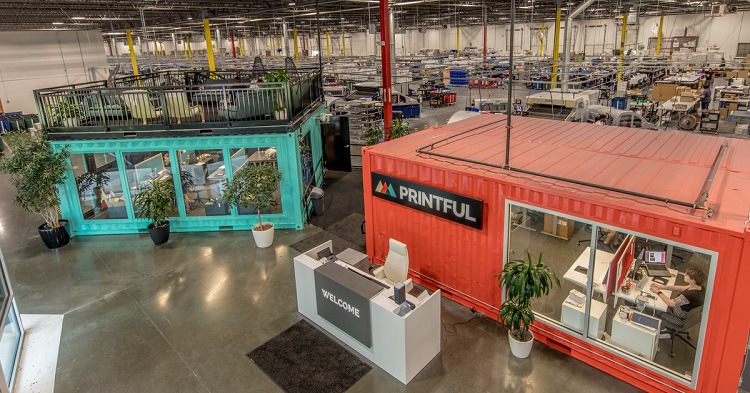 Hence, it's always a good idea to outsource the job to a service provider. One with just the right level of expertise and equipment to produce high print quality.
Now, this is exactly where print on demand services such as Printful and Printify fit in. They produce custom prints for customers on behalf of businesses.
And not just that. You see, the likes of Printify and Printful support the whole fulfilment pipeline. They are capable of supplying the products from various warehouses, producing the custom prints as requested by customers, and then shipping each order to its respective customer in a reasonable shipping time and fulfillment times.
Therefore, all in all, you can think of the whole thing as some form of dropshipping. You just need to run your business front while channelling the resultant customer orders to print-on-demand services. They'll then take care of the product sourcing, printing, and order fulfilment. It really is that simple.
However, for everything to pan out well, you have to choose your print on demand service provider very wisely.
And to help you with that, let's begin by exploring the main differences between the Printful app and Printify.
Printify vs Printful – Overview of How They Work
Printify Account Overview
Printify is no ordinary print-on-demand service provider. It's more of an all-in-one solution that integrates with e-commerce platforms and online marketplaces to give dropshippers the privilege of creating products, processing custom print orders, and then drop shipping the items to customers worldwide.
As such, it's one of the top Printful alternatives out there.
In essence, Printify takes care of product sourcing, printing, and order fulfilment, leaving you to worry about running the business.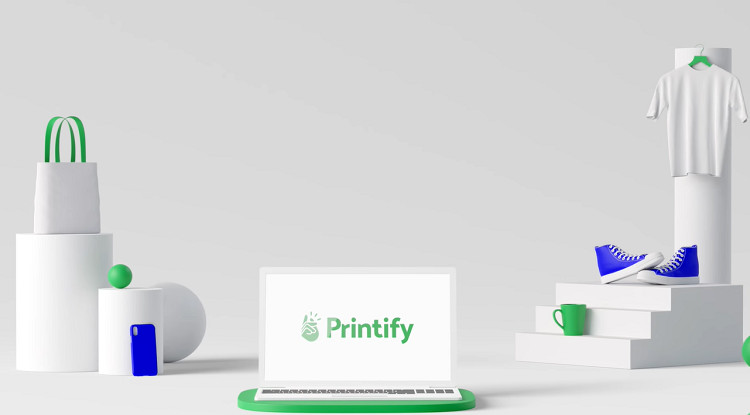 Some of the products you'll find here include T-shirts, shoes, accessories, home decor items, and jewelry, all of which can be personalized through custom prints. Customers are allowed to print all sorts of stuff, including images, text, and graphical designs.
But, get this. All the printing is not conducted in a single location. Rather, Printify works closely with multiple renowned printing companies that are based in different countries across the globe. It has partners in China, Australia, Germany, the UK, and the US.
This extensive network of printers allows you to quickly and conveniently serve customers from all corners of the world at the same time.
And how does the whole thing work?
Well, Printify has simplified everything into these six easy steps:
Integrate The Solution: The first step is, of course, integrating Printify with your online store or marketplace account. You just need to find a compatible app version, install it to your platform, and then create an account with your personal and business details.
Select Your Product: Once your account is up and running, you can go ahead and pick the precise products you'd like to sell. Printify comes with more than 250 types of products- ranging from shirts to shoes, and even phone cases.
Create Your Designs: In addition to a wide range of responsive design tools, Printify grants you a powerful Mockup Generator to help you come up with the perfect designs for your products. All you need to do at this stage is to simply upload your designs, customize them, and then use the Mockup Generator to add the items to your e-commerce store.
Request Product Samples: Since Printify works with a vast array of top-class printing companies, you have the freedom to choose your preferred partner. Then for print quality assurance, the platform further allows you to request print samples from your selected companies before proceeding.
Publish and Start Selling: If you're satisfied with the print quality of the samples, you can go ahead and roll out the products on your eCommerce store. Then when the orders start coming in, you can count on Printify to handle the billing, supplier requests, packaging, and shipping (shipping rates) within a reasonable shipping time, to standard. It's a holistic order fulfilment service.
Printful Overview
Printful print on demand company is not that different compared to its counterpart Printify. It's also a cloud-based print-on-demand service that gives you all the tools and resources you need to fulfil orders of products with custom prints.
And yes, just like Printify, this platform principally targets drop shipper business owners from all over the world across e-commerce platforms and marketplaces. You just need to integrate Printful with your online store and you won't have to worry about the inventory or order fulfilment.
The inventory itself is sourced in-house. Yes, you heard right. Instead of sourcing for the products from suppliers, Printful chooses to produce everything internally.
But, make no mistake about it. That doesn't mean it comes with limited product options. On the contrary, Printful has managed to build quite a decent collection of customizable options- almost as many as you get on Printify.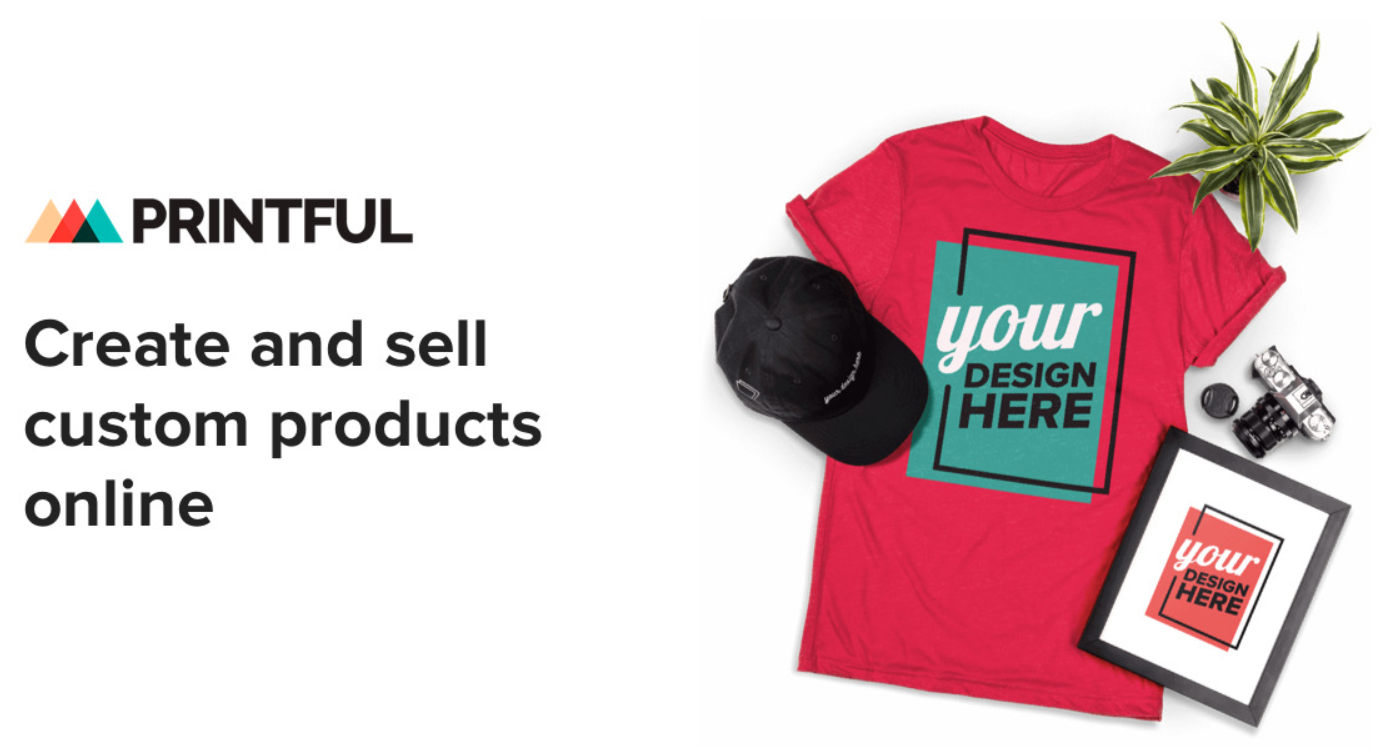 And speaking of customization, Printful further grants you a set of design tools for specifying the type of prints you'd like on the products. Once you pick the items you'd want to sell, Printful allows you to tweak and apply the preferred print designs using its Mockup Generator along with other tools.
In the end, you get to publish the products on your store, and Printful shipping and logistics handles the rest. Once an order comes through, Printful automatically swings into action and coordinates fulfilment activities with its US, Mexico, and Europe-based fulfilment centers.
Every single product is channelled from Printful's warehouses, after which the selected designs are printed carefully along with the label, and then packaging plus shipping rate prices follows.
So, in short, Printful essentially saves you the trouble of processing and fulfilling the orders. Your role as a merchant is reduced to managing sales alone, without worrying about order fulfilment.
Quite commendable, to say the least. But, does any of that make Printful any better than Printify?
Let's find out by digging deeper into their respective features.
Printify vs Printful – The Main Features
Ease of Use
Printify Ease of Use
One great thing about Printify is its permanently free entry-level package. It allows you to leverage the service along with its design tools on up to 3 online stores. Plus, it doesn't limit the number of product designs. You're free to create as many as you like.
That said, the signup process principally occurs on Printify's main site. You just need to enter your email address and password and you'll be in.
Then as you begin working on your products, another thing you'll appreciate about Printify is its simplified approach. The dashboard comes with a minimalistic design, a clean layout, and basic controls. So, you should be able to find your way around right off the bat.
But, if you happen to face any difficulties along the way, the Printify help centre is always a click away.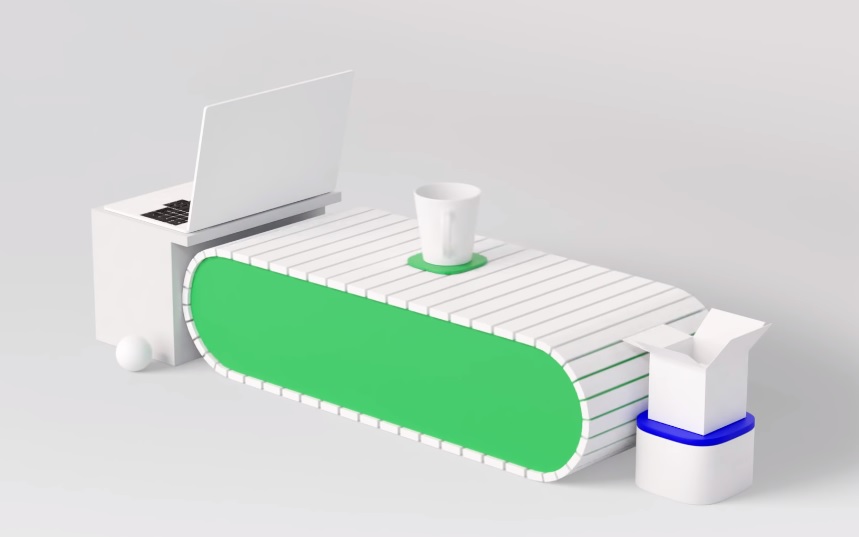 In the meantime, you can go ahead and explore your product options to identify all the stuff you'd want in your inventory. This should be easy as Printify comes with quite an extensive collection of products from different suppliers at varying prices. Just compare the variables and pick the most outstanding items based on your needs.
Printify then goes ahead and grants you a set of design tools for customizing the prints you'd want on the products. It allows you to upload images in different formats, after which you could proceed with the customization process via Printify's editing window.
Well, as you've probably guessed already, the drag-and-drop editor here is as simple as they come. In fact, I found it to be a bit too simple for my liking, as there's only so much I could do with its tools. The whole thing is seemingly built for basic editing and quick customizations.
Moving on, integrating Printify with your online store is also a breeze, thanks to the pre-built apps the company has developed.
Shopify users, for instance, can easily link Printify with their platforms by going to the MyStores section of their Printify dashboard and entering their Shopify account links (Shopify integration). The system will then prompt them to install the Printify app from the Shopify App Store and voila!
Printful Ease of Use
The bad news first – it turns out you won't find a free package on Printful.
But, don't get me wrong. I'm not saying that the platform will charge you from the word go. Rather, you won't find any type of subscription package here since Printful generates its revenue from the sales that merchants make (coming out of merchants profit margin). Hence, the good news is, all users get to sign up without paying anything.
Now, once you've created an account, you'll notice that Printful's UI is just as simple and easy to use as Printify's. Plus, it just so happens that the two platforms follow pretty much the same setup procedure, with a few negligible differences here and there.

Basically, Printful too requires you to pick your selection from its collection of products, upload and customize your print designs, integrate the system with your online store, then publish everything and start selling.
The designer itself comes in the form of a seamless drag-and-drop editor with limited customization capabilities. And while it's not flexible enough for advanced editing, at least it's simple enough to be understood by all types of users, including beginners. However, there might not be enough functionality here for true artist shop tees.
Verdict- Printful vs Printify Ease of Use (Draw)
Both of these print on demand companies feel like siblings when you compare their user interfaces. They are both designed with a minimalistic touch, and the layouts are neatly organized for easy navigation.
What's more, both apply a very basic and straightforward setup procedure. You just need to choose your products, customize them, integrate the system with your online shop, and then proceed to sell your stuff.
So, the fact is, none of these platforms present any major difficulties. Beginners should feel right at home.
Products and Suppliers
Printify Products and Suppliers
One of the first things that greet you on the Printify platform after you create an account is a long list of product options. Printify hits you with loads of products across multiple categories, all of which come from different suppliers.
If you're looking to sell stationery, for instance, you'll find a range of stickers and notebooks. Then under the jewelry category, you could choose between various types of necklaces, bracelets, and dog tags.

Merchants who deal in accessories, on the other hand, might want to check out stuff like phone cases, pouches, backpacks, shopping bags, and tote bags, while shoes stretch from high heels and high tops, to Martin boots, sneakers, flip flops, etc.
All in all, clothes are one of the most popular product categories, and you get to choose between standard T-shirts, polo shirts, sleeveless tops, crewnecks, socks, leggings, bikinis, hats, dresses, skirts, jackets, hoodies, and much more. It goes on and on.
That means merchants should have an easy time finding the perfect products for their customers. Plus, with the varying price levels here, you can be certain that you'll score favourably priced items. Ones that leave room for great markups.
It's worth noting, however, that none of the products here has been produced directly by Printify. You only get to work with third-party suppliers- which has its upsides and downsides.
On one hand, sourcing stuff from external suppliers gives you a huge variety of options. Additionally, it becomes easy to switch from one producer to another.
However, on the other hand, you could easily fall victim to unscrupulous suppliers with poor print quality.
Printful Products and Suppliers.
While printify prefers to source its products from third-party suppliers, Printful chooses to approach things differently. Instead of linking you up with external manufacturers, Printful manages to produce everything internally.
So, in essence, you won't be dealing with third-parties at any point. Every single item you end up selling will be sourced directly from Printful's in-house supply.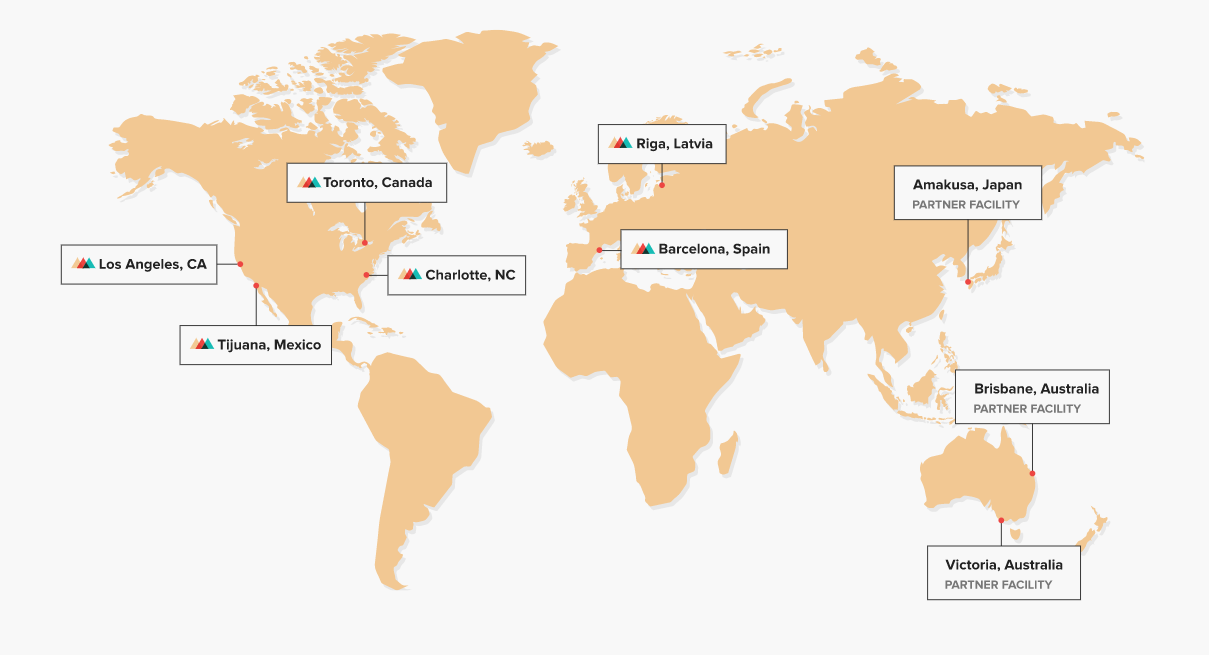 What does that mean for you?
Well, to get started, you should find it easy to control product quality. All you need to do is get in touch with the customer support team (customer service) and flag up all the quality issues.
Sadly, however, in-house production also means putting up with limited product options in exchange for streamlined production cost. Printful cannot possibly produce and maintain as many units as multiple suppliers who work independently.
Hence, while Printful offers quite a decent collection of items, it lags slightly behind when you compare it with Printify's product options.
Verdict- Printful vs Printify Products and Suppliers (Winner: Printify)
It is quite admirable that both Printful and Printify come loaded with numerous products across a vast array of categories.
But, as it turns out, Printify relies on third-party suppliers while Printful continues to produce everything in-house. This gives Printify an edge over Printful in terms of product options and overall flexibility.
Shipping & Order Fulfillment
Printify Shipping & Order Fulfillment
Interestingly, Printify's vast network of international suppliers is a double-edged sword when it comes to the order fulfilment process.
You see, although Printify is built to streamline and automate the fulfilment process, it's the suppliers who are ultimately tasked with order fulfilment. In effect, they are the fulfillment company. That means they are expected to package the orders and ship them to their respective customers.
Now, with the many suppliers that Printify works with, all these tasks translate into a complex set of variables that affect not only the order delivery times but also the accompanying shipping costs (shipping rates). The suppliers are spread out across different locations and each has its own way of handling the deliveries.
So, in the end, the delivery times (shipping time) and shipping rates could vary quite significantly from one case to another.
In my general testing (July 2022), fulfillment & shipping times from Printify were estimated as follows:
US & Canada: 3-9 business days.
Europe (with exception of Belarus, Russia and parts of Ukraine): 10-15 business days.
Other international destinations: 10-30 business days.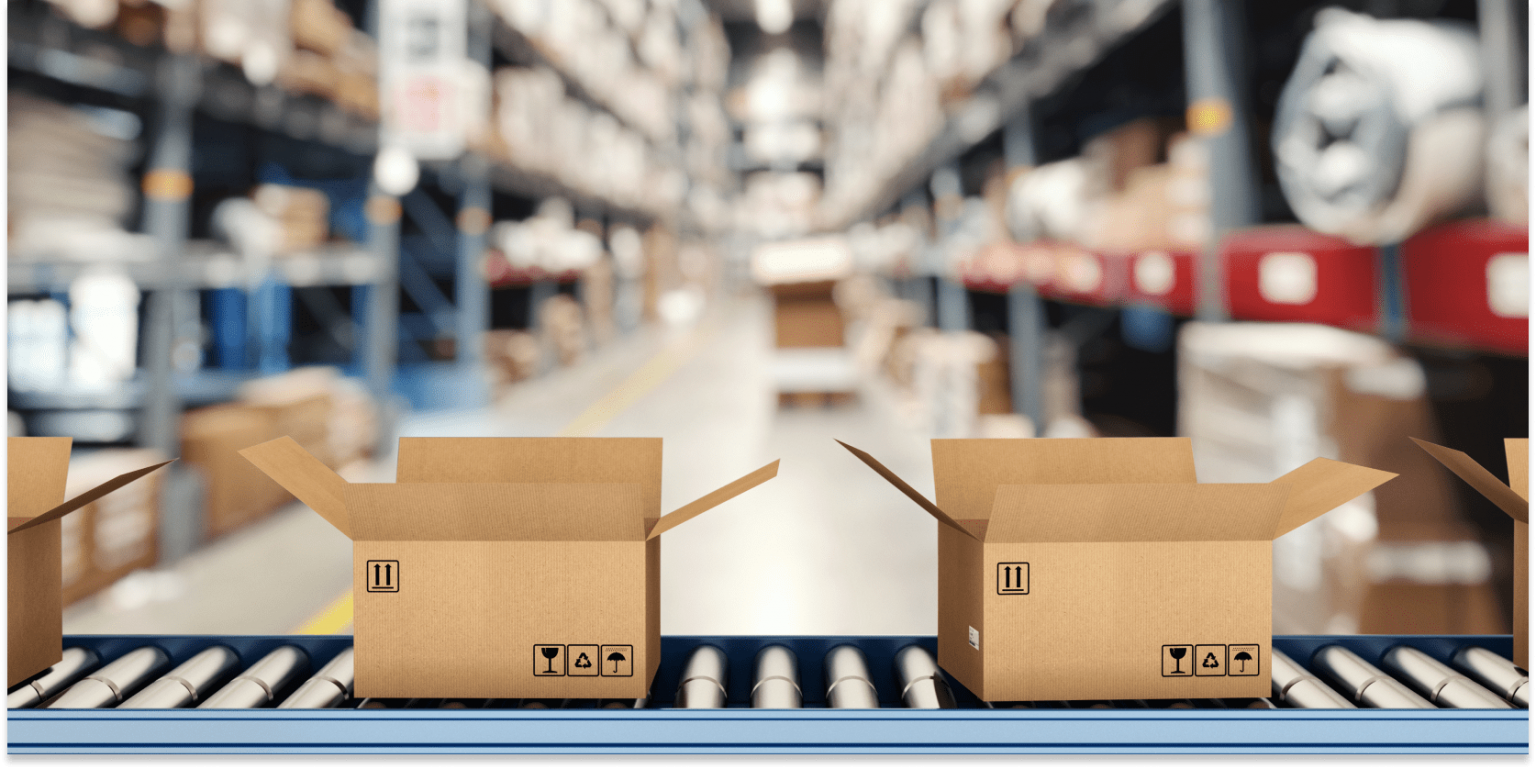 Printful Shpping & Order Fulfillment
Streamlining your order fulfilment process is much easier when you're working with Printful since everything is conducted in-house. You won't be forced to rely on the capabilities of third-party suppliers.
When it comes to US orders, for instance, Printful coordinates the fulfilment process between its North Carolina and California centers. Then international merchants, on the other hand, get to capitalize on the Mexico and Latvia fulfilment centres.
In the end, every single order goes through the same packaging and dispatch procedure. Plus, everything is controlled directly by Printful to maintain short lead times.
Printful fulfillment & shipping times (As of July 2022):
US, Canada, Australia, New Zealand, and Europe (with exception of Russia, Belarus and parts of Ukraine): 9-15 business days.
Other international destinations: 18-30 days.
Verdict: Printful vs Printify Order Fulfillment (Winner: Printful Wins)
With Printify relying on a wide range of suppliers and Printful conducting everything in-house, it becomes easier to fulfill orders with Printify shipping.
Printify vs Printful – Pricing
Free: Printify's Free package gives you a self-serve help center along with 24/7 merchant support and customer service, manual order creation, integration with Shopify, Etsy, eBay and more, the Mockup generator, unlimited product designs, plus 5 stores per account.
Premium Plan: The Package package stretches the number of stored to 10 per account, for only $29 per month on the premium pricing plan. It further grants you up to 20% discount on all products, custom order import, a self-serve help center along with 24/7 merchant support, manual order creation, integration with a Shopify store, Etsy, eBay and more, the Mockup generator, plus unlimited product designs. The Premium Plan is what most users end up with.
Enterprise: The Enterprise plan will cost you a custom rate based on your precise needs. Some of its privileges include; branded customer support, a dedicated account manager, custom API integration (via API key), early access to new features, up to 20% discount on all products, custom order import, a self-serve help center along with 24/7 merchant support & customer service, manual order creation, integration with Shopify, Etsy, eBay and more, the Mockup generator, unlimited product designs, plus unlimited stores per account.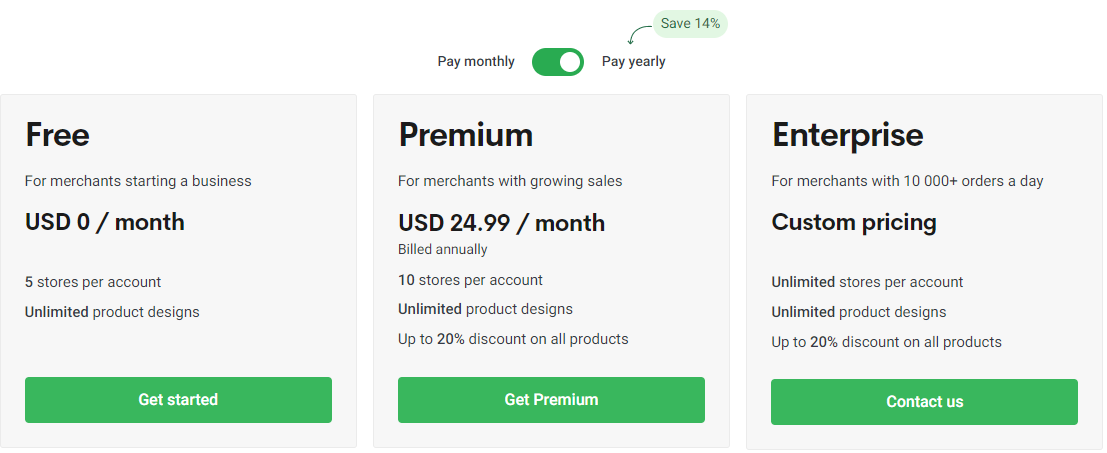 Printful, unlike Printify, doesn't charge any setup or monthly subscription fees. Instead, you'll be paying for the service every single time you process an order. All the product prices here include an extra rate for the service.
Therefore, you get the benefit of using all the features, which include; a product generator, white-label branding, pack-ins, custom log, design tool, mockup generator, warehouse storage, more than 20 eCommerce integrations, 24/7 phone, email, and live chat customer support, an online community, sublimation and embroidery, plus over 232 products to choose from.
A Note on Printful vs Printify Quality
While these services appear quite similar on the front end, there is one BIG difference in my opinion. This has been confirmed speaking with other POD brands as well.
Printful has a completely OPPOSITE internal model compared to Printify.
Whereas Printify may get you a better price, they leverage a network of third-party POD fulfillment companies, arbitraging who can provide the best rates at any given time. Great if you are on a budget!
However, Printful has gone the other directly and fulfills everything IN-HOUSE. This means the quality control and process flow are tried and tested AND you can ultimately hold Printful accountable for the end result vs the "hit or miss" possibility with Printify. The incentives are just ALIGNED BETTER with Printful.
Now that doesn't mean each order is going to necessarily contrast this discrepancy, but over time Printful's proprietary edge starts to show, even if it means fewer design options.
Frequently Asked Questions
Do Printful and Printify ship internationally?
Yes, both Printful and Printify ship internationally, with a few exceptions.
Printful ships internationally, except to Cuba, North Korea, Syria, Iran, Belarus and Russia due to ongoing conflict or geo-political reasons.
Similarly, Printify won't ship to Cuba, North Korea, Syria, Iran, Belarus or Russia, but also cannot deliver in Burundi, Central African Republic, Libya, Sudan, Somalia and Zimbabwe.
Can I use Printify without Shopify?
You will need to be linked to an e-commerce platform to use Printful. Printful offers a very wide amount of platforms so you can choose your favourite, but Shopify is always a strong option.
Does Printify work with Amazon?
Yes! Printify can be integrated with Amazon. And, by doing this, you receive some benefits like automatically handling printing and fulfilment for Amazon orders.
Which type of ink uses Printful?
Printful uses the Brother GT-3 aqueous pigment inks. These pigments are under the CPSIA law, which means is safe to use as a children's clothing printing and it reduces the environmental waste.
How do I get my product design ideas?
Different print providers have different ways to help their dropshippers, but most do not help with design. Working with a designer to help with branding options and to get good ideas is a great way to go if you aren't creative yourself.
Printify vs Printful – The Ultimate Verdict
So now, when you consider everything we've mentioned in this Printify vs Printful comparison review, which of the two services would you say is better? Printful or Printify?
Well, I'd say it depends on how and where you want to sell.
If you prefer working with a wide range of suppliers, then I'd advise you to go for Printify. But, if you want a more streamlined order fulfilment process, Printful would be a perfect choice.
Printful is also great for Amazon merchants as well as online shops running on platforms like PrestaShop, BigCommerce, and BigCartel. It offers more than 20 integration options while Printify limits you to a handful.
Then as far as pricing is concerned, Printful turns out to be the most cost-effective option for growing businesses. Its extensive feature set is entirely open to all users without any subscription charges. You only pay for the service after selling.
However, if you're thinking about expanding internationally, Printify happens to be more economical. Its numerous international fulfilment center locations translate into increased convenience as well as low shipping cost fees.
Bottom Line Summary: For most domestic US-based print businesses, the better option is the more cost effective Printful here. However, if you are expanding internationally, or primarily shipping internationally, the more cost effective option is Printify here. Otherwise, these are very similar services.
And with that, where would you say you belong? With Printful or Printify?
Feel free to share your thoughts in the comments section.
Further Reading on POD Company & POD Platform Options (Different Print Providors) for Custom Product Prints: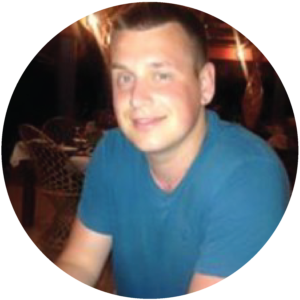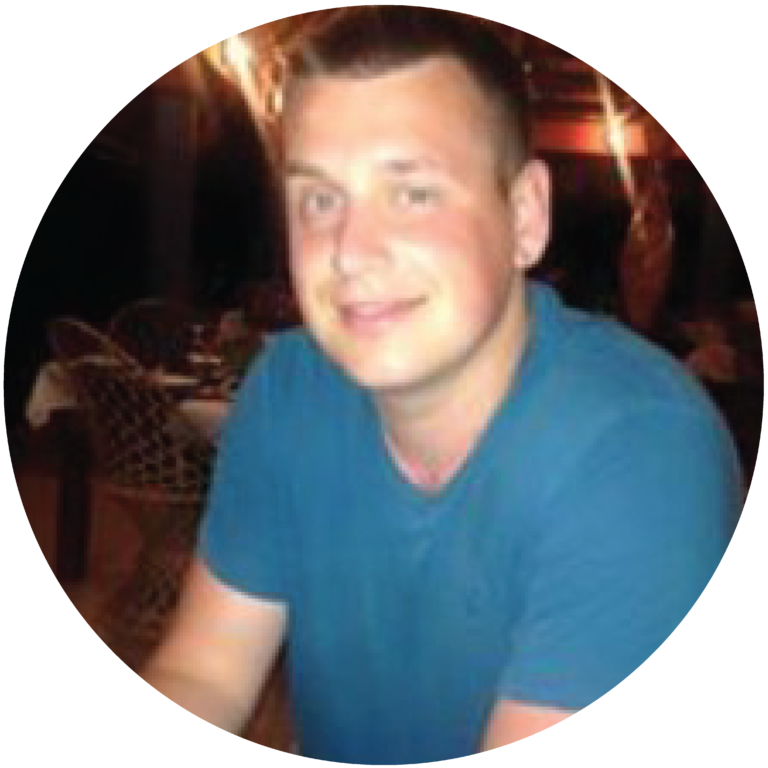 Latest posts by Ewen Finser
(see all)
Get 40% OFF for 3 Months