Today we are going to be comparing two popular CRM and marketing automation tools: SharpSpring vs HubSpot, to see which one will be the better choice for your business.
Main Differences Between SharpSpring vs HubSpot
The Main Differences Between SharpSpring vs HubSpot are:
SharpSpring includes social media management software so you can manage all your digital marketing from one central place, whereas HubSpot does not have social media management features
SharpSpring has a starting plan at $550/month for up to 1,500 contacts, whereas HubSpot has a basic CRM for free with unlimited users and unlimited contacts which is a great option for small businesses and startups
SharpSpring doesn't have a live chat feature available, whereas HubSpot has a live chat feature that allows you to talk directly to customers as they are browsing your website
CRM software is a must-have for any business that wants to grow in 2020. Gone are the days when a pen and paper or an excel spreadsheet was enough to keep your contacts and business deals in order.
These days it takes a lot more to keep things running smoothly, and if there's software available to handle all the organization, and automate the tasks that slow you down- why wouldn't you take advantage of this?
It's a no brainer, right?
There are so many benefits to using CRM software in your business, including:
Streamlining your sales process
Saving hours of time each week on repetitive tasks that can be automated
Providing a better customer experience
Enabling better team collaboration
Organizing your contacts and all of their details
Increased revenue and profitability for your business
More staff satisfaction in your company
Better tracking and reporting of your sales process
In fact, using CRM software properly can shorten your sales cycle by 8-14%, and increase your sales team's productivity by 34%.
In this review, we are going to be taking an in-depth look at both SharpSpring and HubSpot to see exactly what features they each offer, as well as their pros and cons, customer service, and pricing, so you can decide for yourself which option is better suited to your business.
Let's take a look.
SharpSpring vs HubSpot: SharpSpring Review 2021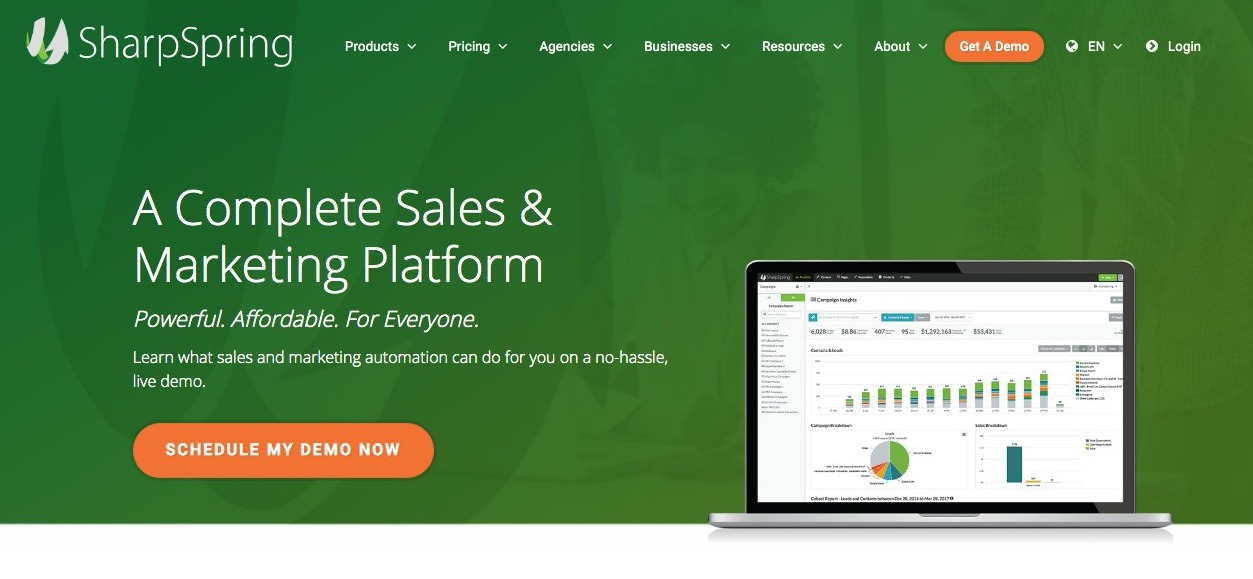 SharpSpring is an all in one marketing automation platform and CRM solution that can help you to optimize the inbound marketing process for your business, bring in more leads, and close more sales. The software tracks all your customers, so you can easily view exactly where they are in the sales cycle, and follow up with them at exactly the right time, with the exact information they need.
The automation software can streamline your sales process, saving your team hours of time each week so they can focus on growing your business instead of endless repetitive tasks.
SharpSpring is trusted by over 10,000 businesses and over 2,000 agencies worldwide, with a very respectable customer satisfaction rate of 98%!
The Main Features of SharpSpring CRM
Smart email Automation
Dynamic Forms
Marketing Automation
Visitor ID
CRM
Landing pages
Blogs
Analytics and Reports
Integrations
Social Media Management
How SharpSpring Works
SharpSpring is suitable for both businesses and agencies. The interface is very easy for anyone to use, and it also has brandable/white label features, making it an ideal solution for businesses of all sizes.
SharpSpring has email marketing and marketing automation tools that allow you to quickly and easily create beautiful, dynamic emails for your business. The email builder itself is easy to use, and it uses a simple drag and drop interface, so there's no need for any coding or graphic design skills.
You can easily personalize all the emails you send to your contacts using dynamic fields to help increase your conversion rate and engage more customers. You can choose certain phrases, images, subject lines, and even special offers depending on your contact's needs.
If you don't want to create your emails from scratch, there is an extensive email template library for you to choose from which you can customize as you wish with your own images, branding, and content.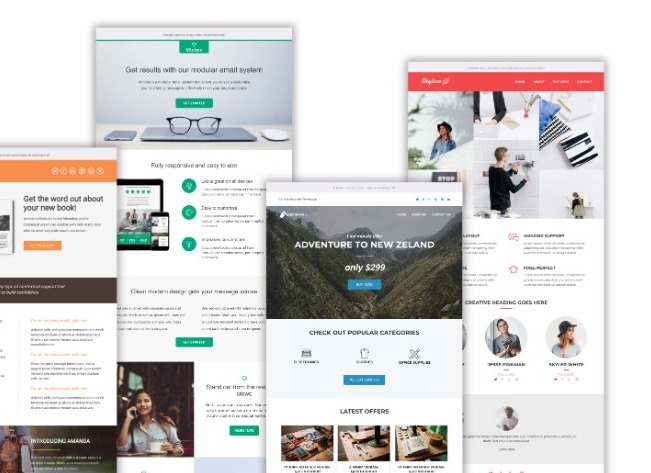 All of the emails you send are completely responsive, so your email will still look great no matter what type of device your contacts are viewing it from.
You can save your email templates to use for future campaigns, so you won't need to build it from scratch again, you can simply change the content. There is also access to an HTML editor, so you can create completely customized emails with your own code if you desire. You can easily switch from the HTML editor to preview mode so you can see how your email is looking while you are building it.
Once you have sent out your email campaign, you can easily track its success using analytics tools. This allows you to track opens, clicks, bounces, and deliveries of your emails, so you know exactly what's working and what isn't when it comes to your email marketing.
Once a customer has clicked on a link within your email, SharpSpring continues to track their activity so you can see which pages of your website they have visited if they have filled any forms in, and if they have downloaded anything from your emails.
You also have the option to create email automation and workflows based on common customer behavior. You can even trigger automated personalized emails to be sent to a customer based on pages they visit on your website, so you can send truly personal emails at just the right time.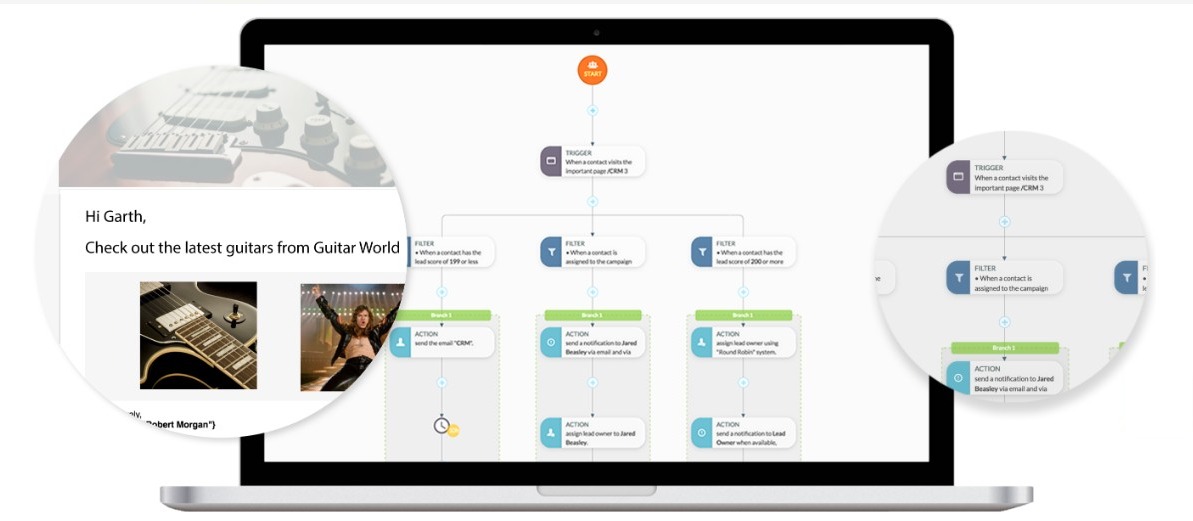 If you are looking to capture leads or collect data for your business you can take advantage of SharpSpring's form builder. The forms allow you to easily capture customer data while they are browsing your website. The forms are easy to build and can be completely customized with your own branding, fields, and call to actions, and you can also connect third-party forms if you want to as well.
There is the option to use automated form filling software on your forms, which makes it easier for customers to complete your forms, and therefore increases conversion rates.
When a new lead has signed up to your list via one of your forms, you can automatically trigger a warm-up email sequence to familiarize the contact with your brand and help them become more engaged with your business. Once the customer is warmed up and ready to make a purchase, the automation software will notify your sales team so they can give them a call and make contact personally to close the sale.
SharpSpring also has lead scoring features, which allocates points to each lead based on their behavior and engagement with your website. This helps your sales team to know where to focus their energy so they can work efficiently and close more sales overall.
The CRM features allow you and your team to easily view your pipelines and see exactly where each of your leads are in the sales process. You can completely customize the CRM interface with the information that's important to your sales process. There is a birds-eye view of your sales pipeline, so you can see all the relevant information at a glance, as well as a view of how your business is performing. You can click and drag contacts to the next stage when the time is right.
To enable better collaboration for your team there is a 'social notes' feature, so you can leave notes for other team members, as well as writing reminders and notes within your customer details. You can also set reminders for yourself and your team, so all customers are followed up with and no opportunities are missed.
You can create optimized landing pages and sales funnels using SharpSpring's responsive landing page builder. This allows you to easily create beautiful pages for your inbound marketing campaigns that are fully integrated with your CRM, so you can track what each user is doing and how they are interacting with your pages and funnels. You can also use blogs to increase engagement with your business as well as help to improve your SEO.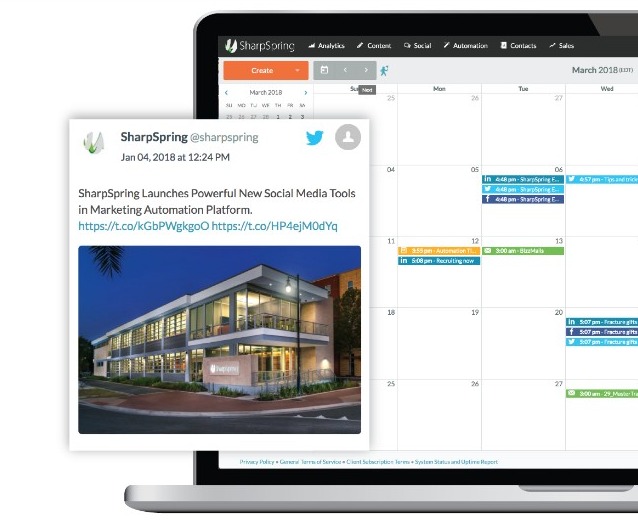 SharpSpring's comprehensive built-in social media management tools mean that you can manage all of your social media account from one central place. The content calendar will give you an overview of all your scheduled activity across your social media accounts, as well as your blog posts and scheduled emails, so you can make sure everything works well together and that there are no gaps.
You have the option to publish your posts instantly or schedule them to be posted in the future, and a single post can easily be shared across all your social platforms and on multiple accounts saving you hours of time each week.
You can have unlimited social media profiles and users on your SharpSpring account at no extra cost, so you won't need to switch between different tools to manage and schedule your content, even if you have lots of accounts on the same platform.
SharpSpring Customer Service and Reviews
If you ever need to get in touch with SharpSpring's customer support team, there are lots of ways you can help them. For most problems, a support ticket is your best bet. You can submit a support ticket online via their website, and someone will get back to you with a solution to your issue.
Alternatively, you can speak to a member of the support team on the phone from Monday-Friday from 8.30 am-8 pm EDT/EST. You can also get contextual in-app help, or browse the help files on their website.
As far as customer reviews go, SharpSpring performs pretty well, with an overwhelming majority of positive customer reviews on TrustRadius, and a respectable score of 7.8 out of 10 overall.
The Benefits of Using SharpSpring
SharpSpring is very user-friendly and intuitive to use, so it's easy for anyone to get to grips with it straight away.
They have great customer support, and you can get in touch with them in a variety of ways including phone, support tickets, and in-app help.
You can manage all of your digital marketing needs from one central place.
The CRM lets you track customers' activity on your website, and lead scoring and automation features let you send out the right messages at exactly the right time to increase your conversion rates.
SharpSpring has social media management tools included, and you can manage as many profiles across as many platforms as you want.
You can save your team hours of time by automating all repetitive tasks and emails.
It's very easy to build emails, forms, and landing pages using their page builder software.
SharpSpring packs in a lot of tools for a very good price compared to its competitors.
Subscriptions are on a monthly basis, so if you aren't happy with the service you can leave at any time.
The Downsides to Using SharpSpring
Although the email and page building templates are good, there are some limitations when it comes to customization if you are not a developer. While SharpSpring does offer value for money when you consider all the tools it offers, there is no free plan available, and plans start at $550/month making it unsuitable for anyone starting a business on a budget.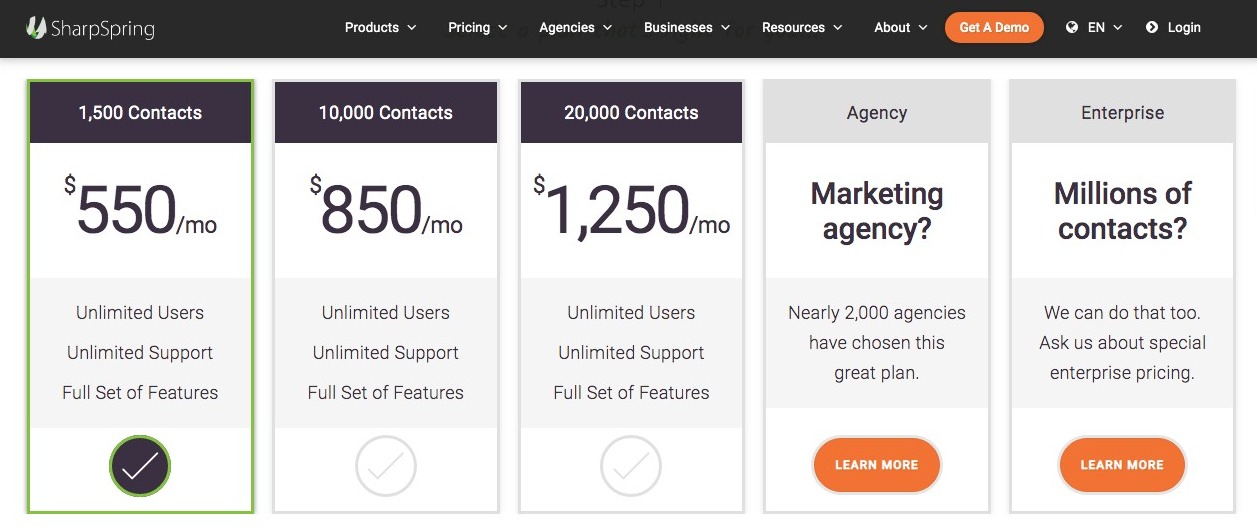 SharpSpring has three main packages available, depending on the needs of your business. All plans include unlimited users, unlimited support, and full set of features.
When you sign up you will also need to pay a $1,800 onboarding fee to get you started. This will give you extra support for the first 60 days to ensure you get everything set up correctly and get the most out of the CRM software.
If you would like to find out more about SharpSpring you can head over to their website and see more about what they have to offer. You can also schedule a demo of the software to see how it all works.
SharpSpring vs HubSpot: HubSpot Review 2020

HubSpot CRM is 100% free to use for unlimited users and unlimited contacts, making it the ideal CRM for small businesses, freelancers, or anyone getting started on a budget. Although it's free, the software is robust and can give many of its competitors a run for their money.
HubSpot allows you to keep track of all your contacts and sales pipelines in one place, and it also has marketing automation features that save you time and allows you to close deals in the most efficient way possible.
The Main Features of HubSpot
Contact management marketing platform
Contact website activity tracking
Create tasks and activities for your team
Full spectrum automation tools
Hubspot sales
Gmail and Outlook Integrations
HubSpot Connect integrations
Custom support form fields
Prospects sales funnel
Ticketing
Conversations inbox
List segmentation
Reporting dashboards (Hubspot reports)
Email tracking & notifications
Email templates
Canned snippets
Team email
Live chat Hubspot support
Reporting
Ticketing
Calling
Hubspot Academy (learning)
How HubSpot CRM Works
HubSpot is very easy to navigate and use, so it's great for anyone, even with little to no previous experience. The software tracks everything you do relating to a contact, so it's all recorded and you never need to worry about making notes with pen and paper again.
The dashboard allows you to view your sales pipeline in real-time, so you can see exactly where each contact is in the pipeline, and how your team is performing overall.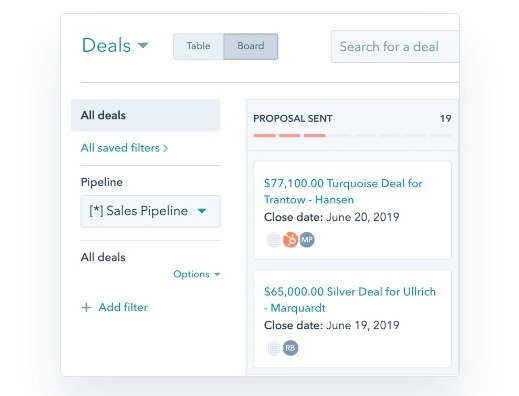 Once a contact enters your CRM, either by signing up through your website or being added manually, HubSpot automatically enriches their profile with the data they have available from over 20 million businesses, so you can see everything you need to know about the customer, including things like their social media profiles. HubSpot also has the ability to track contacts from your CRM as they browse your website, so you can easily see which pages they have visited, and whether or not they have made a purchase.
While a user is on your website, you can also take advantage of the live chat feature to help boost your sales. A chatbox can be installed on your website in just a couple of clicks, and you can answer customer questions in real-time to help boost your conversion rates.
All outgoing calls and email to contacts are tracked within the CRM, so you can easily see when you last spoke to a customer and what was said. You can also create notes on the customer records if there is anything you want to remember for next time to make their experience even more personal.
HubSpot integrates seamlessly with both Gmail and Outlook, so no matter which email platform your sales team uses, all contact will be automatically tagged and tracked within the CRM. If you want to send out bulk emails to your contacts, HubSpot can do this for you for free, and the CRM will automatically include personal information such as their name so they won't be aware that they are receiving a mass email, it will all feel completely personal.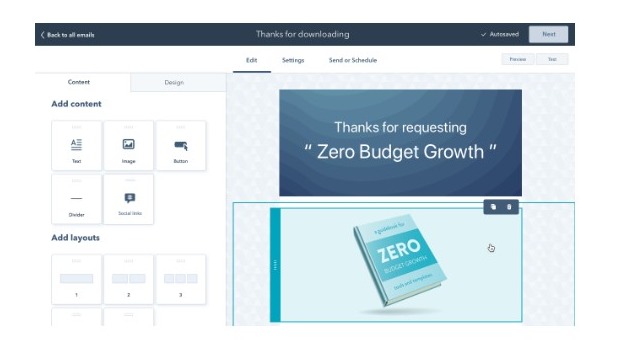 The built-in analytics allow you to see how well your emails are performing, so you can easily test and tweak subject lines, and see where most of your leads and traffic are coming from.
HubSpot is also a great CRM software for customer service teams since it allows you to create support tickets for any issues your customers are having. You can create email templates and canned responses to frequently asked questions to save time, and you can also view reports on customer satisfaction, customer wait times, and response times so you can continually track and improve your customer service.
HubSpot Customer Service and Customer Reviews
It's easy to get in touch with the customer support team at HubSpot. You can contact them by phone on their customer support line, where you can speak to someone on the support team between 7 am and 8 pm EST. You can still call outside of these hours, but the wait times will be a little longer. You can also get in touch by email or request a callback on their website. As well as talking to the customer service team, there is also an active community where you can ask questions and get support.
HubSpot also performs quite well on customer reviews, with 8.4 out of 10 scored on TrustRadius.
The Benefits of Using HubSpot CRM
HubSpot CRM is completely free and lets you have unlimited contacts and users within your CRM.
The software is very user-friendly and intuitive to use so anyone can get to grips with it quickly.
You can easily create forms to grow your database with warm leads whilst they are on your website.
HubSpot includes a free live chat feature, so you can chat with customers in real-time and answer any questions they may have while they are browsing your website.
You can send personalized bulk emails to your contacts, for free.
HubSpot lets you track when contacts are browsing your website so you can get in touch with them when they are at their most interested.
HubSpot integrates seamlessly with Gmail and Outlook and tracks all incoming and outgoing emails, so it is suitable for most people to use.
Email tracking allows you to see when a contact has opened and read your emails, so you can follow up with them at the right time.
HubSpot tracks and logs any activity you have with your contacts, so it's easy to remember when you last spoke, what you talked about, and when you need to follow up.
The Downsides of Using HubSpot CRM & Hubspot Marketing
There aren't many downsides to HubSpot, but the main issue is that the mobile app for HubSpot isn't as robust as the web version, and is missing some features. The software doesn't run as well on mobile which might be tricky if you are out and about a lot and trying to work from a mobile phone or iPad, but not a huge problem if you do most of your work from a laptop or desktop computer.
The HubSpot CRM is completely free, for unlimited contacts and unlimited users. You can store up to one million contacts and companies on your Hubspot CRM!
The free CRM includes all of the features we have talked about in this review including the CRM tools, Email marketing, Marketing tools, Sales tools, and Service tools, so it gives you absolutely everything you need to run your business for free.
However, HubSpot also offers has some upgrades available for larger businesses: These include the inbound Marketing Hub, Sales Hub, Service Hub, and Hubspot CMS.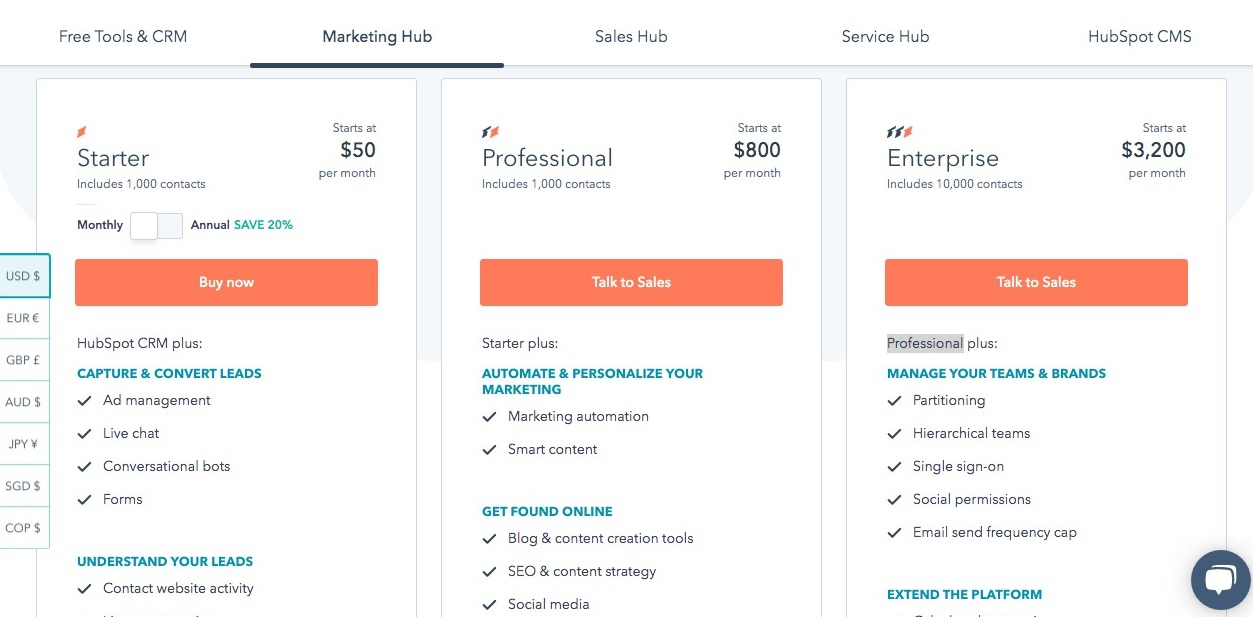 Hubspot Marketing Hub, Sales Hub, and Service Hub each start from $50/month. They all include Hubspot CRM, plus some additional advanced features to help you capture more leads, close more sales, provide better service.
HubSpot CMS costs $300/month following the onboarding fee of $1,000. Hubspot CMS gives you all the tools you need to create a powerful high converting website for your business, including landing pages, Hubspot blog, and content creation tools, marketing strategy, SEO and content strategy calls to action, smart content, live chat, conversational bots, forms, custom domains, advanced analytics, and more.
If you would like all of these additional extras you can purchase them as a bundle called the 'Growth Suite'. This gives you access to Hubspot CRM, Marketing Hub, Sales Hub, and Service Hub from just $113/month.
If you would like to try HubSpot for free, Click here to sign up.
SharpSpring vs HubSpot Frequently Asked Questions:
Does HubSpot use Salesforce?
To provide a great CRM service, HubSpot used to use Salesforce Pardot as their CRM until they developed their one CRM which is what Hubspot offers instead. They no longer use Salesforce.
Is HubSpot a SaaS?
A "SaaS" is a software as a service, which means, SaaS companies, offer software to customers as a subscription plan. The software offered by Hubspot is Service Hub. This is just one of the many amazing services this company has to offer.
The Verdict: SharpSpring vs HubSpot – which is the better CRM?
Now that we have gone through all the features SharpSpring and HubSpot have to offer, it's time to deliver the verdict…
It's a tricky one this time because they are both great tools, but one will suit you better than the other depending on your needs and what type of business you run.
If you are a small business or freelancer, then there is no doubt that HubSpot is the right choice for you. The CRM is completely free and it has loads of amazing tools and features to help you grow your business. It's easy for anyone to use, and you don't need to hire a developer or have any coding ability at all. It also has some additional features that other CRMs don't usually include, such as the live chat feature for your website.
SharpSpring is also a fantastic CRM software, but because of its price tag, it's better suited to agencies and medium-sized businesses. Although it seems expensive, it does offer good value for money, particularly when you consider the email marketing automation, page builders and social media management tools that are included in the monthly price.
Head over to HubSpot marketing to try them out completely free, or if you like the sound of what SharpSpring is offering, schedule a demo here.
Further Reading on CRM Software Platforms
Still undecided? Check out our reviews of: