Last Updated on December 22, 2022 by DMEditor
In our Pipedrive vs Insightly review, we'll be looking at two great platforms to improve your customer relationship management.
CRM software is important, as it allows your sales team to stay organized. It allows you to have tasks, projects (project management), calendars, contacts, products, and communications in one place, which in itself is a valuable tool. They also use automation to save you time on otherwise repetitive, boring tasks.
TL;DR: Most companies should start with the easier to use and less cluttered Pipedrive CRM here. If you find yourself needing a more expansive project tracking features, upgrade to Insightly later.
Main Differences Between Insightly vs Pipedrive
The main differences between Insightly vs Pipedrive are:
Pipedrive has a very simple and visual platform, whereas Insightly is more cluttered.
Pipedrive doesn't offer advanced contact information, whereas Insightly gathers information about contacts for you.
Pipedrive doesn't have specific project tracking outside of sales, whereas Insightly does.
Pipedrive has very clear customer support numbers, whereas Insightly requires users to create an account before they can contact customer services.
Our Pick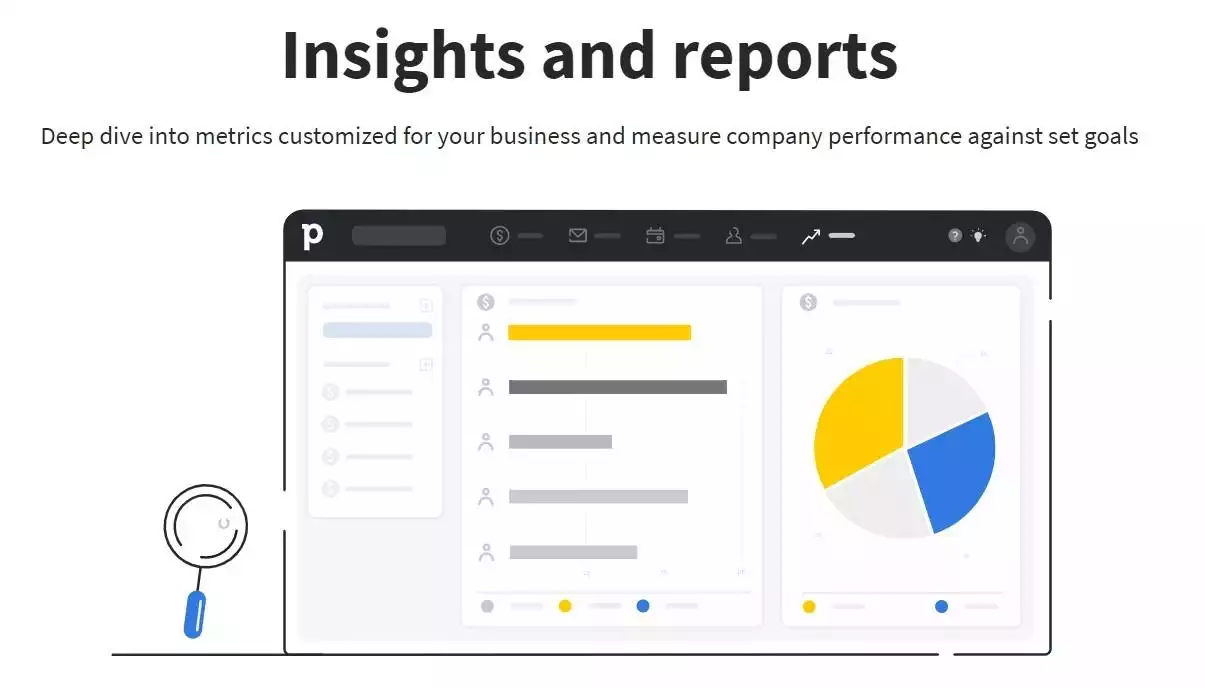 Why I Prefer Pipedrive
Pipedrive has mastered the art of a CLEAN INTERFACE while still having DEEP FUNCTIONALITY. For a pure CRM, I personally went with Pipedrive here.
Try Now
We earn a commission if you click this link and make a purchase at no additional cost to you.
The differences between the two platforms are small. Pipedrive is very clean and simple to use, with a low learning curve, but Insightly is more cluttered and takes longer to learn.
Insightly does have one main advantage over Pipedrive – it has more sophisticated contact tracking, allowing you to map networks between contacts and organization, giving you a clearer picture of each person, their position, and how they connect to others in your network. This is a valuable tool and could make the difference between you making deeper connections with your customers or clients.
A good CRM platform can make the difference between a sale being made, or a potential sale being lost or forgotten. Pipedrive and Insightly are two great examples of how the right software can improve your sales – but which one is better?
We'll take a look at the main differences between the two, before going into each one in detail, so you can directly compare them to see if either of them are right for your business.
Pipedrive and Insightly Similarities
Pipedrive and Insightly have a lot in common:
They both offer communications tracking with calls made directly in the platform
They both allow sales automation for certain tasks to save time
They both allow sales to be tracked from the beginning through to completion
They both have a calendar management system
They both store contact information
They both allow you to assign tasks to team members
They both have a mobile app
They both have information to view on their knowledge base and blog
Pipedrive and Insightly are similar in a lot of ways, with some of the same tools and features as each other. We'll take a look at each of them in more detail so you can see how they work.
What is Pipedrive?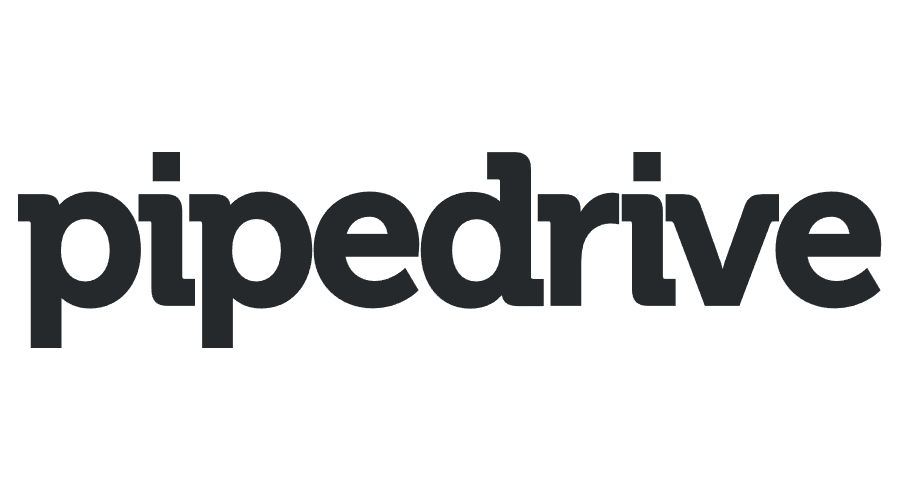 Pipedrive is a sales pipeline tool that allows users to track their sales goals in an easy-to-manage way. Users can set up customizable pipelines, set actions, track progress, and assign tasks to team members. It is an intuitive and visual platform, with a minimal learning curve.
Used by over 90,000 sales teams worldwide, Pipedrive is a popular platform aimed at any sized sales teams to help them keep track of their goals but is particularly well suited for small-to-medium sized businesses.
What is Insightly?

Insightly describes itself as a 'modern CRM platform.' There are two main areas of Insightly – Marketing Automation and CRM Software. The CRM plan allows users to gather data about their customers, so sales teams can make informed decisions that are suited to each customers' needs.
Insightly is used by over 1.5million users worldwide and is the most popular CRM for small to midsize businesses using Office 365.
Features of Pipedrive
Lead and Deal Management

The pipeline builder is easy to use. Using a drag-and-drop tool, you can create a highly customized pipeline using the features that your team will specifically need.
At a glance, you can see the health of your sales pipeline – areas that need improvement will be clearly emphasized so you can attend to them quickly. This is great for capturing sales that may have otherwise been lost. Deal probability calculates the probability of the deal being won, and it automatically notifies team members if a deal stays idle for a certain period of time.
You can find something quickly in a complex pipeline using the search tool, which is excellent for saving time. New team members can be added at any time, and you can assign tasks to them when necessary. It's easy to add notes, information, activities, and contacts/organizations to each deal.
Another useful feature is the chatbot. This allows potential customers or clients to connect with your company without a member of the sales team having to respond manually, and it will even book meetings based on your sales team's availability (this uses the calendar feature, which we'll talk about in more detail later). You can also capture information using web forms.
The product catalog is another great tool for staying organized. Each product can contain as much information as you wish and can be linked to deals, clients, and contacts.
Communications Tracking
You can sync your work email address with Pipedrive, allowing you to send and receive emails from either your regular email provider or the Pipedrive intuitive interface.
They have live notifications when emails sent from Pipedrive are opened. Email templates can help to save time on future messages, and emails can be sent in batches.
You can make calls directly from Pipedrive. With hands-free calling, you can take notes as you go. Calls are automatically logged as a completed task in the sales pipeline when you use Pipedrive to make a call, and they can be recorded and downloaded as audio files.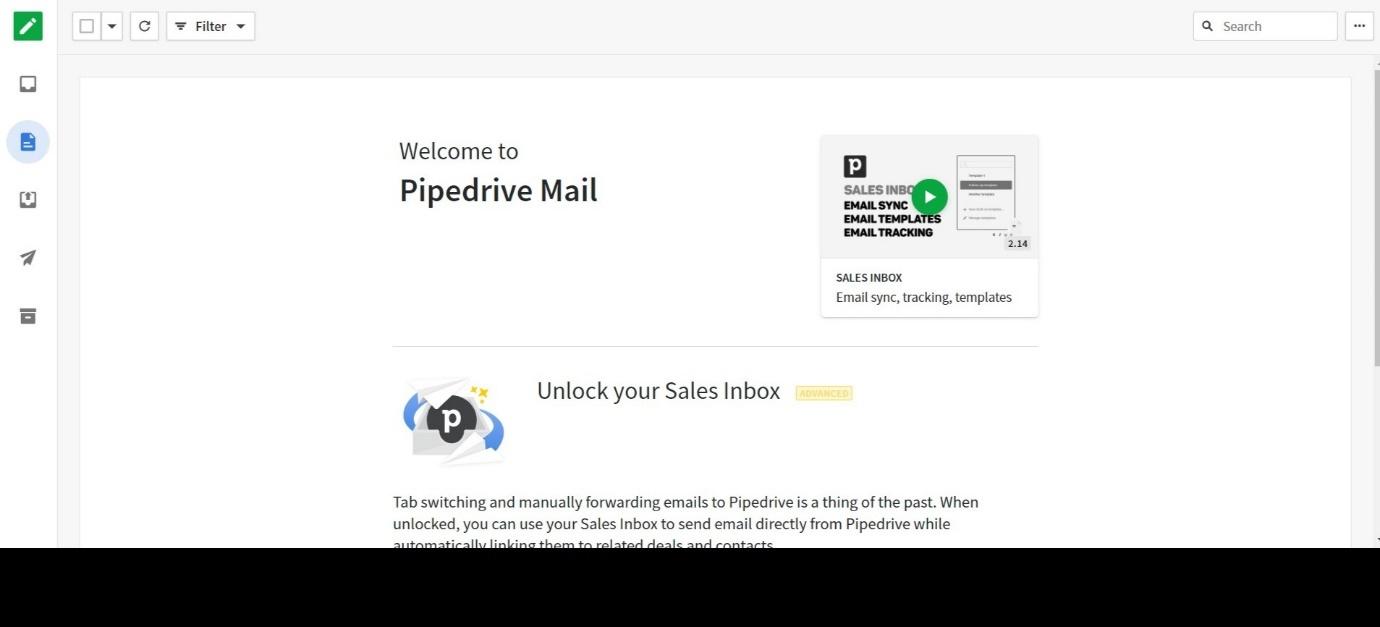 The contact database is comprised of individuals and organizations. These can be added manually, imported from another CRM Software or a spreadsheet, or from Google or Microsoft contacts.
The calendar allows your sales team members to set their own individual availability and share that with other team members. This makes organizing the team much easier and allows the calendar to sync with the chatbot we mentioned earlier. The calendar syncs with Google, Outlook, and other calendar providers. It also allows users to schedule emails, calls, and meetings with the click of a button. You can even send reminders via email automatically.
Automation
Pipedrive offers some automation to help save time on certain tasks. These include:
Creating new deals when a new contact is added
Transferring ownership to different sales reps
Sending emails when deals are created
Creating new activities when a deal moves down the pipeline
Any automation can be set with custom triggers and desired outcomes – this helps to save time and energy on repetitive admin jobs.
Pipedrive has a virtual sales assistant. This gives you personalized tips based on the current stage of your pipelines, including tips on how to move forward and some ideas for automation.
Reporting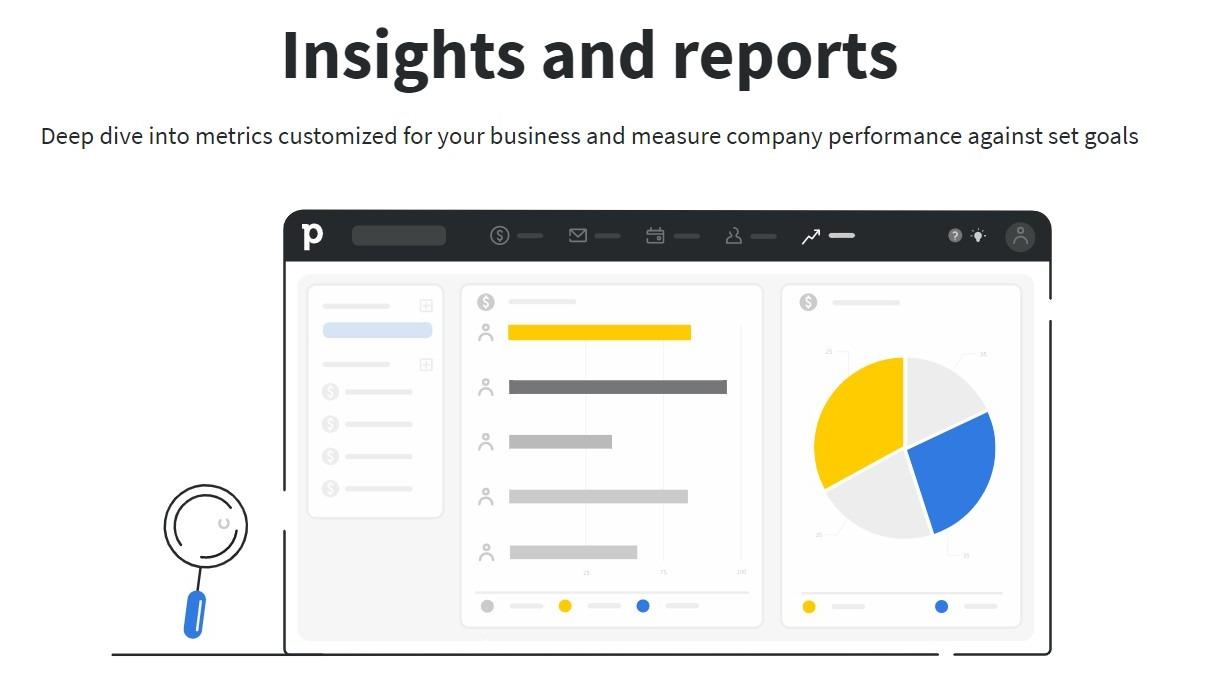 One of Pipedrive's strengths is reporting. You can create clear and attractive charts that slow, at a glance, sales growth, and goals tracking. You can include as much detail as you like in these reports, and they can include activity reports and sales reports (these sync with the product catalog to make things easier).
They offer forecasting, too – this is based on the expected close date of deals, probability of currently open deals, and other factors. This is a powerful tool that will allow you to adjust your team's direction based on what the likely outcome will be.
Mobile App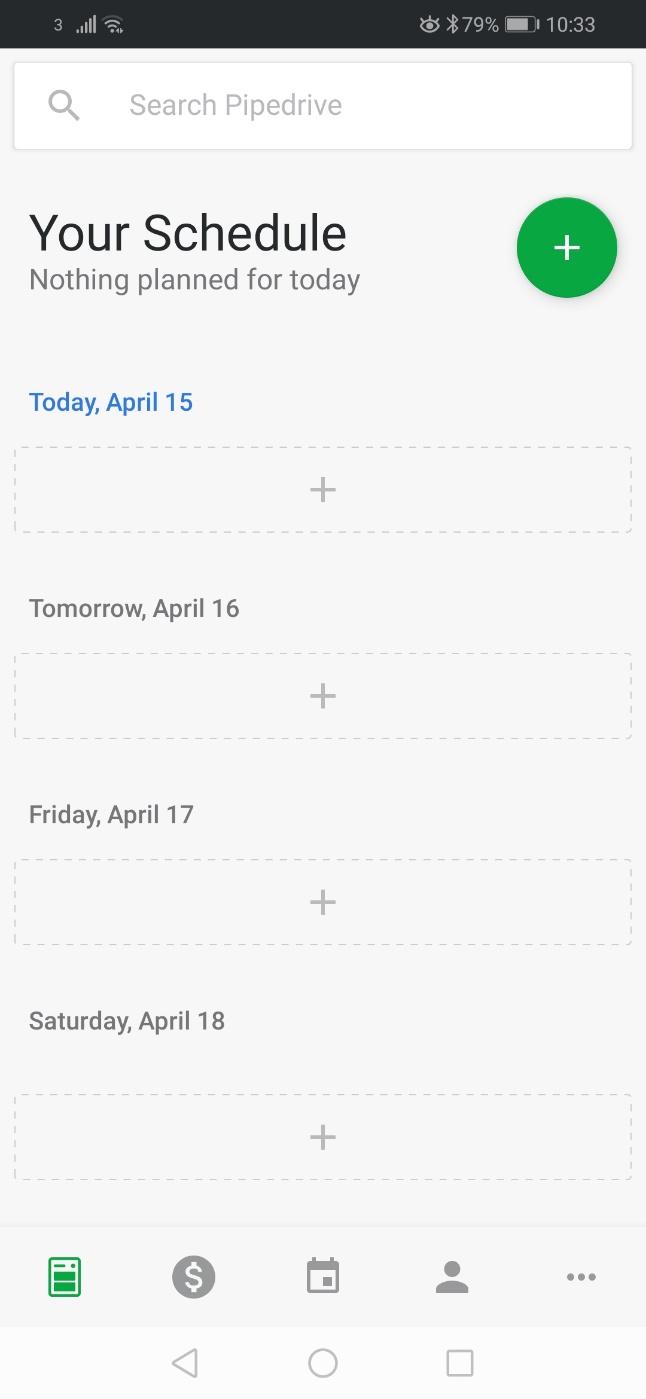 Pipedrive has a useful mobile app that is free to download (with a subscription plan) and allows you to access your inbox, schedule, contacts, calendar, and pipelines wherever you are. This is a fairly straightforward app that is intuitive to learn.
There's also the App Marketplace. This allows you to customize your Pipedrive experience by installing third-party apps. These vary in price and include:
Accounting and Invoicing
Bots and Messaging
Contacts and Calendar Sync
Customer Support
Data Management
Integration Platforms
Lead Generation
Marketing Automation
Phone Solutions
Proposals and Contracts
Resource Management
Task Management
Web forms and Surveys
CRM Features of Insightly
Sales Opportunities and Projects (Project Management)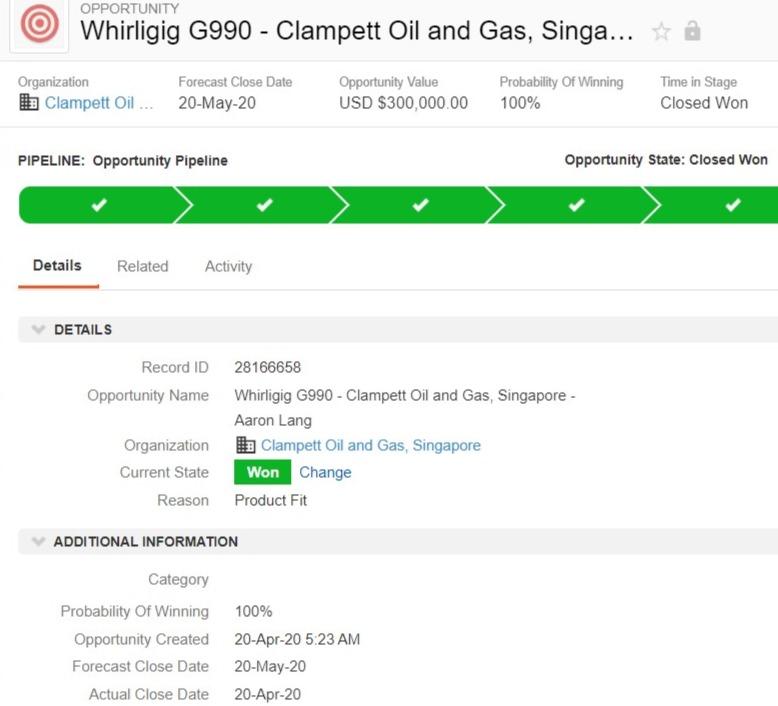 The Sales Opportunities allow a way of managing the sales process and potential leads. They can either be set up manually or automatically created when converting a qualified lead. Insightly can calculate the probability of winning.
The green bar along the top shows the steps taken (or yet to be taken). These include sales prospects, qualification, analysis, proposal, and negotiation. You can set the team member responsible for the opportunity, set the estimated value, and the forecasted close date.
Projects are tasks that have to be completed outside of sales. This can include anything from website management to event planning. It works in a similar way to sales opportunities in that you can choose who is responsible for the project and track each stage to completion. In one click, you can view the team members, organizations, and contacts linked to the project.
Each team member will have a 'tasks' tab. This allows them to set their own tasks or check the tasks set for them.
Communications/Customer Management
A key strength of Insightly is the customer management area.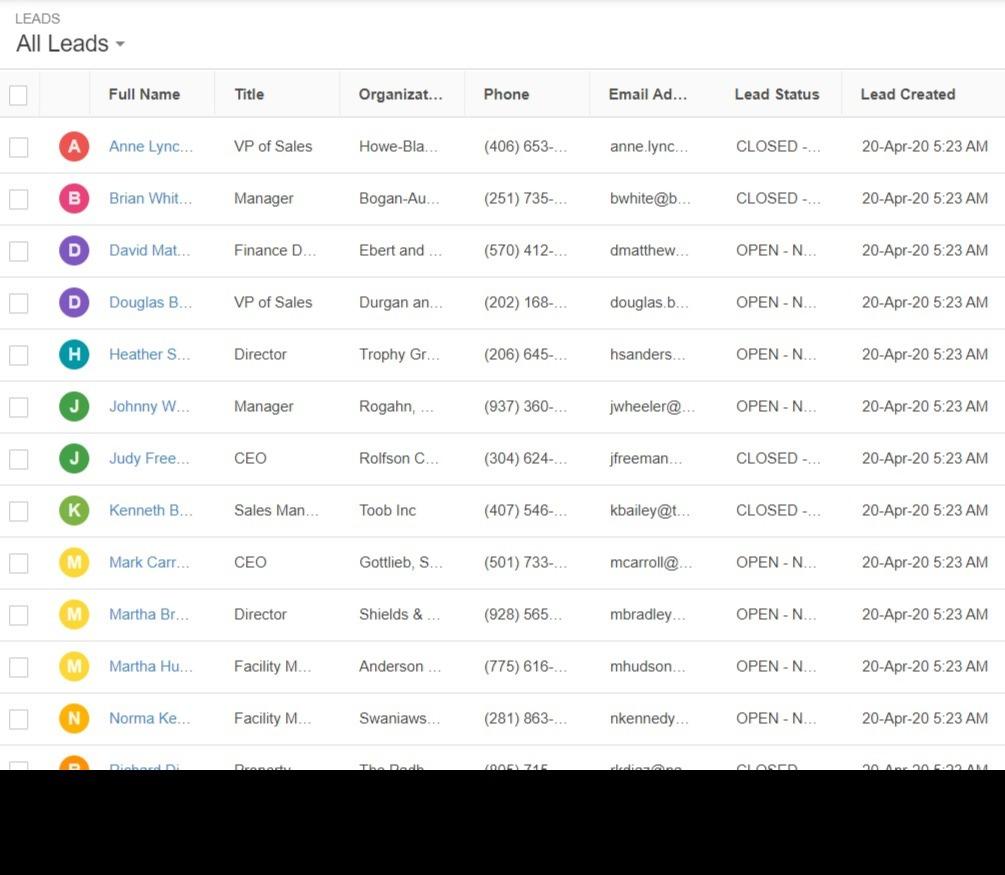 The leads section displays potential customers or clients in one glance, including their name, position, company, and current status. Clicking on each lead brings up contact information and tasks to be completed (like 'attempted contact').
The contact section is detailed. You can view contact information, activities involving that contact, and even their local time and weather. You can also view their 'network' – this displays the opportunities, projects, and companies each contact is linked to. Organizations are displayed in the same way, with contact details, activities, and even news (sourced from Google News) about each company displayed in one easy-to-manage area.
Having this level of detail is great, as it gives you everything you need to know about each customer or organization without having to scramble around for information.
You can use the network for each contact or organization to understand how companies are structured and how people link together. It can help you to track 'informal' networks between contacts, and you can even save information from emails and other records.
You can make calls directly using Insightly Voice. You can record these calls and add them to contacts or organizations.
Automation
Insightly offers automation for some processes. This includes sending email alerts, creating or updating records, and generating tasks.
You can create custom apps for your team to use if you are on the Enterprise plan with admin access. Without needing to know how to code, you can create and deploy apps quickly for team members to use across the board. These can be customized to create an on-brand experience for all users.
Reporting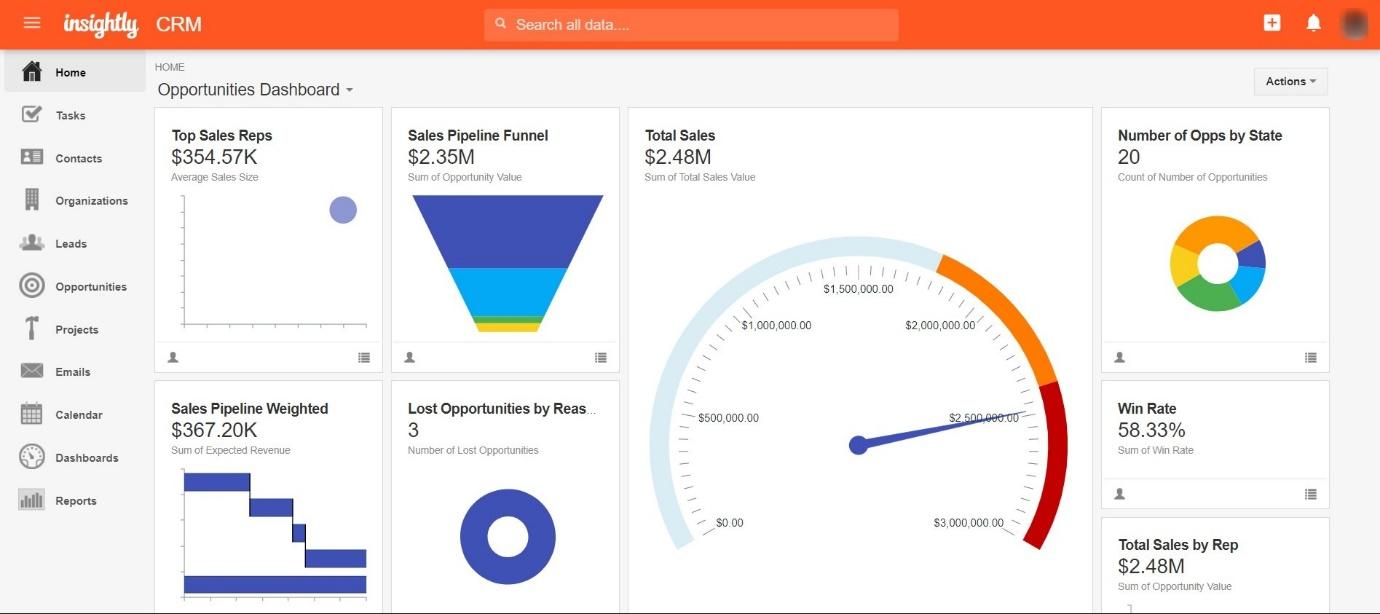 You can see an overview from the moment you log into Insightly, which shows you total sales, top sales reps, lost opportunities, and more. You can also create customized reports showing more detail – these include task reports, contact reports, organization reports, lead reports, opportunity reports, project reports, and more. They also offer to forecast, allowing you to see the probability of success for each deal and lead.
Creating reports requires a bit of thought as the interface is a bit confusing, but the reports themselves can be very detailed, which is a plus.
Mobile App
Insightly has a mobile app that allows you to essentially do everything you can do on the web version. You can view tasks, contacts, organizations, leads, opportunities, and projects, and access your emails and calendar.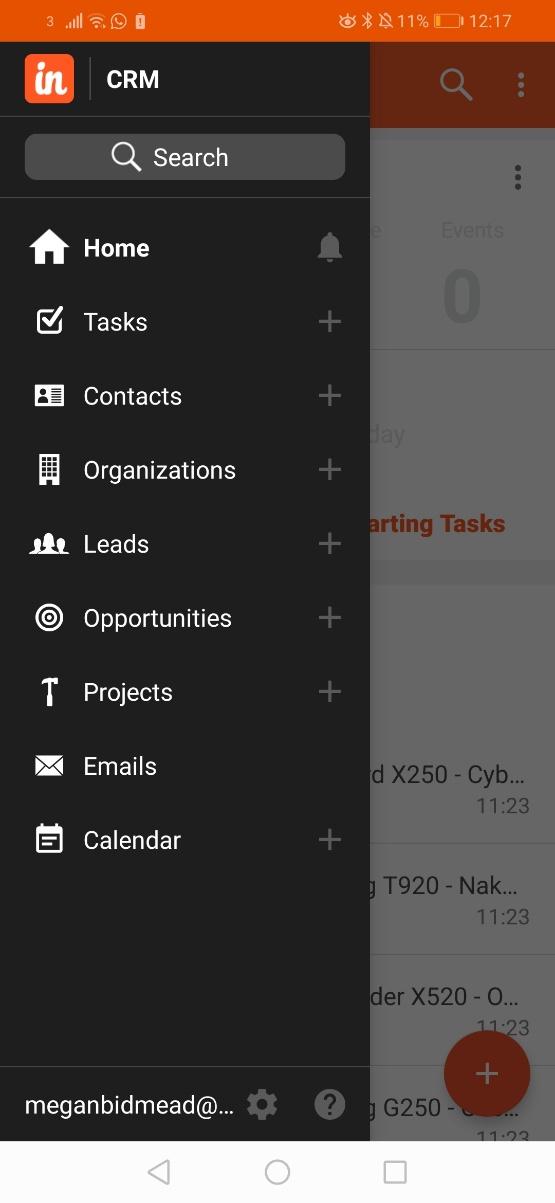 In fact, the mobile app is slightly clearer than the web app – we found Insightly to be a little cluttered and difficult to get used to at first, whereas the mobile app is a bit easier to navigate.
Pipedrive vs Insightly: Pricing
There are four price plans available on Pipedrive:
If you want to check it out for yourself, Pipedrive offers a free trial – you can find out more here.
Insightly Pricing
There are three price plans available on Insightly CRM:
Plus – $29 per month – this includes basic functions like project management
Professional – $49 per month – this includes more project management tools like lead management and business intelligence tools
Enterprise – $99 per month – this gives you access to every tool on the platform
You can also choose to combine Insightly CRM Software with Insightly marketing automation – you'll have to contact Insightly for a quote if this interests you.
If you want to try Insightly, they have a two-week free trial – you can find out more here.
As you can see, Pipedrive and Insightly are very similar in their pricing structure, with Insightly offering the cheapest plan, but with limited core features.
Customer Support
Pipedrive
Pipedrive has a simple to use and handy knowledge base. It is packed with beginner's guides, webinars, FAQs, and videos. It also has a forum of other users, which is always useful to have.
Pipedrive Academy is a series of courses aimed at beginners and experienced users alike, allowing them to make the most of the services they provide.
If you need extra support, they have a live chat function or an email address you can contact.
Insightly
There are a lot of tutorials, videos, and FAQ's on Insightly's knowledge base. There is also a forum of other users and a blog, so there is plenty of information available. The blog has articles to help you with building customer relationships and marketing, and it is available for free, which is great.
You can't access Insightly's customer service area without logging in, which is a bit inconvenient – we can't immediately see how easy it is to get hold of a customer service rep if necessary.
Pipedrive vs Insightly: Pros and Cons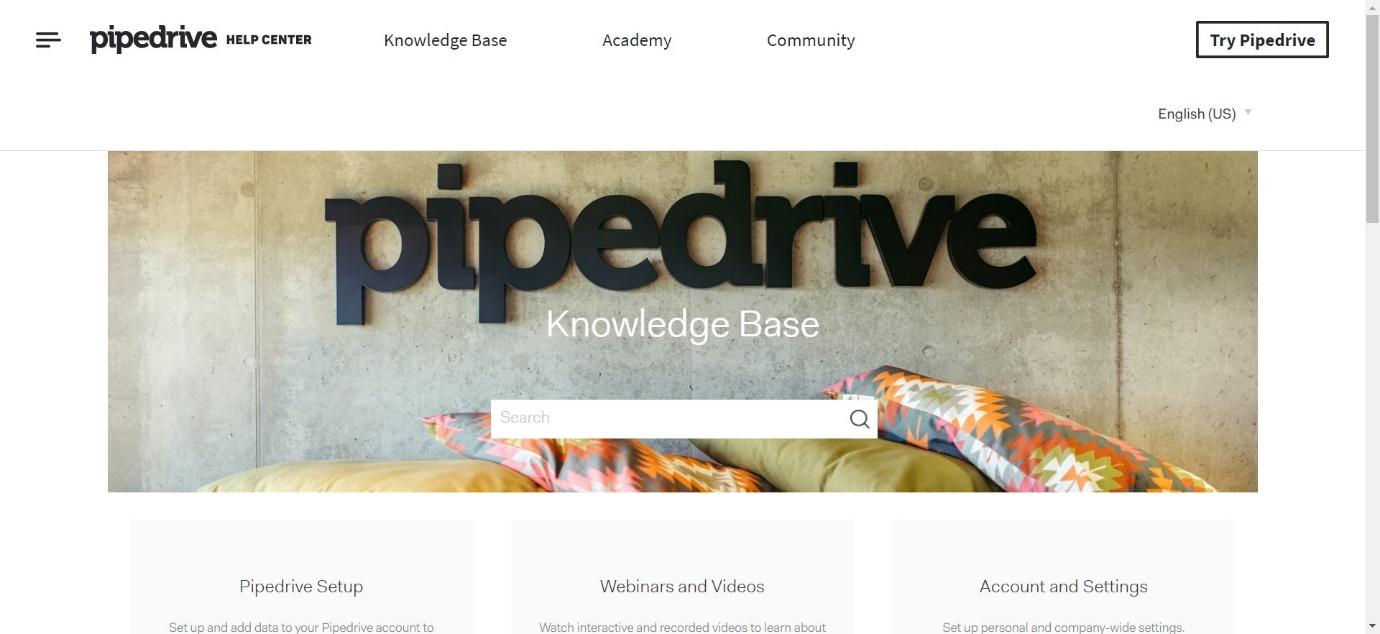 Pipedrive Pros
Clear and easy to navigate platform
The product catalog is useful
A mobile app is handy and easy to use
Pipelines can be easily set up using drag and drop tool
Reporting and forecasting is good
Automations allow users to save time
The knowledge base is full of information
Pipedrive Cons
Not as many advanced features as other platforms
Not as well suited for larger or particularly complex businesses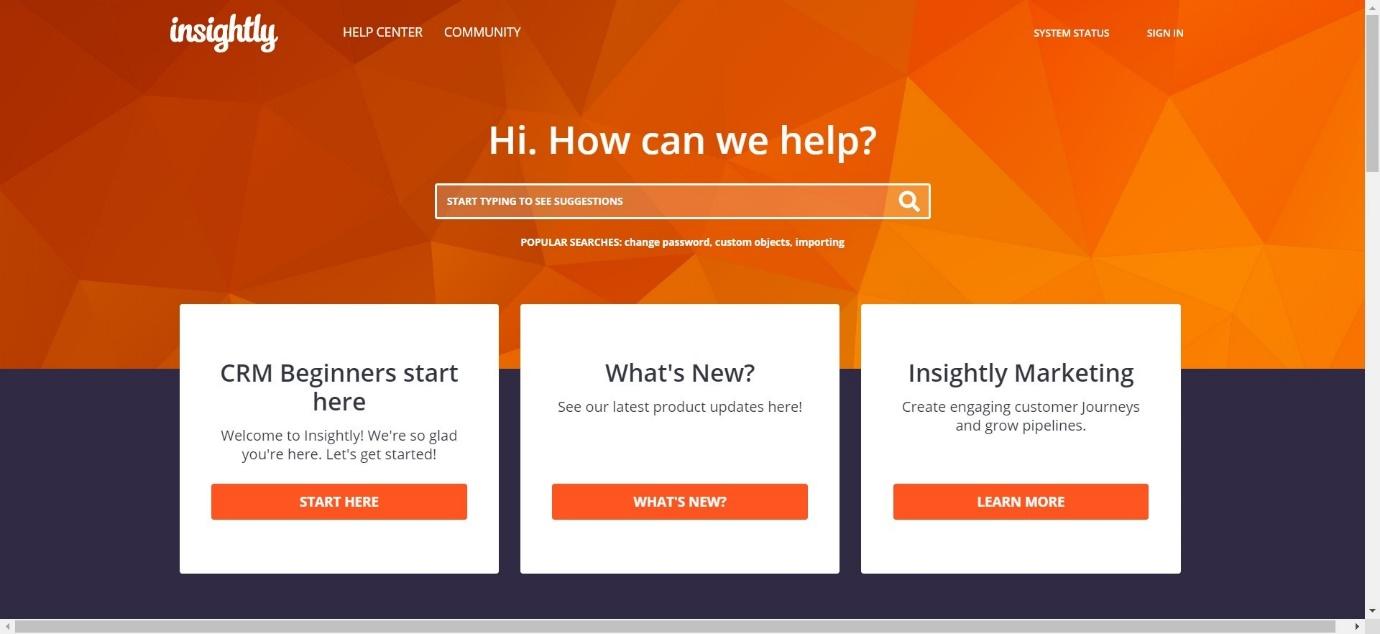 Insightly Pros
Customer data is easy to collect and view, allowing you to see a clearer picture of your contacts
Projects can be tracked from beginning to end
Potential leads display probability of conversion
Create custom apps, custom integration, and custom fields for your team
Reporting is clear and easy to use
The mobile app is extensive and works well
Insightly Cons
Customer support contact details aren't clearly visible
Slightly higher learning curve than Pipedrive
The interface is a little cluttered
Pipedrive vs Insightly Frequently Asked Questions
Can I swap deals between pipelines in Pipedrive?
Yes, you can drag deals from one pipeline into another.
Are there any big businesses that use Pipedrive?
Pipedrive is used by Sage and LinkedIn (as well as thousands of more companies across the globe).
Can I customize my dashboard in Pipedrive?
Yes, using the Edit button, you can choose which features you'd like to see on your dashboard.
Can I log calls in the Pipedrive mobile app?
Yes – you can start a new call (and log it) directly from the Pipedrive app.
Can I add my company logo to communications using Insightly?
Yes, you can add your own logo to emails.
Does Insightly integrate with MailChimp?
You can connect your MailChimp and Insightly accounts to export contacts into Insightly.
Can I use Insightly Voice to make international calls?
No, this is only available in the US and Canada at the time of writing.
What is the best browser to use for Insightly?
Insightly recommends Google Chrome or Mozilla Firefox for the best results.
Pipedrive vs Insightly CRM Software: Conclusion
Our Pick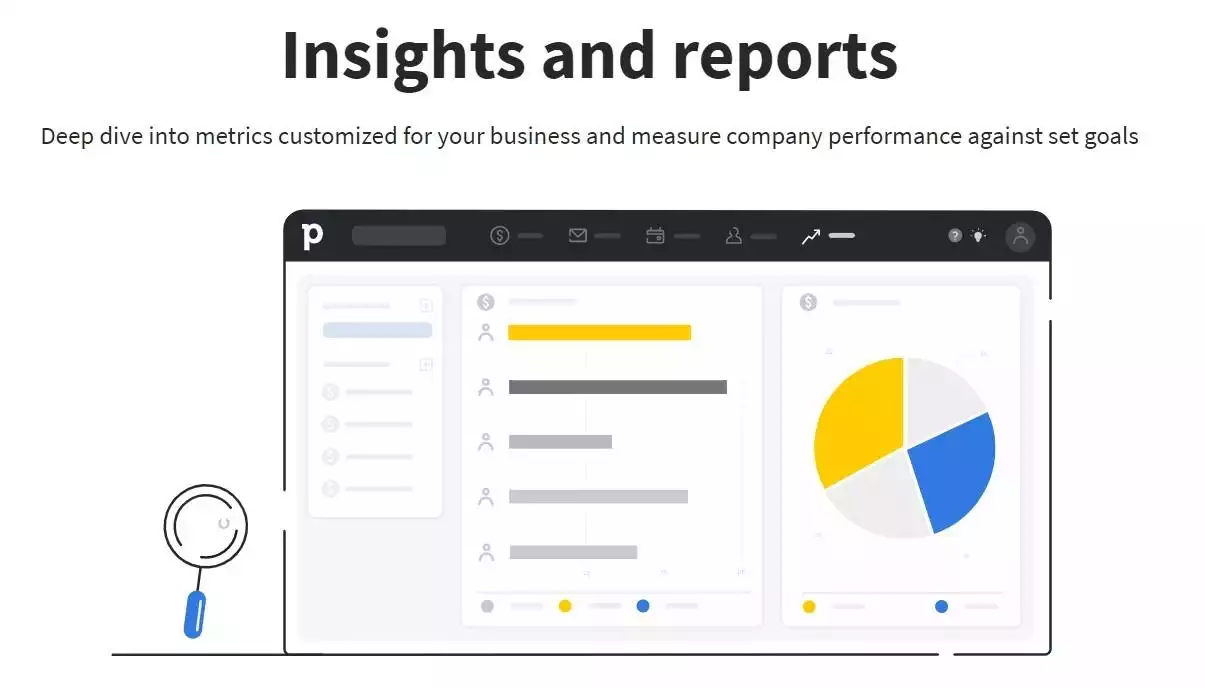 Why I Prefer Pipedrive
Pipedrive has mastered the art of a CLEAN INTERFACE while still having DEEP FUNCTIONALITY. For a pure CRM, I personally went with Pipedrive here.
Try Now
We earn a commission if you click this link and make a purchase at no additional cost to you.
Which one you choose will be down to your individual preferences, as they are so similar in a lot of ways.
Where Pipedrive excels is its simplicity – it was designed to be clear and easy to use, with minimal fuss and clutter. This could work well for your sales teams, as it saves wasting time teaching everyone how to use a complex platform.
It has a lot to offer in terms of features, with automation to save time on repetitive tasks, a sales chatbot to capture leads automatically, and syncing of sales activity calendars within the sales team; you can expect to save a lot of time using Pipedrive.
It also excels in reporting – reports are easy to build, look attractive, and the forecasting is incredibly useful. Having reports that make sense and are easy to understand for the entire team is very useful.
On the other hand, Insightly has a lot to offer in terms of contact management. It uses contact data to see how potential customers are networked with other contacts and organizations, allowing you to build a clearer picture of each lead. This allows your sales team to use this information to their advantage – building relationships with individuals and organizations that will last.
In terms of choosing which one is best, it's tricky. For ease of use and powerful features, we'd pick Pipedrive.
Bottom Line Summary: If you are looking for a clean, pure CRM Software that just WORKS out of the box (particularly for small business or mid sized businesses), you have to go with Pipedrive here. Insightly isn't a bad option, just overly complex, a bit messy, and open-ended.
Both of them have their advantages and disadvantages – but either would be a great choice if you want to organize your sales teams and improve your customer relationship management.
Do you use Pipedrive or Insightly? Have they made a difference to your sales team? Leave us a comment and let us know what you think.
Further Reading on CRM System Options and Pipeline Management: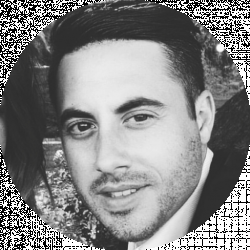 Latest posts by David Borgogni
(see all)