Last Updated on January 16, 2023 by DMEditor
It's no secret that effectively engaging with customers has a direct effect on your bottom line. In fact, as many as 86% of buyers are willing to pay more for a better customer experience. And yet, 54% of customers aren't satisfied with the way companies interact with them.
Then there's employee engagement – think customer satisfaction and employee engagement don't belong in one article? Think again! Research shows a correlation between employee happiness and customer satisfaction. That seems like a lot to manage, right? Fortunately, this is where software like Freshworks comes in handy. This platform provides everything you need to monitor and improve customer and employee engagement.
In light of that, we're taking a look at Freshworks and all it has to offer. Does it live up to its claims of being the best-in-class customer and employee engagement tool? Let's find out…
About Freshworks
Since launching in 2011, over 40,000 customers have used Freshworks to help them run their businesses. Initially, Freshworks started life as Freshdesk, with a focus on customer experience. Since then, the company has added sales and CRM tools, AI engines, and marketing features into the mix to enable you to provide both an excellent customer and employee experience.
Freshworks was founded on the realization that most people hate the software they have to use at work. Clunky, slow tools that don't provide the features your team needs can slow them down, frustrate them, and contribute to a poor employee experience.
To help remedy this issue, Freshworks prides itself on providing software that's easy to set up and use and doesn't require much customization. At this point, it's worth noting that Freshworks offers users different products that aim to serve distinct areas of your business. Let's look at this in more detail…
Freshdesk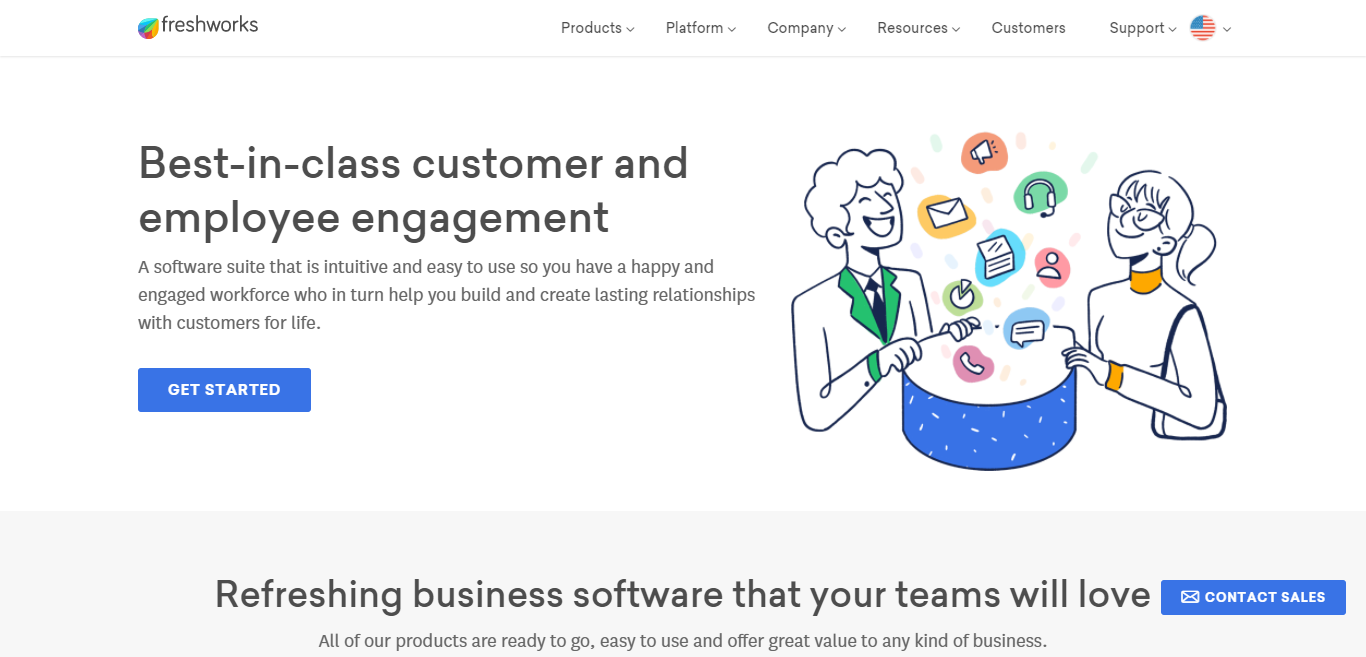 As we've already hinted at, this was Freshworks' first-ever product. Freshdesk centralizes all your customer conversations into one team inbox. It also comes with a help center functionality where you can create and publish self-help resources for customers to access.
Other notable features include:
Routing specific tickets to specific agents.

Providing canned responses from pre-formatted replies

Performing actions automatically on a ticket using scenario automation. For example, you can automatically dispatch tickets to agents and groups based on keywords or request properties.

You can prevent tickets from reopening when customers respond with a thank you.

You can set deadlines for ticket responses based on business hours or categories.

You can convert support emails into trackable tickets.

You can launch a functional call center and even record calls and convert them into tickets.

Integrate your brand's Facebook, Twitter, and WhatsApp and manage them from your help desk.

Engage, support, and retain customers through live chat

Use Freddy AI (a chatbot) to deliver instant answers to customers.

Automatically suggest solutions to common questions.

Receive instant notifications when someone provides feedback on your self-help articles

Launch and moderate an online forum.

Generate a range of reports
On top of that, you can customize agent roles and permissions, modify the look and layout of your support portal, and post custom ticket forms. Lastly, you can also segment customers according to their support-related needs to ensure they receive the best, most relevant customer service possible.
Freshchat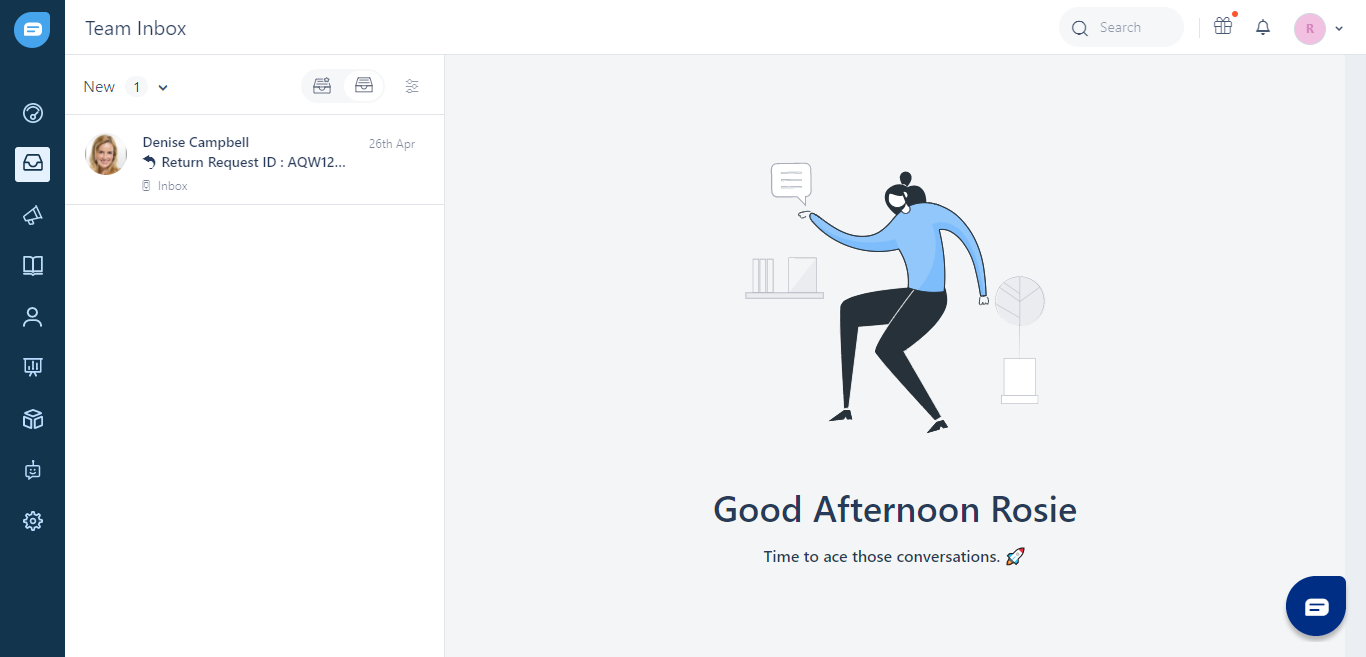 Freshchat is customer messaging software that helps you engage with customers no matter what chat channel they're using – including web, mobile, and social messengers. Most notably Whatsapp, Apple Business Chat, Facebook Messenger, Twitter, etc.
Freshchat is a liter version of Freshdesk in some ways. You can automate chat conversations using Freddy AI and send out targeted outbound messages to users.
Freshcaller
Freshcaller focuses on your call center needs, with key capabilities including:
Easy number management

Custom reporting

Advanced inbound routing

Supervisor controls
You have everything you need to monitor every conversation, barge into discussions if vitally necessary, and track service levels and call queues. You can even engage customers with voice bots powered by Freddy AI!
Freshcaller also empowers your customer service agents to work from home or remotely. It's a pretty intuitive tool, so your team shouldn't face too steeper a learning curve when familiarizing themselves with the software.
Fresh Success
Fresh Success is best suited to subscription and software companies looking to achieve…yes, you guessed it – customer success. This platform can help prevent churn and strengthen customer relationships by providing greater visibility into your customer's accounts.
This includes an insight into any support tickets they've issued, their billing history, communications, and user engagement levels. You can also review 'customer health' based on customer behavior, ticket trends, NPS responses, and more. Best of all, you can tailor this health score to different customer tiers and segments to help analyze the success of each customer journey stage.
With Fresh Success, you'll also benefit from workflow management features. Here you can establish best practices for your customer success team and set objectives for your team to aim for. You'll also get an overview of how many outstanding customer tasks there are across your team and an insight into which workflows consistently run ahead or behind time.
You can also use email automation to contact customers based on typical customer touchpoints, like welcoming new users, nudging slow adopters, or sending renewal reminders. (And yes, you can design your own templates for these emails!)
Freshworks CRM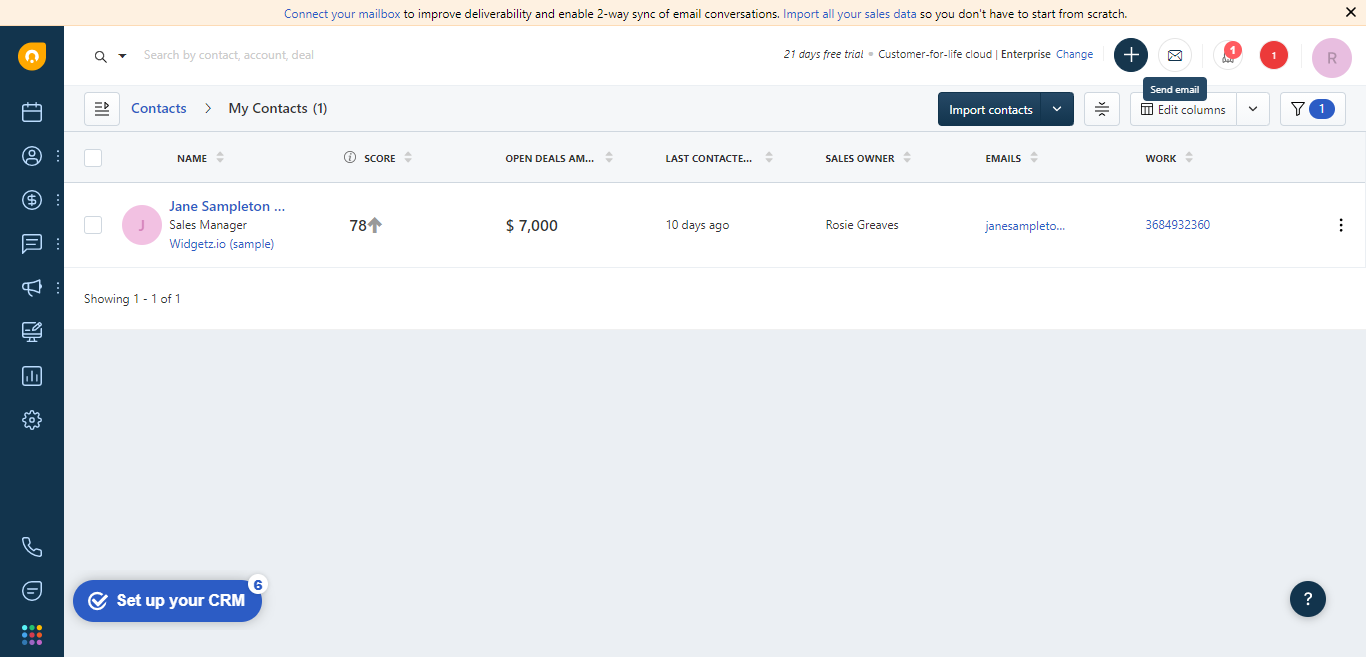 The Freshworks CRM also comes with AI and helps you discover leads, boost customer engagement, and drive deals to closure from the convenience of one place. Here, you can track all customer interactions and monitor deals as they move from one stage to the next. This provides complete visibility over the sales process, empowering you to act accordingly.
If you're unsure how to approach a prospect, AI analyzes the state of each deal and proposes appropriate next steps. You could even create an AI-powered forecast that allows your sales team to proceed safely in the knowledge that they're making the best possible move.
You'll also better understand visitor intent by being able to track page visits and actions on your site. You can also build custom web forms to capture visitor information and tailor email campaigns to generate cost-effective leads. You can categorize customers by engagement scores and lifetime value to help you and your team prioritize your workload to generate the highest possible profit.
Freshteam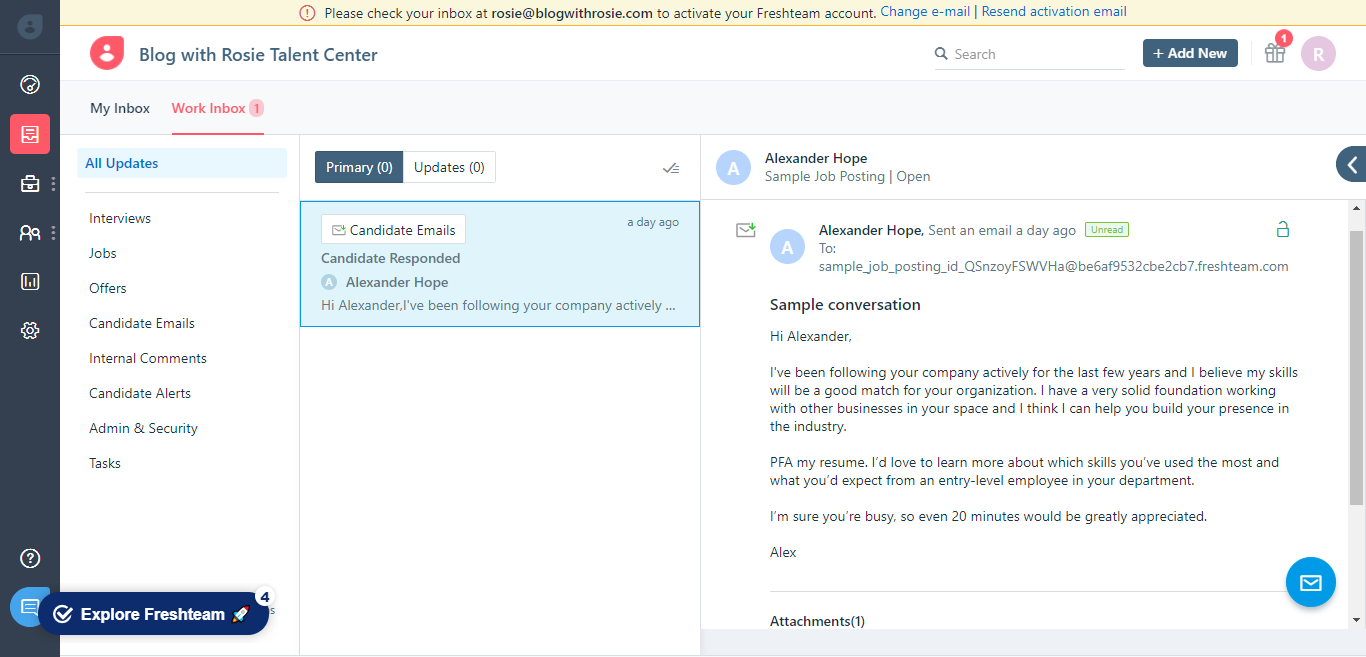 Last but not least, Freshteam. This HR software helps you manage your hiring, onboarding, time-off requests, and employee data from one centralized place. But, best of all, applicant tracking makes it much easier and quicker to identify, interview and hire suitable candidates.
Freshteam also makes it simple to:
List open positions

Describe job roles

Use the most appropriate career sites and platforms

Gather valuable data

Customize and brand your career site

Track email applicants

Recruit via social channels
The onboarding tools empower you to engage with new hires quickly while keeping stakeholders informed. You can send automated reminders to new hires about outstanding tasks and assign checklists to each team or role. You can also send welcome kits via email or document share and get an online signature for all the paperwork.
Freshworks Review: Pricing
Above, we've discussed a multitude of different Freshworks tools. Unsurprisingly, pricing depends on which products you need. The good news is that all these tools integrate with one another, making it easy to bring different aspects of your business together.
At this point, it's also worth noting, each Freshworks product comes with a free albeit limited version, as well as several premium plans. There are also free trials available for each tool. You can save up to 33% by opting for annual billing, reflecting the pricing listed below:
Freshdesk: Its free plan comes with unlimited agents but restricted features. The cheapest package starts at $15 per agent per month, ranging up to the most expensive at $99 per agent per month.
Freshchat: Premium plans start at $15 per agent per month and move up to $69 per agent per month. The exact same pricing model also applies to Freshcaller.
Freshteam: Its free plan applies to up to 50 employees. Upgrading from that, the cheapest plan costs $50 per month and allows you to create up to ten job postings. The most expensive package, the Estate plan, costs $200 a month and unlocks unlimited job postings and onboarding.
Freshworks CRM: This is the most feature-packed product and consolidates some of the features offered by other Freshworks products. It includes omnichannel sales and marketing functionality across live chat, socials, phone, and email.
There's a free forever plan that comes with limited features, including:
Unlimited 24-hour support five days a wee

You can set up chatbots on your website.

You can manage clients via a mobile app.

You can register unlimited users

You can also make calls and send emails from the CRM.
Upgrading to the cheapest package, the Growth plan costs $29 per user per month, which allows for 1,000 marketing contacts and the following features:
Contact lists and segment creation

You can launch up to 20 workflows and create up to five sales sequences.

Access to custom reports and dashboards

Predictive contact scoring

Webform creation

Website tracking

Built-in phone and email functionality

Contact, account, and deal management tools

Contact lifecycle stages
Uniquely to the Pro plan for $69 per user per month, you'll get 3,000 marketing contacts and:
The lead generation and answer bot (powered by Freddy)

WhatsApp and Apple Business Chat

Conference calling

20 active marketing journeys

Ten published landing pages

Marketing reply tracking

Ten sales pipelines

Deal insights

A product catalog, so you can create products, detail prices, and add them to deals.

You can create sales teams and set goals for them.
Finally, the Enterprise plan for $125 per user per month unlocks 5,000 marketing contacts and the following features:
Auto profile enrichment

Holiday routing, if your agents aren't in the office

Custom sales activities

Queue callback (virtual hold)

Call recording opt-in and opt-out

Transactional marketing emails

Sales forecasting and forecasting insights with Freddy

Advanced metrics, including won deals, emails delivered, etc.

Audit logs

Deal teams: You can create ad-hoc teams to work on specific deals
The features lists and plans available are pretty extensive, so it's worth comparing the pricing plans on Freshwork's website to get the complete picture of what they have to offer.
Freshworks Review: Customer Support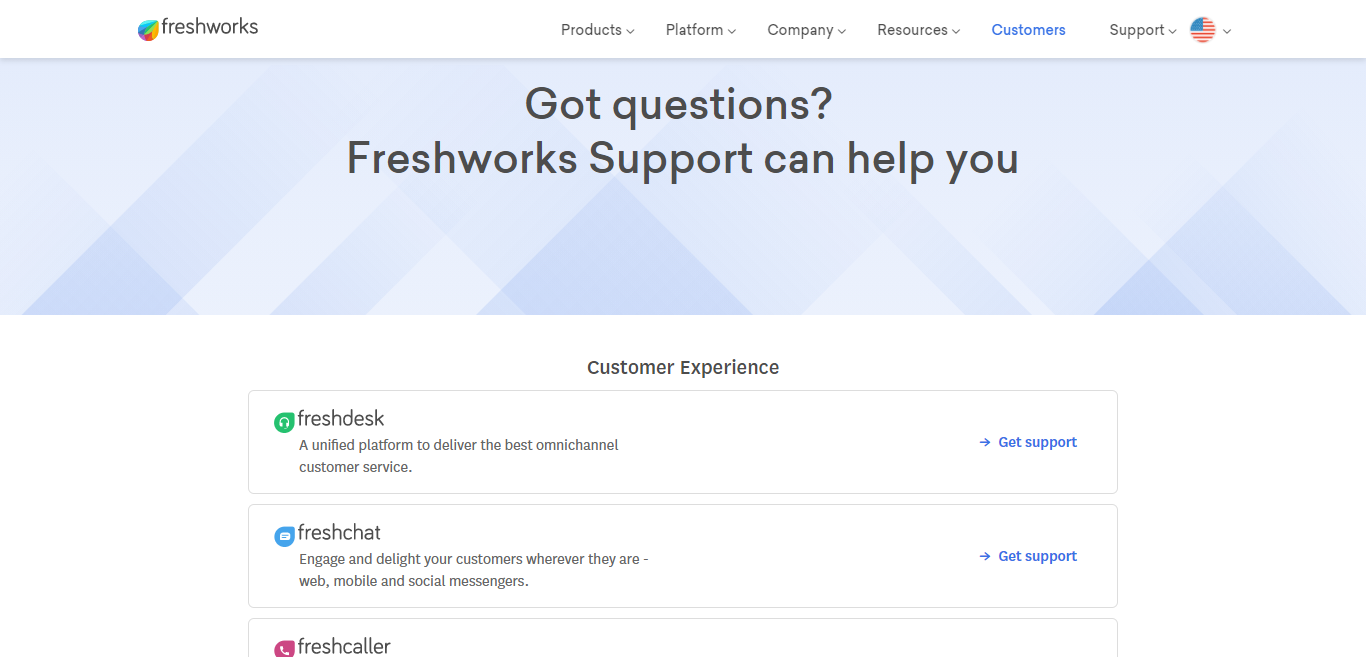 You can contact their sales team via various phone numbers, which you can find on their website. This is worth doing if you're unsure which product(s) will best meet the needs of your business.
Alternatively, If you're after customer support, you can submit a ticket or contact the support team via email. Support is available 24 hours a week, Monday to Friday.
On top of that, each product comes with its own individual help documentation, FAQs, training options, and a link to the Freshworks community. Here you can chat with peers, get answers to your questions, learn tips and tricks, and share your experiences.
Freshworks Alternatives
If you're still on the fence about whether Freshworks is the right choice for you, or you want an insight into your other options, consider these alternatives:
Zendesk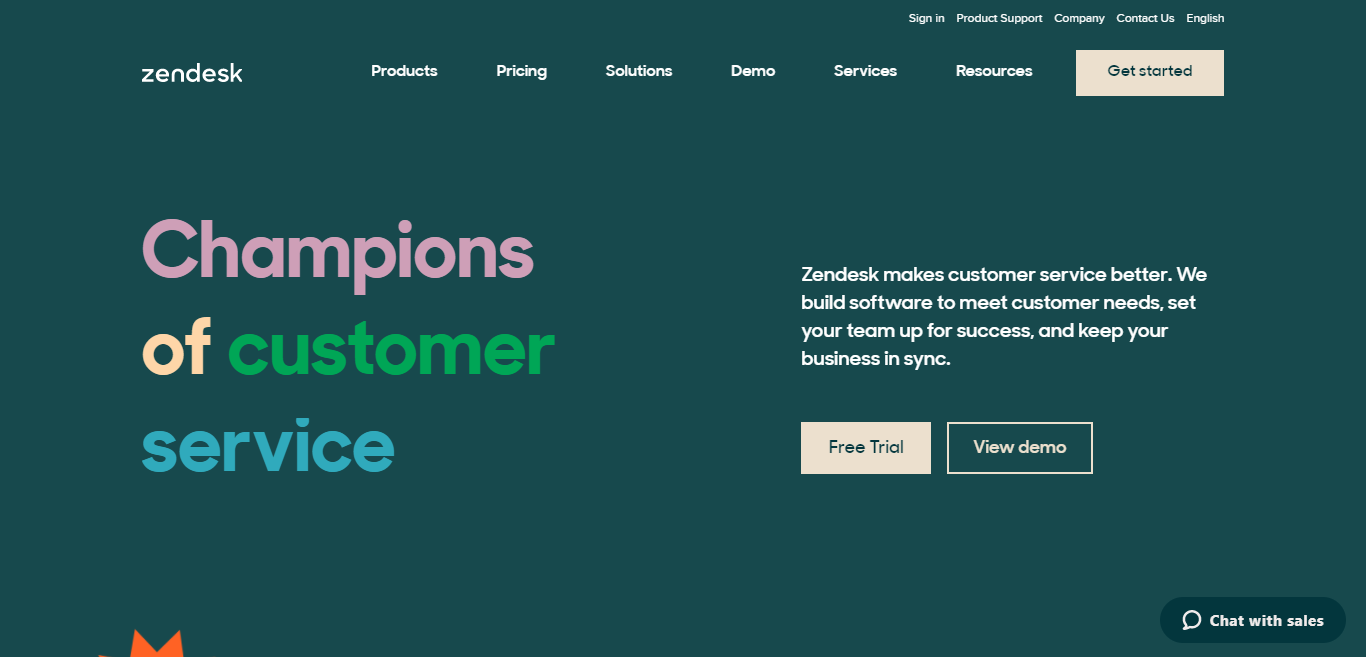 Zendesk is one of the leading customer service solutions on the market. In fact, it featured in Capterra's top 20 customer service software of 2020.
Like Freshworks, Zendesk is a cloud-based SaaS that comes with a mobile version. The software takes a marketing-focused approach to customer support by providing a solid ticket management system that integrates with social media. Zendesk also enables you to launch a live chat service from your website, as well as a knowledge base.
While Zendesk started life as just a helpdesk tool, it now also offers call center software and live chat messaging. Where Zendesk falls a little short, is that it doesn't offer chatbot support. The Zendesk Suite is available starting from $49 per user per month. However, basic customer service functionality is available for $19 per user per month.
Salesforce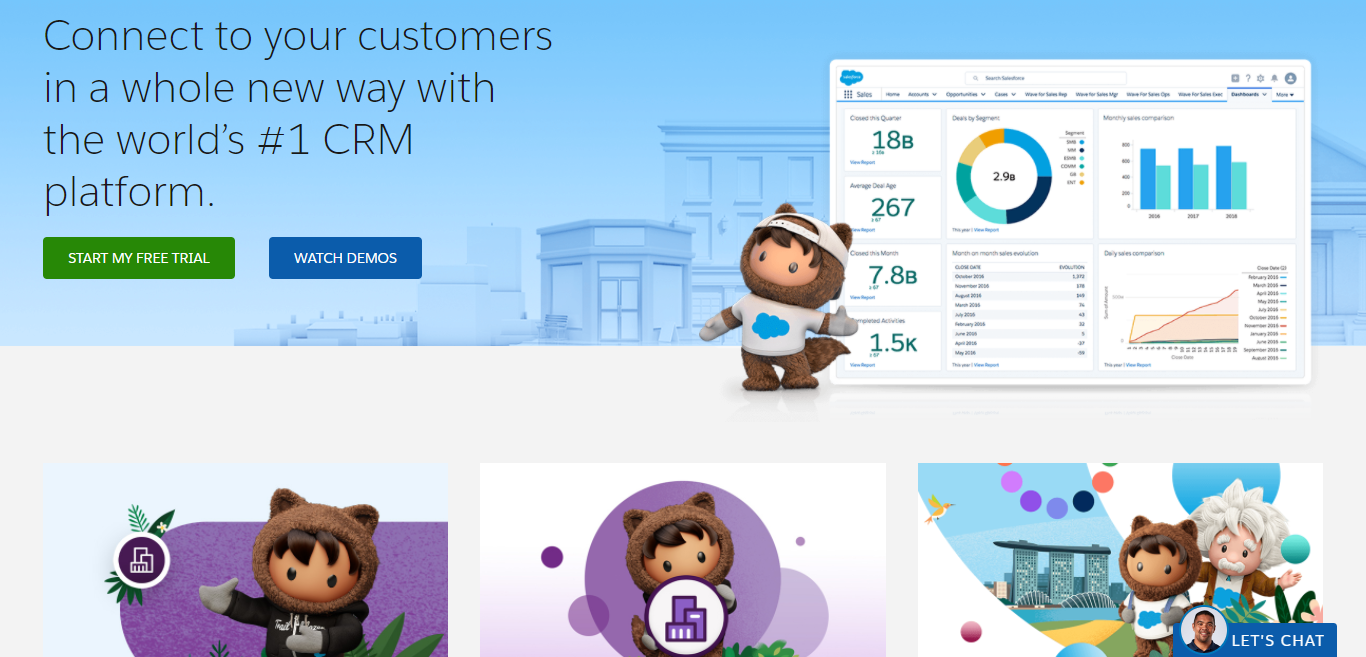 Salesforce is another feature-rich CRM with an extensive pool of third-party integrations and add-on options. Salesforce offers a variety of business products that integrate with one another, like Freshworks.
Salesforce was built for larger businesses and enterprises. It's a scalable solution boasting the following capabilities:
Lead management

Marketing automation

Contact management
…To name a few – Salesforce makes it easy to manage customer accounts, monitor your marketing campaigns, and provide post-sale customer service.
The Essential plan starts from $25 per user per month. However, many of Salesforce's more advanced features are locked behind the Professional program for $75 per user per month.
HubSpot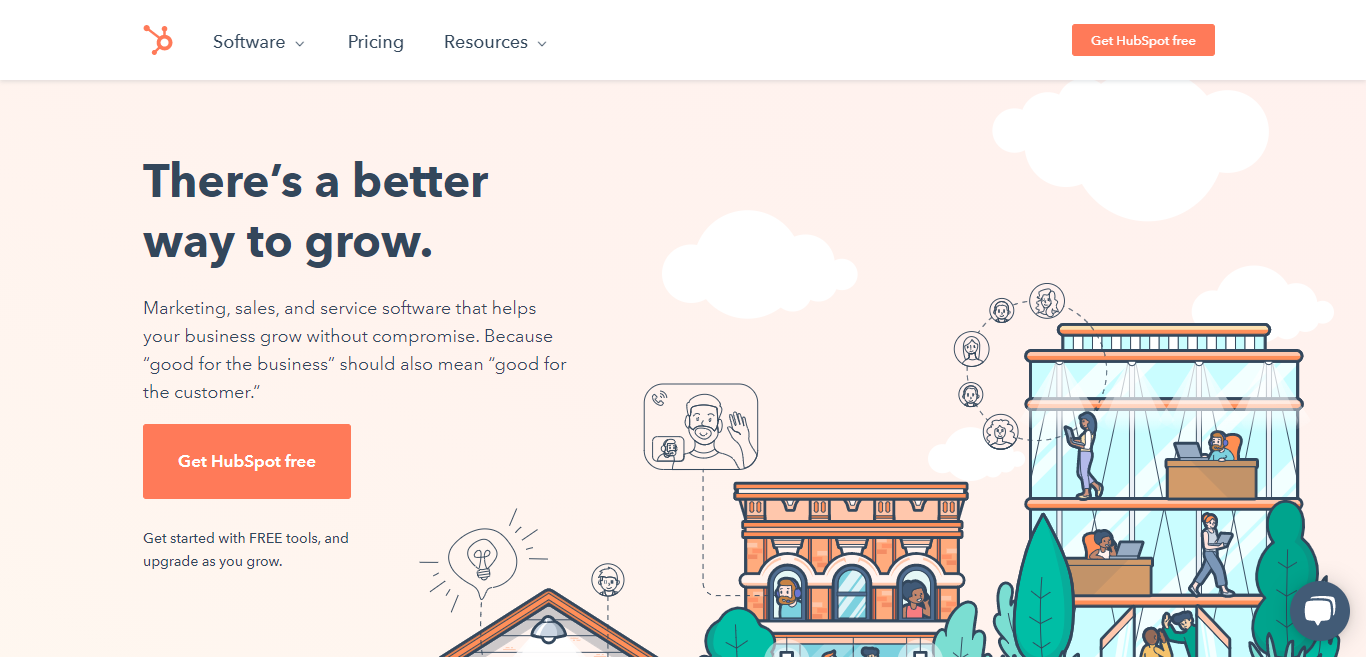 Hubspot is another business suite packed full of marketing and CRM features. It provides everything you need to keep track of customers and manage your marketing strategies. This includes social media functionality where you can schedule posts and access advanced analytics.
Hubspot concentrates on inbound marketing, with less of a focus on customer satisfaction. As such, it comes with blogging features, landing page creation, and content management tools. Hubspot consists of the Marketing, Sales, Service, Operations, and CMS hub, each with complete feature lists of their own. As you've probably already guessed, each hub allows you to manage a specific aspect of your business.
Hubspot comes with a free plan that offers a lite version of all these tools. Starter packages start from $45 per month, with a bundle of each hub's starter plans starting from $79 per month.
Freshworks Review: FAQ
We've covered lots of ground, so hopefully, we've answered all of your questions by now. If not, perhaps you'll find the answer as we go about responding to some of the most frequently asked questions we hear about Freshworks
Question: What do customers say about Freshworks?
Answer: Customer reviews vary depending on which products you're looking at. Generally, Freshworks' products enjoy over a 4 out of 5-star rating on platforms like Gartner.com, Glassdoor, and Trustradius.

However, some customers note that the software doesn't successfully replace tools like Zendesk or Salesforce. While others report that though the product's easy to integrate thanks to its cloud-based nature, teams still had to adjust their processes to the tool rather than the other way around.
Question: What's a CRM?
Answer: CRM stands for 'Customer Relationship Management.' It's a software tool that allows businesses to collect, store, and manage detailed records of their customers and leads. They're crucial for larger companies who have to oversee a vast pool of customers and clients.

Generally speaking, CRMs also make it easy to track existing conversations and remind agents when new stages of a deal are approaching.
Question: What tools does Freshworks integrate with?
Answer: Freshworks makes it easy to connect with your existing tech stack. You can browse their app marketplace across categories, including payments, accounting and billing, reporting and analytics, CRM and marketing, bots and workflows, agent productivity, and more.

Some of its more notable integrations include Quickbooks, Shopify, Harvest, Magento, Zapier, Google Analytics, Agent Ticket Tracker, Trello, and much more. Naturally, all Freshworks products integrate with one another too.
Freshworks Review: Our Final Thoughts
Some of Freshworks' most significant benefits come from its fully integrated business suite. It's easy to implement and focuses on facilitating an excellent experience for both your customers and employees. It shines in its AI tools, enabling chatbot functionality and accurate forecasting. Often, this is where Freshworks differentiates itself from its competitors.
That said, despite its free plans, Freshworks offers too much for small companies or startups. As such, it's best suited to larger-scale enterprises managing high volumes of contacts and leads.
You can take any of Freshworks' products for a 21-day trial run and see how you like them. Or sign up for some of its free services to get a glimpse of Freshworks' interface. Whatever you decide, let us know your thoughts in the comments below; we'd love to hear your opinion!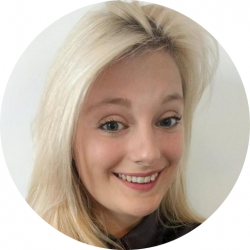 Latest posts by Rosie Greaves
(see all)