Last Updated on January 11, 2023 by DMEditor
This MailerLite Review explores yet another tool solution that's increasingly disrupting the dominance of the big players in the email marketing space.
You see, email marketing is a lot like most of the other online industries today. Some email marketing campaign solutions are largely considered to be small or perhaps "growing", and then there's the exclusive league of big shots.
I guess you know what I'm driving at here. Yes, that's right- the big league refers to the likes of MailChimp email service provider and AWeber, which have enjoyed hanging on to the top positions for decades now in the world of affiliate marketing.
Well, a lot of that has to do with the fact that they've been around for long, plus the fact that they are promoted quite extensively. MailChimp alone makes about $400 million in revenue annually. So, you can imagine how much the company splurges on digital marketing.
Don't get me wrong though. I'm not suggesting that the dominant email service provider players have nothing to offer. On the contrary, I actually believe they've been providing the best email marketing tool features for years. Almost everyone in the e-commerce industry loved the service. Until very recently.
We're now witnessing a rather interesting trend, as some business owners and digital marketers shift to the underdogs. While the big players are still offering great services, there's no denying that the underdogs have significantly stepped up their game.
MailChimp email automation tool and the likes are still on top of the email marketing industry alright, but they're are progressively being challenged by newer players on the campaign monitor field.
Well, one of them happens to be the MailerLite service, which joined the industry in 2010.
If you can recall correctly, the email marketing space was still incredibly competitive back then. Hence, MailerLite automation tool could only manage a revenue of barely $1,800 in its first year. But then get this- surprisingly, that grew to a cool million in just three years. MailerLite seemingly hit the ground running and it hasn't slowed down since.
Currently, close to 800,000 freelancers, digital marketers, and business owners are using MailerLite to process more than 1 billion emails a month. Quite impressive if you ask me.
So, what's so good about Mailer Lite? And most importantly, would it be a good option for you?
That's precisely what this MailerLite review investigates. For months now, our team here at TheDigitalMerchant has tested all the tools and features that come with the software.
And as a result, here's the ultimate unbiased review of Mailerlite's email marketing features, capabilities, and pricing. By the end of it, you'll have learned about:
Overview of MailerLite
MailerLite's Ease of Use
MailerLite's Contact Management Features.
MailerLite's Campaign Building Features
MailerLite's Marketing Automation Features
MailerLite's Integrations
MailerLite's Customer Support Capabilities
MailerLite's Pricing
MailerLite's Pros and Cons
MailerLite is a web-based email marketing service that principally targets bloggers, freelancers, plus small to medium-sized businesses.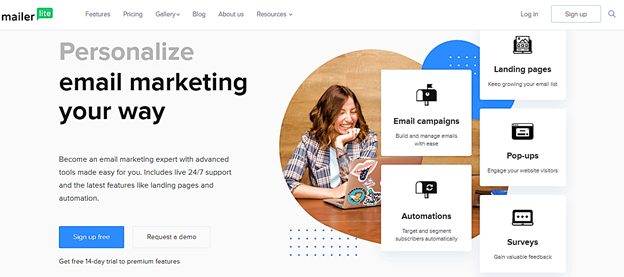 Over the past 10 years or so, it has been helping them grow their email list, target website visitors with opt-in forms and landing pages, build optimized email campaigns, engage audiences with automated messages, as well as track their consequent campaign results.
That sounds good. But then again, let's face it. We've seen quite a number of solutions offering similar functionalities. So, what would convince you to choose MailerLite?
Well, of course, MailerLite recognizes the level of competition on the market. So, it tries to woe you using the same Mailchimp pricing strategy (and is in many ways the FIRST Mailchimp alternative that I like to look to for clients).
Instead of charging all its users, beginners are allowed to run automated campaigns for free (free account). You can proceed to leverage its email marketing tools without paying even a cent, as long as you maintain less than 1,000 subscribers. Exceeding that would push you to the side of premium packages.
Now, this is where things get even more interesting. Instead of recovering costs with steeply-priced premium plans, MailerLite chooses to charge very reasonably. You can secure its premium features with unlimited email sends (unlimited emails for all paid plans) for as low as $10 a month.
And what features am I talking about here?
Well, you'll find a rich text editor, a custom HTML editor, a drag and drop email newsletter editor, an assortment of pre-made templates, a page builder, email automation tools, analytics, embedded sign-up forms, subscriber management tools, etc.
Therefore, in a nutshell, MailerLite is a full-stack email marketing service. It seemingly creates ripples on the market because it offers pretty much everything you'd need to run comprehensive email marketing campaigns.
When you need to create a striking email, for instance, MailerLite's drag-and-drop editor comes in handy. It allows you to extensively design the whole layout, as well as introduce text, videos, images, and social media links.
The subscriber management tools, on the other hand, help you grow your contact list, plus import any pre-existing ones via Excel, TXT, and CSV files. Ultimately, you get to save the contact names, along with their corresponding phone numbers, locations, email addresses, etc.
Then when it comes to automation, you could personalize emails for selected groups based on your tagging and segmentation parameters. In fact, MailerLite even allows you to hunt down hunt cart abandoners, follow up on purchases, reward loyal customers, trigger audiences based on their site activities, plus much more.
And to top all that off, MailerLite also happens to offer reporting and analytics tools. You can monitor the performance of your workflows, as well as track your campaign bounce rates, recipient activities, plus the number of spam complaints, unsubscribed recipients, and emails viewed.
Well, that pretty much covers the basic stuff. Now let's explore everything in detail…
MailerLite Review – Main Features
Service Ease of Use
Ok, I'll admit I'm not a fan of the approval process that most email marketing solutions these days will take you through. They essentially begin by screening your credentials, and the whole thing might take some time. Well, of course, that waiting period irks me because I'd prefer proceeding with my campaigns right off the bat.
But, don't get me wrong. I understand why they do it. The approval process helps them keep spammers away, and it turns out MailerLite is not any different. Therefore, you won't be able to run campaigns immediately after signing up.
At first, MailerLite will require you to complete your profile when you register. This entails specifying details such as your address, industry, website, company name, subscriber list size, company size, and campaign types.
Once you're done with the submission, you have no choice but to sit tight and wait it out. The team at MailerLite will then go through all those details to establish if you're a good fit.
In the meantime, you can admire MailerLite's neat and elegant dashboard. It comes with a minimalistic design to offer you a smooth experience as you browse and explore its various tools.
While the interface might not be strikingly beautiful, it manages to keep everything uncluttered and straightforward. The main bar itself offers only five menu options – Dashboard, Campaigns, Subscribers, Forms, and Automation.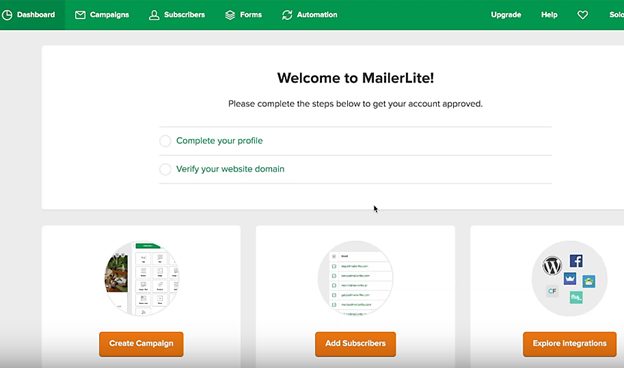 I guess each of these items should be self-explanatory for anyone with a basic understanding of email marketing tools. However, to figure out how MailerLite has structured everything, you might have to take a detailed tour of the entire platform.
That shouldn't take you long though, because MailerLite provides brief pointers to explain how its main tools operate. They are particularly helpful to novice users who are trying to build their first campaigns. Otherwise, you should be able to understand everything right off the bat if you've used email marketing solutions before.
Now, when it comes to the real thing, you'll notice that MailerLite is extremely responsive and reliable. Its tools have been linked logically to offer you smooth navigation. Plus, the whole framework feels like each section has been placed in its rightful position.
Then to make everything much easier for you, MailerLite allows you to collaborate with team members. You could go ahead and introduce new users by creating linked accounts from your panel. And while you're at it, you might want to define their respective user roles plus privileges.
Subscriber Contact Management
As we've established already, MailerLite is open to contacts from other applications. You just need to import them in either CSV, Excel or TXT formats.
But in case you don't have a pre-existing one already, no worries. It turns out MailerLite comes with just the right tools for setting up a mailing list from scratch and subsequently growing it.
As long as you've integrated the tool with your website, you could take advantage of its subscribe buttons, forms, popups and landing pages. In fact, you don't need any outstanding skills in coding or design. Simply use the editor to customize MailerLite's pre-built blocks and voila! You'll soon begin attracting subscriptions.
Now, when those subscriptions start rolling in, MailerLite offers a pretty intuitive contact management interface for coordinating everything. You can access your contacts' details collectively or alternatively, click on the respective profiles for more comprehensive information.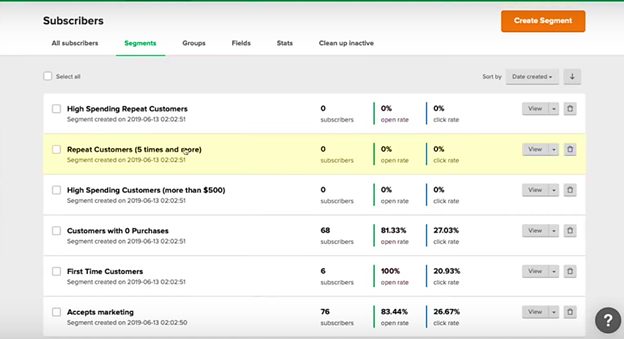 And speaking of which, you could organize their information using the default fields or your own custom ones. What's more, MailerLite provides GDPR capabilities to handle a contact's right to information.
That said, you might need a high level of granular control when your list expands considerably. This is where subscriber grouping comes in, and you can expect to find the typical functionalities for that on Mailerlite.
But, make no mistake. MailerLite doesn't offer grouping capabilities through tags, as we've seen with most of the other email marketing services. Instead, MailerLite keeps it simple by sticking to the term "Groups".
However, for the sake of clarity, "Groups" and "Tags" are one and the same thing. Therefore, through this feature, you should be able to assign parameters and descriptive labels to different contacts.
Another grouping functionality you'll find here is "Segments". Now, in simple terms, segments are essentially grouping rules. You get to subdivide your lists into categories based on common parameters like behaviour, location, age, tags, etc.
MailerLite will then go ahead and update the lists automatically to add qualified contacts while removing all the disqualified ones. The platform is even capable of handling combined and alternating parameter rules if you ever need to create complex segments.
In the end, all that comes in handy when you begin personalizing your campaigns.
Building Campaigns
Apart from forms and landing pages, MailerLite is well-optimized for classic email campaigns, surveys, autoresponders, A/B testing, as well as recurring newsletters.
That said, the process of building a campaign begins with the campaign editor. And get this- MailerLite offers you three editors for creating your campaigns.
Now, the simplest one is the Rich Text Editor. And just like the name suggests, it's all about texting. You get to set up simple text-based campaigns using standard HTML capabilities. So, in other words, the editing interface functions like a typical Gmail composer. It's that easy and straightforward.
The only problem is, plain text is boring and uninspiring. You have very slim chances of grabbing your audience's attention with a bland email. So, the rich text editor would only be ideal for those quick messages. Otherwise, when it comes to creating real newsletters, you should consider switching to the second editor.
Now, MailerLite's second editor is the Drag and Drop Newsletter Editor. This is where beautiful and colourful things happen. Its interface is, in fact, optimized for graphical multimedia editing. The goal here is to help you design extensively without any coding input.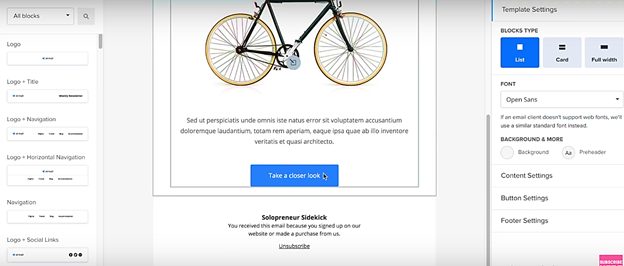 And to start off, MailerLite provides an assortment of customizable pre-built templates to choose from. You'll find an array of professionally designed templates for e-commerce newsletters, notifications, photography, events, deals and offers, plus blogs and updates.
What's more, they all come free of charge. Just what you need for email marketing on a budget.
All in all, it shouldn't take you long to pick a beautiful template that fits your campaign goals. And once you do, the editor allows you to visually customize almost every single element without touching a line of code.
You should be able to drag and drop elements within the email layout, add text, place images and videos in the email body, introduce columns, specify the sizes of the layout elements, etc. As a matter of fact, MailerLite even provides a built-in gallery for picking photos to embed without closing the editor.
That said, the one thing that sets MailerLite's editor apart from most of its competitors is the social media embedding feature. You basically get the privilege to integrate posts from Facebook and Twitter within the body of the email.
Additionally, it's also possible to lift stuff directly from your inventory and insert them into the emails. The editor even searches for the products from your e-commerce website to save you the trouble of adding them manually.
Well, eventually, all these things combined should translate into a comprehensively customized newsletter.
But then again, do they really?
The fact is, while MailerLite's drag and drop editor is intuitive as well as easy to use, it comes with a caveat. Apparently, there are a couple of things here and there you won't be able to customize. You can think of this weakness as the curse of all graphical WYSIWYG editors.
Hence, MailerLite gives you yet another editor. This time, however, it's a custom HTML editor. You can customize pretty much anything with it since there are no restrictions.
But, there's one condition – you have to be skilled in HTML and CSS coding. The HTML editor was built for developers who prefer to code their own newsletters and emails from scratch. And the best thing about it is, there's a visual preview that shows the design changes in real-time as you code.
All in all, whichever method you choose to build your campaigns, MailerLite will eventually grant you the privilege of A/B split testing. You could consequently take advantage of that to compare the possible performance capabilities of varying email formats.
Then, in the end, use the findings to set up an effective marketing campaign by combining the best performing elements in one email.
Marketing Automation Service
Just as MailerLite provides editors for building emails and newsletters, it turns out the platform also comes with a built-in automation editor for creating campaign workflows.
The editor itself is designed to offer a simplified but intuitive method of designing and managing your marketing automation. Hence, a moderately-experienced user can set up dynamic workflows within minutes.
The whole process essentially entails creating a series of emails, whose launching sequence depends on the logic of rules you specify through a chart of steps. And as MailerLite proceeds to execute everything accordingly, you could track the progress of your contacts from a detailed activity report.
Now, to be more specific, the automation editor is pretty reliable when it comes to simple personalization workflows. Or in other words, it's the type of system you'd expect small business owners and bloggers to use.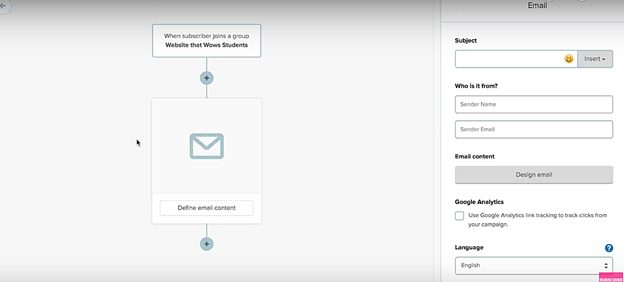 That said, MailerLite does not provide advanced capabilities that experienced digital marketers would prefer. You can't, for instance, develop email marketing automation workflows based on "if/then/else" logic. The farthest this editor goes is allowing dynamic content blocks, which are then sent to selected subscribers according to their segmentation parameters.
That means you could set up automated email marketing campaigns that target audiences based on their behaviours, profile details, custom fields, and grouping conditions.
More specifically, MailerLite is capable of, for instance, sending automated emails to new subscribers, individuals who purchase specific items, cart abandoners, loyal customers, lead-based in a specific country, etc.
You basically get to choose the parameters and accompanying segments for every single campaign. And since the entire system relies on your grouping rules, you might want to segment your contacts accordingly.
Another notable thing about MailerLite's automation is its accessibility. In essence, you don't have to purchase a premium plan to leverage the editor. Even users on the free package (or free trial) can proceed to set up automated campaigns.
Emails are not the only thing you can automate though. It turns out MailerLite also supports RSS feed automation. Hence, you can go ahead and specify the frequency of delivering all the RSS feed push emails that are automatically launched once you publish new posts.
Marketing Platform Integrations
Considering it was introduced in 2010, the MailerLite service had about 10 years to build integrations with various third-party services. Well, from the look of things it seems its developers have indeed been extremely busy. The platform can now be easily integrated with tens of popular applications.
When it comes to CMS and e-commerce platforms, for instance, you should be able to embed MailerLite with all the dominant systems. There's a plugin for WordPress users, as well as a compatible MailerLite Shopify app for e-commerce stores (Shopify integration). Otherwise, you can also integrate the email marketing service with e-commerce stores on Squarespace and WooCommerce (via WooCommerce Zapier plugin).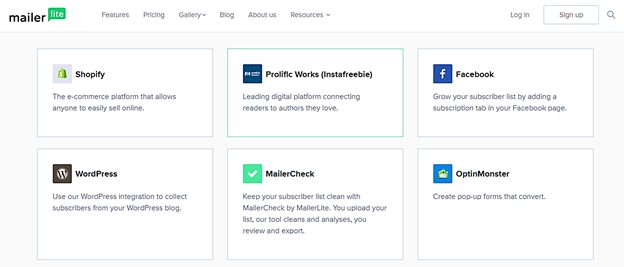 Then since you might need to enhance your email marketing strategies with social media, MailerLite can comfortably connect to all the major platforms. You could integrate it with Facebook, Instagram, Twitter, Pinterest, etc.
Other than that, MailerLite offers integrations for MiloTree, ConvertPlay, BookFunnel, SendOwn, Couponcarrier, and Gravity, among many others.
Now, in the unlikely event you fail to find a specific app integration, here's a trick you could use. Simply embed MailerLite with Zapier and proceed from there. Zapier basically acts as a pipeline for linking Mailerlite with hundreds of other common applications.
MailerLite Review – Customer Support and Customer Service
MailerLite has so far invested in only two support channels. You could either use live chat or email.
Personally, I'd prefer phone support but it turns out that's not an option here.
On the brighter side, however, at least both live chat and email channels are open 24/7. So, you should be able to access MailerLite's customer support staff at any time of the day or night, even during holidays.
But, make no mistake. These channels are not available to everyone. Users on the free plan can only use email support, which I find to be quite fair. Live chat support is only accessible when you upgrade to a premium plan. And yes, that's right, any premium plan would do.
Please note, however, that MailerLite doesn't guarantee instant responsiveness. Therefore, you might be forced to wait from time to time, especially when the support team is handling multiple requests concurrently.
If that doesn't sound like something you'd be willing to do, perhaps you could purchase a dedicated account manager for an extra $100 per month. This would give you specialized support and you won't have to wait in line any time you place a service request.
Come to think of it, however, $100 seems like a steep price for customer support. Ironically, it's even much costlier than MailerLite's premium plan of 15,000 subscribers, which costs $50 a month.
Nonetheless, all things considered, I'd advise you to always prioritize the self-service route. It just so happens that MailerLite is generous enough to set up a very comprehensive knowledgebase. It features all the basic documentation you might need for quick troubleshooting.

Free Plan – Permanently free
Analytics
Mobile-optimized landing pages
Custom code injection
MailerLite pop-ups integration
Survey and quiz
Double opt-in
GDPR compliance
Landing page SSL encryption
More than 25 customizable landing page templates
Unlimited landing page traffic
Unlimited landing pages at $10 a month
5 public landing pages
User permissions
Multi-user accounts
Domain authentication
Email campaign reports
A/B testing
RSS campaigns
Interest groups (tagging)
Advanced segmentation
Email automation
Unsubscribe page builder
Subscriber management
Pop-up subscribe forms
Embedded signup forms
Mobile-friendly email newsletters
File manager
Built-in photo editing
Rich text editor
Drag and drop editor
Email support 24/7
12,000 email sends per month
1-1,000 subscribers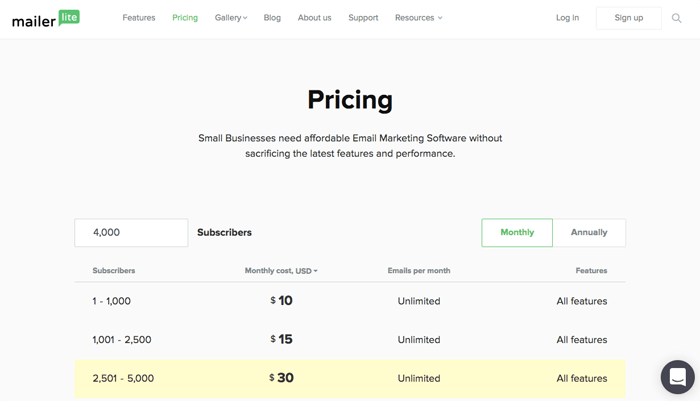 There are numerous premium plans with varying price points based on the size of your subscriber list. Here are some of the packages:
1 to 1,000 subscribers will cost you $10 per month or $84 per year.
1,001 to 2,500 subscribers will cost you $15 per month or $126 per year.
2,501 to 5,000 subscribers will cost you $30 per month or $252 per year.
5,001 to 10,000 subscribers will cost you $50 per month or $420 per year.
50,001 to 60,000 subscribers will cost you $260 per month or $2,184 per year.
100,001 to 110,000 subscribers will cost you $390 per month.
200,001 to 220,000 subscribers will cost you $735 per month.
300,001 to 320,000 subscribers will cost you $1,050 per month.
400,001 to 420,000 subscribers will cost you $1,350 per month.
500,001 to 520,000 subscribers will cost you $1,710 per month.
580,001 to 600,000 subscribers will cost you $1,915 per month.
The features include:
Heatmap report
Standard analytics
Mobile-optimized landing pages
Customizable favicon
Landing page A/B split testing
Landing page create templates
Custom code injection
MailerLite pop-ups integration
Survey and quiz
Double opt-in
GDPR compliance
Landing page SSL encryption
Unlimited landing page domains
More than 25 customizable landing page templates
Unlimited landing page traffic
Unlimited landing pages at $10 a month
5 public landing pages
User permissions
Multi-user accounts
Domain authentication
Email campaign reports
Dedicated IP
Deliver by time zone
Auto resend
Email A/B testing
RSS campaigns
Interest groups (tagging)
Advanced segmentation
Email automation
Unsubscribe page builder
Subscriber management
Promotion pop-ups
Pop-up subscribe forms
Embedded signup forms
Use custom domains
Newsletter templates
Custom HTML editor
Mobile-friendly email newsletters
File manager
Built-in photo editing
Rich text editor
Drag and drop editor
Email support 24/7
24/7 live chat
MailerLite Review – Pros and Cons
Pros of MailerLite
MailerLite offers a permanently free plan that's capable of building campaigns, automating your email marketing, as well as tracking the subsequent results.
MailerLite has a powerful grouping system that combines tag parameters and segmentation rules.
You're free to introduce custom fields on your subscribers' profiles. This would subsequently help personalize their emails accordingly.
MailerLite comes with three email editors. A rich text editor for basic text, a drag and drop editor for visual customizations, as well as a custom HTML editor for extensive code-based tweaks.
MailerLite allows you to grow your mailing list using landing pages, popups, and forms.
MailerLite provides an intuitive automation editor that comes in handy when you need to build simple personalization workflows.
Mailerlite's entire platform is pleasantly easy to use. The interface has a minimalistic design and every single section is well-structured for straightforward navigation.
Cons of MailerLite
The initial approval process is extremely strict and might take some time.
Although the templates are well-designed, there are limited options available.
You won't be able to access MailerLite's customer support team via phone.
The automation builder is only optimized for simple workflows. It does not provide the flexibility you'd need for workflows with complex conditional logic.
Purchasing a dedicated account manager is quite costly.
All things considered, MailerLite's service strong point is, of course, it's considerably cheap pricing, plus the simple, intuitive tools.
The affordable pricing model makes it a reasonable email marketing solution option for budget-minded users. The type of users you'd expect here include bloggers, creatives, freelancers, solopreneurs, small business owners, as well as marketing beginners.
Beginners would particularly appreciate the free plan. It's fairly decent since it combines campaign building tools with forms, full automation capabilities, high-level contact management, advanced segmentation, A/B split testing, as well as email marketing analytics.
Small business owners, on the other hand, would definitely enjoy capitalizing on unlimited email sends for a reasonable price. And since the entire system is simple to use and has straightforward navigation, they are bound to have an easy time automating their workflows, tracking campaigns, leveraging templates, as well as targeting site visitors with landing pages, signup forms, and popups.
On a sad note though, MailerLite does not possess the power to accommodate the needs of advanced marketers and large enterprises. It's automation editor and autoresponder builder can only handle basic workflows.
And there you go. A MailerLite review that lays everything bare to help you make an informed decision about the email marketing software.
That said, has this MailerLite review changed your opinion about the email marketing solution? What would you rank it overall?
Learn about 6 types of business emails you can send to your customers and features to consider before choosing your own email marketing software.
Further reading on email marketing platform tool and service provider options: