Last Updated on July 12, 2022 by DMEditor
Looking to automate your email marketing efforts with no effort? Today, we present our MailerCloud review, an affordable and very easy-to-use email marketing, and CRM software. Founded in 2013, Mailercloud is designed to ensure customer retention through personalized, automated, and timely targeted emails.
And when you know that email marketing is one of the most efficient and most profitable ways to grow your customer base in the 2020s, you just can't pass up on that. If you ever found it to be too much of a headache to set up email campaigns, worry no more. MailerCloud is one of the most straightforward email marketing software on the market.
In this article, you will find :
a guide to help you choose the best email marketing software;

a close look at MailerCloud's key features;

trendy alternatives to explore;

a clear cut on whether MailerCloud is a good service or not.
How to Choose Your Email Marketing Software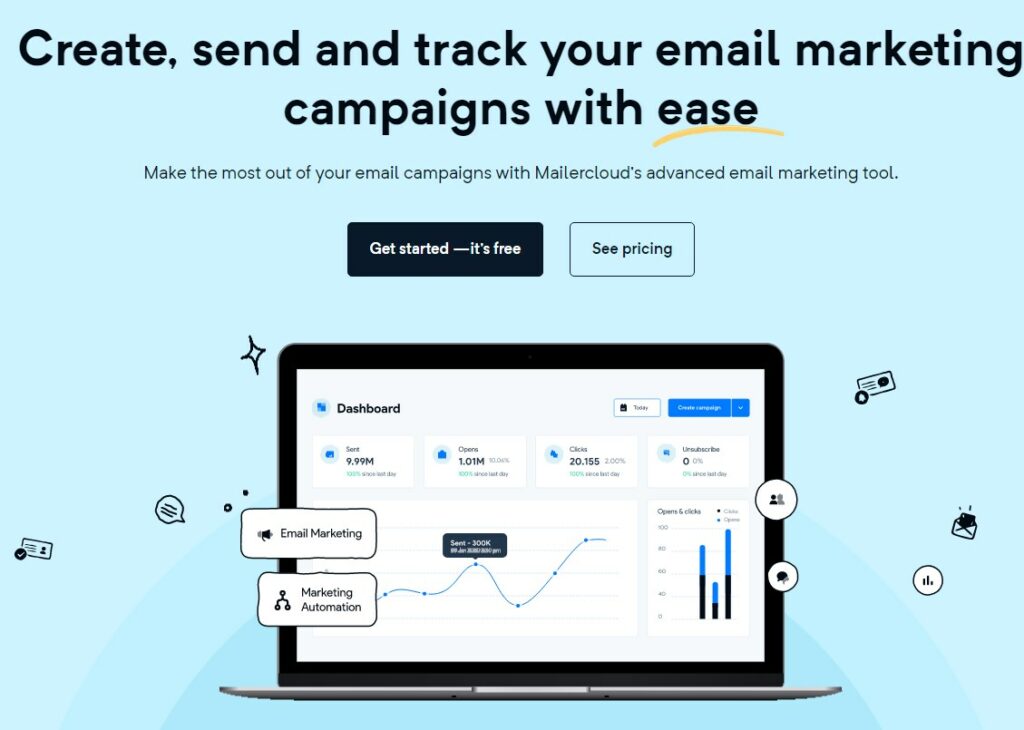 There are so many ways to keep in touch with your customers! But which one is the best for you?
There is an extensive list of things that you want to consider to make sure you get the most value for your buck.
of use
Some software has a very cluttered interface, which is never a nice thing, making it hard to set up automation. Setting up an email campaign can be very easy if the tool you're using doesn't make it unnecessarily complicated. For some reason, many email marketing software on the market these days are very confusing, at least at first glance.
Some software comes with a large array of various features that you might not need and that might confuse you. If you don't have a lot of time to waste trying to understand what button does what and learning extensively how to use the software you're going for, you will prefer one that is easy to use.
builder
Nowadays, most email marketing software comes with a built-in campaign builder. And rightly so, as it is extremely convenient. With such a piece of software, you will be able to drag and drop the elements you want your customers to find in your emails.
It's easy to use, fast, extremely visual, and the results are very professional. You don't even need to know coding or HTML to use it. Unless you're planning on sending plain text emails to your contacts, make sure the software you go for has a nice campaign-building tool.
Automations
One of the main reasons you should use email marketing software is that great automation will save you a lot of time (and, therefore, money). Most software on the market lets you set up automated email campaigns, trigger-specific email campaigns, segmented email campaigns, etc. How each software handles its own automation will vary, and you will have to look at the fine print to make sure they do it in a way that fits your specific needs.
A/B testing and reports
We wouldn't be in the world of marketing if we were not testing and comparing efforts. The best email marketing software will let you test and compare different campaigns to then provide useful reports. Those reports will help you focus your efforts on the right things and, eventually, scale-up.
Segmentation and personalization
Automating your emails is one thing, but setting different automation for different categories of contacts is another. Segmentation has been proved to increase profits by a noticeable margin by sending to specific contacts content that is surgically targeted and therefore way more relevant to them.
Do you need to separate male and female contacts? Do you need to separate contacts based on their favorite breed of dogs? Do you need your software to gather this data for you automatically? Not every software proposes the same degree of personalization, and you want to look for what is the most relevant to your business.
Integrations
You're most likely using other software to gather leads if you need to automate sending emails. You want to make sure that the email marketing software you're going for integrates well with your other tools. Not all software work well together. So take a close look at the list of available integrations before purchasing your new tool.
Deliverability
Some email marketing software is better than others at having your emails avoid the spam box. Generally, all software ensures great deliverability. But if you're looking for maximum performance, some tools put extra effort into getting the most of your emails through.
Price
Maybe you do not need all the fancy bells and whistles of the most performant software. Your budget will determine the depth of the software you will get.
Other cool features
Some software comes with other cool features that might be worth considering. Some propose their own signup forms that you can directly embed on your website. Some propose deeper events management features. Have a look at the additional things email marketing software can do for you. You might stumble upon something that is exactly what your niche or situation needs.
and reputation
You want to make sure problems do not happen often, and when they do happen, that they can be solved quickly. Some services have phone support, and some don't. Considering other customers' reviews of the software is also a good idea.
MailerCloud Key Features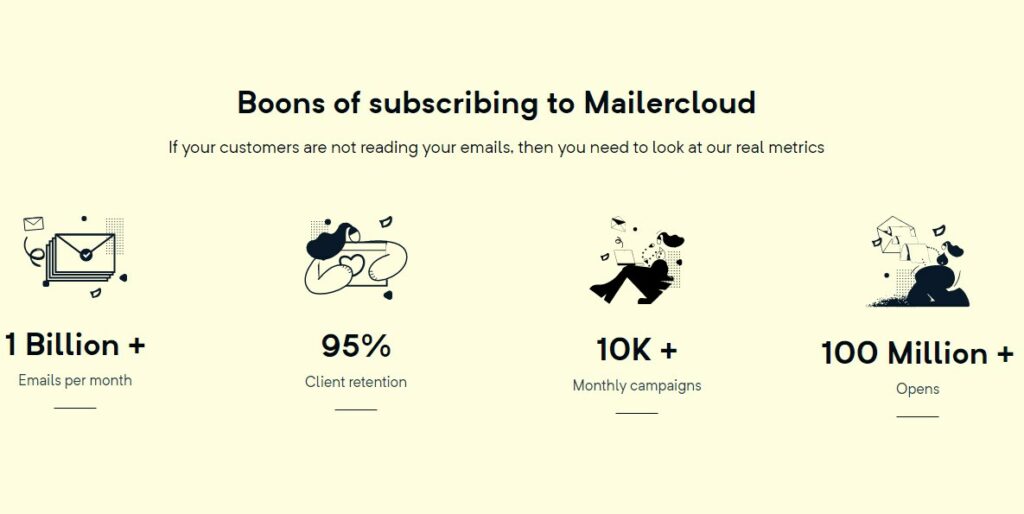 Below is a shortlist of the key features that make MailerCloud stand out from its competitors.
MailerCloud is Easy to Use
MailerCloud is overall very easy to use. The interface is intuitive and very user friendly, very "corporate Memphis," and what it lacks in originality it makes up for with simplicity. Everything is very visual, and you are not assaulted by buttons everywhere like on earlier versions of MailChimp, for example. It goes straight to the point, and we love it for that.
MailerCloud has a Convenient Builder
With MailerCloud, you can edit your own emails with the in-built campaign builder. They also have premade templates that you can use directly or edit further with the campaign builder.
Overall, the tool is convenient to use and, while it doesn't have the sharpest, most expensive editing features, it does the job just fine. You can drag titles, text, images and then edit those to your liking. Expect nice and professional-looking emails obtained through this very easy-to-use drag-and-drop tool.
If you know your way around HTML, you will find it convenient that there is a custom HTML editor for you to personalize your campaigns even more.
MailerCloud has Satisfying and Clear Automations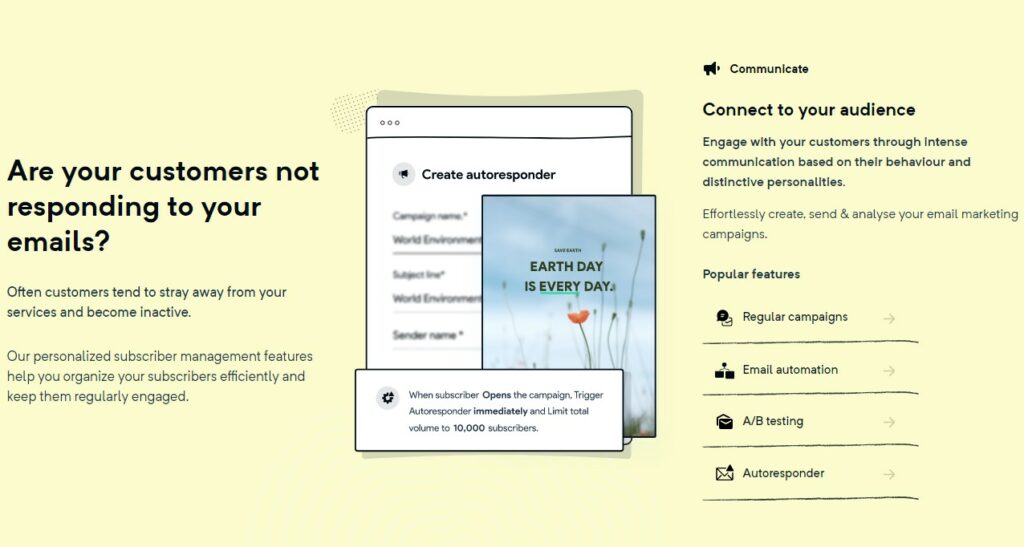 MailerCloud has got to be one of the clearest and most visual ways to set up automation, workflows, and customer journeys. Every step is visually represented on a blank canvas, and the flow of your automation becomes immediately obvious at a glance.
On the technical side, you will find the classic automation you'd expect from an email marketing tool: event-triggered emails, automated customer journey, auto-responders, etc. You will be able to really personalize that automation to send the relevant emails at the relevant times to the relevant segments of your lists.
MailerCloud has a Smooth Testing and Reporting System
You will be able to include automatic A/B testing in your automation. On top of that, the software will automatically decide which content is the best and adjust your marketing efforts accordingly (by focusing automatically on what's performing best).
When it comes to data gathering, the campaign report tool clearly shows opens, clicks, hard bounces, spam complaints, soft bounces, unsubscribes, abuse, and conversions for each campaign. You will know in real-time what's up with your emails, and we found the analytics tools to be quite complete with MailerCloud.
MailerCloud has Okay Segmentation Features
Mailercloud lets you categorize all your subscribers based on a variety of criteria like subscription status, contact rating, campaign tags, gender, age, nationality, salary, department, etc. You will have to manually put a label on your contacts when importing them, though.
We could have liked deeper segmentation features. That said, you will be able to set different automation for the different segments of your contact lists seamlessly. You can also personalize emails further with personalized text and sending times.
MailerCloud doesn't Have Many Integrations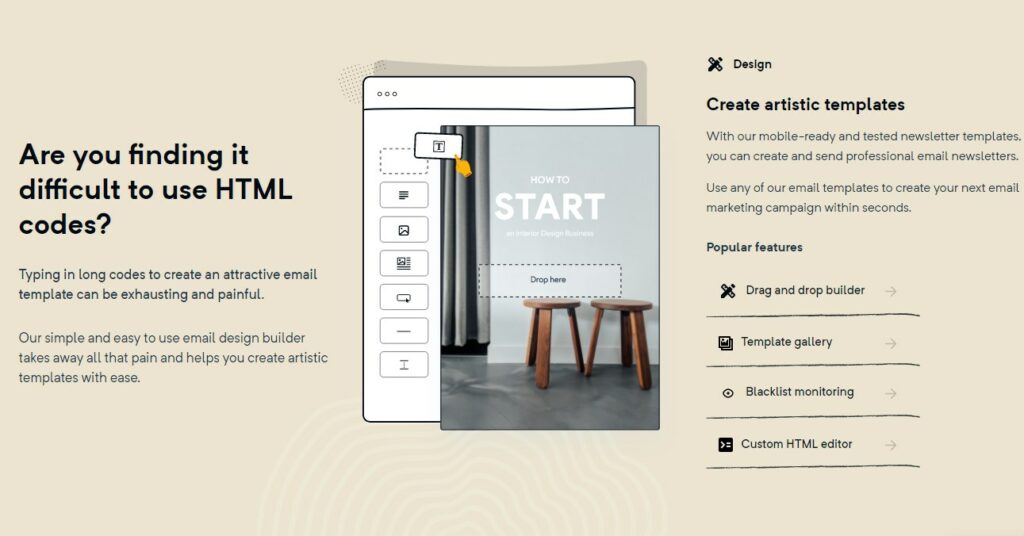 Currently, MailerCloud integrates well with WordPress only. There are planned integrations (marked as "coming soon") for Shopify, Zapier, WooCommerce, and Magento. Other than that, you will have to manually import your contacts by uploading a contact file or typing in their info.
MailerCloud Works on Deliverability
MailerCloud monitors blacklists of domains and contacts to ensure you stay out of spam inboxes. If you use links that are broken, the tool will let you know. Your brand can also get a dedicated domain and sender IP through MailerCloud to ensure you keep a clean sender reputation with ISPs.
MailerCloud has a Free Version
You'll be happy to know that MailerCloud comes with a free version but also a paid version with a free trial. With that in mind, you can't really go wrong with it.
With the free version, you get up to 1,000 contacts and the ability to send up to 12,000 emails per month. The paid plans start at $10 per month for 1,000 contacts and an unlimited amount of emails to send each month. The prices go up as you add more contacts to your list. For reference, 10,000 contacts would cost $35 per month, and 200,000 contacts $660 per month.
Additionally, if you choose the annual plan over the monthly plan, you get 30% off on all prices. There is also an enterprise plan if you plan to have over 600,000 contacts, for which you will need to get in touch with a sales representative.
Mailercloud has Great Customer Service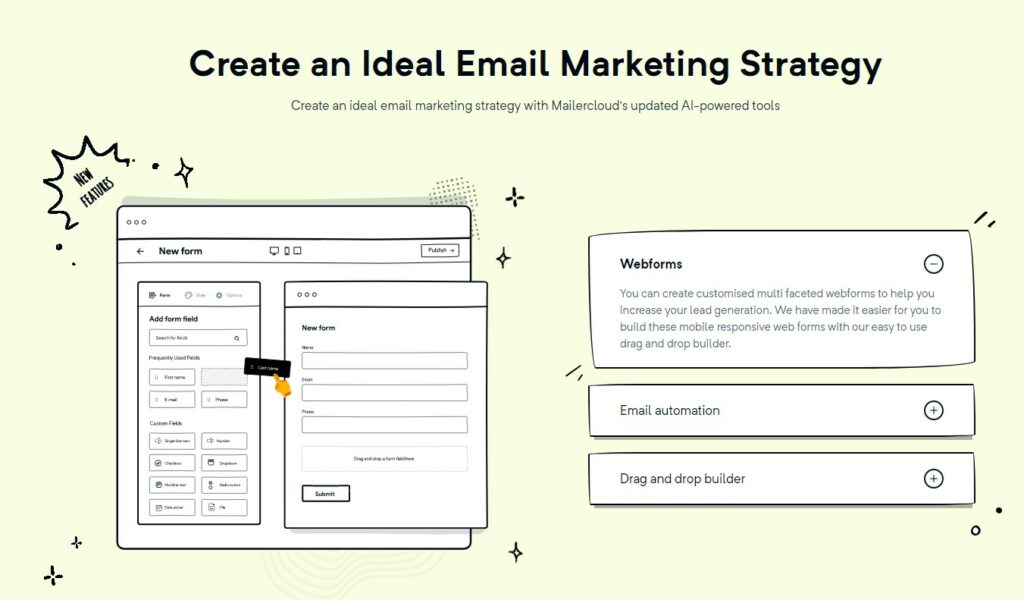 While we didn't find any fancy extras, MailerCloud seems to have a good reputation. Most of the reviews we found shared about a very intuitive service and great customer support. Talking of which, you can get in touch with customer support through emails. They also propose on their website an extensive list of guides and tutorials to help you make the most out of the tool.
MailerCloud Pros and Cons
Pros
Extremely visual and goes straight to the point, it's very hard to be confused by what's going on, even with complex operations.

Easy and smooth to use.

Complete reports and analytics.

Web-based platform, access it anywhere and with as many users as you'd like.
Cons
Gets expensive pretty fast with large contact lists.

Not the deepest segmentation features (but still does the job well).

Currently only integrates with WordPress.
Alternatives We'd Recommend
ActiveCampaign: ActiveCampaign is a great option for small businesses on a slim budget. It's a simple and lighter version of most of what you can find online when it comes to email marketing. Still, you can expect it to set up professional email automation to handle your online marketing efforts. You will find basic A/B testing as well, but don't expect the deepest analytics or segmentation features.
MailChimp: It is likely that you've heard of this email marketing monkey before as MailChimp is well known for being an all-around great email marketing software. It proposes a better price, more features, and a now clearer interface than most of the competition (although MailerCloud is still better in that regard).
iContact: Yet again a great option for small businesses. It's very similar to MailerCloud in scope and range. It's fully free up to 500 contacts and you will get all the basic features you need including a builder, premade welcome email series, but also (and most importantly) a single hosted landing page for you to gather leads.
FAQs
Question: Who owns Mailercloud?
Answer: The parent company of Mailercloud is called Luvia Digital LTD.
Question: Where Is Mailercloud located?
Answer: Mailercloud's parent company Luvia Digital LTD is based in London, England.
Question: Is Mailercloud free?
Answer: Mailercloud has a free plan, which you can use if you have less than 1,000 contacts. With the free plan, you can only send up to 12,000 emails a month.
Mailercloud Review: Conclusion
Overall, we really like MailerCloud. It is an all-around complete email marketing software. The crystal-clear interface might be its strongest point. Naturally, if you're looking for something that is more features-heavy, you will be a bit disappointed.
That said, MailerCloud does everything most small and medium internet marketers need: building beautiful email campaigns seamlessly, personalizing and segmenting your content, and setting up convenient automation. The A/B testing, reporting, and analytics features are also very convincing.
It does get expensive pretty fast, though, and might not be the best option for large businesses or those intending to scale big and fast. It also currently only integrates with WordPress. The lack of less mainstream and more professional integrations might once again have big marketers turn away from it.
In short:
If you're a visual person who works better when having everything laid in front of your eyes, you will love MailerCloud.
If you're a small-to-medium business looking for a straightforward, affordable, and stress-free option to develop and sustain your online marketing efforts, go for it.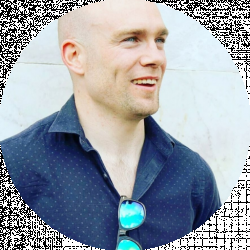 Latest posts by Joe Elvin
(see all)