Last Updated on March 29, 2022 by DMEditor
Online learning has seen a spike in recent years and is expected to continue its growth spurt. According to HolonIQ, more than six million students are pursuing higher education online, generating $30 billion in revenue.
Creating an online course takes a lot of work. From creating content to marketing to following up with participants for repeat sales, it can get overwhelming fast.
Thanks to a variety of powerful e-learning platforms, creating an online course is open to anyone willing to teach. Today, we are going to compare Ruzuku vs. Thinkific. Both platforms have similar features, but after reading this in-depth comparison you can decide which online learning platform is right for you.
The‌ ‌Main‌ ‌Differences‌ ‌Between‌ Ruzuku vs Thinkific
Ruzuku offers integrated webinars, whereas Thinkific offers a third-party webinar experience via Zoom.
Ruzuku requires the University Plan ($199 per month) to use a custom domain, whereas Thinkific only requires the Basic Plan ($49 per month) to use a custom URL.
Ruzuku provides advanced participant reporting, whereas Thinkific only offers basic info.
Ruzuku is not an online course marketplace, whereas Thinkific is.
Ruzuku does not provide a free plan, whereas Thinkific does provide a free plan but with limited features.
Ruzuku does not include an Enterprise plan, whereas Thinkific does.
The‌ Online Course Platform ‌Similarities‌ ‌
No transaction fee
30-day money-back guarantee
Free trial
Affiliate program
You own all of your content and data
Unlimited students
Unlimited courses
Coupons
Quizzes, polls, surveys
Email support for creators
PayPal and Stripe support
Professional audio and video hosting service
Participant progress, percentage of course work completed
Content release options (immediate, scheduled, on-demand/drip)
Ruzuku vs Thinkific: What is Ruzuku?
Ruzuku was designed in 2011 by user experience consultants Rick Cecil and Abe Crystal, Ph.D. The platform is designed to support step-by-step online courses, or drip courses that provide users with practical information served over a specified period.
Some of Ruzuku's main sectors include art & design, crafts, creative business, health, personal development, and professional skills.
Ruzuku vs Thinkific: What is Thinkific?
The Thinkific online course platform was founded by Greg Smith and Matt Smith in 2012. It provides a platform that allows individuals and businesses to create, market, and sell online courses under the user's brand.
Available in 164 countries, Thinkific extends online learning by helping participants learn to play the guitar, fly a drone, or advanced digital marketing skills.
The Main Features of Ruzuku
Course Management
While you can change theme colors and font through Ruzuku, the options are slim compared to Thinkific's sleek interface. The color schemes are pre-set and Ruzuku recommends choosing a Modern color scheme since these templates are mobile optimized. Like Thinkific, there are several tutorials to get you up and running your first course.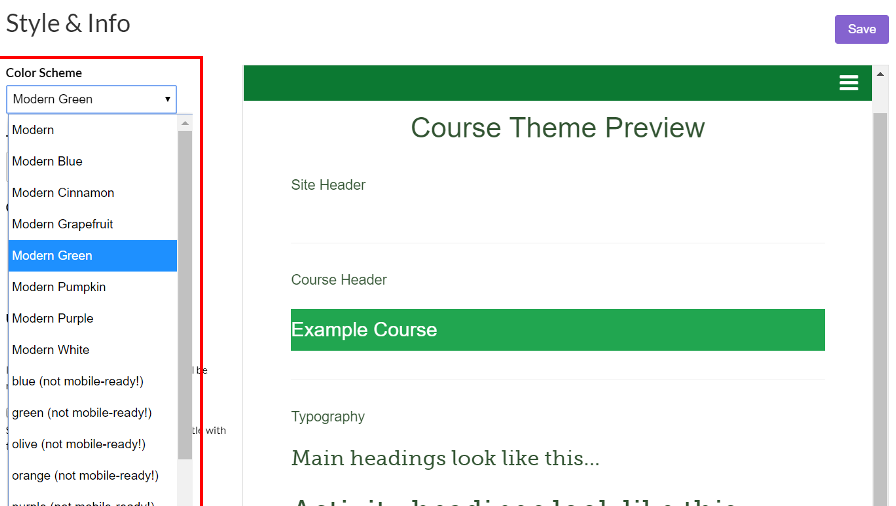 Ruzuku offers the following online course release options:
Open access (all content is given upfront, work at your own pace)
Scheduled (lessons are available on selected calendar dates)
On-demand (drip content, used for people who sign up at different times, the start date is fluid)
Online Course Platform Payment Options
Ruzuku integrates with PayPal and Stripe for online course payments. Easily accept funds from students from around the globe.
Audio, Video, and Hosting
Ruzuku only accepts audio files in mp3 format. Since mp3 is the most accepted format, this shouldn't be an issue when adding them to your online courses. The platform even optimizes the audio for you so it's easily accessible by students in a web or mobile format.
All videos uploaded should be less than 2 GB. Please note that Ruzuku only supports standard-definition (SD) quality at this time. This may affect the quality (compared to your original) but it will stream better for all connections.
To use a custom domain on Ruzuku, you will have to invest in the University Plan ($199 per month). This is disappointing since this same feature is available with Thinkific's Basic plan ($49 per month).
Participant Engagement and Tracking
Ruzuku provides superior participant tracking. You can view reports for the course as a whole or one of the lessons within your course. Reports are also available for video viewing and participant contributions to the online community.
These advanced stats are particularly helpful in identifying pain points within your online course and providing students an overall better engagement experience.
Course Platform Webinars
With the Up-and-Comer tier ($149 per month), Ruzuku features a built-in webinar and teleconference webinar capabilities. This is an advantage over Thinkific since it is integrated within the platform. Participants won't have to worry about dealing with a third-party like Zoom or YouTube Live to connect.
100 live participant limit on video broadcasts
200 live participant limit on teleconferences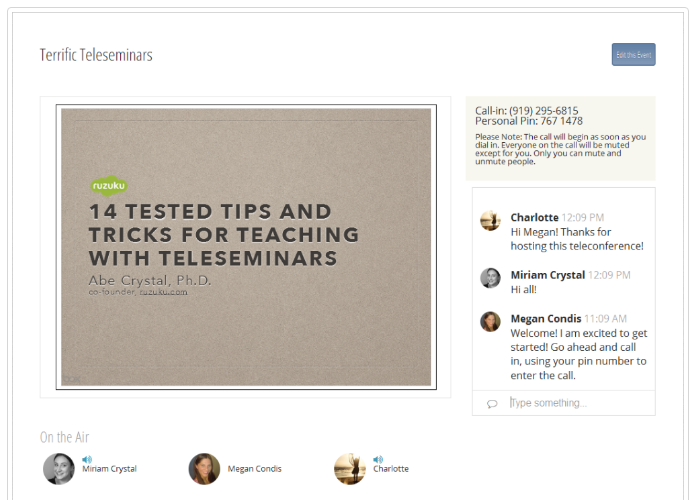 Course Platform Affiliate Program
Ruzuku has a generous affiliate plan for telling your friends and family about the platform (great marketing tools). You will receive:
If the person you refer signs up for a free or monthly plan, Ruzuku will keep the affiliate link on file for 90 days. If they convert to an annual plan within 90 days, you will still get credit (50%) of the sale.
Commissions are paid quarterly. For example, if you had sales during Q3 (July, August, September), you would be paid in early October.
Learn more about Ruzuku in my full review!
The Main Features of Thinkific Course Platform
Course Management
If you are unsure how to logically create an online course (course creation), Thinkific's templates are there to help. Choose from assembled lesson sets or a blank template (both can be fully customized). After testing content, you can also add, delete, or rearrange content in your course to make it easier to follow or keep the lessons current.
The platform also has easy to follow video tutorials for adding lessons within your course, adding SEO, and updating your landing page. You can also add a drip schedule if you would like to offer portions of your course over time, generate a free preview to get new participants excited about your course and customize welcome emails.
Just like Ruzuku, Thinkific offers the following online course release options:
Open access (all content is given upfront, work at your own pace)
Scheduled (lessons are available on selected calendar dates)
On-demand (drip content, used for people who sign up at different times, the start date is fluid)

Payment Options
Accept payments for your courses with PayPal and Stripe. Although both support one-time payment options, Stripe is more versatile of the two, accepting recurring subscription payments.
Audio, Video, and Hosting
With only a few clicks you can add an audio lesson to any of your courses on Thinkific. Accepted audio files include aac, mp2, mp3, mpga, ogg, wav, m4a. The platform recommends mp3 as it is the file type accepted across web browsers.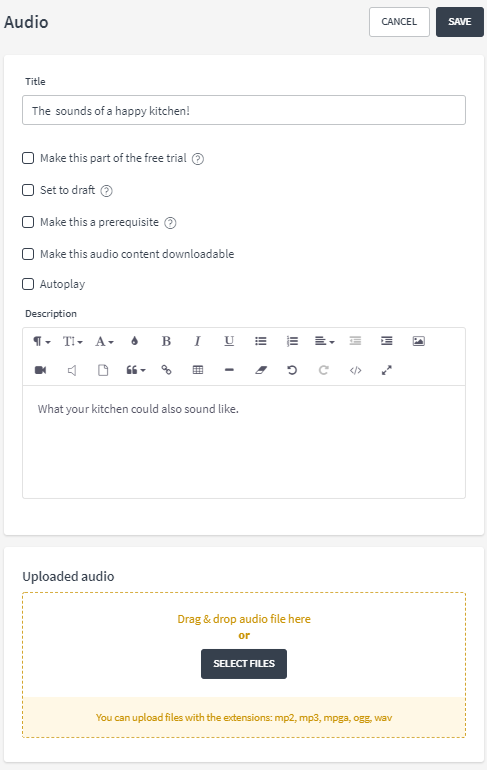 Thinkific offers unlimited video hosting on all plans. However, they recommend compressing videos to ensure they are under the 2GB limit. Videos must be created outside the platform and uploaded via your desktop or cloud services like Dropbox or Google Drive.
You can set up a custom domain with Thinkific. This will remove the platform's branding from your URL and give your course a professional feel. Free sites will be given a domain that looks like this: yoursite.thinkific.com. Paid plans have the option of a custom domain (purchased from a domain host) for a URL that resembles www.yoursite.com or courses.yoursite.com.
Participant Engagement and Tracking
Thinkific offers several engagement opportunities to make your students feel valued. You can send them a welcome email within the platform, create a one-on-one Zoom or live stream, and facilitate an online discussion forum for students to interact with one another regarding the course material.
Course creators can view his students' progress through percentage reports. Easily see if there is a pain point within the course that is keeping students from finishing or gauge how quickly students are finishing the entire course.
Conversely, students can also view their progress within the course so they know how much or how little is left before completion.
Webinars
To make your course stand out, Thinkific offers live video streaming and webinars. This is great for face-to-face time with students, players, or employees.
The platform has direct integration with Live Lessons with Zoom. Seamlessly link Zoom with your online course for added value and relationship building.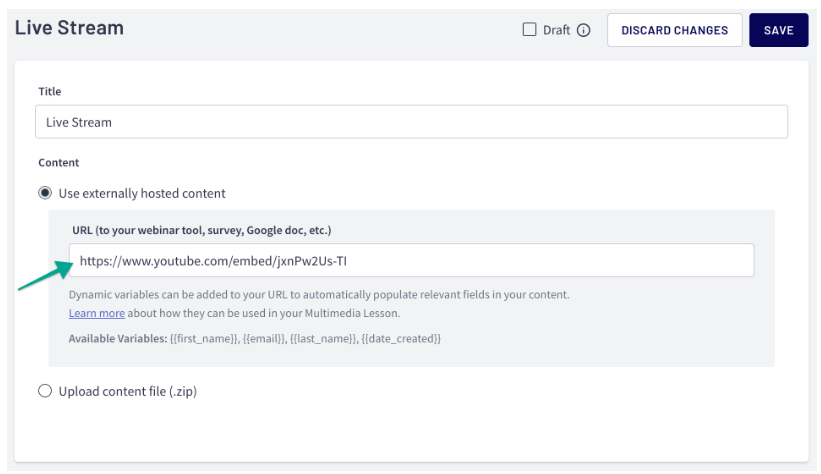 If you are not a fan of Zoom. You can also integrate live streamings into your Multimedia lessons with platforms like YouTube Live and Live Stream. You can always preview your course as a student to make sure webinars or live streaming is working correctly before you publish your online course.
Affiliate Program
Thinkific offers an affiliate program through PartnerStack. After approval (2-3 days), you will be able to use your unique referral link. Keep in mind this link is a different program than the "free month" link within your paid account.
With PartnerStack you will earn the following commissions:
20% recurring commission on all monthly or annual paid plans for as long as the subscriber is a paying customer
Access to exclusive Thinkific promotional and creative material
90-day cookie tracking (If someone visits the Thinkific site but doesn't sign up right away, you will be credited if they return and purchase a paid plan within the next 90 days).
Learn more about Thinkific in my full review!
Ruzuku vs Thinkific – Pricing
Ruzuku
Ruzuku offers a 14-day free trial, no credit card required. Unlike most free trials, Ruzuku allows you to create a course, launch it, and generate funds. If it meets your needs, they encourage you to sign up for a subscription plan.
If it's not what you were looking for, Ruzuku offers a 100% money-back guarantee, no questions asked. Plus, even if you decide to part ways, the platform will save any uploaded courses in their database in case you need them later.
Paid plans have three tiers, Bootstrapper, Up-and-Comer, and University. All plans are billed monthly or annually. Annual plans receive a discount (Bootstrapper $74.75, Up-and-Comer $83.08, and University starting at $125).
Bootstrapper Plan for Course Creation
$99 per month
Single Instructor
Unlimited courses
Unlimited students
Unlimited video, audio, and data hosting
0% transaction fees
Your customers pay you directly
Accept payments via Paypal or Stripe
Basic commerce with coupons
Comprehensive support
Up-and-Comer
$149 per month
Bootstrapper features plus:
Unlimited webinars
Polls and quizzes
Subscriptions & payment plans
University
Starting at $199 per month
Up-and-Comer features plus:
Your custom domain
Multiple Instructors
Multiple Site Managers
Dedicated Account Manager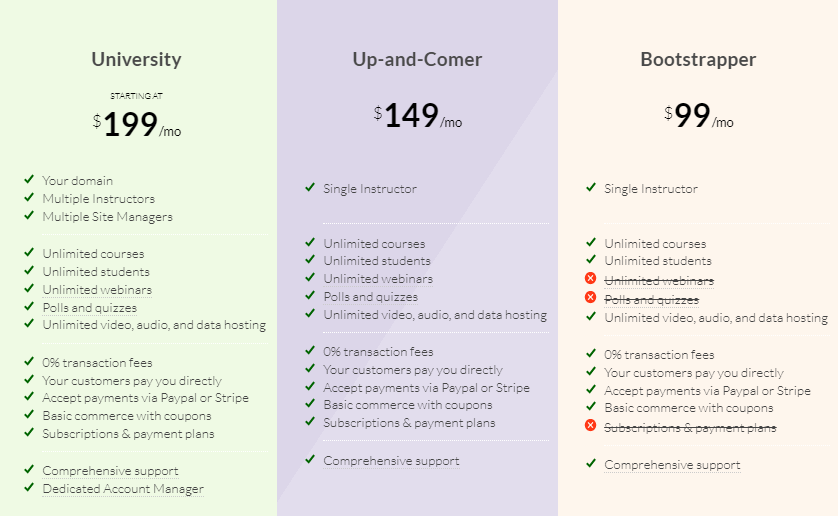 All plans include the following features:
Unlimited students
Unlimited courses (great if you like to experiment with lots of offers)
Unlimited audio and video uploads (go crazy!)
Unlimited data storage (why limit your creativity?)
Comprehensive and friendly support for you and your students
Dedicated, lightning-fast servers (so your course pages load in a snap)
Global Content Delivery Network (teach students anywhere in the world)
Daily backups of your course data (so you can relax)
Bank-level security for you and your students
Integrated eCommerce with PayPal and Stripe
Thinkific
Thinkific offers a Free plan with limited features for course creation, no credit card required. You can also receive 30-day free access to the Pro plan if you want to try out premium features.
Paid plans have four tiers, Basic, Pro, Premiere, and Plus. All plans are billed monthly or annually. Annual plans receive a discount (Basic $39, Pro $79, Premiere $399, and Plus call for pricing). All paid plans come with a 30-day satisfaction guarantee.
Free plan
$0 per month
Instant access to your funds
Student notifications
Full e-Commerce
Upsell offers
Easy drag and drop Course Builder
Discussion forums
Build out your entire website
Secure cloud hosting
Multiple instructor profiles
Choose your site language
Easy, built-in SSL certificates
Email and phone support
3 Courses
Unlimited students
Quizzes & surveys
Content hosting
Instant access to your funds
Basic
$49 per month
Free features plus:
Unlimited courses & students
Coupons
Email students
Drip (scheduled) content
Affiliate reporting
Custom domain
Email integrations
Zapier triggers
Manual student enrollment & exports
Pro
$99 per month
Basic features plus:
Unlimited courses & students
2 Site admin accounts
5 Course admins/authors
Private & hidden courses
Advanced course pricing options
Memberships and bundles
Certificates
Advanced Customization
Priority Support
Assignments
Communities
Live Lessons with Zoom
Premier
$499 per month
Pro features plus:
Unlimited courses & students
5 Site admin accounts
15 Group Analysts
50 Course admins/authors
Single sign-on (SSO)
Onboarding package
Unlimited Growth Package
Thinkific Plus
Call for pricing
Custom features for high volume/large companies
There is also a Thinkific Growth Package that helps scale the Pro plan. The cost is based on the number of students.
Ruzuku vs Thinkific – Support
Ruzuku
Ruzuku provides email and phone support, however, they strongly recommend using email support. Emails are answered within 24 business hours.
The platform provides limited phone support hours. You will need to book a call with their online calendar.
Thinkific
Thinkific provides an online form for support requests. The platform also provides a live webinar, video demos, documentation, and community support. You can even hire a Thinkific expert to help you get up and running faster or advance your business.
Ruzuku vs Thinkific – Pros and Cons
Ruzuku
Pros
No transaction fees (processing fees still apply)
Unlimited students
Unlimited courses
Copy course to run A/B tests or save time creating similar courses
Multiple charge options (single payment, plan, or subscription)
Send students the whole course or one lesson at a time
Affiliate tie-in
Analytics for both single and multi-student
Students can set up a custom profile
Engaged discussion forums
Discount coupons
PayPal and Stripe support
Cons
Webinars have a limit on the number of students
Customer support is only available via email
Lack of payment options
Not enough customization options
Thinkific
Pros
Free plan
All-in-one e-learning software that combines course management, marketing, hosting, payments, and student analytics
Drag and drop website construction, no coding skills required
Embed resources of multiple types
Link course to your domain
Voice over tool
Wide variety of course payment options
Cons
More expensive than similar competitors
No marketplace to market your online courses
Only email support available
No integrated email marketing (all third-party options)
Ruzuku vs Thinkific – Which One is Best?
While both Ruzuku vs. Thinkific looks similar in packaging, their few differences could easily sway a potential online course creator.
Ruzuku offers detailed reporting to help you build marketing skills, integrated webinars, and doesn't place your course in an online marketplace.
Thinkific features a Free plan, a Basic plan that for $49 monthly will let you host your course on a custom domain, a Zoom integration, and an Enterprise plan to personalize scaling your business.
Even with Ruzuku's pros, we still prefer Thinkific for its overall value, sleek interface, and marketplace to help take marketing off your plate.
Further Reading on Premium Course Builders & LMS Platform Options: