Last Updated on April 2, 2022 by DMEditor
SocialPilot vs Hootsuite, two major social media scheduling tools out there but which one is better for your business? Social media has completely revolutionized modern life, dictating how you access your morning news or how you interact with those your friends and family.
Bottom Line Up Front: I personally much profile the additional features and profile capacity offered by SocialPilot here. Hootsuite works fine for small publishers, but SocialPilot scales better and actually automates more of the process.
Social media is powerful, and cannot be avoided because today, it is everywhere. With social media platforms becoming the platforms with the freshest content, they do attract a massive number of users.
There are now over 3.2 billion active social media users today, which is equivalent to 42% of the world's population. This, therefore, implies that social media holds the key to the success of your business's marketing strategy.
Without a strong social media presence, your brand cannot become the industry leader inherent in it. A properly managed social media presence will engage with your customers and even attract potential customers to your business, blog, or website.
Each social media platform, however, has its own unique personality and interacts with its users differently when compared to other platforms. If you have multiple accounts, each with their own unique set of needs, then managing them all properly could become a problem. Social media management is generally taxing and often very overwhelming.
Nevertheless, with the proper tools at hand, it is possible to make the best use of social media platforms for the sake of your brand. These tools will assist you to not only create fantastic content but to repurpose your content when necessary. With them, you will also stay informed of the most efficient ways you can engage with your community online.
These tools have in-depth posting schedules and platform management tools. SocialPilot and Hootsuite are both top of the range of social media management tools that you can turn to for support. Below is an in-depth look at each of them.
Main Differences Between SocialPilot and Hootsuite
The main differences between SocialPilot vs Hootsuite are:
SocialPilot allows bulk scheduling with images, whereas Hootsuite does not allow this with images
SocialPilot allows for custom Facebook branding, whereas Hootsuite does not
SocialPilot integrates with the Canva browser extension, whereas Hootsuite does not
SocialPilot allows up to 200 profiles, whereas Hootsuite is capped at 50 profiles per account
SocialPilot vs Hootsuite Overview
Social Pilot has over 85,000 professionals dependent on it for its time saving and efficiency-boosting features. It does support most significant networks, including Twitter, Facebook, Google My Business, Pinterest, LinkedIn, VK, Tumblr, and Instagram. It, however, does not support YouTube, which is a letdown since video posts are becoming popular with the day.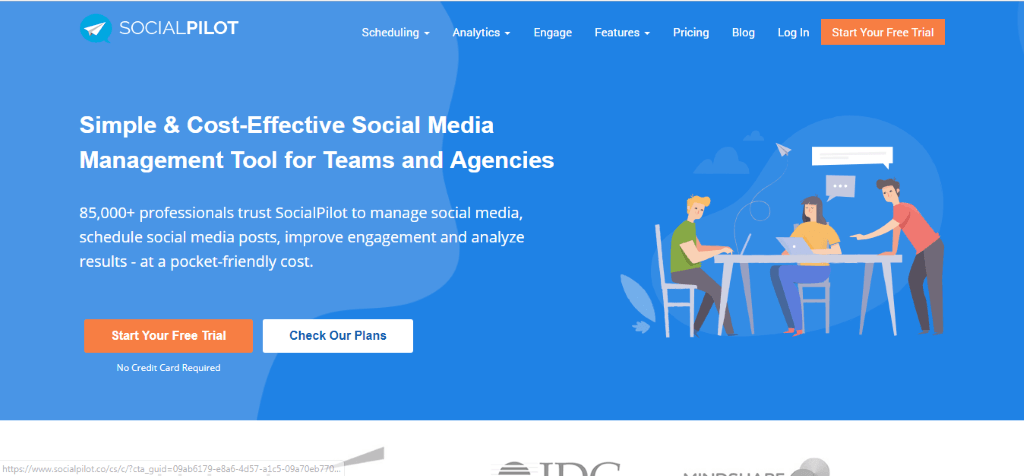 Social Pilot is cloud-based and therefore has no browser extensions or downloads installations that could make your computer system lag. The platform has a very friendly and easy to use interface designed for the beginner and small business owner in mind.
Some of its features, such as its account management across teams, are geared towards the marketing professionals. Most of its tools, nevertheless, can make it very easy for you to promote your blog or website. It has a scheduling calendar also that will help you to set up your own strategy. There is analytics also that will help you monitor your social media marketing's strategy. You can access metrics such as click-throughs and audience demographics, as well as content suggestions.
SocialPilot vs Hootsuite Features
Social Media management
If for instance, you have multiple social media accounts, managing all of them at a go can be very time-consuming. Nonetheless, choosing one over the other places you at a disadvantage because as mentioned, they are all unique, and each has its own set of followers. You, consequently, have to have your presence on all major platforms to capitalize on their benefits.
By logging on to your Social Pilot account, you can access all of your social media accounts in one intuitive platform. You can also link up to 200 profiles and send content unique to their users.
Bulk posts and schedules
With all of your accounts all under one roof, it then becomes easier to post and to update your accounts. If you have some stellar content waiting to be published, you can automatically share it on different platforms. Using the scheduling tool, you can post content at your preferred time, to ensure that your international audience has fresh content to keep them engaged during their social media peak hours.
It is actually possible to plan and schedule your posts in advance for weeks, months, a year or hours, which helps you to build a rock solid social media strategy. You, for instance, take advantage of this feature and stockpile content in your free time then schedule it to ensure that it drip feeds your social media accounts.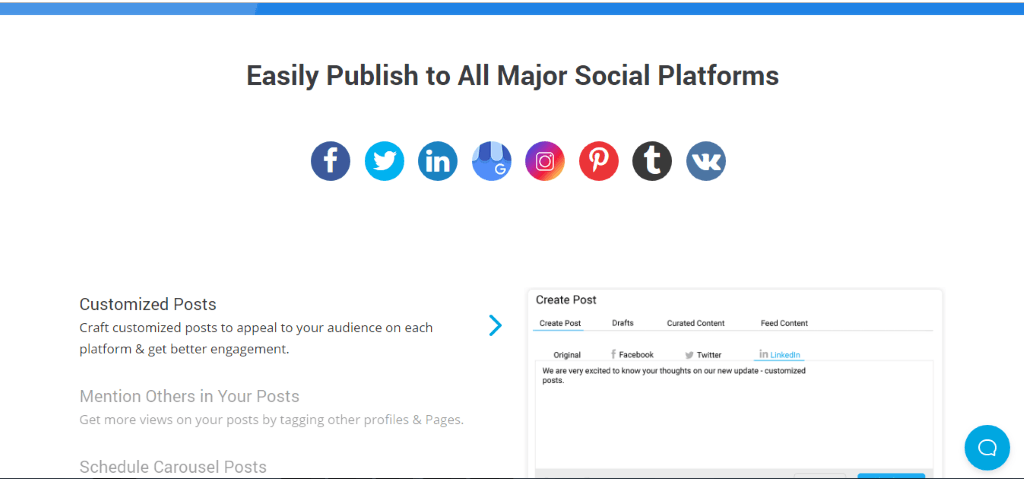 Social Media Analytics
Analytics of a marketing strategy is crucial because today, having large numbers of followers does not translate to gains in marketing. Therefore, you could spend a lot of time and money in your strategy only to reap very little from your efforts. Analytics, nevertheless, can give you the statistics you need to keep you informed on your gains as well as losses, which will help you tailor an advanced winning strategy.
SocialPilot's analytics tools will comb through every social media platform you have. All you need is to refine analysis metrics such as timeframe or account. The data you receive from the analytics feature will highlight the number of people who have viewed and engaged with your posts in different ways. The SocialPilot Reporting feature produces stats that can be presented to a board, affiliates, or partners, but it only gives reports for Pinterest, LinkedIn, Twitter, and Facebook.
Content creation
One of the hardest tasks anyone has when it comes to social media platform management is the creation of fresh content. Attention spans are decreasing by the day, so your content has to be engaging and fresh to stay popular. SocialPilot has tools that will help to create this content. All you need to do is to pick a topic, and the social media management tool will do the rest.
It will find content that you can repost, share, or comment on, and all you have to is to narrow the suggestions. If you love RSS feeds, you can also add them to your platforms using SocialPilot to feed the content of your account unique to it. Twitter, for instance, caters to users that love news while Instagram is more into images. To enable you to create the right content set in the right tone is hard, but SocialPilot's unique tools are perfect for the job.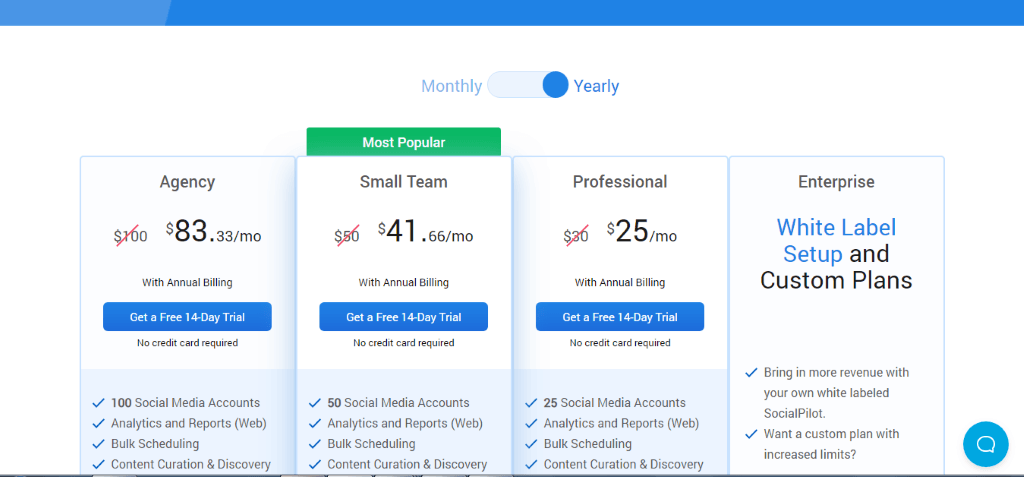 Hootsuite
Hootsuite has been in existence for over a decade, and its robust social media management features have kept its reputation as a top-notch content management platform. It is especially crucial for account managers or business owners with multiple accounts. All you need to do is log into your HootSuite account and manage them from one convenient platform.
Hootsuite has over 10 million users in over 175 countries and while they are headquartered in Vancouver Canada, they also have branches in within other countries. Hootsuite, therefore, supports each of the language of the country that they have an office in.
Hootsuite has a free one month trial and can help you to manage your Facebook, Twitter, LinkedIn, YouTube, Google +, and Instagram accounts. Like SocialPilot, it is also cloud-based and has other useful integrations with useful platforms such as MailChimp and Flickr.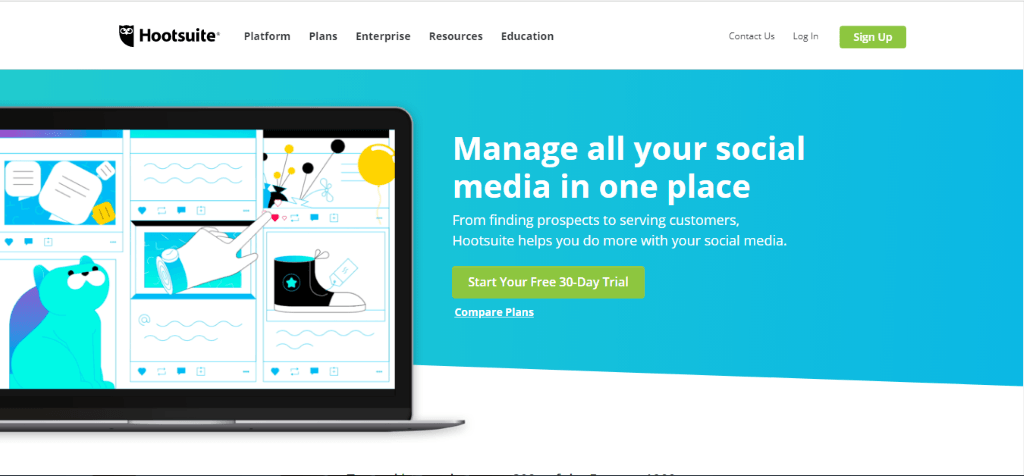 HootSuite's Features
Automated content scheduling
With Hootsuite by your side, there will be no longer any need for the manual posting of content on your social media platforms. Schedule all your content using its content scheduler and the platform will post content across you specified platforms at the specified time.
This saves a lot of time if you have many social media accounts that require fresh content. Hootsuite also will distribute the content to ensure that every post sent has enough viewer engagement time. This will ensure consistency in posting across your platforms.
Once your content is scheduled according to time, account as well as character count, Hootsuite will keep you informed if there is a problem with the scheduling plan or if there is an issue with your account. If for instance one of your social media accounts disconnects and requires you to authenticate the login credentials, the software will send you an email on the same so that you reconnect your account back and ensure the content scheduling goes on undisturbed. If content also fails to publish, the platform will send you a notification with all the details you require to fix the problem.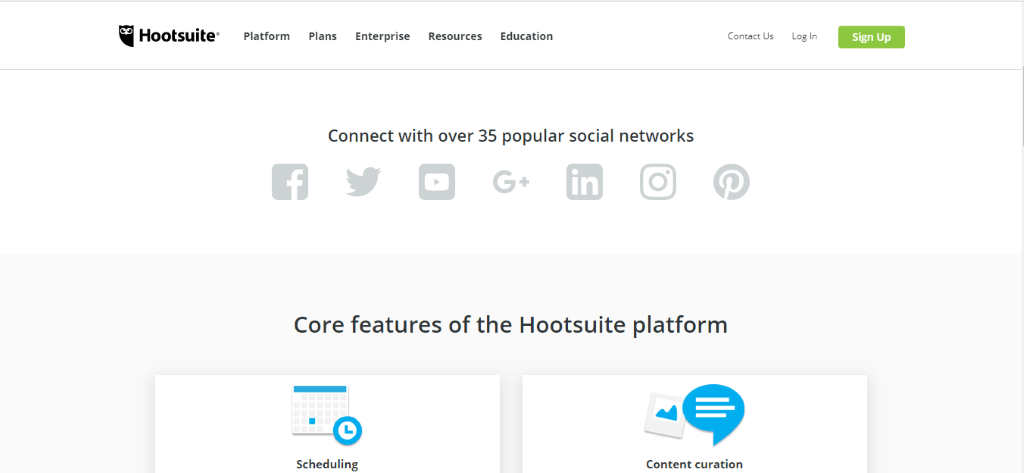 The most productive social media accounts also share the most engaging and exciting content with their audience. Sometimes though engagement goes beyond sharing content to just being 'social.' To ensure that your account has its social metrics working for it, Hootsuite first helps in the aggregation of relevant content that can be utilized in the future to keep the audience happy and engaged.
Hootsuite also has an activity dashboard that highlights 'streams.' Each stream on your dashboard shows information that is most engaging for your social media marketing strategy. However, to stay social, you can also engage with your posts or tweets directly from these streams. This will ensure that you react to your audience fast and respond where it is required. Doing this from one interface without the need for hopping from one account to the other can solidify your social media presence and its strategy.
Analytics
Hootsuite also tracks and provides social media analytics to help you further enhance your strategy. Its dashboard will provide an aggregate of all your social media KPIs on one dashboard. Therefore, if for instance, you are trying to figure out which content works best and which strategy needs some tweaking, the HootSuite analytics will be of great assistance. Without these metrics, you will spend a lot of fruitless time and efforts building strategies that cannot be put to the test.
The alternative, of course, is to scroll through each of your accounts post and verify manually which posts or tweet works best, but the automation prowess of HootSuite's analytics is a much simpler method if you especially have multiple accounts. The analytics reports are also accessible either in PDF, CSV, or PowerPoint format.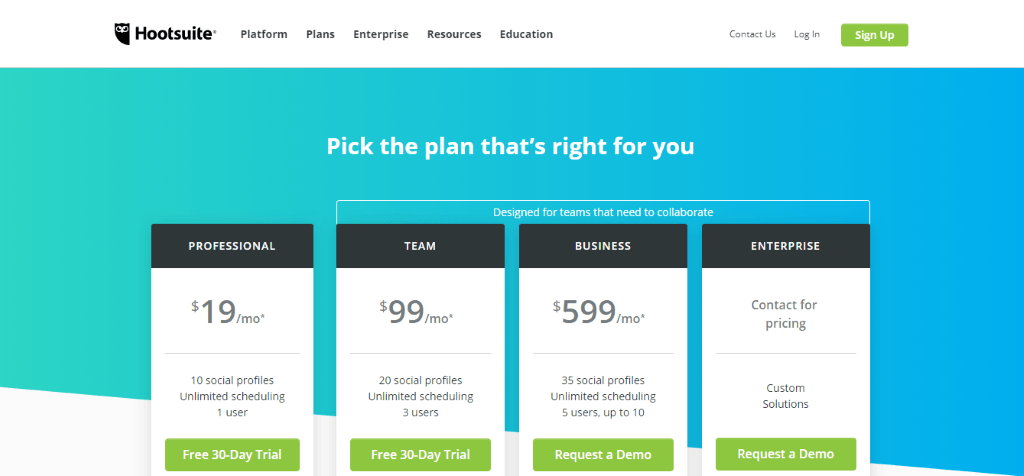 SocialPilot vs Hootsuite: The Verdict
Hootsuite has a limited free plan that can be used to manage up to three social media profiles. Its Scheduler allows up to 30 posts, and you can enjoy your platform's lead generation with social contents tool too at no extra cost.
SocialPilot does not a free plan but has a cheaper individual plan that connects up to five accounts. You can also publish a maximum of 50 posts on it and enjoy the platform's content curation capabilities. Hootsuite's free plan, still, has basic social media analytics availed, which will assist you in tracking your followers and keeping in touch with other content-based statistics. The Hootsuite free plan also allows for two RSS feeds of your preference into your social media accounts, which makes it not too shabby an offer.
Hootsuite's premium accounts definitely have more effective tools, and they are more affordable than SocialPilot's. Its Professional account costs $19 each month and allows for up to 10 social media profiles. You can also use the account's scheduling tools without any limitations, but the account is limited to a single user, which is perfect for small businesses. The account just like all HootSuite accounts has a one month trial, which means you can try it out if you like the free version.
SocialPilot's Professional account, on the other hand, costs a monthly $25 for its annual plan but allows for 25 accounts. It can handle at least 3 users and has bulk scheduling, RSS feeds, 24-hour support five days of the work, content curation and report and analytics as well. Where price is a deciding factor, HootSuite definitely takes the cup thanks to its free plan and 30 day trial for all its accounts.
Hootsuite also integrates with not only YouTube but Instagram and Pinterest as well, while Social Pilot does not integrate with YouTube. This could be a deal breaker for social media managers that run accounts heavily invested in video posts. Using this metric, therefore, HootSuite takes the cup. Both platforms basically have features that are common to each other, but when it comes to packages, SocialPilot allows for the management of a more significant number of accounts than Hootsuite does. Consequently, SocialPilot could be more useful for large teams that run many social media accounts simultaneously.
Bottom Line: I personally much profile the additional features and profile capacity offered by SocialPilot here. Hootsuite works fine for small publishers, but SocialPilot scales better and actually automates more of the process.
Here are some other related articles you may be interested in: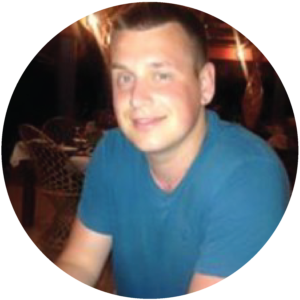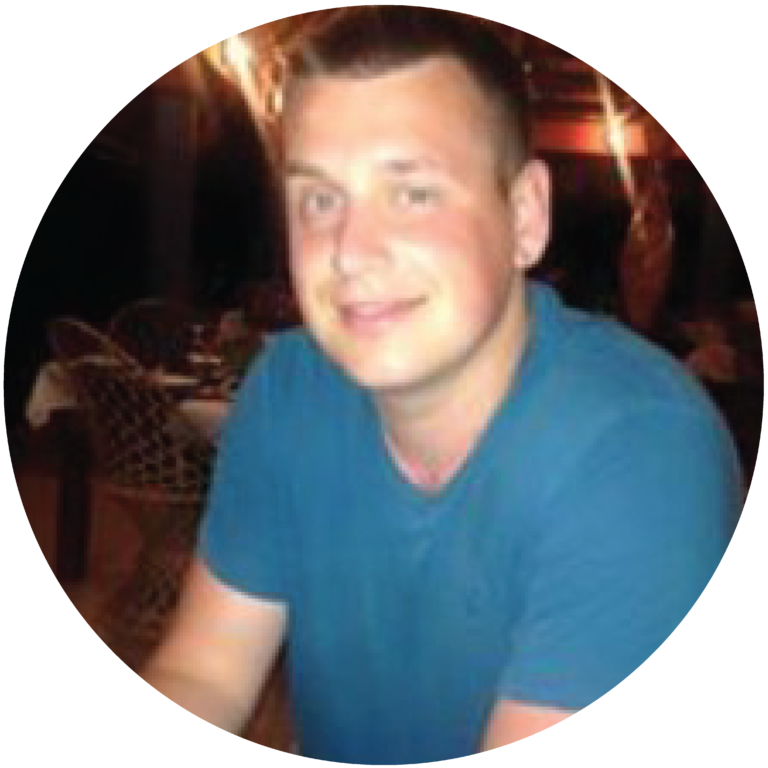 Latest posts by Ewen Finser
(see all)
Get 40% OFF for 3 Months