Last Updated on June 1, 2023 by Ewen Finser
In this review, we'll look at Canva vs Stencil to help you decide which of these services (if at all) fit your needs best.
If you're running a business, hosting corporate events, or trying to build a following online, you need to stand out from the crowd and present yourself professionally. And, one surefire way of achieving this is using eye-catching, professional, and well-designed graphics.
Whether they're to accompany your online content or to plaster on your flyers, they're essential.
Bottom Line Up Front Summary: We would recommend Canva to businesses requiring graphic design as part of their workflow, want to collaborate, and/or use printed material for marketing. Whereas, Stencil is best for social media influencers who want to streamline their design process.
Main Differences Between Canva and Stencil
The main differences between Canva vs Stencil are:
Canva has a direct sharing option on many social media platforms, whereas Stencil has the "Colour Picker" option, to save your colors
Canva comes with a photo editor section and a graph editor, whereas Stencil offers a wider range of image sizes
Canva has a better Free Version, whereas Stencil can be plugged in with WordPress
Canva comes with more options for creating printed material, whereas Stencil is great to come with new material fast
You don't need us to tell you that good graphics immediately elevate your site! But…the only problem is, creating new designs all the time takes up precious time and energy that's often in short reserve.
Alternatively, if you're hiring a designer to help, this also has its drawbacks. It can be a financial drain – especially for small companies and entrepreneurs who are just starting out, as more often than not, funds are in short supply!
This is where graphic design tools like Canva and Stencil come into their own. These platforms allow you to create designs for almost any occasion by editing professional-looking pre made templates using their intuitive editors. As such, they're an excellent option for anyone wanting to save money and time while they create tons of graphics!
Let's dive straight in!
Why Use an Online Design Tool?
Before we dive into reviewing these two market-leading graphic design tools, let's take a look at who might benefit from a service like this. And while we're at it, we'll also explain how you can use professional designs to boost your business.
Here are just a few examples of the kinds of designs both Canva and Stencil can help you create:
Social media banners
Event posters
Brochures and flyers
Graphs
Infographics (including infographic templates)
Business cards
Just to name a few!
Small businesses might choose an online design platform like Canva or Stencil when their design needs aren't central to their business…but, they still need professional-looking graphics to brand and market themselves.
For instance, a freelance writer, generally speaking, doesn't need to hire an entire design team. However, they'll still need clean-looking graphics for their website, business cards, social media banners, etc. In this case, a platform like Canva or Stencil is just the ticket.
But having said that, it's not just the 'small potatoes' who can make use out of these solutions – even professional designers and agencies can benefit from them.
How? They can complete their more straightforward jobs using their intuitive editors. At times, this is way less complicated than using fancy design software or instructing a professional designer. On the whole, these programs work fine for run-of-the-mill type jobs.
As we alluded to in the intro, the most significant benefit is how cost and time effective these tools are. You can continuously create high-quality, branded graphics in no time.
So with these perks in mind, let's take a look at the two companies.
A Bit About Canva Feature Offerings
Canva is utilized by millions of users worldwide and helps you design anything, anywhere. In 2019, its community created over two billion designs! Canva was also ranked #97 for global internet engagement by Alexa. Impressive, right?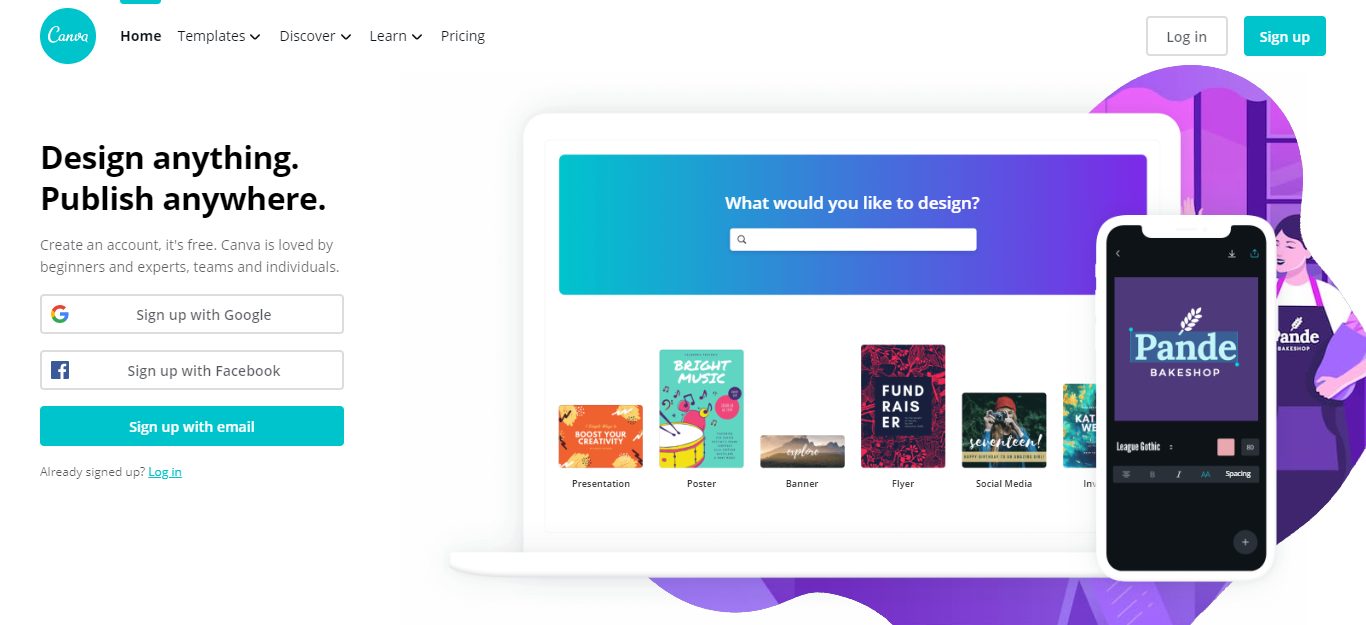 A Bit About Stencil Feature Propositions
Stencil started back in 2013 under the name "Share as Image." It was launched as the all-new Stencil in 2016. Since then, it's grown to boast over 200,000 users. Today they are definitely one of the top graphic design Canva alternatives on the market.
They've also released a WordPress Plugin for their software as well as various other internet browser extensions. Stencil's mission is to help you design images faster than ever so that you can enjoy quality results in a fraction of the time.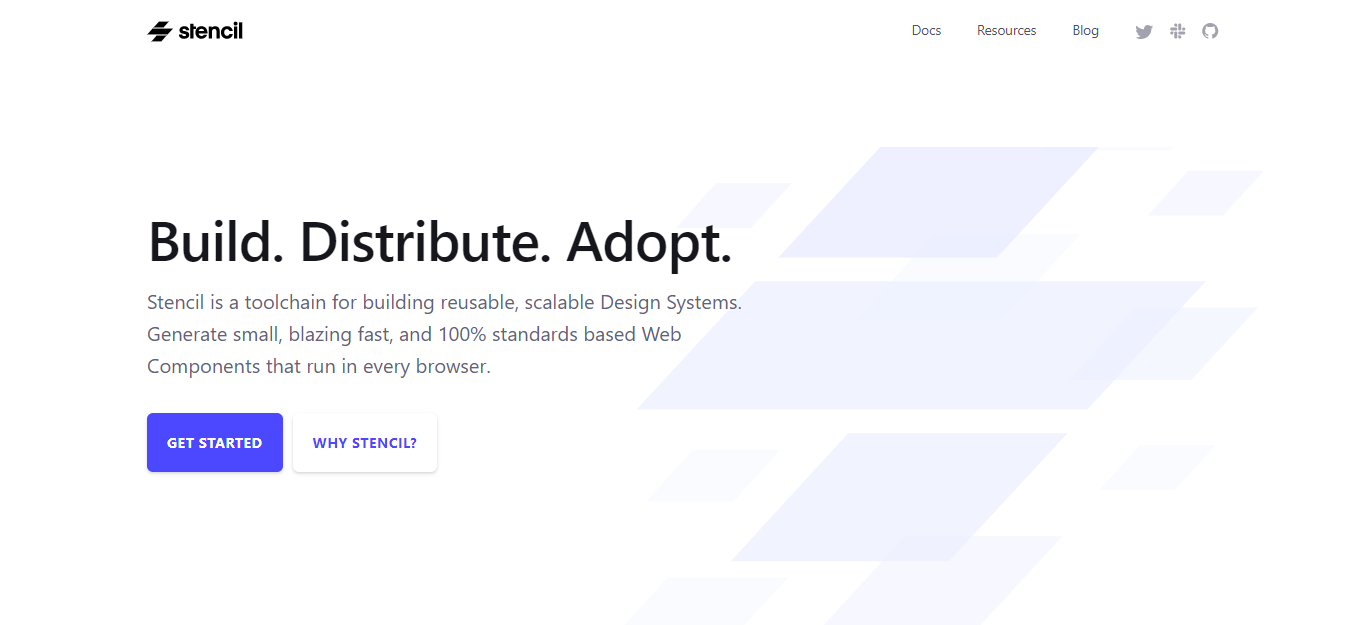 Canva vs Stencil: Feature Comparison
Canva and Stencil do similar things, so it's not surprising that the two tools have lots of features in common.
Let's start with Canva…
Canva
Canva's features are divided into three sections of graphic design.
First is their graph editor. Yes, you guessed it; this allows you to create graphs and infographics. These make for ideal visual aids if you're giving an important presentation. Or, they can be used to display stats in blog posts in a more engaging way.
Whatever you need graphs or infographics for, there are over 20 professional chart types to choose from. Data visualization is made user friendly, so you don't have to learn any complicated software. It's simple to embed your graphs and infographics quickly. Or, you can publish, share online, or download them to use at a later date. It's totally up to you.
Next is their Photo Editing tool. This kit includes features like a photo straightener, image cropper, and speech bubble editor. You can also add text to your photos and customize the font and style. Of course, there are also tools to adjust the contrast, brightness, and saturation of your images – which works wonders for making them pop. Or, there's also transparency tools to introduce gentle fades. You can even create blurs and vignettes and add frames or icons. Plus, you can create stickers and badges and add texture to photos directly inside Canva's editor.
Finally, Canva offers a print service so you can print the designs you create directly from their website. You can choose from thousands of templates and use their intuitive drag and drop editor to modify and customize them to suit your brand. Once you're happy, you can send them to Canva's printers and choose your desired quantity and finish.
To help you get a better feel for Canva's editor, we're going to explain some of the tabs you'll have access to:
Search: Here you can find the images, icons, and charts, you want to use
Layouts: Where you'll find tons of ready-to-use layouts for your image.
Text: Here's where you'll find text elements (pre-formatted styles like headings, subheadings, general writing, and text in images like speech balloons)
Background: If you're starting from scratch you can use one of the many background colors and images here
Uploads: Here you'll find any images you've uploaded to Canva
Zoom: This permits to make your working area larger or smaller
Page controls: If you have more than one page, use this to navigate, copy, or delete them.
Design: Here you edit the name of your design
Help: Click this icon to access Canva's searchable knowledge base while you're working on your design.
Get the idea?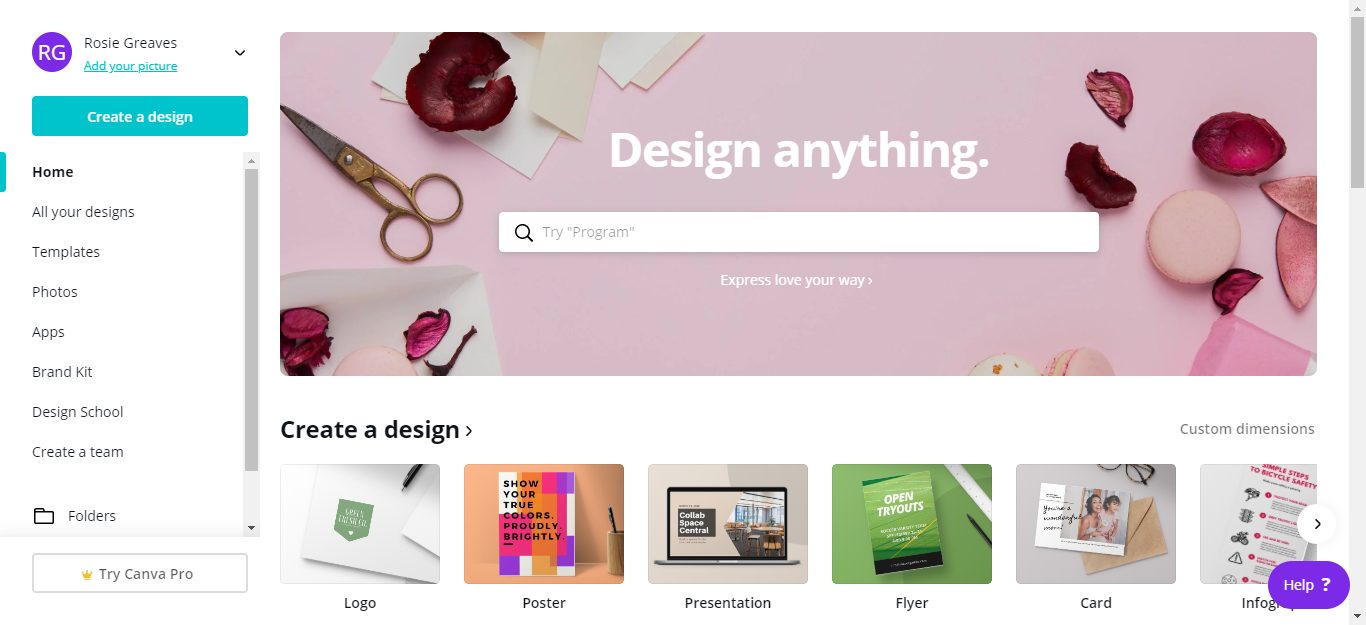 Stencil
Just like Canva, Stencil lets you create high-quality graphical content fast. Using its efficient set of features, you can create, edit, and customize images using pre made templates, from scratch, or via a picture or image from their extensive image library.
Stencil gives you access to over 2,200,00 stock images, all of which come under the Creative Commons License. So, you can legally use them for any of your personal and commercial projects. Their pictures are provided by Pixabay and Pexel, where each image is vetted to ensure they're safe to use.
There is over 60 size presets to choose from. This is a natural starting point for your design, as you can pick the dimensions best suited for your project. For instance, a specific social media banner. You can also create custom-sized templates.
Previewing and sharing images on social media platforms is made user-friendly and easy. In other words, Stencil is optimized to develop well-designed content for your digital marketing creatives… and fast. You can then schedule and plan your content via Stencil's Buffer integration.
Stencil also boasts nearly 3,000 google fonts, over 1,000 design templates, and thousands of icons and graphics. So, the customization options are seemingly endless!
Another nifty tool is Stencil's 'Colour Picker.' This allows you to choose both an accent and local colors straight from your selected photos and save them. While we're on the subject of 'saving,' you can keep a handy log of all your favorite design elements – colors, images, icons, fonts, etc. You can easily save these under your 'favorites,' so they're within constant reach.
Finally, Stencil comes with several extensions that make designing across the web easy. Most notably, their WordPress plugin and Chrome, Firefox, and Safari extensions.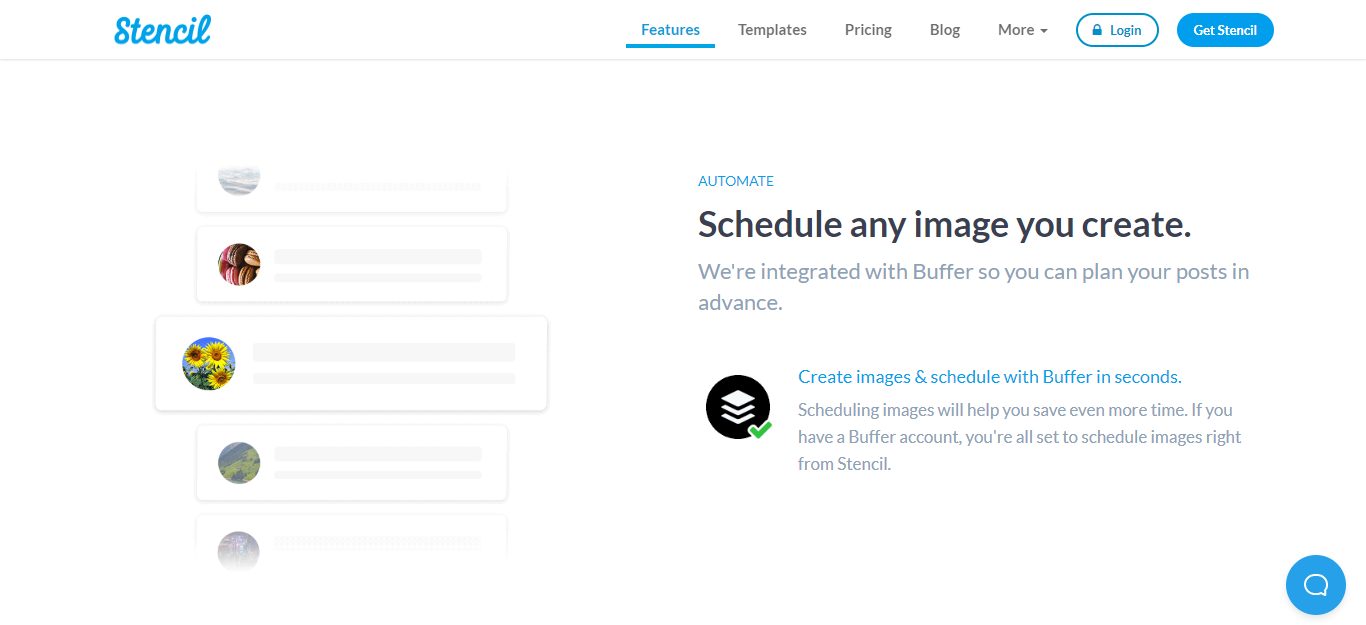 Image Templates
Both Stencil and Canva have an extensive library of design elements for you to work with. Neither seems more advanced than the other. With access to thousands of fonts, images, and icons, you should be easily able to create amazing graphics using either software.
On both of their websites, you can browse through their templates to get a feel for what they have to offer. But, their categories differ slightly.
Stencil focuses on categories revolving around audience impressions and social media. Categories at first glance include Social Media Image templates for Facebook, Instagram, and Pinterest (although no specific category for Twitter), as well as business and event themes like 'Holidays,' 'Celebration' or Fitness.'
Canva, on the other hand, divides their categories into print first and foremost. You can browse templates by flyers, brochures, resumes, cards, etc., that's, of course, in addition to online templates relating to social media, ebooks, web design, etc.
Canva vs Stencil Pricing Plan Comparison
Even on the pricing front, Canva and Stencil both offer excellent value for money with their monthly subscription plans. Better news still is that both tools offer free versions (free online tools). So, you can test out both of these design tools without risking any of your hard-earned cash.
Let's take a look at the pricing tiers for both…
Canva's 'Free Plan' is intended for individuals and small groups working on quick projects like a blog post or social media posts. You get access to over 8,000 templates, over 100 design types, and hundreds of thousands of free photos and graphics!
For free – that's incredible! But, you can't export gifs, and you only get one GB worth of storage.
Their Canva Pro Plan is $9.95 a month, which is best for those needing a little more customization and flexibility. You get one brand kit to help you create your brand's icons, logos, colors, and fonts. This works wonders for ensuring all your visuals remain consistent in style. You also unlock over 60,000 templates, a one-click resize tool, custom templates, and you can upload your own fonts and logos. Plus, storage increases to 100GB. Not bad, right?
Last but not least, Canva's Enterprise version is $31 a month, which lets you establish multiple brand kits. You also get access to controls that allow you to decide which team members get access to what. There are also built-in workflows that allow for a quicker approval process within your workforce. Plus, you can lock designs from being edited by your other graphic designer staff. Not to mention, you also gain unlimited storage and 24/7 enterprise support. Needless to say, this plan is intended for larger teams that need more control over their brands and workflows.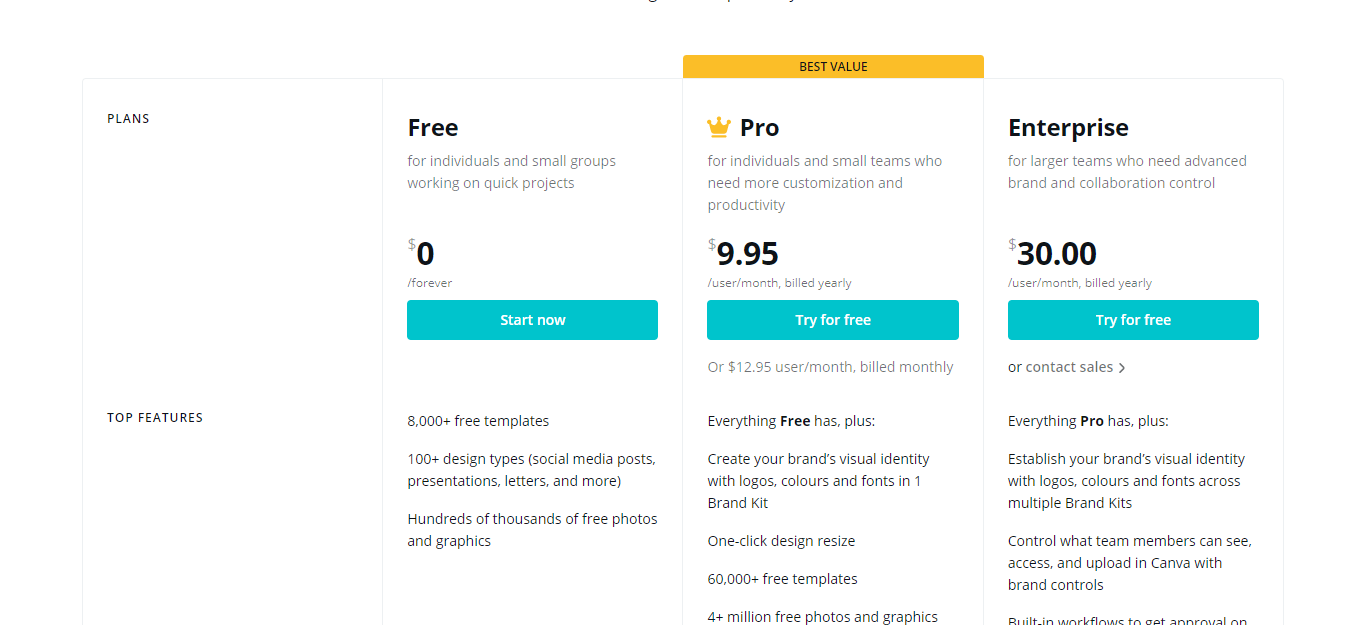 Stencil's Free Plan allows you to save up to 10 images a month. You gain access to a limited number of icons and graphics, can create up to 10 collections and favorites, upload up to 50 images, and send you can send 10 photos to Instagram / SMS per month.
Their Pro Plan for $9 a month, allows you to save up to 50 images per month, access to their extensive photo library, over 1,000 templates, and you can add your logo and watermarks. You can upload up to 250 images, create up to 25 collections, and keep up to 100 favorites. This plan also lets you send 25 Instagram posts/ SMS per month.
The Unlimited Plan for $12 a month is just that: Unlimited Plan! You get as many images saves, uploads, collections, and favorites as you want! You are, however, limited to 100 Instagram/SMS a month.
All of these paid-for plans include a 7-day money-back guarantee so you can try them out without too much risk.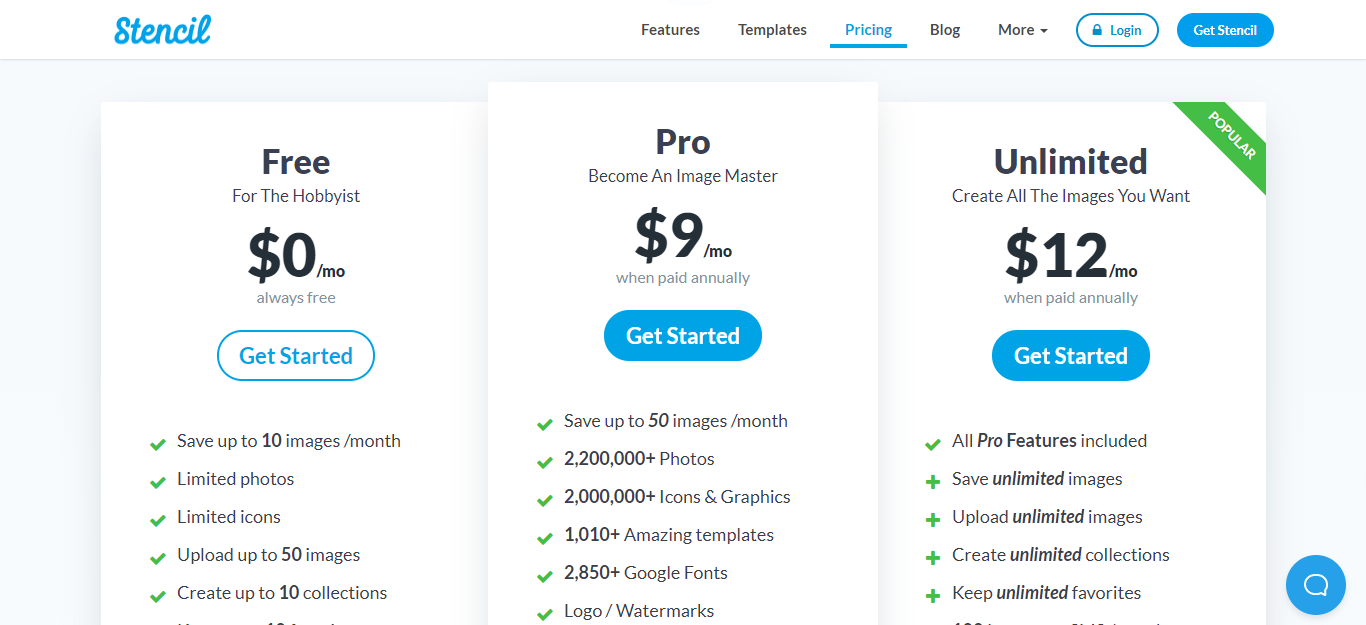 Recapping the Pricing
Both Stencil and Canva are great value for money and affordable for both individuals and teams. The free plan is limited for anyone who wants to create a more significant number of designs in both cases. But, it's safe to say Canva's free plan is far superior!
Stencil is more of a number's game where pricing is involved. Upgrading mostly provides access to a higher number of images. It doesn't seem to cater as much to the growing needs of your business.
As such, we'd assign victory to Canva on the pricing front: Canva adjusts to the needs of your brand and improves its functionality for a small increase in price. As we've seen, its Enterprise plan is meant for larger teams, and Stencil doesn't offer anything that compares with this package.
Stencil's pricing stays low throughout all its plans, but is intended more for individuals than teams – so it all comes down to what you're using these design solutions for.
Ease of Use
Both Stencil and Canva have an easy-to-use drag and drop editor where you can create and edit your graphics. You simply choose a category like images, text, icons, fonts, etc., select the asset you want, and start modifying them. Both software also has color wheels that make it easy for you to pick the exact color you're after. Also, both programs come with apps, which makes graphic design while you're on the run that bit easier!
Let's Review – Canva vs Stencil: Which Suits You Best?
By now, you've probably noticed that Canva and Stencil are similar in many regards when it comes to graphics for visual content and photo editing. They both have free versions and online apps you can use, so you have nothing to lose by giving both a go and seeing which your favorite is.
The benefits of both are clear: Extensive stock image libraries, intuitive editors, affordable pricing, and a boost in productivity where designing high-quality images is concerned.
So who do these two tools cater to? This is where we feel Canva and Stencil differ the most:
Canva markets itself to sole traders, businesses, and even larger enterprises. They focus their efforts on both print and online presentations, which is backed up by their in-house printing service and specific graph editor (Canva for Work). Think: Facebook ads, infographic maker, photoshop replacement graphic design software (Photoshop alternative).
Their pricing tiers also allow you to register more team members and provide you with more collaboration workflows and tools. This makes Canva an excellent solution for agencies as well as individual business owners. You have everything you need to design your online marketing and printed materials, as well as spruce up your presentations and pitches. Canva also offers enterprise support for those on a higher pricing tier.
Whereas, Stencil is aimed entirely at individuals and considers itself to be more of a productivity tool. It's all about creating good quality images fast. As a result, they've trimmed away lots of additional features that weren't as necessary for this specific mission. As a result, it has less to offer than Canva in terms of straight-up features.
Stencil's targeted primarily at social media content (think Instagram stories, social media graphics, and social media images). If you regularly upload content to social media platforms, Stencil is a great tool for optimizing these kinds of designs.
Stencil's pricing plans simply upgrade how much content you can publish and save in a month, so higher tiers are especially attractive for busier social media influencers. The tool doesn't, however, cater to businesses in great detail, and is less focused on the creation of traditional presentations and printed marketing materials.
With all this in mind, you should decide which software best suits your needs. Are you a small or growing business with lots of design needs and the desire to produce printed materials and infographics to represent your business professionally? Choose Canva and sign up for a Canva account here today.
Do you want to collaborate as part of a team, approve designs created by your employees, and follow a better workflow? If so, again, choose Canva.
But, if you're working on growing your social media presence or you're looking for a tool just to speed up the design process, Stencil is the one to go with.
Frequently Asked Questions:
Can you merge documents in Canva?
By the moment, Canva do not count on this option.
Can I use Canva for commercial use?
All the images available in Canva are available for commercial and personal use. Some of them are only available for a price. This can be one single-use license or extended permission.
Can I share my account with my team?
There is no team option like Canva offers in some of their plans, but you can share your Stencil account with another person, like an assistant. That it is not allowed is to share accounts with organizations.
Ready to Create Professional Designs Fast?
Stencil and Canva both have amazing toolkits and plenty of resources to help you create your perfect designs. With extensive libraries of icons, fonts, and images, they make sourcing ideas and pre made template options easy.
Try their online apps or sign up for their free plans to see which you like the most. Even for casual users, these tools can help you optimize your digital content or help you prepare the occasional infographic or flyer.
Bottom Line Summary: We would recommend Canva Pro to businesses requiring graphic design as part of their workflow, want to collaborate, and/or use printed material for marketing. Whereas, Stencil is best as a Canva alternative for social media influencers who want to streamline their design process.
So, Canva or Stencil – which will be your design tool of choice? Let us know in the comments box below. Whichever you choose, we wish you happy creating!
Further Reading on Design Services and Graphic Design Tool Options: