Last Updated on April 22, 2023 by Ewen Finser
In this Swyft Filings review, we are going to be looking at how this service can take all the stress of forming an LLC out of your hands. Starting your business is an exciting time, so if you are reading this, congratulations!
If you're looking to form an LLC, but don't want to go down the DIY route, then using an LLC (limited liability) formation service could be the way to go for you.
Forming an LLC by yourself with LLC formation service is definitely possible, but if you've never done it before it can be stressful not knowing if you have done everything correctly, not to mention time-consuming filling out all the paperwork involved.
So why should you use an LLC service instead of doing it yourself?
Here are just a few of the ways an LLC formation service can help you:
It can save you time and money. Using a service to form your LLC can save you time and money by ensuring no costly mistakes are made during the registration process, and that no deadlines are missed when it comes to filing documents.
It's quick and easy with fast turnaround times. You can have your company up and running as quickly as possible, so you can concentrate on growing your business.
You will receive customer service and customer support. If you have any questions about your company or the filing process, there will always be someone on hand to help you.
So now that we've talked about why you should use an LLC service to for your business, let's get into the review.
We are going to be looking at all of the legal services Swyft Filings offers, as well as the pros and cons, the pricing, and everything else you need to know about using this service so that you can decide for yourself if Swyft Filings is the right service for you.
Swyft Filings Review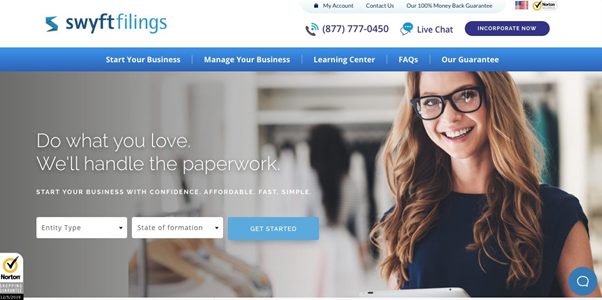 Swyft Filings is a business formation service that specializes in incorporating small and medium-sized businesses. The company itself is owned by an experienced lawyer whose mission was to make it easier for small businesses and entrepreneurs to launch their businesses and manage their filing, without having to shell out for overpriced legal fees.
The incorporation service Swyft Filings offers is designed to get your business up and running as soon as possible, at an affordable price. As the name suggests, it's all about a "swyft filing".
As well as being able to help with the formation of companies, Swyft Filings also offers a number of other services to help you manage your business and keep everything compliant in the long term. They also offer customer support via phone, chat, and email, so that if you have any problems there will be someone who can help you every step of the way.
How Swyft Filings Works | Features
It's easy to incorporate your business with Swyft Filings. Once you have decided which type of business you would like your company to be registered as (LLC, C Corp, S Corp, Nonprofit, or DBA) you can have everything ready to go in as little as 10 minutes.
Before you start, you will need to do is decide which state you would register in, and then it's a simple 3 step process to get you up and running.

Step 1.
Tell Swyft Filings all about your business. There is a simple form to fill in that should take no longer than 10 minutes, and it's all done online so there's nothing to send off in the mail.
Step 2.
Based on the information you have provided, Swyft Filings will prepare all of the documents that are required, and file them with the Secretary of State.
Step 3.
Once your documents have been approved by the state, you will receive your completed LLC package / incorporation service package in the mail.
This is what's included in all of Swyft Filings LLC formation packages:
Verify Company Name Availability
Preparation of Documents for Incorporation
Document Filing with Secretary of State
Online Access to all of your LLC Documents
Certificate of Incorporation
Lifetime Customer Support
Delivery of Documents
What Other Services do Swyft Filings Offer?
Once you have incorporated your business, you are not left to fend for yourself. Swyft filings offer lifetime customer support included in their company formation packages, as well as a number of other services you can take advantage of to ensure that your business runs smoothly, including:
Digital Corporate Kits
Business Licenses and Research
Seller's Permit (Sales Tax ID)
Registered Agents Service
LLC Operating Agreement
Corporate Bylaws and Resolutions
Minutes Manager
Annual Report
Initial Report
EIN/Federal Tax ID
Amendments & Name Changes
Conversion
Foreign Qualification
Change of Registered Agent
Withdrawal
501(c)(3) Application
Apostille
Dissolution (Closing a Business)
Having all of these additional services available to you will help ensure your business runs smoothly and always remains compliant. When it comes to making legal changes to your business or filing your annual reports, Swyft Filings can take care of all of this for you, to make sure that everything is done correctly and at the right time. They know exactly which information is needed, so all you need to do is answer a couple of questions, and you can get back to business.
Swyft Filings Registered Agent Service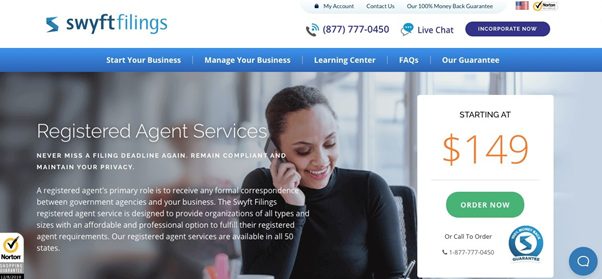 In the USA is it a legal requirement for all businesses to have a registered agent. A registered agent is a person who is authorized to receive legal documents on behalf of your business, as well as any official notices from the state, and although you can be your own registered agent, it's well worth the cost of paying for a registered agent service for the time and stress it saves you each year.
Swyft Filings' registered agent service is available in all 50 states. The service is very easy to use, and all you need to do to sign up is to fill out a quick questionnaire, and you will be ready to go.
The registered agent service is provided by using a combination of automated technology, backed up by a team of business professionals. This winning combination ensures that nothing is ever forgotten or missed, while still offering all the benefits of working with business professionals.
Your registered agent service will renew automatically each year until you decide to end the agreement, so you will never need to remember to renew. The costs start from just $149 a year, and that's a flat cost so there are no surprise bills once this fee has been paid.

When you use Swyft Filings' registered agent service you will receive:
Online Dashboard. You will have access to an online dashboard where you can access and view
Secure and Reliable. All of your information is stored securely and you have 24/7 access to it all online. Your information is guaranteed to be kept private.
Compliance. Swyft filings' registered agent service will ensure that your business is always compliant with the state's requirements. You will receive reminders for any important filing dates, so you can rest assured that you won't miss anything
Privacy Protection. You will never need to use your personal address for business correspondence as all documents you receive, including legal documents, will be sent to the registered agent, protecting your privacy should you ever be sued
Business Licenses and Permits
If the type of business you are starting needs a licence or permit to operate, Swyft Filings can handle this for you. They will start by taking over the hard work of doing the research to see exactly which permits and licenses you will need, and then they will walk you through the application process at federal, state, and local levels so you can make sure your business is 100% complaint at all levels.
There are many benefits to choosing Swyft Filings to do this for you rather than doing it yourself:
You will have the peace of mind as a business owner of knowing that experienced business specialist professionals are ensuring that you have all the correct licenses and permits, some of which may be missed or overlooked if you were to do this yourself
Since each State, City and County often have different legal requirements, it can save you the headache of trying to work out exactly what you need for your area
Swyft Filings provide fast and reliable service and will notify you by email as soon as everything is ready
Once it is all set up you can relax and work on more important parts of your business while Swyft Filings handle the legal requirements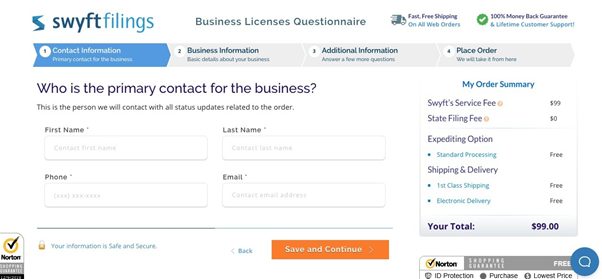 To get started with this service there is a simple online questionnaire to fill out with your business details, and a fee of $99.00 as well as your state filing fee to pay if applicable.
Obtain Your EIN/Federal Tax ID
Once you start a business you will need to obtain your EIN/Federal Tax ID. This is a 9 digit number that is assigned to your business by the IRS and works like a social security number, but for your business. Your EIN enables you to collect revenue, open a bank account for your business, and hire employees, so it's important that you obtain it soon after starting your business so you can start trading.
Swyft Filings can obtain your EIN/Federal Tax ID for you to save you time. They are experts at this and have done it thousands of times before so you can be sure everything will be done properly.
LLC Operating Agreement
If you are ready to form an LLC, it is good practice to have an operating agreement in place to ensure everything runs in a smooth and professional manner, even if you are operating alone.
Swyft Filings can draw up a customized operating agreement for your LLC for a one-off fee of $35. To get the ball rolling all you need to do is fill out the questionnaire provided, which will give Swyft Filings all the information they need to create a customized document for you. Once they have all this information they will put together the document using their attorney-prepared template.
Once the document is ready you will be able to view it in your online account. You can also make further changes to the document in the future if you wish to do so.
Swyft Filings Customer Service
Swyft filings offer customer service by phone, online chat through their website, or email. You can reach the customer service team on the phone from Monday to Friday, between 9 am and 6 pm, and you can email them at any time, and expect a response within a few hours.
According to the reviews, Swyft Filings' customers give them great reviews. On Trustpilot, they receive an overall score of 4.5 stars out of 5, with over 1,500 customers and a majority of customers rating them excellent. Most of the reviews are complimenting the quick and helpful customer service, and we can see that the customer service team has responded quickly and in a helpful manner to any reviews complaining about the service.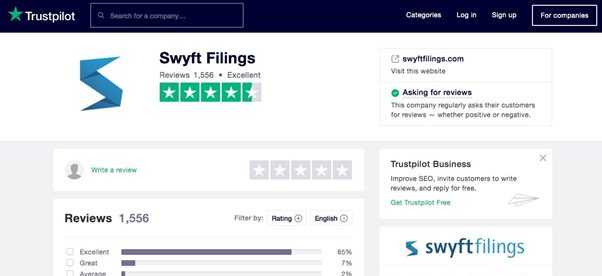 They also have over 25,300 reviews on Shopper Approved, with an impressive 4.5 stars out of 5 for their overall customer satisfaction rating.

Although it must be noted that their customer service seems to be something that's letting them down on this review site, as they receive overall high scores for all categories including price satisfaction and product satisfaction, a low score for customer service. This category seems to have been added recently since it looks like only one person has given it a score.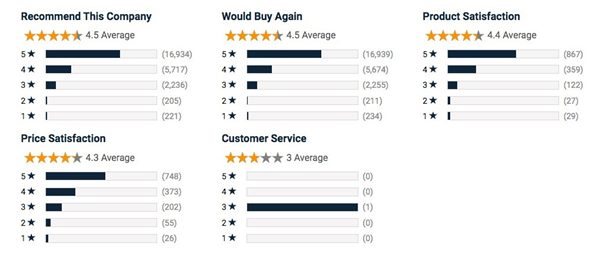 The Benefits of Using Swyft Filings
If you are looking at form an LLC or corporation (class C Corporation, etc…) then Swyft Filings can do this for you with fast processing times, and reliably. They can get you up and running in a matter of hours
You will receive reminders for all of your deadlines so your business always remains compliant with your state requirements, and you never receive any penalties for missing deadlines
They can provide a registered agent service that will ensure your business documents are received and taken care of securely, and meaning you won't need to give out your personal details for business purposes
They are highly rated by customers, and known for being reliable, so you can be sure that everything will be done correctly
They offer a very good price compared to most of their competitors
They offer good customer support overall with a majority of excellent reviews on popular customer review websites. You can easily contact them by phone, email, or live chat
The Downsides to Using Swyft Filings
There aren't many downsides to using Swyft Filings, the only thing we could say is that some of the negative reviews said they were surprised when they were billed for their registered agent renewal, so it might be useful for Swyft filings to send out reminders before renewal dates. There were also a couple of reviews that said the customer service was slow, however, there were many more saying they were happy with the service, so overall it seems to be good.

Swyft Filings have three different packages to choose from, with the cheapest option being the Basic package which costs just $49, plus your state filing fees.
All three packages include lifetime customer support, real-time online order status tracking, a dedicated online account where you can view all of your documents, free shipping on all orders, and a 100% money-back guarantee if you are not happy with the service.
The Basic package includes the above, as well as verification of company business name, preparation of articles, free statement of the organizer, and document filing with the Secretary of state. You can add additional services to this package but there is an additional fee for each service you want to add.
Next up is the Standard package, which starts at $149/month, plus state fees. This package includes everything from the Basic package, as well as a Custom LLC operating agreement, obtain Federal Tax ID (EIN), custom banking resolution, and custom organizational minutes.
Finally, there is the Premium package, which starts at $299/month and includes everything from the Basic and Standard Packages, as well as electronic delivery of state documents, customized digital corporate kit, free business website and web hosting, and FedEx shipping with tracking.
The Registered Agent service is priced and packaged as a separate service from $149/month, which is billed yearly.
Obtaining your EIN/Federal Tax ID as a separate service will cost just $79.00. This is a one-off payment so you will not be billed again once you have paid for this service.
Swyft Filings Alternative
If you haven't found the perfect business formation and registered agent service for your business, don't panic! We have some alternatives for you to look at:
Our IncFile Review talks you through all the ins and outs of Incfile: one of the most affordable company formation services we have found in our searches, starting at $0 + State fees, with one year's free registered agent service!
In our Incfile vs Northwest Registered Agent review and our LegalZoom vs Incfile review, we compared Incfile side by side with these competitors so that you can see for yourself which service would suit your business needs best.
We also looked at 10 of the best-registered agent services, which will give you a good overview of the top services available in the United States.
Our Verdict – Is Swyft Filings the best business formation service provider?
After looking at everything that Swyft Filings offers its customers, it's clear to see that they offer a great service with many happy customers (just take a look at their reviews for the evidence!). Swyft Filings makes it easy for anyone to incorporate their business, and by using their Registered Agent service long term, you can ensure that your business is always compliant with your state laws and that your personal information is protected.
In general, Swyft Filings is a very affordable way to incorporate your business, with packages starting at just $49, plus state fees. The Registered agent service costs $149 per year, which is a little higher than some of its direct competitors, but still not unreasonable.
Overall, Swyft Filings offers an affordable and reliable service. It's a great option for small to medium-sized businesses and entrepreneurs and gives you all the tools you need to legally manage your business.
If you would like to use Swyft Filings to incorporate your business, or if you just want to hear more about what they have to offer, head over to their website by clicking here.
Frequently Asked Questions About Swyft Filings
How much will it cost to incorporate my business?
Swyft Filings' LLC packages start at $49 per month, but you will need to add your state fees on top of that, which will vary depending on which state you register in. If you would like to use the registered agent service provided by Swyft Filings this will cost you $149 and is billed on an ongoing yearly basis.
Will Swyft Filings share my information with third parties?
While Swyft Filings will not sell your data without your consent, they may share it with third parties, including their own group companies which can provide you with additional services. Swyft Filings also allow you to opt into a number of third-party services during the sign-up process when you are filling out your details. If you do not want to be contacted by any third parties we would recommend reading everything very carefully when you are signing up, and make sure you are not ticking any boxes you are not sure about. You can find out more by reading their privacy policy.
Do Swyft Filings have a refund policy?
Yes! Swyft Filings offers a 100% money-back guarantee if you are not happy with the service. If you would like a refund, you will need to let Swyft Filings know within 60 days of purchase. A full refund will be provided on your service fees, however, any state fees that have already been paid are non-refundable.
What type of payments does Swyft Filings accept?
Swyft Filings accepts all popular payment types including Mastercard, Visa, American Express, PayPal, Checks, and Money orders.
What is an EIN? Do I need to have an EIN for my business?
EIN stands for 'Employer Identification Number', and you will need one for your business if you would like to open a business bank account, or take on any employees. Your EIN (a 9 digit code) will be assigned to your company by the IRS. To make things easy, Swyft Filings can obtain this for you as part of their additional services.