Last Updated on April 22, 2023 by Ewen Finser
Today, we're going to be comparing tech unicorn Zoom vs Cisco Webex. If you stick around, you'll benefit from receiving a clear, unbiased buying decision that could potentially save you some money in the long run.
[mv_video doNotAutoplayNorOptimizePlacement="false" doNotOptimizePlacement="false" jsonLd="true" key="efd2kttz087ng3vhpeew" ratio="16:9″ thumbnail="https://mediavine-res.cloudinary.com/v1639107001/lvayqzbq81xfnwf2m4sc.jpg" title="Zoom vs Webex: Which One is Best?" volume="70″]
Zoom vs Webex – Main Differences
The main differences between Zoom vs Webex are:
Zoom's apps are largely responsive, whereas Webex apps can be unresponsive at times.
Zoom is easy-to-use, whereas Webex is a little bit more challenging.
Zoom meetings with its free plan last 40 minutes, whereas Webex meetings on its free plan last 50 minutes.
Zoom doesn't offer free months of service upon signing up, whereas Webex offers up to four free months on some of its (paid) plans.
Zoom does a good job of showing off all its features via the free version of its VaaS, whereas Webex does excellently to emphasize its most basic but effective meeting functionality.
At a time when we're all isolating due to the current global pandemic, the ability to speak face to face virtually has never been more sought after. As such, teleconferencing solutions, namely Zoom and Cisco Webex Meetings, have increased dramatically in popularity.
In fact, Zoom licenses are being bought in droves – hence, the app's come under intense pressure to deal with this large influx of new users.
For those interested, the CNBC published an article on its website back in February of this year. The piece noted that Zoom recorded a figure of 1.99 million active users in the whole of 2019, while in 2020 so far, the videoconferencing giant has amassed 2.22 million users. (As you can imagine, Zoom has gained many more users in the months following the publication of this article.)
But, don't feel too sorry for the folks at Zoom – they're making some serious cash out of COVID 19 and the growing numbers of remote workers. Zoom's revenue skyrocketed to $328,000,000 during the intervening period between February and April 2020, which represented an increase of 100+% from the previous year. That huge gain in revenue translated to a profit of $27 million dollars, which compares astonishingly against the $198,000 earned in profit the year previous.
Anyway, what's my point? Well, Zoom is dominating the market – clearly making a lot of money. But, is it truly the top performer in its field?
Let's begin!
Zoom vs Cisco Webex Meeting: What is Zoom?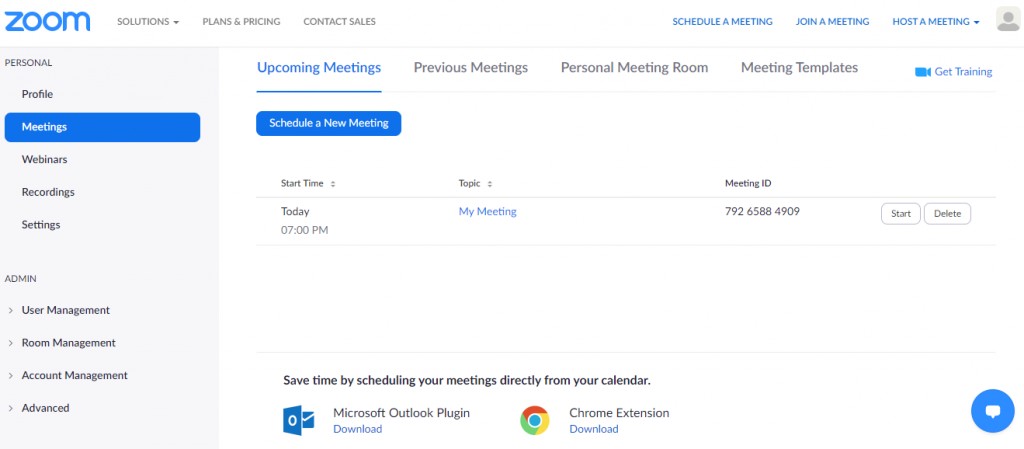 Zoom is a teleconferencing software as a service (SaaS) company that enables its users to communicate remotely. You can use Zoom to hold meetings and connect with colleagues, friends, and family all around the world. The SaaS platform is notoriously easy to use, and you'll be able to get started right away even if you're not tech-savvy.
Zoom claims to offer "One Consistent Enterprise Experience" – a declaration that's backed up by its "Video Webinar" webinar platform, "Conference Rooms", "Phone System" and "Live Chat" tools. Zoom allows for as many 1,000 video participants and supports up to 10,000 viewers.
Zoom was named as one of the leaders of the Gartner Magic Quadrant back in 2019. Brands such as GoDaddy, Ticketmaster, and NASDAQ all avail of Zoom's online conferencing services. Zoom offers a free app for download to hold meetings, webinars (Zoom Webinar), and more.
Further Read: Zoom vs GoToMeeting.
Zoom vs Cisco Webex: What is Webex?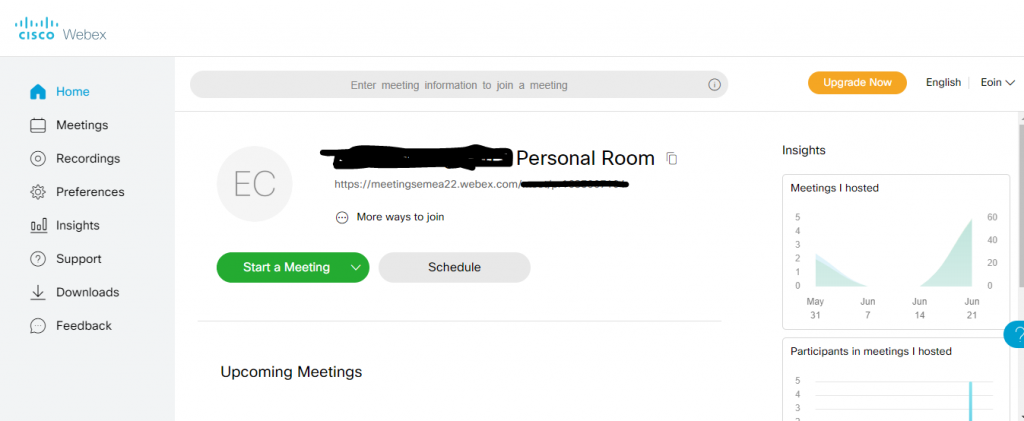 Webex Meetings was created by Cisco. Like Zoom, it helps people communicate and collaborate regardless of where they are in the world. Webex main aim is to provide a simple yet secure teleconferencing experience to all its users. Both video conferencing SaaS companies let you integrate with a plethora of other apps so that you'll be able to access the functionality you crave.
With Webex, you'll benefit from a host of helpful features and tools, such as its "AI Assistant", screen sharing functionality, ability to host a "Conference Call" and capacity for "Cognitive Collaboration". In 2019, Webex was named a Leader in the Gartner Magic Quadrant for meetings solutions. Webex is used by companies such as CNN, Presidio, and Monreal. Like Zoom, Webex has an app for download.
Further Read: Webex vs GoToMeeting.
Who should use Zoom over Webex?
Bloggers
Casual Users
Enterprises
Marketers
Creative Teams
Sports Teams
NGOs
Who should use Webex vs Zoom?
Educational Institutes
Enterprises
Developers/Businesses Seeking to Integrate Zoom's API into their Custom Web Portal
Casual Users (Zoom is a better option though)
Tech Companies
Healthcare Professionals/Organisations
IT Specialists
Zoom vs Webex – Features
In this section, we're going to be comparing and contrasting the different features offered by both Zoom and Webex.
Video Conferencing Features For Meetings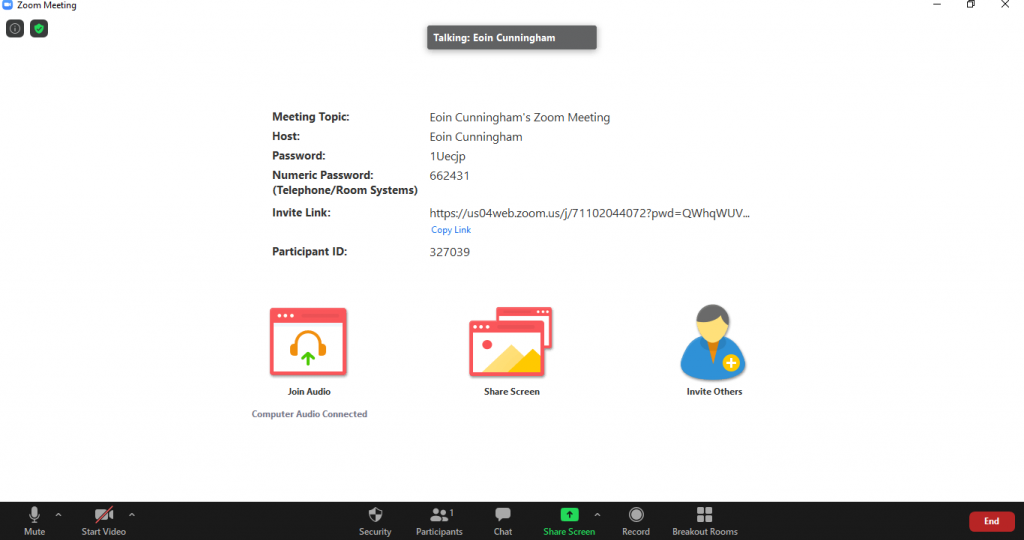 Zoom Video Conferencing Features
In terms of video functionality available to you via the Zoom app, while conducting meetings, you'll have quite a few features to choose from through the video options dashboard. To access the said dashboard, you need to click on the vertical facing arrow to the right of the "Start Video" symbol.
Upon clicking this arrow you'll see options to select a specific camera type as well as to choose a virtual background – now select "Video Settings". Within video settings, you'll have both basic and advanced video options available to you to enhance or, indeed, personalize your video conferencing user experience.
Basic video settings allow you to alter your screen's size ratio. For example, I can alternate between a widescreen (16:9) and screen original ratio viewing configuration. This ratio affects the degree to which my screen is visible while my camera is turned on.
You can also edit your video stream's performance using the "My Video" features. These features enable you to activate HD video quality (Webex also offer HD video), "Touch Up" your appearance by dimming harsh lighting, and to, finally, "Mirror" your image so that your camera is centered to the eye.
Finally, Zoom provides you with "Advanced" functionality to configuration your video quality to optimize the app's video performance during meetings.
Webex Video Conferencing Features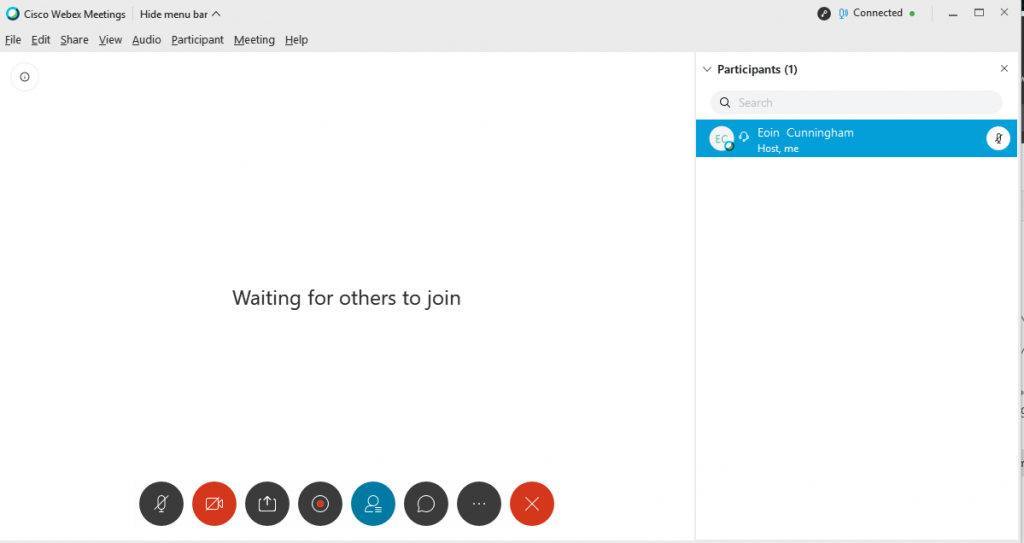 Webex video conferencing solution works on multiple devices including desktop, android, and iPhone – as does Zoom. This meetings software lets you record and transcribes your meetings so that you can review them after the fact. If you're trying to improve on your e-pitches this function could prove useful for analysis purposes.
Zoom also lets you record meetings. Interestingly, it's possible to set up automation with Webex so that email recordings, as well as transcripts, are automatically sent to all meeting attendees.
The Peoples Insight feature from Webex lets your meetings' attendees get to know more about each other without having to communicate directly. It does so by enabling meeting participants to create a profile detailing relevant information pertaining to themselves as professionals.
Webex provides audio settings that allow you to adjust your microphone as well as speaker system and performance before meetings begin. There are also handy little sliding bars to adjust audio sensitivity.
Webex Meetings lets you lock onto meeting attendees as they speak so that there screen alone is visible. This function enhances clarity by helping your attendees focus on the speaker's voice.
When communicating through the Webex "chat" feature you can seamlessly transition to a video call by clicking "Meet Now". This feature is particularly useful for business users who need to discuss something urgently with an attendee.
Screen Sharing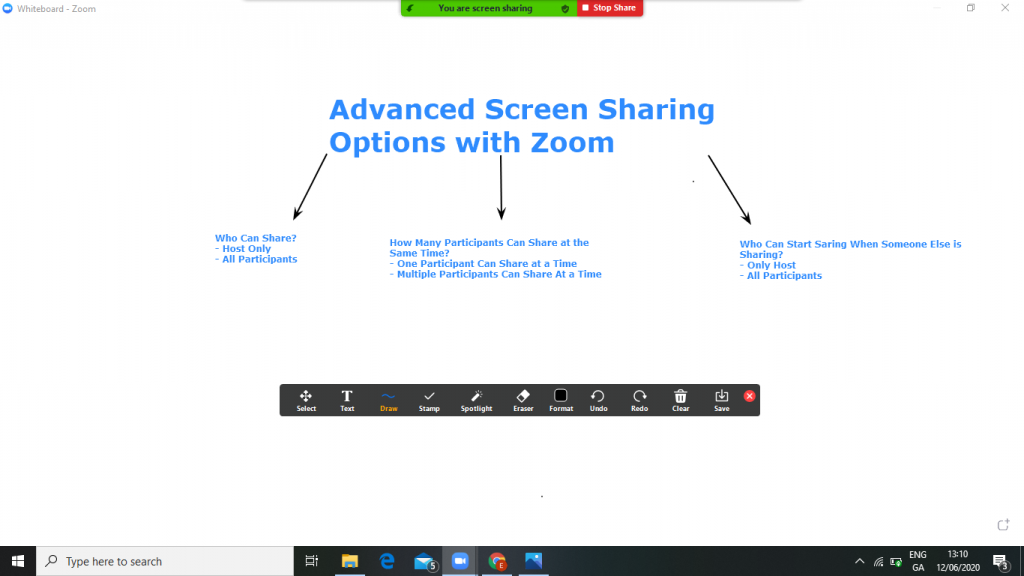 Both Webex and Zoom provide hosts with the functionality to screen share. Zoom allows you to screen share with up to 49 people at a time. This figure contrasts starkly against Webex screen sharing capabilities, with its meetings software only capable of sharing with a maximum of 25 attendees.
Both Zoom and Webex afford you the opportunity to screen share while continuing to interact with its interface or using your web-based browser to illustrate tasks or ideas. Below you'll find a screenshot of both Webex and Zoom's screen sharing dashboards.
Here's a preview of what Zoom Screensharing blackboard feature. As you can see I have not so artistically, but nonetheless effectively, created an infographic/mind map displaying some of the options you have while screen sharing with Zoom. For those curious, Webex also offers an interactive whiteboard that enables you to share content visually.
With Webex, you'll be able to optimize your screen-sharing experience for texts and images, or for motion and video. When screen sharing static pages, you should opt for optimizing texts and images. Conversely, when sharing fluid motion pictures you're best off optimize for video and motion.
Phone Systems and Telephony Extensions
Being able to communicate via phone is crucial for casual users and marketers alike. Particularly at the enterprise level, where you'll have business people and professionals constantly on the move without access to an internet connection. To ensure these individuals don't miss out, it's important that they can join a meeting or webinar over the phone.
Webex Calling
Webex users need to purchase a subscription-based license through Webex Calling if they wish to avail of the teleconferencing solution's phone functionality. This feature enables you and your team to continue using your standard phone operating system to conduct phone calls.
Webex Calling lets you perform all the usual functions you'd come to expect while communicating using your mobile device and office phone system. You can place a call on hold if you suddenly become overwhelmed in the present moment. If you're receiving a series of unwanted phone calls you can activate the "Do Not Disturb" feature.
Other helpful Webex telephony functions include the possibility to add a virtual receptionist, which pairs well with the abilities to forward and transfer calls. Also, you have the option to group phone lines (it's known as line hunting in telephony) with Webex Calling. Line hunting enables a call to be broadcast from one phone number across multiple phone lines.
This feature, in particular, can make cloud calling, VoIP phoning, and video conferencing much more straightforward.
Zoom Voice
Zoom Voice is Zoom's version of Webex Calling. Zoom Voice features operate to an enterprise standard and, like Webex, its cloud-based phone system creates a unified communication app – meaning you can communicate using chat, phone, video, and meetings through "unifying" Meetings, Teams, Voice and more using the same app.
Zoom Voice operates off of a centralized management system meaning admins can easily navigate from video conference calls to chat.
As was the case with Webex Calling, Zoom Phone enables you to block inbound call notifications. You can do so by setting call notification to "Do Not Disturb" or "Busy". The Zoom Voice app also enables you to place calls on hold or send the caller directly to your voicemail, which is handy when you're preoccupied.
When holding important conference calls for business, Zoom Phone can be of particular use. One of its features enables you to record meetings, meaning you can playback and dissect the most important aspects of your conversations.
Zoom Phone voicemail transcription is also available. These features could be of particular use to business owners or marketers trying to analyze and improve sales pitches held using telecommunication software.
Zoom Voice provides you with the basic elements of call forwarding and transferring as well, so it's a well-rounded phone system for enterprises. Should you wish, Zoom allows you to keep or change your PTSN provider. Its PBX phone network should still work fine.
Webex vs Zoom Ease of Use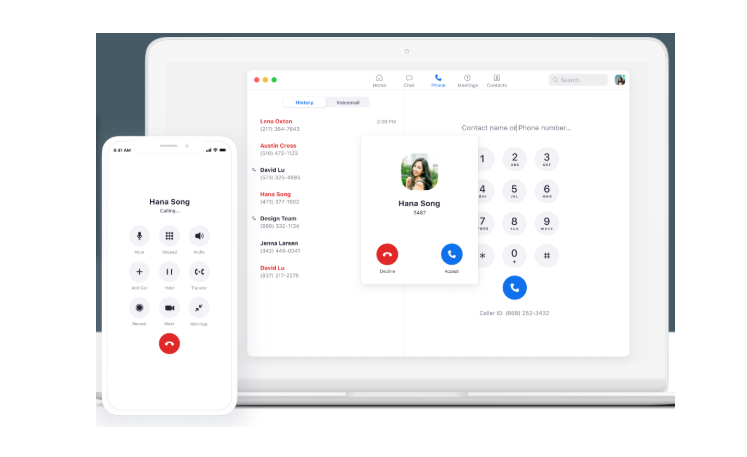 As a business owner, marketer, and working professional, it's vital that you choose easy to use software to host conferences online. If people can't wrap their heads around the communications software you select, it creates problems. Hence, you may want to choose Zoom over Webex.
UX with Webex is much less straightforward than with Zoom. For example, it takes far longer to join a meeting when invited by a host. This can be confusing for people who are used to something flexible like Zoom that encourages you to "Bring Your Own Device" and join meetings in "one-touch".
On top of that, it's much easier to locate functionality during your video conferencing meetings with Zoom. Zoom's web conferencing software as a whole is rife with dashboards containing dropdown menus making it easy to find functions – especially evident in its app. Webex dashboards are minimalistic but don't make it as easy to locate the video conferencing platform, web conferencing, and cloud calling functionality.
Webex possesses a higher learning curve when it comes to finding and using its features, so Zoom offers the more straightforward UX.
API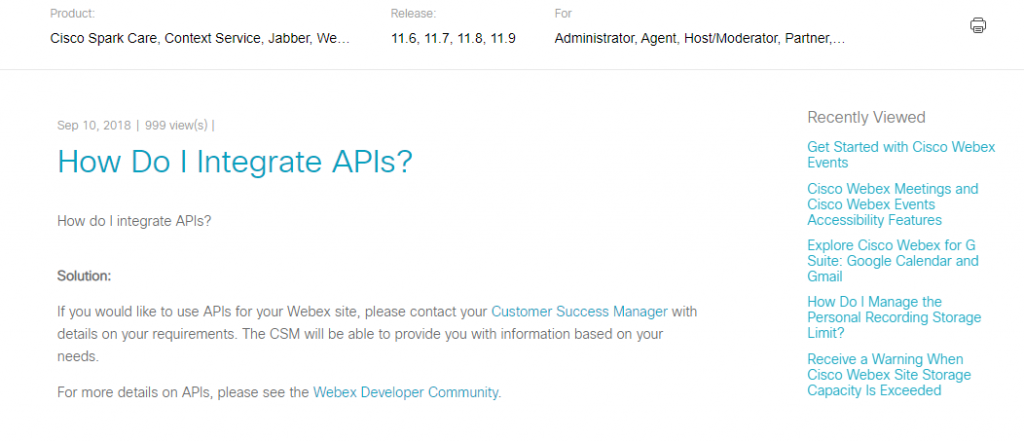 For Tech-savvy business owners or those at the enterprise level working with a team of web developers, Webex is a better choice than Zoom.
Webex provides a fresh RESTful API that you can integrate into the many solutions available on its platform. If you find you're in need of a suite equipped with more advanced functionality, then you can use its XML API. The platform's URL API allows developers to use Webex functionality from their custom web portal. Finally, Teleconference Service Provider (TSP) API lets other teleconferencing solutions integrate with Webex.
While Zoom offers APIs of its own, with its REST API being a prime example, the tool is just more aimed toward being easy-to-use.
Capacity
In this section, we'll be comparing the capacity of Zoom pricing vs Webex pricing plans.
"Free" Plan
Now, Zoom's free plan lets you host meetings lasting for a maximum of 40 minutes while allowing for up to 100 meeting participants.
Interestingly, Webex Meetings free plan allows you to hold meetings for 10 minutes longer than Zoom's free plan, while also allowing for a max of 100 participants per meeting. So, Webex is offering a slightly better offering here in terms of free plan capacity. These free plans are best for "personal" use.
Pro vs Starter
Zoom's next plan up is its Pro plan, while the next plan offered by Webex is its "Starter" plan. These plans are best suited to "small teams". In terms of capacity within tier 2 of both app's pricing plans, it's a level playing field.
Both Zoom and Webex cap participants at 100, while also allowing meetings to last for as much as 24 hours, which essentially means meeting durations are unlimited.
Enterprise Level Functionality?
Webex "Plus" is the next plan up from its "Starter" package and it also limits you to hosting a maximum of 100 participants. However, its "Business" plan, which is ideal for enterprises, lets you host up to 200 participants.
Zoom's third tier plan is called "Business" and it lets you host an impressive 300 participants, which is 200 participants more than what Webex "Plus" caters. And it doesn't end there. Zoom's rather practically labelled "Enterprise" pricing plan provides you with functionality to host 500 participants – a whopping 300 more than Webex's enterprise-level solution.
Overall, Zoom's video conferencing platform offers a greater capacity than Webex for video conferencing.
Add-ons to Increase Capacity
Obviously, at the enterprise level, you'll require even more than 500 participants to attend a meeting from time to time. So, Zoom offers an add-on service which they refer to as "Large Meeting".
The "Large Meeting" add on is available for all plans, except the free (or, "Basic") plan. With Large Meeting, you'll be able to support up to 1,000 participants per meeting.
Webex doesn't mention any enterprise-level add-ons via its website, however, it does state that you can contact its sales team to learn more about increasing its capacity to suit the enterprise level.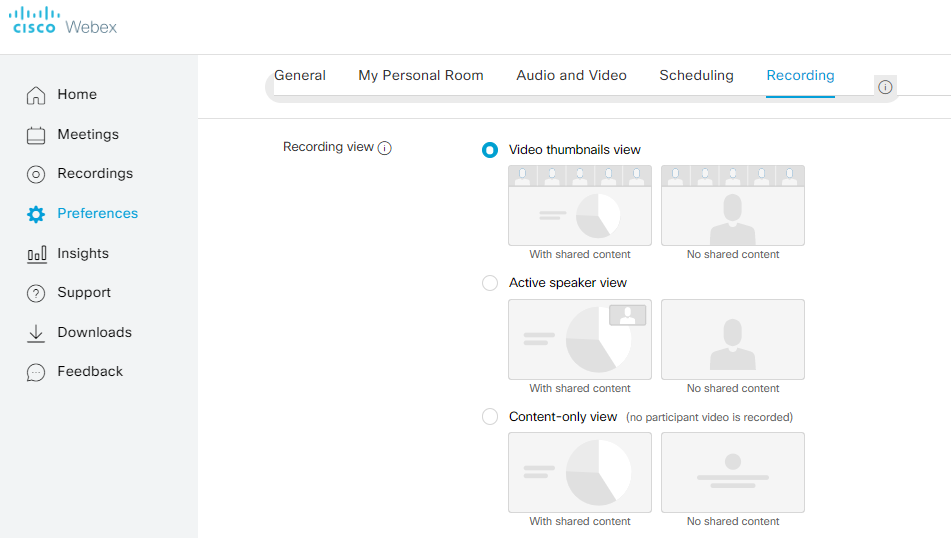 Storage
Cloud storage is important for storing recordings and what not when using video conferencing platform features.
The more expensive pricing plan you choose, it tends to be the case the greater amount of "Byte" storage at your disposal. For instance, Webex "Starter" and "Plus" offers 5 GB of cloud storage – while Webex "Business" offers 10 GB of cloud storage.
And you'll see a similar trend with Zoom. Its paid plans have a cloud storage limit of 1 GB, whereas its free plan does not. "Zoom Rooms" also possess a cloud storage capacity of 1GB, while Zoom education accounts only possess a max of 0.5 GB storage availability.
Of course, you can choose to pay anywhere from $40-$500 per month for an additional storage capacity of 100GB-5TB. Webex also lets you buy a greater storage capacity, should its limit within your chosen plan fail to suffice. To do so, you'll need to contact Webex Customer Success Manager.
Breakout Rooms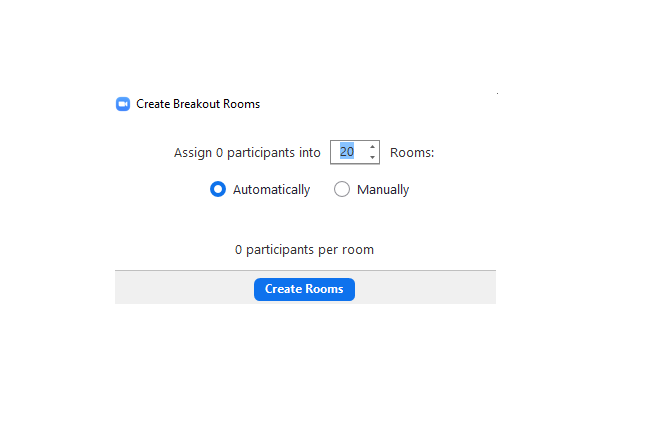 When hosting a meeting through Zoom, you've got the option to create up to 50 "breakout rooms" (Zoom room for individual meetings). To do so, you may have to enter the user "Settings" and locate the breakout room feature. Then, click the virtual toggle switch turning the element blue so that you can avail of the feature while hosting meetings.
Unlike Zoom, Webex doesn't allow you to hold meetings within breakout rooms. However, the conferencing suite does enable you to provide training through "Breakout Sessions". This functionality is available through the Cisco Webex Training app.
Zoom "Breakout Rooms" can be scheduled prior to meetings starting. Also, you can manually or automatically place participants in specific meeting rooms. Breakout sessions with Webex Training enable you to host up to 100 sessions with the capacity to hold up to 100 participants per session. Zoom also enables you to hold large sums of people in breakout rooms.
However, Zoom's ability to host participants decreases as the number of breakout rooms increases. For example, Zoom possesses the capacity to entertain as much as 500 participants per breakout room when there are only 20 breakout sessions in progress.
During a Zoom meeting, entertaining the app's maximum 50 breakout sessions, you're only able to assign a maximum of 200 people per breakout session – these figures are also subject to possessing the large meeting addon.
Integrations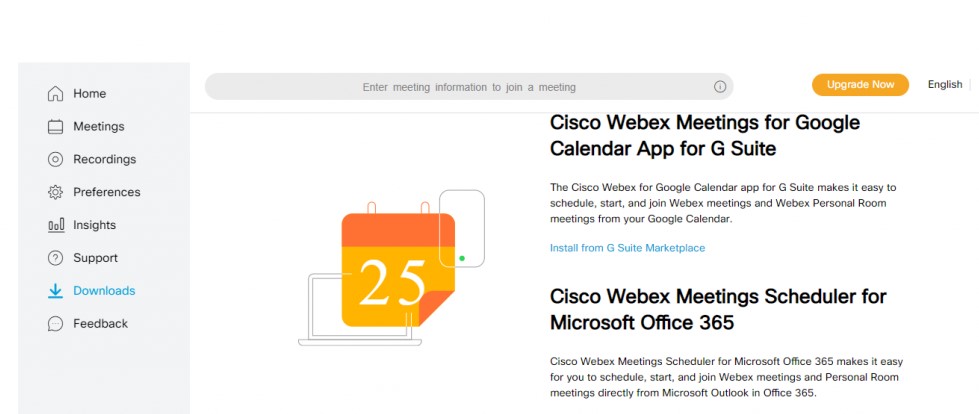 Webex meetings can be integrated with some industry-leading apps such as Slack and Microsoft Teams (and Microsoft Outlook and the Microsoft Office suite).
Likewise, Zoom is integratable with the likes of Google calendar and Salesforce. These integrations enable you to schedule and organize meetings through some of your favorite apps with ease – streamlining your workflow.
There are many apps available that'll connect seamlessly to your workflow. Using bots and synchronized notifications you'll be able to work and connect across these apps to optimize your time management.
Trello, Jira Cloud, and Onebox for Business all are prime examples of such apps that are available for users of Webex Teams, while Box, Panopto, and Google One Drive are handpicked representations of what's on offer for Zoom users.
If you're looking for apps to help you generate more leads, or increase your conversions then there are certainly a few to choose from on both platforms.
With Zoom, you'll have the likes of Zapier, Pardot, and Marketo available for integration. With these apps, you'll benefit from powerful automation, robust functionality as well as detailed reporting. Meanwhile, Webex also offers similar apps providing the same features and end product.
Both Zoom and Webex possess app marketplaces or hubs that you can use to find the most suitable apps to satisfy your needs. You'll find apps in the following sectors to integrate with Zoom and Webex:
Education
Security
Developer Tools
CRM
Reporting
Healthcare
Video Recording and Transcriptions
Customer Service
Webex vs Zoom

Webinars

The best teleconferencing solutions provide webinar software. Hence, you'll be pleased to know that Zoom and Webex do also. Webinars are important because not everyone works in the traditional office environment anymore – especially since COVID 19 rolled into town. More and more people are working remotely in some capacity or another.

As such, Webinars have become an essential method to keep marketers, consumers and working professionals alike up to date with the latest industry standards. Institutes of education are now more than ever looking for web conferencing tools these days.

Not to mention, webinars have been an excellent method for entrepreneurs and affiliate marketers to make some cash promoting and distributing niche industry expertise for a fee.
Webinars with Zoom
Zoom isn't the Apex predator when it comes to webinar software. That being said, it does have some useful features. For example, it offers interactive polls as well as a real-time Q&A chat feed. There's also a raise hand function among other little tools.
These functions are excellent when it comes to gauging the extent to which attendees are engaging with and learning from your webinars. Poor engagement levels are a clear sign that you need to rethink your webinar content or look at changing up your marketing strategy – focusing on audience segmentation for optimal lead generation.
There are also apps available for integration. You can integrate your CRM system or market automation platform with Zoom Video Webinar to streamline your webinar's marketing process automatically. Doing so will enable you to collect valuable data about your webinars' participants and build those long-term relationships marketers love.
Zoom enables you to host online training events, seminars, and e-workshops with up to 100 active participants. Also, depending on the plan you've chosen with the remote conferencing solution, you can host up to 10,000 view-only webinar attendees.
In truth, this functionality is quite basic and commonplace in webinar solutions best suited to small businesses, enterprises, and professional organizations alike. Webex, however, is a bit more advanced.
Webinars with Webex
Webex Events lets you host online events with a maximum of 3,000 attendees, which is notably less than what Zoom offers in terms of webinar capacity. Nevertheless, Webex Events is robust when it comes to holding large meetings or corporate events.
Also, Webex Webcasting is available to marketers and business owners. This feature enables you to perform a webcast to a white-glove standard with up to 100,000 attendees.
Webcasting to a carefully segmented target audience is an excellent way to generate leads, increase conversions, and engage your audience to build long-term trust. The teleconferencing platform provides interactive webcasting software that enables you to communicate your brand's message effectively to clients, partners, and consumers alike.
From a marketing perspective, lead management, as well as event branding, is simple with Webex. You can use the video conferencing tool to send discounts to increase attendance levels along with your conversions.
On top of that, you've got the functionality to track leads. This feature is supplemented nicely by the platform's real-time reporting. You'll receive actionable information regarding your participants, webinar attendance, and registration that you can use to perfect your webinar's delivery.
So, Webex webinar software performs somewhat like a basic built-in CRM system. Also, you've got the option to stamp your brand logo on webinar invitations and whatnot, to create a branded webinar experience.
Zoom vs Webex – Pricing
Here's a screenshot detailing Zoom's pricing taking from the platform's website:

Same goes here for Webex this time:

Zoom vs Webex – Pros and Cons
Zoom Pros
Lots of "Advanced" Meeting Features
Reliable App to Hold Meetings Using
Solid Audio and Video Conferencing Options
Strong Screen Sharing
High Capacity
Easy-to-Use
Zoom Cons
Past Security Breaches
Negative Reviews Regarding Customer Support
Free Plan is Limited to 40 Minute Meetings
Not so Good Webinar Software
Webex Pros
Easy to Setup
APIs Perfect for App and Web Developers
Access to Analytics
Straight Forward Scheduling
Good Webinar Software
Automations
Webex Cons
Screen Sharing Can Sometimes Freeze App
App Can be Generally Unresponsive
Capacity Compared to a Competitor Like Zoom
High-Learning Curve On More Advanced Features
Problems with Calling – Configuring Dial-Up
FAQs About Zoom vs Webex
Is Zoom Better Than Webex?

Zoom is better than Webex if you're not tech-savvy. Zoom's UX is much straightforward than that of Cisco's Webex. However, Webex is ideal for organizations seeking to avail of greater suite functionality thanks to its APIs.
In terms of Out of the Box features, Webex is definitely second best. Zoom also possesses a greater capacity than Webex, plus it's cheaper. Webex does offer greater webinar functionality than Zoom though, and both teleconferencing software apps are similar in terms of breakout rooms. Although Zoom does have superior audiovisual quality, so that alone puts it ahead of Webex.
Is CISCO Webex Safer than Zoom?
Based on history, you'd have to say yes. Here's a link to a great article that documents all Zoom security breaches. Anyway, Zoom now offers AES 256-bit GCM encryption. But, there's a catch. It's not available on all of its plans. Cisco has not been without security issues of its own, however, Zoom's have been far more extensive. If I had to say which is more secure, I'd say Webex.
Is Webex Encrypted?

Yes, Webex is encrypted during calls. However, if you want E2EE then you'll have to get in touch with Cisco as it's optional.
How Does Zoom Work?
You have to sign up for the free or paid versions of Zoom. You provide your details, then you're requested to download the Zoom app to your device. If the download doesn't work, you can use the Web-based version of the app. The tradeoff is that the web-based version is much less reliable. Once you've got the app set up, you can start a meeting. You'll be able to add participants via email, dial-in, etc.
Is Zoom Free?
Yes – Zoom offers a free version of its platform. Its features are limited and meetings can last no more than 40 minutes.
Is Webex Free?
Webex, like Zoom, offers a free version of its VaaS. Again, you'll have limited functionality – Zoom actually offers more features and tools than Webex. However, meetings with Webex can last for a duration of 50 minutes, which contrasts with Zoom's meeting length of 40 minutes.
Apps Like Zoom vs Webex: Alternatives Worth Considering
LogMeIn

LogMeIn specializes in providing secure software solutions that eliminate the problem posed by distance. So, that's why they provide communication and collaboration software in the forms of GoTo, OpenVoice, Grasshopper, and Join.me.
GoTo provides a phone system, video conferencing, webinar as well as room system software to create a unified teleconferencing app. GoTo solutions are extremely easy-to-use and are worthy alternatives to Zoom and Webex.
Blue Jeans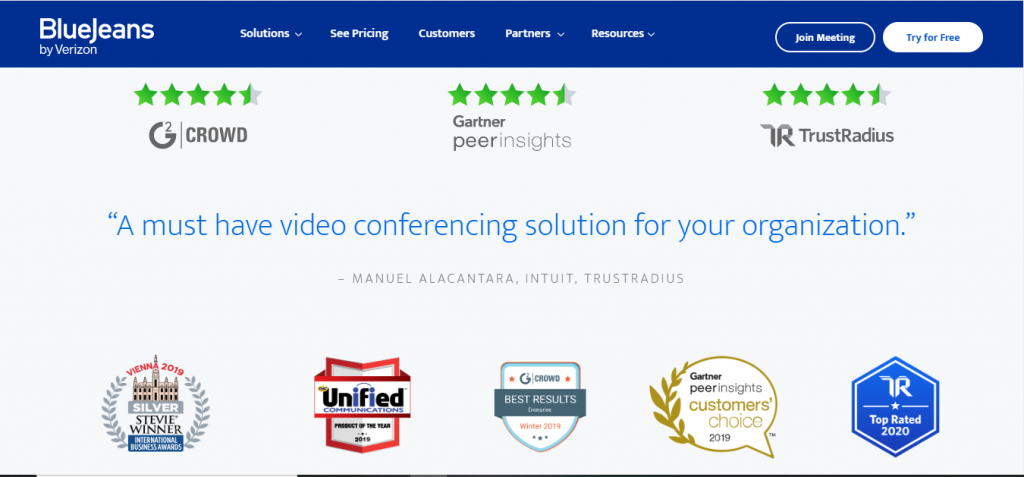 BlueJeans is a teleconferencing suite offering a solution to the problem posed by remote working, lockdown and physical distance regarding communication and collaborations. Its teleconferencing software provides real-time reporting and powerful automations to create robust online communications software.
BlueJeans possesses amazing interoperability – it's compatible with almost all devices, room systems, integrations and web browsers. In 2019, BlueJean's teleconferencing solution took home Gartner Peer Insights customer choice award. It's used by big-name organizations such as Facebook, Intuit, and National Geographic.
Other options in the free or "included in a suite" area include: Google Meet (also Google Hangout, Google Chat), Microsoft Team Meeting for basic video calls and as a collaboration tool.
LiveStorm is another recent entrant into the market, LiveStorm is an easy to use browser based client / customer facing video conferencing application. Compared to Zoom, LiveStorm offers more pure marketing features like lead collection, lead management, and marketing automation integrations.
LiveStorm is like Zoom, with a sales vertical focus.
LiveStorm doesn't yet offer mobile app screen sharing and isn't really positioned as an internally facing co-working tool.
Zoom vs Webex Buying Decision
Overall, Zoom is a superior teleconferencing platform for Cisco's Webex. Zoom is cheaper and has a lower learning curve when it comes to using its more advanced features, making it a more attractive proposition.
On top of that, Zoom's audio and video performance are better than that of Webex – a visible screen and clear sound are vital for teleconferencing. So, Zoom wins.
Further Reading on Video Conferencing Software and Meeting Recording: