Last Updated on January 11, 2023 by DMEditor
You know that satisfying feeling you get once you ultimately set up your own website? Nothing like it, right?
You almost start believing that the hardest part is over. That you should now shift your focus to handling the business stuff now that the site is done.
Sounds familiar? Well, I've been there too. And I know all about hiring a web developer on a temporary basis to get a business site over and done with as soon as possible. Besides, why would a small business owner need a developer on a permanent basis for a daily backup?
Ok, I admit that a full-time developer might feel like a bit of a stretch to a startup. But, here's the problem- your website is essentially your most important business asset. It's the backbone of your entire online strategy. And leaving it unattended is a compromise you cannot afford to make, especially when you're hungry for growth.
Here's the scary part. One of the biggest threats such websites face is potential data loss. And get this- 93% of businesses that lose their data for ten or more days end up filing for bankruptcy within twelve months.
All it takes is something as small as an overlooked system glitch. As a matter of fact, 31% of data loss incidents in businesses are triggered by hardware or system failure. Then human error comes second with 29%, while malware is to blame for 29% of the cases.

Go With WP Engine for WordPress
Epic support, blazing fast speeds, optimized for WordPresss. This is the host I use for our large WordPress sites. It's a bit more expensive, but worth the faster site speeds AND hands-on support.
View Hosting Plans
We earn a commission if you click this link and make a purchase at no additional cost to you.
The point? The best way to safeguard your online store from such threats is implementing a comprehensive tech maintenance structure, complete with full-time experts and relevant resources.
And you know what? Oddly enough, you don't even have to hire developers. It turns out there's a cheaper option that will provide more skilled manpower combined with extensive tech resources.
Managed WordPress hosting comes with regular monitoring, automatic updates, enhanced security, automatic backups, faster loading speeds, optimized web server, and great customer support. Essentially everything you need to maintain optimal efficiency levels on your WordPress site.
And just like all other services in the web, only a few selected service providers are capable of providing all these features with the precision of a Samurai sword.
Speaking of which, two exceptionally notable players in this bracket are WPEngine vs SiteGround . They are both reportedly effective in the managed WordPress hosting craft. But, there can only be one king, right?
Main Differences Between WP Engine and SiteGround
Here are the main differences to consider:
SiteGround is significantly cheaper, starting at $3.95 per month, whereas WP Engine starts in the $29 range
WP Engine offers more built-in security features, whereas you have to separately configure / pay for these with SiteGround
WP Engine has more global data centers
WP Engine offers a build in caching system, whereas SiteGround needs some manual configuration
WP Engine pricing generally stays the same, whereas SiteGround hosting plans generally jump up in Year 2
WP Engine offers premium staging areas by default
Let's see how things pan out when they go head to head.
WP Engine vs SiteGround: Web Host Overview
SiteGround is a web hosting company provider that offers enterprise hosting, dedicated servers, cloud hosting, reseller hosting, web hosting, and apps hosting. Among these solutions is managed WordPress hosting, which deals with WordPress installations, WP caching, GIT version control, CDN, speed optimization, automatic update, among other features.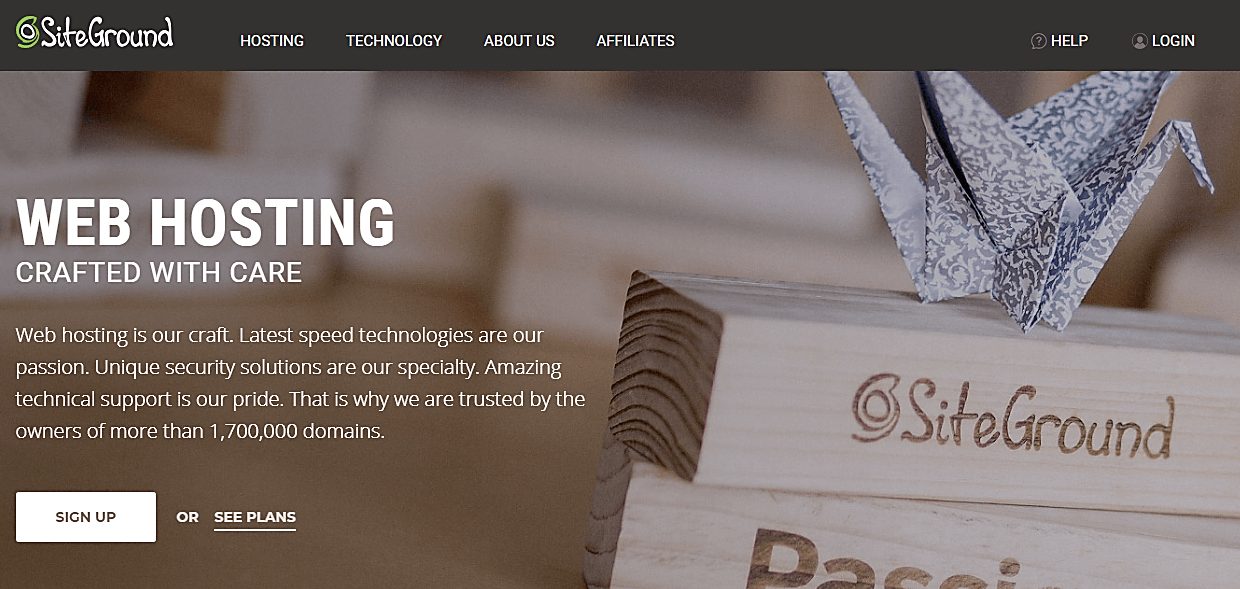 WP Engine
WP Engine is a dedicated server managed WordPress hosting solution, seeking to support and assist users with their WordPress sites. Apart from installation and site migration, it provides services for site maintenance and upkeep.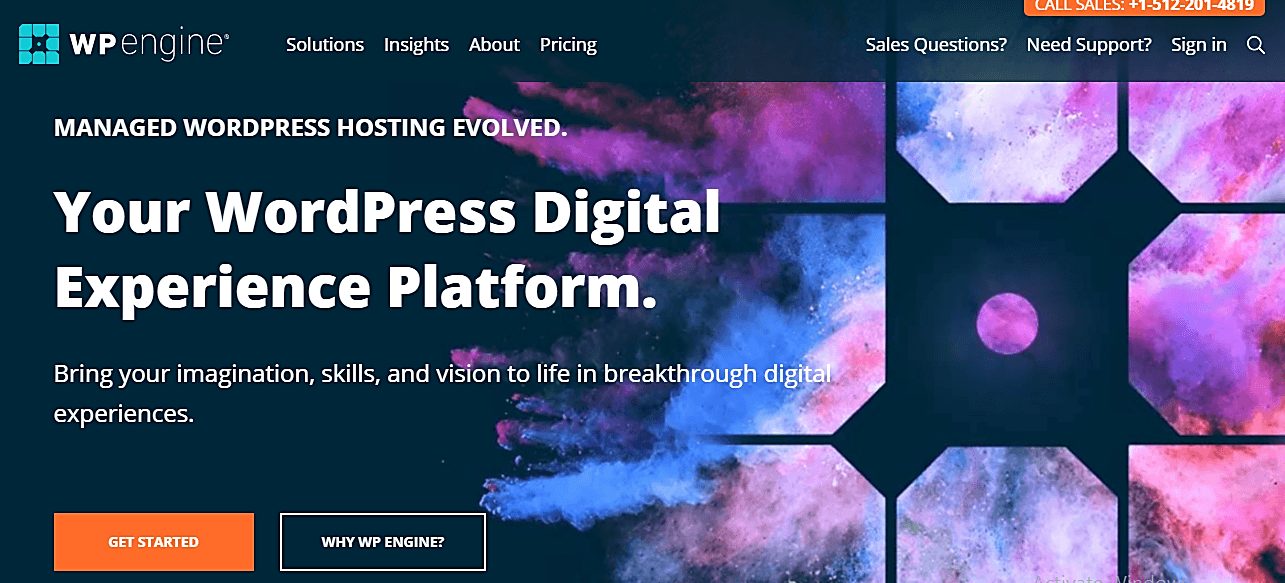 WP Engine versus SiteGround: Features
SiteGround
As soon as you get started on SiteGround web hosting company, you'll notice that the checkout process is pretty smooth and straightforward.
Everything is laid out clearly without any hidden costs that might eat into your managed WordPress budget. You basically end up paying exactly what's listed on their pricing schedule.
Another thing you don't have to worry about is installing WordPress. The support team at SiteGround doesn't wait until you've set up WordPress to swing into action.
They move in and build everything from the ground up, including WordPress installation. And the best thing is- this is offered to all user levels, regardless of your specific plan.
Wait. But what happens when you already have a site?
Well, the migration process is also straightforward. The support team simply takes over your website and repackages it on their platform.
And guess what? Although your site is virtually shifting from one server to another, it will not experience downtime. Not even for a single second.
Then, most importantly, the entire process is completely free of charge. They won't charge you even a dime for migration.
WP Engine
WP Engine is quite similar actually.
As a fully managed WordPress hosting service, expect its support team to handle the entire installation process. It comes with an automated setup process that will systematically install WordPress to provide a foundation for your website.
The rest of the setup process then follows once the WordPress CMS is up and running.
If a wordpress user already have a website running on a different platform or shared hosting, you'll be pleased that migrating to WP Engine will only take you a couple of minutes. All you need to do is leverage their automated migration plugin.
And yes, it's all free of charge.
Verdict: Best Features
WP Engine and SiteGround are both fully managed WordPress solutions. That means that they handle the whole onboarding process from the ground up- including installation of the WordPress CMS.
In addition to that, they both facilitate website migration from third-party platforms completely free of charge. And surprisingly, both services still manage to maintain 100% uptime throughout the migration process.
So, all in all, it's a strong tie between WP Engine and SiteGround when it comes to onboarding.
Dashboard Comparison
SiteGround
SiteGround, to begin with, relies on the well-known cPanel system for its dashboard. And it grants you substantial control over your entire setup- which admittedly, might feel overwhelming to first-time users.
That's a great thing overall, you've got to admit. But, there's a drawback. The SiteGround dashboard, unfortunately, is not strikingly slick. It's bland and might feel a bit outdated.
Thankfully, it's not all bad news here. Although it might not be winning any beauty contests, the dashboard is adequately-detailed. SiteGround's straightforward approach helps you find the way around without any hassle.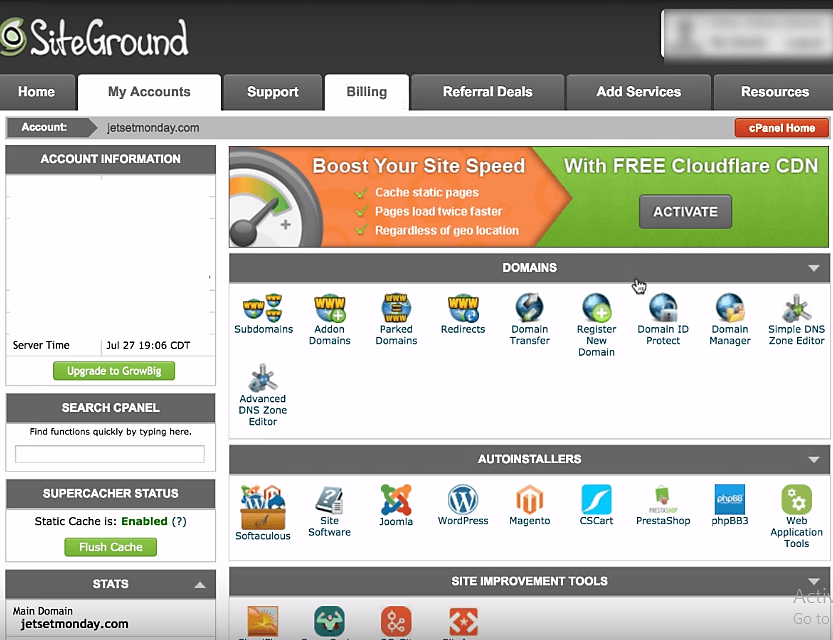 Other than that, SiteGround's control panel comes with features for:
Managing account billing details
Creating and managing STFP user accounts
Controlling third-party access to the control panel
Accessing webmail and setting up numerous email accounts
Viewing access and error logs
Installing WordPress plus other scripts and software
Creating and restoring backups
Managing supplementary domains and subdomains
Finding the help phone number, accessing live chat support channel, and opening support tickets
Accessing server files
WP Engine
WP Engine has developed its own custom control panel, which is primarily optimized for user-friendliness. The interface itself is unique with great aesthetics, and the whole layout is centered on information and account control.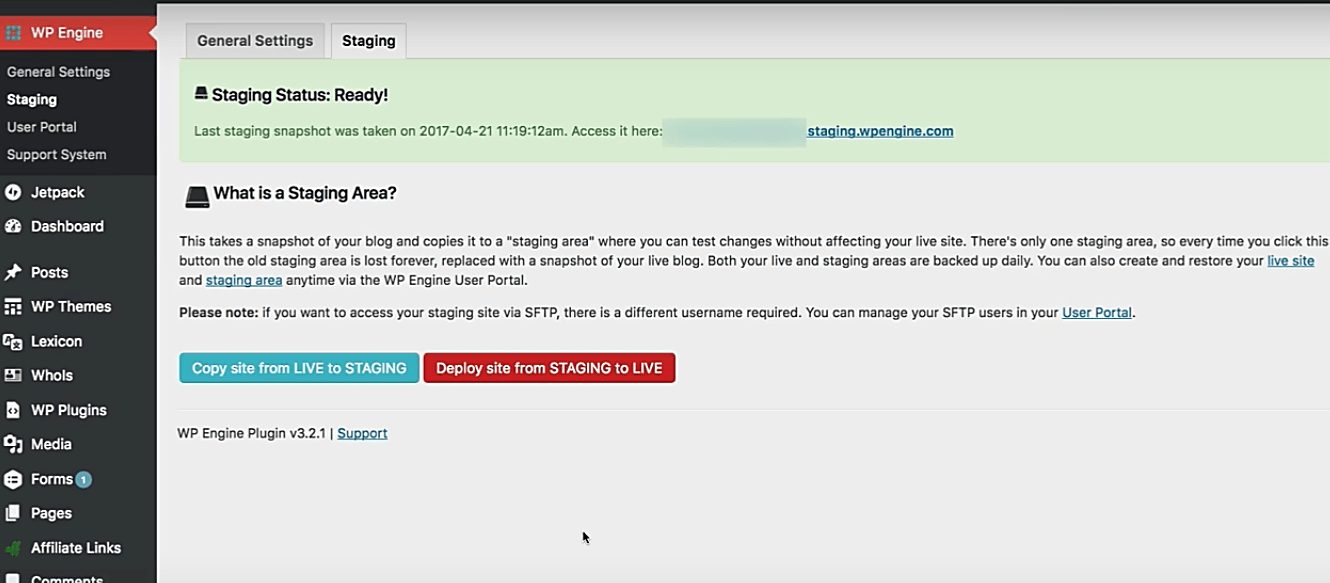 As you move around, some of the details you'll be able to access include bandwidth consumption, your site's traffic size, and the amount of storage your data is taking up. Pay keen attention to the latter two because they are the principal elements assessed for billing.
The dashboard also grants you the ability to create manual backups of your website. However, you might not need this function that often since the system conducts automatic backups on a regular basis. It only comes in handy when users make site changes in-between the times scheduled for backups.
Then my favorite feature- a page-level performance tool. It basically provides a field, from where you enter a webpage's URL to generate the corresponding performance numbers. And in case the result is disappointing, WP Engine goes ahead to throw in a couple of suggestions for improving the page speed.
Apart from that, you also get additional controls that are optional. Capitalizing on them helps users link their accounts to the support portal, create website staging environments, and access cache settings.
And that's not all. The dashboard also comes with features for:
Managing account billing details
Creating and managing SFTP user accounts
Controlling third-party access plus dictating the corresponding user roles
Viewing access and error logs
Creating and managing more WordPress installs
Getting in touch with the support team through the live chat tool
Verdict: Best Dashboard
Quite an interesting set of dashboards we have here. They are both neat and pleasantly user-oriented. But, the differences are obvious from the word go.
While SiteGround is engineered to leverage cPanel as its principle control panel platform, WP Engine comes with a custom dashboard. Consequently, the latter has been able to design an attractive interface that is way cooler than SiteGround's.
But then again, SiteGround gains points when we switch over to privileges. Users on this platform have better control over their accounts and corresponding websites than their WP Engine counterparts.
So again, we have ourselves a tie.

Go With WP Engine for WordPress
Epic support, blazing fast speeds, optimized for WordPresss. This is the host I use for our large WordPress sites. It's a bit more expensive, but worth the faster site speeds AND hands-on support.
View Hosting Plans
We earn a commission if you click this link and make a purchase at no additional cost to you.
Performance & Speed Comparison
SiteGround
Right off the bat, SiteGround comes with a 99.9% uptime guarantee on all websites, regardless of your selected user package.
But, why not 100%? Well, it's practically impossible to guarantee uninterrupted uptime. To be fair, it's possible that downtime might occur due to unpredictable issues like natural disasters or system glitches.
And you know what? SiteGround is well-prepared to handle such instances through its real-time detection technology. It not only draws attention to any possible downtime but also swiftly works to establish a solution.
Fair enough. But, how true is the 99.9% guarantee?
Well, various analysts have done multiple studies on the matter. And the subsequent results seem to be consistent with 99.99% and 100%.
One specific test recently sampled ten SIteGround sites from different locations across the globe for a period of six months. And it consequently established an average uptime of 99.99%.
To verify this, I ran my own test on SiteGround through Host Tracker. And I noted zero cases of downtimes from numerous locations.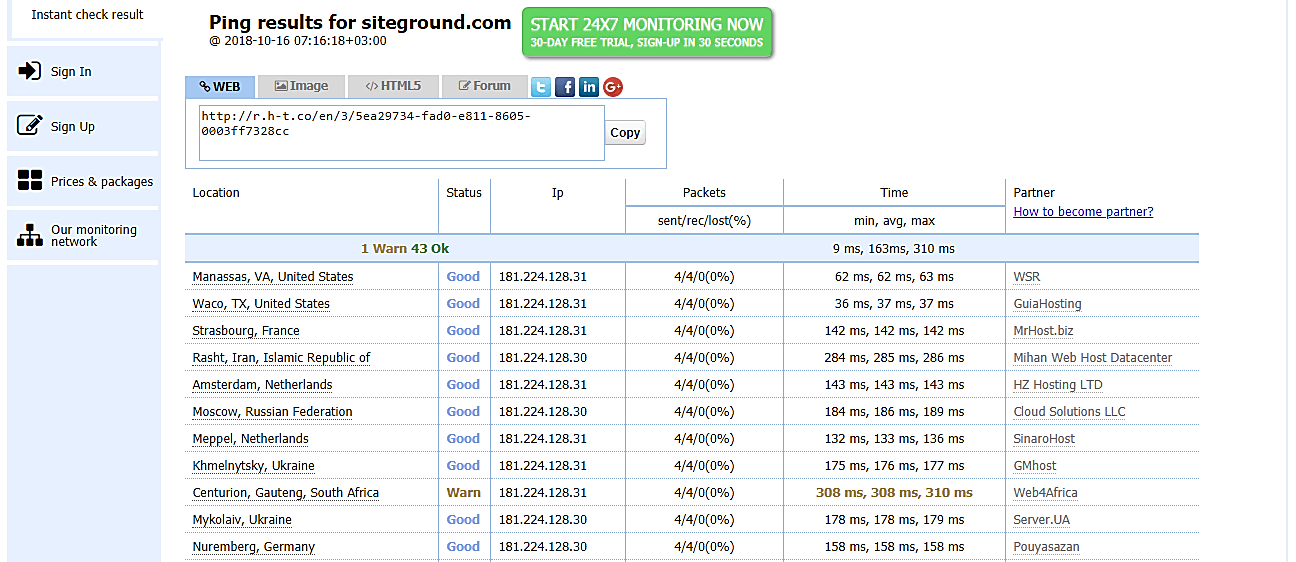 The stuff of legends, to say the least. But, how about speed?
When it comes to site speed, it's worth noting that SiteGround recently released PHP 7.2 RC as part of its strategy to boost efficiency, security and speed. This is certainly a remarkable development overall, especially considering the fact that PHP 7 is three times faster than the popular PHP 5.6
So, how does this affect its numbers?
Going by the same six-month test, the average loading time recorded on ten SiteGround-hosted sites was 1.3 seconds. Not bad. Not bad at all. But to be completely sure, we still need additional verification.
Thus, let's see how good SiteGround servers are. And the metric we'll use is TTFB, which translates to Time To First Byte. It's exceptionally accurate because it mitigates the effects other variables- like images- have on a site's overall loading speeds.
After running the test through Web Page Test, the consequent TTFB was 1.141 seconds.

WP Engine
While WP Engine is known for maintaining uninterrupted uptime, their uptime guarantee is 99.95%. And it certainly makes sense why they didn't go with 99.99% when you consider their "No Overselling Policy".
But, how solid is this?
Well, the same six-month test managed to record an average uptime of 99.99% for ten WP Engine-based websites scattered across the globe. That means that all the sites combined experienced a cumulative downtime of about 4.4 hours over the six-month period.
And to countercheck this, I run a test through Host Tracker, just as I had done with SiteGround. The consequent results established zero downtime cases.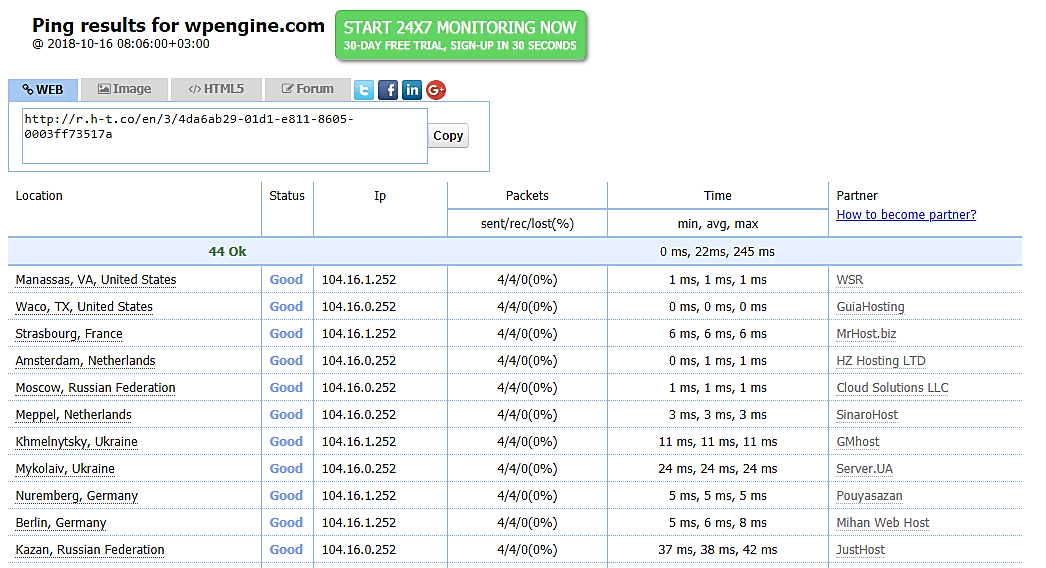 Then, I was quite curious when I switched over to loading speeds since WP Engine hosts its some of its websites on PHP 5.6 servers, while others run on PHP 7 servers.
Interestingly, the six-month speed test report reported the same performance results as SiteGround. Ten different websites running on WP Engine registered an average loading time of 1.3 seconds over a half-year period.
So, would a TTFB test follow the same trend when we assess WP Engine's servers? Let's find out…
Well, it turns out WP Engine is some Usain Bolt of sorts. The resultant TTFB was- get this- 0.325 seconds.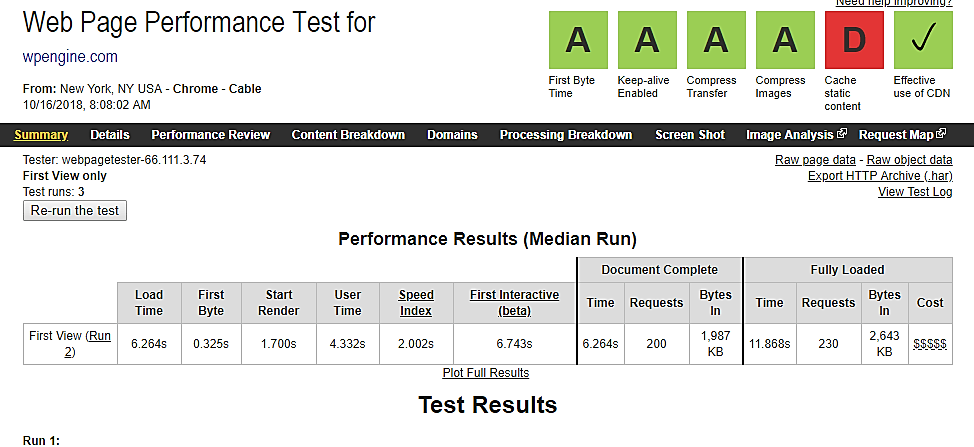 Verdict
It's incredible that both SiteGround and WP Engine provide almost full-time uptime guarantee. And the subsequent tests verified this accordingly. So, you can rest assured that your site won't be experiencing any downtimes on any of these two managed WordPress hosts.
But then the script changes slightly when it comes to site speed. Although a six-month speed test recorded identical results, a quick assessment of their respective servers reveals that WP Engine has a shorter TTFB than SiteGround. In other words, WP Engine's servers are faster than SiteGround's.
Therefore, we can confidently declare WP Engine the winner here.
Backup and Data Centers Comparison
SiteGround
Although there are several notable backup plugins on WordPress, it's always advisable to leverage host-side automatic site backups.
And SiteGround means business as far as this goes. Like we've mentioned, among its fundamental features is regular automated backups.
And that's not all. It stores multiple copies of your site to give you various possible restoration points. Even the cheapest plan provides you with a dashboard that holds up to 30 versions of your most recent automatic site backups.
In addition to that, SiteGround supports instant backup on demand. This is basically a manual backup system that allows users to backup emails, databases, files, and the entire account anytime they want to. Just click backup, choose the source, and the system will handle the rest. It really is that simple.
Sounds good? What about the restoration process?
Well, restoring a previous version of an email, database, file, or your entire account only takes one click. You simply go to your instant backups or automatic regular backups, click restore, and voila!
Ok, I know what you're thinking by now. Where are all these files stored?
Here's the thing -sites whose traffic predominantly comes from Africa, South America, and North America are held in SiteGround's servers based in its Chicago, US data center.
Websites that host Europe-based visitors are hosted in either its London, UK data center or the Amsterdam, Netherlands data center- whichever is closest to the principal traffic sources.
Then home for sites with traffic from the South Pacific, Asia, New Zealand, and Australia is at the Singapore data center.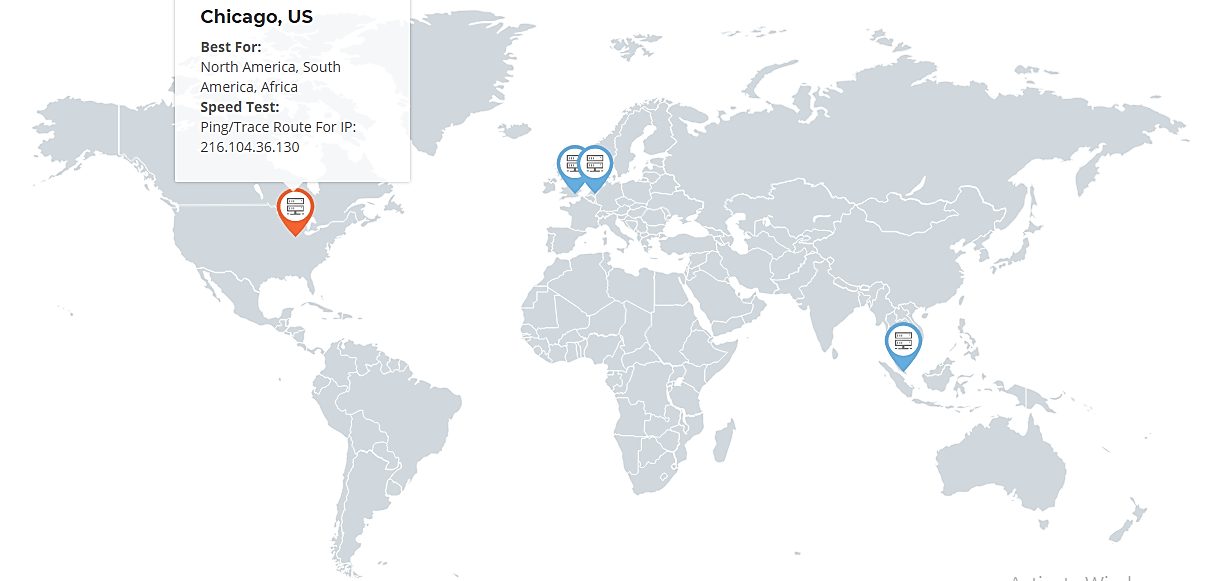 In total, therefore, SiteGround relies on four data centers- each of which is optimized for increased loading speeds.
And to prevent unauthorized physical access to the servers, each data center is protected by video surveillance, bulletproof lobbies, access control man traps, biometrics, and 24/7 human security.
WP Engine
WP Engine's automated backup protocol typically swings into action every night as you go to bed. Its system has been engineered to automatically back up websites at night on a regular basis. And it holds as many as 40 site backup copies.
To top it off, WP Engine also supports manual backups, which you can conveniently initiate from your control panel.
Oddly enough, none of these backup instances will upload all your data. The system only focuses on critical website plugins/themes, files, database, and plus a fraction of your uploads.
The restoration process, on the other hand, comes with two target location options. You could either restore a backup version to your site or choose to install it to a different environment.
That said, it's worth noting that WP Engine takes advantage of Amazon Web Services and Google Cloud Platform. It has adopted their servers to increase overall performance and facilitate large-scale integrations, intelligence, and agility.
And you know what? Hosting your site on Google Cloud and AWS comes with compliance certification for SOC 1, SOC 2 and SOC 3 (internal controls documentation), ISO 27018 (cloud privacy), plus ISO 27017 (cloud security).
And yes, you're right. Google and Amazon boast of many data centers positioned in numerous locations around the world.
Well, WP Engine is also a powerhouse of sorts- with data centers the US, Australia, UK, Taiwan, Germany, and Belgium. Where your site is hosted, however, depends on the specific user package you've subscribed to.
You can choose between
Frankfurt
Montreal
London
Sydney
Ireland
Ohio
Oregon
Virginia
AWS
Google
Tokyo
Taiwan
Belgium
South Carolina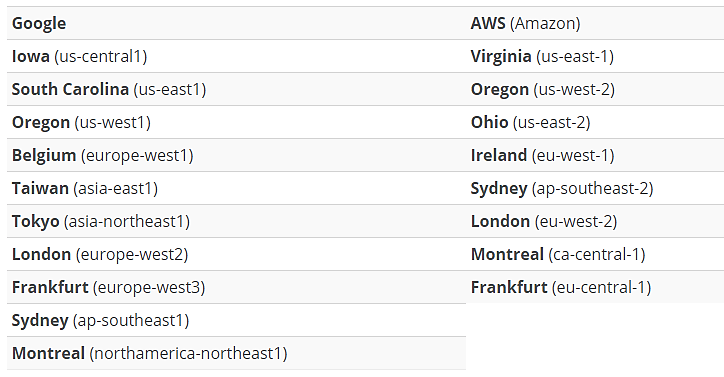 Verdict: Best Speed and Performance
It's commendable that both SiteGround and WP Engine provide regular automatic backups. Other than that, they offer on-demand backup, which comes in handy when you make site changes.
Although 30 is still an impressive number of backup copies on SiteGround, let's face it- 40 is much better. Consequently, we can agree that WP Engine has an edge over SiteGround in automatic site backup.
But that's not all. It turns out SiteGround also loses to WP Engine when we switch over to server locations. For starters, WP Engine runs numerous data centers spread across the US, Australia, UK, Taiwan, Germany, and Belgium- while SiteGround only has four.
Then, as if that's not enough, WP Engine goes ahead to leverage Google Cloud and AWS servers- consequently increasing its data footprint, and overall site response times.
All in all, WP Engine wins this hands down. And by a wide margin.
Customer Support
SiteGround
One of the elements SiteGround has seemingly perfected is customer support.
From the account dashboard, you can get in touch with its team through the live chat tool or support ticket. And if you'd prefer phone support, SiteGround provides a number that connects directly with the tech support team.
However, you can only get the relevant tech support phone details after logging into your account. New users are only provided with the sales team's contact number.
Then guess what? SiteGround never closes its customer support channels. Not even for an hour. Thanks to its 24/7 policy, you can get help at any time of the day or night.
Admittedly, you might have to wait for a moment to get through to an agent. But, not that long if you're on either the GoGeek or GrowBig hosting plans. Users on these two levels are granted priority support, which essentially expedites their requests.
Well, I made a point of getting in touch with SiteGround's tech support team via live chat. And after a couple of queries, I was convinced that they indeed know their stuff. The agent I engaged with was adequately knowledgeable and quite professional.
Now, if you're trying to learn the ropes, I'd advise you to first take advantage of the knowledge base, setup wizards, and tutorials. They are well-detailed and clear enough to help you find your way around the entire platform.
WP Engine
WP Engine, on the other hand, also provides an array of customer support options.
First off, its sales agents will try to engage with you via live chat as soon as you land on the main site. Alternatively, you can use the support ticket or call one of their three global offices in Australia, the UK or the U.S.
The tech support team will only be available after you've subscribed to the service. And it comes in several forms.
If your issue is not that urgent, a support ticket should work just fine. One-on-one support, on the other hand, is particularly suitable for pressing matters. But, in case typing on live chat is not your cup of tea, you can get through to the tech support team via phone.
And yes, you're right- it doesn't end. Although sales support is only available during normal working hours, tech support is a full-time thing. You can contact them even at Christmas.
But, I figure that wouldn't be necessary for most issues since WP Engine has invested heavily in a resource center. It contains comprehensive documentation on basically everything there is to learn about WP Engine.
Verdict: Best Customer Support
WP Engine and SiteGround both seemingly take customer service very seriously. In addition to comprehensive knowledge bases, they provide a range of contact channels to conveniently connect with their tech support teams.
If you don't fancy a support ticket, you could opt for live chat or a phone call. And it's all available 24/7, regardless of your region.
That said, let's call it a tie between Siteground and WP Engine on customer support.
Overall Features
Free CloudFlare CDN
Cpanel access
Free setup and transfer
Unlimited traffic, email accounts, databases
Free daily backup
Free '.com' domain
99.9% uptime guarantee
30-day money-back guarantee
24/7 technical support
Staging
MySQL & PostgreSQL Databases
Free SSH and SFTP Access
Multiple PHP Versions (7.2, 7.1, 7.0 and 5.6)
Free Let's Encrypt SSL certificates
Free Shopping Cart Install
Proactive updates and patches
SuperCacher
HTTP/2 enabled servers
SSD Storage
Unlimited sub and parked domains
Free drag & drop builder
Free SSL certificate
1-click restore
CDN ready
SSL ready
Evercache
Malware scan
Firewall
Daily backups
24/7 technical support
60-day money-back guarantee
Uptime guarantee
Control user account privileges
Run page performance tests
Automatic and manual site migration
Object cache and clear page cache
Access logs and error logs
Activity reports and insights
Support from WordPress experts
Free SSL certificate
Verdict on Hosting Solution Features
In essence, both SiteGround and WP Engine offer:
Multisite support
24/7 phone & chat support
Git & SSH available
Complete database access
Included CDN (SiteGround uses Cloudflare; WP Engine uses MaxCDN)
PHP 7
Automated backups
WordPress-specific caching and performance
Unlimited staging sites
Free SSL via Let's Encrypt
Some of the most outstanding features on WP Engine alone include:
Several website statistics.
A more streamlined admin interface
Easier SFTP setup
The unique features on SiteGround include:
PHP 7.1 & 7.2
Unlimited sites (WP Engine supports up to 10)
WP Engine vs SiteGround: Hosting Plans Pricing
SiteGround Pricing
SiteGround is a fairly expansive platform with numerous hosting solutions for various target markets. In addition to typical web hosting, it offers enterprise SiteGround hosting, dedicated servers, cloud hosting, and reseller hosting.
The bulk of these solutions, of course, are meant for mid-sized businesses and large enterprises. So, ignore all that and focus on the important solution here- web hosting, and to be precise, managed WordPress hosting solution.
That said, there are three principal hosting plans for WordPress sites. And each is tailored for its user demographic.
StartUp, to begin with, is ideal for small projects and beginners. Then GrowBig has been built for blogs and new businesses, while GoGeek is suitable for established businesses and developers. They all come with a 30-day money-back guarantee period.
Let's jump right into the details:
StartUp– Hosting plans start at $3.95 per month
Essential WordPress features
Ideal for 10,000 monthly visitors
10gb of web space
One website
GrowBig– Costs $5.95 per month
Premium WordPress features
Essential WordPress features
Ideal for 25,000 monthly visitors
20gb of web space
Multiple websites
GoGeek– Costs $11.95 per month
Geeky WordPress features
Premium WordPress features
Essential WordPress features
Ideal for 100,000 visits monthly
30gb of web space
Multiple websites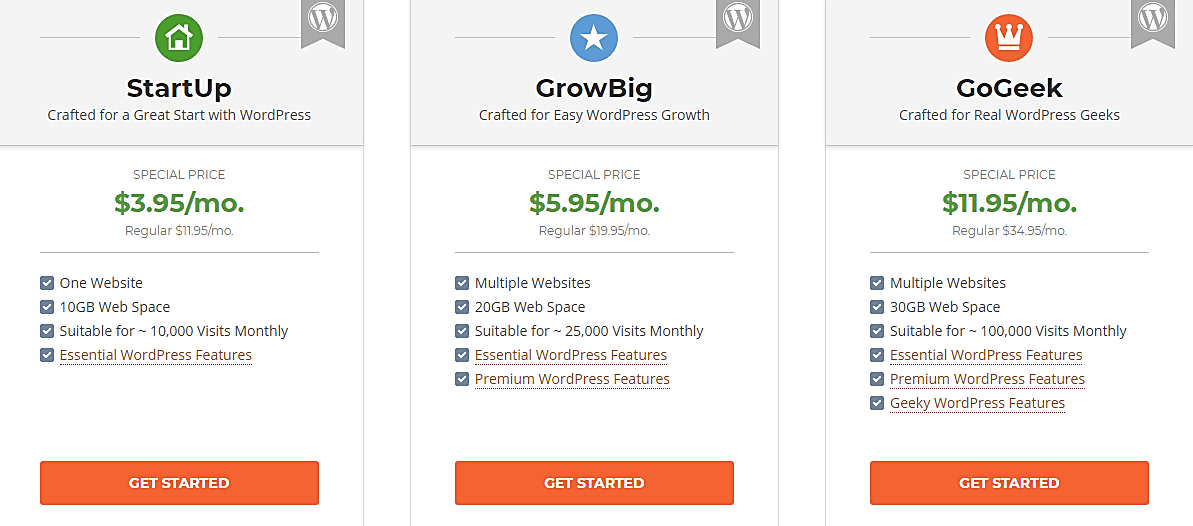 WPEngine Pricing
WP Engine's pricing schedule is also structured to cater to different types of users and WordPress hosting plans. StartUp has provisions that would fit a blog or small website, Growth is suitable for growing businesses, while Scale comes in handy when you're expanding, and Custom is tailored for large enterprises.
There are two modes of payment if you decide to proceed with any of these plans. You could pay monthly or go with the cheaper annual prepay option- which waves off the cost of two months from the cumulative sum. Additionally, you get a 60-day risk-free period.
That said, here are the details:
Startup– Begins at $35 per month
Standard features
Free page performance
Free migrations
CDN and SSL
50GB bandwidth
25,000 site visits per month
3 environments per website
Starts with one website
Growth– Begins at $115 per month.
Standard features
Free page performance
Free migrations
CDN and SSL
200GB bandwidth
100,000 site visits per month
3 environments per website
Starts with five websites
Scale– Begins at $290 per month.
Standard features
Free page performance
Free migrations
CDN and SSL
400GB bandwidth
400,000 site visits per month
3 environments per website
Starts with 15 websites
Custom– Negotiable
The fastest support response
Managed onboarding
Highest availability/redundancy
Highest performance
Dedicated environment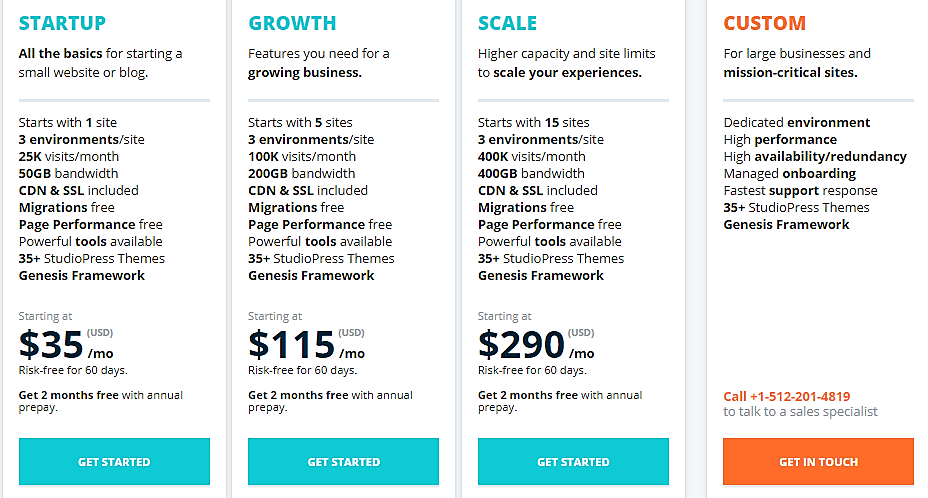 Verdict: Best Pricing
At first, it would seem like SiteGround is significantly cheaper than WP Engine.
But, after a close scrutiny of their respective provisioning scales, it's evident that their target markets are different. SiteGround's most advanced managed WordPress hosting plan cannot even match up to WP Engine's most basic package.
While SiteGround managed WordPress hosting is suitable for the smallest businesses, WP Engine has been built to host heavy WordPress website users seeking to grow systematically as their businesses expand.
Hosting Service
Features
Pros
Cons
Price
WP Engine
• Provides powerful security and speed
• Excellent customer service
• Backup of files for later use
• Fixing hacked sites free of charge
• Backup and restore data
• 60 days trial
• Managed hosting
• EverCache Technology for fast load time
• It works only with WordPress
• Some themes and plug ins may not be allowed
• Startup Plan - $35/m
• Growth Plan - $115/m
• Scale Plan - $290/m
• Custom plan - price not stated
Siteground
• A great hosting platform that works with WordPress
• Free domain and and 30 day money back guarantee
• Very fast load time
• Extremely fast server response time
• Multiple data centers around the world
• Daily backups
• You can choose IP address of their centers to see where your sites load faster
• Affordable
• Anti spam tools and anti hacking tools
• You get limited resources (30GB) being the most
• Renewing the contract will cost you 60% more
• The shortest billing cycle is 12 month
• Startup Plan - $3.95/m
• GrowBig Plan - $6.45/m
• GoGeek Plan - $11.95/m
Frequently Asked Questions
Does Wpengine offer email?
Sadly, one of the few backdowns of the WPengine as a web hosting provider, is that its hosting plan does not include an email, but for just $5 per user per month, you can get access to Google Business Apps.
Is SiteGround PCI compliant?
Yes! A great benefit of being part of the SiteGround community is that this dedicated hosting company offers a PCI-compliant hosting for its SiteGround GoGeek plan members.
Does SiteGround use cPanel?
SiteGround hosting company has developed its own special cPanel for their members called Crystal.
Web Host Summary: WP Engine or SiteGround Hosting?
Which WordPress hosting provider option is best, then?
Overall SiteGround and WP Engine's are two powerful hosting provider options. These two web hosting providers are both well-organized and offer robust features. Both SiteGround and WP Engine guarantee uninterrupted uptime and both provide regular automatic and manual on-demand backups.
One advantage of the SiteGround hosting provider that stands out is users have much more control over their accounts and sites compared to their WP Engine counterparts. On the other hand, WP Engine's servers are more responsive than SiteGround's web hosting.

Go With WP Engine for WordPress
Epic support, blazing fast speeds, optimized for WordPresss. This is the host I use for our large WordPress sites. It's a bit more expensive, but worth the faster site speeds AND hands-on support.
View Hosting Plans
We earn a commission if you click this link and make a purchase at no additional cost to you.
Another benefit includes WP Engine's multiple data centers spread across the US, Australia, UK, Taiwan, Germany, and Belgium- while SiteGround only runs four.
When it comes down to it, it all depends on your business model, size and scalability. For instance, SiteGround managed WordPress hosting targets the smallest businesses while WP Engine focuses on heavy WordPress users. But, if I had to choose, WP Engine has more benefits in the long run.
Bottom Line: IF you can afford it, WP Engine is clearly the OBJECTIVELY better WordPress hosting companies here. However, if you are just starting off and on a tight budget, SiteGround has great starter plans here. You can always transfer later to WP Engine…
After reading about the differences and comparing the two what are your thoughts?
Other Web Hosting Reviews & Comparisons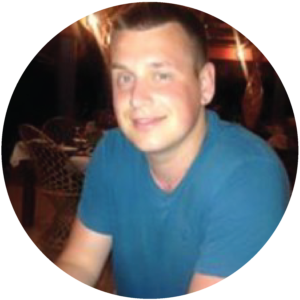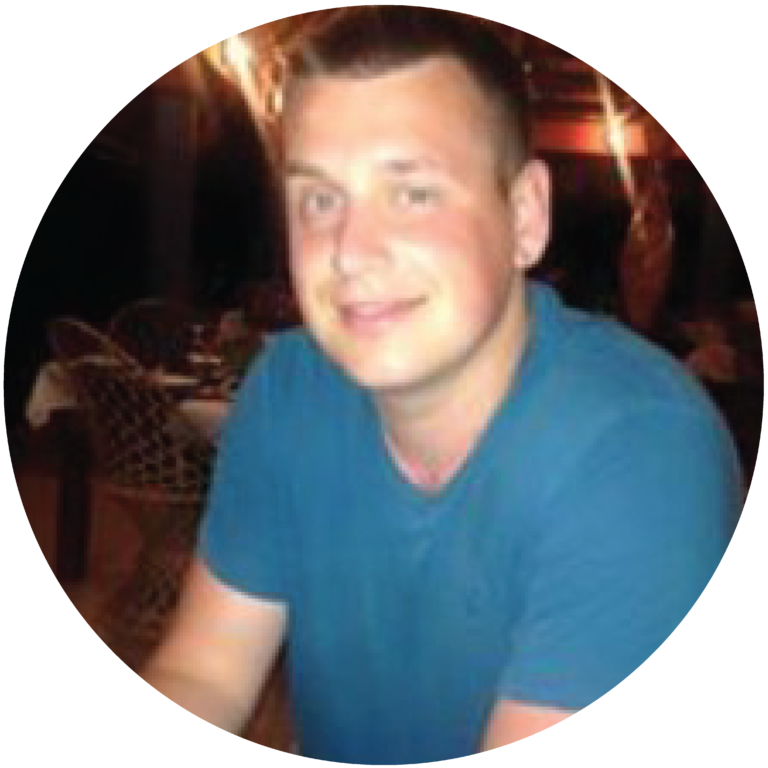 Latest posts by Ewen Finser
(see all)