Last Updated on July 29, 2022 by DMEditor
Picking the right hosting platform is not an interesting activity for many people. This is because people who need websites only visualize what they want it to do, and the chances are high that they are not keen on the technical side that runs it.
If you're going to set up a new company, all you need is a website that shows what you offer to customers and perhaps an e-commerce store to allow them to buy online.
This is what most entrepreneurs have in mind. When you engage them about hosting, speeds, security, and all the other technical stuff, they won't be happy to participate in that discussion. The sad part is that hosting is mandatory for every website, and it is one of the initial steps that go a long way to determine the type of site we get.
Today, you will come across many hosting service providers, and selecting the best one can be overwhelming. You need to critically analyze the options at stake and see which one gives the best value for money before going for it.
This piece will break down two popular hosting service providers, SiteGround and GoDaddy, to provide you with a sense of what they are about and which one suits your business needs better. Read on;
Main Differences Between SiteGround vs GoDaddy
The main differences between SiteGround vs GoDaddy are:
SiteGround is a dedicated hosting service provider, whereas GoDaddy is a more comprehensive web services provider that includes hosting as one of the key offerings
SiteGround is endorsed for WordPress hosting, whereas GoDaddy is not
SiteGround has CDNs, whereas GoDaddy only allows integration to third-party CDNs
Overview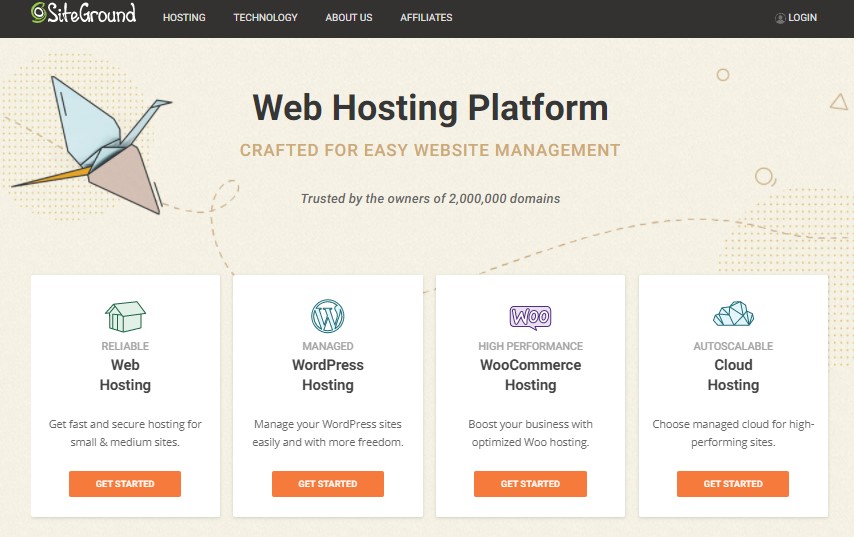 SiteGround
SiteGround was established in 2004 by three university students in Sofia, Bulgaria. It has become a major force in the technological space, led by Tenko Nikolov, a renowned technology entrepreneur. It now employs more than 400 people and hosts more than 1.7 million domains worldwide.
SiteGround is different from most hosting providers since it caters to all entities that value quality hosting, smart custom solutions, advanced security, and affordable pricing.
GoDaddy
GoDaddy is a household name in the web hosting space with over 20 million customers across the world. It is one of the largest hosting providers with 70 million domain names under its management and about 6,000 staff members.
It was established in 1997, in Baltimore, Maryland, by Bob Parsons. He sold his financial software services company Parsons Technology to Intuit before forming Jomax Technologies that later became GoDaddy Group Inc. This is an all-inclusive online services company that offers more than just web hosting by providing web marketing and security services.
Your hosting service provider of choice depends on a couple of features that affect your site's performance. Here, we will break down some of these features and give you a clear picture of how these two service providers fare. Read on;
Key Features – Plans and Pricing
All companies have a range they are willing to spend on hosting services, and it is great to start with the price charged by these two. However, do not review any prices blindly and do some background research to see the average prices. The cheapest hosting is not always the best.
SiteGround

SiteGround has three plans, namely Startup, GrowBig, and GoGeek. They go for $6.99, $9.99, and $14.99 per month, respectively.
These are discounted prices, and the actual ones are $14.99, $24.99, and $39.99 per month, respectively. All these plans have a free drag and drop Weebly Sitebuilder, free CMS installation, free email accounts, unlimited MySQL database, unlimited sub and parked domains, friendly site tools, and 30 days cash back guarantee.
However, they have a few differences. The StartUp plan only permits 10,000 monthly visits, GrowBig with 25,000, and GoGeek at 100,000 visits monthly.
They also have 10GB, 20 GB, and 40 GB space, respectively. The StartUp plan allows you to host one website, with the other two giving you a provision for hosting unlimited sites. Data transfer is unmetered for both plans.
Other features that are available to all the plans include;
Spam protection
Proactive updates and patches
Automated daily backup
LXC-based stability
Free shopping cart install
Free Let's Encrypt SSL certificate
GoDaddy

GoDaddy offers its hosting services in three plans, namely Economy, Deluxe, and Ultimate. The Economy plan is meant for growing sites and costs $1 per month, which goes to $8.99 when you renew. The Deluxe plan costs $7.99 per month, rising to $11.99 when you renew. The Ultimate plan costs $12.99, which rises to $16.99 per month when you renew.
All the plans come with unmetered bandwidth, free domain if you choose an annual plan and free Microsoft Office 365 email for the first year.
However, you can only host one website for the Economy plan, with the other two letting you host unlimited sites. You only get 100 GB storage for the Economy plan, with the others having no limit. The Ultimate plan comes with a free SSL certificate for the first year and 2x processing power.
Note: Most hosting platforms give incentives when you sign up for the first time, and be keen to look at the actual price you will be locked into once you are set up. For instance, the price we will look at here is the one that applies once you renew.
Features
SiteGround
This web hosting service might not be a household name, but it is a hotshot for reliability and quality services. Its selling strategy is to give services that are customized to a client's needs.
It does this by picking hardware, developing server architecture, and innovatively setting custom software solutions.
Control Panel
Most SiteGround plans have a cPanel that lets you manage your account. This is a common feature on most hosting platforms, and those that have used it before should not encounter much trouble getting accustomed to this. It is self-explanatory and contains WordPress tools, Joomla tools, Email tools, backup manager, and database tools.
This panel contains Softaculous, a one-click installer tool that gives you access to over 400 applications that can be added to your site to improve its functionality.
Performance
This is perhaps one of the most important things to look for in a hosting service provider. Downtime is an enemy for any business. SiteGround offers a 99.99% monthly uptime guarantee, which from reviews, is rarely breached.
It provides real-time tracking, as opposed to what other hosts do. As a result, all issues with their servers are detected quickly and resolved promptly to help avoid downtime cases.
Response time is another performance metric that is confused with uptime, but they are different. Uptime is when the server is available, whereas response time is how long it takes a server to download a web page. SiteGround offers excellent response times.
The website load times range from 20 milliseconds to just over a second. The high speed is aided by;
Cloudflare Content Delivery Network
Supercacher – You select between static or dynamic caching.
Solid State Drives are availed in all accounts, and they are superior to legacy Hard Disk Drives.
NGINX web server technology that improves site speeds
HTTP/2 enabled servers
PHP 7 scripting language used to make dynamic web content
Server Security and Backups
Web security should be enforced on different levels, and one important part is doing it on the hosting part. SiteGround has complex intrusion detection and prevention systems that can vigilantly watch out, scan, and block malicious software.
In 2017, SiteGround launched its artificial intelligence platform to keep malicious bots away. These are what modern-day intruders use to execute brute force attacks.
It also has a special isolation system that protects your site from being hacked if another site you share resources with on the same server is compromised.
Automated Daily Back-Ups
SiteGround has automatic backups and restores your site to a previous version in the event of an attack. Precisely, you receive free daily backups and the ability to restore the site to an earlier version through a single click. This is free on all plans.
Besides, you can get an on-demand backup at any time on GrowBig plans and higher. This comes in handy when you want to implement massive changes on your site at any point. With this feature, you can choose to backup specific files, pages, and folders instead of the whole site.
Customer Support
All hosting service providers have unique features that might not be common to many, and it is prudent to check if they have proper customer support to help you set up your sites. SiteGround offers top-quality customer support.
This is backed up by its strategy of deploying more than enough customer service representatives for each shift to see that all your issues are handled quickly. You can reach out to them through live chat, email, tickets, or phone support. Phone calls and live chat queries are responded to instantly, and support tickets are replied to within ten minutes.
SiteGround has advanced priority support, a premium feature that prioritizes your request above others. These queries are assigned to seasoned support team members, and it is available to GoGeek plans and higher.
GoDaddy
This hosting platform is known for its attention-getting commercials and the tag of being the world's largest domain registrar since 2005.
Some of the top features that make them attain this status are their comprehensive set of web hosting services, round-the-clock customer support, and rock-solid uptime.
GoDaddy has a set of tools that make it a one-stop-shop for small businesses that need to set up an online platform. This collection lets you get a new site, domain, SEO services, local search presence, social media marketing, online bookkeeping, business phone number, and more importantly, web hosting.
Performance
GoDaddy offers an excellent uptime guarantee of 99.9%, which ensures your site is accessible at all times. It ensures this by optimizing its Phoenix data centers equipped with uninterrupted power supply, massive security, and technical staff monitoring operations.
GoDaddy has optimal performance, especially in eCommerce sites where speed directly affects the number of purchases and ultimately revenue.
It implements this by using Content Delivery Networks. The main role of CDNs here is to cache your site across a collection of servers so that when a user requests it, the files are sent from the closest customer. GoDaddy does not offer specific CDNs, but it allows for easy integration with Cloudflare options.
Server Security and Backup
GoDaddy does a lot to ensure your site is secure right from the simplest hosting plan. It uses a secure shell and spam detection in the cPanel to enhance security.
Other advanced security features include support for Secure Socket Layer (SSL), 2048-bit encryption, and the option to buy SiteLock. This is a feature that offers spam and malware monitoring, site verification certificate, and app scanning.
The hosting service executes daily backups and malware scans for your site. They let you make copies of your site when you wish and pay a little fee to have these files backed up in the cloud.
Customer Support
You will always need the help of a technician when setting up your site on GoDaddy. The tech support specialists can be reached through live chat, phone, and email.
You can get them round the clock and their response times are impressive, with users stating that it ranged between a minute and ten minutes. Besides, GoDaddy has a comprehensive knowledge base where you can find useful resources to answer some of the support questions you have.
The Good and Bad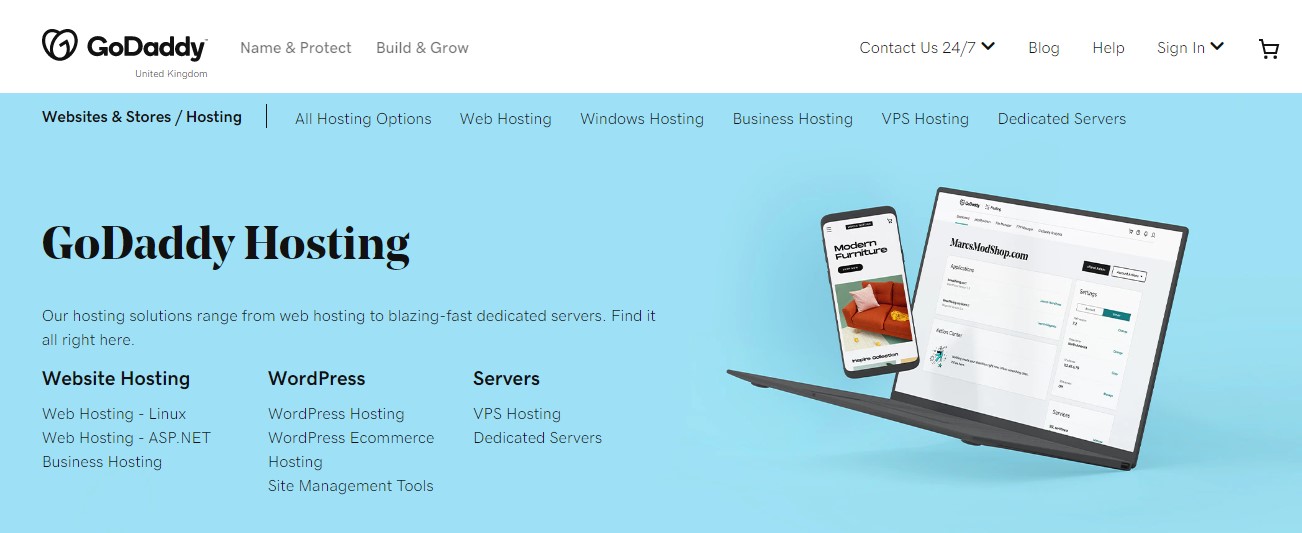 Pros of SiteGround
Recommended by WordPress for hosting
Fast customer support
Excellent uptime guarantees
Free SSL certificates with all plans
Cons of SiteGround
Lacks dedicated, VPS, and windows server option
Relatively low storage
Pros of GoDaddy
One-stop-shop for all your website development needs
Has a comprehensive collection of services
Cons of GoDaddy
Customer support can be poor
No cloud hosting
FAQs
Question: Is WordPress free with Siteground?
Answer: It all depends on the plan you select. Siteground is endorsed by WordPress as one of the go-to hosting services for this platform and supported plans have a WP Starter Plugin. This has a few themes to help you get started with web development.
Question: Can I transfer my website to another hosting service?
Answer: It is possible to transfer your site to another host through FTP(File Transfer Protocol). Here, you should connect your account and download the sites to your computer. Once you have set up the new hosting environment, just upload them to your new hosting account's main folder.
All hosting providers including GoDaddy and Siteground have elaborate procedures on how to this in their specific environments.
Question: How long does it take to transfer a domain to GoDaddy?
Answer: It takes between five and seven days for a successful domain transfer.
Bottomline
Comparing SiteGround versus GoDaddy goes down to picking between a household name and a specialized service provider.
From their features and performance are both impressive hosting service providers that should comfortably meet any business requirements. GoDaddy stands out in the load times, but SiteGround takes the day in uptime and support matters.
GoDaddy is great for beginners, thanks to their collection of tools that will handle most of the needs one has when setting up a site. However, this is a downside since GoDaddy focuses on offering all these other services and might lose the specialization needed in a specific one, like hosting, seen with SiteGround.
When it comes down to picking one, SiteGround just about gets the nod.
Further read: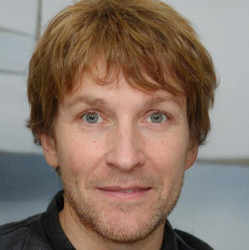 Latest posts by John Hughes
(see all)
Get 40% OFF for 3 Months