Last Updated on January 16, 2023 by DMEditor
When it comes to finding the perfect hosting for your website, you're spoilt for choice. However, your search shouldn't be taken lightly. Your site's security, speed, and performance all rely on your web hosting – so it pays to do your research.
So, you may be relieved to hear that we've done some of the leg work for you. In this review, we'll explore a brand-new hosting provider, Rocket. So, join us as we put under the microscope who Rocket is, what they offer, and how much they charge.
Continue reading to find out…
About Rocket
Rocket started out only seven months ago in 2020. It began its journey under the brand name "OnRocket," which they've since simplified to just Rocket.
The providers.
But what does that mean?
In short, Cloudflare's massive network of over 200 edge points can be used to automatically cache your entire site. It can therefore promise considerable speed and convenience.
Rocket is privately owned and run by just two seasoned web hosting experts. They call themselves Captain Ben and Major Phillips (I love this brand's quirkiness and personality!).
Rocket gears itself towards providing managed WordPress hosting and aim to make the user experience their number one priority.
Rocket also claims to be a partner-driven cooperation that works closely with influencers, theme developers, agencies, affiliates, investors, and plugins to provide its service.
Now that we've covered the basics, let's take a closer look at the nitty-gritty of what they have to offer:
The WordPress Control Panel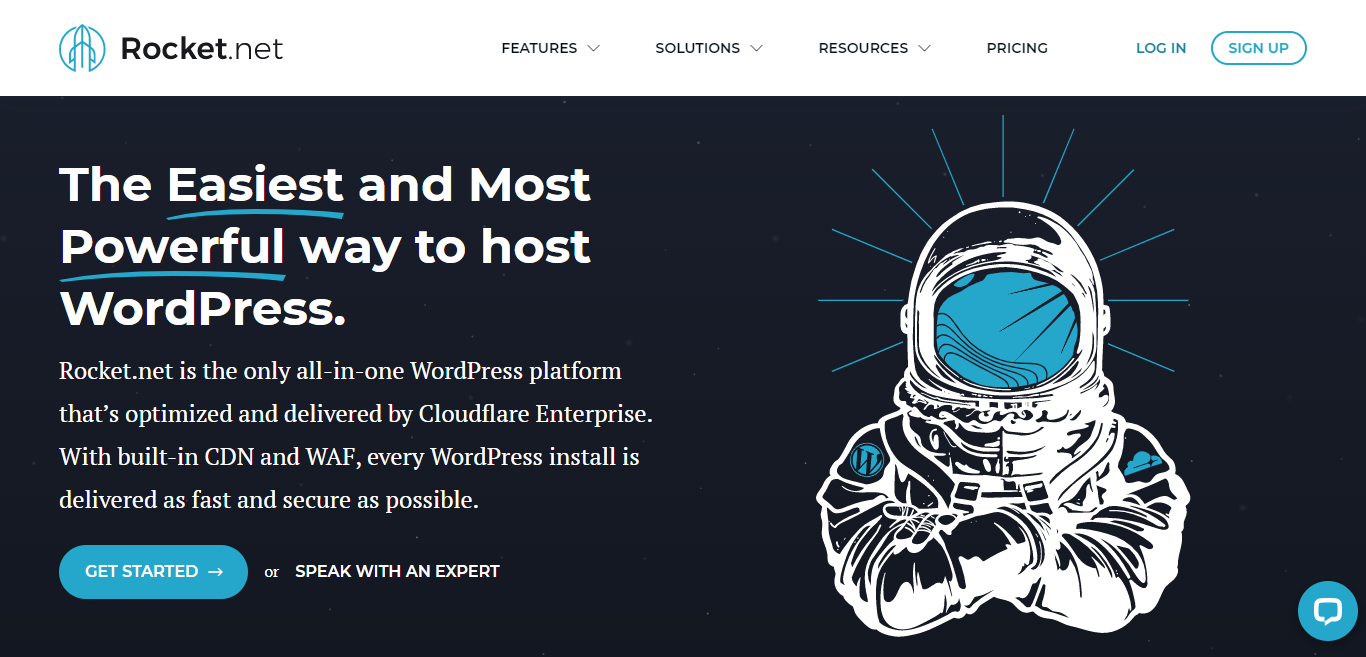 With Rocket, you can access a single interface from which you can develop, launch and stage your WordPress site, as well as boost your website's performance.
You can have your website up and running within seconds, choosing from over 20 global locations. Pre-installing WooCommerce is also possible. Rocket also comes with a free migration service if you're switching over from another web hosting provider and comes with a free temporary domain until the transfer is fully complete.
The dashboard is divided into five tabs, including an overview of your basic site details and a tool to manage FTP access. Another tab lists all your plugins, their status, and here you can enable, disable or update these plugins. Similarly, the theme tab holds all your themes. From the backups tab, you can review all automatic backups and create manual backups when needed. And finally, the advanced tab lets you change your PHP version, manage automatic updates, create cron jobs and manage SSH keys.
Speed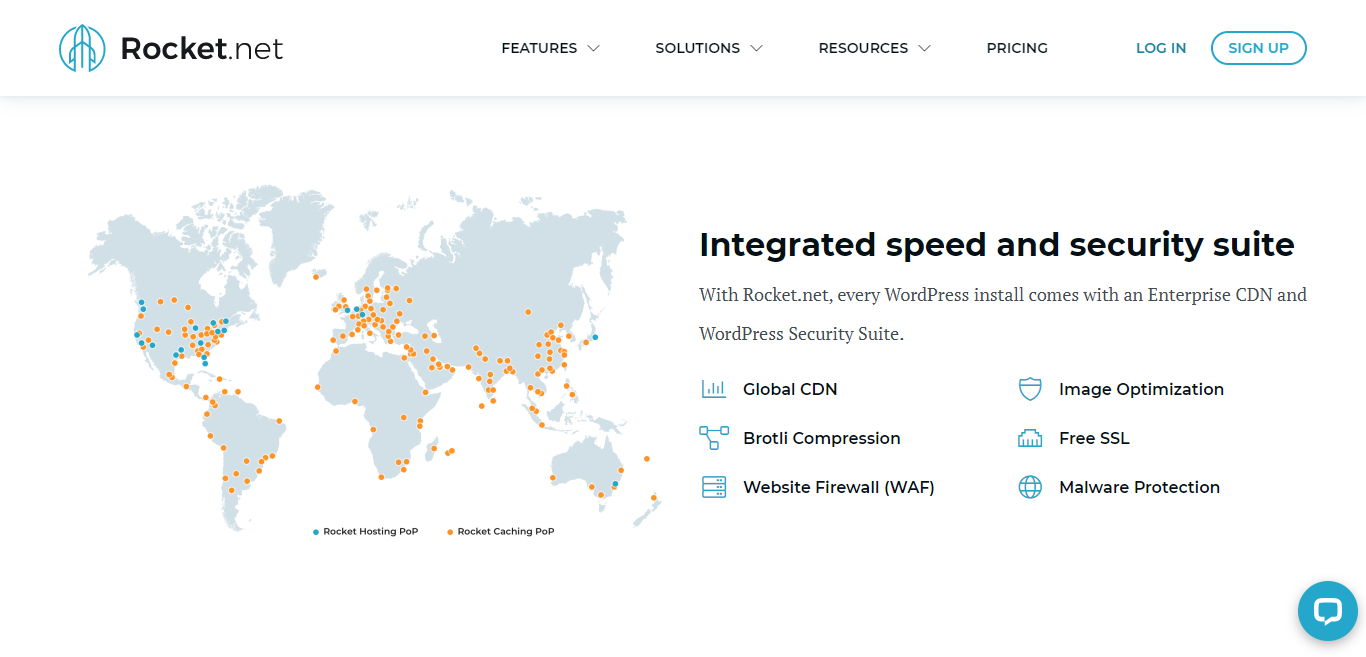 A suite of security and speed-enhancement features are integrated into Rocket's services, which includes:
A free SSL certificate

Website firewall (WAF)

Malware protection

Mirage and polish image optimization

Brotli file compression

Access to a global CDN

Tiered caching

Argo smart routing
Typically, many of these features would require you to download and use a plugin on your website platform or web hosting service. In contrast, Rocket aims to cut down on the number of third parties you have to rely on by offering a robust suite of website and security features.
Rocket is powered by the Cloudflare enterprise, which enables Rocket to facilitate vast volumes of traffic. To benefit from Cloudflare, it's as simple as pointing your DNS to Rocket; most of Cloudflare's configuration is taken care of for you. As such, you don't have to bring detailed technical knowledge to the table.
Reporting and Analytics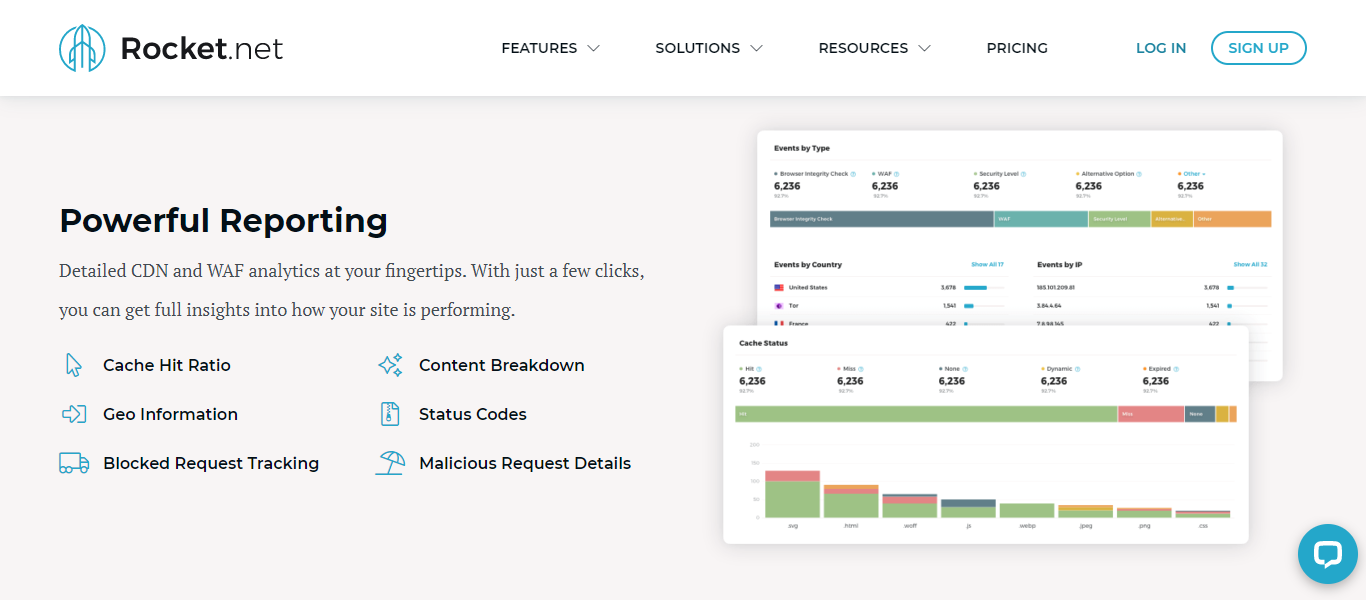 Rocket delivers detailed CDN and WAF analytics to your fingertips. With just a few clicks, you can retrieve info about status codes, your cache hit ratio, GEO data, and blocked request tracking. You'll also receive details on malicious requests and a content breakdown.
User Accounts for Teamwork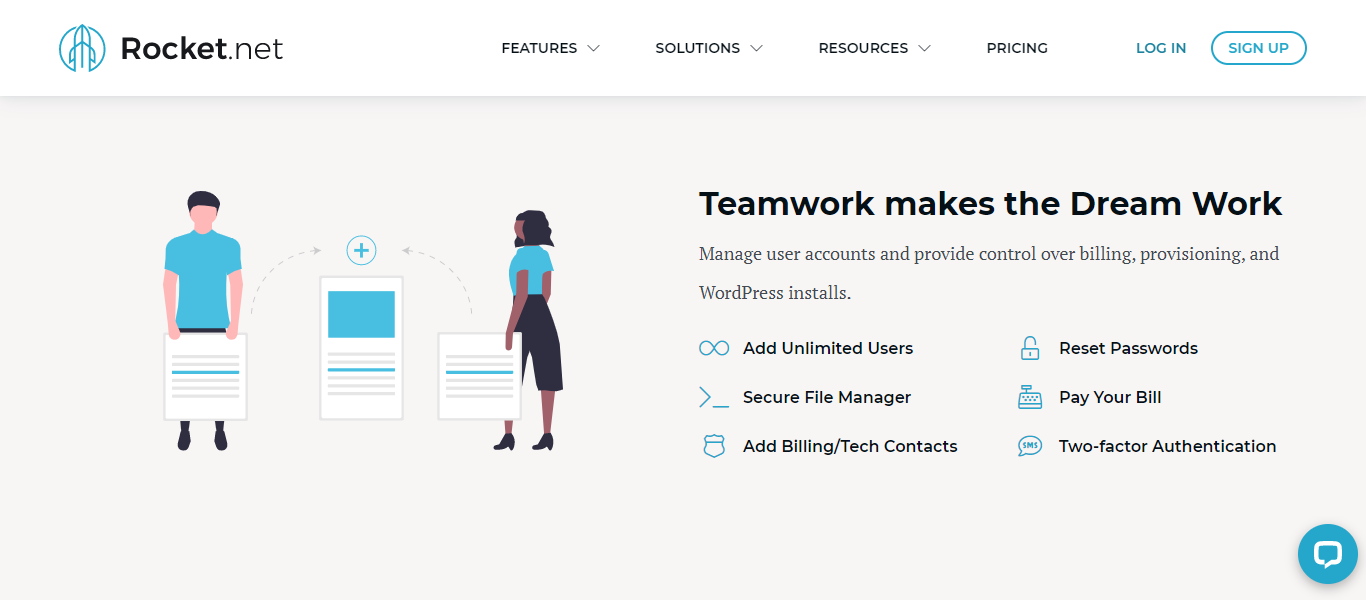 Rocket allows you to register unlimited users, so others on your team can help manage your account. You can grant user accounts permission to oversee billing, provisioning and WordPress installs. Users can also access the secure file manager to quickly and safely upload and edit website files. Rocket's secure file management system comes with Brute-Force protection, Key-based access, SSH access, and (S)FTP support for extra security.
One-Click Staging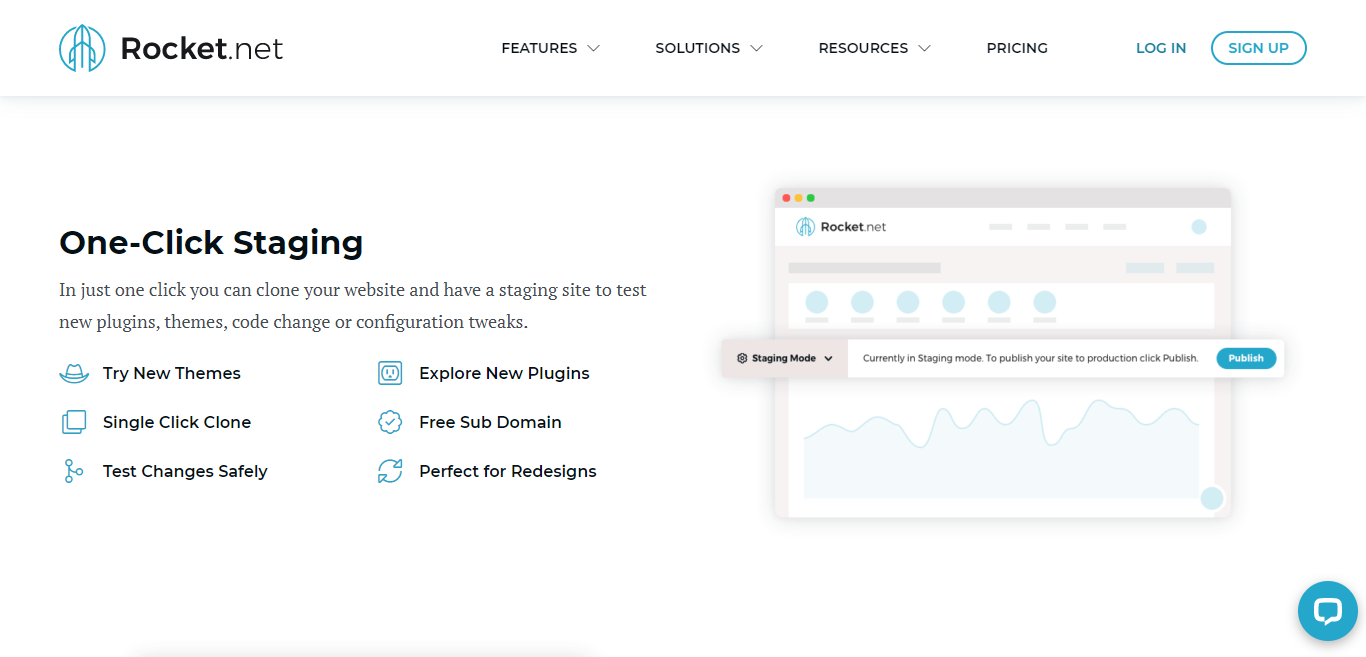 Developers can test website modifications with simple one-click staging. Here you can try new themes, explore fresh plugins and redesign your entire site without any downtime. A free subdomain is provided for your website clone.
Security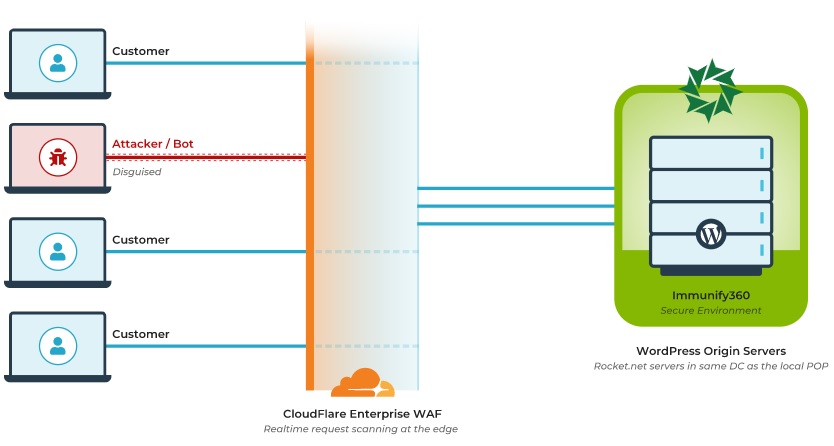 You're always covered by two firewalls, one that lives out at the Edge powered by Cloudflare Enterprise. The second is covered by Imunify350 on all Rocket.net servers. This protects you from brute force attacks, 0-day exploits, and much more. Every request is scanned and assessed before it reaches your site.
Rocket also boasts that its users enjoy a 90% reduction in comment spam. Also, if you have hidden files and folders, it will block them from being seen or crawled. All malicious file uploads are blocked automatically.
Rocket's WordPress installs also check all the boxes for compliance, which is especially important if your site handles sensitive data, like credit card information.
Rocket also automatically creates and stores daily website backups. These are saved for 14 days, and you can request an on-demand backup at any time.
OnRocket Review: Ease of Use
When it comes to managed hosting with capabilities like secure file management and staging sites, those with development knowledge always benefit the most.
However, small businesses that aren't experts in web development should find Rocket quite intuitive to use. The hosting provider comes with a centralized dashboard that makes it easy to overview everything that's going on. This makes Rocket relatively easy to navigate. As we've already said, Rocket also handles migration from your current web hosting provider. Also, Cloudflare configuration is dealt with by Rocket and optimized for WordPress and WooCommerce.
All things considered, there's not much for you to worry about as Rocket handles the bulk of the leg work for you.
OnRocket Review: Pricing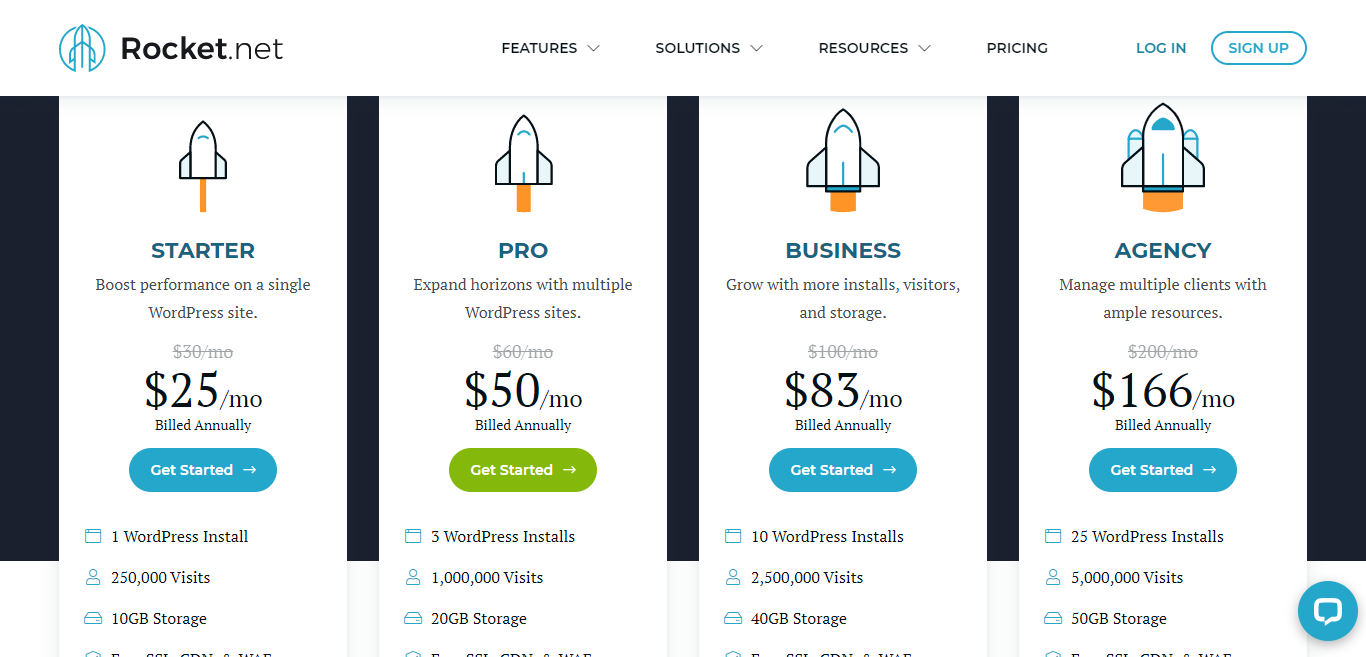 As a managed hosting provider, Rocket isn't the cheapest hosting on the market. It compares closer to premium hosting options like Kinsta.
Rocket comes with four pricing tiers, and if you pay annually, you can save two month's worth of subscription fees (which is what we've quoted below):
Rocket's Starter Plan will set you back $25 a month. This permits one WordPress install and handles up to 250,000 site visits. You also get 10GB of storage, 50GB of bandwidth, and a free SSL, CDN, and WAF.
Rocket guarantees 99.99% uptime on every plan, as well as the website performance benefits granted by over 20 global server locations and the premium edge network. (This is Rocket's direct relationship with ISP networks that establish direct connectivity between website visitors and your content, consequently increasing web page loading times).
Every plan also benefits from 24/7 live chat support and automatic daily backups, as well as on-demand backups. Multi-users are also supported, and Rocket automatically updates plugins, themes, and WP Core.
The Pro Plan costs $50 a month. You get everything in the Starter program, plus up to three WordPress installs, 1,000,000 site visits and your storage increases to 20GB with a bandwidth of 100GB.
On the Business Plan for $83 a month, you get everything listed above, plus you can install ten WordPress websites with traffic up to 2,500,000 each month. Your storage increases to 40GB with a Bandwidth of 300GB.
Additionally, the Business plan unlocks 24/7 phone support.
Finally, Rocket offers an Agency Plan for $166 per month. Unsurprisingly, you get everything covered in the previous three plans, plus up to 25 WordPress installs and 5,000,000 visitors each month. It also comes with 50GB storage and 500GB Bandwidth.
If you need more than 25 WordPress sites, you can contact Rocket directly to discuss custom pricing.
What we like about Rocket's pricing model is that very few features are locked behind more expensive plans. The Starter plan covers everything a small business could need, apart from phone support. So if you only need hosting for one WordPress site and the storage and bandwidth are sufficient for you, you won't miss out on much by opting for Rocket's cheapest plan.
It's also worth noting that in comparison to its competitors, Rocket facilitates relatively high traffic margins on each plan! Plus, at the time of writing, Rocket is offering an introductory deal, where you'll get your first month's subscription for just $1 – kerching!
OnRocket Review: Customer Support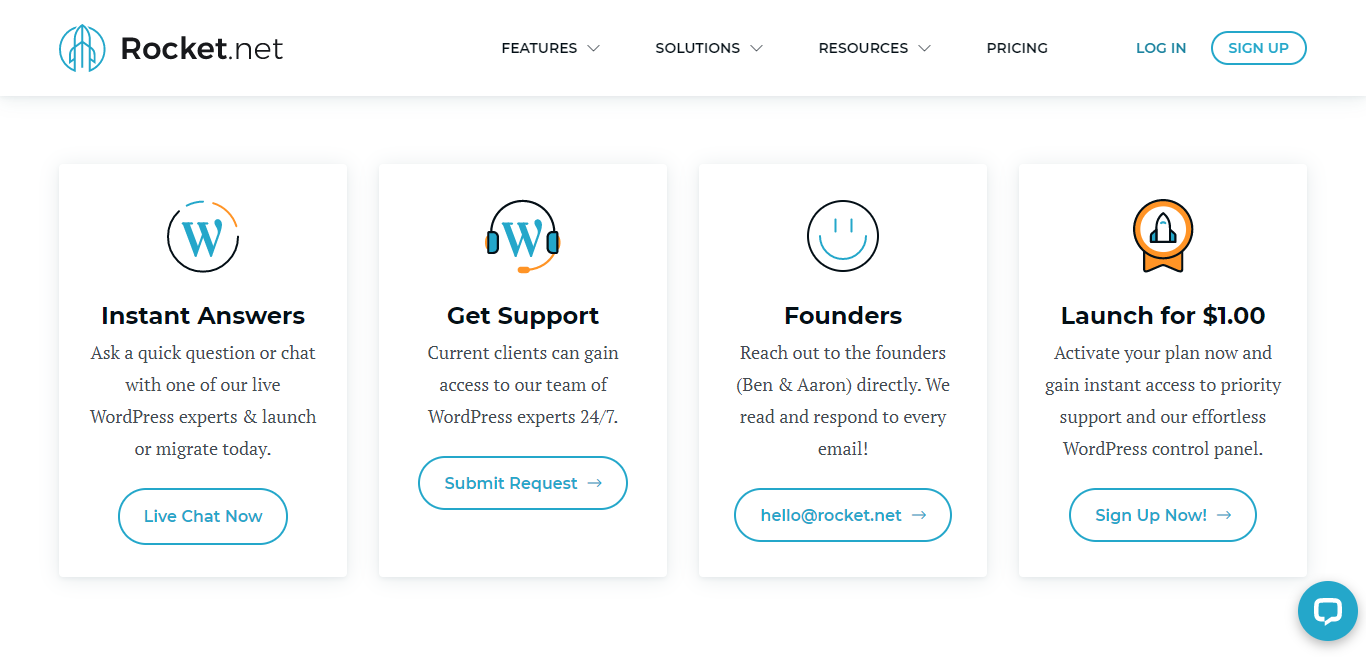 As we said in the pricing section, Rocket provides 24/7 support on all its plans. On the Starter and Pro plan, you get access to 24/7 live chat support. But, once you opt for their Business package and upwards, you unlock 24/7 phone support.
Or, if you prefer consulting self-help documentation, head to Rocket's website and check out their case studies and blog. However, this is pretty sparse in comparison to its competitors. That said, Rocket is still a very new service, so we reckon there's a good chance their self-help documentation will expand with time.
But, as things stand at the moment, you're better off contacting their support team directly. Or, log into your Rocket account to access their online knowledge base.
OnRocket Review: Pros and Cons
We've thrown lots of information at you here, so to help condense everything we've covered, we'll highlight what's great about Rocket and what isn't in a quick pro-cons list.
Rocket's Pros
24/7 support is available on all Rocket's payment plans

There's an uptime guarantee of 99.99%

Rocket's features aren't locked away behind more expensive tiers. On the Starter Plan, you get access to every benefit other than phone support for a single WordPress install.

Rocket's Higher plans come with very high traffic allowances to support bustling sites.

An Agency plan with multi-user support is available to cater to the needs of those juggling several clients.

Rocket's Cloudflare network ensures full-page caching for faster page loading times.

Free migration is available.
Rocket's Cons
Rocket's self-help documentation isn't accessible until you're a user.

There's no free trial available, just a 30-day money-back guarantee. However, apparently, if you get in touch with Rocket, they can set you up with a test-drive account.

Rocket is still very new, so information on the platform is harder to come by. There also isn't as much of a community of peers to post questions to.
OnRocket Alternatives
If you're not entirely convinced by Rocket yet, or you want to shop around a little more before making a decision, here are a few alternatives:
Kinsta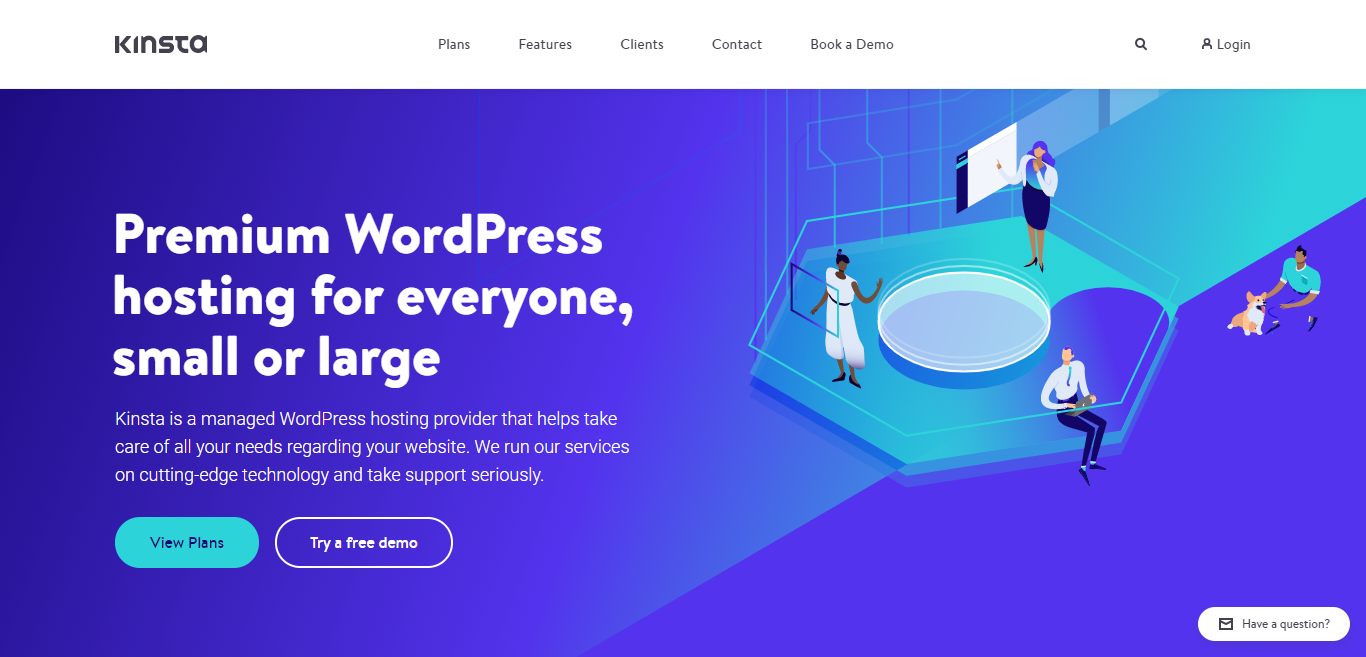 Founded in 2013, Kinsta is famous for its premium managed hosting and consistently ranks high in hosting reviews. It comes with a "speed-obsessive architecture" that ensures rapid page loading.
Kinsta provides a high-security network with uptime monitoring, SSL support, hardware firewalls, and DDoS detection. As a managed hosting provider, you can rest easy knowing that Kinsta's experts are keeping an eye on your hosting. With data centers across 24 global locations, your website is quickly viewable from anywhere.
Users get access to an intuitive dashboard with analytics reports. Kinsta also provides a developer-friendly staging area with PHP 8.0 support. That said, Kinsta is suitable for beginners and flexibly scales up to the needs of more savvy WordPress users.
Pricing starts at $25 a month, with over ten plans to choose from in total. So, you're bound to find a program that meets your business's needs.
WPX Hosting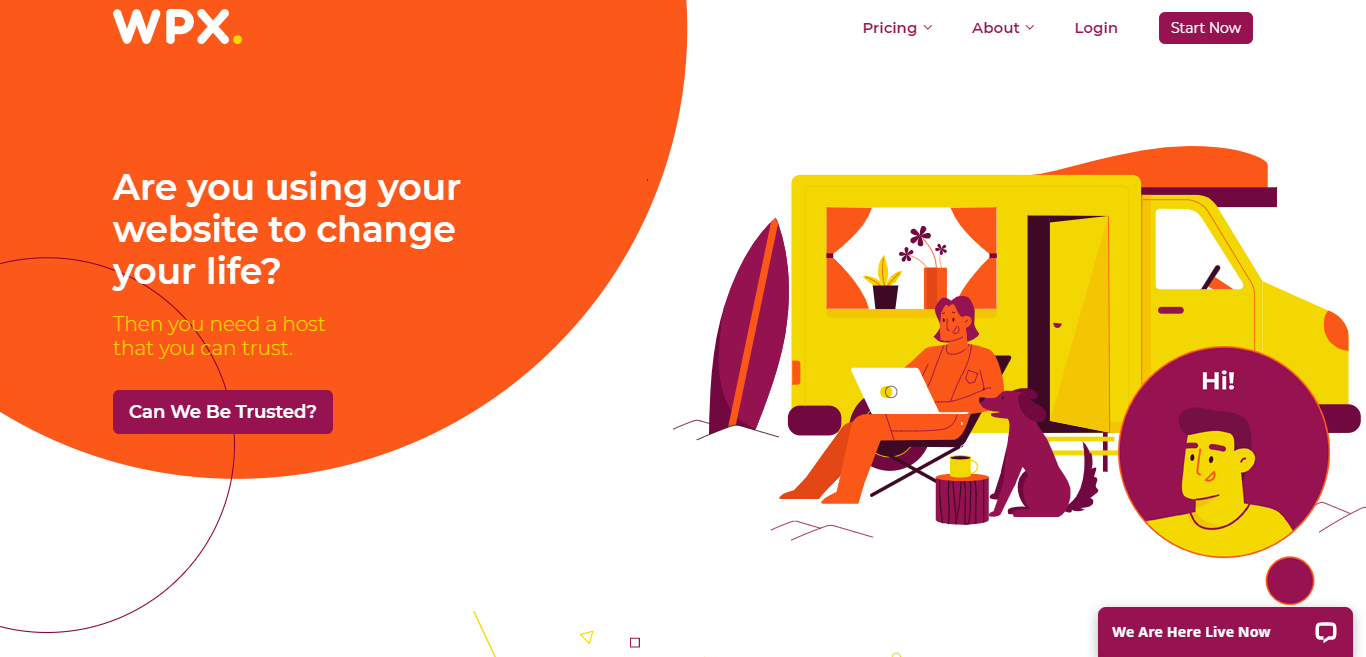 WPX Hosting is a great solution for site owners looking for high performance and speed. This provider is solely focused on WordPress hosting and has been helping online businesses as far back as 1998. But, as we know it now, WPX hosting was founded in 2013.
Their CDN consists of 28 end-points across the world. Another great feature is its 24/7 customer service and free migration support.
Pricing for WPX starts from $20.83 a month. Here, you can host up to five websites with 10GB storage and 100GB bandwidth for this. Not bad!
EasyWP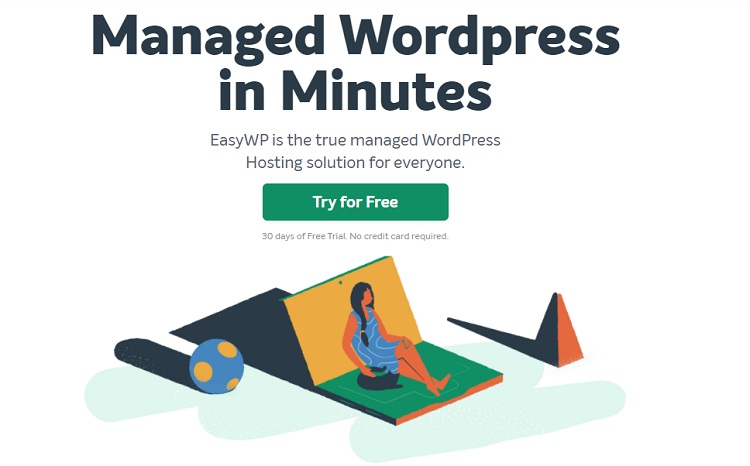 EasyWP is another managed web hosting provider for WordPress sites. This service is offered by industry giant NameCheap and offers a one-click WordPress setup from their intuitive interface.
This provider does the majority of the leg work for you, making EasyWP one of the most beginner-friendly hosting options on the market. It includes support for any domain, easy backups and updates, and 24/7 support.
It's also one of the fastest WordPress web hosts around, with an average loading time of 0.7 seconds. Their cloud technology can also withstand substantial traffic flow. It can handle up to 50k visitors even on their Starter plan! Said plan costs only $14.94 for the first year (and $29.88 after.)
OnRocket Review: FAQ
Last but not least, we'll round up this Rocket review by answering some of the most frequently asked questions we hear about the service:
Question: Do I need to update my DNS to test Rocket?
Answer: Rocket's WordPress installs come with a free temporary Rocket URL. This enables you to take Rocket for a test drive before making any changes to your DNS. You can review your site speed and security benefits from the get-go before making any decisions that affect your live site.
Question: Does Rocket offer a Free Trial?
Answer: Unfortunately, there's no free trial available. Rocket does, however, offer a 30-day money-back guarantee on all purchases. You can also get in touch with the team if you want to try the platform before signing up. Rocket can set you up with a test account where you can take their services for a spin.
Question: What is Cloudflare Enterprise?
Answer: Cloudflare Enterprise is a high-end service that provides numerous points of presence for full-page caching worldwide. Rocket unlocks priority routing with Cloudflare Enterprise so that you can benefit from their impressive global content delivery network.
OnRocket Review: Final Verdict
Rocket provides everything you'd expect from a high-quality managed hosting service. It offers advanced security for your site and takes care of migration and WordPress configuration for you. Just like other providers with similar offers, Rocket also offers automatic software updates and website backups.
This new hosting provider shines when it comes to storage and traffic allowances, and of course, its premium Cloudflare enterprise connection. While their pricing is neither much higher or lower than the industry standard, it's fair for what is offered.
Upgrading to Rocket's higher pricing plans simply unlocks multi-site support and more storage. As such, even small businesses enjoy generous traffic allowances on Rocket's Standard tier.
Rocket's only area that could really use some improvement is its lack of online documentation on its website. However, their support team is available 24/7, so we encourage you to send them a message if you have any questions.
So, there you have it, our take on Rocket. We hope you found this review helpful! What have you heard about Rocket so far? Will you be giving this brand-new hosting provider a go in the near future? Whatever your thoughts, we'd love to hear about them in the comments below.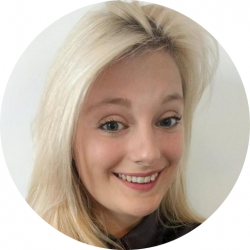 Latest posts by Rosie Greaves
(see all)