Last Updated on October 13, 2022 by DMEditor
When choosing the best graphic design platform, there are lots to think about, and as such, it can seem like an impenetrable task.
In light of that, we want to try and make your life easier by comparing two of the best graphic design solutions on the market today: PicMonkey and Canva.
These two products are entirely different beasts, boasting their own advantages, shortcomings, and exclusive features. With that in mind, it's vital to get a clear understanding of how they could serve you and how to make the most out of them…before parting with your hard-earned cash.
Let's begin, shall we?
Main Differences Between PicMonkey vs Canva
The main differences between PicMonkey vs Canva are:
PicMonkey is best for everyday image-editing, whereas, Canva is best suited to those wanting to create their own beautiful graphic designs for print and digital applications.

PicMonkey has a wide assortment of graphics in its library, whereas Canva has over 400,000 different stock pictures that you can use for free.

PicMonkey displays the layers of your image visually, whereas in Canva you have to click on an element that needs layering.

PicMonkey doesn't offer a free plan, whereas Canva does, and it's very generous.

PicMonkey comes with a seven-day free trial, whereas, Canva provides a longer 30-day free trial for its premium plan.
PicMonkey vs. Canva: Their Core Similarities
Both PicMonkey and Canva enable you to upload images, layer elements, alter the transparency of images, and make basic edits. For instance, adjusting saturation, contrast, brightness, and much more.

Both PicMonkey and Canva come with a variety of pre-set filters you can use to enhance the look of your images.

Both PicMonkey and Canva enable you to create graphic designs quickly.

Both platforms are novice-friendly

Both platforms are accessible via a mobile app.
What's Canva?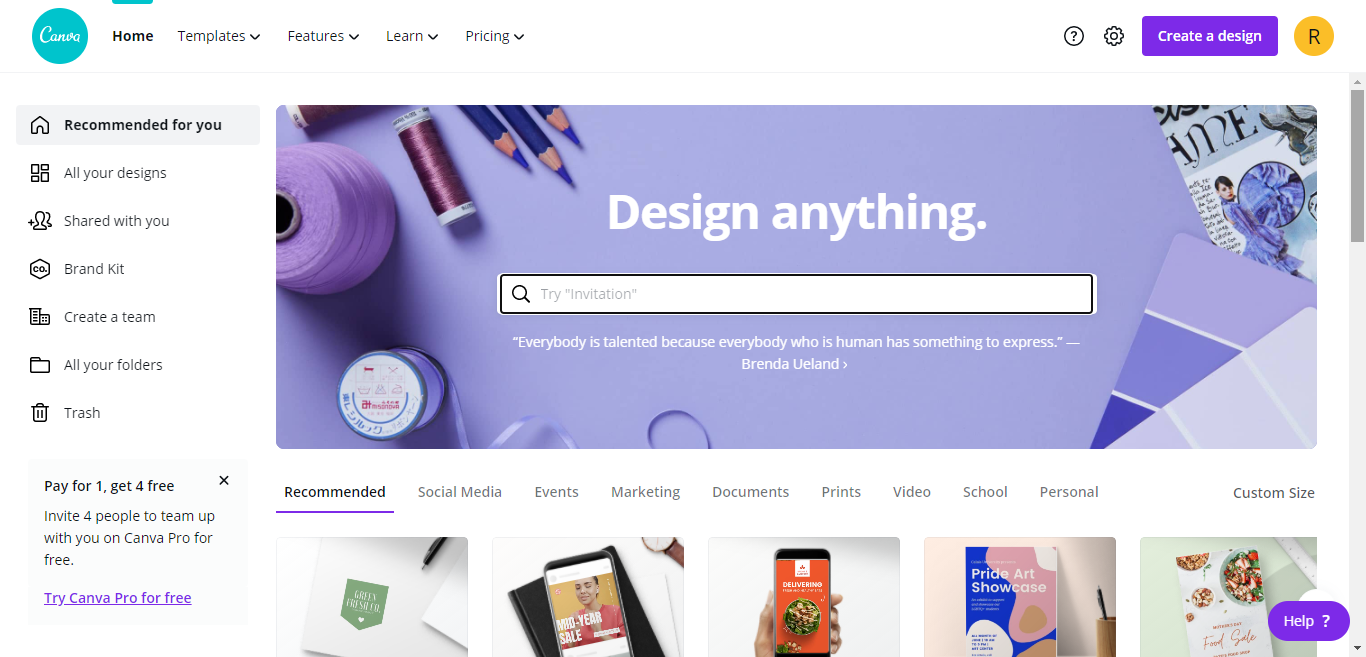 Canva is powerful design software that enables you to develop visually-arresting graphic designs. It boasts an abundance of functionalities ranging from its intuitive drag-and-drop editor to its extensive library of images and fonts (there's over one million to choose from, including custom font options!).
In short, Canva is a reliable and user-friendly tool that near-on anyone can use to create stunning graphics to post online or publish in print.
The Benefits of Using Canva
Canva is an easy-to-use yet powerful platform, suitable for novices and experienced graphic designers alike.

Canva's so intuitive that you can create something really professional-looking within minutes, making it the perfect solution if you're after something quick to use.

Its drag-and-drop editor, coupled with its enormous library of fonts, templates, and high-quality stock pictures (stock image), provides everything you need to transform your vision into a reality.

There are loads of pre-made templates for you to choose from. This comes in especially handy for social media platform use because Canva's templates boast each network's correct dimensions.

It's easy to create, save, and modify your own templates.

Canva regularly updates their blog,

Design

School, with tutorials on how to create things using Canva.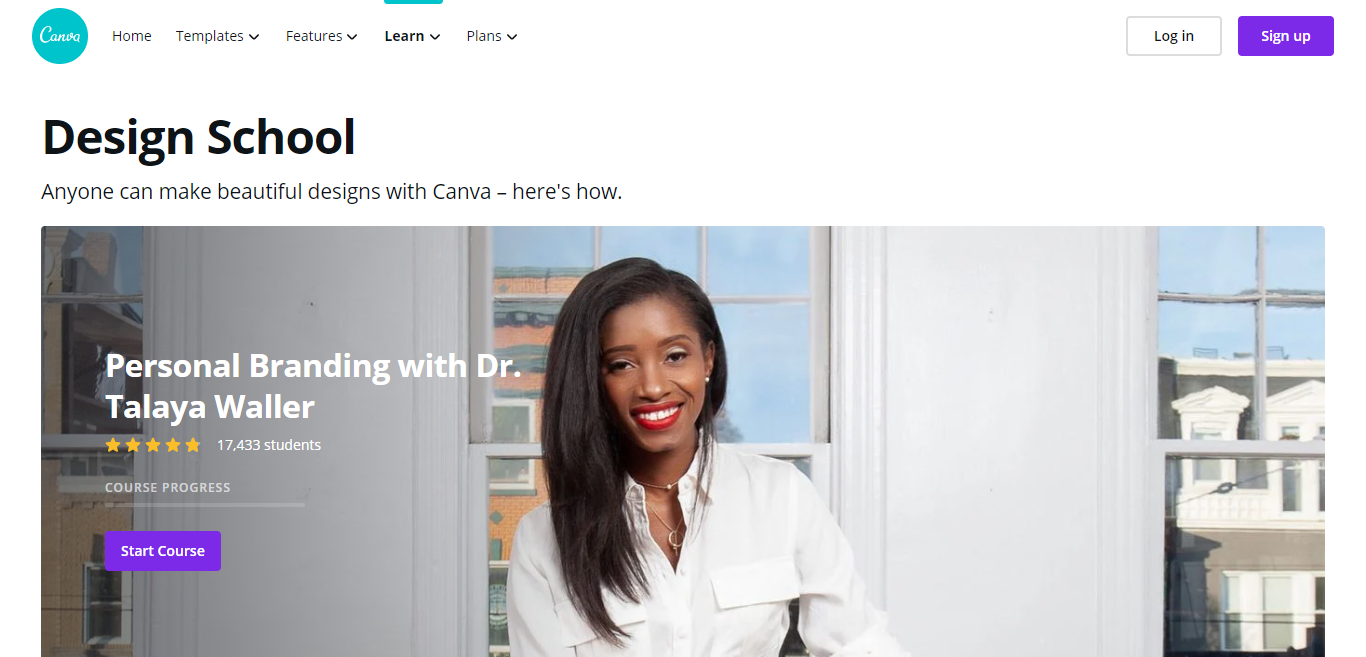 The Drawbacks of Using Canva
You require a reliable internet connection (with a decent speed).

Canva doesn't have a menu of layers, so if you wish to create something advanced, this may not be the right tool.

If your internet speed is slow, it can take a long time to add or upload photos, images, graphics, etc.

Limited fonts are available with Canva's free plan. If you don't find your desired font, you may have to upgrade to the paid plan for more styles to pick from.

Although you can store your work in folders on your computer (which is a massive perk), you can't access these folders using Canva's mobile app.
Canva's Core Features:
There are over 8,000 graphic design templates to choose from across a wide array of categories – for instance, social media, video, documents…to name a few.

You get access to a library of free version icons that you can add to your designs.

Photo enhancing tools like photo blurring, cropping, straightening, vignetting, etc.

You can photo frames, badges, and stickers to your designs.

You get access to a wide variety of design grids and web wireframes.

You can add text and texture to your designs.

You get access to an image transparency tool and a speech bubble maker.
What's PicMonkey?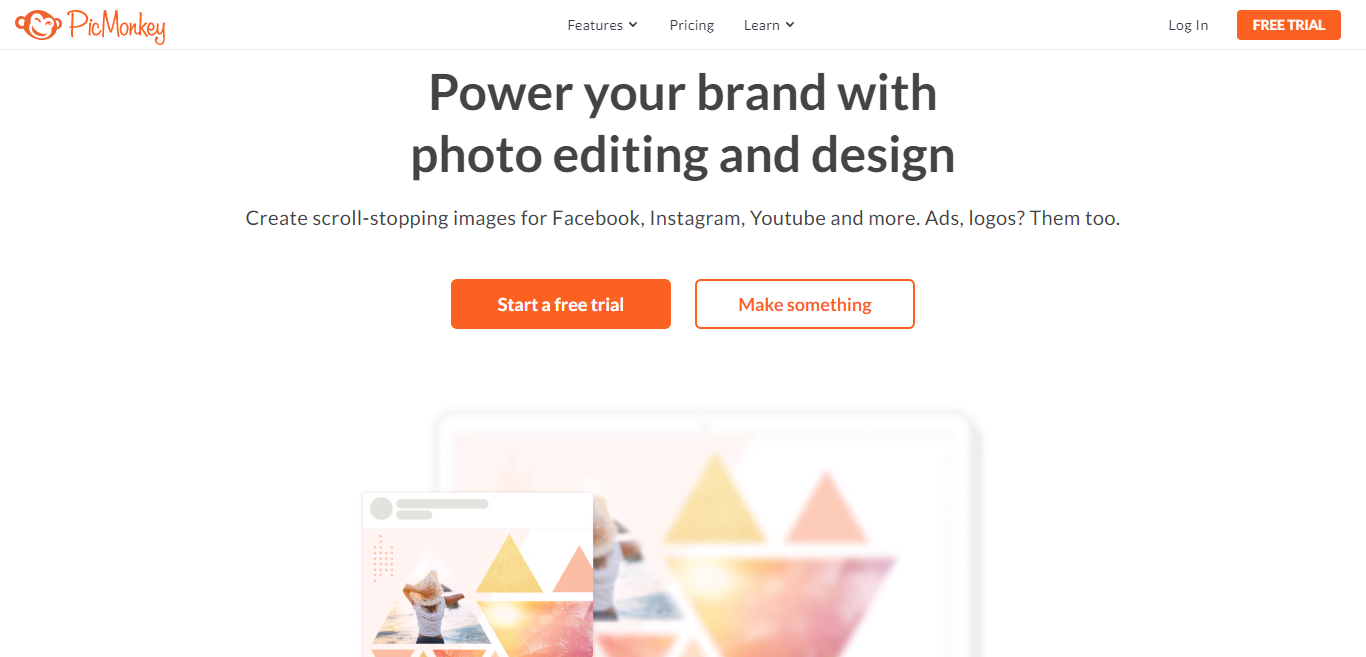 PicMonkey is a popular graphic design and photo editing features and software that empowers you to produce professional and attractive visuals for your digital assets. In fact, it's one of the leading Canva alternative graphic design tool platforms.
PicMonkey offers some easy-to-use tools for online editing and image customization. You can also apply filters and effects, crop and resize images, and retouch portraits to magically transform ordinary pictures into striking works of art.
PicMonkey comes with an enormous gallery of templates and stunning designs created by artists. You can pick whichever best suits your needs and then add your own text and images.
With PicMonkey, you and your colleagues can easily share and collaborate on designs (collaboration feature) and invite other users to join your projects with a shareable link.
The Benefits of Using PicMonkey:
Editing photos with PicMonkey is fun, super-fast, and really easy.

You get access to simple photo editing tools like image cropping, exposure adjustment, and resizing. Moreover, there are also several filters and effects you can use to enhance your images.

PicMonkey lets your creativity run wild with its pre-sized canvas feature. Here, you can either create designs from scratch or use one of PicMonkey's many design templates.

You can use the 'layers feature' to enhance your designs by adding text layers, creating gradient layers, and applying effects to individual or groups of layers.

PicMonkey supports real-time collaboration on projects. You can also create shared spaces to keep all your designs in one place for the whole team to access.

It's free, but PicMonkey also has a premium plan you can upgrade to

PicMonkey comes with a 'Hub,' where you can store the images you've been working on and pick up from where you left.
The Drawbacks of Using PicMonkey:
Some users complain about annoying advertisements.

At the time of writing, PicMonkey didn't offer a batch photo editing feature.

Like Canva, PicMonkey also demands an internet connection. It's not a downloadable software that can be installed onto your computer and used offline.

More technically advanced users may feel that PicMonkey isn't great value for money. Namely, because it's roughly 2/3 the cost of a Photoshop subscription – and of course, Photoshop is far more robust.

Users say you have to download your created image in 'King-kong' size. Otherwise, the quality of the image is reduced.
PicMonkey's Core Features
There are thousands of templates across an extensive collection of categories – for example, Facebook, Etsy, Email..to name a few.

You get access to plenty of filters and effects. In fact, there are nine 'effect groups' including 'Artsy,' 'Black & White,' 'Tried & True,' etc.

The layers feature allows you to manipulate the positioning of your design elements.

You get access to an intuitive drag and drop image editor.

You can use touch-up tools like airbrushing, eye color changer, blemish fixer, and a wrinkle remover.

You get access to a collage maker.

You can make use of PicMonkey's collaboration tools.

You can add text design to your image creation products.

There's a PicMonkey mobile app so you can use PicMonkey while you're on the run.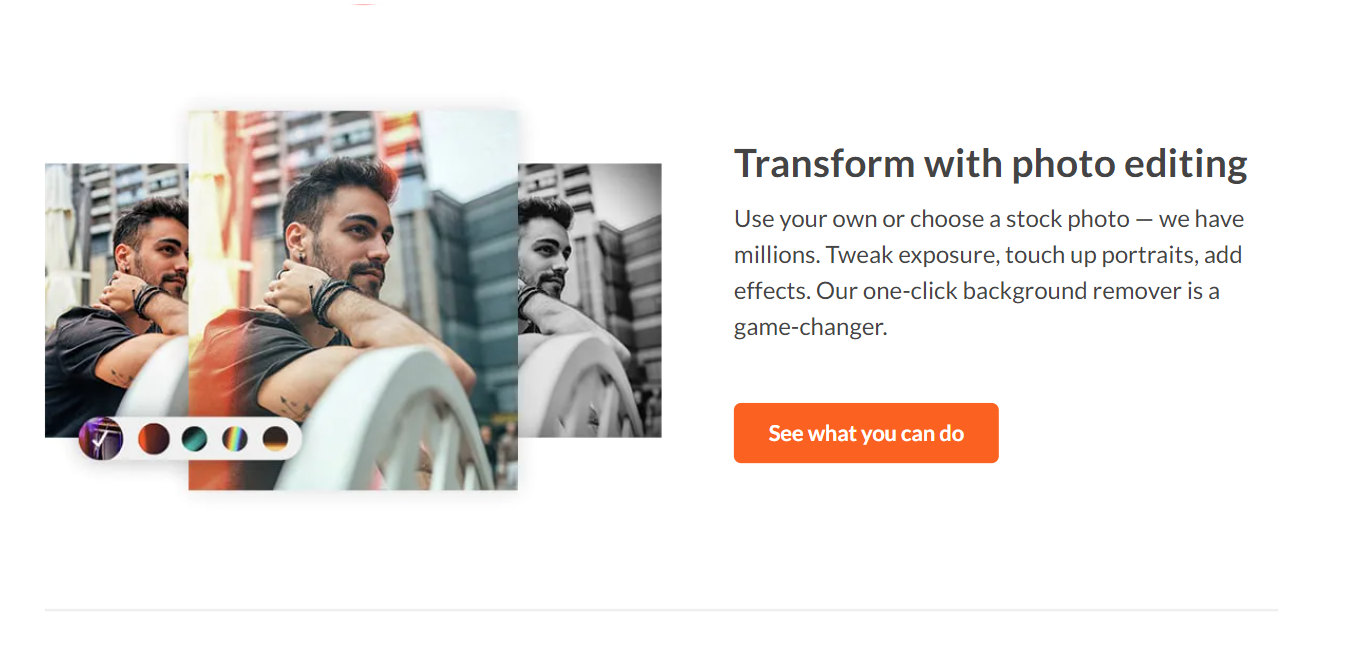 Canva vs. PicMonkey: The Mobile Apps
If you're a busy entrepreneur who's always on the run, you'll be pleased to hear you can quickly create pictures while you're on-the-go, as both Canva and PicMonkey come with mobile apps.
Both apps are downloadable from the Google Play Store and the iTunes store.
As we've already hinted at, PicMonkey lets you use the Hub on your phone or tablet, so you can pick up wherever you left off with your work. However, with Canva, if you want to edit a design you created from a desktop, you're often limited as to what you can modify from your mobile device. Needless to say, this can be incredibly frustrating!
Canva vs. PicMonkey: Customer Support & Knowledge Databases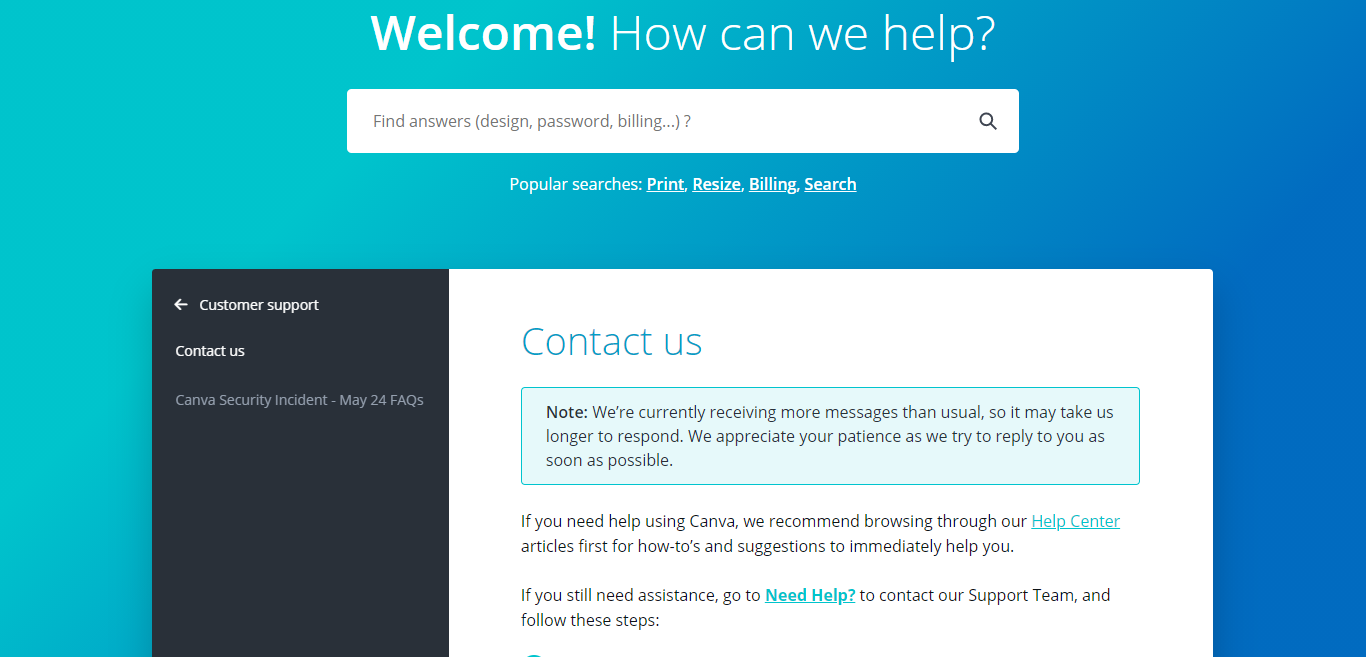 Both Canva and PicMonkey offer users high-quality customer support; neither will keep you hanging. That said, neither platform provides telephone support. However, you can send an email or launch a support ticket to get in touch with their customer service teams. Users of both platforms report quick and helpful responses.
Or, if you prefer to go down the self-help route, both Canva and PicMonkey come with substantial knowledgebases. Here you'll find plenty of guided tutorials across an array of topics. So there's a good chance you'll solve your query here, without ever having to contact their customer support!

PicMonkey vs. Canva: Pricing
Now, let's get down to brass tax – how much do these platforms cost?
Canva
Canva 30-day free trial. Thereafter, prices are as follows:
There are three pricing plans: Free Forever, Pro, and Enterprise.
Free Forever starts at $0.00 (yes, it's 100% free!), and for that, you get:
Over 250,000 free templates across over 100 design types

(social media posts, presentations, letters, and more)

Hundreds of thousands of free photos and graphics to use

You can invite team members to collaborate with you (and

comment and work together in real-time)

5GB worth of cloud storage
Pro prices: Canva Pro Plan has two pricing options, annual billing of $119.40 (for five users), Or you can pay $12.95 a month (again, for five users).
For that, you get everything the Free Forever plan offers and:
You can establish your brand's visual identity with logos, colors, and fonts across multiple 'Brand Kit' presentations.

A one-click design 'Magic Resize' button

Over 420,000 templates (new designs added daily)

Over 75 million premium stock photos, videos, audio, and graphics

You can upload your own fonts and logos

You can save designs as templates for your team to use

100GB worth of cloud storage

You can schedule social media content (social media post) across seven platforms
Enterprise prices start at $30 per user/per month (paid annually). For that, you get everything in the previous two plans, plus:
You can control your team's access to apps, graphics, colors, logos, and fonts

Control team uploads into Canva

You can utilize built-in workflows to get approval on your designs

Set which elements your team can edit, and stay on-brand with template locking

Unlimited storage

Single-sign on (SSO)

24/7 enterprise-level support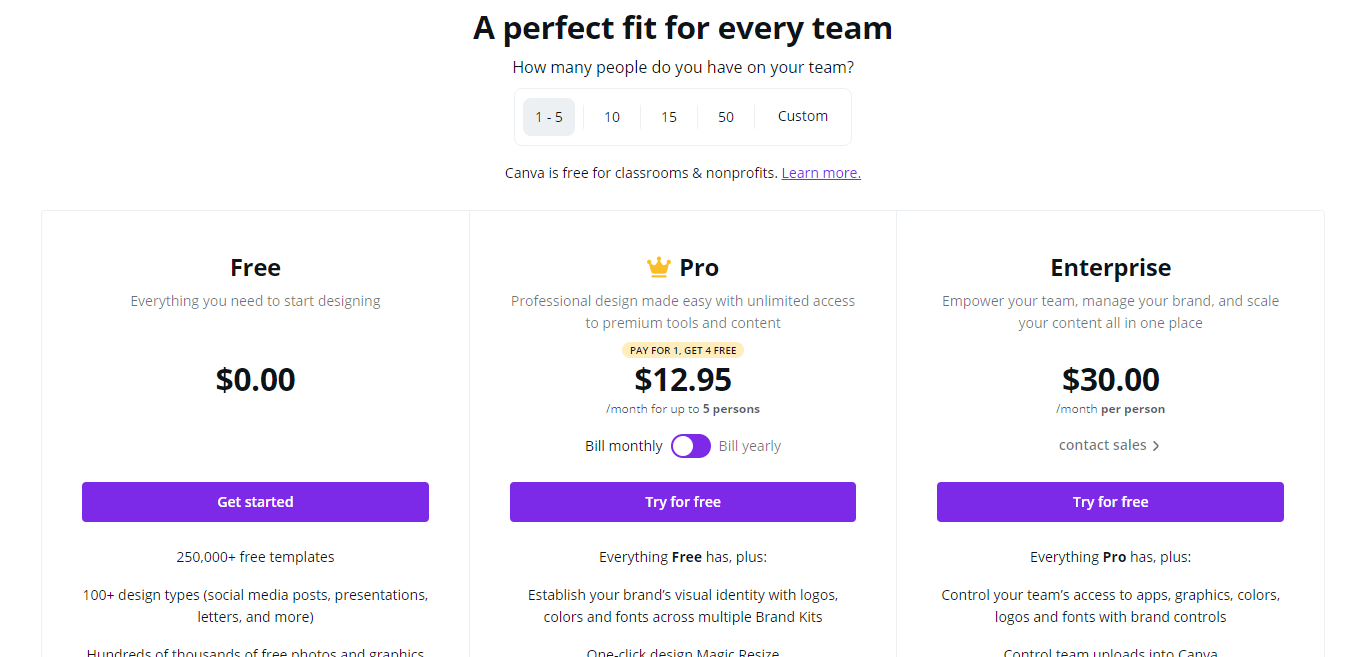 PicMonkey
There's a seven-day free trial for any interested subscribers. Thereafter, prices are as follows:
There are three price plans: Basic, Pro, and Team, with PicMonkey saying that the Pro plan is the "best value."
PicMonkey Basic starts at $7.99 per month or $72 per year, and for that, you get:
1GB worth of cloud storage

JPEG or PNG downloads

You can add and trim videos

Access to a large font library

Primo effects, templates, and touch up tools

Real-time collaboration, shared folders, and comments
Pro starts at $12.99 a month or $120 per year, and for that, you get everything in the Basic plan and:
Unlimited storage

JPEG, PNG, or PDF downloads

Instant reformat to multiple sizes

You can set your brand colors, fonts, and logos

One-click background remover

iStock by Getty photos

Priority email support

You can upload your own fonts
Team starts at $11.33 per user or $300 annually, and comes with the same features as Pro, plus:
Discounts when you register three or more users

Team seat and permission management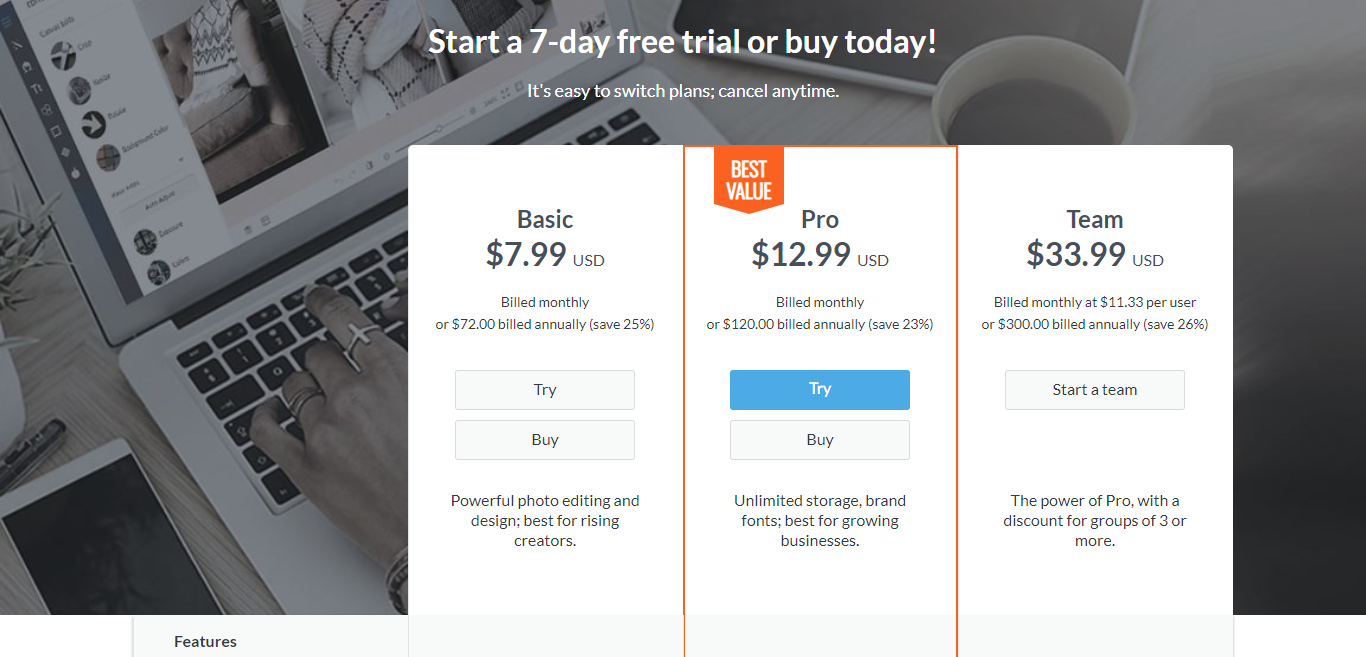 Canva vs. PicMonkey: Getting Set Up
To get started with PicMonkey, you need to create an account using the on-site registration form or via your Facebook, Google, or Apple account. From there, you have to pick your preferred subscription plan.
You can either try the software for free for seven days or pay straight away – the choice is yours. You're then directed to your profile page, where you can add a few personal details about yourself and upload a profile picture.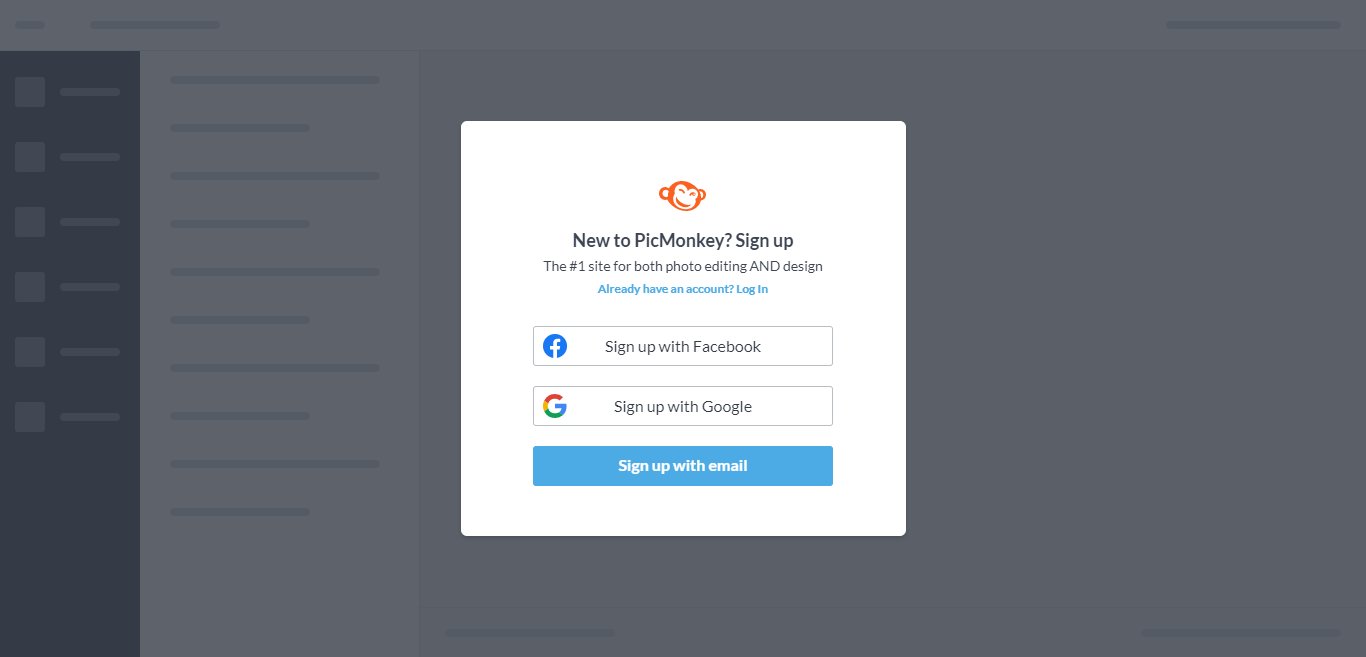 Similarly, you can sign up for Canva using your email address, Facebook, or Google account. However, once that's over and done with, you're directed straight to Canva's dashboard, where you can get started for free. Then, if you want to upgrade at a later date, you're free to do so.
PicMonkey vs. Canva: Team/Collaboration Functionality
PicMonkey
PicMonkey has an extensive set of team collaboration features that allow two or more people to share images and co-edit and design together in real-time. Its 'SharedSpace' feature allows teams to work together and store projects in one central location and comment directly onto files.
It's simple to do this. One user just has to create a Shared Space in PicMonkey's Hub. Upload the images in question into folders in the Shared Space, invite others via a link or email to join that particular project, and then get designing/commenting on the files!
Canva
Canva's approach is as follows: you can create two different types of teams: a free team and a Canva Pro team. You can upgrade your free team to a Canva Pro team at any time, which then gives you access to more features, including Canva's Template Graphic Designer function.
You can create a Canva team from your dashboard. Just click on "create a team." You can create up to 20 teams, comprising 3,000 members. As the person who created the team, you're automatically the team administrator. This gives you the power to add more team members, change their roles, and remove members. You add members by inviting them by email and select the role you want assigning to them.
Just like with PicMonkey, Canva enables you to share your designs by creating folders that team members have access to work on and comment upon.
Canva vs. PicMonkey: Graphs & Charts
PicMonkey boasts a graph and chart maker tool and plenty of templates to help you create stunning graphs and charts. Simply search for your preferred style of graph or chart in the templates tab and pick whichever you like the look of. Alternatively, you can create your graph from scratch.
It's also worth noting that PicMonkey makes it easy for you to share your graphs and charts on social media once you've finished creating them.
Canva also comes with a drag and drop graph maker that empowers you to transform raw data into graphs and charts. There are several professional templates and 20 graph styles to choose from, including management graphs, trend graphs, comparison graphs, etc. Once created, you can embed your finished work into your reports, presentations, etc.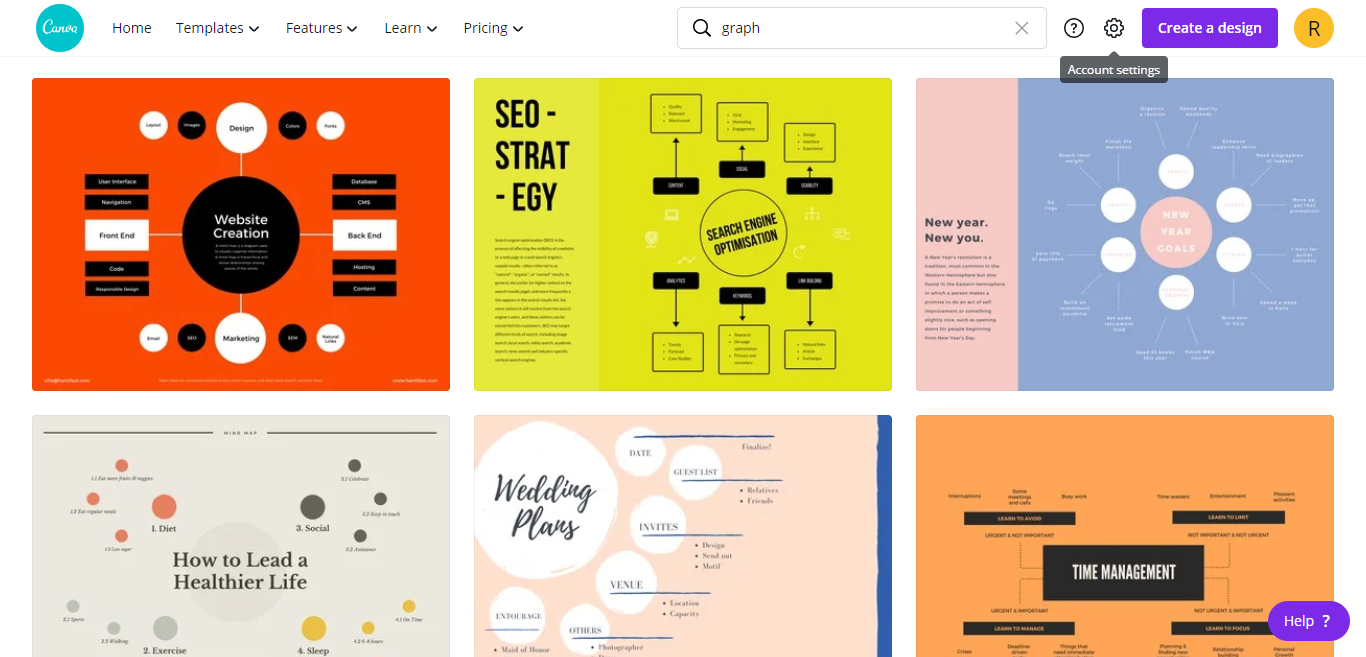 Canva vs. PicMonkey: Video Editor
With PicMonkey's video editor, you can upload videos and add text and stickers. In terms of editing, modifying your videos is very similar to your images, as they're layered precisely the same.
For instance, you can resize, crop, trim, add audio, and select your blending. However, you can't add effects, textures, or touch-up video files.
PicMonkey comes with a few video-specific templates. That said, you can add videos to PicMonkey's other templates.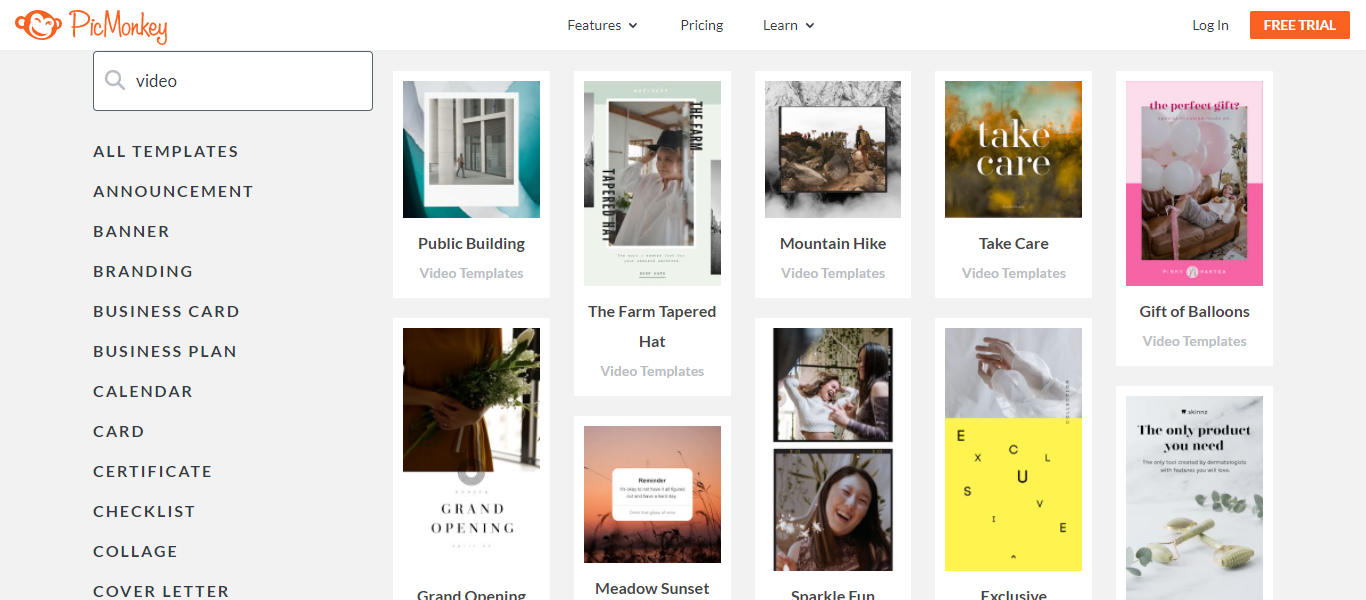 Please note: PicMonkey only supports videos in MP4 format at a max file size of 50MB. However, your video can be any dimension.
Similarly, with Canva, you can create videos from scratch or use a video template to lay your work's foundation. Some of Canva's video templates include Slideshow, Facebook video, Instagram Story, YouTube Intros, etc. It's up to you whether you upload your own videos or use content from Canva's stock library.
You can add filters, trim, insert text, music, icons, illustrations, etc. Canva recommends using the MP4 format. However, Canva also supports AVI, WMV, and MKV files.
Canva vs. PicMonkey: Logo Maker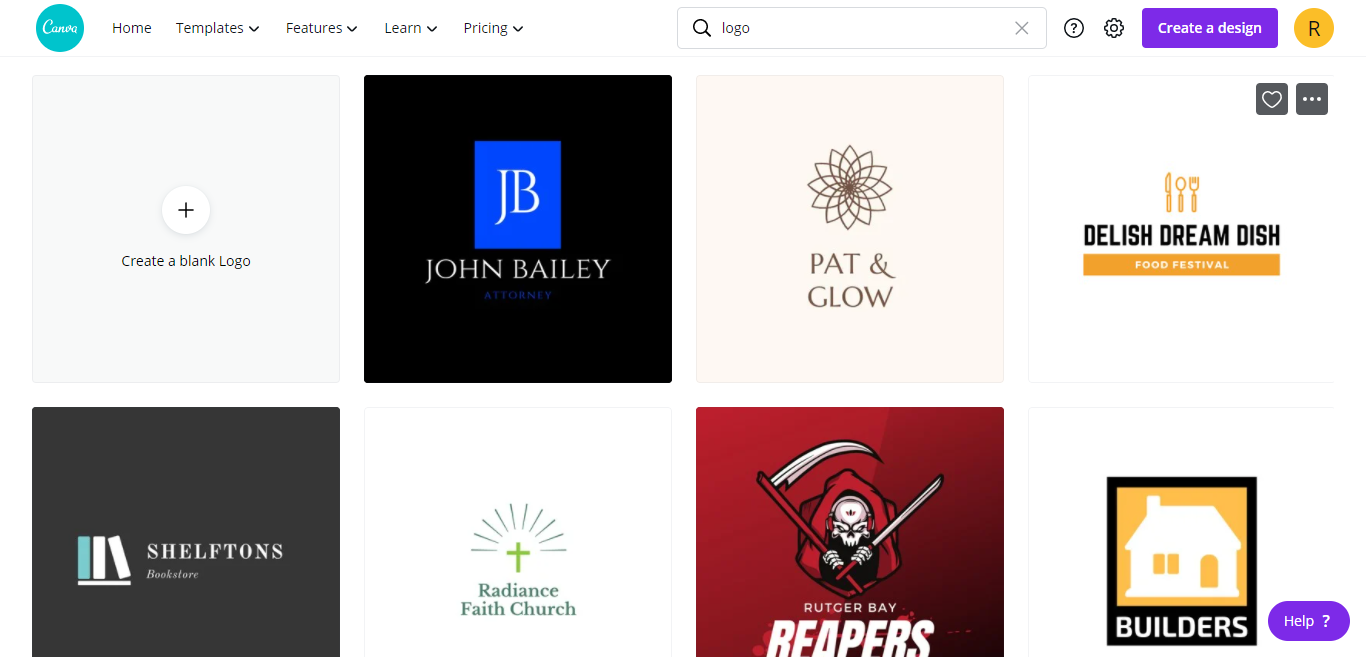 PicMonkey comes with an intuitive logo maker. Here, you can use any of PicMonkey's logo templates (there are thousands to choose from) and modify the text, color, size, etc., as you please. Or, you can craft your logo from scratch using PicMonkey's text and graphics elements.
With PicMonkey, it's easy to make your logo transparent and insert it into your videos and/or graphic designs to use as a watermark. Just like with PicMonkey, Canva enables you to develop your logo from scratch using the design tools and elements on offer. For instance, shapes, lines, stickers, clipart, symbols, etc.
However, if you would prefer to use a rough framework, there are several logo templates. To help you find the right template for your business, these logos (like Canva's other templates) are helpfully categorized by niche. For example, Beauty, Sports, Café, Computer, Automotive, Fashion, etc.
Canva vs. PicMonkey: Printed Assets
Although PicMonkey enables you to print your work yourself, PicMonkey doesn't offer much in the way of support when it comes to producing printer collateral. That said, PicMonkey provides plenty of features to help ensure you print your materials to the correct size. For instance, PicMonkey's pixels-to-inches conversion chart may come in handy if you're creating lots of designs that need printing.
It's worth noting that PicMonkey integrates with a few print labs, including Social Print Studio, Mixbook, MPix, Moo, Jukebox, etc.
In contrast, Canva offers a service called 'Canva Print.' As its name so aptly suggests, you can order prints of the work you've created inside Canva to be delivered to you. You just click on the 'Print' button inside the editor and follow the order steps.
Please note: Your work must meet the supported print size, and you have to pay for material and printing costs. However, shipping is free! You can also only use Canva Print if you reside in the US, New Zealand, Europe, Australia, Canada, Mexico, and Southeast Asia.
FAQs
Question: What types of files does PicMonkey support?
Answer: PicMonkey subscribers can import images and graphics in PNG, JPEG, and SVG formats. With the Basic plan, subscribers can also download their creations as PNGs and JPEGs. In contrast, Pro subscribers can download their results in . PDF formats as well.
Question: What are PicMonkey's system and browser requirements?
Answer: To run PicMonkey and to enjoy the best editing experience the program has to offer, use one of the following internet browsers on a device with one of the specified operating systems:
Browsers:
– Mozilla Firefox
– Safari 11.1+
– Google Chrome
– Microsoft Edge 77 (and newer)
Operating systems:
– Apple OS X 10.9 and later
– Microsoft Windows 7 and later
Question: What are Canva's system and browser requirements?
Answer: For a smooth graphic designing experience, use one of the following internet browsers with JavaScript enabled:
Safari
Google Chrome
Mozilla Firefox
Microsoft Edge
Alternatively, if you're using Canva's mobile app, keep the following requirements in mind:
Minimum of 150MB free memory space (iOS)
iOS 10 or higher OS
Android 4.1 (Jellybean) or higher OS
Question: Why does the Canva app keep crashing?
If Canva keeps freezing, ensure you don't have too many designs open at once. If this keeps happening, it's best to close the program down and reload it. Then just work on one design at a time.
If it's Canva's smartphone app that keeps crashing, double-check to ensure that both the app and your phone are updated to the latest versions.
The Final Say: PicMonkey vs. Canva
Having read this review, you'll probably understand why both PicMonkey and Canva are a hot favorite for many – they're both incredible platforms.
Users willingly pay without complaint because they're worth it. Both have unique contrasts and cool features. For instance, while PicMonkey has graphic design and layering capabilities, where they really shine is with their image editing. Canva, on the other hand, is a leading graphics design tool, not a photo editor.
Which one you choose depends on your needs and your budget. If you're just starting out and don't have any cash to spare, then why not give Canva's freemium version a whirl have? You nothing to lose and everything to gain!
Or, if you're still on the fence about which software to choose, both have a free trial option, so why not test out both platforms and see which works for you? Whatever you decide, tell us how you get on in the comments box below!
Further Reading on Design App Options & Photo Editing Capabilities: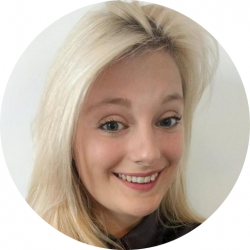 Latest posts by Rosie Greaves
(see all)