Last Updated on June 21, 2023 by Ewen Finser
If your content team needs a little boost, StoryChief may be your solution. This tool is perfect for B2B marketing teams and content agencies. StoryChief can amp up your content marketing efforts in many ways and is a solution for all types of posts, from blogs all the way to press releases.
After reading about StoryChief, I was curious to try this myself. I used StoryChief for my own blogs to see how this system works and if I recommend this program to other bloggers and content marketing teams. Continue reading my StoryChief review and guide for more.
Bottom line up front:
StoryChief is a better program for complex content teams, specifically mid-sized and enterprise businesses. Small businesses can also use StoryChief, but you won't gain any benefits unless you have a multi-member content team. This isn't a good solution for bloggers and writing hobbyists because StoryChief doesn't offer a blogging plan. I liked the Story feature, but you can get the same benefits on a WordPress website.
About StoryChief
StoryChief is a Belgium-based company. This company offers a tool that can help streamline and distribute your content. On StoryChief, you can post and promote your content on different channels, making the publication process significantly easier.
I'm a blogger myself, so let's look at my current process. I write my blog, usually in Microsoft Word, and post it on my WordPress website. From there, I take my blog and go on each individual social media channel to promote my content.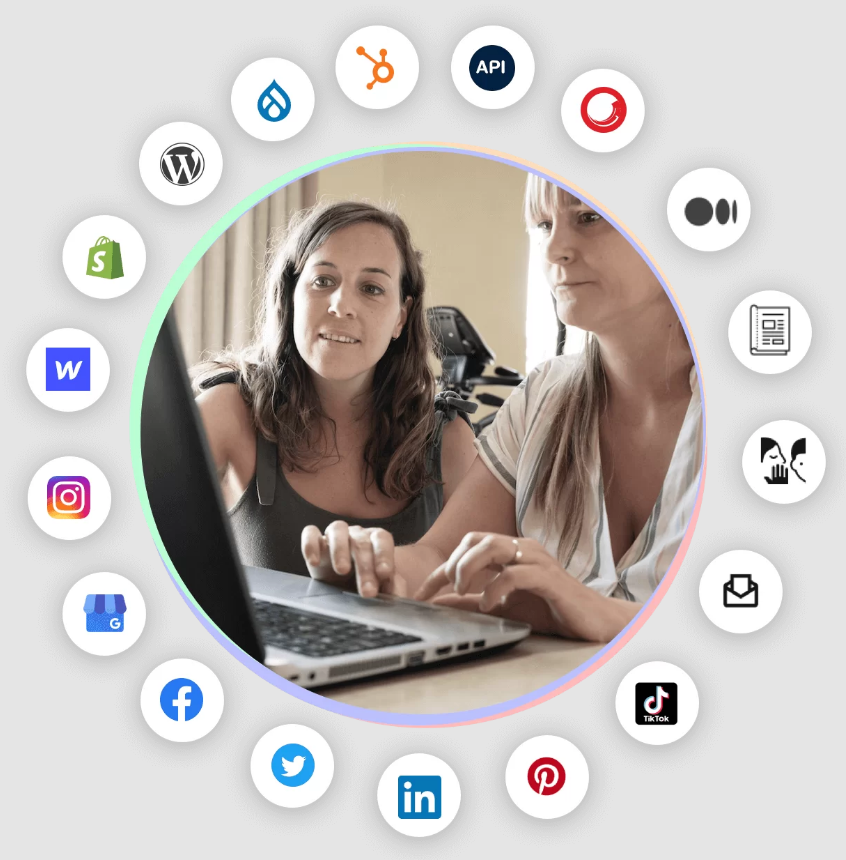 StoryChief integrates with nearly every program that bloggers and content creators may use, including:
WordPress
Shopify
TikTok
Pinterest
LinkedIn
Twitter
Facebook
Instagram
Wix
Even for a small blogger like myself, using a program like StoryChief will save so much time going back and forth between my different channels. StoryChief also offers solutions for email and social media marketers.
StoryChief Pros
Built-in SEO and content readability tools
Automates your content management
Easy to use
Distributes your content across multiple channels
Also extends to social media and email marketing
StoryChief Cons
No web extensions
Scheduling features are off
Automation features are lacking
Only a website — no app
StoryChief Features
Using StoryChief's backend is more complex than I expected. That's because this one tool has countless features. It's best to familiarize yourself with all of them to better understand this program.
Stories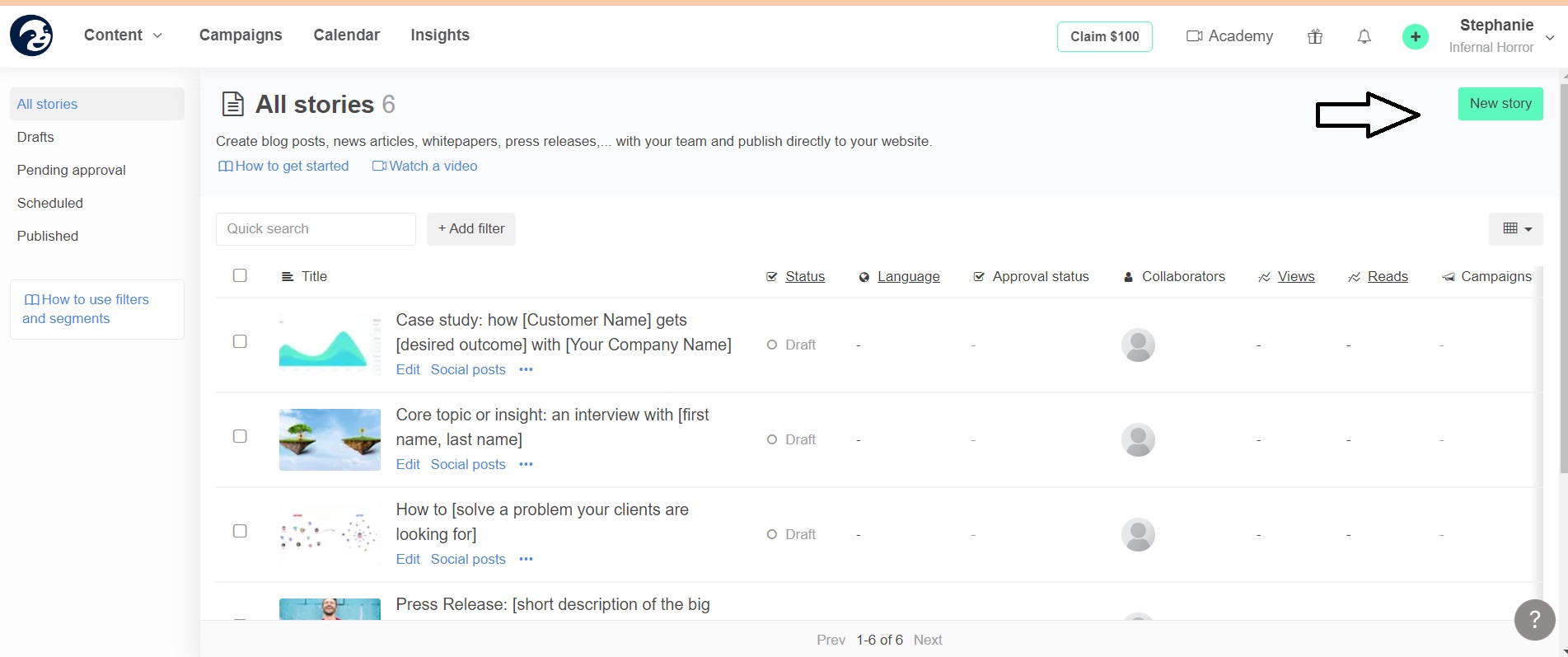 I'm starting with the Story feature since I'm using StoryChief for my blog. To create a new blog, click the green "New Story" button at the top right.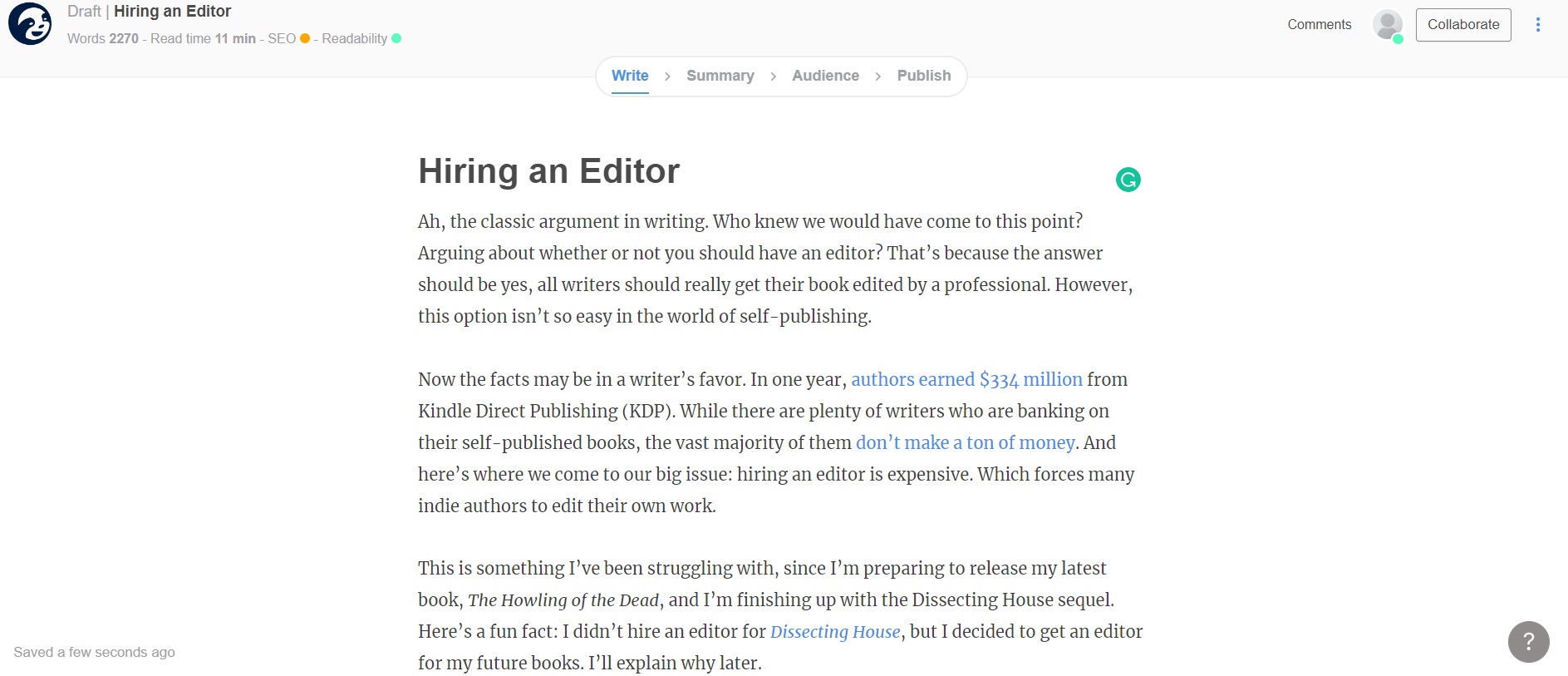 My blog promotes my horror writing, offers advice for other fiction writers, and promotes other indie horror writers. For this example, I'm using a blog I wrote in the past about hiring an editor.
If you're familiar with WordPress and other CMS platforms, you'll be happy to know that StoryChief's backend is just as simple to use. I pasted my blog in the body and added a title. I'm also happy to see that my Grammarly extension works in StoryChief.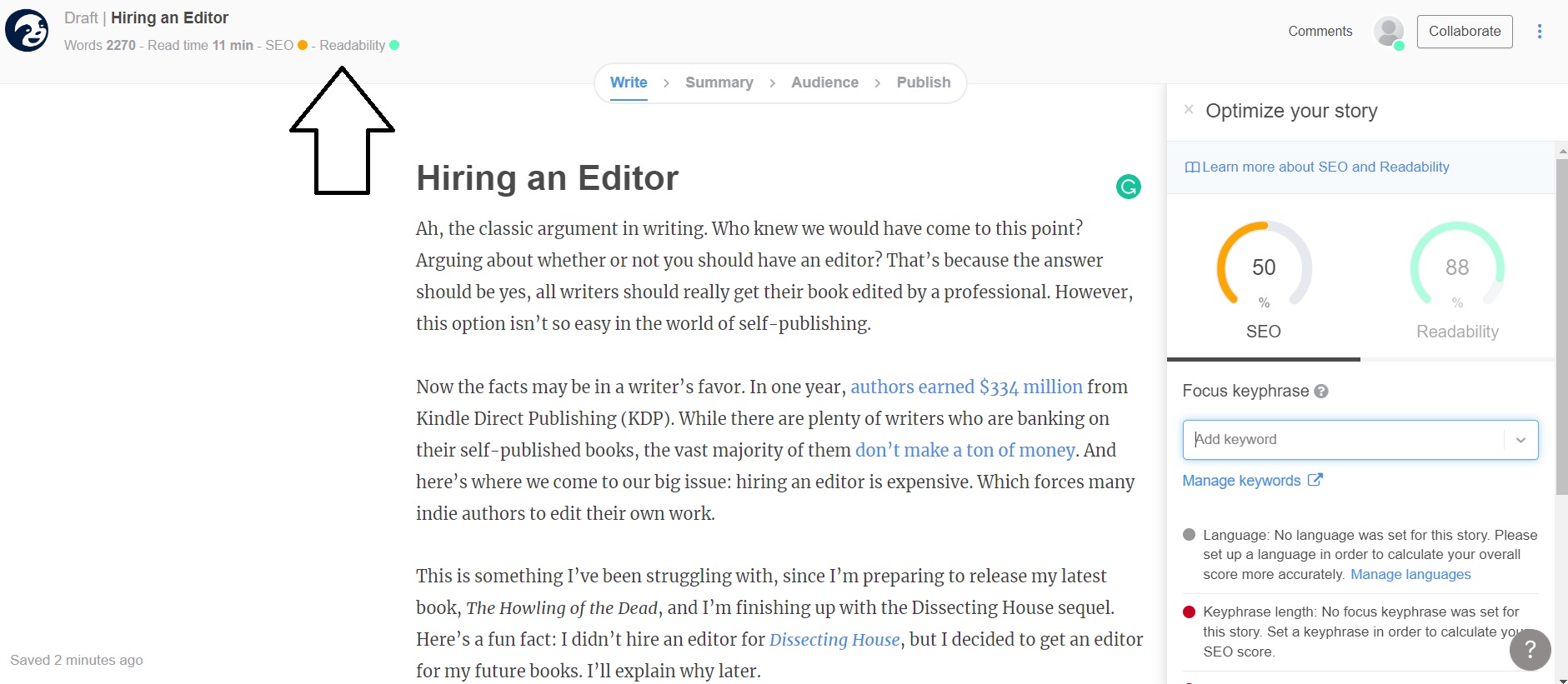 One of the first things I noticed is that the top toolbar gives you SEO and readability scores. I click this area, and I see a more detailed view of these scores on the right-hand side of the screen. This system is like a combination of Yoast, SEMRush, and Rank Math — three programs I've used countless times and still use today.
As you can see, my blog's readability is 88%, but my SEO score is only 50%. Underneath the scores is an area to add a target keyword. I'm using the keyword "hiring an editor" here. That bumps the score up to 58%.
Like Yoast, this program shows the areas for improvement first. But I do have some questions when looking at these critiques. Let's give the first one as an example: setting the language. I assumed I needed to do that with every individual blog. But I clicked the link and realized I had to pre-define which language I'm using.
I do like this feature since you can find content in every language. This will help readers find content in their language, and I can see this feature being useful for Google. You can also set your language in the "summary" section, though pre-setting your language will apply it to all articles.
The next section refers to my SEO metadata. I click "summary" at the top toolbar and find where I update my metadata. From here, I continue making the other edits that StoryChief recommends. When I made these changes, my score bumped up to 75%.
What I find cool is this tool is useful for bloggers such as myself and content teams. If you're managing a team of writers, you can leave comments on their blogs and even set a deadline for certain blogs.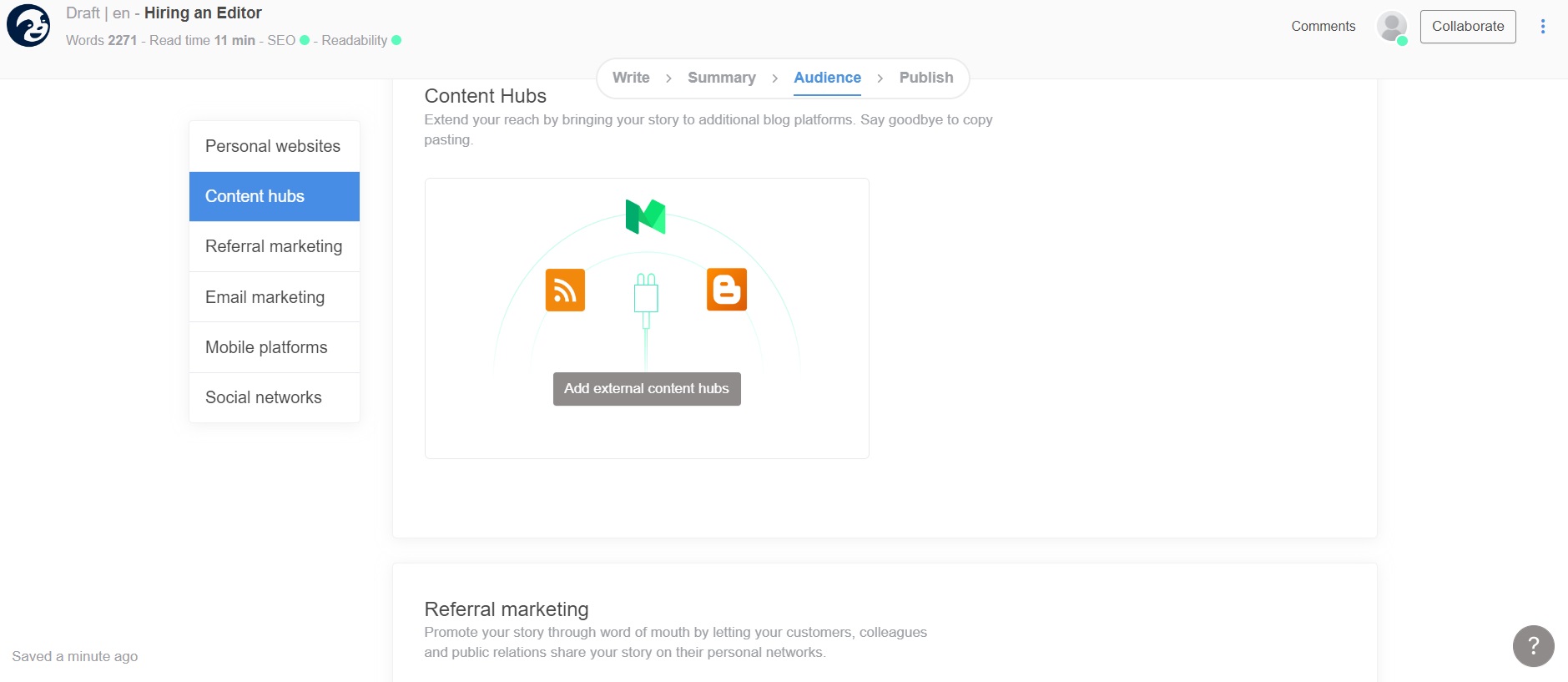 Now, I'm ready to publish my blog. This is where I'm most curious, to see how the mass publishing system works. From the "Publish" section, you can connect StoryChief to your CMS, social media channels, and email. When you click "publish," StoryChief will publish your blog across all platforms. Since this blog is already published, I will leave it in draft form.
Campaigns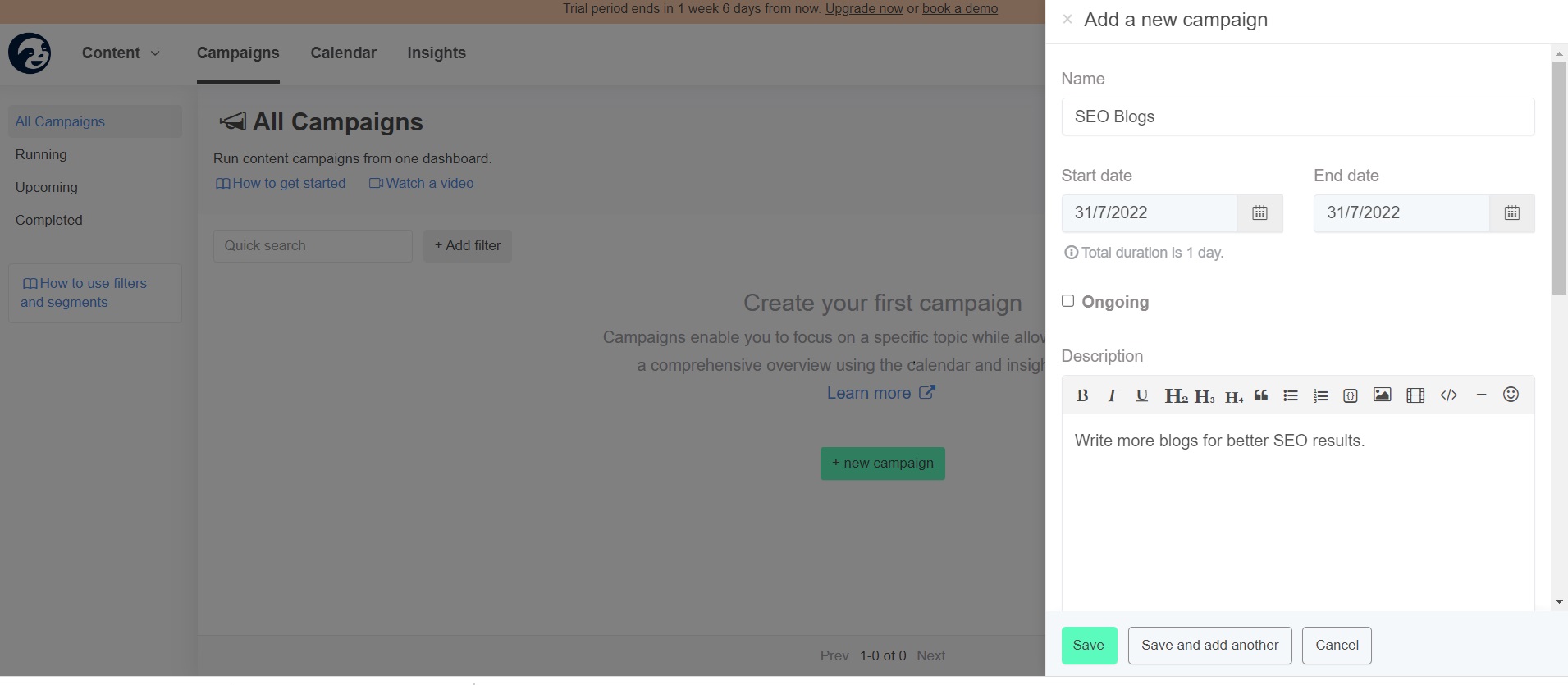 Next to "Content," I notice there's an area to create campaigns. I discover that StoryChief lets you create content campaigns from one system. I created a fake campaign just to see how this tool works. You need a title, goal, and start/end dates to set a campaign. You can also add contributors and view reports.
Social Posts
Before I go into this section, I first want to mention that StoryChief isn't a social media management tool. All this program will do is post your content on your social media channels.
I have very specific posting requirements for my channels, so I still post directly on each platform or at least using Meta Business Suite. If you want a more in-depth social media tool, I suggest looking into alternatives such as Buffer or Hootsuite.
Insights
You can gain insights into your campaigns and each individual blog post. You can view essential data, such as engagement, audience, and impressions. Keep in mind that these features are only available for the Team plan. Since I'm only using a free basic demo, I cannot view this section.
Content Calendar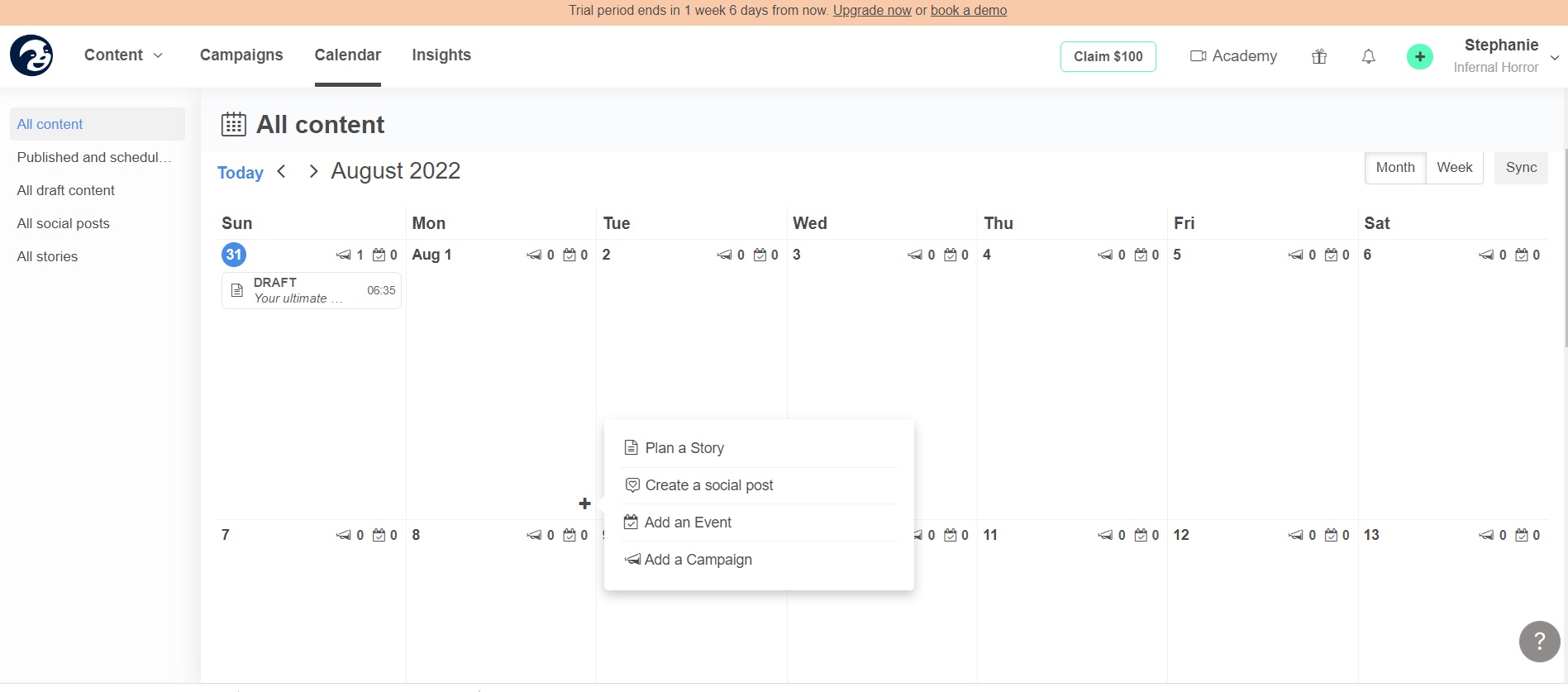 If you're the type who is devoted to your content calendar, you will love the calendar that StoryChief offers. You can select the month and date, and fill out any content to be published directly on the calendar. To access it, click "Calendar" at the top. You can also add social posts and campaigns to this list.
StoryChief Pricing
After playing around with this tool, one main thought comes to mind: how much does this cost? And is there a free plan? Let's dive into this a bit more.
Plans
StoryChief has four main plans:
Team – $100/month annually and $140/month quarterly
Team Plus – $180/month annually and $210/month quarterly
Agency – $350/month annually and $400/month quarterly
Enterprise – custom pricing
I am reading there is a special plan for solo bloggers like myself. However, you have to contact StoryChief for pricing. There's a chance they may not be able to offer you a plan.
Every plan offers these perks:
Content distribution
SEO optimization
Content planning
Social media management
Analytics
Collaboration
The plan you choose depends on the size of your team. If you only have four team members, you only need the Team plan. But if you have 25 employees, you need the Agency plan. If you have more than this, you'll have to contact StoryChief for customized pricing.
Free Demo
Every plan comes with a 14-day free trial. You don't need a credit card to sign up, but you will have to provide some information such as your name, email, and workplace information.

Customer Service and Training
I didn't have to contact customer service, so I lumped this category into training. Let's dig deeper into both.
Customer Service
StoryChief only offers customer service via email and web chat. They also have a knowledge base.
Training
StoryChief offers tutorials directly on the backend. That's how I learned how to use the backend. StoryChief also offers training via live, in-person, webinars, and videos.
Alternatives to StoryChief
StoryChief is a very beneficial program for content teams, but I will say they are more comprehensive marketing tools and cheaper alternatives that deliver similar results. Here are a few StoryChief alternatives to consider.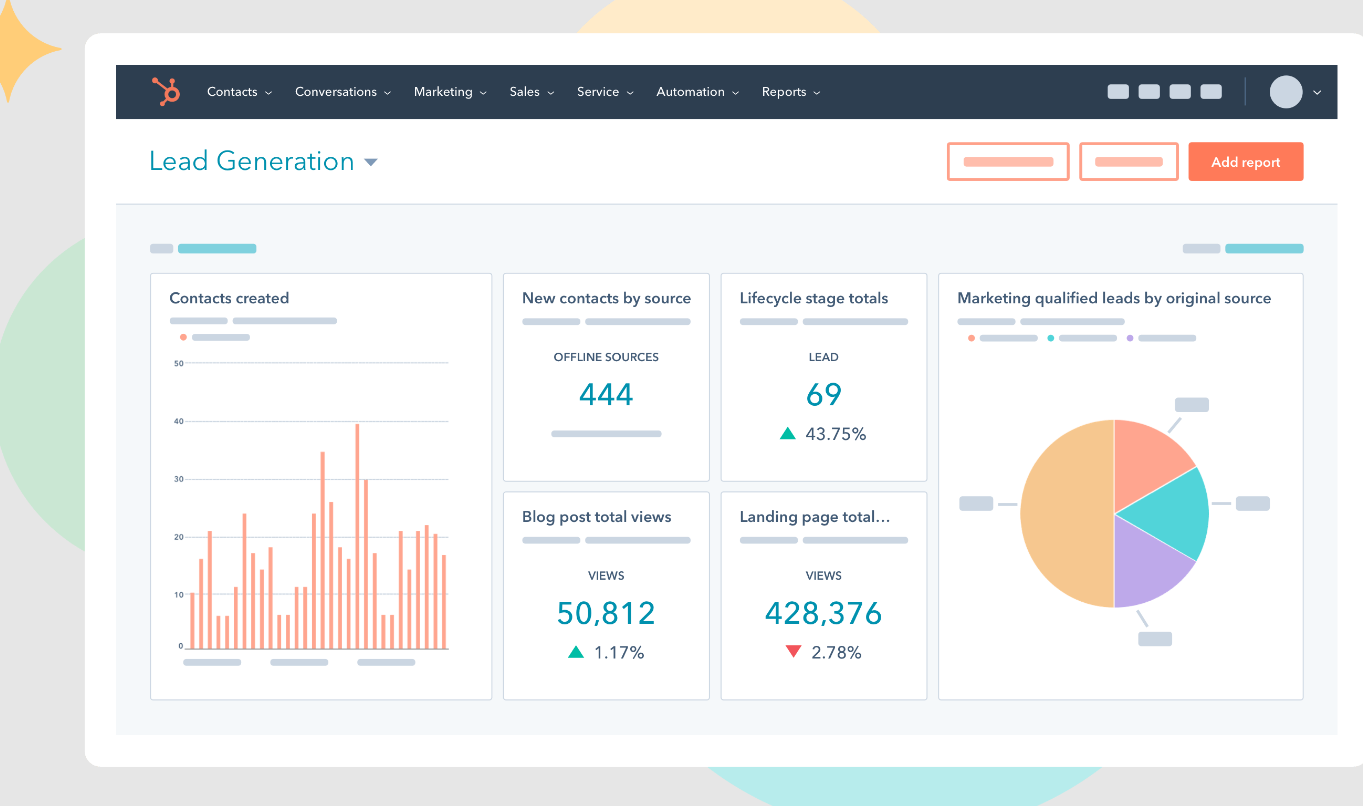 HubSpot is the main StoryChief alternative, especially if you're looking for an enterprise-level solution. HubSpot is a CRM and marketing program that attracts new customers and engages existing buyers. With HubSpot, you can generate leads and close sales by improving the customer experience. HubSpot also offers inbound marketing tools like email marketing, social media, blogging, and landing pages.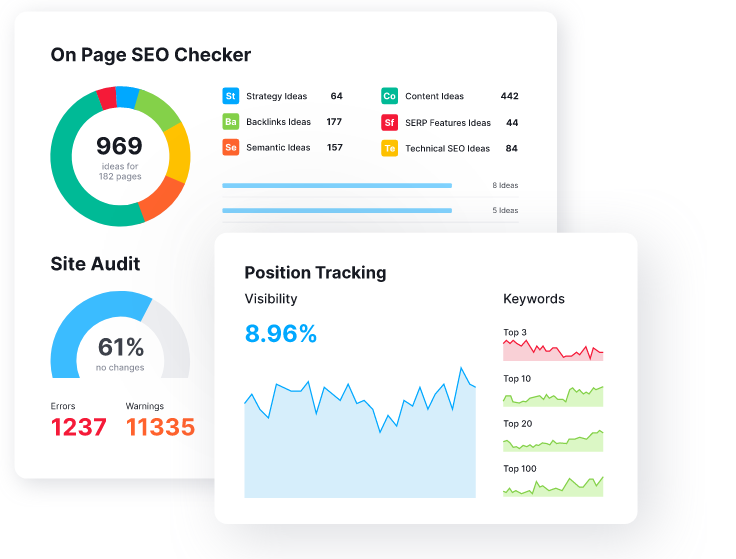 Even though SEMRush doesn't offer the content posting benefits that StoryChief has, this is still one of the best tools to create high-quality marketing content. SEMRush is an SEO software that will measure the effectiveness of your content in search engines.
With SEMRush, you can access the best-ranking keywords, technical SEO improvements, and online ranking data. You can also view your competitor's ranking data to make your marketing strategy more competitive.
Exclusive Offer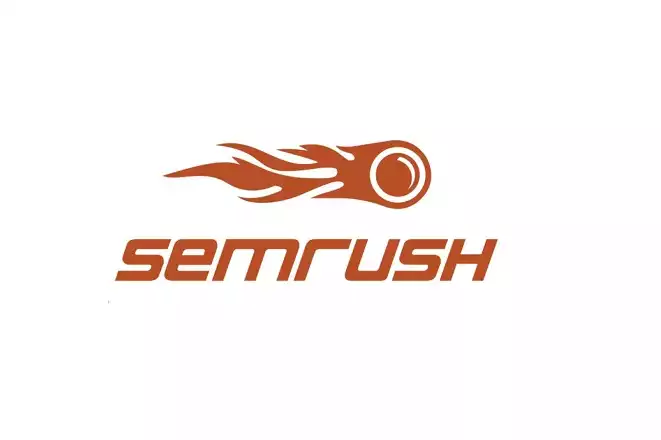 Get 14 Days of FREE SEMrush
SEMrush has generously offered our readers a double extended fully featured FREE TRIAL. Play around with the suite for 2 full weeks to see if it's what you need!
Activate FREE SEMrush
We earn a commission if you click this link and make a purchase at no additional cost to you.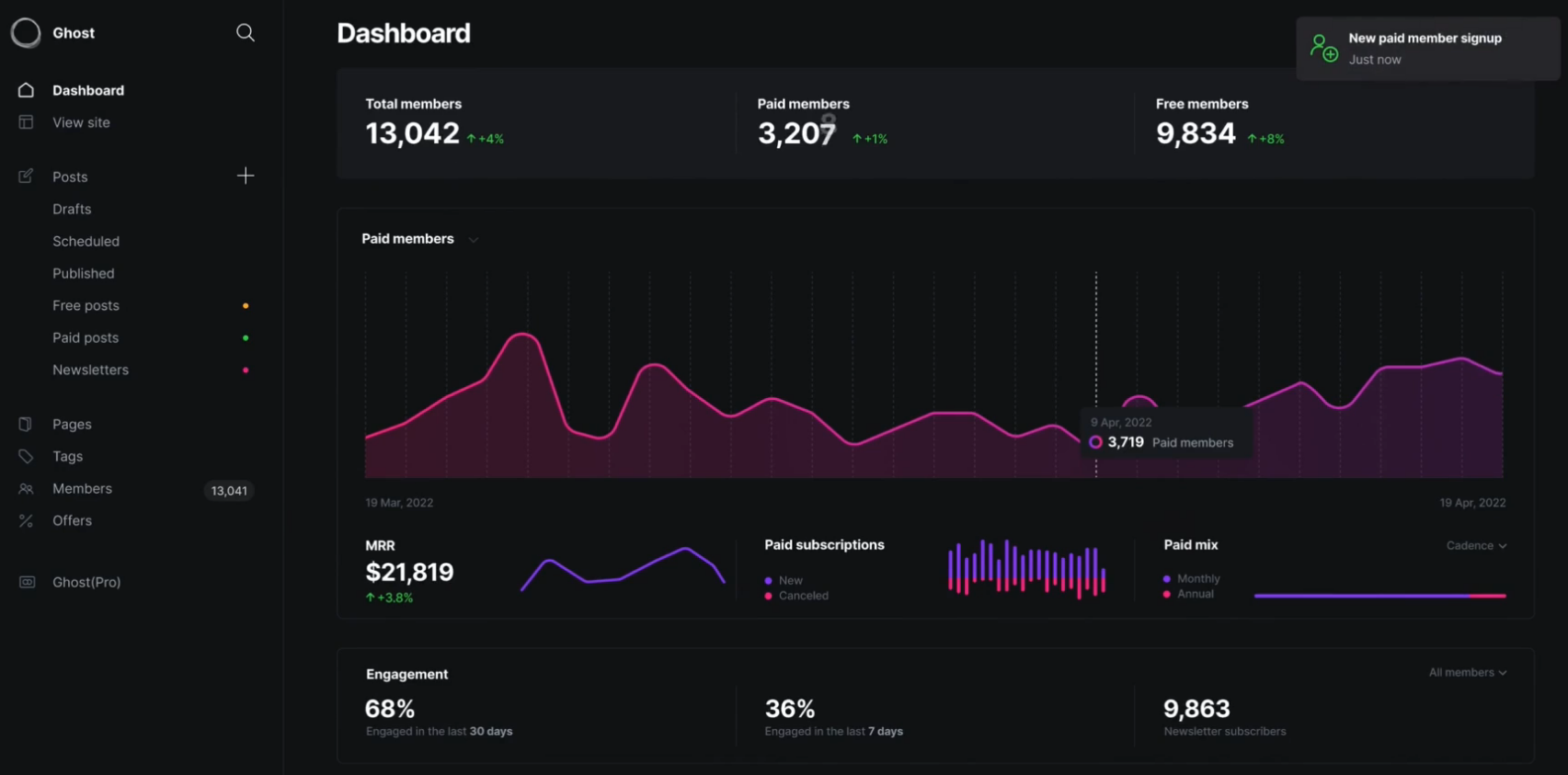 I reviewed this program, too, and I like it better than StoryChief. Ghost is a blogging platform. Its prices are more affordable than the competition, offering various tools to attract an audience.
You can also build your blog directly on its backend, which is why many recommend Ghost as an alternative to WordPress. Unlike StoryChief, Ghost is a great option for solo bloggers like myself. Its Starter plan is only $9/month, which is the same price as many hosting platforms. Like StoryChief, Ghost can integrate with various other channels you use, such as social media. It can also integrate with different email marketing channels and even e-commerce hubs like Shopify.
Bottom Line
I won't be renewing my StoryChief subscription after my demo ends. Even though I love supporting up-and-coming content systems and tools, StoryChief is targeted at content teams as opposed to bloggers like myself.
You can post your content on multiple channels, but StoryChief doesn't offer in-depth social media posting features. StoryChief offers good tools, such as its Campaign feature, the content calendar, and the insights that advanced plans offer.
I also like their content readability and SEO tools, but you can get the same benefits by installing the free Yoast plug-in to your WordPress website. I also don't like how StoryChief doesn't offer a web app, and I can't see their system being easy to manage on your phone.
Overall, I suggest looking at the alternatives and finding another solution that fits your needs.
FAQs
Question: What customer type is best for StoryChief?
Answer: These are the customers that will benefit most from StoryChief:
• Mid-size businesses
• Large enterprises
• Small businesses (at least four employees)
• Non-profits
Question: What is the purpose of a CMS?
Answer: A content management system (CMS) is a place to type, review, and publish your content. Many CMS platforms also include integrations, plug-ins, and other tools to improve your writing and the SEO value of your content. WordPress is the most famous CMS example, though other sources such as StoryChief are gaining recognition.
Question: What should I look for in a content editor?
Answer: I love content tools that are easy to use, support integrations, and offer plug-ins. This is why I've been using WordPress for so many years, but I also did enjoy using Ghost, Wix, and Shopify.