Last Updated on January 11, 2023 by Ewen Finser
Drop shipping is all the rage these days, offering entrepreneurs the ability to play with the big dogs without sinking cost into excess inventory. That's why services like Spocket can be CRITICAL to the success of a dropship model. Without it, it's a bit like fumbling around in the dark.
That said, having used Spocket – and found it lacking in some respects – I was curious as to what OTHER Spocket competitors existed. Surely there were some good ones? I set off on this research project and compiled a spreadsheet of date (number of sources, shipment tracking, product filtering, product pricing, etc…) and finally narrowed down the alternatives. The below list is a result of this process!
Without further delay…
These are the best Spocket alternatives: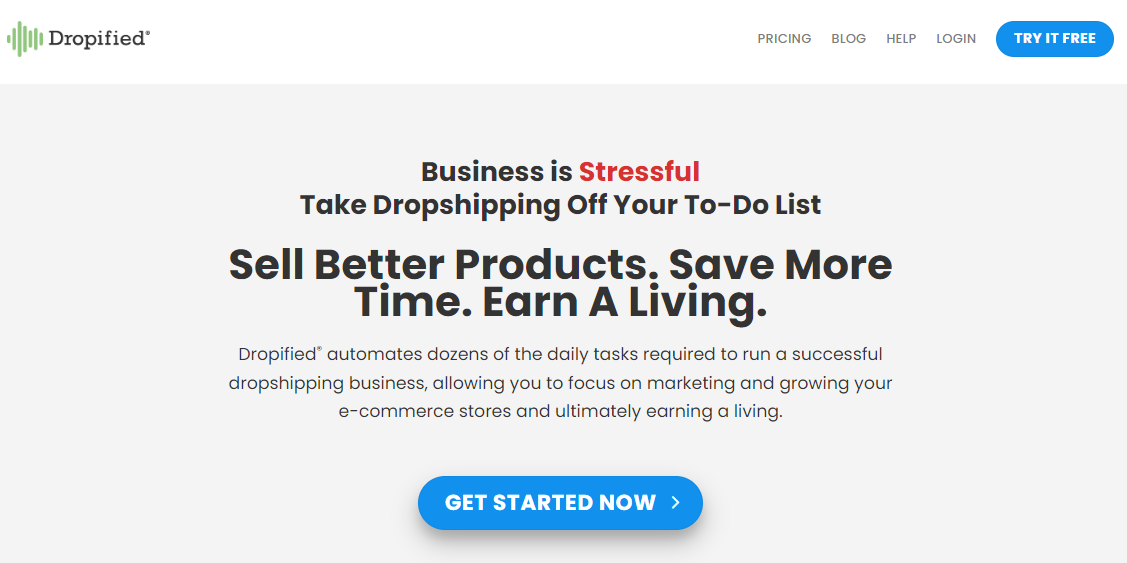 Summary: Dropified is perhaps the BEST overall alternative to Spocket, particularly if you are growing beyond a basic Shopify store.
Dropified Advantages
Innovative "Research Plan" so you can use the tool to get started pre-launch for FREE
More advanced product sourcing and management features on the higher paid plans
Dropified Chrome Extension works with 60+ marketplaces, whereas Oberlo works just with AliExpress
Built-in live call support to connect with suppliers over the phone
Typically more product sourcing options
Integrates across more platforms compared to Oberlo
Dropified Disadvantages
Only offers customer support during standard business hours
Dropified Pricing: Dropified pricing get's started at just $0 for a Research Plan (great for just getting started), then $26 per month + 3% transaction fee for the Build Plan, and then $67 per month with NO transaction fees for the Growth Plan. All paid plans also offer savings if you pay annually up front.
Further Reading: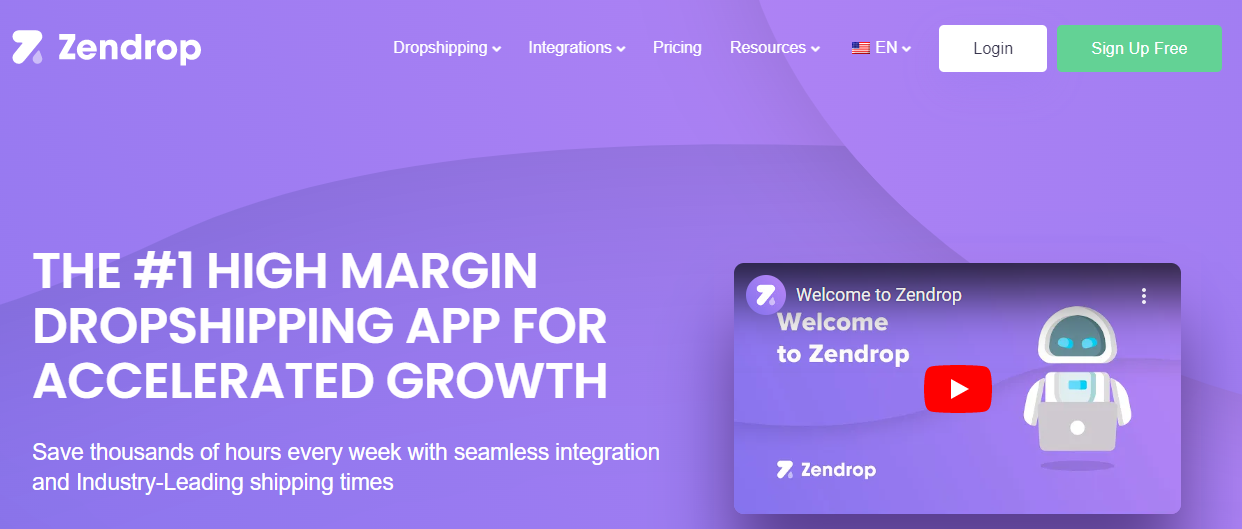 Summary: Zendrop is a up-and-coming new dropshipping app with many similar features to Spocket, but also a completely free plan for dropshippers to get started.
Zendrop Advantages
Fully accessible Free Plan with 1M+ product database available, great to test the market with first
Fully automated fulfillment starting on the Pro Plan
Offers "Express Shipping" on the Plus Plan, can be less than 7 days shipping (generally an improvement over Spocket)
Prices for products can be slightly lower than on AliExpress and Spocket due to Zendrop's bulk discounts
Fairly strong product quality vetting e.g. Zendrop finds the highest quality product on AliExpress to list (not the handful of cheap dupes and knockoffs)
More of a global product sourcing process, including the Chinese market (not just EU and US like Spocket)
Zendrop Disadvantages
Have to fulfill orders yourself on the Free Plan
Zendrop's Pro plan is $49/month, whereas Spocket's Pro Plan is just $29/month (different trade offs though)
Zendrop Pricing: Zendrop starts with a completely Free Plan (access to product sourcing), then offers a Pro Plan for $49/month (automated fulfillment, custom branding), and finally a Plus Plan for $79/month (express shipping, chargeback management, and trending product tools).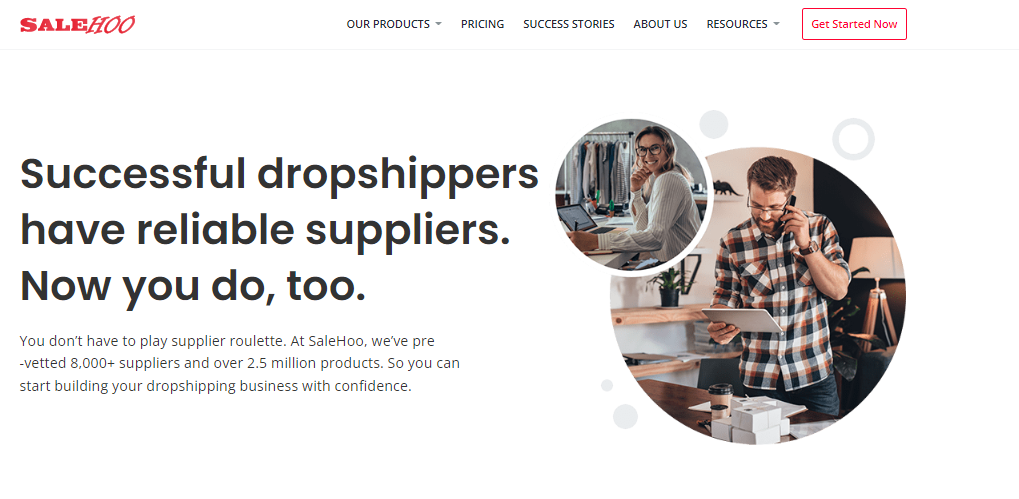 Summary: Salehoo has been around for 10+ years, initially as a dropship directory, and now offering a variety of platform integrations and selling tools for dropshippers.
Salehoo Advantages
Flexibility to just access the directory (for $67/year or $127 for lifetime access) or opt for the full on import integration (monthly fee).
Specialized Shopify and Amazon courses and launch guides
Import integrations to launch stores in minutes
30 day money back guarantee
24/7 customer support
Doesn't just pull from AliExpress, wide network of suppliers
Salehoo Disadvantages
More expensive to get started with the import service ($27 vs just $7 for Oberlo, but Salehoo offers more features…)
Directory features LOTS of suppliers, still requires research and filtering (quality varies, less vetted than Spocket for example)
It's not always as easy as it sounds e.g. simply "clicking" to create a store likely won't lead to any business breakthroughs
No automatic product fulfillment like with Oberlo
Salehoo Pricing: Salehoo offers 3 core offerings…
Further Reading: Salehoo vs Worldwide Brands.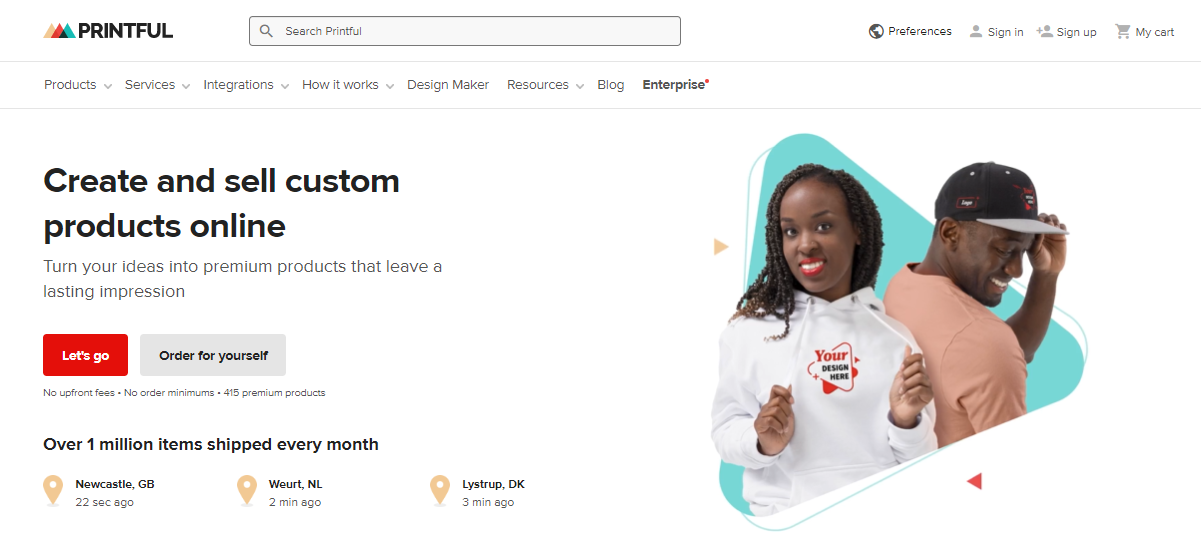 Summary: If you are interesting in selling t-shirts, apparel, stickers, posters, and various merch, Printful is the platform to use. It won't help you in other verticals, but if you can leverage print-on-demand (POD), it's a game changer.
Printful Advantages
Dedicated exclusively to print on demand products
Much more streamlined and easier to deal with than typical dropshipping platforms like Oberlo
Ability to create custom intellectual property (IP, designs) to create a defensible moat
Much easier to ship apparel and POD merchandize
Higher margins from perceived value of unique, hard to find designs
Printful Disadvantages
Logistics system and delivery times can be affected by macro economic climate
Not recommended if you can't bring your own creative or creative team to procure designs
Likely need a good traffic strategy vs competing on price
Printful Pricing: Printful, unlike Printify, doesn't charge any setup or monthly subscription fees. Instead, you'll be paying for the service every single time you process an order. All the product prices here include an extra rate for the service.
Further Reading:
AliDropship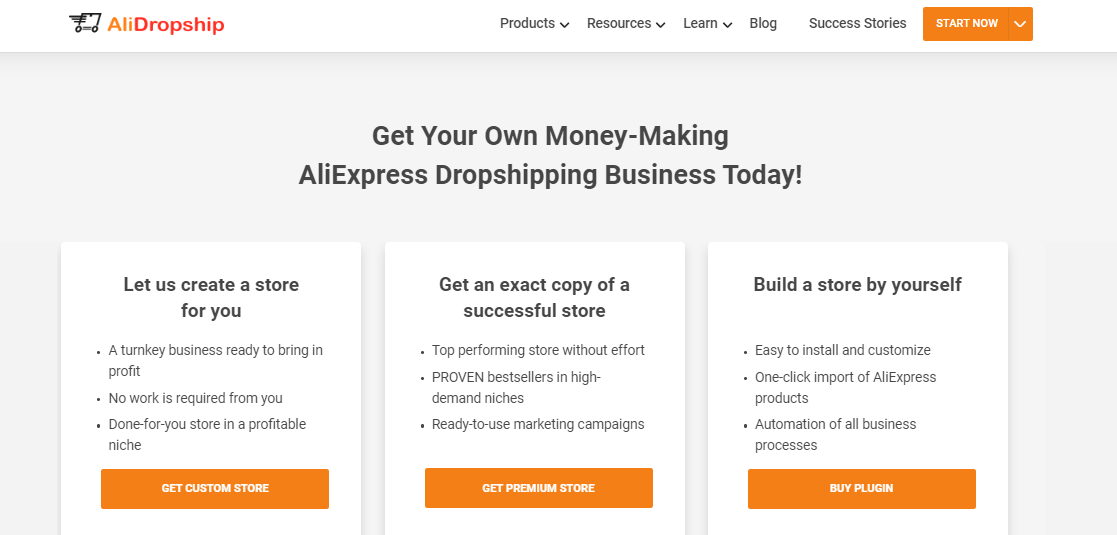 Summary: AliExpress might seem like an odd suggestion as many of the tools mentioned ALSO leverage AliExpress, but they've been offering more specific products like AliDropship to cut out the middle men. If you mostly end up sourcing on AliExpress, this might be the most affordable option.
AliDropship Advantages
Easily integrates with the AliExpress ecosystem, no worrying about how to sync it up
A done for your store takes minutes vs weeks or months of tinkering
Relatively affordable up front cost, instead of a spread out monthly cost
Keeps things simple, not complicated integrations or tech problems
AliDropship Disadvantages
Most dropshipping stores take work to optimize, AliDropship just accelerates the first part (not the hard part)
The testimonials and messaging are a bit gimmicky (re: don't expect the $ to start rolling in with no work)
$89 to $399, even though it's up front, is still a sizable investment if you aren't sure your store concept will work
AliDropship Pricing: AliDropship custom stores start at $299 for a basic setup and up to $399 for a store "based on another best selling store". If you want to just do it yourself, their plugin costs just $89 for lifetime access.
Modalyst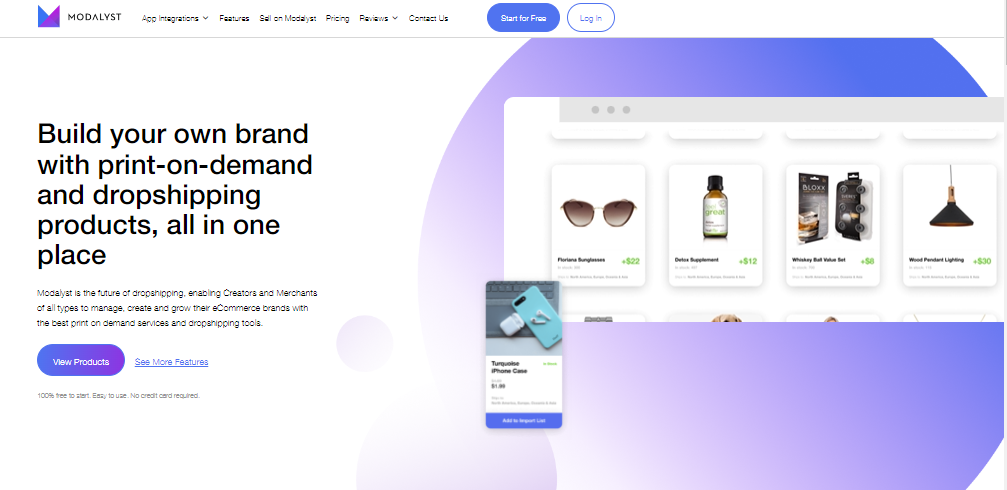 Summary: Modalyst is another Spocket competitor worth considering, particularly for those looking for a cheaper (free) entry point into dropshipping.
Modalyst Advantages
Completely free plan available for those just getting started to test the waters
Access to similarly high quality US and EU products like Spocket
Unlimited product plan for $90/month (Pro Plan) is quite generous compared to Spocket and others (most have some sort of cap)
Offers access to private label suppliers
Modalyst Disadvantages
Their middle tier "Start Up Plan" is fairly restrictive at just 250 products, relative to peers
Has a a 5% transaction fee
DSers
Summary: DSers is another upstart dropshipping app with a wide range of products from AliExpress and similar suppliers. If your turned off by the higher up front pricing from Spocket or the lack of broad selection, DSers may be a better solution to start with.
DSers Advantages
DSers offers a fully functional free Basic Plan for up to 3 stores and 3,000 products per account
DSers first paid tier is less expensive than similarly featured Spocket tiers (DSers starts at just $19.90/month)
Helpful price monitoring features and automated price syncs
Integrates with Wix for dropshipping (Spocket does not as of this writing)
DSers Disadvantages
Product quality tends to be variable, less curated compared to Spocket
Fewer product research tools
Importify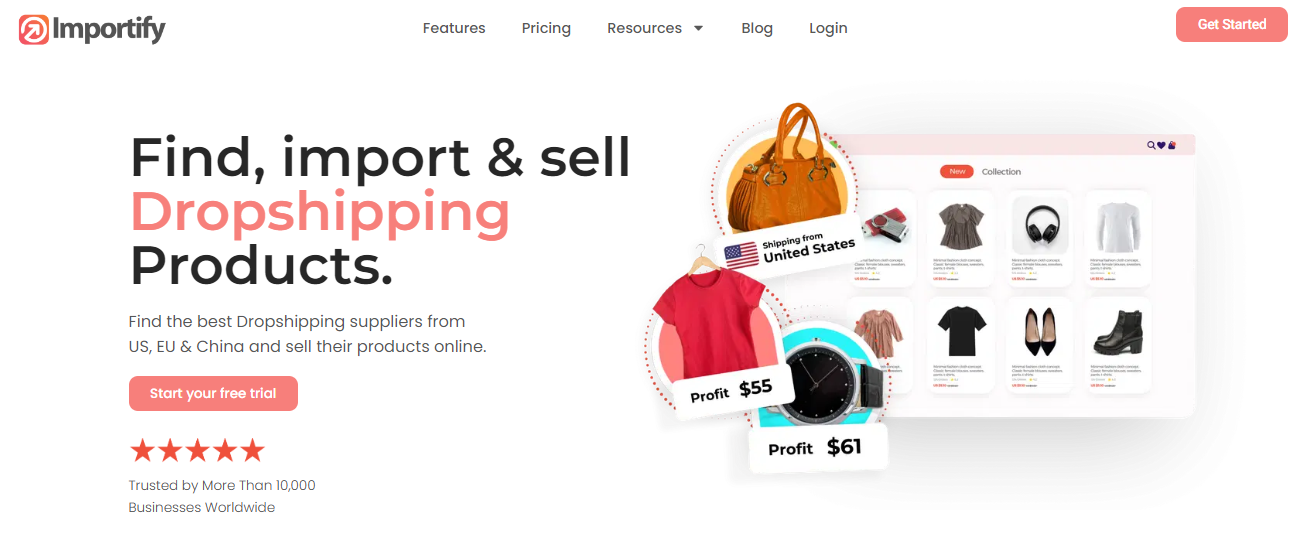 Summary: Importify is another upstart dropshipping supplier with similar features to Oberlo, but a wider supplier base to integrate with.
Importify Advantages
Competitive entry level pricing at $14.95/month for the Basic Plan, ability to import to Basic Plan stores
Integrations with 40+ different sources and marketplaces
More highly rated on Shopify (as of this writing, 4.6 starts vs 4.2 starts); that's worth something as it's harder to game these rankings
Solid mix of US and Chinese suppliers, something for everyone
No product import limits, unlike Oberlo
Offers partial order fulfillment automation on AliExpress, Amazon, and DHgate
Importify Disadvantages
Basic Plan doesn't support Amazon auto import tools, which is likely an important channel for many dropshippers (the higher tiers do support)
Hasn't been around as long as Oberlo, will it last?
Importify Pricing: Importify features a 3-tier pricing system, mostly based on how many marketplace platforms and software that can be integrated.
Basic Plan: Starts at $14.95/month
Premium Plan: $27.95/month (adds more integrations)
Gold Plan: $39.95/month (all integrations)
Final Word: So What's the Best Alternative to Oberlo?
I've mentioned a whole bunch of great Spocket substitutes here. It's not an easy choice.
To help narrow it down, here are some specific ecommerce use cases where I'd go with one Spocket competitor over the others:
Looking for more marketplace integrations? If you want to expand your dropship empire to more selling platforms, definitely go with Dropified here with it's 60+ integrations.
Looking for more products & suppliers? If you've felt limited by the inventory sources and products available via Spocket, go explore the massive directory of Salehoo here.
Looking to start with a free version? Spocket is very limited in their free version, but for a fully accessible free database of products, go with Zendrop here.