Last Updated on June 4, 2023 by DMEditor
Keeping on top of a big, busy inbox can be a pain! If you're looking for a new email management service, you might wonder what the difference is between SaneBox vs Superhuman.
SaneBox
vs Superhuman both allow you to deal with your emails quickly and efficiently; I enjoyed using both of them, and they each have their strengths and weaknesses. However, I prefer one to the other. I tested both so you can see which one looks more appealing to you in this SaneBox vs Superhuman Compared guide.
The Bottom Line Up Front
The bottom line up front is this: I prefer
SaneBox
in terms of functionality. It has some excellent features, it's reasonably priced, and I can see the practical difference it would make to my day-to-day life. I did prefer the UI of
Superhuman
, and the speed is excellent. However, I don't think it has as many useful features as SaneBox, and it's much more expensive.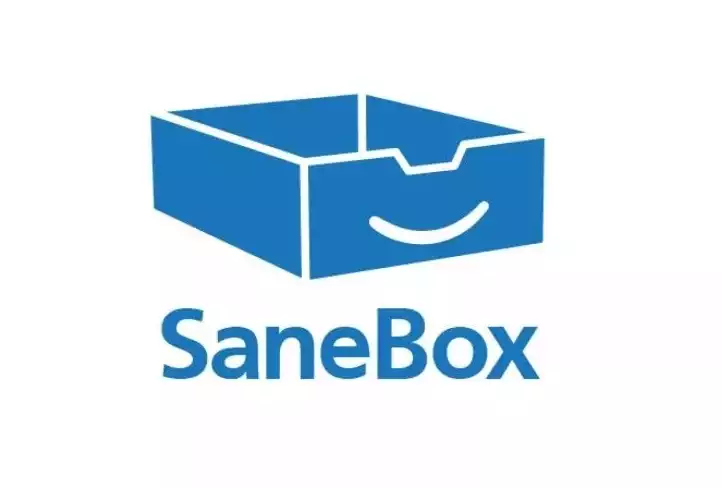 Email Management for Any Inbox | SaneBox
Read the important email in your Inbox. Safely forget about the rest. SaneBox's A.I. identifies important email and automatically organizes the rest to help you stay focused.
Get a FREE 14 day trial
We earn a commission if you click this link and make a purchase at no additional cost to you.
Main Differences Between SaneBox vs Superhuman
The main differences between SaneBox vs Superhuman are:
SaneBox has a lower price point, whereas Superhuman is a lot more expensive
SaneBox filters emails for you, whereas Superhuman is designed to make the process of responding to emails faster
SaneBox has a fairly low learning curve, whereas Superhuman has a higher learning curve
SaneBox's support can be a little slow depending on the price tier you're on, whereas Superhuman's support is very responsive
SaneBox
is an email management system designed to automatically filter your emails into the correct folders, making it easier to manage your inbox. I'd recommend SaneBox for everyone – it works well even for personal use, as well as managing work emails.
What Is Superhuman?
Superhuman
is an app designed to make it faster to respond to emails. It uses an innovative command center feature and can be downloaded as a desktop app or a Chrome extension. I'd recommend Superhuman if you have many emails to process.
SaneBox – The Main Features
I tried out the main features of SaneBox, looking at how it worked with my email account and figuring out how the platform works.
UX/UI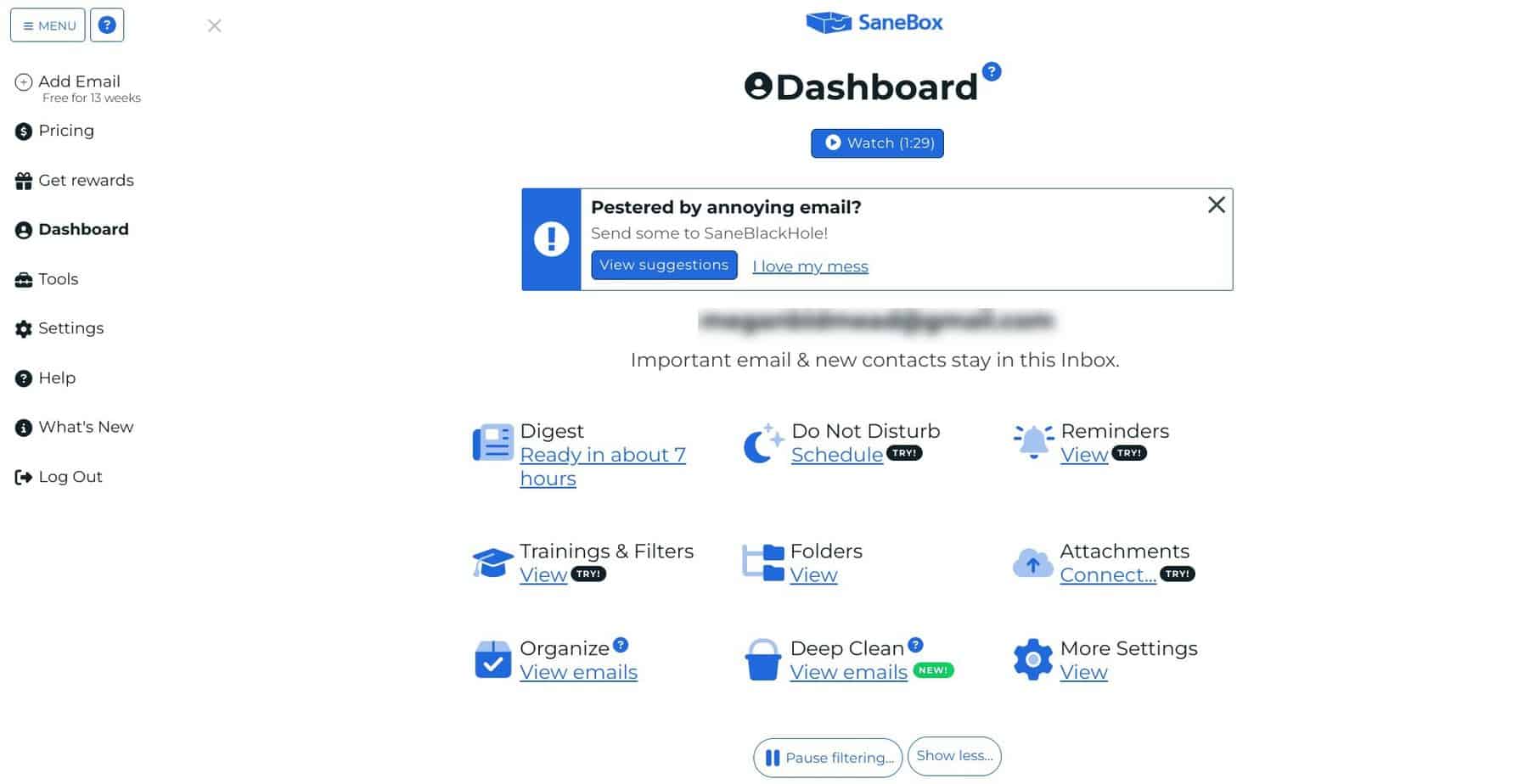 I was impressed with the user experience of SaneBox – there's a learning curve, of course, with some new terminology to get used to, but they make it as simple as possible to get going. You can sign up in minutes, and connecting your email account is straightforward. It takes some time to sync up, but it's a hands-off process. Make sure to give yourself plenty of time for SaneBox to scan your emails. They'll send you an email to let you know when the process is done, so you don't need to hang around waiting. You can look at the platform while you wait, but you won't be able to access some areas (like the Digest feature).
Email Filtering
SaneBox will filter your emails into the right places if you allow it to set up new folders in your email account. This is done by training your emails to go to the right places (but more on that in a moment). Trainable folders include:
SaneLater – this collects your less urgent emails into one place to read later.
SaneNews – this is the place for your mailing lists and newsletters from email marketing services.
SaneCC – all your CC'd emails end up here.
SaneBlackHole – if you put an email here, after seven days, it will be moved to the Trash. (This isn't for spam, which is dealt with separately.)
Custom Folders – you can create up to 6 custom folders, which is a great way to collect emails into a particular place (like emails from family or friends, receipts, tickets, invitations, and so on).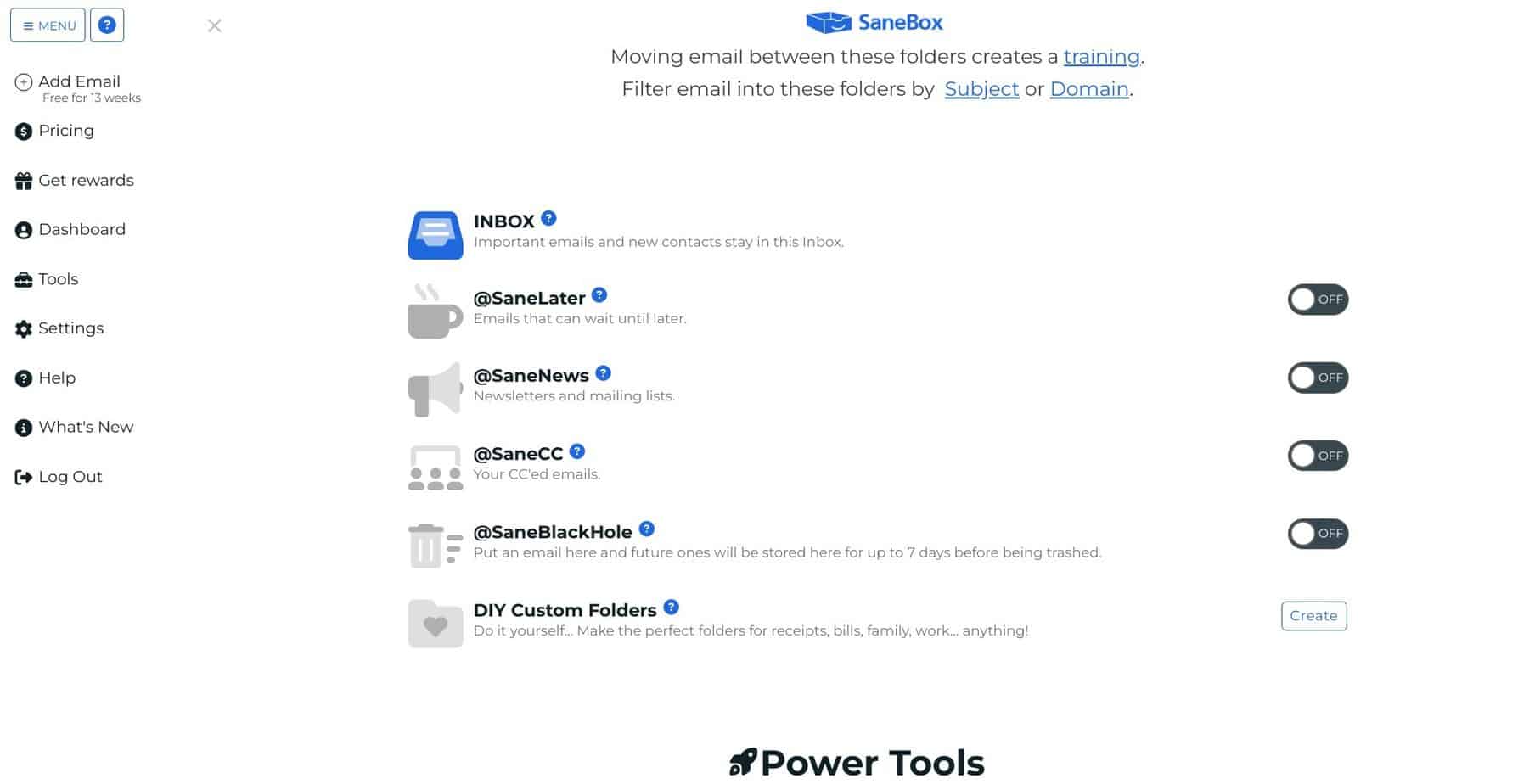 There are a series of folders that can't be trained, too. These are email folders that are automatically sorted by SaneBox with no need for you to do anything. These include:
SaneDoNotDisturb – When you use the Do Not Disturb feature, any emails you receive during your time off will go here.
SaneNotSpam – These are emails that SaneBox has rescued from your Spam folder.
SaneNoReplies – These are emails that you have sent but have received no reply to (making it super easy to follow up on emails).
Reminders – These are emails you send to yourself to remind you of specific tasks.
Attachments – This is a cloud folder that saves your attachments in one place.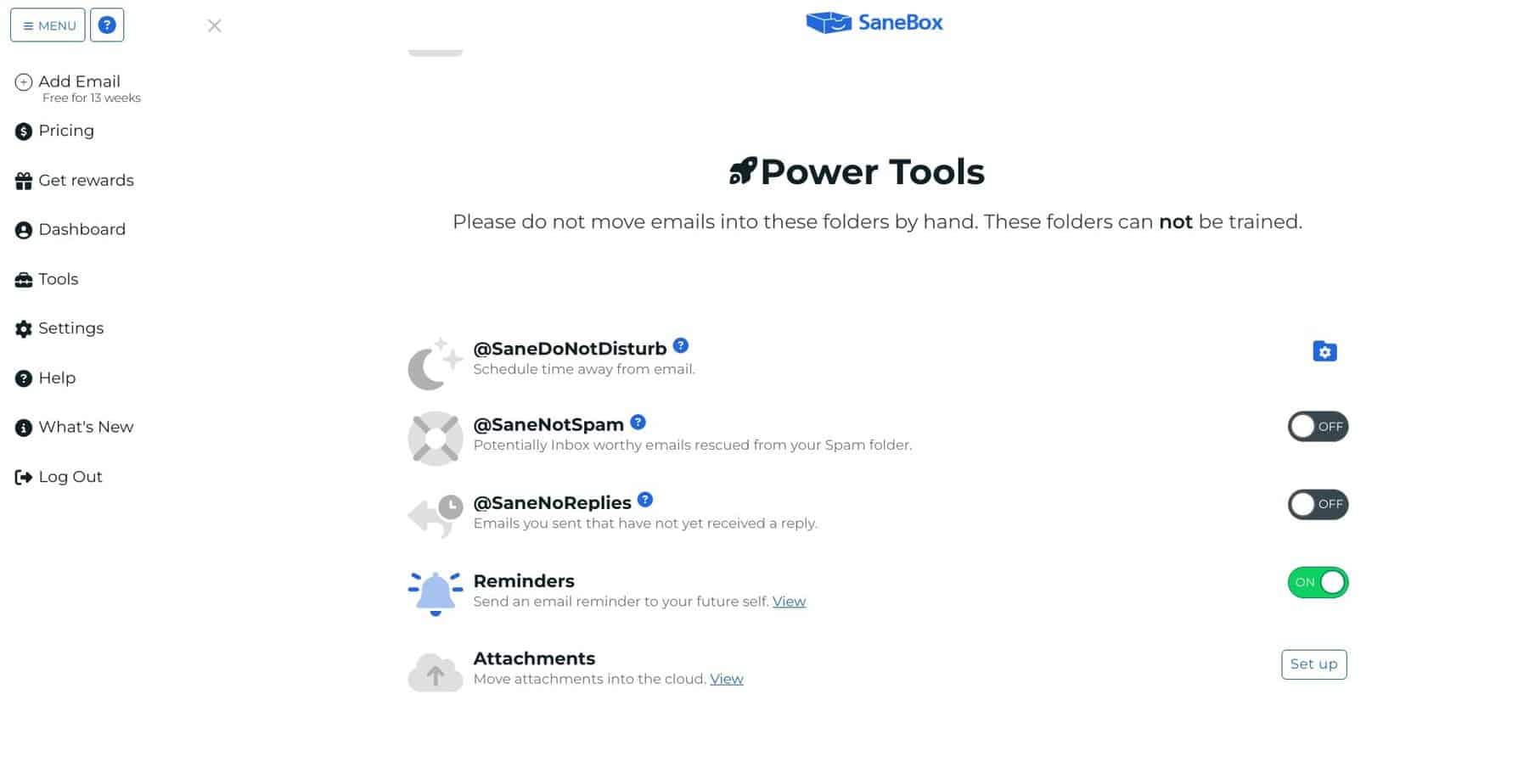 This works well: if you have a massive inbox that needs sorting, SaneBox will make it easy. I like the custom folders, although you only get six (which is a shame if you want to be super organized). You can toggle the folders on and off as required. I can see that this is useful for both personal and work use; if you're a
project manager
, for example, it would be helpful to set up a folder for each project you're involved in.
Training
SaneBox
doesn't take too much effort to set up, but at the beginning, you'll need to spend some time training the algorithm. I found this very straightforward. When you get an email – for example, an email from a colleague – you can drag it straight into the folder you'd like to be in (for example, you might have a folder entitled 'Work'). Putting emails in the right place will help the algorithm to understand where future emails need to go. This is one way of teaching SaneBox how to sort your emails correctly. You can train the algorithm using contacts, too, which may be easier (especially if you work with different teams or you're a freelancer with many clients). You can divert emails from a specific address into a specific folder. This is great if you're using custom folders to keep everything organized. The other option is to train emails using subject headings. You can choose all emails with the word 'invoice,' for example, to go into a folder for invoices, which is helpful if you want to quickly find them and use them with your
accounting tool
. SaneBox scans subject headers anyway, but this may help it to understand more specific emails and where to put them.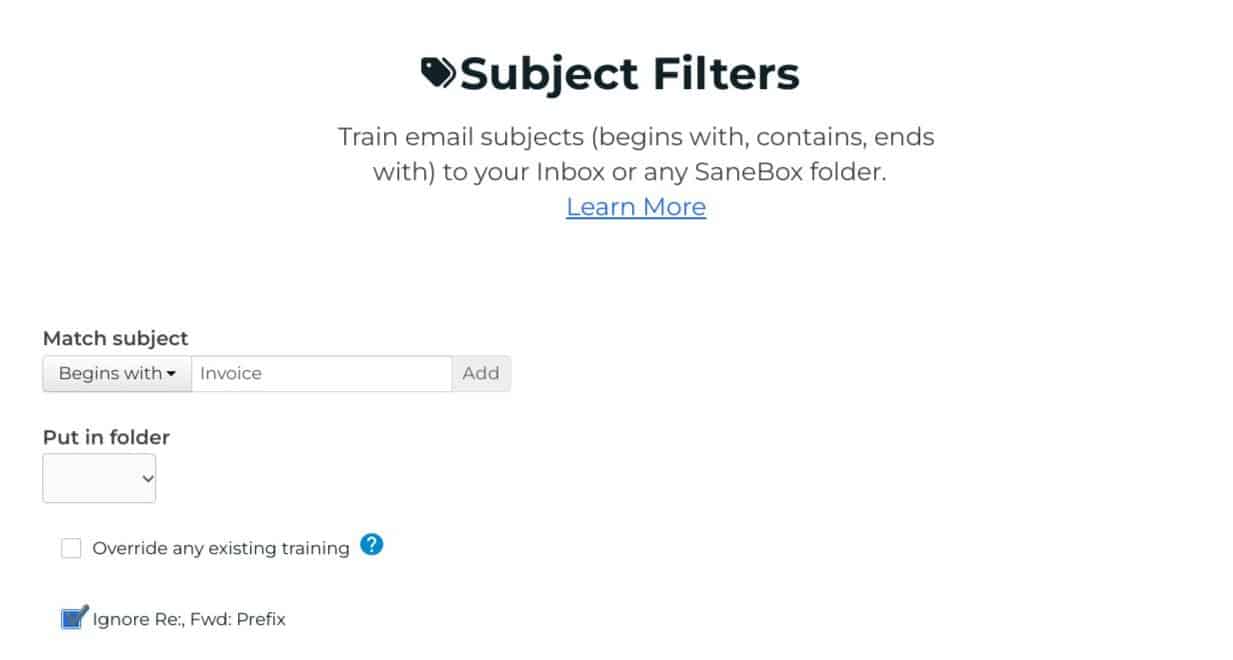 I'd say this is the least reliable option of the three. You're relying on other people to use the correct words in their email headers, of course, which they might not do. I think it's a good idea to use all three methods. It doesn't take SaneBox long to get used to your inbox. You can also reset training between sessions if you accidentally make a mistake, which is handy.
Security
Security is vital when allowing third-party access to your email account. SaneBox's
security policies
are thorough, and I felt safe handing over my information to them. Your emails (and login credentials) always stay on the server, which is an important point: you don't have to worry about data going anywhere else. SaneBox can't access your account without your password or OAuth token, either, which means no one can sign you up for SaneBox without your permission. It's also reassuring to know that SaneBox trains its algorithm by scanning email headers and analyzing data (like how quickly you respond to your emails). They don't access the content of your emails, so you don't have to worry about that, either.
Extra Features
There are a few extra features to talk about. Firstly, the reminders are a neat feature: you can set reminders for all kinds of things, like sending follow-up emails or preparing for an upcoming meeting. SaneBox will send you an email at a scheduled time, so you'll receive the reminder when you need it the most. There's also the Deep Clean feature, which is useful if you're nearing the limit of your email account. You can scan emails from a certain period (for example, over a year ago) and SaneBox will scan for emails you receive the most often, like email newsletters, allowing you to delete them all in one swoop. My favorite extra feature is the Do Not Disturb tool. If you've ever found it hard to stop yourself from checking your emails on vacation, this is the thing you need. While you're away, SaneBox will divert all emails to the SaneDoNotDisturb folder, where they'll stay until you return. If your colleagues need to be able to get hold of you in an emergency, you can give them a secret word, which they can use in a header when they email you. Emails with headers containing this word will get through the filter and land in your inbox as normal.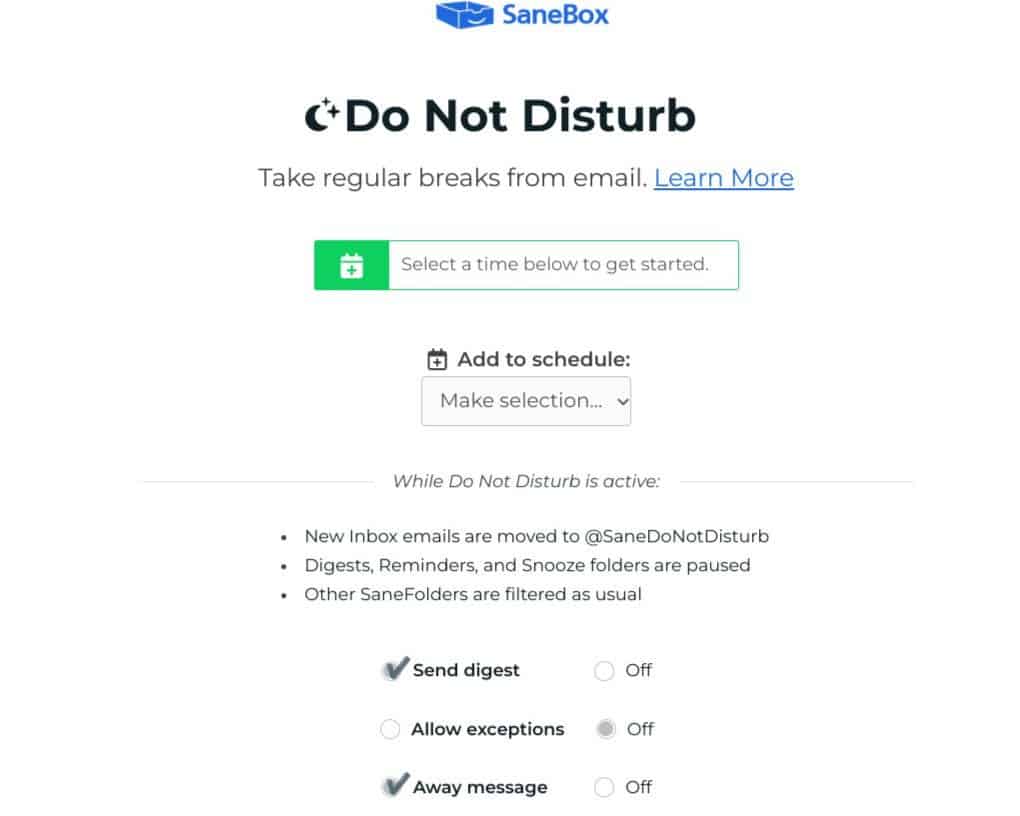 Support
Depending on the price tier, you'll have access to help via a ticketing system, live chat, or phone support. Some users have reported that support can respond slowly, which is a shame. However, the help center is very good and contains plenty of information for new users.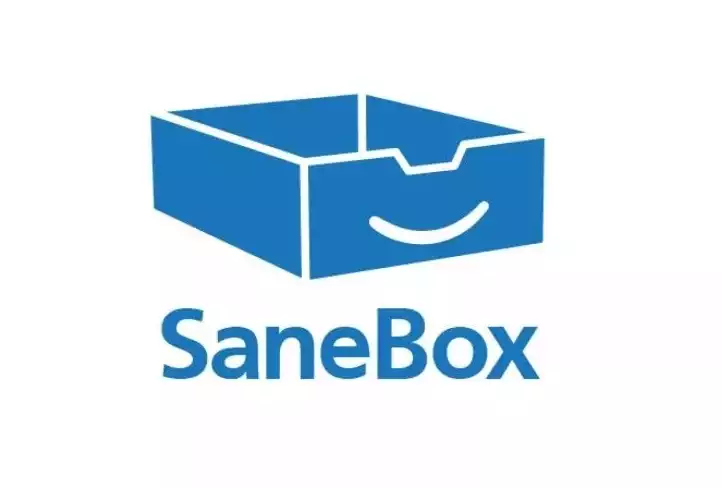 Email Management for Any Inbox | SaneBox
Read the important email in your Inbox. Safely forget about the rest. SaneBox's A.I. identifies important email and automatically organizes the rest to help you stay focused.
Get a FREE 14 day trial
We earn a commission if you click this link and make a purchase at no additional cost to you.
Superhuman – The Main Features
I also checked out Superhuman to get an inside look at how it works and how it compares to SaneBox.
UX/UI
Superhuman is another super easy platform to use. Both the desktop application and Chrome extension are simple to install, and they have a 'learn Superhuman in 5 minutes' tutorial for new users which is incredibly helpful. I liked the UI of Superhuman, too; from an aesthetic viewpoint, I preferred it to SaneBox, although both are very easy to navigate. I would say that Superhuman has a slightly steeper learning curve than SaneBox. You can use keyboard shortcuts to access Superhuman Command: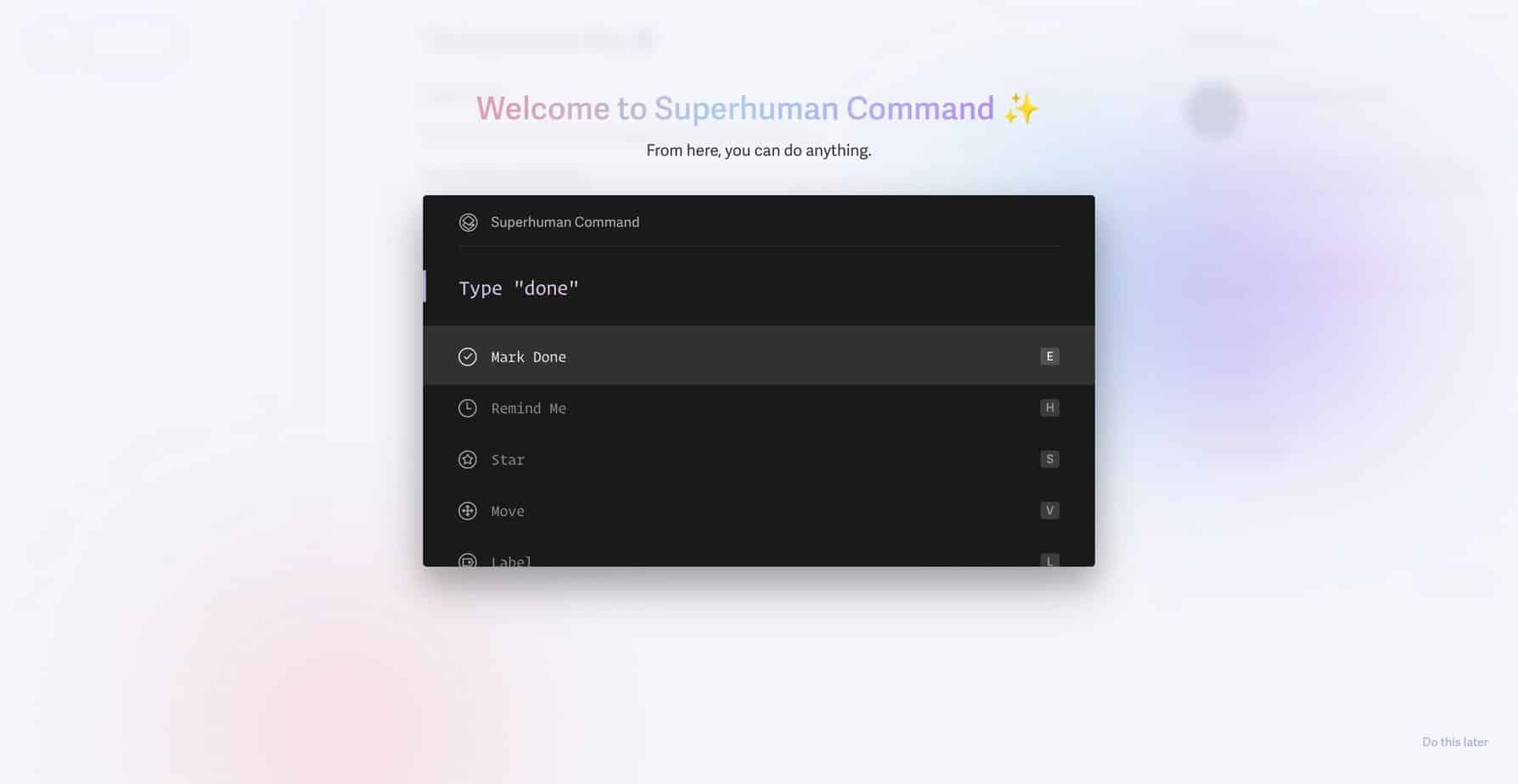 These shortcuts are fairly intuitive but will still require a bit of thought when you're first using them (for example, the keyboard shortcut for 'Remind Me' is actually 'H' for 'Hour,' which makes sense but still took me a moment to remember when I wanted to use it).
Email Organization
You can quickly sort through each email by using keyboard commands. Superhuman will present an email, which you can either respond to straight away, archive using 'E,' or snooze it using 'H' (this will allow you to set the day you want to respond). The keyboard shortcuts allow you to organize your emails rapidly. Unsubscribing to an email newsletter, for example, is easy using Superhuman.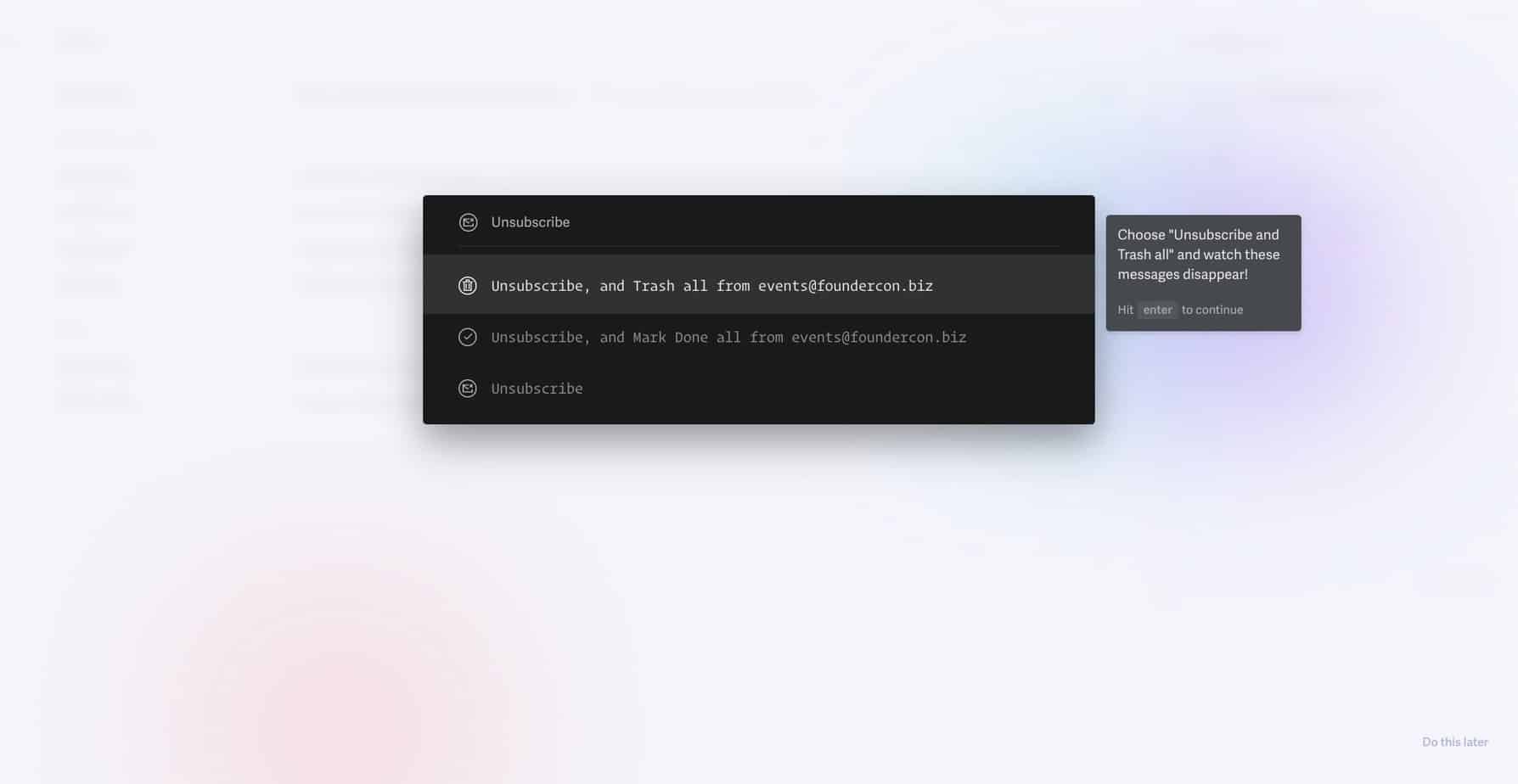 If you want to view emails you've marked as 'Done' or emails you've archived for later, you can use Superhuman Command. (If you've ever played a text adventure game at some point in your life, this will feel pretty familiar!) Typing 'Go Done' will bring up all the emails you've marked as 'Done':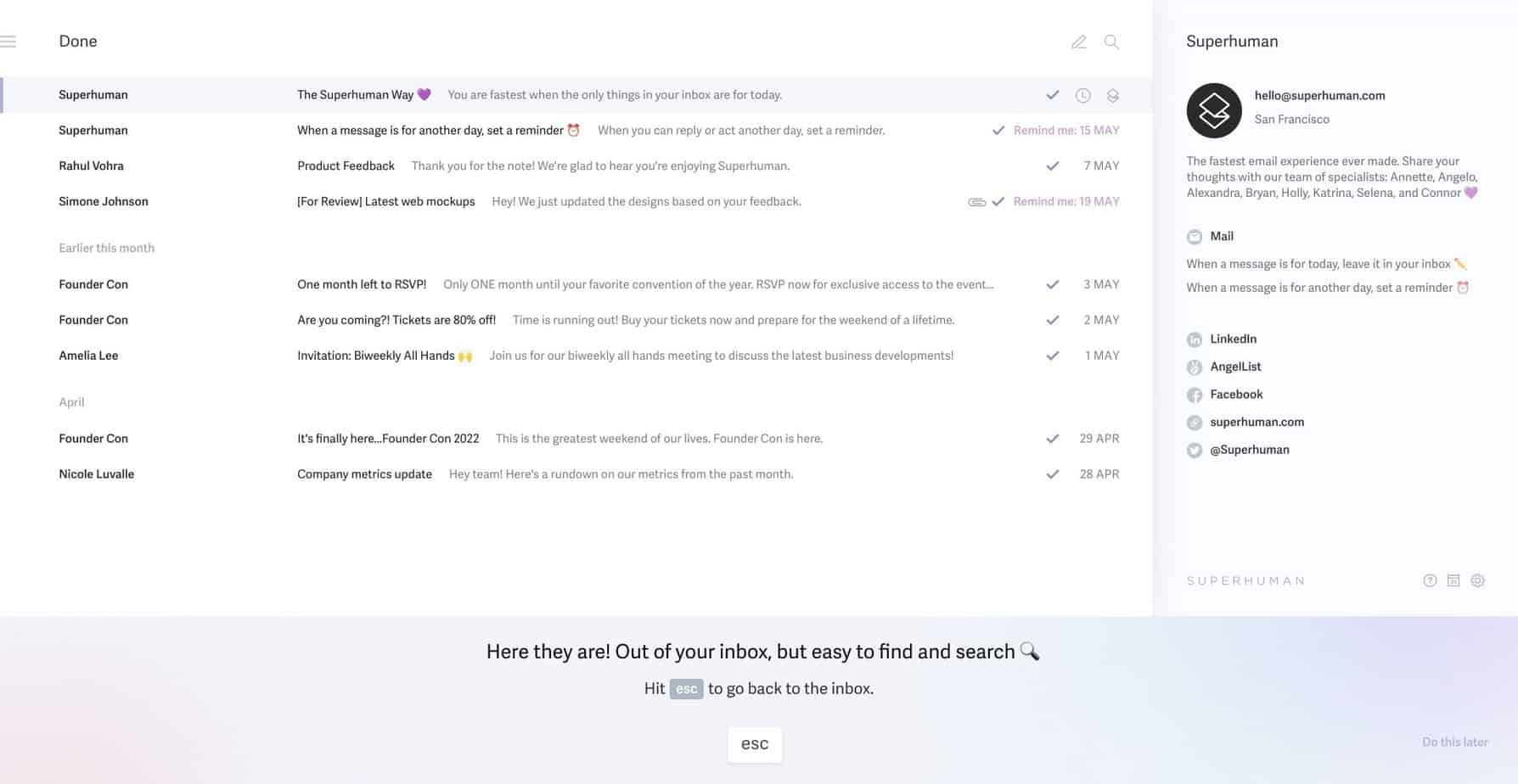 It's pretty easy to navigate around using Superhuman, and it makes responding to emails fast and straightforward.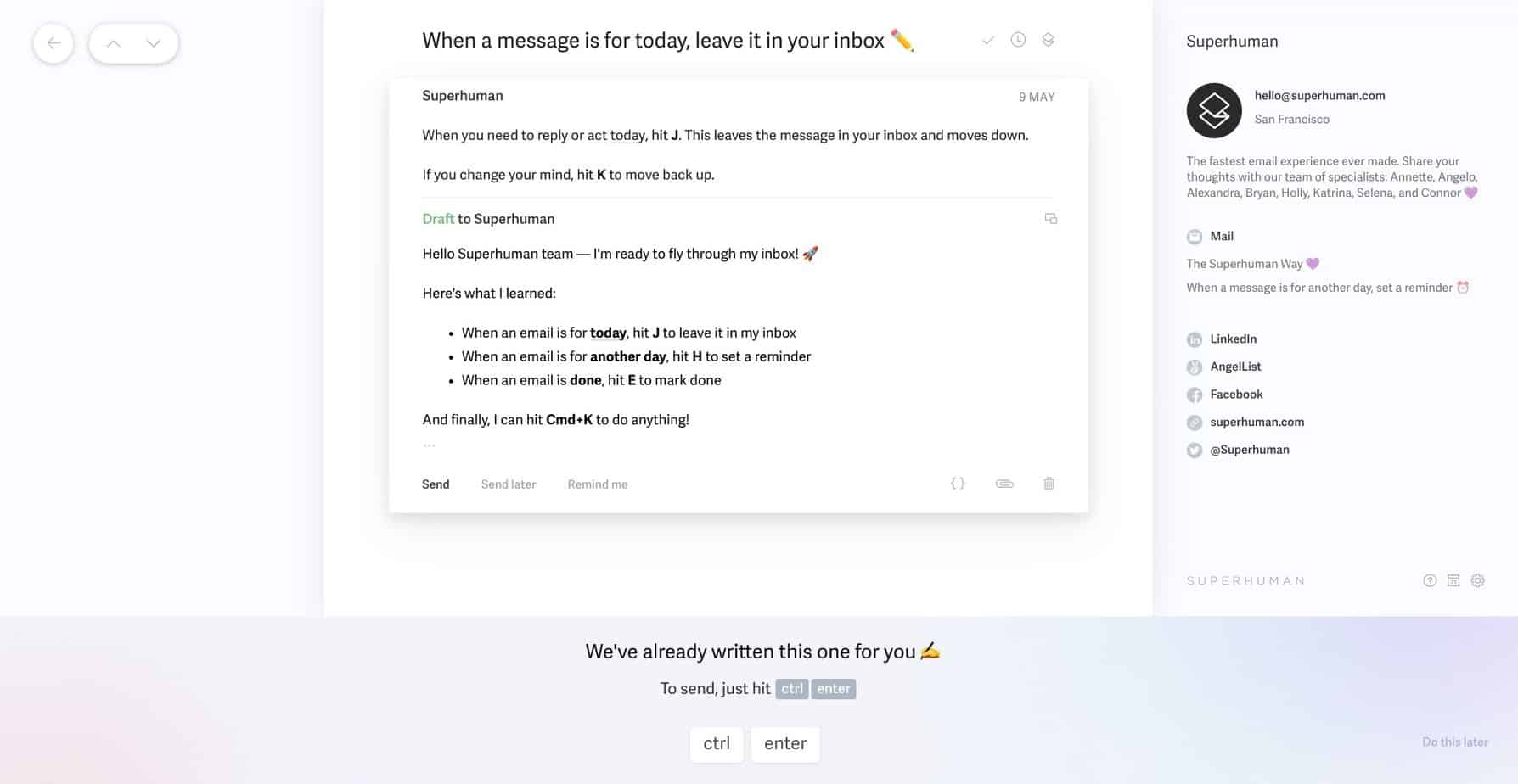 Like SaneBox, Superhuman allows you to create custom email folders. For example, you can select a 'VIP' folder for people to reply to quickly. You can also split your inbox by application (for example, Google Docs or Asana), allowing you to quickly access specific workstreams. I like Superhuman's focus on speed: it's very easy to fly through emails and makes you feel super efficient at the same time. However, I do find it less straightforward than SaneBox when it comes to email organization. The algorithm is designed to sort emails into the correct boxes, but this may not always be correct; like SaneBox, this depends on certain metrics being in place (for example, email headers or the length of time you take to respond). It's less clear than SaneBox in terms of what the rules are and how the algorithm will work.
Privacy
Superhuman has good privacy credentials: it doesn't store data or emails on its servers. Instead, it downloads this data directly onto your computer. It is SOC 2 Compliant, which means they are rigorously audited to check its compliance with certain security measures (
you can read more about it here
). However, Superhuman was in hot water initially: you used to be able to track when people opened your emails and where they were when they opened them, which caused some privacy concerns. You can still see when emails are opened, but you can no longer track where the person is.
Snippets
One time-saving feature of Superhuman is Snippets: these are pre-written chunks of emails that you can quickly access using the command center.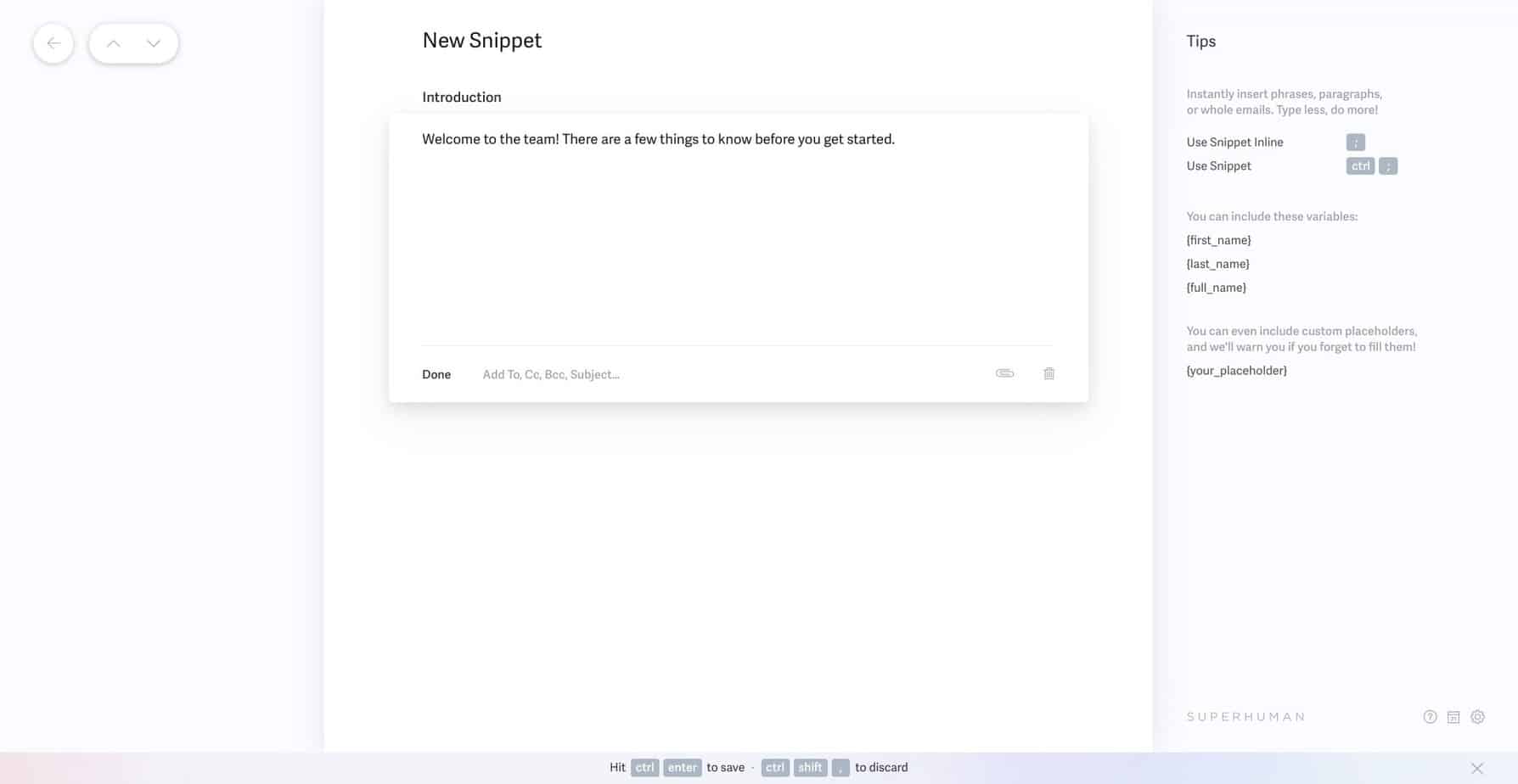 As a time-saving tool, this is excellent. Whether you're onboarding new employees, sending a rejection email, or sending a follow-up email, these short email snippets can be inserted into new emails, which is excellent if there are emails you have to send out frequently. If your task on a Monday morning is to respond to a ton of emails, Snippets will make this much faster.
Extra Features
Superhuman has several extra features, including a mobile app, an 'unsend' feature, and a nice Zero Inbox celebration screen that made me feel pretty accomplished. Superhuman will automatically schedule appointments using Google Calendars or Outlook. It will also add any Zoom or Google Meet appointments you have scheduled, including the links, to new calendar events. If you need to add a new event, you can just hit 'B' to open up the menu: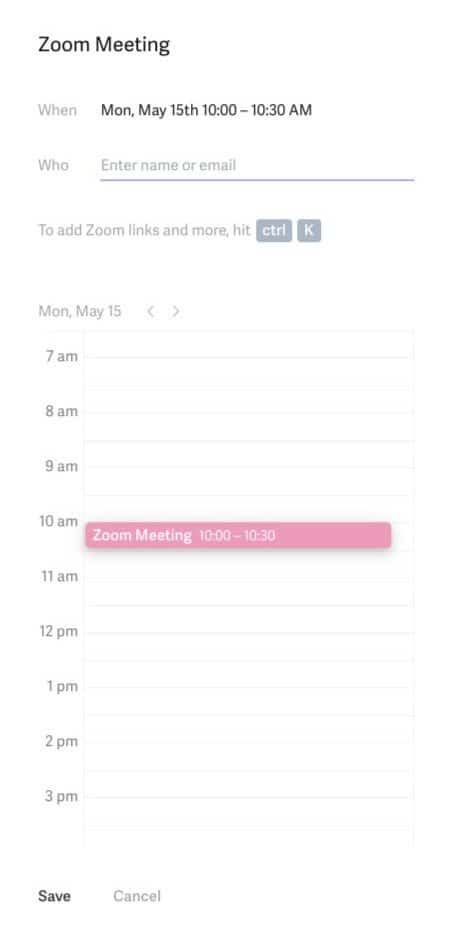 This is helpful but not necessarily useful if you already use a
calendar or scheduling app
. If you really enjoy using Superhuman's interface, I can see that this would be useful. I will say that Superhuman doesn't seem to have many extra features, and I preferred the extra features from SaneBox, like the Do Not Disturb feature.
Support
Superhuman offers support via email or by booking a 1:1 coaching session. Email support is fast and helpful, and the help center and blog are useful, too.
SaneBox vs. Superhuman – Pricing
Let's see how they compare in terms of pricing.
SaneBox

SaneBox allows you to choose which features you want, depending on the price tier you go for. The options are:
Reminders
Attachments
SaneNotSpam
SaneNoReplies
SaneDoNotDisturb
Snooze Until …
Snooze For …
Snack – $7/month
This gives you access to SaneBox for one email address and allows you to choose 2 features from the list.
Lunch – $12/month
This gives you access to SaneBox for 2 email addresses, unlocks access to live chat support, and gives you up to 6 features from the list. This is for two email accounts and provides email and live chat support, along with 6 features for each account.
Dinner – $36/month
Dinner allows you access to SaneBox for up to 4 email accounts, unlocks phone support, and gives you all of the features from the list. You can also check out the Appetizer plan; this costs 7 cents a day and gives you 1 feature for 1 email account. SaneBox has a
free trial
, which you can set up before you commit to a plan. However, if you decide it's not for you, you will have to uninstall it, and your emails won't filter to the correct folders anymore (they'll land back in your regular inbox instead).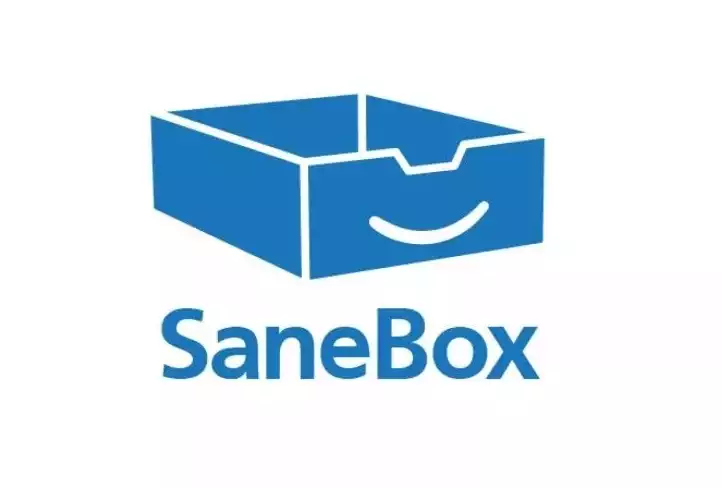 Email Management for Any Inbox | SaneBox
Read the important email in your Inbox. Safely forget about the rest. SaneBox's A.I. identifies important email and automatically organizes the rest to help you stay focused.
Get a FREE 14 day trial
We earn a commission if you click this link and make a purchase at no additional cost to you.
Superhuman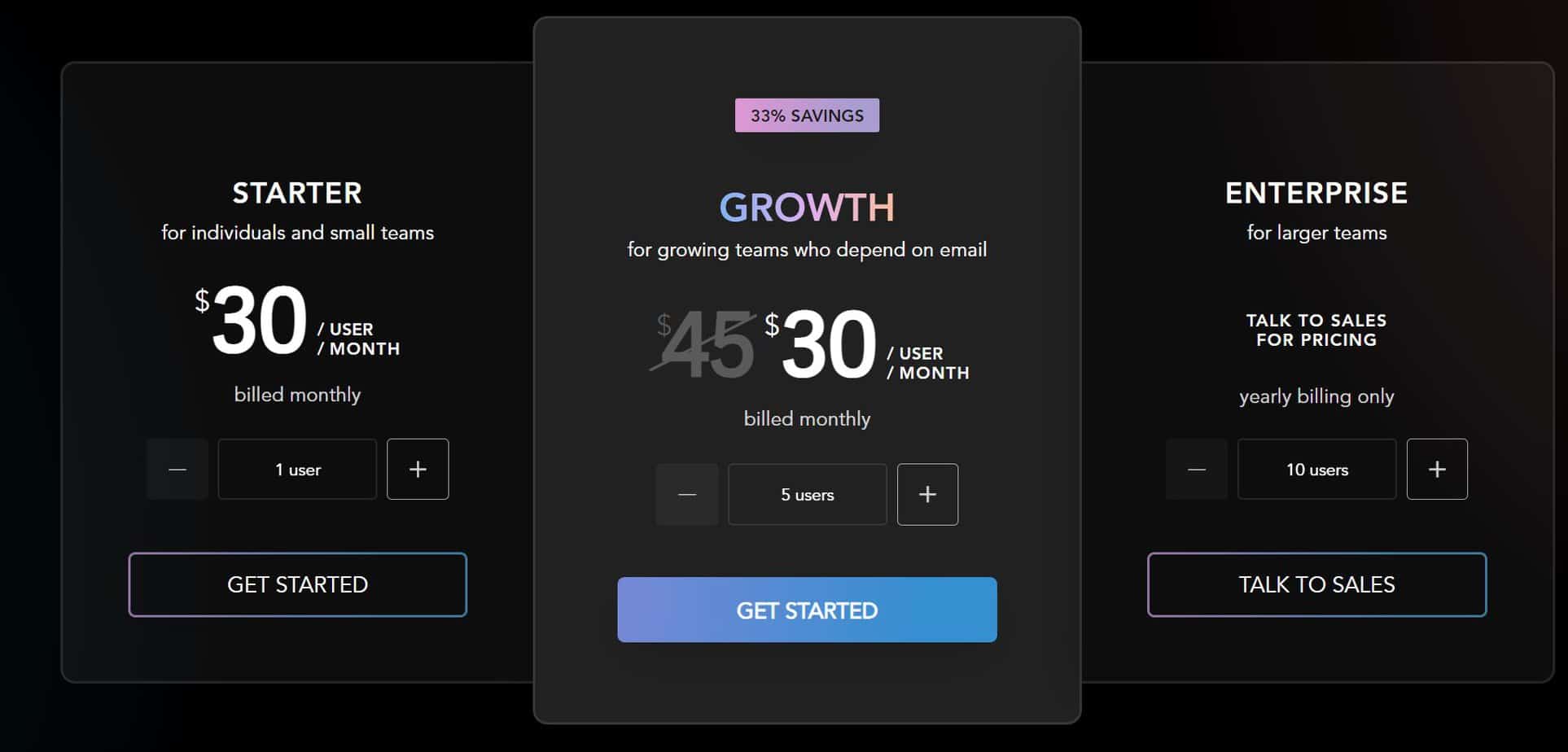 So, how does Superhuman's pricing compare? There are three price plans:
Starter – from $30 per user/per month
Growth – from $30 per user/per month
Enterprise – price on request
There's not much difference between the price plans on the surface of it: the Growth plan offers more options for support, and Enterprise gives you priority support and training. You can try a
free trial of Superhuman
. I would say that it's surprisingly expensive for the features it offers; it's helpful, and it's super-fast, but given that SaneBox's lowest price plan starts at $7 per month, I'd find it hard to justify the expense.
SaneBox vs Superhuman – Pros and Cons
Let's have another quick overview of both platforms.
SaneBox
Here are my pros and cons of SaneBox:
Pros
Simple to get going
Training the algorithm is simple
Good security credentials
Custom folders allow for greater organization
The Do Not Disturb feature is useful
Cons
It would be useful to have more than 6 custom folders
Support can be slow to respond
Superhuman
Now, here's what I thought about the pros and cons of Superhuman:
Pros
The command center is very useful
Shortcuts make it super easy to deal with emails
It works quickly on Chrome and using the desktop app
The 'Snippets' feature is useful
Good security measures in place
Cons
Not many features for the cost
Has a steeper learning curve than SaneBox
SaneBox: Alternatives to Try
If you want to keep looking, here are some alternatives to try:
Mailstrom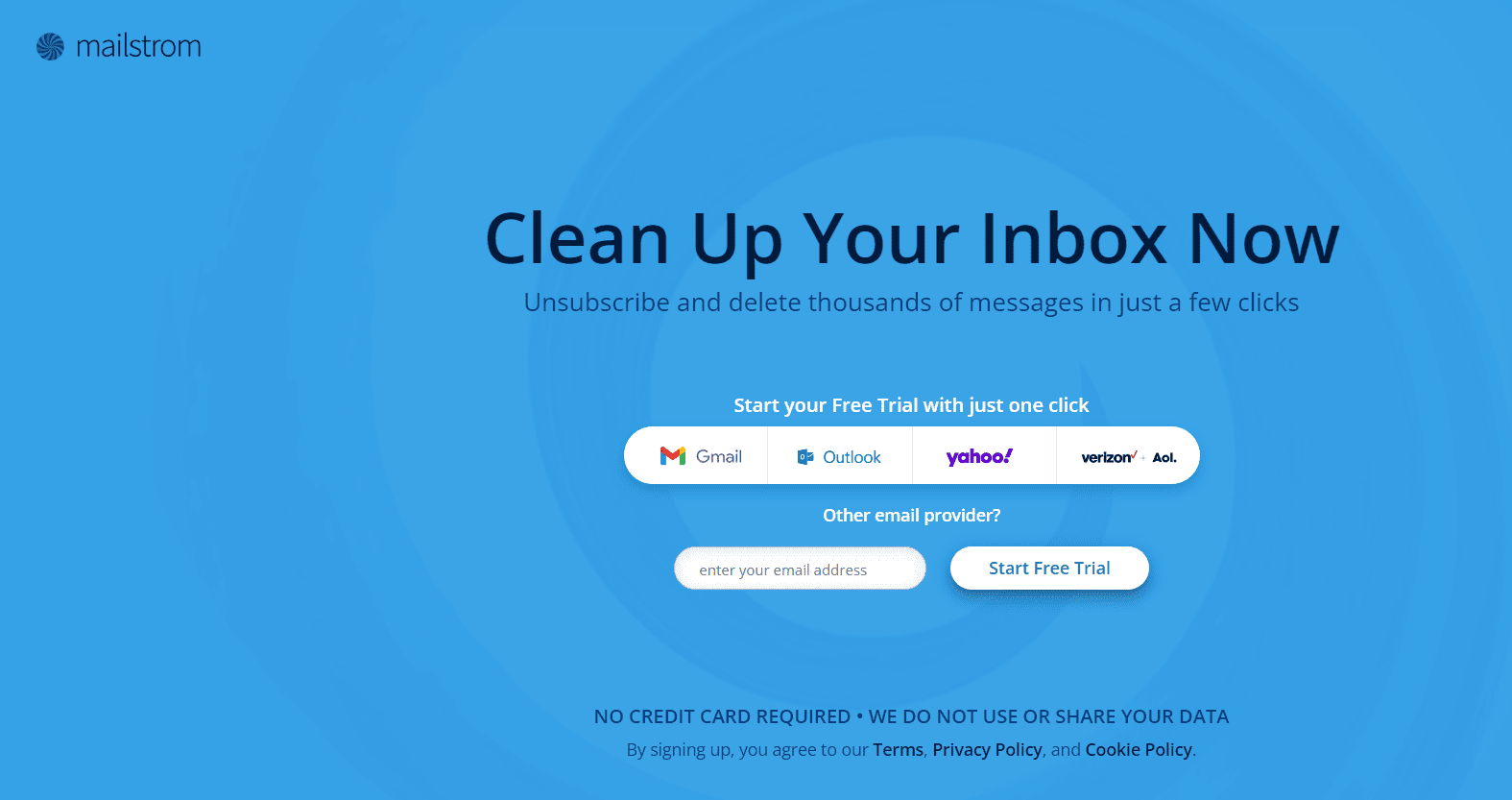 Mailstrom
is an inbox-cleaning tool that allows you to sort your emails easily. It's a great tool if you've got a large, unwieldy inbox that needs clearing out! You can read more about it in our SaneBox vs. Mailstrom comparison.
HEY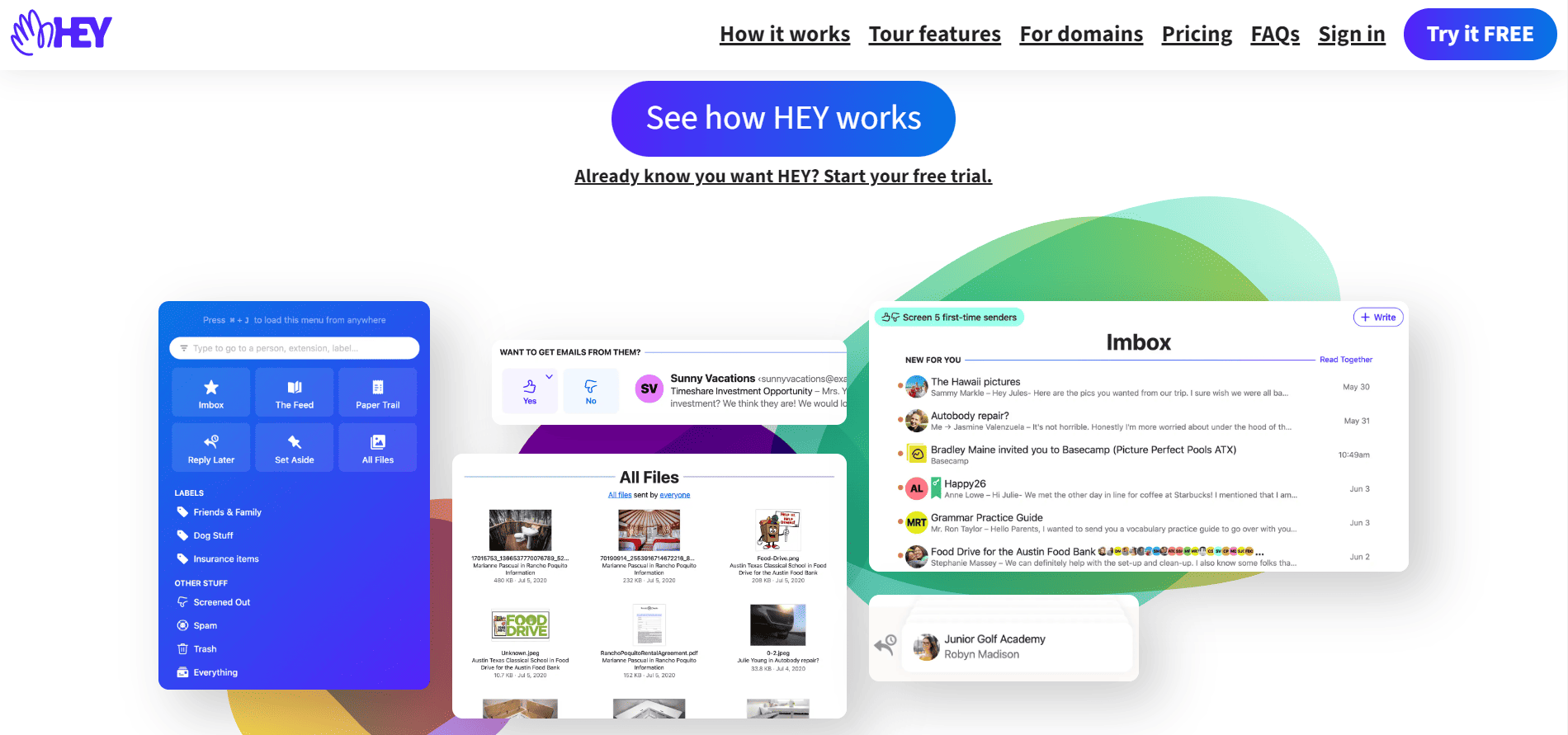 HEY
is an email filtering service: it stops you from dealing with unwanted mail. It's easy to set up and filters emails into groups so you can prioritize what's important to you.
MailButler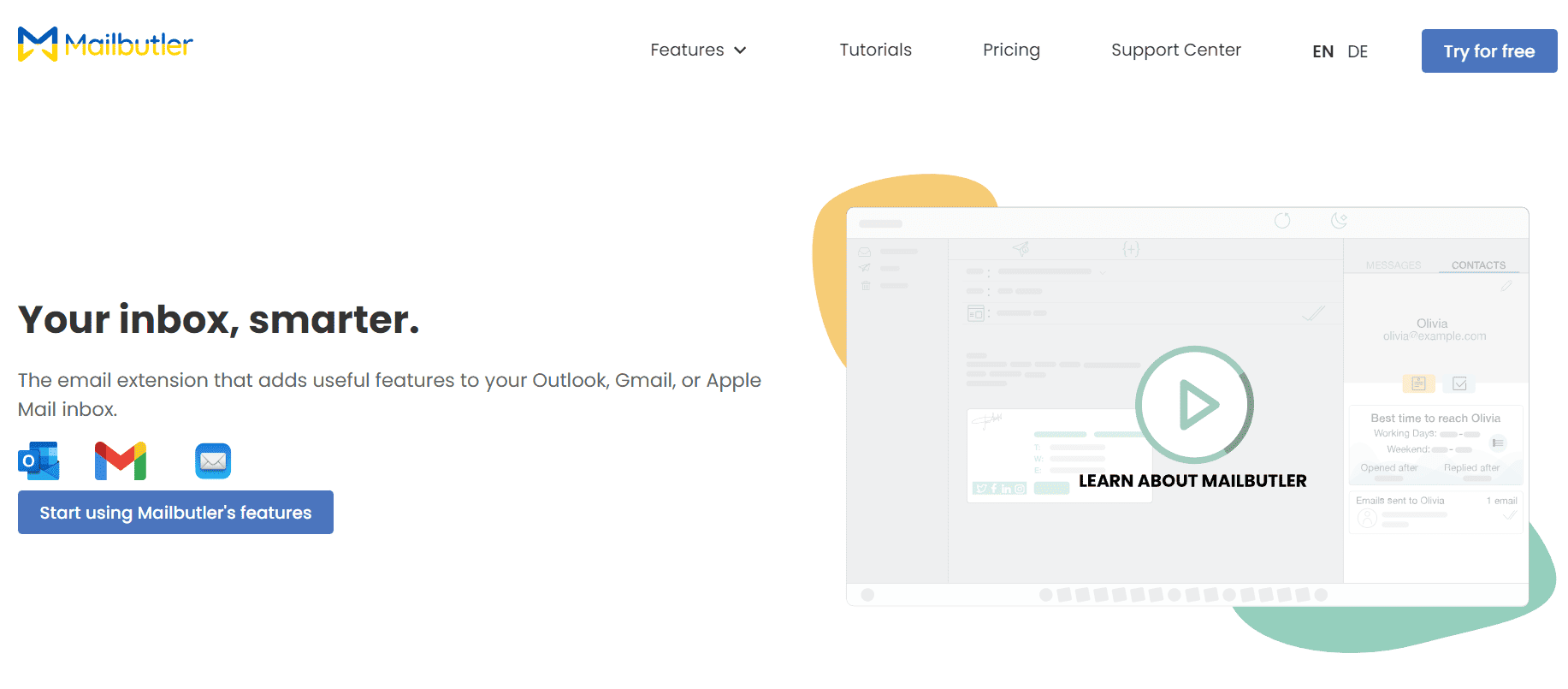 Mailbutler
is an email management service. It allows you to create tasks, use smart scheduling to send emails at the right time, and create custom email signatures.
lockrMail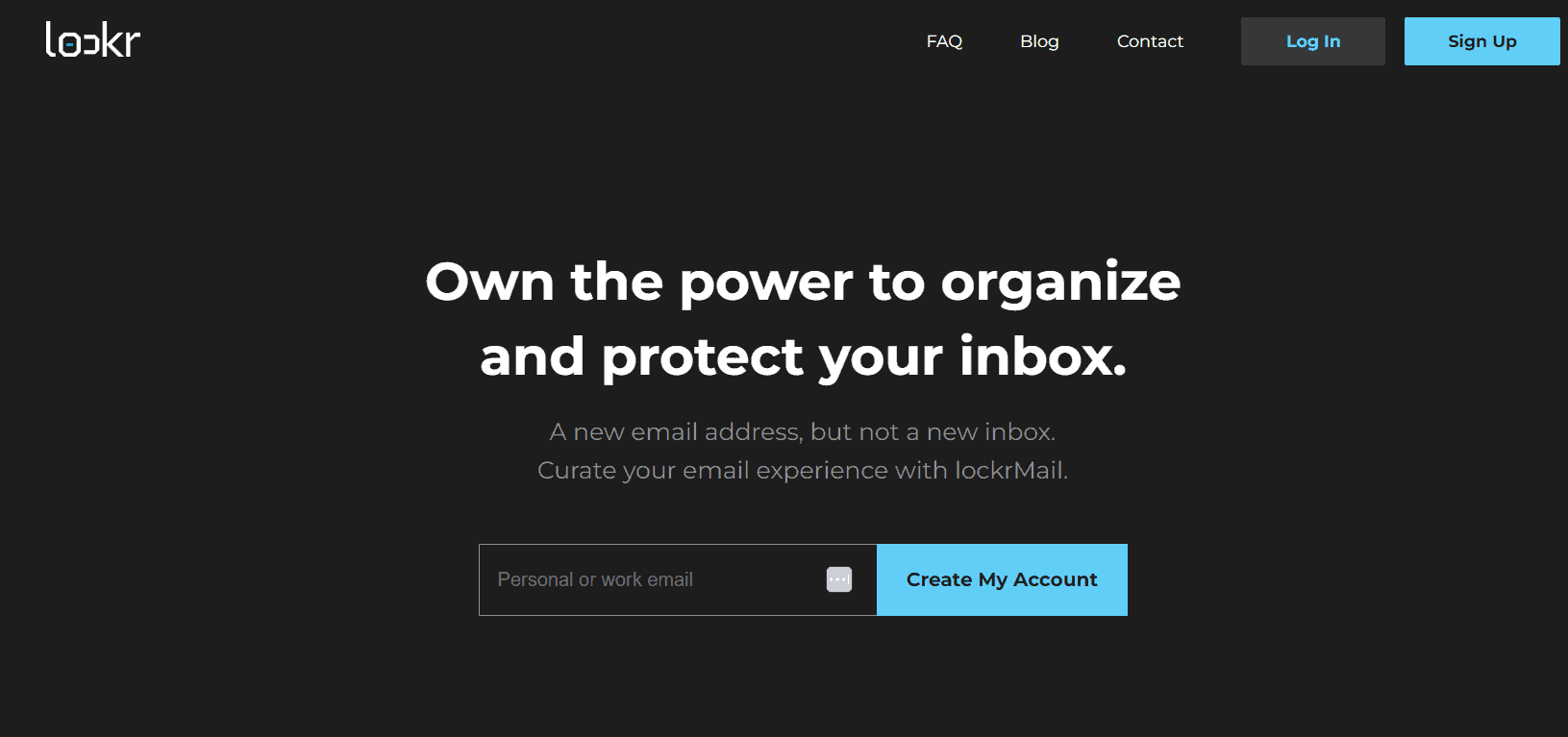 lockrMail
pre-filters emails in order to reduce the volume you have to deal with every day. It has great security credentials and may help if you're dealing with many emails dropping into your inbox.
FAQs
Question: What happens if SaneBox or Superhuman goes offline?
Answer: You'll still have access to your emails, but they'll go into your regular inbox instead of being filtered into the correct folders.
Question: Can I cancel SaneBox or Superhuman at any time?
Answer: You can cancel SaneBox or Superhuman at any time, and your email inbox will work as it did before. However, if you're signed up for a year's contract, you may not be able to get your money back.
Question: How do SaneBox and Superhuman have access to my emails?
Answer: SaneBox and Superhuman access your emails using a secure connection. The emails don't ever leave your inbox or device.
SaneBox vs Superhuman Compared: To Sum Up …
I prefer
SaneBox
. It has better tools, and I can see how it would be useful for me in my everyday life as well as for work. The pricing is reasonable, and the security credentials are excellent. Superhuman, it has to be said, feels pretty cool to use. If you're a fast typist, you'll enjoy the functionality of the command center. It's speedy and modern and fun to use, but it just doesn't have the range of features I would expect for the price point.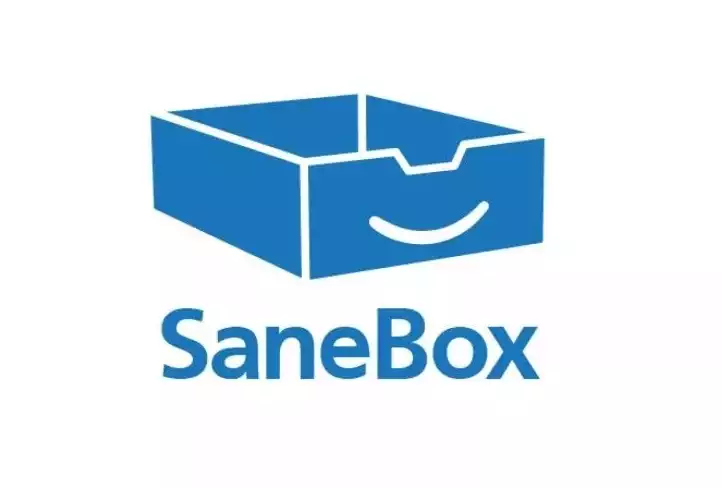 Email Management for Any Inbox | SaneBox
Read the important email in your Inbox. Safely forget about the rest. SaneBox's A.I. identifies important email and automatically organizes the rest to help you stay focused.
Get a FREE 14 day trial
We earn a commission if you click this link and make a purchase at no additional cost to you.