Last Updated on January 11, 2023 by DMEditor
Fiverr was one of the first online marketplaces that allowed sellers to offer services (known as "gigs" in the platform) for as low as $5 . With time, Fiverr work market has grown into one of the largest freelance websites though this is not to say they offer the best quality of service.

In case Fiverr freelance marketplace does not suit you and your freelance services, there are a wide variety of other sites like fiverr available that will meet your commercial expectations by offering better services and pricing.
With almost three million projects posted online, clients can get disappointed when ordering and paying for gigs from semi-inactive profiles that have not been weeded out from the site.
Additionally, there are other services where you can get better quality services from a professional freelancer, and depending on your budget, more affordable offers for the freelance job.
Top Fiverr Alternatives – 7 Sites Like Fiverr
99Designs
Upwork
Toptal
PeoplePerHour
SEOClerks
Guru
Freelancer
Benefits of using Fiverr alternatives for outsourcing
There are lots of websites like Fiverr out there that you may consider as a work market in order to get better deals with a talented freelancer. You can also find Fiverr alternatives that outsource services for specific markets, therefore ensuring you get the best quality of service available in your job categories.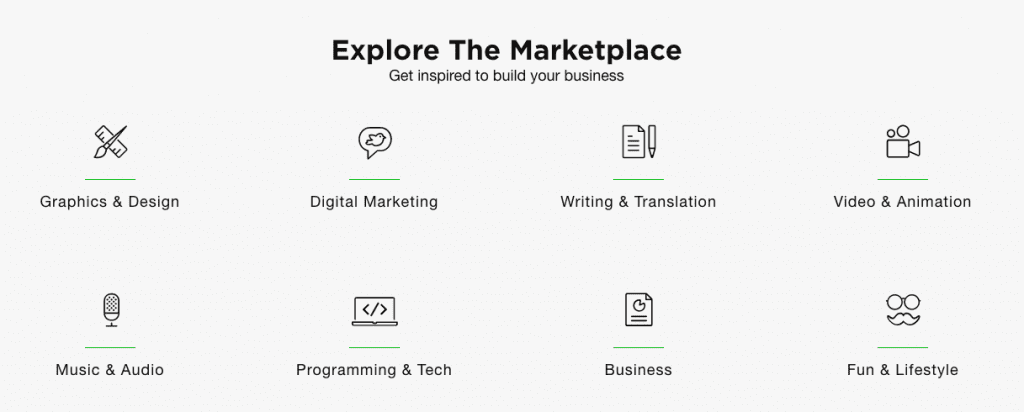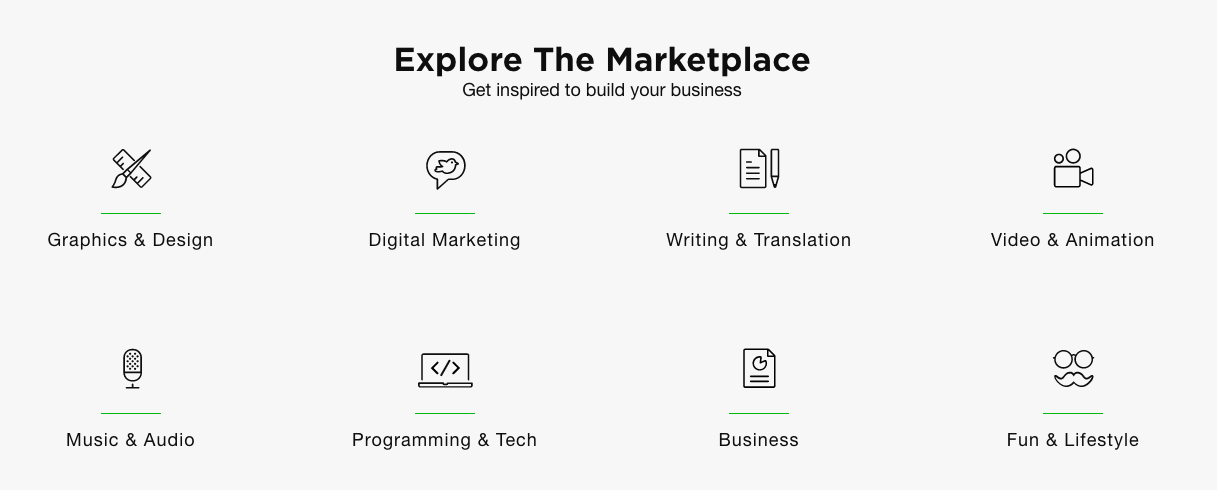 These alternatives also offer an extensive array of freelancers and home jobs to post. You can choose the services freelancers according to the quality of services they offer.
Are you concerned about how much your freelancer will pay in terms of fees? Fiverr charges them a hefty 20% fee , has them wait for 2 weeks for the cash to clear, and further charges them additional fees to process their payment. Some of these alternatives give freelancers a way better experience and save some extra money.
It is hard to sift through all the available sites to see which one is best for you and your freelance job. To help make this really simple, here are the best Fiverr alternatives worth trying out along with some pros and cons.
These are the best sites like Fiverr:
1. 99designs: Best Fiverr Alternative for Graphic Design Work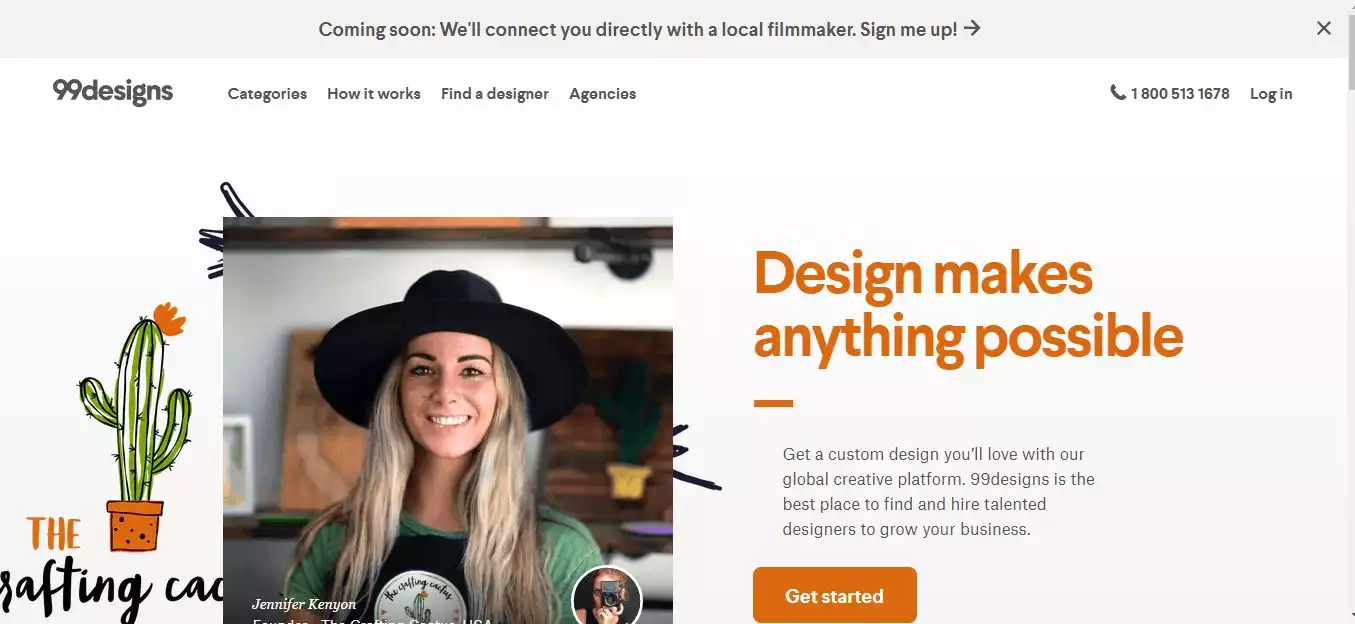 Why I Use 99Designs
I know I want my logos to look NICE, but I don't know how to describe what I want... Sound familiar? Let someone else sweat it! 99Designs literally takes the guesswork out of it and delivers clean, professional, crowd-sourced designs. #win
Get Started
We earn a commission if you click this link and make a purchase at no additional cost to you.
This is a unique outsourcing Fiverr alternative for any kind of design such as logos, web design and avatars.
First on our list of sites like Fiverr is 99designs. It is created to help designers easily connect with clients who expect high quality designs. Alternatively, you can have a talent search and find the right people to hire for a specific project (hiring freelancers) for a small payment made to 99designs.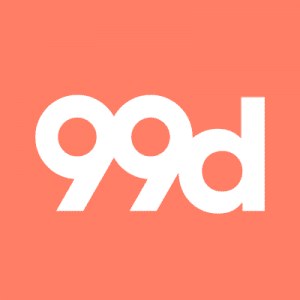 To use the platform, you first post your design brief then review the proposals and previous work submitted by prospective designers. You can then respond to them and pick a winner that well suits your project. This way, you get to choose exactly what you want from several submissions and it is a good way for beginners to win big projects without lots of experience.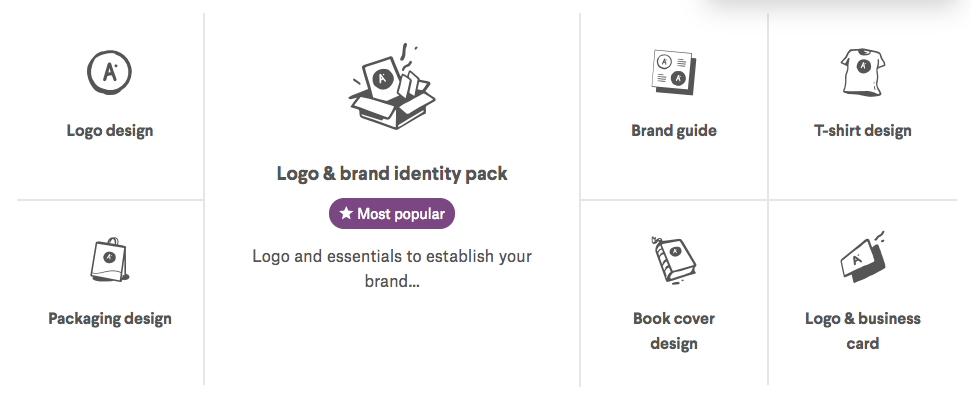 99designs is highly recommended for companies that need to outsource graphic designers and visualizers who offer high quality services without much of a hassle.
Check out 99Designs Pricing Plans
Upwork is a merger of two sites – oDesk and Elance – which were owned by the same people. Over time, it has grown to be one of the most popular Fiverr competitors with Upwork freelancer experts in many categories such as IT and programming, engineering, graphics design, marketing, etc. It is currently one of the biggest and most loved online marketplaces in the world.

Clients only have to sign up, post the task they have in mind and wait for the proposals from various freelancers with varying ranges of skills and experience will start trickling in. For clients with several jobs, you can collaborate with your team through the unique work room feature just like in Guru that lets you manage a group of workers and virtual assistants with ease.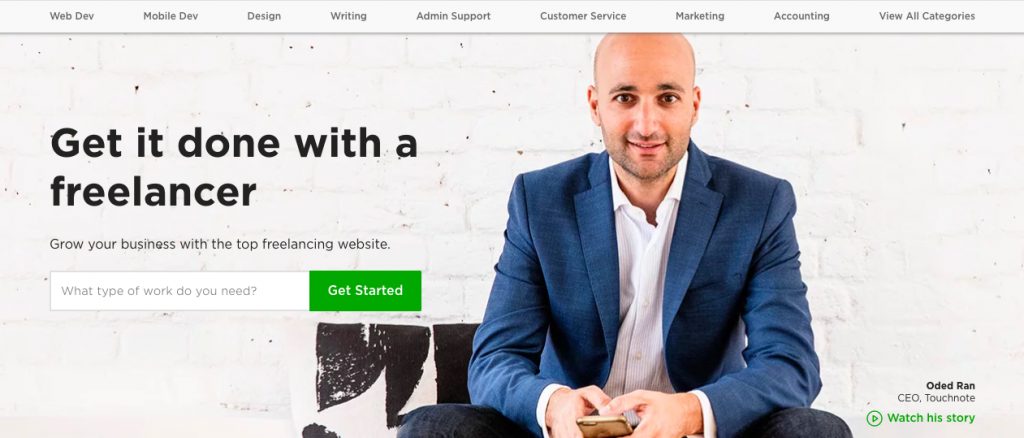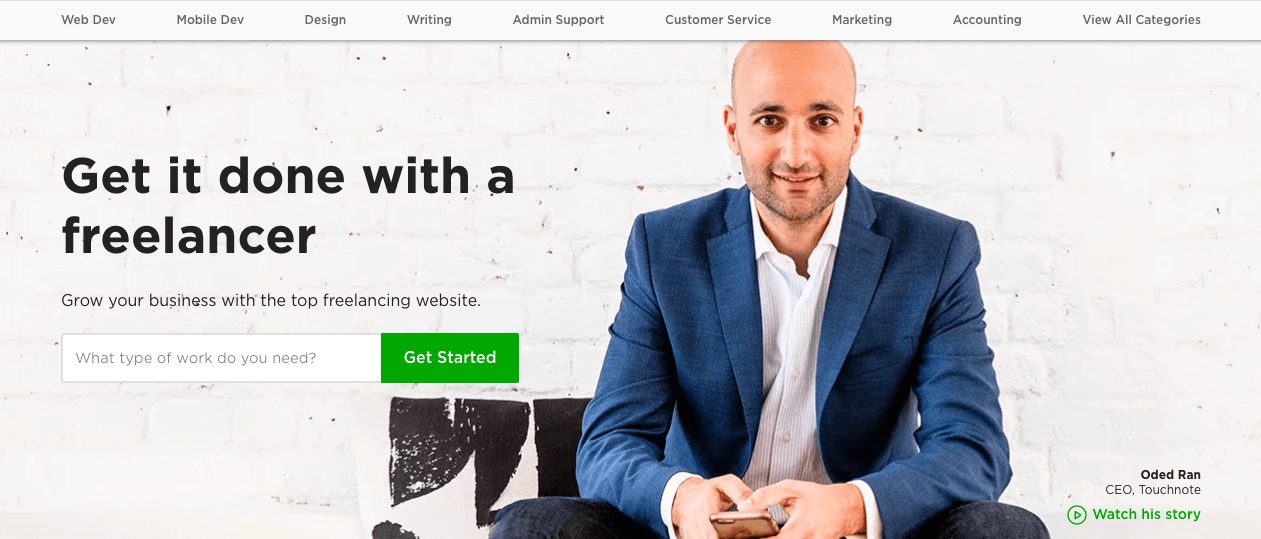 Freelancers can sign up for free or use the Upwork premium plan that offers more credits than a regular account. Freelancers require credits known as 'Connects' to send proposals for jobs, with most jobs costing 2 Connects. Freelancers on Upwork either get paid per project or on hourly rate basis depending on what the client prefers.
Upwork charges freelancers a fee of 20% after the successful completion of each project or milestone. Once a freelancer has earned over $500 working for a specific client, the fees are reduced to 10%. This goes down to 5% once they hit $10,000. By doing this, it encourages freelancers to go long-term with clients.
As a client, you'll only be charged 2.75% per payment, which is what they call "payment processing fee".


Unlike all the other platforms here, Upwork allows you to exchange contacts with your freelancer and communicate outside the platform via email, Skype, Slack etc. However, all payments must be processed via Upwork, failure to which both you and the freelancer get banned.
In this list, Upwork is the highest recommended platform. Here you'll get high-value experts, professional treatment by the Upwork staff and a friendly, responsive support team.
Further Reading: Upwork versus Fiverr
If you are tired of lower tier talent that continually misses your project goals, Toptal is the answer.
To be very clear, they are NOT cheap relative to Fiverr. BUT, what you get is access to A+ talent for B- prices. If you have ongoing needs and higher-end specs, Toptal is worth checking out as a great Fiverr alternative.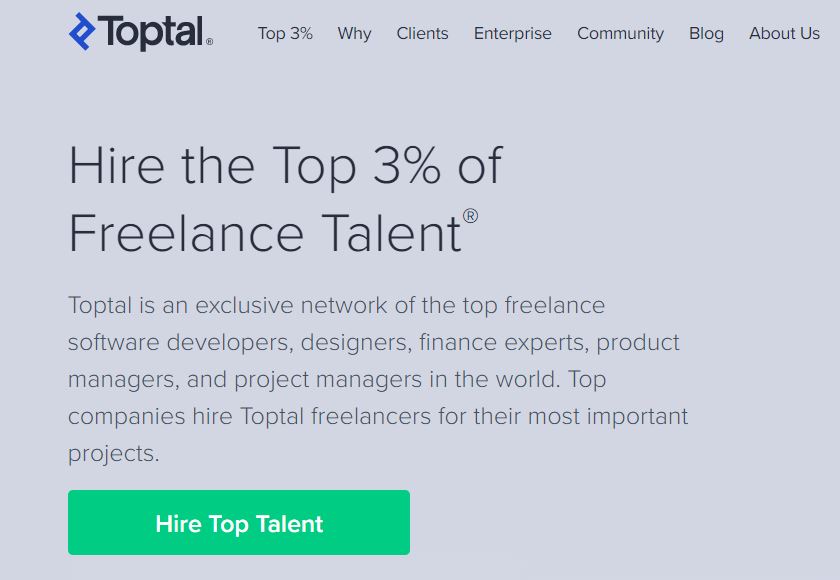 Rather than post a job for bid and let the marketplace respond, Toptal assigns a dedicated recruiter for your job. They vet their network for the perfect fit. Then, you get the chance to interview candidates before deciding on one.
The short story here is that Toptal is a halfway point between the Fiverr jungle of candidates and a boutique recruiting agency for part-time jobs. They tend to have many highly talented developers, designers, and tech specialists (of all kinds). The base level talent is SO much higher than Fiverr.
All that being said, be preparred to drown down a sizeable downpayent ($500 – fully refundable against your project) for the search process. It's not cheap, but if you were planning on spending $2,000+ anyway on a project, the payoff makes sense vs scrounging around on your Fiverr account.
Check Out the Latest Deals on Toptal
This is another powerful platform that allows small businesses to meet freelancers who are able to help with some projects quickly and affordably. People Per Hour allows freelancers to post their services just as in Fiverr.

With time, PeoplePerHour has grown to become one of the most trustworthy outsourcing sites in various niches such as content creation, marketing/sales, accounting/legal, web design and development, just to mention a few.
However, most users use PeoplePerHour mainly for visual freelance jobs such as designing logos, infographics, etc., since they have several experts who have specialized in graphic design.
The best advantage of using PeoplePerHour over Fiverr is that you are bound to get the best service for your money. All freelancers go through a thorough quality check so you only get to work with professionals.

Even though registration is free for both freelancers and clients, a small fee is charged to the freelancer on successfully landing a job. When it comes to pricing, you can get all kinds of gigs from really small scale freelancing jobs to huge projects that could cost up to $150 per hour. You only pay for a gig after you are satisfied with your service meanwhile the money stays in deposit until you release it.
PeoplePerHour is a freelance website worth checking out if quality is what you are looking for. You may have to pay a bit more than most of its competitors but that is because all freelancers have gone through a high quality check to ensure they perform at the highest standard.
5. SEOClerks: Best for SEO Work
This is one of the best Fiverr alternatives when looking for gigs mainly in the field of search engine optimization, digital marketing and pretty much any project that has something to do with a website. In case you. SEOClerks was started in 2011 by Jordan Delozier and since then, it attracts lots of traffic and offers lots of variety on all things in the SEO niche.

For example, you can buy social media followers, link wheels, pyramids and backlinks for your website through SEOClerks. Over the years, it has evolved into one of the better freelance platforms that is built on what users want to buy and sell as well as community propositions so there is something for everyone. This is in the "want to buy" and "want to trade" segment where you can ask for pretty much any service you would like.
You can join SEOClerks as a buyer, seller or an affiliate. This site automatically ranks you into different user levels based on merit. You earn level upgrades through the quality of your work and by making timely deliveries.


Higher level upgrades earn you benefits such as short payment clearance periods, guaranteed refunds and so much more. For sellers, you can offer gigs between $1-$125 at level one with no price limits on all the higher levels.
Besides the fact that SEOClerks offers no limit to the rating of a service, it is also better than Fiverr in some ways because it offers additional forms of payments including PayPal, Payee and Payza. This is the best option for users who are looking to outsource freelancers for content marketing and web development and are not satisfied with Fiverr.
This is a busy and professional site like Fiverr that mainly targets businesses that work with lots of freelancers. You will surely find whatever you need from over 1.5 million freelancers with a variety of skills that are signed-up to the platform.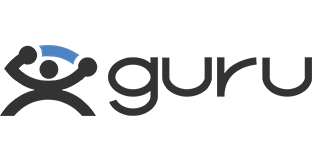 The most unique feature on this site is the "Work Room" feature that makes it easier to manage several jobs at a time. Using Guru, clients can set up a team of freelancers that will define the agreements, set project milestones, share messages and documents on the same platforms as well as delegate work without much hassle.
Besides the small fees for processing payment on the website, Guru does not charge anymore money to a client for posting a project or receiving proposals from interested freelancers (or gurus as they are called on the site). This makes it a much cheaper alternative compared to Fiverr.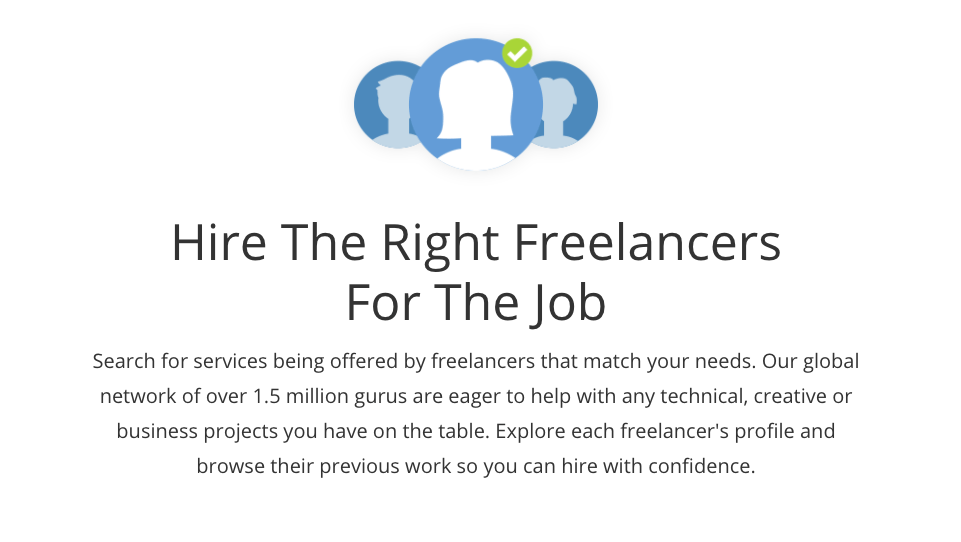 They also have multiple payment methods besides credit cards and electronic payment gateways e.g. PayPal. These alternatives include: checks, e-checks, in-website cash funds and wire transfers.
Clients can also pay a fee of $29.95 on the platform for a chance to meet more gurus by posting a featured job. A featured project will be displayed to freelancers as the top result for 30 days on search pages.
This is one of the most popular freelancing sites that majors in crowdsourcing, outsourcing and freelancing work. With Freelancer, you can definitely get the right person for the job as it boasts of more than 850 categories to choose from.

Setting up an account is fairly simple. As a client, all you have to do is post a project, wait for bids and then you get to choose whoever you think is likely to handle the project best, based on their history and skills.
Freelancers are required to have a profile including their work experience, examples of some of the projects carried out, and a citation of the kind of projects one is well suited for. Unlike Fiverr, there is no limit to how much one can pay for a project on Freelancer which makes it more lucrative for high end projects.


Freelancer has someone for handling any kind of project. Boasting over 16.9 million experts in various fields from science, writing and data entry to software development and web design. Furthermore, this is one of the most secure sites because you only pay for the project once you are satisfied with the end result, while your money sits in escrow, waiting for your approval.
With so many users, the platform also comes with a couple of challenges. Once you post a project you're likely to get too many applications, making it harder for you to make a choice.
Since it doesn't vet users when they come in, you may still be shocked to get that many who apply for your job are not qualified to do it. It will therefore take extra effort for you to find the right person. But when you do, things go smoothly from there.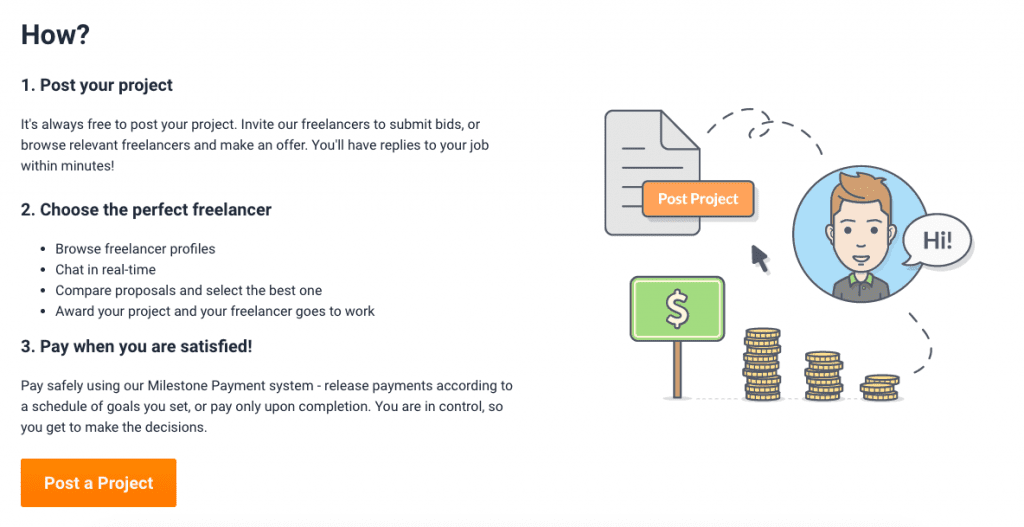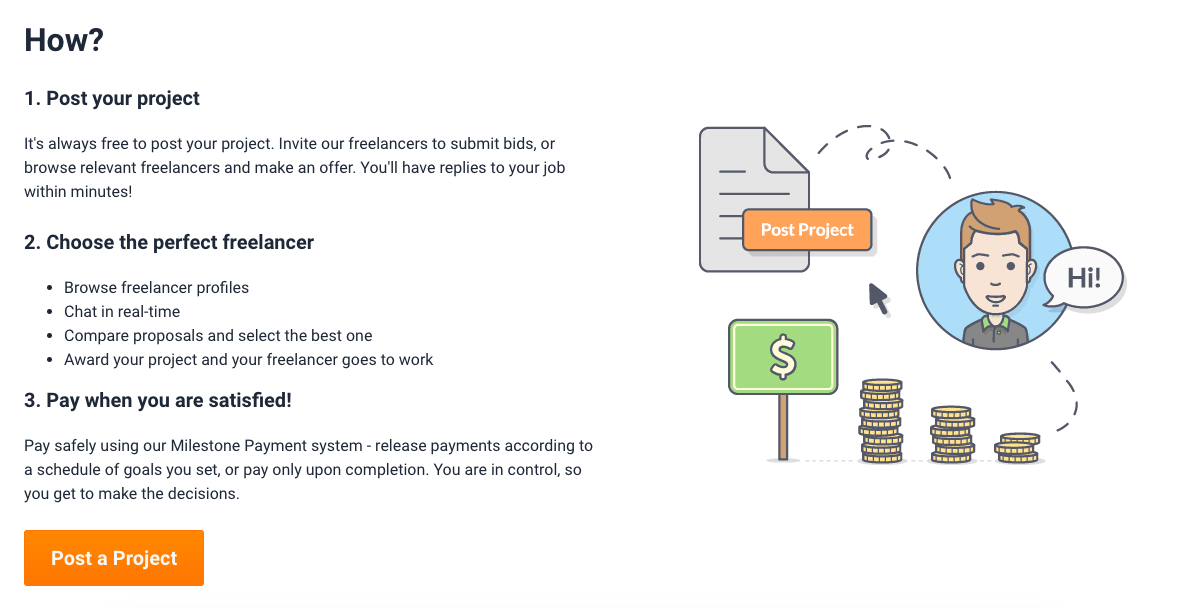 It's considered a good site for those with extremely low budgets as well since you can get people to work for you at ridiculously low rates. For those who want to pay expert rates for value, there's also someone for you. However, for best value, consider Upwork, where all users are vetted before coming in, therefore you have higher chances of getting a high-value freelancer fast.
Further Reading: Freelancer versus Fiverr
Frequently Asked Questions about Websites Like Fiverr
What happens if I'm not satisfied with a Toptal expert?
If you are not sure about which freelance platform to use, you can start a Toptal trial period with up to 3 experts from their own website per position.
How long does it take for my payment to be approved In PeoplePerHour?
If you are looking for home jobs or a freelance marketplace, it is important to know when you are receiving your payment. As a professional freelancer after raised a project invoice, the Buyer will receive it for a Review and approval. After receiving the solicitation of a review, the buyer has 7 days to pay the invoice. Then, the freelance platform will do some security checks (By this time your invoice will appear as pending). This part of the process can take between some minutes, to 3 working days.
Can you get scammed on Fiverr?
Fiverr freelancing website is the most popular freelancing website, and their security system is very advanced. As any freelance marketplace a payment delay might happen, but the Fiverr team will always resolve any issue to protect any professional freelaner or potential clients.
Conclusion: Best Alternative to Fiverr?
It can take quite some time and effort to find a universal platform that caters to all your outsourcing needs and that is the reason this article has given you the best alternatives (Fiverr competitor) you can find. Fiverr is no doubt a great online marketplace.
However, over time the gigs have increased tremendously in number while quality has dropped significantly. It has also gotten really tough for freelancers to get well-paying jobs due to an influx in junk gigs that pay very little.
Overall, Upwork (the best site like Fiverr) comes as the best Fiverr alternative for outsourcing great quality gigs while Freelancer has more variety to offer. It all depends on what kinds of jobs you are looking for if you are a freelancer and what kinds of project you have if you are a client.
Lastly, be on the look-out for niche freelancing websites that offer talented expertise for specific market niches such SEOClerks for anything to do with a website.
Further Reading on Fiverr Alternative & Freelancing Platform Options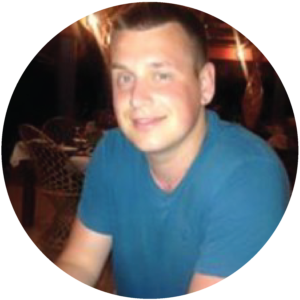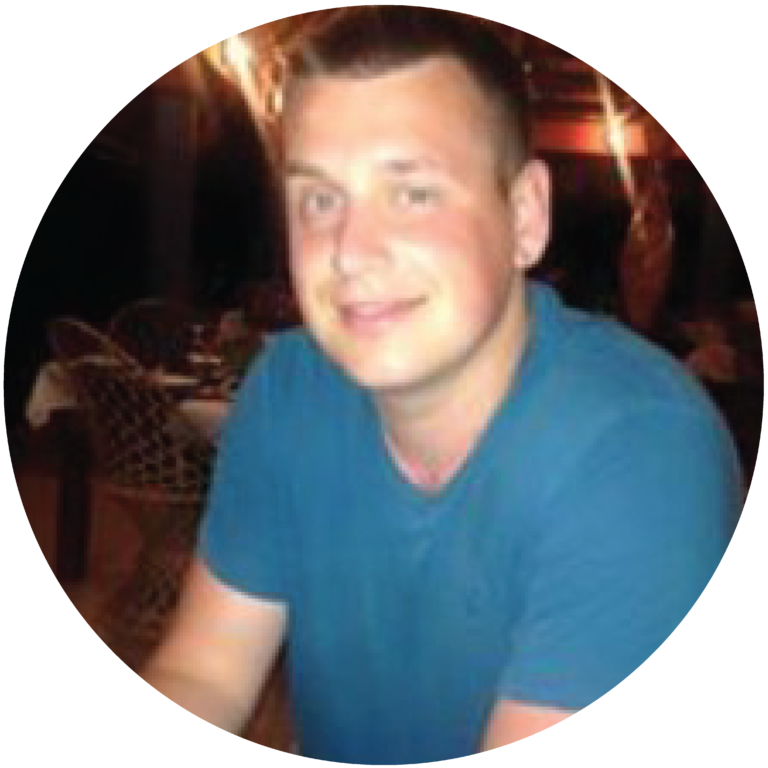 Latest posts by Ewen Finser
(see all)