Last Updated on January 11, 2023 by DMEditor
Use these online meeting tools to enhance productivity and give your business an edge.
TL;DR: My top alternative with the must similar features (and some improvements), is GoToMeeting available here.
Continue reading for the full take…
There's one thing that all online meeting tools have: An ability to solve online collaboration problems. These tools help meet customer's goals and objectives, enhance productivity, and collaboration in businesses and also among colleagues, customers, and friends.
WebEx Meeting Center, now under the umbrella name Cisco WebEx, is one such online collaboration meeting tool for video conferencing. According to Lifewire, WebEx is a feature-rich tool for online meetings that provide ideal solutions for training, webinars (webinar software functionality), events, and remote support, etc.
Overall, Cisco WebEx meeting is an easy-to-use online meeting tool. It delivers ideal, reliable solutions that make online collaborations feel as if you are in a company's boardroom. However, there are a plethora of alternatives in the market that perform, for a good reason, in a similar way and also provide similar solutions, with even better features and reviews than WebEx.
WebEx is easy to use, improves efficiency, and collaborations in a business. It allows users to record meetings, share content, transfer files, interact within a meeting, and more. Also, it performs across smartphones, tablets and runs smoothly on devices operating on Windows and Mac platforms.
This post brings to light 5 top Cisco WebEx alternatives for online collaborations you can use to increase productivity in any business environment.
Let's dive in, shall we?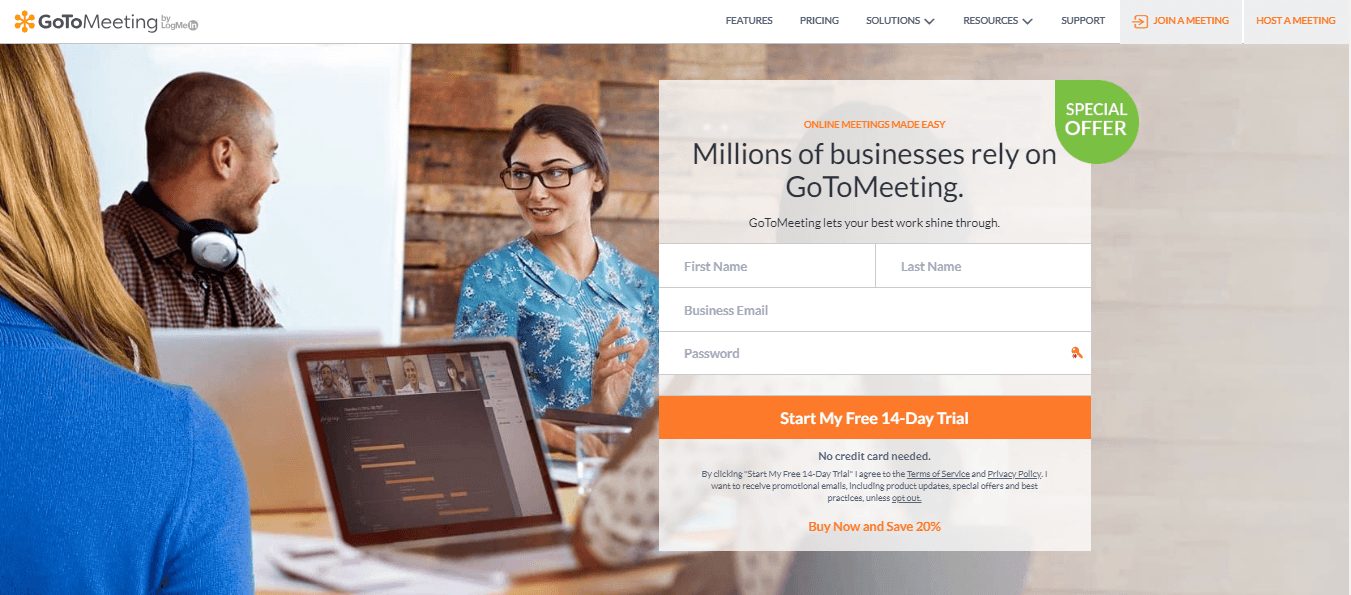 Looking for a video conferencing tool that will help launch a meeting? GoToMeeting is designed with your online meeting needs in mind. It is an easy-to-use, fast, convenient tool that help organize a meeting anywhere.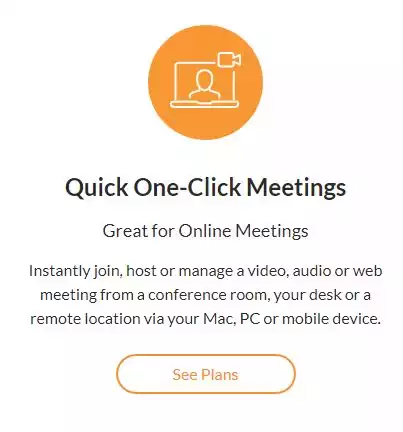 We Use GoToMeeting!
Personally, we use GoToMeeting for all official company business. Here's why. Seamless email integration + calendar management (we use GSuite), advanced control (who can speak, who prestents, etc), even syncs with project management tools!
Try Gotomeeting First
We earn a commission if you click this link and make a purchase at no additional cost to you.
You can launch a meeting via email with GoToMeeting and you are good to go. There's no better online collaboration tool that enables faster and easy communication with customers and colleagues from anyplace.
Want to launch a meeting from your project management or instant messaging tools? This meeting tool will make your online collaborations productive and engaging.

GoToMeeting is unique and equally resourceful for business. It has GoToMeeting such as handing over your keyboard and mouse controls. With a few clicks, you can productively engage with attendees in a meeting and vice versa. And it doesn't take much effort to do that.
If the meeting involves lots of presentations, GoToMeeting will help reduce planning time and allow an attendee to improve presentation materials wherever they are. Put it another way, GoToMeeting is designed to aid seamless collaboration anywhere. This makes meetings successful by alowing all your participants to make conference calls in turn saving time.
These services give participants the option to make themselves heard in every meeting. This feature turns your meeting into a conference call, letting everyone scheduled to join the meeting. It enhances productivity, improves collaborations, and also saves time.

The only downside with GoToMeeting is that it doesn't integrate with social media directly. Other than that, it gives you instant access to your social media tools within the precincts of the software. This allows successful collaborations with participants in a meeting. It is worth considering GoToMeeting to better enhance your collaborations with your clientele and other videoconferencing collaborators.
View GoToMeeting Plans Here (including free plan)
2. Google Hangouts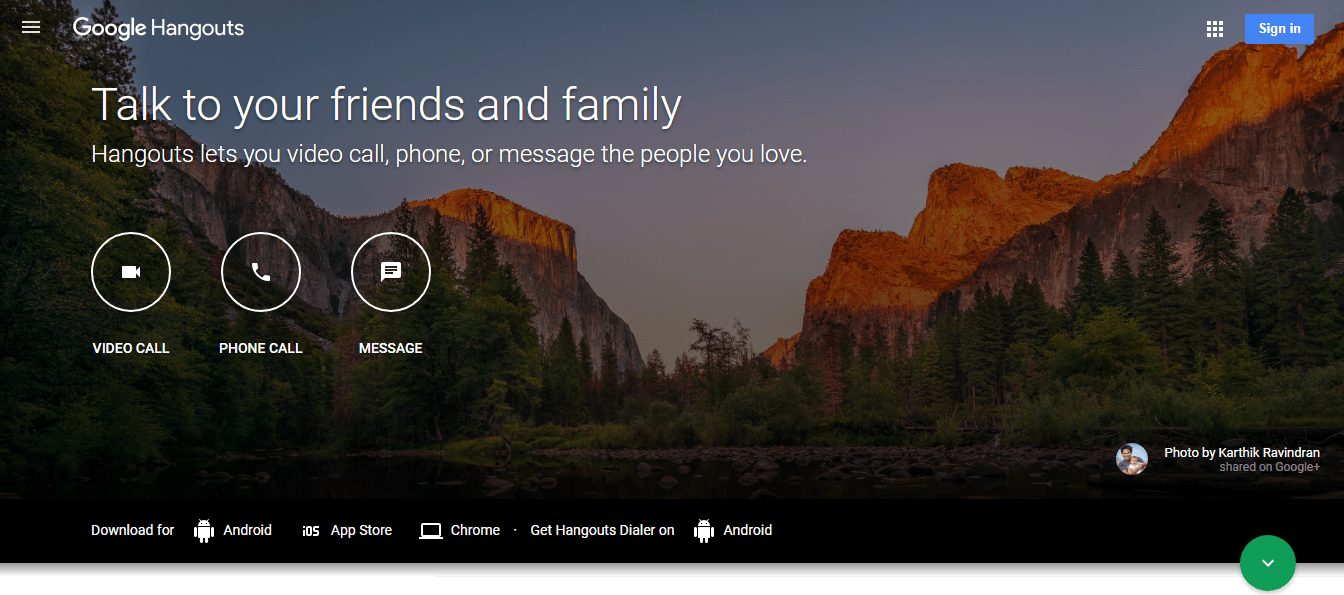 Are you always gathering your team for meetings? Google Hangouts will eliminate that need for in-person interactions, and save you time and money.
Google Hangouts is designed to make the most of your communications. It integrates Google voice for calling within the Google hangout, allowing you to make calls from your desktop (desktop app), iOS or Android. Also, as a messaging client, it effectively helps you chat a group of people (in the video chat) or have a one-on-one conversation with an individual.
This online collaboration tool boast's advanced features with additional capabilities including web browser video calling for interactive video meetings such as webinars, etc.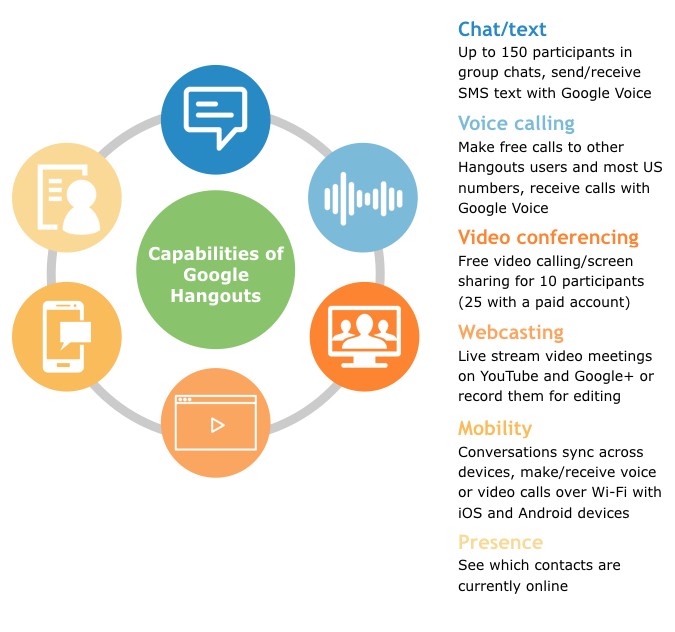 You can, therefore, interact with your business associates, team or clients with ease. If your business is running on a budget and you need to save money for conferencing activities or meetings, Google Hangouts is the best and handy solution for you.
What's more? It is free and easy to use. In addition, it helps cut down on time taken by personnel to take notes. Google Hangouts is accessible in various ways across multiple devices including, but not limited to:
Google Hangouts website
Mobile App – both on iOS and Android platforms.
Web Browser plugin – easily accessed on Safari, Firefox, Internet Explorer, Chrome.
Desktop App – you can have it installed on Windows (Google Chrome OS)
Gmail – you can access Hangouts on Gmail – anywhere, anyplace.
What tips the scales in Google Hangouts favor? It has a plethora of additional and useful services that can help your business scale greater heights, and also improve interactions into your specific needs.
If you need to record video meetings or stream them live for viewers on the Internet, you can try your hands on Hangouts on Air. It supports webcasting and enhances online meeting collaborations without the need for in-person interactions. No wonder it is popular with podcasters. Its top features include chat/text, video, voice, webcasting.
Google Hangouts is not only a convenient tool for getting your team together for a meeting, but also the ultimate solution for messaging, video calls and web conferencing for you and your business.
3. Skype

Do you want to share experiences (business-related or otherwise) with people that matter to you, wherever they are? Then Skype is what you need. Through text, voice and video feature Skype makes it easy to share great experiences across all devices – smartphones, tablets and on your desktop.
It is feature-rich, user-friendly and with a great user interface. It is designed to make collaborations easier and faster as well as enhance online peer-to-peer interactions.
There's no better way to increase efficiency in a business, save time and money. Skype makes it easy to stay in touch. There's more to like about Skype.
Calling – Want to get in touch with clients or colleagues? Voice calls are important for business interactions. Skype has calling features that help you get more from your conversations.
For example, you can call anyone anywhere in the world by making Skype to Skype calls. And the best part? It is free. If you need to collaborate with a client or colleague abroad, just set up a call via Skype and get on with business. You can even set up group calls. Get people together on one call and talk to them. You can add up to 25 people on group calls. How convenient!
Video – Take your conversations a notch higher and use Skype video features. Set up video calls with your client or team in real time. Talk, chat, and collaborate. Face to face interactions builds confidence hence easier for a client to trust you more. Get your clients or team on a video call.
Messaging – Connect to those who matter whether it is colleagues, team members, business associates or clients using by way of text. If you don't have time to make a call and you need to reach a client(s), make the most of Skype's messaging feature. It is the best for that.
Sharing – The easiest way to keep everyone in your network informed, engaged, and up-to-date is to share important files with them. Skype lets you access files, photos, videos with a touch of a button. It gives you access to important files and documents for your business.
Skype video, voice, and messaging features make sharing experiences easier with people who matter to you regardless of where they are in the world. And that makes it a valuable communication tool.
4. Join.Me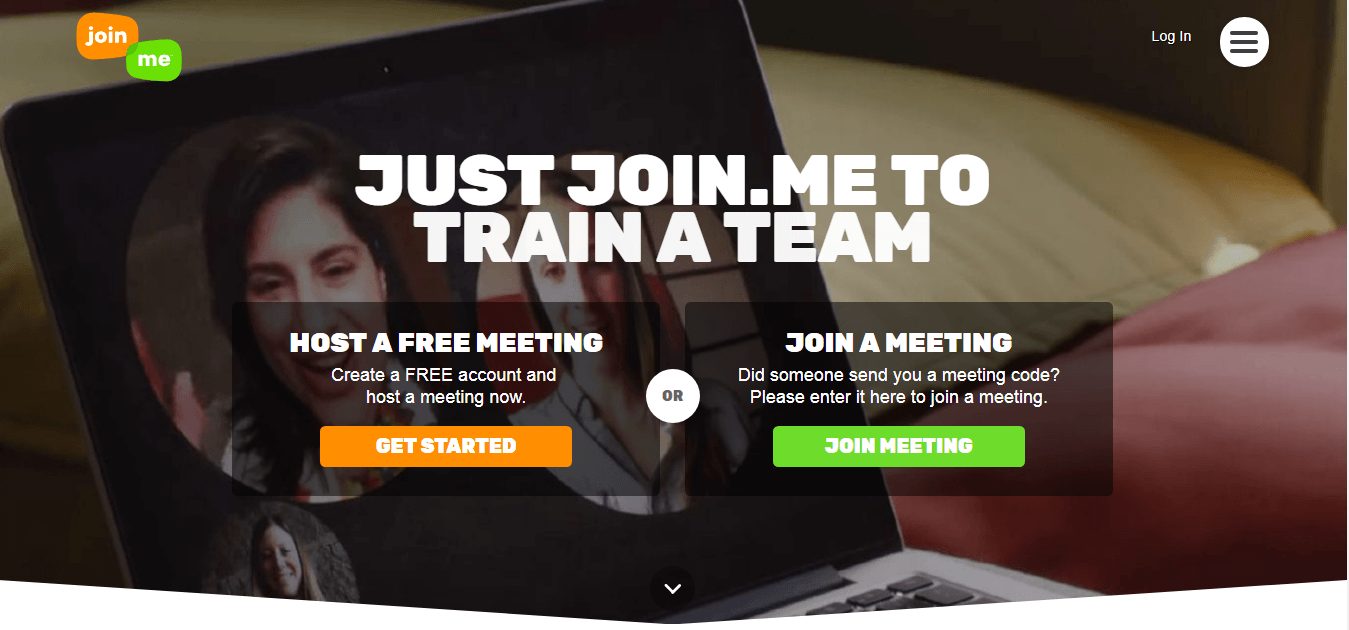 Do you want to collaborate with a customer online with no hassles? Use Join.Me. It's a simple online meeting tool that enhances online communications and productivity through instant screen sharing (desktop sharing).
This makes collaborations hassle-free, easy, and efficient especially when you need to delight your customer, get everything done, or launching and joining a meeting. Unlike other meeting tools, you can use join.me to collaborate effectively with coworkers and customers thanks to its simple user interface, navigation features, and its overall simplicity.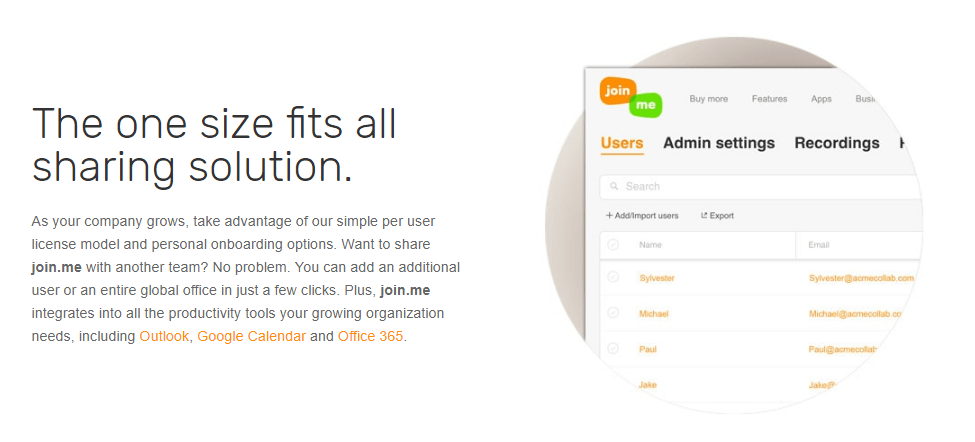 Its main features, instant screen sharing, help get everything on the same page for meetings and collaborations. For example, if you want to invite people for a meeting or launching a meeting click the "broadcast" button and invite everyone to participate and collaborate. It's as simple as that.
Want to engage your audience on a deeper level without them being in the same personal room with you? Join.me instant screen sharing feature boasts a pass presenter feature that's easy to use, too. All these features are designed with your business in mind. It makes working together easy and fast with no hassles.

You can also launch webinars using join.me. This video meeting feature allows a handful of participants for free – think 250 people and not more. So if you are launching a product or training a targeted number of people, use join.me meeting tool for free webinars to meet your needs. There are many benefits you stand to gain with webinars, and this online meeting tool helps you achieve your goals fast.
Need to communicate with a client or colleague? Join.Me boasts affordable audio conferencing services that allow you to make unlimited international calls – yes, you heard that right, unlimited meeting calls! You have audio conference options that will make your communications collaborations easy including toll-free calls and VOIP. Join.me impressive, simple to use features highlights why it is a reliable conferencing online tool for business.
5. Fuze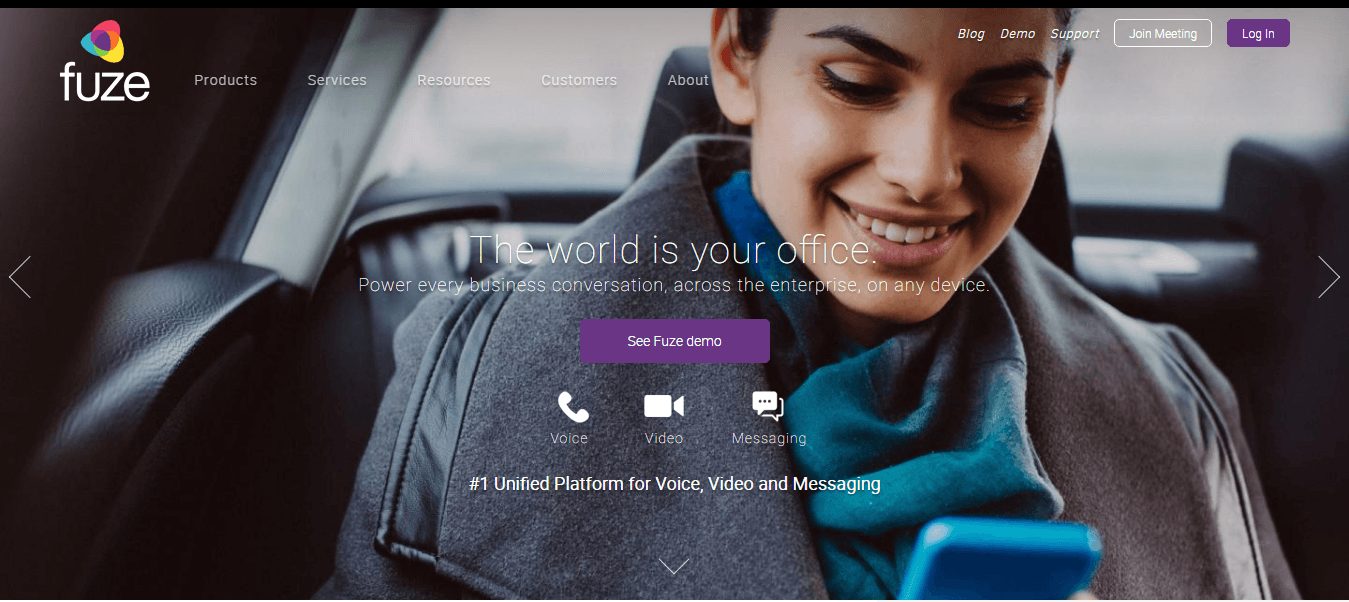 For all your video conferencing and collaboration needs, Fuze is your go-to online virtual meeting tool that integrates modern group messaging, real-time content sharing, HD audio and HD video conferencing, and more.
It takes collaborations a notch higher by incorporating managed webcasting services (video conference) that help you to fully manage web meeting for tens and hundreds of participants online.
According to its innovative platform, Fuze redefines communications and collaborations in ways that other online meeting tools hardly achieve.
It has a rich app functionality for smartphones and tablets and enhances flexible communications among clients and associates. That's why businesses prefer it to Cisco WebEx online meeting tool.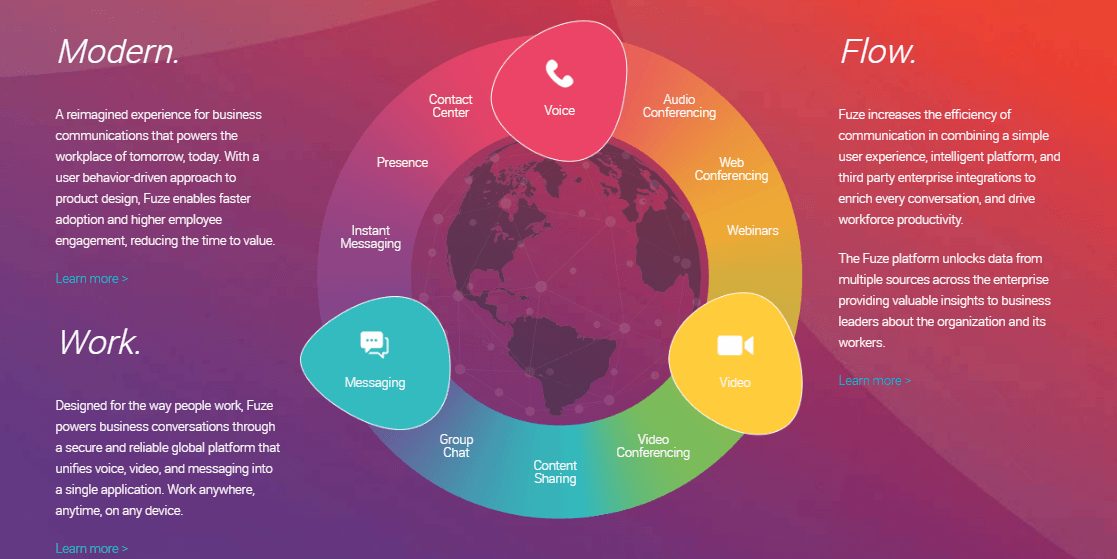 Granted, Fuze makes meeting face to face via video conference easy and fast thanks to high definition audio and video conferencing features, similar to WebEx. This allows great communications across clients, internal teams and coworkers to hold meetings with a handful of participants using devices that provide great user experience, which improves performance and productivity within your workforce.
Want to collaborate on your terms? Fuze has your back through real-time content sharing features. This functionality enables remote workforce or business colleagues to access your desktop anywhere, anytime.
It allows, for example, to conduct online conferencing meetings or webinar meetings in various office locations without having your workforce in the same personal meeting room. You can share content in real time without wasting time too.
Fuze makes collaboration and conferencing efficient across multiple devices meeting your needs for connecting with every team member, managing web meetings and enhancing communication for the modern workforce.
It has revolutionized unified communications in ways few online meeting tools have.
So What's the Best WebEx Alternative?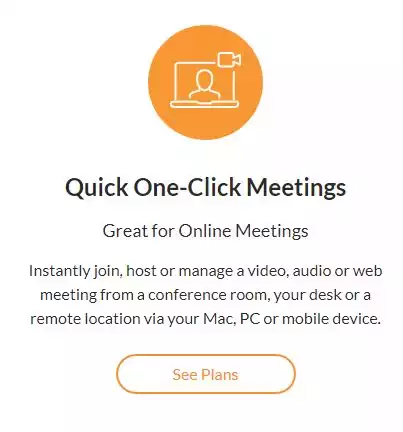 We Use GoToMeeting!
Personally, we use GoToMeeting for all official company business. Here's why. Seamless email integration + calendar management (we use GSuite), advanced control (who can speak, who prestents, etc), even syncs with project management tools!
Try Gotomeeting First
We earn a commission if you click this link and make a purchase at no additional cost to you.
Finding the ideal online meeting tool (video conferencing software like a WebEx account) is not easy especially one that works for your business making communication easier, and collaborations seamless among your clients and workforce.
Knowing how each online video conference tool works to improve your business is one big part of achieving success.
In fact, understanding the features of each online meeting tool, and what makes it useful is the other part. That is why you need to take your time and find what best works for you and your business before you make a point of integrating it with your business and communication tools.
So select an online meeting tool or product that not only works as well as Cisco WebEx, but also helps you achieve your goals and objectives in a timely fashion.
It takes time to find ideal tool that suits your needs. However, you can make an informed decision from the five online collaboration tool alternatives listed above.
Remember: Find the best tool that'll enhance productivity and give your business an edge.
Bottom Line: My top alternative with the must similar features (and some improvements), is GoToMeeting available here.
Here is another article you may be interested in: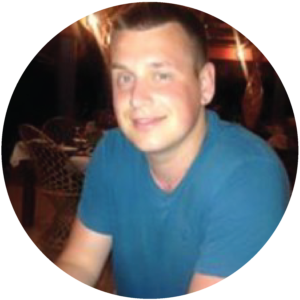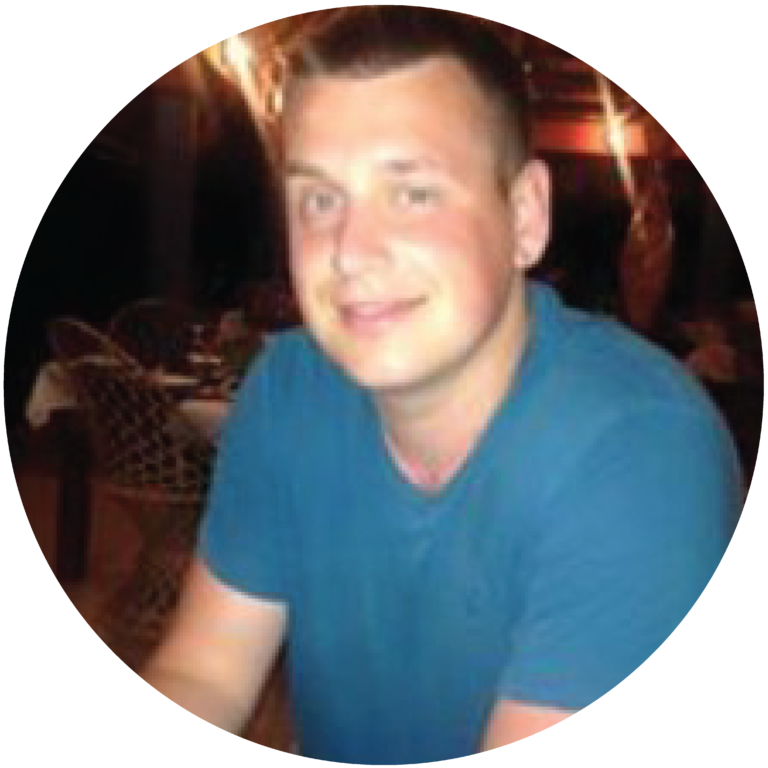 Latest posts by Ewen Finser
(see all)