Last Updated on April 24, 2023 by Ewen Finser
Human resource management is a critical function in any organization. Many businesses turn to HR software platforms to solve the complex issues associated with managing employee data. Namely vs BambooHR are two platforms offering features that facilitate efficient HR management.
When tasked with choosing between the two, it's crucial to consider your specific needs as an organization. Both have features that, to some extent, overlap. However, each has unique capabilities that may or may not fit your business.
In this article, we'll compare Namely vs BambooHR side-by-side. We'll look at their features, pricing, and overall usability. By the end of this article, you should have a clear idea of which platform is right for your business.
Bottom Line Up Front
The main difference between Namely and BambooHR is that Namely is a comprehensive human resource management solution, whereas, BambooHR offers core HR features with some additional functionality.
Both platforms have a user-friendly interface, offer a free trial, and provide employee self-service and performance tracking features. However, Namely is more expensive than BambooHR and offers extra payroll and benefits administration features.
Main Differences Between Namely vs BambooHR
The main differences between Namely vs BambooHR are:
Namely is a comprehensive HR management solution, whereas BambooHR focuses on core HR features.

Namely offers payroll and benefits administration, whereas BambooHR lacks these features.

Namely has extensive Benefits Administration capabilities, whereas BambooHR lacks these capabilities.

BambooHR has a simplified user interface focusing on usability, whereas Namely offers a comprehensive user interface with an extensive feature set.

BambooHR has a marketplace with apps that integrate with the system, whereas Namely makes it possible to integrate with other systems using its open API
Namely Overview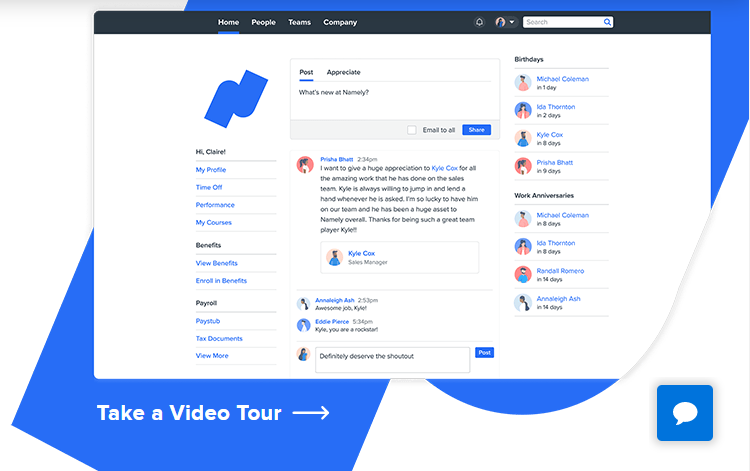 Namely is a comprehensive HR management platform designed for small to medium-sized businesses. The software offers a suite of features that covers all aspects of HR, from payroll and benefits administration to performance management and compliance.
Namely is known for its user-friendly interface and personalized support. The platform's wide range of features makes it a good choice for businesses that need an all-in-one HR solution. Pricing can start from as low as $12 per month, but you can configure and customize your features and price depending on your needs.
Once you log onto the Namely platform, you'll meet a sleek and modern interface. The dashboard is well-organized and easy to navigate. You can access all of the software's function lists on the left side of the dashboard, called the "Springboard." The list has all you need, including My Profile, Teams, Tasks, and Calendar.
80% of independent Gartner reviewers would recommend Namely to other businesses. Given the platform's simplicity, tailored assistance, and the plethora of features, it's no surprise that Namely is one of the most popular HR software solutions.
Namely HR Management Tools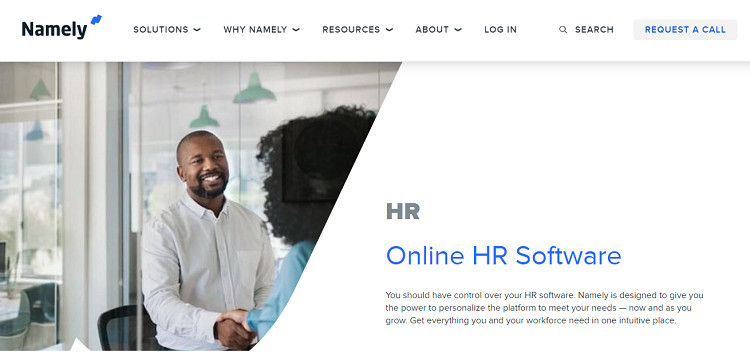 Namely's HR management capabilities are comprehensive. The software can handle all aspects of HR, from payroll and benefits to performance management and compliance.
Below is a detailed list of Namely's HR management features:
Talent Management
Namely's talent management capabilities help you identify and develop the best employees within your organization. The platform helps ignite, engage, and empower employees by setting goals and objectives, measuring progress, and giving and receiving feedback.
It helps small businesses prevent losing their best talent by automating and simplifying the performance review process. As a result, companies can focus on driving employee engagement rather than worrying about compliance issues. Moreover, it gives a 360 degree overview of an employee's performance.
Through its background checks feature, Namely also makes it easy to follow regulations around hiring. It tracks applicants, runs background checks, and issues offer letters within the platform.
Employee Onboarding Software
Employee onboarding is the process of integrating new hires into the workplace. Namely's onboarding software streamlines this process by automating critical tasks and paperwork. It divides employee onboarding into administrative functions and employee experience.
Some of the admin functions include configurable templates which modify according to your company's processes, e-signatures, and workflows. It also stores all hiring forms so your business can stay compliant with regulations. There's also a streamlined process that cuts dual data entry and e-verification integration.
As for the employee experience, Namely's onboarding software includes a personalized dashboard so users can access essential employee applications, documents, and company policies in one place. It's also user-friendly, so your potential employees can have a positive first impression of your company.
HR Compliance Database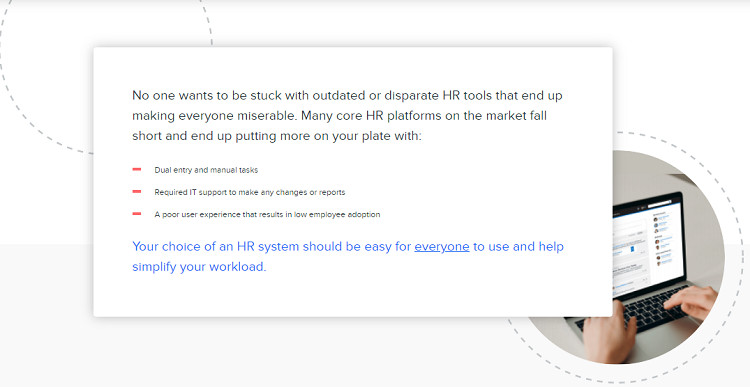 Compliance is a top concern for HR professionals. Namely's compliance database helps businesses stay up-to-date on employment laws and regulations. The software includes compliance content from over 200 jurisdictions and allows users to set up alerts for changes in laws that may affect their business.
It also includes numerous online resources, such as webinars and guides, to help businesses stay compliant. You can access live advice whenever you need it through Namely's compliance hotline. Namely also includes more than 300 compliance courses in its Learning Management System (LMS).
The OSHA logs and reporting feature helps businesses track and manage safety incidents. It includes a library of OSHA-approved forms and allows users to create custom reports. What makes it stand out is the policy and regulation comparison tool for states, which helps businesses stay up-to-date on the latest changes.
Payroll and Time
Namely's payroll and time tracking features help businesses save time and money. The software includes a tax engine that automatically calculates deductions, garnishments, and other withholdings. It also makes sure that businesses stay compliant with rules that cut across state and federal lines.
The software ensures automatic salary proration for employees who take leave, ensuring that they're paid the correct amount. It also integrates with HR benefits and time off policies, so employees can quickly request and track time off.
Namely's configurable GL export feature allows businesses to integrate their payroll data with other financial software. It offers mobile 1099s and W-2s so your employees can access their tax documents from anywhere. One more thing, it provides annual and quarterly reporting so you can stay on top of your business' finances.
Benefits Administration
Namely provides a unified HR and payroll data platform that helps businesses manage their employee benefits. The software includes ACA reporting and flexible online enrollment. Through its easy plan configuration, companies can offer a variety of benefit plans to their employees.
The enrollment process is seamless with paperless e-signatures and mobile-optimized forms. This process allows businesses to have a real-time view of their benefits data. Once enrollment is successful, it automatically integrates with Namely's payroll software, ensuring automatic deductions.
Enhanced Services
Namely provides two enhanced services to its clients. Two of these services include Managed Payroll and Managed Benefits. With Managed Payroll, businesses can outsource their payroll tax and compliance responsibilities to Namely.
This service includes direct deposit, employee self-service, and live support from Namely's payroll experts. Businesses can leverage the modern technology offered by Namely to stay compliant and save time and money.
Namely's Managed Benefits service helps businesses outsource their benefits administration. This service includes ACA compliance, benefits enrollment, and year-end tax forms. With this service, businesses can focus on their core competencies and leave the benefits administration to Namely.
BambooHR Overview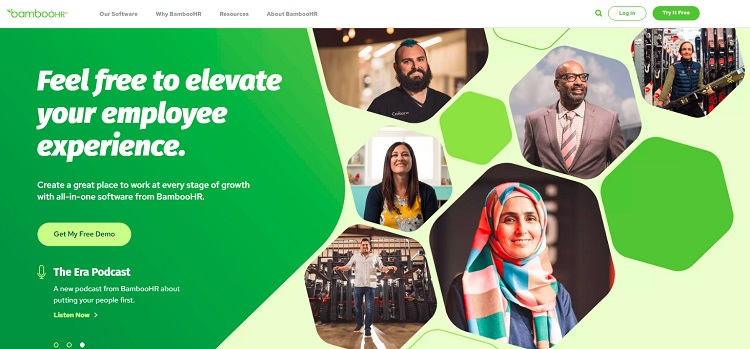 BambooHR is an all-in-one HR software designed to suit the needs of small to medium-sized businesses. The platform consolidates employee data and automates HR processes, making it easier for companies to manage their workforce. It helps companies save time on administrative tasks to focus on more strategic initiatives.
BambooHR provides actionable insights to help organizations make better decisions about their people by gathering and analyzing employee data. The software hosts all data in a single and secure database, making it easy to access and manage. Users can also generate customized reports to measure key HR metrics.
BambooHR's intuitive interface makes it easy to use. It comes with a mobile app to access your data on the go. It's pretty expensive, starting at about $99 per month per 12 employees. Pricing isn't as clear as other HR management tools on the market, but its features may justify the cost for some businesses.
BambooHR Features
Below are features that make BambooHR stand out.
People Data and Analytics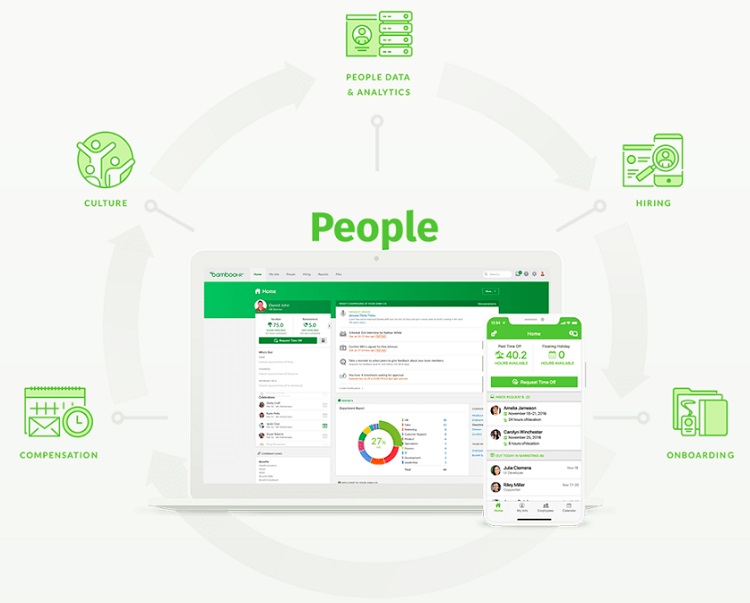 People data and analytics in BambooHR encompasses everything related to employee data. Through the employee database software built within the platform, businesses can collect and store employee data in one place. The software makes it easy to view, edit, add or delete employee data.
BambooHR streamlines the decision-making process through its strategic custom HR workflows. The software makes it easy to identify HR trends and issues. This data can help businesses improve their HR processes and make better decisions about their workforce.
Businesses can generate instant reports to measure key HR metrics through detailed analytics. The software makes it easy to track employee engagement, satisfaction, and productivity. It also comes with a mobile app to access your data on the go.
Hiring
BambooHR's applicant tracking system (ATS) helps businesses streamline their hiring process. The software makes it easy to post job openings, track applicants, and schedule interviews. It keeps applicant information organized and accessible in one place.
Moreover, it allows businesses stakeholders to hire as a team by allowing different users to access the hiring portal. Through the alerts and notifications system, businesses can stay up-to-date on the status of their hiring process.
What makes BambooHR a more sophisticated software is its support for mobile hiring. Job seekers can easily apply for jobs through the BambooHR mobile app.
Onboarding
BambooHR's onboarding software helps businesses automate and manage the new hire process. The software makes it easy to send offer letters, collect employee data, and create new employee files. It also allows businesses to customize their onboarding experience by adding their branding.
Moreover, BambooHR's onboarding software integrates with the company's email and calendar system. This integration makes it easy for businesses to track and manage employee communications. It also facilitates off-boarding processes by automatically deleting employee data when they leave the company. The e-signatures feature in the software makes it easy for employees to sign onboarding documents electronically.
Compensation
BambooHR's compensation management software helps businesses manage and administer employee compensation. The software makes it easy to create and manage compensation plans. It tracks time and attendance, vacation accruals, and performance data to calculate employee compensation.
The software also allows businesses to set up automatic salary increases based on pre-determined criteria. It comes with a comprehensive reporting feature to measure key HR metrics such as employee satisfaction, engagement, and productivity.
When an employee requests a PTO, the compensation management software will calculate how much vacation pay the employee will receive. It checks for calendar conflicts and notifies managers of any potential issues.
Culture
Businesses can manage and check employee performance through the Performance Management Software built into BambooHR. The software makes it easy to create and administer performance reviews. It also allows businesses to set up goals and objectives for employees.
The software tracks employee progress towards these goals and objectives. It also provides insights into employee satisfaction, engagement, and productivity. The feedback feature in the software allows businesses to collect employee feedback and suggestions.
BambooHR also measures employee satisfaction by integrating with eNPS surveys. The software makes it easy to distribute and collect anonymous survey responses. You can track trends related to employee satisfaction over time and identify areas of improvement.
Namely vs BambooHR: How Do They Compare?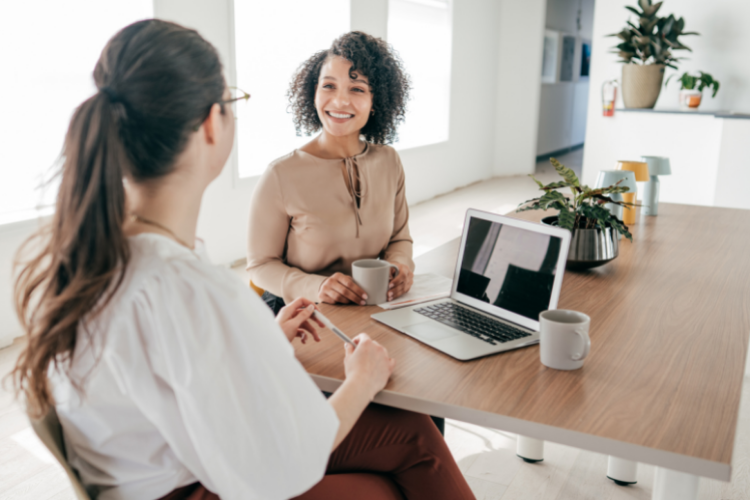 When choosing an HR software, factors such as ease of use, features, pricing, and customer support are important considerations. Here's how Namely and BambooHR compare on these factors:
1. Ease of Use
Namely bolsters an easy-to-use interface. The software features a drag-and-drop interface that makes it easy to create and administer HR processes. While the feature-rich interface may seem overwhelming, users will quickly get used to the software. It's easy to customize most elements of the software to fit your business needs.
BambooHR also features a user-friendly interface. It has a clear and concise design that makes it easy to navigate. The software is easy to set up and use. Most features are self-explanatory and don't require extensive training to use. While it doesn't present as many features as Namely, the features it does have are well designed and easy to use.
Verdict: BambooHR-I found the interface of Namely to be more user-friendly.
2. Features
Namely offers a comprehensive suite of HR features. From our research, it seems that the software has every HR-related feature imaginable.
This comprehensive approach may be overwhelming for some users. However, businesses that need a comprehensive HR solution will appreciate the software's robust feature set. Notable are the enhanced services that include Managed Payroll and Managed Benefits.
BambooHR takes a different approach by offering a leaner feature set. The software focuses on the most important HR features: applicant tracking, onboarding, performance management, and time tracking. Indeed, it doesn't have as many features as Namely. However, the features it ensures are incredibly well designed and effective.
Verdict: Namely-The software offers a comprehensive suite of HR features that most small businesses will appreciate.
3. Pricing
Namely's pricing starts from $12 per user per month. The software bills monthly depending on the number of users. The price includes all features and unlimited support. It allows businesses to configure the software to their specific needs. The basic HR fundamentals come at a set price, while additional features, such as payroll and benefits management, come at an additional cost.
BambooHR's pricing starts at $7 per user per month. The software offers a tiered pricing structure that charges more for additional features. Like Namely, it doesn't give an exact price for its software. Instead, businesses must ask for a quote from the vendor.
Verdict: BambooHR-It's easier for SMBs to understand and budget for BambooHR's pricing.
4. Customer Support
Namely's customer service is live and responsive. Once you sign up for the free demo, you can access a customer success manager. The customer success manager will help you set up the software and answer any questions. It also comes with a library of how-to articles, video tutorials, and webinars. The community forum is also a great resource for answering your questions.
BambooHR's customer support is excellent. It has a team of well-trained and knowledgeable customer support representatives. The team is available from 6 AM to 6 PM MT from Monday to Friday. You can reach them by phone if you're a paying customer.
Verdict: Namely-I found the Namely customer support team to be more responsive.
5. Integrations
Namely has several integrations that facilitate data exchange with other systems. The software integrates with accounting, email marketing, and performance management platforms. It also integrates with international Payroll providers such as iPay and Vistra. It uses an open API so that businesses can develop their integrations.
BambooHR comes with a marketplace with all the integrations you need. The marketplace includes HR, payroll, and benefits providers. It also integrates with performance management platforms such as Small Improvements and Clear Review. The BamboorHR API is based on the REST protocol and can be used to develop custom integrations.
Verdict: Namely-Namely's open API makes it easier to develop custom integrations.
Namely Vs. BambooHR Alternatives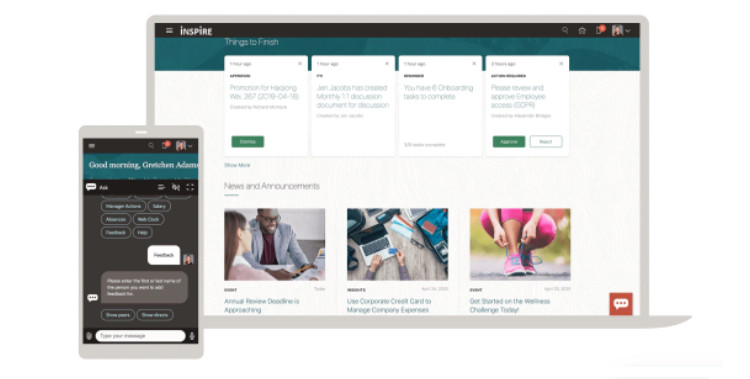 If neither Namely nor BambooHR is the right fit for your business, here are some alternative HR software options:
Namely Vs. BambooHR Compared (FAQs)
Question: What Kind of Company is BambooHR?
Answer: BambooHR is an American software company. The company specializes in human resource management (HRM) software for small and medium-sized businesses (SMBs). Its features include applicant tracking, onboarding, performance management, and time tracking.
Question: Is Namely a Good HR System?
Answer: Namely is a comprehensive HR system that offers a suite of features for small businesses. The software includes applicant tracking, onboarding, performance management, and payroll. It's a great option for businesses that need an all-in-one HR solution.
Question: Does BambooHR Integrate with QuickBooks?
Answer: BambooHR integrates with QuickBooks Online and QuickBooks Desktop. The integration allows businesses to sync employee data between the two applications. This integration is possible through Zapier, a third-party application.
Conclusion
Namely and BambooHR are both great HR software options for small businesses. They offer a suite of features that businesses need, such as applicant tracking, onboarding, and performance management.
However, there are some key differences between the two. Namely is a more comprehensive HR system. I recommend it for businesses that need an all-in-one HR solution. It's a little pricey, but the extra features are worth it.