Last Updated on April 22, 2023 by Ewen Finser
Small business owners have a lot of responsibilities, and choosing the right bookkeeping and payroll tools is one of them. If you are a business owner, then you know that managing your finances is essential to your success. There are a number of different tools out there that can help make this process easier, but it can be difficult to decide which one is right for you. If you're searching for a comprehensive package that can handle all of your bookkeeping and financial requirements, you'll want to compare Quickbooks Payroll vs Paychex.
Quickbooks is a popular bookkeeping software that helps businesses keep track of their expenses and income. Paychex is a payroll processing service that helps businesses pay their employees.
But what is the difference between these two tools? In this blog post, we will discuss the key features of each tool and help you decide which one is right for you.
Let's take a closer look at each tool to see which one might be best for your business!
Main Differences Between Quickbooks vs Paychex
The main differences between Quickbooks vs Paychex are:
Quickbooks is made for smaller to medium-sized businesses, whereas Paychex is designed for larger corporations.
Quickbooks is more of a booking software, whereas Paychex is primarily a payroll software.
Quickbooks has transparent pricing, whereas Paychex is quoted only
Quickbooks is much more widespread across the globe, whereas Paychex is mainly based in the USA.
Quickbooks does not offer a 24/7 support, whereas Paychex does.
Quickbooks is easy for beginners to use, whereas Paychex is slightly more complicated
Bottom Line Up Front
While both Paychex and Quickbooks can ultimately perform many of the same functions, they are primarily designed for different ones. Paychex is a payroll provider, and Quickbooks is a booking service. Plus, Quickbooks is much better suited for smaller to medium-sized companies while Paychex is designed for larger ones.
What is Quickbooks?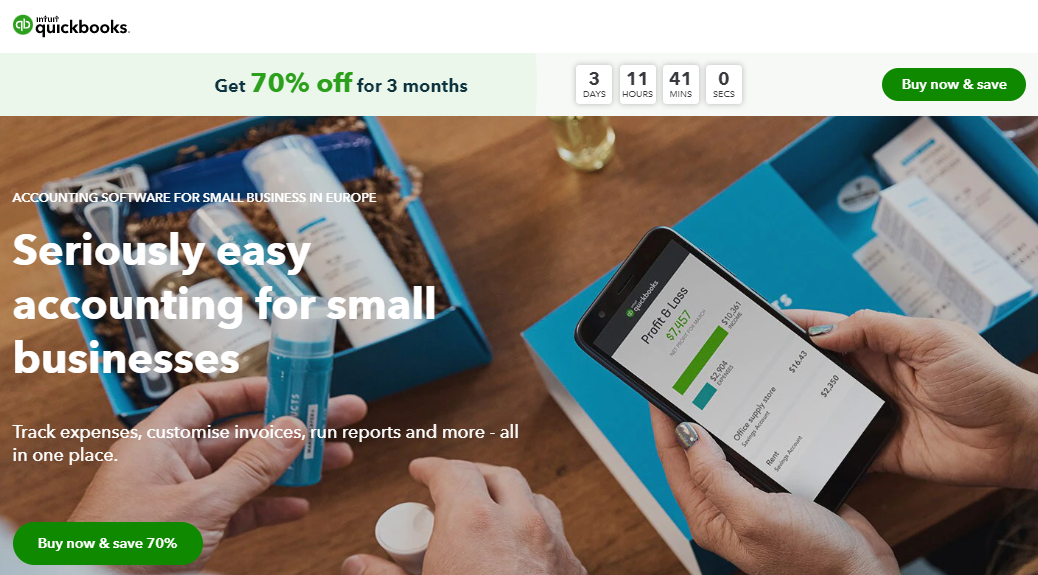 Quickbooks is an accounting software program developed by Intuit. It helps small businesses manage their finances and stay organized with features like invoicing, bill pay, expense tracking, and tax preparation services.
QuickBooks products, which were originally launched in 1983, are designed for small and medium-sized enterprises. Quickbooks is available in a desktop version and as a cloud-based application.
What is Paychex?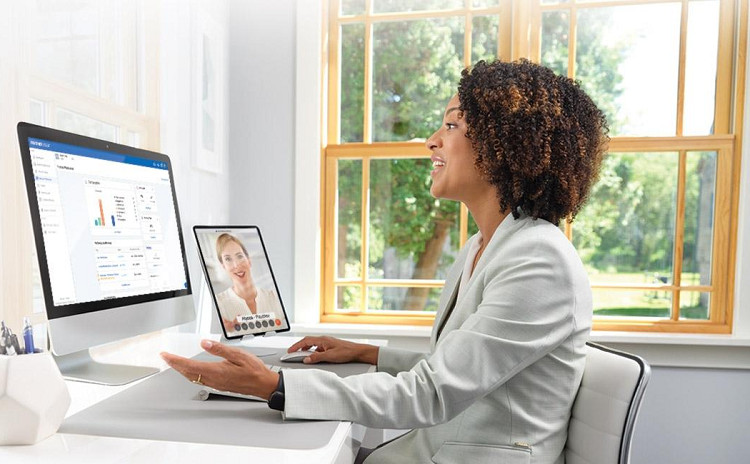 Paychex is a firm that offers human resource, payroll, and benefits outsourcing services to medium-sized to larger enterprises. It was founded in 1971 and, although it is headquartered in Rochester, New York, it has spread rapidly across the United States since it began.
The company now has over 100 locations across the country and also offers services in Europe too. These services include payroll processing, human resources support, 401(k) plan administration, and health insurance, and more.
Who Quickbooks is For
Quickbooks is great for freelancers and small firms because it is simple to set up, has a short learning curve, and offers a lot of features. Although it's designed to be a booking service, the amount of add-ons you can purchase for it means it can be much more than that.
Small company owners will appreciate the degree of flexibility allowed by QuickBooks Online. It offers a wide range of packages and pricing alternatives, starting with a self-employed plan and culminating in an Advanced plan that can support up to 25 users.
The program is always updating to include new features and access to more programs on a regular basis, making it suitable for both small and large businesses alike.
Who Paychex is For
Primarily targeted at everything from growing companies, to larger enterprises Paychex is designed to grow with you as you scale up your business. With a concentration on employment services, it provides customized one-on-one payroll service and allows clients to submit payroll data online, by phone, or through fax.
Paychex is also a good choice for companies that have employees in multiple states because they offer compliance support for all 50. Plus, it offers a variety of plans to fit a range of company sizes and requirements.
The Top Features of Quickbooks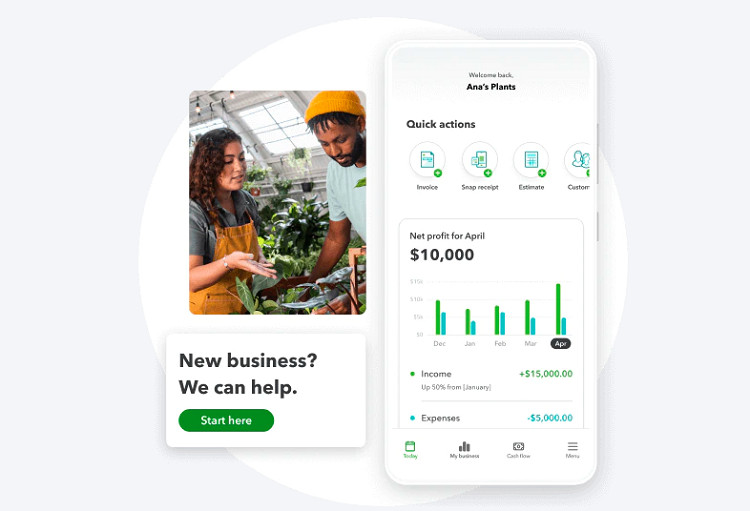 For over 20 years, Quickbooks has helped companies manage their business finances. QuickBooks is known for being simple to use and having a broad range of capabilities to help you manage your business's finances and stay on top of all financial details. Here are some of the top features that Quickbooks offers:
Accounting Software
You should choose Quickbooks for accounting software if you're looking for a program that helps manage your company's money. It does this by providing capabilities such as invoicing, tracking expenses, generating reports, and so on.
The tool claims that it can save you up to 8 hours each month while still providing a high-level overview of your company. They also provide a wealth of tutorials and help articles to help you get started simply.
Payroll
Arguably one of the most popular features of the tool, Quickbooks allows you to run payroll from within the app. This is a great way to save time, ensure that your employees are paid correctly and on time, and help you manage your employees' salaries, benefits, and more. Payroll processing can be completely automated, including pension submissions, deductions, and pay runs.
You can also utilize the program to expedite your payouts via direct deposit, pay contractors or freelancers, and ensure that you stay on top of all of your yearly tax obligations. It also aids in the monitoring of compliance, such as HMRC submissions, CIS contractor deductions, and it will link to all of your accounts.
Finally, the payroll benefits to staff are just as comprehensive as they are to employers. The employee portal allows employees to access their payslips, timesheets, and request annual leave with ease, as well as allowing managers to organize rotas, leave, and expenses for them.
Quickbooks also allows you to run multiple schedules and payrolls from anywhere in the world, automate things and manage statutory payments, so that you can focus on running your business.
Invoicing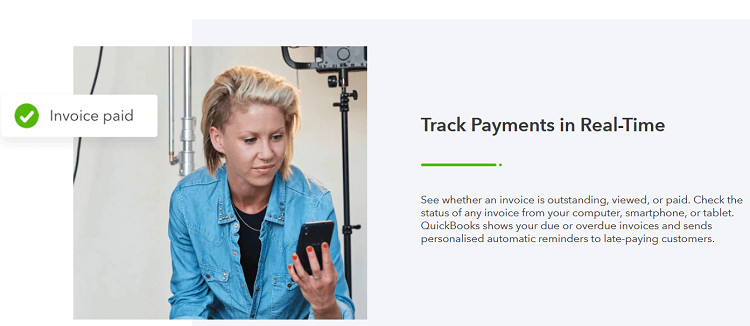 Furthermore, Quickbooks has a wide range of invoicing capabilities. From anywhere in the world, you may send and create invoices to save time and paperwork. You can also view all of your previous invoices and make faster payments using remote payments.
This enables you to keep track of payments in real-time on your laptop, phone, or tablet, as well as customize invoices to directly support your company. This is a fantastic function that allows you to guarantee that your invoices are consistent with your company's personality rather than simply following a generic template.
Cash Flow
Quickbooks includes a variety of features that can assist you in tracking your incoming and outgoing cash flow, allowing you to remain profitable.
You can quickly see how much money you have coming in and when your bills are due, as well as receive notifications if payments are late or overdrawn. This allows you to better manage your finances and keep on top of any potential issues.
You can also create estimates and track progress payments so that you can see how much money is owed to you at any given time. You can see a 2-year history of all your transactions right away, and even see a prediction of where you'll be 2 months ahead. This makes invoicing and collections much simpler, as well as helping you avoid any nasty surprises.
Expenses
You can also use Quickbooks to keep track of your expenses. The tools allow you to automate all of your expenses, saving you time, money, and energy. You can say goodbye to tedious data entry and reclaim expenditures, all while lowering your tax bill. You can also set up rules to automatically flag transactions that may be considered "out of the ordinary."
This is a great way to catch any potential fraudulent activity quickly, as well as get an overview of where your company is spending its money. Plus, you can collaborate directly with your accountant from within the app – another financial and time-saving bonus!
Time Tracking
Time tracking is also available in Quickbooks. It can assist you keep track of how much time your employees spend working, which may be useful if you're paying by the hour.
You may also see an overall view of who is working on what, and export the data to Xero or Excel for further analysis. This is great for getting an overview of where your team's time is being spent, and for tracking progress on projects.
Time tracking capabilities allow staff to log in and out quickly, take breaks in a matter of seconds, and save time. You can also use the scheduling capabilities to modify shift workers' days or alter the itinerary of those on the road.
Both of these capabilities are intended to make your life simpler and help keep everyone in the team on the same page, while also establishing boundaries and keeping track of tasks.
Tax Management
No one likes to deal with taxes, but Quickbooks' features make this considerably easier than many other programs. Quickbooks can help you prepare and file your taxes quickly and easily. You can also receive alerts when new tax laws or regulations come into effect so that you can ensure that you're always compliant.
You may also keep track of the VAT and construction tax (CIS) in real-time, so you know how much money to set aside. With Quickbooks automation features, you can also save yourself a lot of admin time by automating tasks, such as invoicing and expenses.
The Top Features of Paychex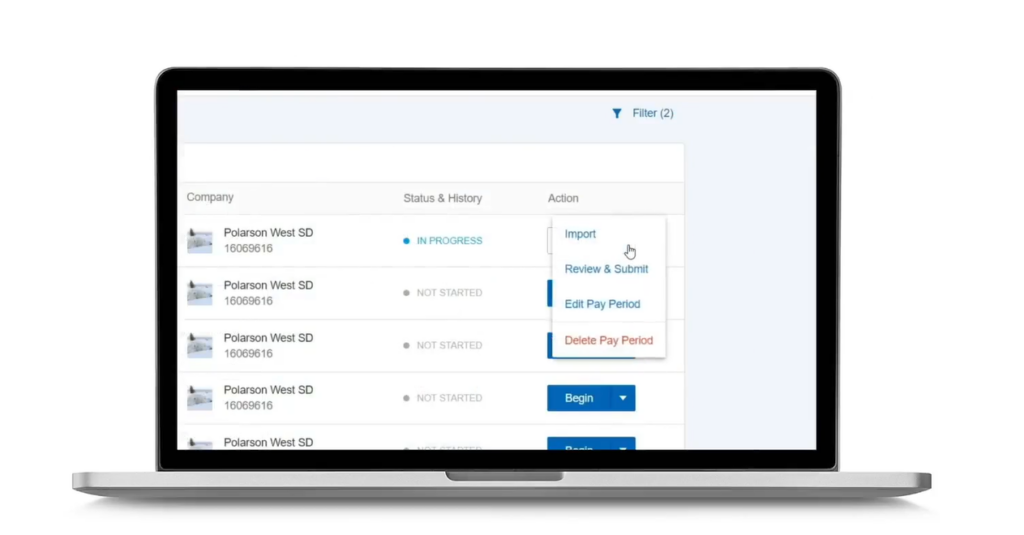 Next on the list is Paychex. This payroll software is a great option for small businesses, as it offers a lot of features and is very user-friendly. Paychex allows you to run your payroll from anywhere, at any time. It's simple to use and quick to set up, meaning that you can get started immediately. So, here are some of the top features that you can find with Paychex:
Payroll Services
Like Quickbooks, Paychex offers a range of payroll services that can save you time and money. With Paychex, you can automatically calculate payroll taxes, file and pay taxes online, direct deposit paychecks, and print checks. Payroll processing is also automated, and the tool integrated this with employee data – benefitting HR as well.
You can get important payroll data at a glance with the free Paychex Flex mobile app. Plus, this allows you to manage your payroll on the go, or from anywhere you're sunning yourself on the beach, or hiking up a mountain.
Paychex offers payroll services tailored to small business, all the way up to midsize and enterprise companies. And they will also minimize tax complications by assisting you with calculating, paying, and even filing your payroll taxes. All of these services are designed to make your life easier and help you save time.
Employee Benefits
Paychex also has plenty of benefits for employees. Their benefits package will help you get and retain top talent for your business whilst taking time-consuming HR tasks off your hands.
With Paychex, employee benefits are seamless. The full integration into the tool means that you can constantly track who is eligible for which benefit. You can also manage your benefits online including tracking enrollment forms, changes in benefits, new hire dates, and more.
Time Tracking
Like Quickbooks, Paychex also offers a comprehensive time tracking service. Their cloud-based solution makes it easy to see who's working, and on what. This is great for getting an overview of where your team's time is being spent, and for tracking progress on projects.
Time tracking capabilities allow staff to log in and out quickly, take breaks in a matter of seconds, and save time. You can also use the tracking tool to make note of payment adjustments (such as tips or any expenses), track overtime, and track all this with an overall labor cost.
Business Insurance

Another vital feature of Paychex is its insurance feature. This includes workers' compensation, casualty coverage, professional liability insurance, property coverage, and more. With these insurances in place, you can protect your business from any potential risks.
It also automatically integrates with your payroll and makes administering benefits much simpler. It's also been named one of the top 100 insurance companies for businesses. Paychex's insurance feature is a great way to keep your business safe, and your employees protected.
HR Services
Vital for any business, big or small, is a good HR service. And Paychex offers just that. With their integrated HR services, you can manage employee data, onboard new staff, create and manage employee files, and more – all from one place.
The feature includes helpful HR advice, compliance support, and also incorporates the employee benefits mentioned above. It will help you abide by employment laws, retain talent, and establish effective training plans to boost your business. You can also speak directly to a Paychex HR professional who will be more than happy to answer any of your queries.
This is a great way to keep your team organized and streamlined and to make sure that everyone has the information they need.
Integrations
One of the other great things about Paychex is that they offer a wide range of integrations to help connect your payroll and HR services into other tools in your existing workflow. This includes popular tools such as Indeed, Microsoft Azure, Xero, Mindbody, Clover, and more. They even have an integration with Quickbooks Online.
This is a really useful feature as it means that you can connect your payroll data with the rest of your business data, and get a comprehensive overview of everything in one place. The integrations also make it easy to share data with other members of your team, or with your accountant.
Plus, Paychex also has a custom API which is super useful for software developers or those with more specific integration needs that aren't currently listed. With this API, you can really tailor the Paychex experience to fit your business.
Quickbooks vs Paychex: Ease of Use
When it comes to using this type of software, ease of use is paramount. It needs to be able to quickly adapt to your business needs and allow you to get on with your work without any hitches.
So, let's see how these two pieces of software compare when it comes to ease of use.
The Advantages of Quickbooks
It's very simple to set up a new account with QuickBooks Online. You can choose the activities you'll perform on a regular basis during the installation procedure and set up your preferences accordingly. The software can be used by companies of all sizes, from small businesses to large enterprises. It's very versatile and can be customized to suit the specific needs of each business.
Quickbooks Online cleverly demonstrates the power and flexibility of this type of HR tool while keeping you connected with your bank. The interface of the software is simple to navigate and is all centered around the main dashboard.
This dashboard screen is a little jam-packed and intimidating at first, but you can sort out what you need and what you don't need, and remove what you don't need from the screen, which makes it much more manageable.
Overall, QuickBooks Online is straightforward and user-friendly, with a lot of great features to offer businesses of all sizes.
The Advantages of Paychex
Paychex is a great option for businesses that are looking for a comprehensive payroll and HR solution. It has a wide range of features that will streamline your workflow.
Yet, unfortunately, it isn't known for being super easy to use. Many of its features require a learning curve to get your head around, and an interface isn't quite as intuitive as Quickbooks. However, despite the lack of flashy UI, it offers a very comprehensive and feature-rich HR solution.
Like Quickbooks, it has a free mobile app that is available on both IOS and Android to download by employees. However, unlike Quickbooks, it does allow for payroll entry over the phone.
Winner
Our clear winner here is Quickbooks. The software is very user-friendly and can be used by businesses of all sizes. It's versatile, with a lot of great features on offer, and has a simple, straightforward interface.
Paychex is a great option for businesses that are looking for a comprehensive payroll and HR solution, but it just doesn't quite match up to Quickbooks when it comes to ease of use.
Quickbooks vs Paychex: Customer Support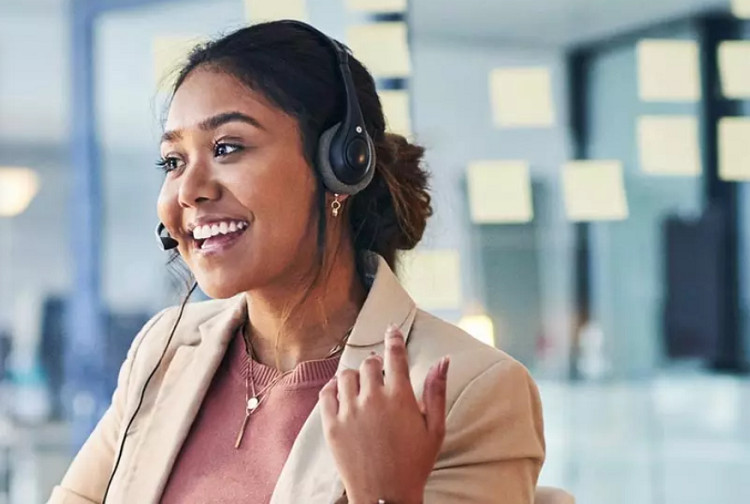 Next on our list of important comparisons for these two tools is customer support. We think this is vital because, if anything is to go wrong with your software, it will be crucial to have someone on hand who can help you fix the problem as quickly as possible.
Here's what Quickbooks and Paychex offer in terms of customer support:
The Advantages of Quickbooks
Customers that use Quickbooks can get assistance through a variety of channels. Live chat, the option to send an email, and a vast knowledge base are just a few. It also has an active user group that provides in-product assistance and, for problems that can't be solved via messaging, even offers phone support.
The Advantages of Paychex
Paychex also offers comprehensive support for its customers. They provide helpful service via both phone and live chat 24 hours a day 7 days a week. They also offer specific support for both clients and employees.
This is extremely useful for businesses that have employees in different time zones, or who are based in different countries. They too, have a detailed knowledge center where you can research the option you'd like to know more about.
Winner
The winner here is Paychex. They both offer excellent customer support, but Paychex's round-the-clock phone and live chat support is just that little bit better.
Quickbooks vs Paychex: Integrations
When it comes to integrations, seamlessly syncing your existing workflow with your new HR software is crucial. If your software doesn't integrate with the tools you're already using, it can cause a lot of headaches further down the line. Let's see how Quickbooks and Paychex stack up when it comes to integrations:
The Advantages of Quickbook
Quickbooks offers a wide range of integrations with popular business tools. This includes accounting software like Xero, payment apps like PayPal, Stripe, Square, and Vend, and even popular business tools like Amazon Business and Shopify.
A few more apps that you can connect Quickbooks accounts with are GoCardless, Fathom, Gusto, Method: CRM, Buildtrend, and more. However, Quickbooks doesn't quite have the 35+ library of integrations that Paychex does. But, you can also use Zapier to connect Quickbooks with the apps of your choice.
The Advantages of Paychex
The helpful range of integrations is one of Paychex's key features. They have a native integration with over 35 different products and tools including some of the most popular ones like Xero, Deputy, and Indeed.
They also have a custom API which means that, if there's a tool you're using that isn't on their list of integrations, you can still connect it to Paychex. Of course, you will most likely need to use a software developer to do this, but it's still a great option to have.
All this means that you can be confident that Paychex will fit into your existing workflow with minimal disruption.
Winner
The winner here is Paychex. They offer a great range of both native and custom integrations, meaning that you'll be able to connect your existing workflow with ease. Quickbooks is a close second, thanks to its wide range of native integrations and the option to use Zapier for custom integrations.
Quickbooks vs Paychex: Pricing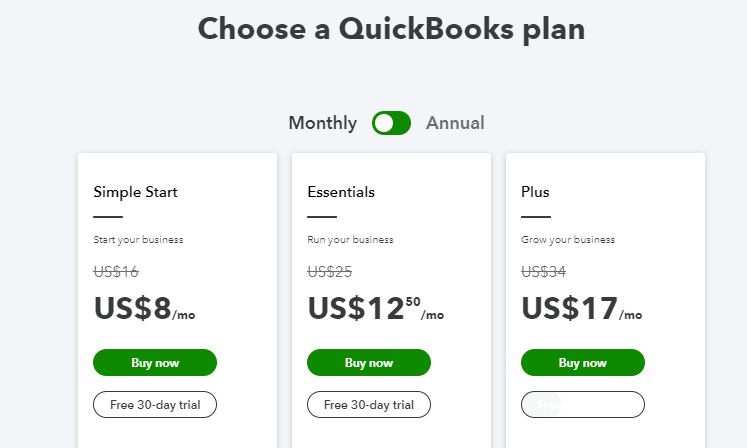 Of course, one of the most important factors to consider when choosing any type of software is pricing. Let's take a look at the pricing plans offered by Quickbooks and Paychex:
The Advantages of Quickbooks
QuickBooks Online is a scalable software that may be used by everyone from a solo freelancer to a flourishing small company owner. It has four distinct subscription plans. They do not have a free plan, but they do provide a 50% discount for the first three months of usage. There are three different paid subscription options: Simple Start, Essentials, Plus, and Advanced.
The Simple Start package gives you the ability to keep track of income and expenses, invoice clients and take payments, run reports, maximize tax deductions, and track miles. You may also manage expenses, gather receipts, track sales, and tax as well as manage over 1,000 contractors utilizing the program. This plan costs $7.50 per month for 3 months and then $25 per month after.
The Essentials plan, which is the next one up, includes everything on the Simple Start but also adds three more users to your account.
This is one of the most popular accounting software programs available because it's highly customizable and user-friendly. It also gives you the option to track time as well as miles and you can pay and manage bills directly within the Quickbooks app. This costs $15 per month for 3 months and then $50 per month after.
Plus, the next option, adds another two users to Essentials and upgrades it to five people. You can also keep track of inventory and project profitability. This comes to $24 per month for the first 3 months, then $80 per month after.
Finally, the most expensive plan, Advanced, includes all of the features on the Plus plan and also business insights and analytics, the ability to batch invoicing and expensing, and a custom user permissions feature.
You can handle personnel spending, automate procedures and activities, restore business information, receive access to unique integrations, and they also allocate you your own personal account team.
It's not possible to do payroll from the program itself, but a special add-on is available through QuickBooks Online.
The Advantages of Paychex
There are also several different plans available for Paychex. Paychex Flex Select is specifically designed for small businesses with less than 50 employees. It features tax administration, new hire reporting, dedicated payroll specialists, and financial wellness features for employees.
It also features an income verification service for employees, gives employees additional payment options, a direct deposit option for employees, and offers 24/7 customer support.
Flex Pro includes everything that Select does in terms of features, but is suitable for companies with 50 or more employees. It also offers several additional features including a workers' compensation report, an unemployment insurance service, a general ledger service, and advanced analytics and reporting. It also provides onboarding and employee screening essentials specific to this plan.
Paychex Flex Enterprise is specifically designed for businesses with 100 employees or more. You'll get all the features in the Basic and Pro plans plus custom analytics and reporting and Paychex Flex Hr administration features. These allow you to create a cloud-based structure for employee training, development, and feedback.
All the Paychex plans are based on a quote, so it's difficult to predict exactly how much they'll cost. However, because of the range of tiers available and the fact that some cater specifically to larger enterprises, we would expect those tiers to cost more than the lower prices, and also potentially more than Quickbooks.
Winner
Although both of these tools offer a few years designed specifically for businesses at different stages of their journey, Quickbooks' transparent pricing is what gives it the edge here. You know exactly how much you'll pay per month, and there are no added extras to worry about. Plus, you don't have to reach out to a sales rep in order to know if the tool is affordable.
FAQs
Question: Is Quickbooks Better than Paychex?
Answer: Not necessarily. These two tools are fairly similar so it really depends on your specific needs. However, Quickbooks is more designed for small to medium businesses whereas Paychex is designed for growing companies to larger enterprises.
Question: Can You Try Quickbooks for Free?
Answer: Yes, Quickbooks does provide a 30-day free trial, but you must give up your original product's introductory cut to be eligible for it. For some enterprises, this could be a significant pain, but it depends if you want to prioritize the free tier or the discounted price.
Question: Can you Try Paychex for Free?
Answer: No, Paychex does not offer a free trial which could be a disadvantage if you're trying to make a decision between the two tools.
Question: Is Paychex the Same as QuickBooks?
Answer: No, these are two different tools although they are both designed for businesses. QuickBooks is primarily an accounting software and Paychex is a payroll service. QuickBooks can do some payroll tasks but Paychex is more comprehensive.
Question: Is Paychex Compatible with QuickBooks?
Answer: Yes, Paychex actually offers a direct integration to Quickbooks through its platform. This means that you can manage your payroll and accounting all in one place which can be a major time saver.
Quickbooks Payroll vs Paychex: Conclusion
So, there you have it – a quick overview of Quickbooks vs Paychex. As you can see, both tools offer a range of benefits and features that can be useful for any business.
When it comes down to which one is better, we are leaning slightly towards Quickbooks. Paychex is designed to be a pure payroll platform, and it does this very effectively. Of course, it does have other functions as well, but its primary purpose is payroll.
Quickbooks, on the other hand, is more of an overall bookkeeping and expense tracking software. However, there are many add-ons for Quickbooks that can easily turn it into something more.
This essentially means that, if you are looking to have all of your payroll and booking and HR tools in one place, Quickbooks is ideal. Nonetheless, if you want to keep these functions separate and are purely looking for a payroll solution, Paychex would be your best bet.
Plus, since Paychex can integrate with Quickbooks, there's nothing to say that you can't use both of these tools to achieve the result you want. Yes, this will certainly make things more expensive, but Paychex provides a personalized level of service that we don't encounter with most other payroll systems.
Overall, if you have a larger business and payroll is your focus, go for Paychex. If you are a freelancer, start-up, or smaller business, Quickbooks will give you what you need and more. And, if you want the best of both worlds, there's nothing stopping you from using them both!