Come to think of it, being torn between ShopKeep vs Square is totally understandable. They are like Coke and Pepsi. So alike yet so different.
Well, for starters, they are both renowned for their powerful POS systems, which facilitate not only payment processing, but also inventory management, customer management, mobile selling, employee management, and range of relevant business analytics.
Main Differences Between ShopKeep vs Square
The main differences between ShopKeep vs Square are: 
Square Payments Square POS comes with a permanently built-in payment processor, whereas with ShopKeep payments you get flexibility and options of payment processors to choose from.
Square follows a standard pricing system where users pay the same rate for a specific package, whereas ShopKeep price varies from one user to another.
Square POS runs on branded Square registers, whereas ShopKeep relies entirely on Clover POS and iPad-based point of sale registers. 
Shopkeep provides 24/7 customer support (customer service) via email, live chat, and phone calls, whereas Square limits its customer support to the standard working hours- only weekdays between 6 AM and 6 PM.
ShopKeep takes the time to customize the POS system based on your specific business needs and budget, whereas the Square POS system follows the traditional what-you-see-is-what-you-get. 
Most importantly, however, small businesses are particularly fond of them because they favor even users on a budget. While the farthest most of their competitors can go is providing money-back guarantees, ShopKeep and Square are generous enough to offer you a permanently free plan. You get to sell and run your retail business without committing yourself to recurrent subscription payments.
So, in short, they are both impressive POS system solution providers. But, that's something I guess you already know by now.
What might not be clear, however, is which of the two providers offers better features and services. Square is the popular one all right, but does it manage to maintain the same level of superiority when you compare the point of sale capabilities?
Well, that's exactly why we've taken the time to prepare this detailed guide for you. It goes beyond the ShopKeep vs Square popularity contest to reveal the truth about their respective features. So, stick with me as I extensively compare all the relevant elements, and I guarantee that by the end of all, you'll have made up your mind on the best solution for your business.
But, before we get down to the Square vs ShopKeep nitty-gritty, let's review the main differences between them:
ShopKeep vs Square – Overview
ShopKeep Overview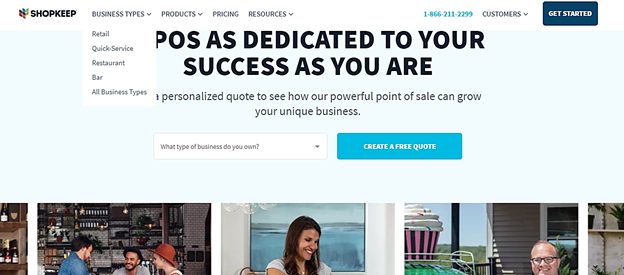 Founded in 2008, ShopKeep is a cloud-based point of sale system that serves regular retail businesses, as well as restaurants, and quick-service businesses. It's built to run on iPad devices, on which it stores the bulk of the info before syncing everything with its web-networked cloud servers.
ShopKeep also works hand in hand with a variety of POS hardware peripherals, most of which you can easily purchase directly from ShopKeep. They come in the form of bundles for different types of businesses and functions- including a portable kit, a restaurant bundle, and a retail bundle.
Whichever you choose, your ShopKeep POS provider system will be compatible with point of sale POS hardware peripherals like barcode scanners, receipt printers, card readers, cash drawers, iPad stands, etc. Combined, they form a comprehensive POS system that's capable of performing a wide range of smart functions.
When it comes to payments, for instance, ShopKeep offers you its own in-house solution for transaction processing. It won't tie you down though. You can go ahead and drop ShopKeep Payments for other payment processing solutions.
Either way, the system will support payments from contactless methods, as well as chip cards, credit card reader or magstripe devices, and other forms of digital payments.
Apart from that, ShopKeep is versatile enough to facilitate refunds, discounts, tips, custom tax rates, open tabs, and partial payments.
Then when it comes to store management, ShopKeep hands you tools for running multiple stores, marketing your stuff, rewarding customers, managing employees, saving customer information, adding unlimited products, tracking sales and performance trends, enhancing relationships with customers, etc.
In short, therefore, ShopKeep is as comprehensive as they come. It packs all the essential POS tools that typical merchants might need for running and expanding their brick-and-mortar businesses.
In fact, it even goes as far as integrating with an array of relevant third-party applications to form an all-round digital business ecosystem. They include marketing solutions like MailChimp, ecommerce platforms like BigCommerce, plus accounting applications such as QuickBooks.
It's worth noting, however, that ShopKeep doesn't have a fixed pricing schedule for all these functionalities. Rather, it prefers to sell its POS solution through a quote-based pricing system, which features both free and premium options.
As for the latter, you could settle for a standard month-to-month subscription, or proceed with a pay-as-you-go pricing model.
Then get this- if you ever choose to leave, ShopKeep will let you off immediately without imposing the all-too-common early termination fees.
Square Overview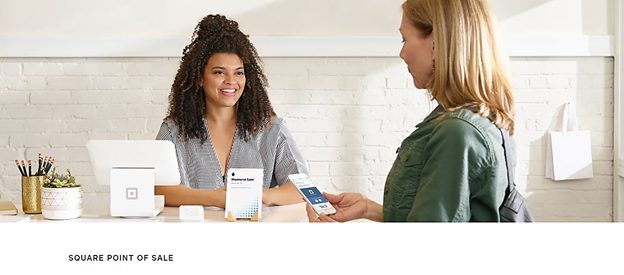 As you've probably figured out by now, Square first came into the industry as a mobile payment solution. This was back in 2009, a year after ShopKeep's debut.
Ok, I know what you might be wondering at this point. How the heck did Square manage to grow more popular than its more experienced competitor?
Well, the thing is, Square first made its name in the digital business world as a payment processor. The Square Point of Sale application only came much later as part of the company's expansion plan.
It didn't stop there though. Square subsequently released additional POS system applications, each of which came specialized for a particular category of businesses.
The Square Appointments edition, for instance, is built for managing customer appointments in professional agencies. Then Square For Retail, on the other hand, is a POS system that's optimized specifically for typical retail businesses.
Square For Restaurants completes the series as a specialized point of sale software with tools for running establishments in the hospitality industry. I'm talking about restaurants, food trucks, fast food outlets, bars, bakeries, coffee shops, etc.
Fair enough. Seems like this company has something for everyone. But what does that make the original Square Point of Sale app?
Well, you can think of the original Square Point of Sale app as the mother of all the POS system editions. It's the main POS software here and it comes with a versatile all-inclusive feature set that suits pretty much any brick-and-mortar business.
This cloud-based point of sale system runs on both Android and Apple devices, including the iPad and iPad like devices (tablets). You could also go for the fully-functional countertop Square Register bundle, and maybe combine it with the Square Terminal, which essentially provides a complete mobile POS system that encompasses various hand-held hardware peripherals.
In the end, you should be able to use the Square POS system for payment processing, email marketing, customer relationship management, employee management, and inventory management. It provides tools for digitizing and streamlining all the core business operations.
And speaking of which, Square further allows you to capitalize on its ecommerce platform. This gives you the privilege of starting a parallel online store that syncs perfectly with your primary brick-and-mortar establishment.
Then to top it off, Square offers its original POS system for free. That means it won't charge you a subscription fee. The only thing you'll be forced to pay here is the transaction processing fee, which is usually levied by the built-in Square Payments processor.
A word of caution though. Things are a bit different when we cross over to the more specialized Square POS editions. Square Appointments, Square For Retail, and Square For Restaurants have premium pricing options with recurrent monthly fee pricing.
But, at least everything here seems reasonably-priced, even for small businesses that are just starting out.
Now, going by what we've explored so far, this is turning out to be a very entertaining ShopKeep vs Square contest. Both of them seem to offer pretty much the same range of POS system tools.
So, to identify the precise elements that make all the difference between the two, join me as we dig into the finer feature details…
ShopKeep vs Square – Main Features
Ease of Use
ShopKeep Ease of Use
There's no denying that ShopKeep isn't as big as Square. It's usually classed among the smaller POS solution providers in the industry, which is not such a bad thing when you come to think of it.
You see, working with such a software company means they can afford to pay attention to your specific needs. And this is something you'll notice right from the moment you try to register for the service.
The signup procedure here isn't as simple as choosing a package and then filling in your personal plus business details. Instead, ShopKeep takes the time to review your specific business needs, after which it prepares a well-tailored POS system tool suite.
How?
Well, during registration, you'll be required to provide details about the size of your business, the number of cash register checkouts you need, the monthly transaction volume, the number of store locations, the volume of customers, your potential growth projection, etc. It's a 5-step procedure with multiple questions about your business structure.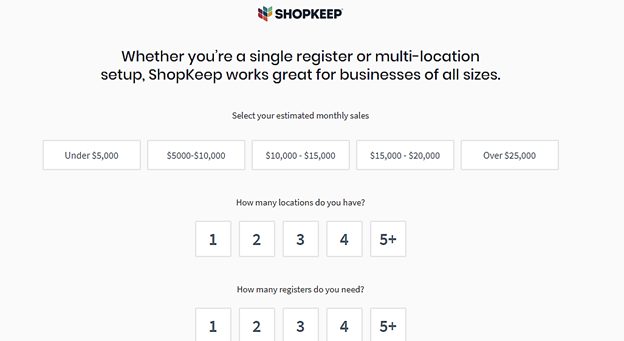 Although the whole thing might take you minutes to complete, it's worth every effort. Ultimately, ShopKeep will come up with a custom POS system solution that not only caters to your particular needs, but is also priced accordingly to fit your budget.
Then get this. If you're not ready to commit your money at this point, ShopKeep allows you to proceed for free. And not on a timed free trial. But rather, on a permanently free plan, which supports only a single POS system register on one location.
Now, eventually, ShopKeep will give you access to an elegantly-designed web dashboard, from where you should be able to manage all the tools and functionalities. It even gives you the power to tweak and control all the back-office operations on the corresponding ShopKeep POS register app.
You can, for instance, customize the outlook and overall design of the register based on your preferences.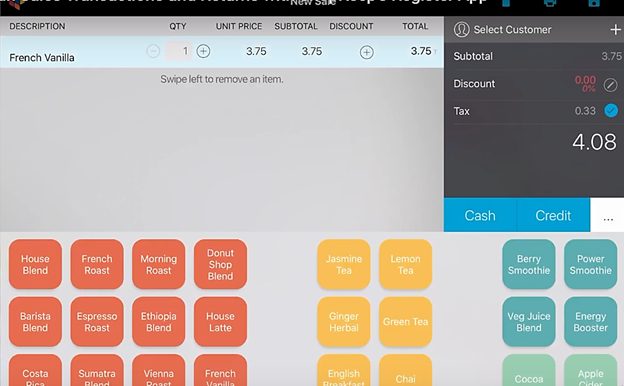 Then if you ever need to check on how everything is progressing, ShopKeep's Birds Eye View has got you covered. It displays an overview of the core performance indicators, which save you the trouble of always digging into the detailed analytics reports.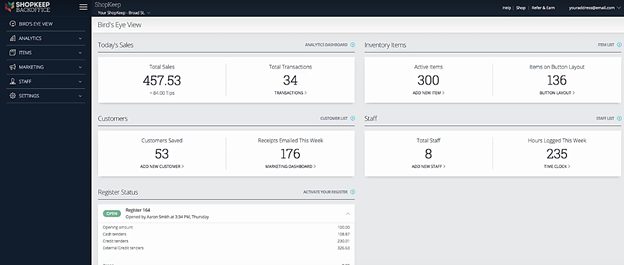 Another great thing about the ShopKeep dashboard is its straightforward navigation. It grants you direct access to the primary tools, from where you can comfortably explore and configure the secondary options. This whole system is responsive and pleasantly intuitive.
And the same applies to the corresponding iPad POS system register. The ShopKeep POS system has placed its buttons and tools strategically for quick selling.
Furthermore, your employees will also have an easy time learning the ropes here, as ShopKeep follows the traditional point of sale framework. It's even capable of running smoothly in an offline mode.
Other than that, integrating additional POS hardware peripherals should not be a problem at all. ShopKeep supports all the basic devices without limiting you to a specific brand.
Square Ease of Use
Unlike ShopKeep, Square comes in the form of a what-you-see-is-what-you-get kind of POS system. That means it won't bother to customize anything for you beforehand. The features and prices on each package option apply across the board.
But, don't get me wrong. The Square POS system doesn't completely lock you out of system customization. It just won't do it on your behalf.
Therefore, if you need a well-personalized POS system, you'll have to configure everything after logging into the system. At least all the Square POS editions are flexible enough to accommodate a couple of tweaks here and there.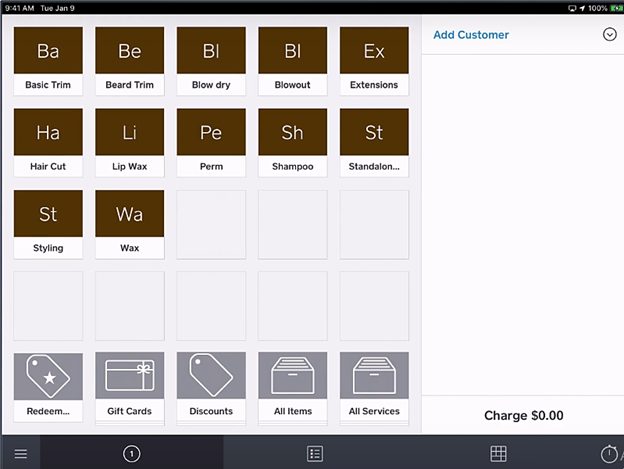 However, there's one particularly important thing you won't be able to change. Yes, that's right, I'm talking about the payment processing service.
Well, the deal is, the Square Point of Sale application won't charge you even a penny for a subscription. Plus, you'll be free to add registers in other store locations at no cost at all.
That leaves the Square POS app with only one method of generating income. Hence, this platform forces you to run all your transactions through its built-in Square Payments processor. And consequently, Square earns a percentage from every single transaction you conduct on the POS system.
It sounds like a fair arrangement if you ask me. Besides, Square Payments essentially applies a rate of 2.6% plus a flat fee of 10 cents for each transaction, which is slightly lower than the standard market charges.
That said, you get to do much more than processing payments on the Square POS system. It comes with an intuitive easy-to-use interface that provides convenient access to various tools for controlling the customer database, your product inventory, marketing campaigns, employees, supplier information, etc.
But, if you want more specialized capabilities, you could easily switch to either Square For retail, Square For Restaurants, or Square Appointments.
The only other alternative is introducing add-ons to your Square POS system. You'll find a variety of options for different functionalities- including employee management, marketing, and customer loyalty programs.
Overall, the Square POS system is neat and sufficiently simple for all types of merchants. Even beginners will enjoy working with it, as there's barely any learning curve here. Everything is as straightforward as you'd hope, and you even get to process payments in offline mode.
Verdict – Square POS vs ShopKeep POS Ease of Use (Winner: ShopKeep)
It's commendable that each of these POS software solutions offers a permanently free package with decent features. Plus, they manage to provide a pleasantly seamless user experience thanks to their intuitive well-designed interfaces.
That said, the one thing that makes all the difference here is their respective customization capabilities. While the Square POS system allows you to configure a number of elements, it's no match for the ShopKeep POS system. ShopKeep comes fully customized based on your specific business needs and budget.
Inventory Management
ShopKeep Inventory Management
If there's one thing that ShopKeep has clearly perfected, it's managing inventory. This POS system goes beyond what you'd expect from a regular stock management tool in many different ways.
The resultant advanced capabilities give you the benefit of controlling not just the stock, but also the corresponding product variables, down to the very last detail. You can, for instance, configure variant combinations and track even the ingredients.
Other than that, the ShopKeep POS system also covers vendors and suppliers, both of whom you get to add and track directly from the system.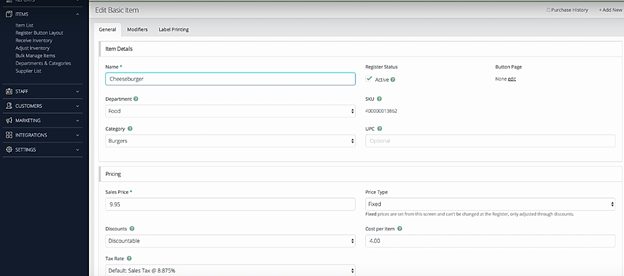 Other notable capabilities include:
Tracking suppliers and vendors of every single product.
Controlling stock across multiple store locations.
Monitoring the buying and selling prices of each item.
Configuring the suggested stock reorder amounts, plus the accompanying low-stock alerts.
Tracking the products' ingredients and raw materials.
Splitting items into partial units.
Tracking product quantities.
Keeping tabs on various product modifiers.
Controlling items with multiple advanced variant combinations.
Placing items in trackable categories.
Recording product descriptions and SKU numbers.
Square Inventory Management
Square also happens to have quite a lot to brag about when it comes to inventory management. It's capable of customizing items, accommodating different types of products, organizing everything in custom categories, tracking various inventory parameters, as well as coordinating the item purchase process.
If you choose to leverage the primary Square Point of Sale application, for example, it'll give you privileges such as:
Exporting and importing products in bulk via CSV files.
Following up on inventory levels across multiple store locations.
Tracking items with varying price points.
Setting up low-stock alerts.
Tracking the volumes of different product variants.
Monitoring product modifiers such as add-on units and supplementary condiments.
Categorizing products accordingly.
Tracking various item categories.
Linking SKUs to barcodes for convenient checkouts via scanners.
Adding product images, descriptions, and SKU numbers.
Quite a decent set of free inventory management capabilities. But, in all honesty, they can't match up to what you get from ShopKeep's free package.
You can only come close to ShopKeep when you switch to either Square for Retail or Square For Restaurants. They are built to supplement the base inventory management functionalities with additional capabilities like:
Splitting products into relevant partial units.
Tracking item ingredients plus the accompanying raw goods.
Setting up, monitoring, coordinating, and receiving purchase orders.
Keeping tabs on the vendors and suppliers of each item.
Reporting comprehensively on the cost of goods.
The only problem is, such a move will have you coughing up at least $60 per month for each POS system register.
Verdict – Square POS vs ShopKeep POS Inventory Management (Winner: ShopKeep)
Square and ShopKeep have ideally optimized their inventory management tools for extensive real-time tracking, multi-store control, and streamlined selling.
It's worth noting, however, that ShopKeep's functionalities are a little bit more advanced than what you get from the default Square Point of Sale application. The latter can only challenge ShopKeep if we throw in extras from the $60 a month Restaurant and Retail versions.
Customer Management
ShopKeep Customer Management
Since customers will always be an integral part of your business, ShopKeep tries to keep tabs on all their individual actions over the long haul.
You'll find a range of tools for capturing your customers' contact information during checkout, and then tracking their subsequent purchase histories.
Such details usually come in handy when you need to, say, process refunds or personalize the shopping experience for your customers. You could also run CRM or marketing campaigns, as well as possibly reward repeat buyers for their loyalty.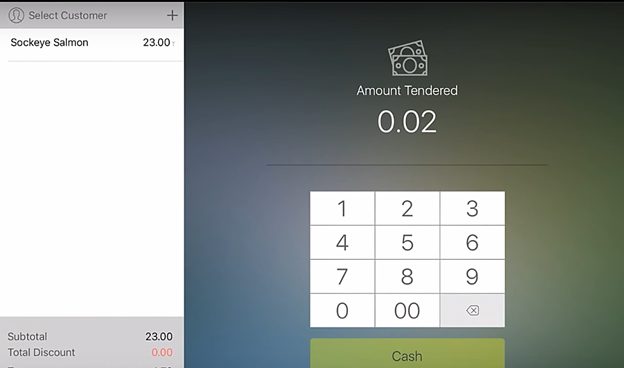 Sadly, however, the ShopKeep POS system doesn't provide all the built-in tools you might need for decent marketing or loyalty program campaigns. So, you'll be forced to rely on third-party integrations.
Square Customer Management
Just like ShopKeep, the Square POS system is pretty handy when it comes to customer management. You'll have an easy time creating profiles for each customer, auto-populating the corresponding fields with the relevant personal info, plus tracking all the customer activities over a prolonged period of time.
And if you ever need to run targeted engagement campaigns, the Square POS system supports quite a decent number of solid marketing apps.
You probably won't need them though, because as it turns out, the Square POS system comes with a well-streamlined dynamic set of email marketing and loyalty program tools. This gives you the benefit of launching, running and managing the campaigns from within the system.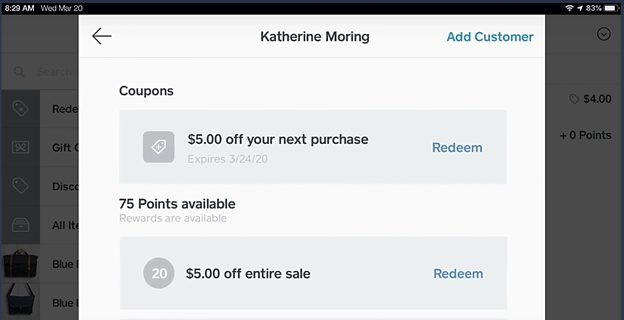 But, there's a caveat. It just so happens these campaign privileges are offered in the form of premium add-ons. The loyalty program tools, for instance, will cost you about $25 a month, while email marketing capabilities are unlocked after paying $15 a month.
Verdict – Square POS vs ShopKeep POS Customer Management (Winner: Square)
ShopKeep and Square POS systems have customer management tools that are capable of automatically capturing customer data, and then tracking the resultant variables over the long haul.
However, the dynamics between the two shift slightly when it comes to the consequent promotional campaigns. The ShopKeep POS system relies heavily on third-party integrations, while the Square POS system offers in-house email marketing and loyalty program add-ons.
ShopKeep vs Square – Pricing and Overall Features
ShopKeep Pricing
As we've mentioned, ShopKeep doesn't display a standard pricing schedule for everyone. You'll get your own custom quote based on your specific business needs and budget.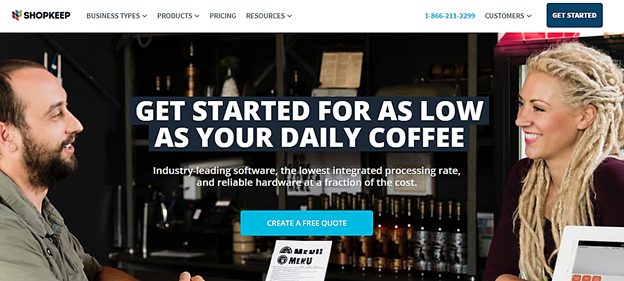 Nonetheless, there's a permanently free package available for beginners. Then, in the long run, you could upgrade further and take advantage of features like:
Comprehensive inventory management
Unlimited users
Unlimited inventory products
All payment types, including Apple Pay and EMV chip cards
24/7/365 customer support and customer service
ShopKeep register layout customization
Customer refunds
Retail store's discounts
Cashier and manager account privileges
Bulk product management
Order triggers
Employee tracking and performance analytics
Customer loyalty reward programs
Tracks your top-selling items, categories, and departments
Matrix inventory
Launch email marketing campaigns
Integrated gift cards
The Square POS system is available in four varying versions:
The original Square Point of Sale application, to begin with, won't cost you anything. It's permanently free even when you introduce additional registers to form a multi-store framework.

Some of the features you should expect include:
Inventory management
Employee management
Receipt printing
Kitchen ticket printing
Kitchen display
Tip and signature on paper receipts
Inventory tracking
Item library
Gift receipts
Full and partial refunds
Discounts based on percentage or fixed amount
Tips based on percentage or fixed amount
Offline card processing
Customizable receipts
Email and SMS receipts
The Square for Restaurants POS system costs $60 a month for a single register per location. Then if you choose to install additional registers, each one will subsequently cost your $40 per month.

Some of the features you should expect here include:
Coursing tools
Support for multiple menus
Customizable interface and floor plan
Tip management
Split or move tickets
Comps and voids
24/7 tech support and customer service on email and phone
Employee management
Automatic gratuity
Restaurant-optimized reports
The Square For Retail POS System will also cost you $60 a month for each location with a single register. Beyond that, additional registers will cost you $20 a month.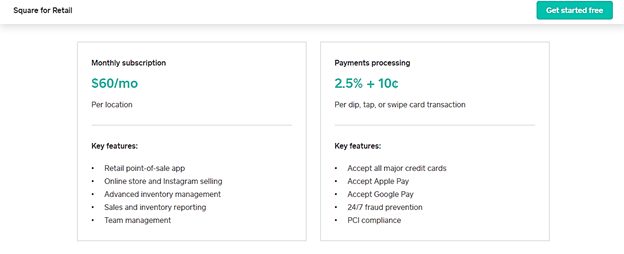 This allows you to capitalize on:
Customer notes
Multi-location stock management
Low-stock notifications
Barcode labels
Sales volume per employee.
Send purchase orders
Vendor management
Potential revenue with projected profit reports.
Inventory history
Uniform flat rate to accept all major credit cards, Google Pay, and Apple Pay.
The Square Appointments POS system is available in 3 varying packages, with each accommodating a specific number of users.
Single users are fortunate enough to use the POS system for free, while 2-5 users are charged $50 a month. The pricing then stretches to $90 per month for 6-10 users.

In the end, you get to use features like:
Free online booking site
Google Calendar syncing
Pre-payment processing
Website integration widget
Auto-populate services on site
Tips
Charging of no-show fees
Invoice sending
Inventory management
Appointment rescheduling
Customer database with notes
Reminder sending
Frequently Asked Questions
How much is ShopKeep software monthly?
ShopKeep currently offers 3 plans, the Basic Plan, Essential Plan, and Advanced Plan. The Basic Plan costs $69 per month for each register equipped with the POS solution. The Essential Plan costs $99 per month for each register.
Can I use Square without a reader?
No card reader necessary to accept mobile payments – You can use the Square mobile POS without a card reader to key in credit card numbers into your mobile device.
Is Square owned by Apple?
Apple has no relation with Square payment. Square payment system is a standalone money transfer system developed by Jack Dorsey.
Does ShopKeep integrate with Shopify?
Yes, there is a ShopKeep Shopify Integration. Shopify POS can now do a one-way integration with the ShopKeep software.
ShopKeep vs Square Software Service: Final Word
An interesting result we have here ladies and gentlemen.
Why is that so?
Well, admit it. On the face of it, most people would overwhelmingly vote for Square as the superior option of the two POS systems because it's a 'cool' and popular brand.
Fair enough. But, after comparing various ShopKeep vs Square variables, the final result proves otherwise. It turns out that the ShopKeep POS system provides better value than the Square POS system.
How's that?
As we've seen, ShopKeep is many things. But, while it boasts of quite a number of notable attributes, its biggest strength is the customization provision as you get started. It identifies the perfect combination of tools based on your specific business needs and budget.
In all fairness, that's an extremely rare privilege in not only the POS space but also the entire SaaS industry at large.
But, make no mistake. Square is not a weak opponent. It's also incredibly impressive, with a wide range of POS system solutions for different types of users.
However, the original Square POS software isn't as robust as ShopKeep. And although the corresponding Appointments, Retail, and Restaurant versions make up for most of the weaknesses, they still can't match up to ShopKeep's level of personalization.
Further Reading on Payments Tools: