Last Updated on May 2, 2023 by DMEditor
Looking to capture more leads? Find out if Leadformly is the right solution for you in our LeadFormly Review!
You're building an online business, and your conversation rates aren't as good as you hoped they would be.
No one is signing up for your newsletter or downloading your free content, and as such, growing your mailing list is a slow trot. If that sounds like you, or if you'd like to boost your conversion rates even higher, then Leadformly might be for you.
In short, Leadformly's a plugin you can install that helps you increase conversion rates by providing easily customizable form templates. These are designed to direct your customers towards your products or mailing list by using A/B tested and proven methods.
So, if you're thinking of adding a new tool to your marketing kit to boost conversions, Leadformly promises improved conversion rates of up to 212%. Sounds tempting, right?
If you're interested in what this software has to offer, continue reading. Below, you'll find an evaluation of Leadformly's features, pricing, and usability. Hopefully, this in-depth review will help you figure out whether this is the right asset for your business.
So let's not waste any more time dilly-dallying and jump straight in!
Bottom Line Up Front (TL;DR): In short, Leadformly could be the perfect solution to growing your mailing list and creating more targeted campaigns to better engage with your audience. Also, as we've already said, if you're not yet sure, go and give Leadformly a try for 14 days for free.
LeadFormly Review: Why Bother with Opt-in Forms?
If web forms aren't part of your digital marketing strategy yet, you might be wondering why it's worth investing in a marketing automation tool (lead form builder) that lets you create these assets. So before we look at Leadformly properly, let's first take a look at what web forms do best and why they interest digital marketers.
Put simply, website forms are versatile lead capture forms, but in general, they allow you to do the following:
Empower visitors to get to the info they're looking for faster. By quickly letting browsers choose from a list of numerous options, it's easier for them to contact you. This is ideal for you, as any obstruction could turn them away from your site for good. After all, no one has the time to spend ages trying to work out how to contact customer support!
Forms can also educate visitors about options they didn't even know they had. Like introducing a free webinar or downloadable eBook if they enter their name and email address.
Forms are trackable. Web forms work wonders for helping you gather customer feedback and then transforming it into quantifiable data. Thanks to forms, you can find out who your customer base is, why they come to your site, and which types of content they engage with the most. You can turn this info into an action plan to help you improve your website, content strategy, customer service, etc. You name it – the possibilities are seemingly endless.
Last but not least, forms allow you to conduct surveys. If you haven't defined your audience yet, web forms enable you to gather vital information for profiling your target customers. Are they predominantly small businesses or larger enterprises? What sort of products are they interested in? What do they need help with? Getting website visitors to fill out a quick survey while they're already on your site can unlock a treasure trove of information!
Leadformly is based on the fact that a web form should be situated at crucial points in the conversion funnel. This makes all the difference between converting passive visitors into valuable leads.
Even small improvements in this process can have dramatic results (e.g. landing page, contact form, custom field improvements), which works wonders for pushing your marketing strategy upstream.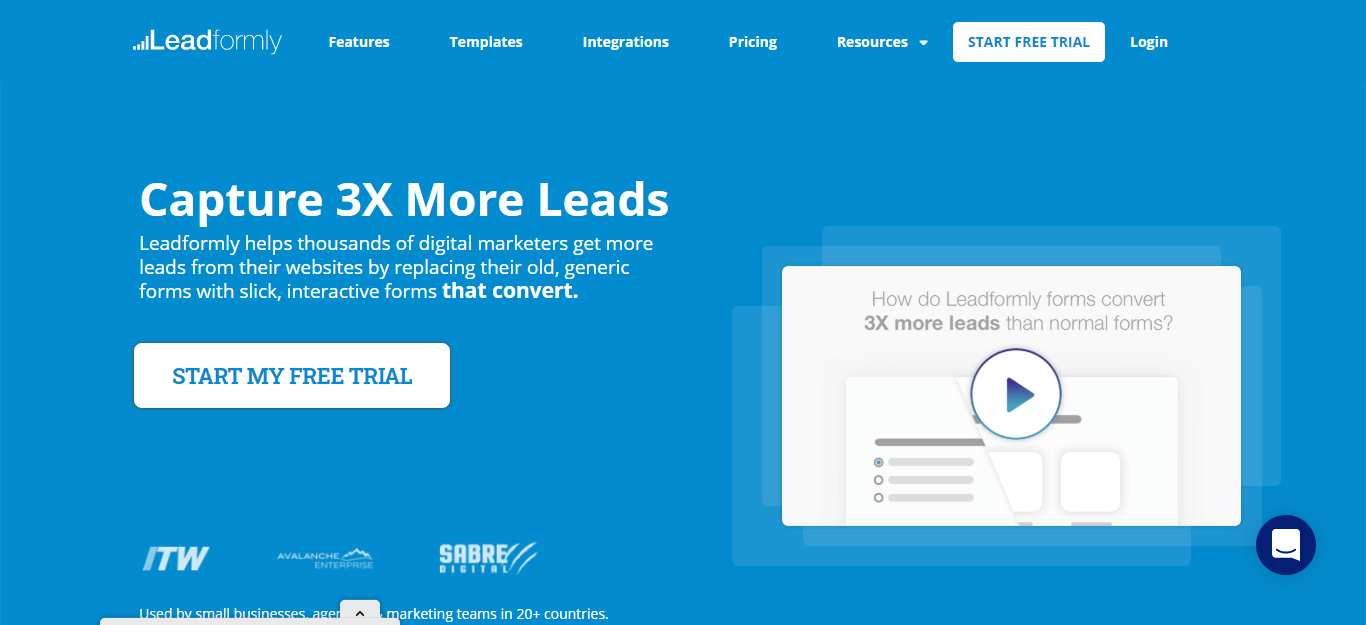 Leadformly Review: What Does it Do?
Leadformly was founded back in 2015 by Marcus Taylor in the United Kingdom. Companies already using Leadformy include Expedia, Techstars, Benetton Group, Express Capital, and SportsRecruits. That's amongst over 3000 other agencies, digital marketers, and companies. Pretty impressive, right?
In short, Leadformly is a tool that allows you to craft great looking web forms. As we've already alluded to, Leadformly's templates are explicitly designed to help convert leads. The software was created after years of A/B testing to determine which methods worked best for achieving the best conversion rates.
Leadformly provides several templates you can adjust and redesign for your use. You can also set triggers for when the form appears to browsers and specify which visitors you want the form exposed to.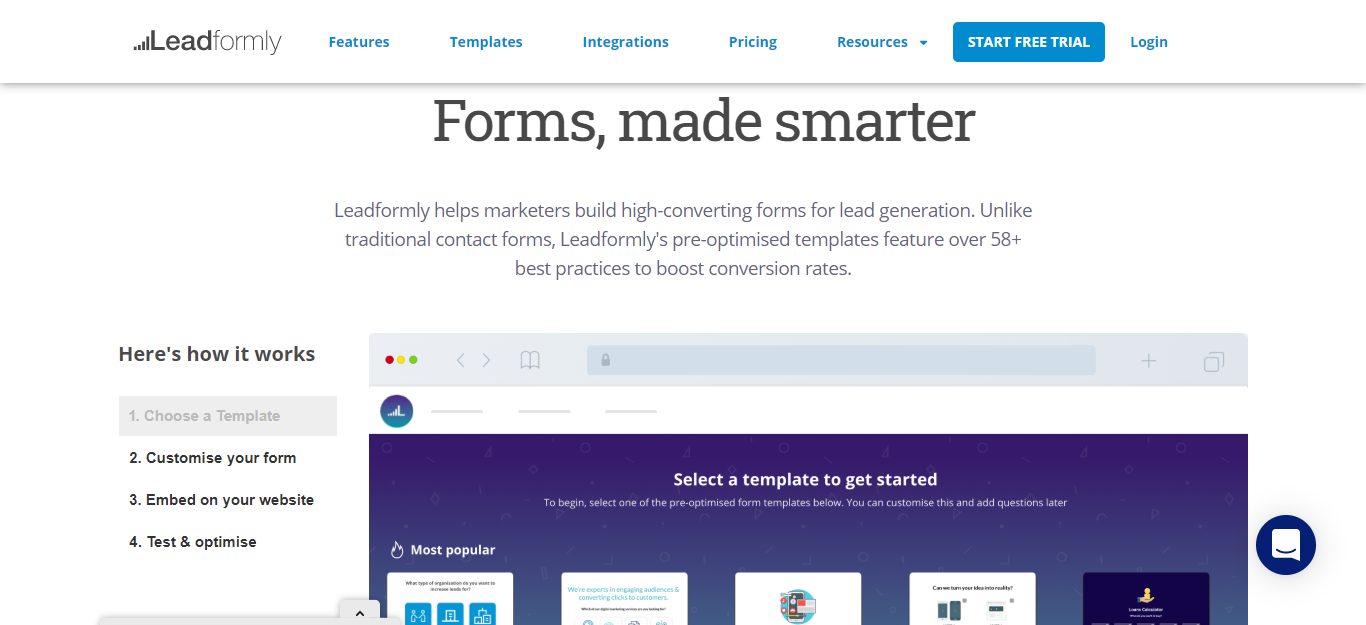 Who Should Use Leadformly?
Leadformly is ideal for B2B businesses and organizations of all sizes. It's especially beneficial for those with high-value leads, such as universities, agencies, or companies in the finance, insurance, or medical sectors.
Anyone interested in using Leadformly also needs to own their web domain, as Leadformly doesn't provide forms via a subdomain.
As we've already hinted at, this software claims to increase leads by up to two to three times! As such, it's best suited to those with a pre-established conversion rate. Namely, because this software on its own won't help to dive extra traffic when you're first starting out. Still, once you start making conversions, this tool can help you capture even more leads by further optimizing your strategy.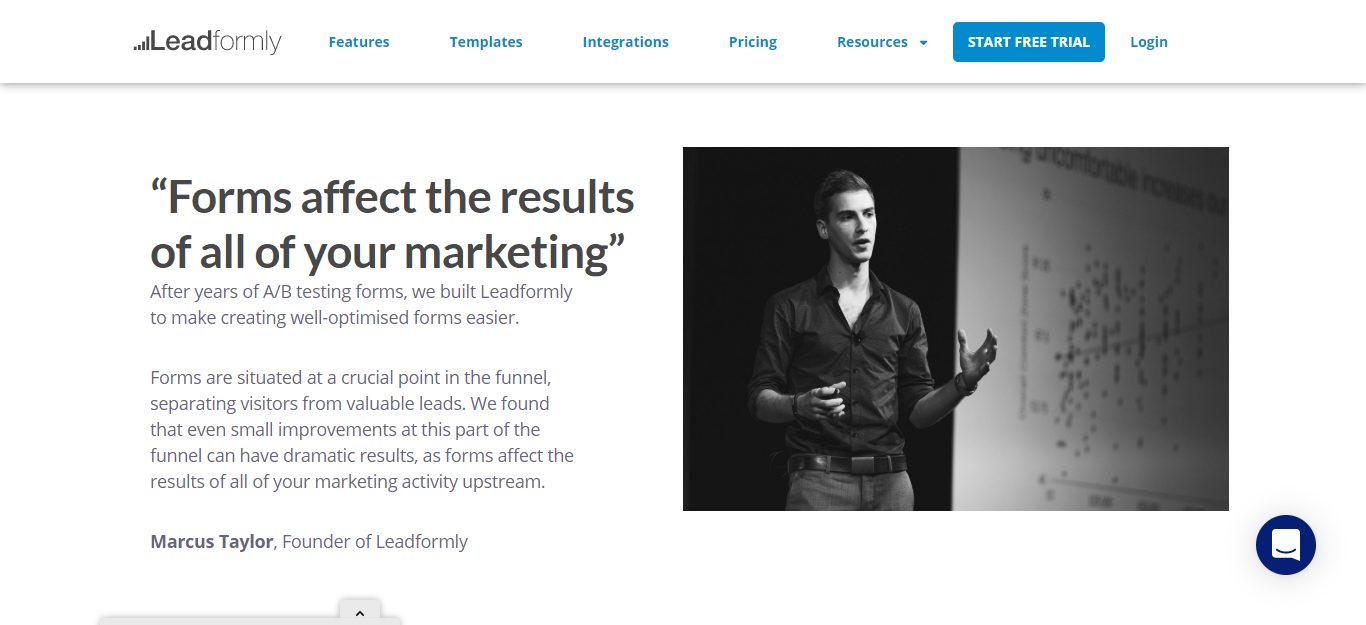 Leadformly Review: Most Notable Features
Leadformly's primary function is, of course, to create intelligent and interactive forms to capture high-quality leads. With this in mind, the software offers the following features that make the form building process both intuitive and successful.
15+ Question Types
These are optimized to improve conversions and to fuel you with inspiration as you first get started with webforms. These cover the most effective strategies for capturing leads. Namely, by asking your prospects purposeful questions that provide you with the information you need to build rapport with them.
Landing Page A/B Testing
Leadformly allows you to analyze the effect different variations of your forms have. When you tweak the content and appearance of your web forms, you can monitor the impact this has on your visitors, how they perform, and where they lead.
Thanks to this feature, you can easily optimize your forms to achieve better results and improve the overall user experience.
Honeypot Spam Reduction
Leadformly doesn't use Captchas to avoid spam, as this is proven to reduce leads significantly. Instead, the software utilizes an invisible 'honeypot' spam trap, which blocks spammers while providing a seamless experience for legitimate visitors.
Lead Segmentation
Leadformly furnishes you with pre-optimized lead capture form templates. This makes it way more straightforward for you and your team to segment visitors into different categories – Leadformly will even do this automatically for you! That way, you can tailor your messaging to provide a more personal email marketing experience for your prospects, and, of course, better nurture your list.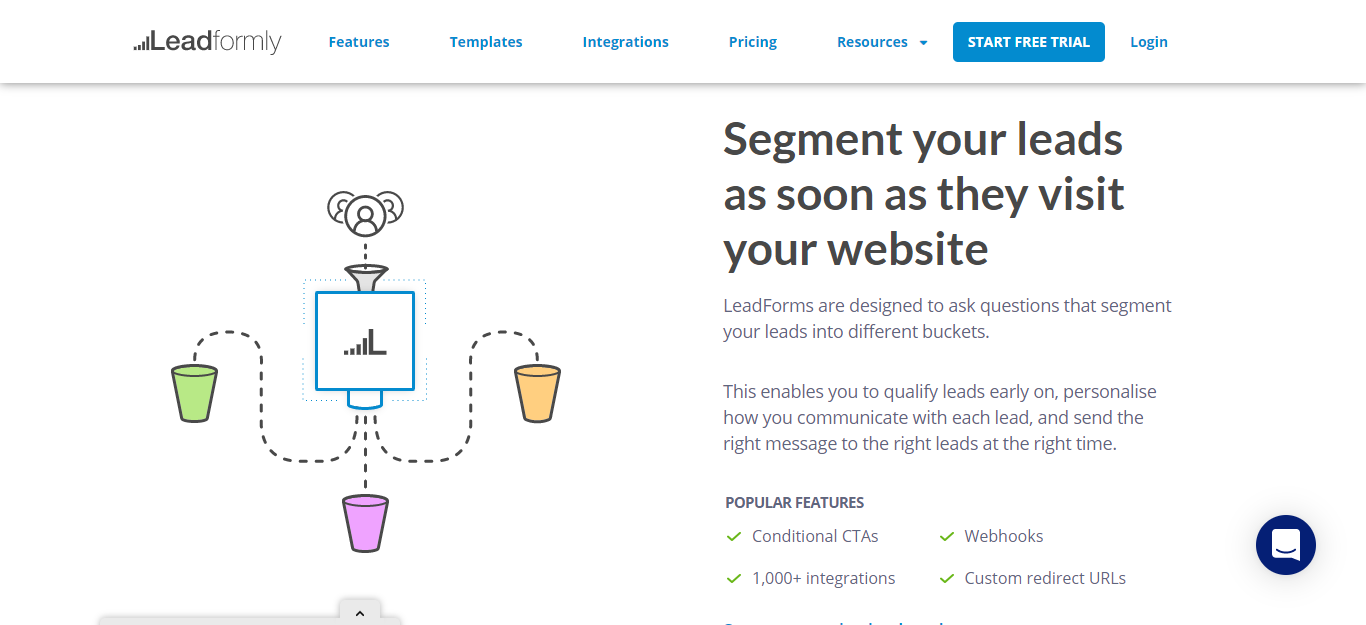 Validation and Intelligent Forms
To make sure you always get accurate information, Leadformly employs intelligent forms that automatically detect the visitor's location. Then they adjust the requests for phone numbers accordingly. This makes the process much easier for website visitors as they don't have to choose their country from a long list of names. Leadformly can also point out any accidental errors your prospects make while typing their phone numbers. This helps to ensure the data they've entered is accurate.
An Intuitive Drag and Drop Form Builder
For a seamless design experience, Leadformly provides an easy-to-use drag and drop form editor (online form builder). As you've probably already guessed, this is where you go to edit and design your forms. This follows modern editor standards, utilizing the same techniques leading website builders would provide you with. So, needless to say, the design process is nothing short of intuitive, and the array of customization options is very impressive.
Other Things to Note
Also, Leadformly is GDPR compliant, offers SSL encryption, allows access for multiple users, and provides access to an unlimited number of forms. How neat is that?!
Leadformly Integrations
No matter where you've settled down on the web, Leadformly's many integrations and HTML embedding allow you to harness the full automation power of the software you're already using.
The plugin is already available to install on WordPress, Squarespace, Magento, Shopify, Joomla, and Unbounce, amongst many other marketing platform tools. Via Html, you can also install Leadformly onto your custom website, no matter the platform.
Plus, Leadformly boasts over 1000 integrations to make your workflow with all your marketing tools that bit more manageable. Leadformly also partners with Zapier to ensure their software is compatible with hundreds of online services. This empowers Leadformly to quickly send info to virtually any CRM, email marketing, or marketing automation service (automation tools) on the market.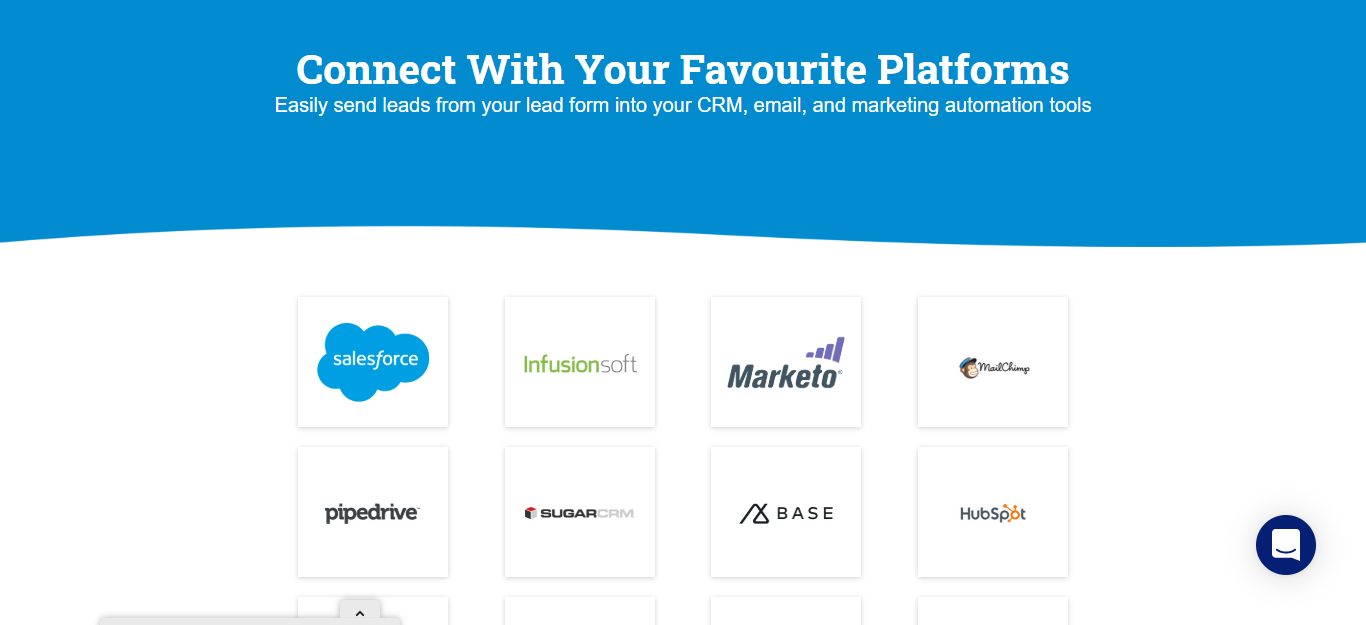 How does connecting with Zapier work?
It's easy! Once you've installed Leadformly, you simply connect it with your tools by building a 'zap.' This combines a trigger (like 'when a new lead arrives') and an action (like 'add a contact to my CRM' contact form). When the trigger is activated, Zapier automatically fulfills the consequential action with the information sent by Leadformly.
Simple, right?
This allows you to, for example, create a new row in Google Sheets for a new lead collected from the Leadformly lead generation tool, or add the prospect as a contact inside of an email marketing campaign. These are just a couple of examples, but the marketing automation tools are seemingly endless!
What Native Integrations Does Leadformly Offer?
Because of its Zapier Integration, the list is extensive, including many leading email marketing tuools and marketing automation platform brands. Some names worth mentioning include:
Salesforce
Marketo
ActiveCampaign
Mailchimp
HubSpot Marketing / Hubspot CRM
Slack
Drip
Calendly
Google Sheets
Google Analytics
Insightly
Microsoft Dynamics
ConvertKit
AWeber
Zoho forms
And many, many more suites for marketing campaigns and inbound marketing.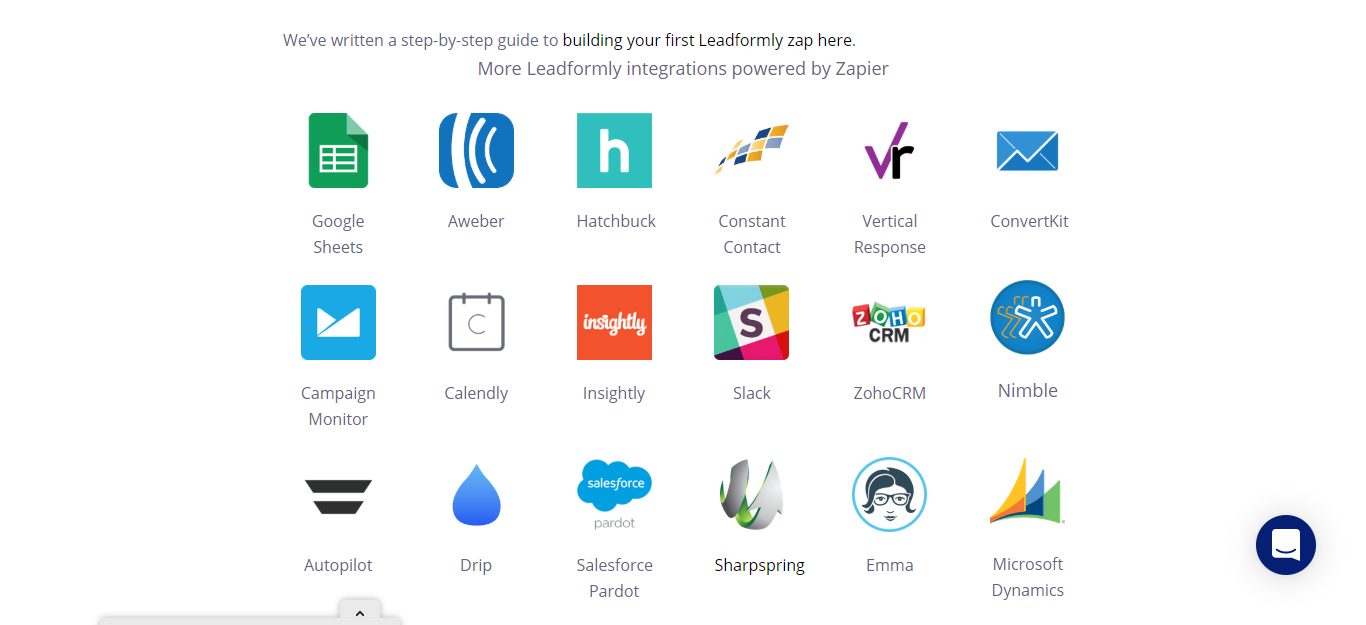 Templates
Leadformly provides an extensive set of optimized form templates, including lead gen for email templates. These are based on over 15 frequently used question types. All forms are expertly designed and exude professionalism. But, remain easily customizable, so reflecting your brand is a breeze. Within seconds can modify your form's colors, logo, and icons.
Leadformly's web forms also boast responsive design and are, of course, easy to edit using the drag-and-drop editor.
Some of the templates include:
Enquiry Forms
These are great for agencies and service providers. These forms help you narrow down the service your visitor is looking for while giving you a better insight into their background. As such, they work wonders for directing customers in the right direction while providing you with valuable information -win-win!
For example, you can ask questions like: "What type of organization are you," "How can we help you today," "which of these services are you interested in" etc. You get the idea.
Inquiry forms often provide visitors with two to five options to choose from, so bear that in mind as you start designing yours.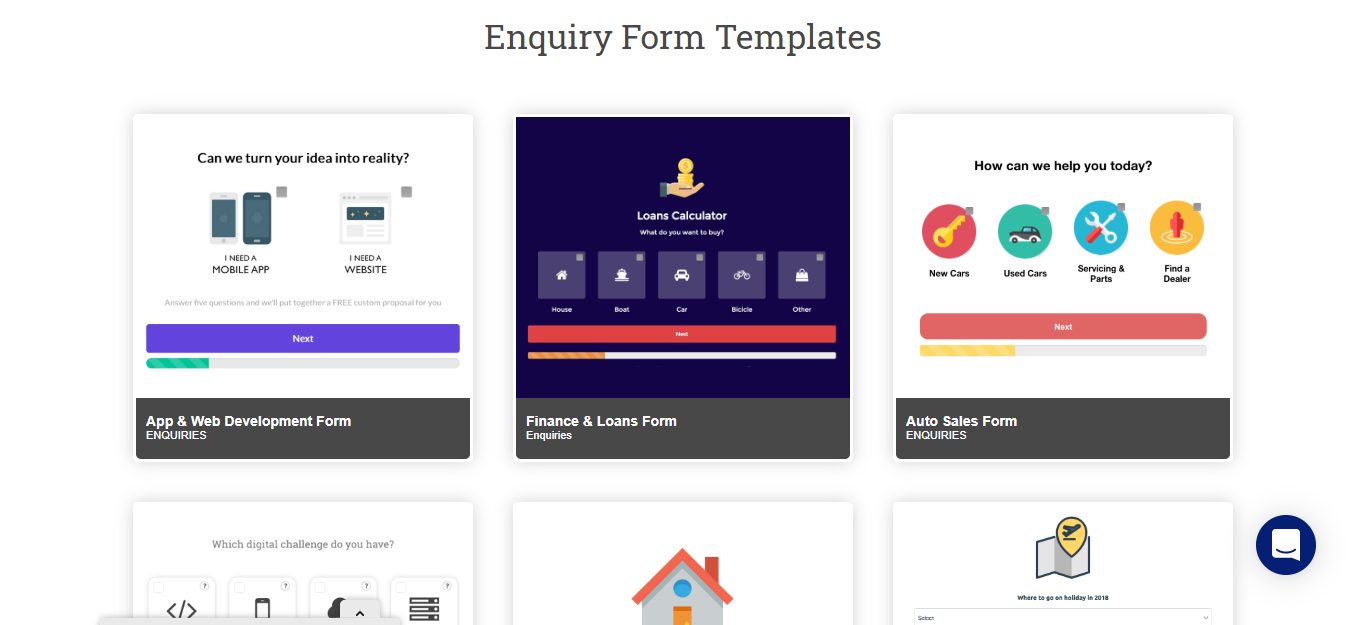 Lead Magnet Forms
These forms are designed to convert leads. They're used to gather email addresses and phone numbers by offering value. For instance, a free demo, a voucher code, discounts, or downloadable content. Designing give away content like this not only helps you to build your email list, but it simultaneously helps to establish your brand as an authority in your industry.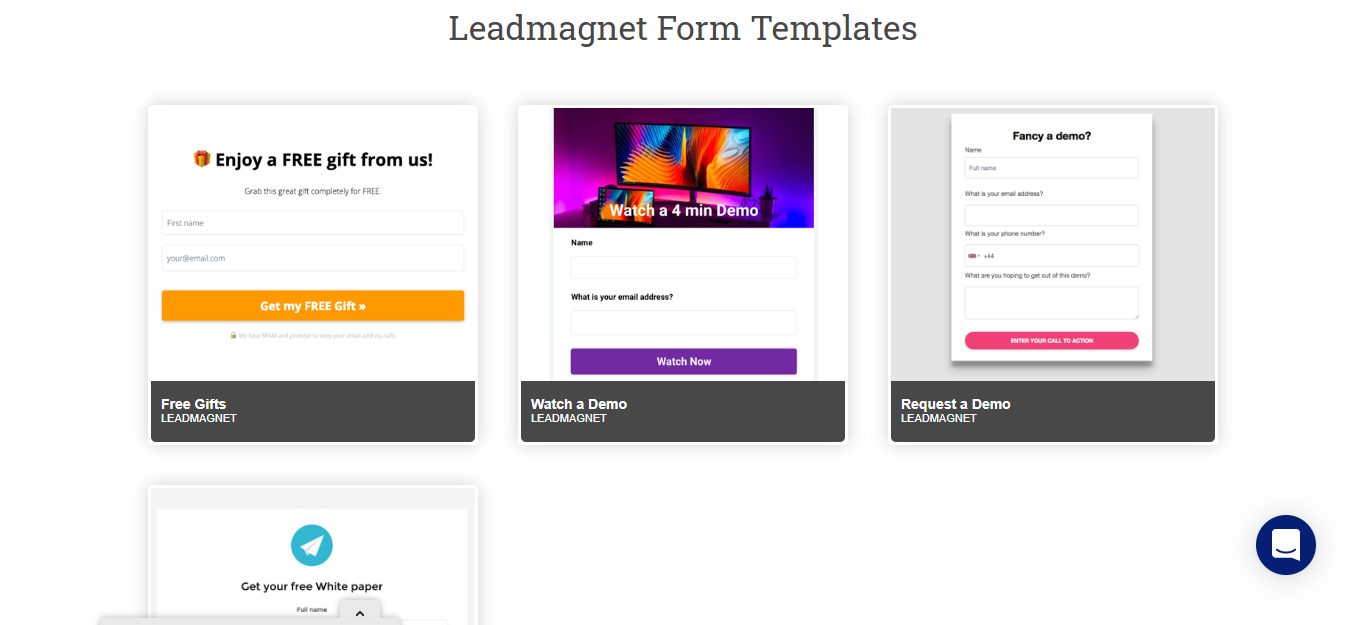 Now you know what to expect from Leadformly and how it could enhance your digital marketing strategy, let's take a look at what this software costs to use each month…
If you're unsure whether Leadformly is the right fit for you, try taking advantage of their 14 day trial for free. However, you have to enter your credit card for this service. So, if you don't like the software, don't forget to cancel before your free trial ends!
There's also a 30-day money-back guarantee. Also, if you're primarily interested in the look of the templates, these can be previewed online. So, you don't have to sign up for anything!
Below are the available pricing plans, with the cost of the software when you opt for upfront annual billing:
This basic plan enables you to gain up to 250 leads a month with an unlimited number of forms. The package also includes most functions such as hidden fields, the HTML editor, smart spam block, and conditional logic. For small or startup businesses, this plan covers all the essentials.
It even allows for two users and provides you with email notifications. All Zapier integrations are included, as are webhooks and analytics. Leadformly with this plan is also, of course, GDPR compliant and SSL encrypted.
This plan is intended for growing businesses that are seeing a rise in their visitors. With up to 1000 leads a month, this plan gives you access to everything the Essential program offers. But it also unlocks A/B testing and access for up to five users.
For established businesses with several team members on board. This plan allows you to store 25,000 leads a month and provides access for up to ten users. On top of email support, you'll also get 1-on-1 quick start calls and a dedicated customer success manager.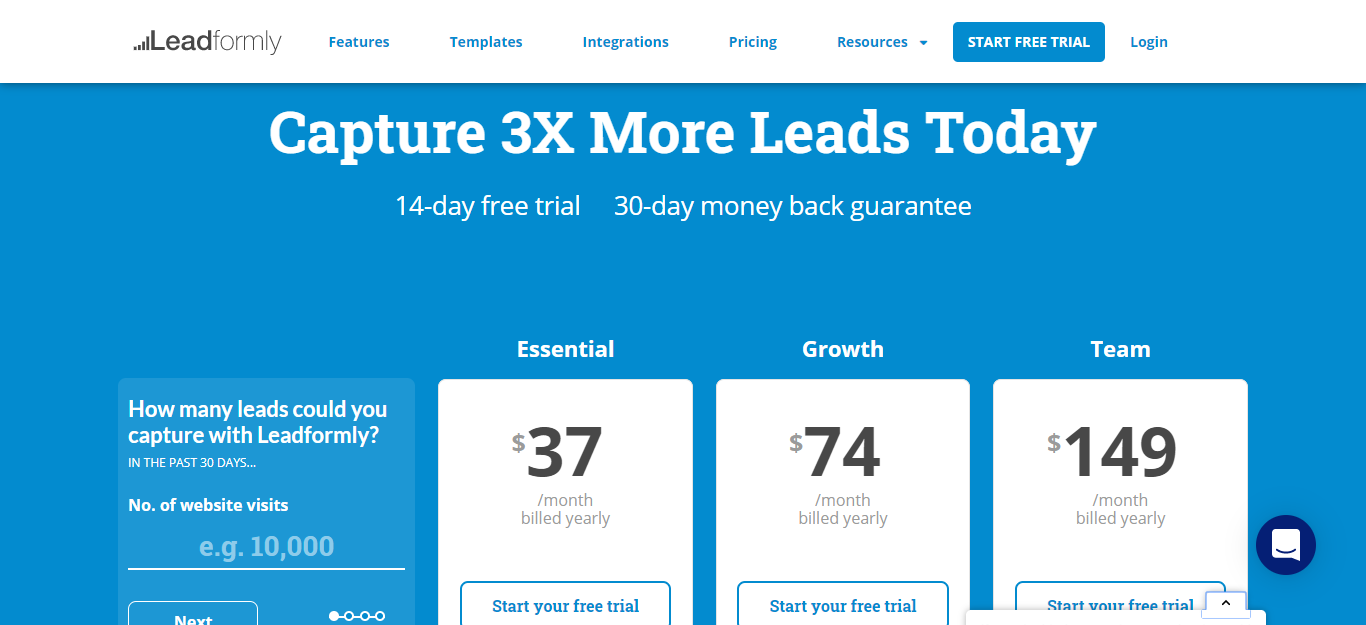 Leadformly's Customer Support
Leadformly offers 24/7 support. But some of their communication channels are only unlocked with the highest pricing plans, such as 1-on-1 quick start calls and a customer success manager. Nonetheless, customer service satisfaction is rated highly.
The Leadformly website also includes a complete set of tutorials and support documentation to help you get started with the software.
Their site also has a live chat widget. You can use this to keep track of any recent changes to the software, answers to frequently asked questions, and any app improvements.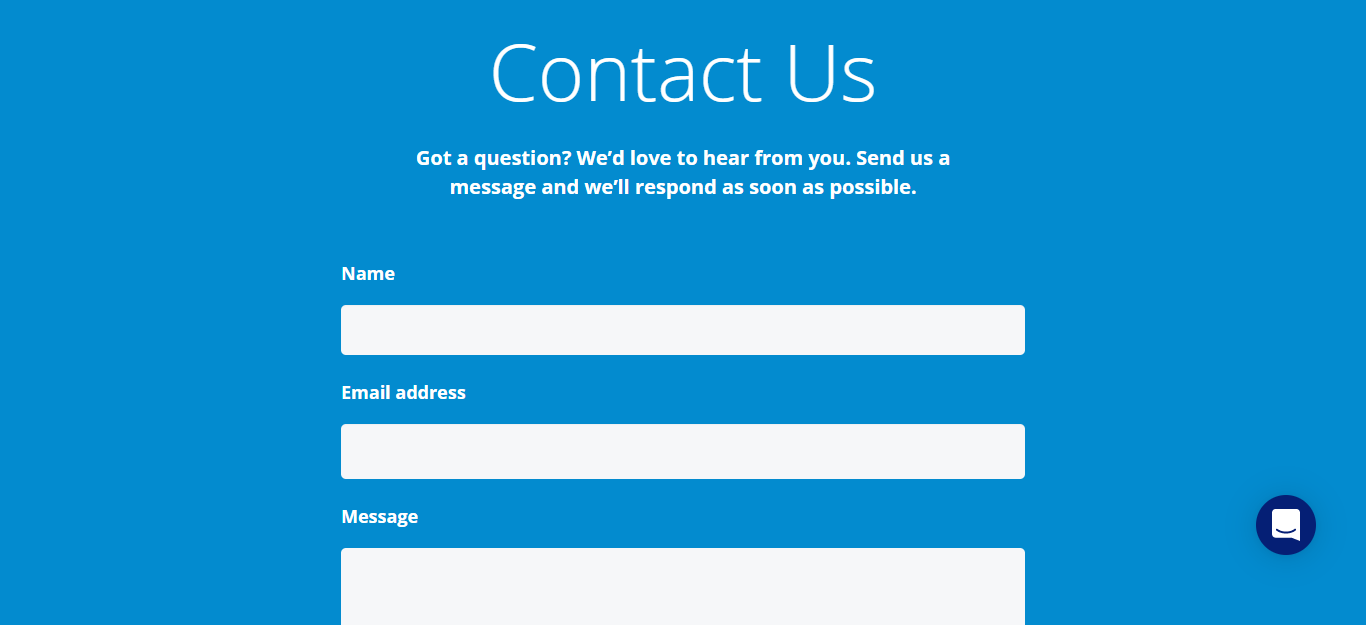 Leadformly Review: A Summary of the Pros and Cons
To finish our Leadformly review, let's take a quick look at some of the overall pros and cons of the software.
The Pros
It's easy to use and boasts an intuitive drag-and-drop editor. This makes Leadformly's web forms effortlessly customizable, so matching your website's branding is a breeze!
There are over 1000+ integrations
You can increase conversion rates by two to three times with Leadformly's conversion-optimized form templates
Leadformly's cost-Effective. Their results pay for the software in abundance. Plus, expanding your digital marketing strategy with a multitude of forms is cheap and doesn't require developer support.
Ideal for B2B companies or organizations with high-value leads
The Cons
There's no free plan
It's not suited for beginners with low or barely any conversions
It requires your own domain
Leadformly Review Frequently Asked Questions:
What is lead marketing?
Lead marketing consists of increasing the interest of potential customers to your business and eventually, turning them into actual buyers.
What is an email capture?
Email capture can be another strategy used by lead marketing. It consists of collecting email addresses legally to contact potential customers.
What are email leads?
Email leads refer to leads whose contact information was collected by an opt-in form and will continue to be used by an email channel and more platforms with permission marketing.
Is Leadformly the Right Tool for Increasing Your Conversions?
Now that we've taken an in-depth look at Leadformly's software, we hope you have a good idea of its features, functionality, and pricing plans.
Let's recap.
If you're a business with high value leads that's looking for fresh ways to increase conversions. Leadformly is a cost-effective way of doing that. You could double or even triple your conversion rates by using optimized forms that aren't yet part of your marketing strategy!
But, Leadformly might not be for you if you're just starting out and not yet seeing any conversions or visitors on your page. Or if you simply don't have the budget to invest in this software right now. If that sounds like you, you're better off focusing on growing your business. Then you can invest in tools like Leadformly later down the line to further boost your growth.
With so many integrations, Leadformly seamlessly connects with near-on any workflow and should be compatible with every marketing tool in your kit. That's pretty neat! This makes Leadformly a great tool to add to your existing digital marketing strategy – especially if you already have several interacting with one another.
Bottom Line: In short, Leadformly could be the perfect solution to growing your mailing list and creating more targeted campaigns to better engage with your audience.
Also, as we've already said, if you're not yet sure, go and give Leadformly a try for 14 days for free. After all, you have nothing to lose!
Have you ever used Leadformly before? If so, we'd love to hear about your experiences in the comments box below. Speak soon!
Further Reading on Opt-In Tools