Last Updated on July 13, 2023 by Ewen Finser
Main Differences Between GoToMeeting vs GoToWebinar
The main differences between GoToMeeting vs GoToWebinar are:
GoToMeeting is designed for meetings and conference calls, whereas GoToWebinar is catered toward providing functionality to deliver webinars
GoToMeeting is reasonably priced, whereas GoToWebinar more expensive
GoToMeeting allows you to use CallMe while communicating over PTSN, whereas GoToWebinar does not
GoToMeeting's features are tailored toward setting up live calls, whereas GoToWebinar's features are designed for creating and pre-recording webinars
GoToMeeting lets you host up to 150 attendees, whereas GoToWebinar enables you to host as much as 1,000 employees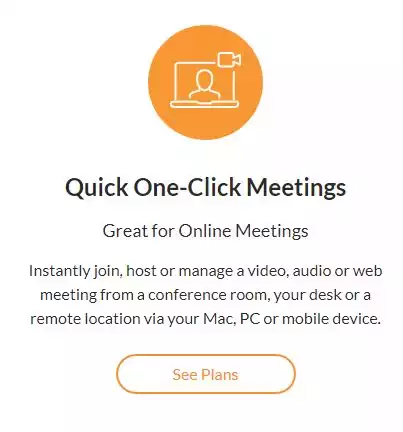 We Use GoToMeeting!
Personally, we use GoToMeeting for all official company business. Here's why. Seamless email integration + calendar management (we use GSuite), advanced control (who can speak, who prestents, etc), even syncs with project management tools!
Try Gotomeeting First
We earn a commission if you click this link and make a purchase at no additional cost to you.
GoToMeeting and GoToWebinar help us communicate and collaborate remotely. In the age of Information Technology, such software has become paramount with so many remote workers, not to mention business partnerships overseas.
Remote working is so popular because it can help businesses cut costs. A whopping one in five chief financial officers said that they're planning to keep people working from home in some capacity to save money, post COVID-19 lockdown. And it makes sense, too.
If you've got less employees in the office, then you don't need as big an office space. You can move to a new, smaller location that's going to be cheaper to rent or whatever it is that you do. Also, you'll be able to cut back on overheads.
It's even a win for your employees. According to studies (study 1/study 2) cited in an article by the Brookings Institute, workers are more likely to accept lower wages if they have the option to work from home. A testament to just how much some employees enjoy working from home.
Granted these aren't all 100% remote working arrangements, but the point remains the same. People like working from home and it could potentially save your business some money. So, why not take advantage of these facts and shift your business operations out of the traditional office setting and into a remote or partially remote working environment?
If your answer to that question is a resounding "let's do it", then you'll need software to hold conferences, meetings, deliver presentations and webinars. GoToMeeting and GoToWebinar provide such functionality.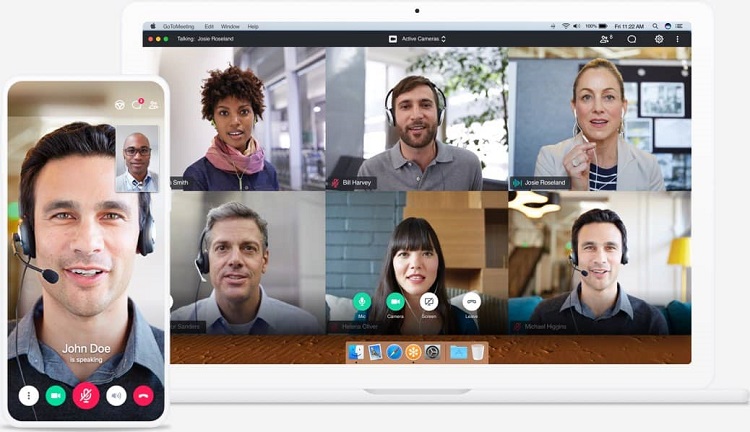 GoToMeeting vs GoToWebinar: What is GoToMeeting?
GoToMeeting is a piece of software created by LogMeIn, that enables you to connect and communicate with people remotely. GoToMeeting is used by many reputable organizations including the likes of Marketo, Inside Sales.com, and Make A Wish.
Its software enables up to 250 participants to communicate and collaborate effectively in an online setting. It's a simple and intuitive communication platform that allows you to get in touch with people wherever they are in the world, supporting the attendance of up to 150 participants. GoToMeeting's software hosts over 77 million meetings annually, claiming to have a 99.9% uptime.
GoToMeeting vs GoToWebinar: What is GoToWebinar?
GoToWebinar describes itself as "the leader in online events". Like GoToMeeting, it enables people to communicate virtually. However, unlike GoToMeeting, it's focused on hosting webinars (as the name might suggest!).
On top of providing functionality to host webinars, it offers features to allow teams to work remotely. GoToWebinar helps tech-savvy and non-tech-savvy business owners host webinars by providing intuitive presentation tools.
GoToWebinar holds 2.7 million webinars per year, and 50,000 customers are reported to trust GoToWebinar more than any of its competitors. The platform is endorsed by the likes of Unbounce, mention, and Gainsight.
Who is GoToMeeting For?
GoToMeeting is for anyone in need of a solution to hosting professional online meetings and conferences. You can use it to talk to colleagues, outline a brief to a freelancer, or check-in on a client. If you need to get in touch with someone, then GoToMeeting lets you do exactly that.
Who is GoToWebinar For?
GoToWebinar is for anyone in need of a solution to host a webinar or presentation. Regardless of whether you're a seasoned veteran who knows what they're doing or a panicking newbie, GoToWebinar caters to all levels.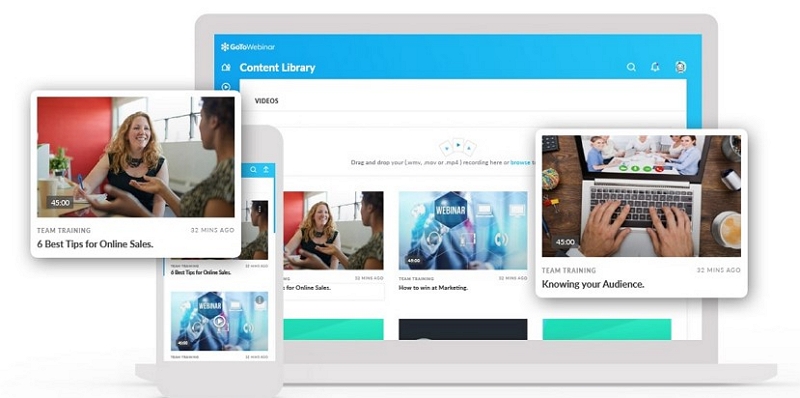 GoToMeeting vs GoToWebinar: Features
Audio
GoToMeeting offers one-click recording which enables you to, well, record your meetings. It's a handy feature if someone misses a meeting due to life events or timezone constraints. GoToWebinar offers the same functionality, except it also lets you prerecord webinars in a manner that simulates a live setting.
Again, it's a very useful feature for marketing your brand and communicating across time zones, however, it's even more useful for people who tend to get nervous when speaking. You can just simply record the webinar as many times as you like until you're happy with the end product. GoToWebinar also offers custom responses, which saves you having to repeatedly answer generic questions regarding price and whatnot.
Both, GoToMeeting and GoToWebinar provide built-in audio, which lets you choose between VoIP and toll-based options. You can also add a toll-free option, which in short enables people to attend your meeting for free. It's a nice touch when chatting with prospects. You'll be provided with a toll-free number to give to a participant. These numbers are available in over 50 countries, which may prove to be too scant for your business.
There's one notable difference between these two LogMeIn solutions. GoToMeeting allows you to use CallMe when communicating over PTSN, whereas GoToWebinar does not. CallMe enables GoToMeeting to dial an attendees number and automatically connect them to a meeting (audio only). This feature is great for organizing meetings so that people can connect anytime.
Overall, the audio available to use with both tools is fairly similar. GoToWebinar is just more tailored toward preparing and pre-recording audio, while GoToMeeting is better suited to controlling audio in real-time.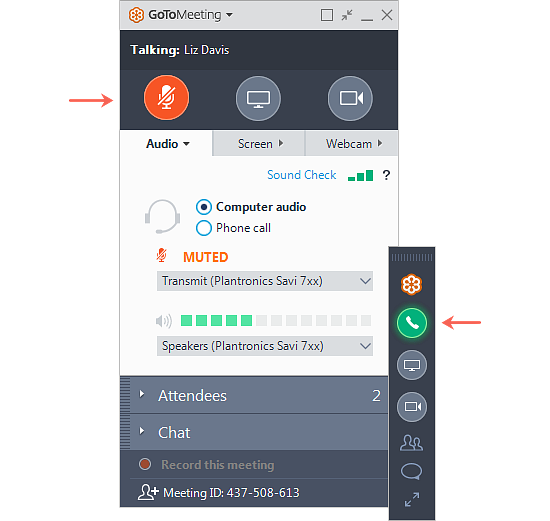 Security
GoToMeeting uses "robust encryption mechanisms" and "protocols" to ensure that none of the data stored and submitted between LogMeIn and its systems is leaked. Seen as GoToWebinar is also created by LogMeIn, you can take it for granted the same security applies. For those curious, this encryption is realized through SSL and 128 bit AES.
GoToMeeting and GoToWebinar are compliant with the following:
TLS Protocol
AES
AES Cipher Suites for TLS
RSA
SHA-2
HMAC-SHA-2
Pseudo-Random Generation
Click here to find out everything you need to know about GoToMeeting and GoToWebinar's security.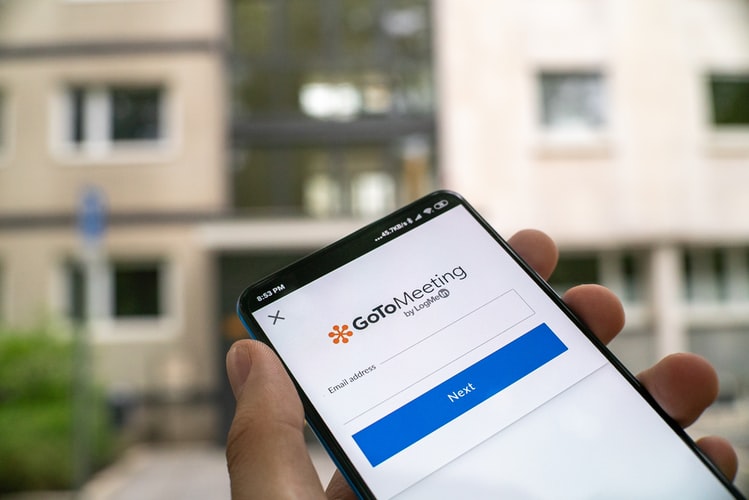 Meetings with GoToMeeting
GoToMeeting enables you to edit and customize invitations you send to participants, which is helpful if you're trying to stamp your brand on an invite.
You're able to set your default audio settings for meetings. You can choose between VoIP and long-distance numbers. One useful aspect of GoToMeeting's functionality was the ability to set preferred countries, which was useful to find certain participants of notice once they'd joined the session.
Also, if you want to use Call Me or Toll-free numbers, you need to go to "Admin Settings" and activate them. You do not have to do this with "built-in audio" options.
You can monitor who is able to see your meeting content to anyone in possession of the meeting's URL, or those hand-picked by you to take part. It's a great way to ensure meeting transcripts and notes remain private.
Finally, you can enable screen sharing. This feature allows other participants to take control of the main screen and pitch ideas. All participants will be able to see that person's screen instead of yours.
This a new feature, at the time of writing. Unless an organizer is taking part in the meeting and screen saving has been turned on, participants cannot screen share.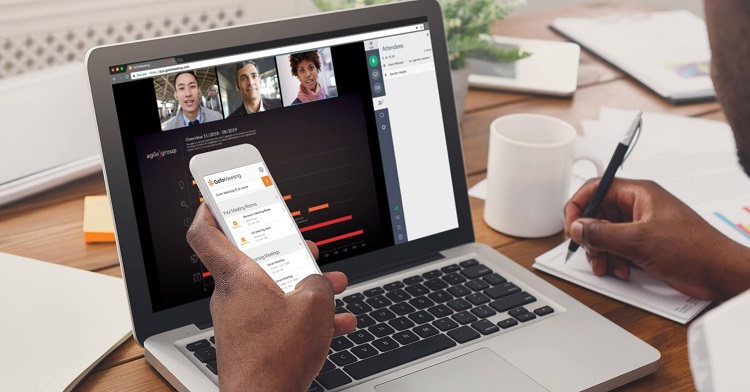 Webinars with GoToWebinar
When you sign up to GoToWebinar's free trial you'll be asked to input your sector (marketing, finance, etc.). Then, you'll be taken to the main GoToWebinar dashboard and asked your primary goal. You'll also be asked when your next webinar is. This information helps GoToWebinar provide some "benchmark" data to help you get started.
To make your webinars more engaging GoToWebinar enables you to add polls, surveys, and videos. These are all useful when it comes to gauging how well your webinar is doing in terms of getting your message across and making sure people aren't falling asleep. The engagement dashboard is another great tool to help gauge engagement.
GoToWebinar lets you integrate with other apps so that you can manage all your data from one system. Speaking of data, this webinar creation software also enables you to view attendee reports, event analytics, as well as source tracking.
GoToWebinar's functionality supports up to 1,000 participants in your webinar. The app provides you with tools to successfully promote and brand your webinars. For instance, you can place a logo on your registration page and carefully segment people who sign up to your webinars to help run your business in a smarter fashion.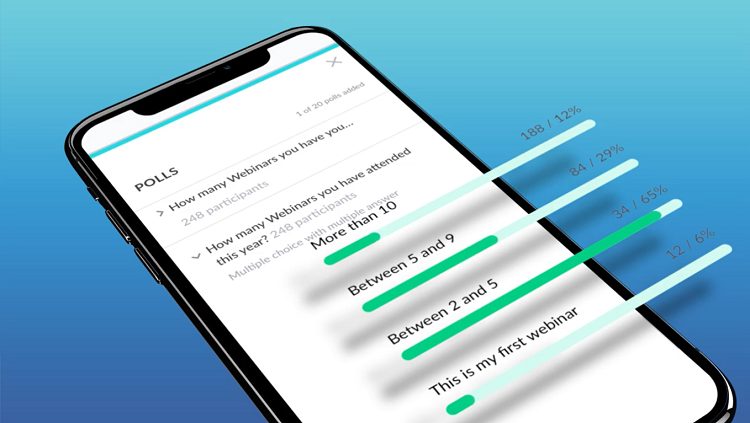 GoToMeeting vs GoToWebinar: Pricing
GoToMeeting Pricing
GoToMeeting Free – Free
Professional – $12 Organiser/Month
Business – $16 Organiser/Month
Enterprise – Call For a Quote.
GoToWebinar Pricing
Lite – $49 Organisation/Month
Standard – $99 Organisation/Month
Pro – $199 Organisation/Month
Enterprise – $399 Organisation/Month
Note: Prices for both GoToMeeting and GoToWebinar are reflective of the option to pay annually. Should you choose to pay on a monthly basis it'll cost more. GoToMeeting will cost up to 16% more, while GoToWebinar will cost as much as 23% more.
GoToMeeting vs GoToWebinar: Pros and Cons
GoToMeeting Pros
Easy-to-use. The dashboard is clutter-free and the sidebar makes it easy to find what you're looking for. It's easy to "create a meeting", with the option clearly visible from the dashboard as you log in. You've got the option to customize your meeting invitations, which can help stamp your brand if you're pitching a business proposition.
It's easy to invite people to join meetings. You just provide the URL of your meeting room as well as the access code to enable participants to join the meeting. If you're calling in you'll be provided with a number, then asked to enter the same access code as for URL participants.
There's lots of audio option, which is important when holding meetings remotely.
You can enable or disable interviewees from screen sharing. This feature is useful when you're trying to convey an important message and need all eyes and ears focused firmly on your screen and message.
GoToMeeting Cons
The audio can sometimes be a little bit off when you join via phone call. There's no solution either apart from leaving the meeting and rejoining.
An alert followed by a noise to signal a mic has been muted would be great, just for clarity so that everyone is on the same page when that mic is unmuted.
The option to call into a meeting is great, however, if you're driving or traveling it can be tough to enter the necessary admission codes. You could provide the counter-argument that a true professional should have allotted time in advance of the meeting to do so, but that doesn't make sense because if they had that time in the first place then not just use a laptop as opposed to calling in. So, while the codes are excellent from the perspective of security, they can defeat the purpose of enabling people to join a meeting on a call while out and about.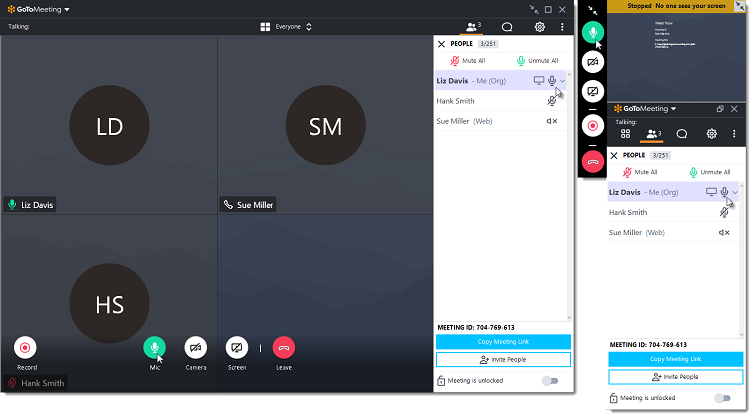 GoToWebinar Pros
It offers functionality that lets you do pretty much whatever you want. It offers tutorials and provides templates so that you can complete tasks easily. You'll be able to create a webinar and launch it extremely fast.
Pricing is quite affordable compared to some of its competitors.
GoToWebinar offers a great bunch of tools that let you create engaging webinars. It allows for multiple presenters to speak during the webinar. A private chat is available for quick and safe communication. You can also take advantage of polls and exit surveys to get feedback on your webinar's performance.
It's reliable, so you don't have to worry about the software crashing or malfunctioning during a make or break webinar. Although, the odd online reviewer on sites like GetApp and TrustRadius have reported problems during webinars. Again, make use of the free trial and come up with your own pros and cons.
GoToWebinar Cons
Some online reviewers felt that GoToWebinar was not intuitive. Truthfully, I didn't have a problem figuring out how to use its interface. Although it did feel a little bit slow or, perhaps, outdated. Anyway, you'd be best advised to take advantage of GoToWebinar's free trial. That way, you'll be able to see for yourself.
Certainly doesn't come with as much built-in functionality as some of its competitors.
It can be a little bit annoying when setting up webinars, with the customization of invitations limited to merely providing a branding logo. Also, recorded video quality can be laggy. It certainly detracts from the quality of the webinar.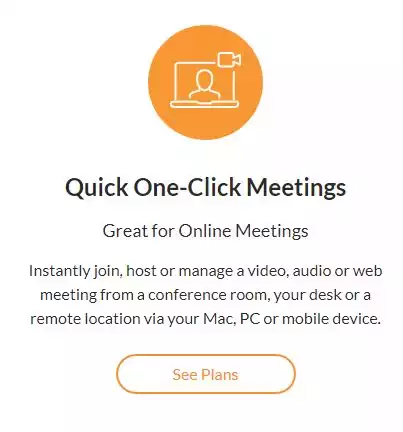 We Use GoToMeeting!
Personally, we use GoToMeeting for all official company business. Here's why. Seamless email integration + calendar management (we use GSuite), advanced control (who can speak, who prestents, etc), even syncs with project management tools!
Try Gotomeeting First
We earn a commission if you click this link and make a purchase at no additional cost to you.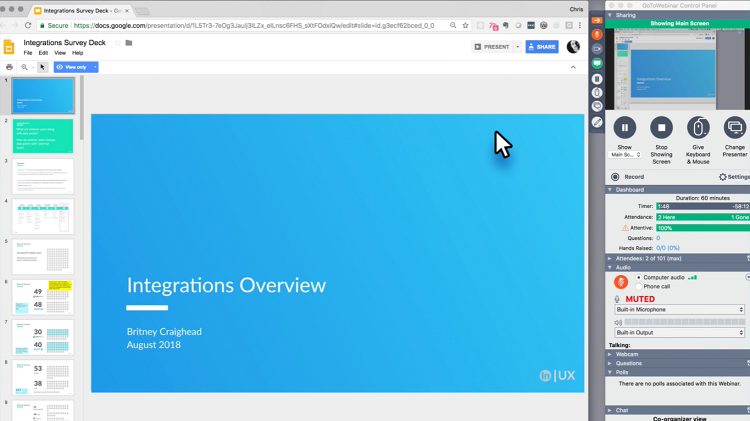 GoToMeeting vs GoToWebinar: Frequently Asked Questions
Is GoToMeeting More Secure Than Zoom?
Yes, Zoom is super user-friendly but doesn't offer much in the way of security. Around a year ago the platform came in for intense criticism from users and businesses alike. GoToMeeting offers a plethora of codes and lock options, so you can rest assured your privacy won't be invaded.
CLICK HERE to check out our "Zooom vs GoToMeeting" comparison article.
Is GoToMeeting HIPAA compliant?
Yes, but you've got to go through its settings to set it up to be so. You'll have to tamper with access controls, transmission security, and more.
Is GoToMeeting Free?
Yes, GoToMeeting offers a free plan, It's basic, but may prove useful for small business owners. It lets you hold a meeting with a max of three attendees. It also limits the meeting length to 40 minutes.
Is GoToWebinar the Same as GoToMeeting?
No, although both platforms were created by LogMeIn. GoToMeeting is suited to meetings and conference calls, whereas GoToWebinars is suited to hosting webinars and giving presentations. Both platforms have the tools to match their respective purposes.
How Secure is GoToWebinar?
Both GoToWebinar and GoToMeeting are secure. They are protected using SSL and possess 128 bit AES encryption. It'd take around one billion years to crack such high-level encryption, so you should be quite safe.
GoToMeeting vs GoToWebinar: Buying Decision
If you're looking to host a meeting or a conference and need functionality to do so, then buy GoToMeeting. If you're looking to host a webinar, then buy GoToWebinar because it'll provide you with all the functionality you'll need.
Additional Research: