Last Updated on April 22, 2023 by Ewen Finser
I'm making a big girl move–buying my first property! While this is such an exciting time, I also have a lot of responsibilities on my plate.
One of them is signing pages and pages of documents. Fortunately, my realtor and lender use digital signing programs, so I don't have to go back and forth between different offices.
I'm mainly using DocuSign to sign all of this necessary paperwork. I've also used this program for different gigs I worked. But I also used signNow before and have had good experiences as a straightforward electronic signature solution.
I decided to try both platforms to see which one I recommend and if I would use either platform again.
Bottom Line Up Front Summary: I recommend signNow unless you're in a niche industry such as real estate. signNow's interface is user-friendly, and it's simple to make any document signable. DocuSign's backend was clunky and difficult to figure out. DocuSign does offer solutions for niche industries, especially in the real estate field. Otherwise, I recommend signNow.
Main Differences Between DocuSign vs signNow
The main differences between DocuSign vs signNow are:
signNow offers more teams in its introductory plan, whereas DocuSign is limited
DocuSign offers 350 integrations, whereas signNow offers 270 integrations
DocuSign offers a desktop and mobile app, whereas signNow only offers a mobile app
DocuSign offers live chat, whereas signNow doesn't offer this support method
Better UX + Better Pricing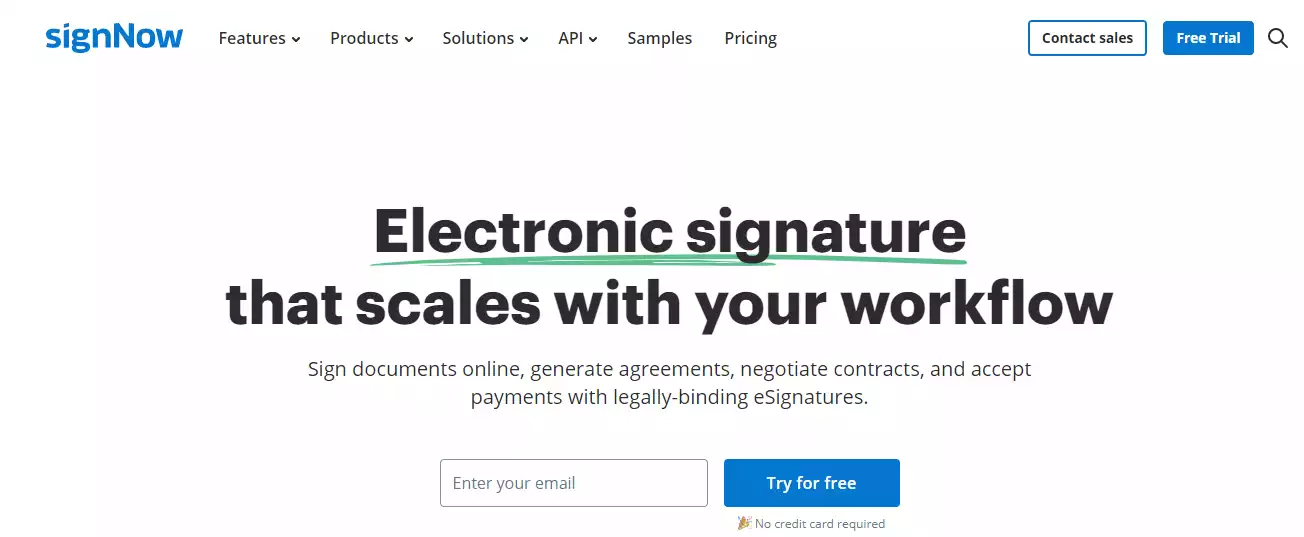 Why Go with SignNow?
If you haven't evaluated your document signing software recently, SignNow is worth a look! Easier to use, intuitive workflows, and better pricing mean it's time to dump that old document signing software for the new upstart.
Try SignNow…NOW!
We earn a commission if you click this link and make a purchase at no additional cost to you.
DocuSign Features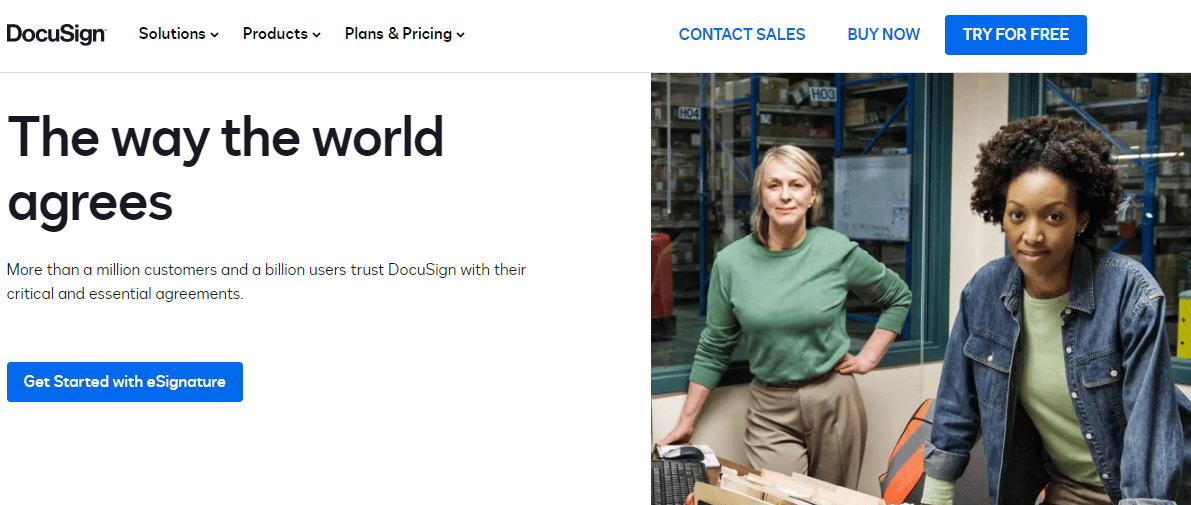 DocuSign is one of the most recognizable signing apps out there.
On this platform, you can create your personalized signature that you will use for your documents and others. You can send documents with an account, but you don't need a DocuSign account to receive contracts and documents.
The features you get from DocuSign depend on your plan. If you choose their Personal plan, you're only limited to five documents a month. But if you go up to the next plan (Standard), you have unlimited documents.
Document Signing
The first thing you'll want to do is create your signature. Since I used DocuSign previously, I already have a signature. I figured I would create another one to walk you through the process.
On the DocuSign backend, click your initials and then click "Manage Profile." On the left sidebar, click "Signatures." First, you'll type your full name and your initials. Then, you'll create your signature. You have a few options when creating a signature:
Choose a pre-made one
Draw
Upload
I decided to draw one so it looks more authentic. However, I have chosen the pre-made ones when I was in a hurry. You can draw your signature on your desktop using your cursor or on DocuSign's mobile app using your fingertip.
Once you're done, save your signature.
If you want to know more about how to sign a contract, check out the following video:
Templates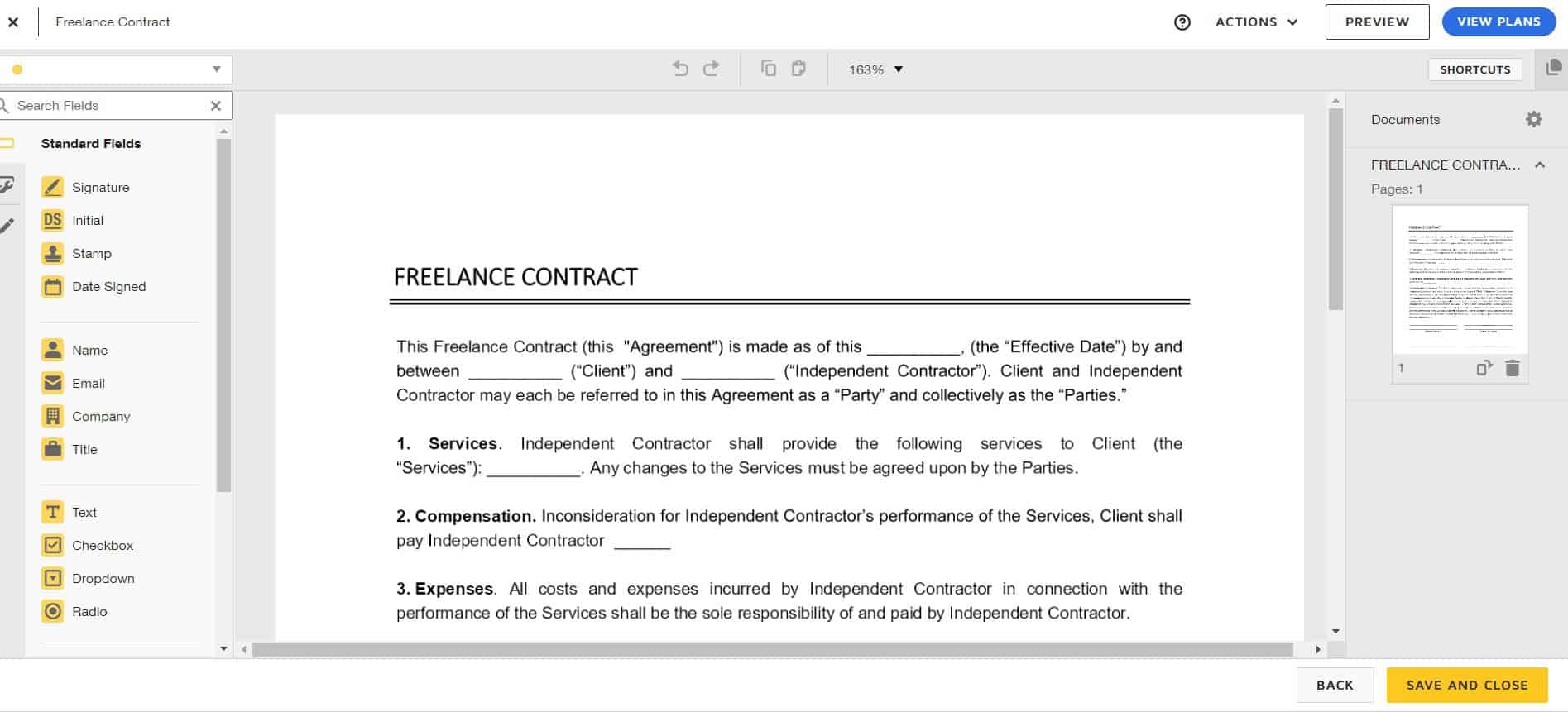 When I used DocuSign, I was on the receiving end. Now that I have an account, I can make my documents! Even though I'm a writer, I'm not good at document design. So I'm creating my first document with the Templates tool.
For the sake of this review, I created a fake freelance contract. You can add recipients and a message, but I went right into the template editor. On the editor, you can add your signature, initials, a stamp icon, your company name and title, and some other editing tools, such as drawings.
However, I'm not as impressed with DocuSign's template editor as I expected. It's very basic, and I thought there would be more room for customization. I will note that I'm only using the free 30-day trial. Starting with the Standard plan, you can use customized branding in your documents. I researched these features and see you can change the color scheme, add images, and include your business logo.
Solutions for Niche Businesses
A cool DocuSign feature is all of the solutions they offer niche businesses. For example, DocuSign is the official eSignature provider for the National Association of Realtors (NAR), offering transaction management for realtors.
DocuSign offers niche solutions for these businesses:
Conditional Fields
Something I like about DocuSign is the option to create conditional fields. This is when extra data shows up after the signee completes a certain action.
Let's say you're using DocuSign for job applications. You can present the applicant with a query, such as "Are You Currently Employed?" with a "Yes" or "No" option. If the applicant checks "Yes," another box will appear where they can enter their employment status. If they check "No," they move to the next entry.
You can learn more about conditional fields on the DocuSign website. I'm trying to find out how to add conditional fields to my backend, but I'm struggling here. I think you can only add conditional fields on the advanced plans.
Verdict: Creating a signature is easy on DocuSign, and they offer many solutions for niche businesses. However, their document creation tools and templates are difficult to use, and I'm limited on features with my free trial.
DocuSign Pros
Includes a mobile and desktop app
Unlimited signings and templates for advanced plans
Reliable service
Effective at signing documents
Many features
Offers solutions for niche businesses
DocuSign Cons
Expensive
You don't get many features in the first pricing plan
DocuSign Pricing
The price you pay for DocuSign depends on the plan you choose. These plans range in price from $10/month to $40/month, and more if you need an enterprise solution.
Plans
Here are the different plans that DocuSign offers and the different prices:
Personal: $10/month
Standard: $25/month
Business Pro: $40/month
Enterprise: contact sales
Free Trial
DocuSign comes with a free 30-day free trial. But I'm having some issues signing up.
DocuSign makes the process easy enough on their website. You click the "Try For Free" button on the right. You fill out the required fields, and DocuSign will send you an email for signature request. But when I clicked the link in the email, the website wants me to enter my password. Here's the problem: I haven't even created a password yet!
Fortunately, I went to the "forgot password" button and was able to enter a password. But I'm taking off some points from DocuSign.
Verdict: DocuSign's prices are slightly higher than the competition, but there are flexible plan options for businesses of all sizes. Even though their free trial period lasts a long time, there were some slight technical issues when accessing my account.
signNow Features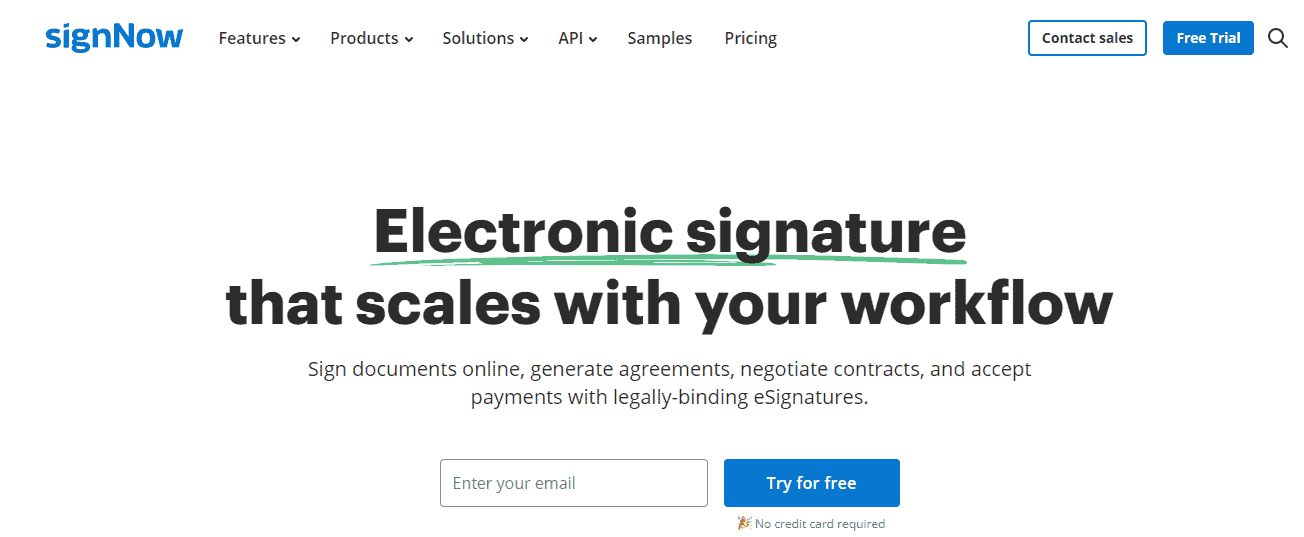 Even though DocuSign is an industry standard, I found their document creation tool difficult to use and lacking in features. I remember liking signNow, but does it compare to DocuSign?
Templates
Since I was disappointed with DocuSign's templates, I was interested in signNow's features. On the backend, you navigate to the Templates part of the left-hand menu.
You have two options: upload a template or create your own from a document. I will try to create my own this time. I previously uploaded that same fake freelancing contract, so I will try and personalize it more.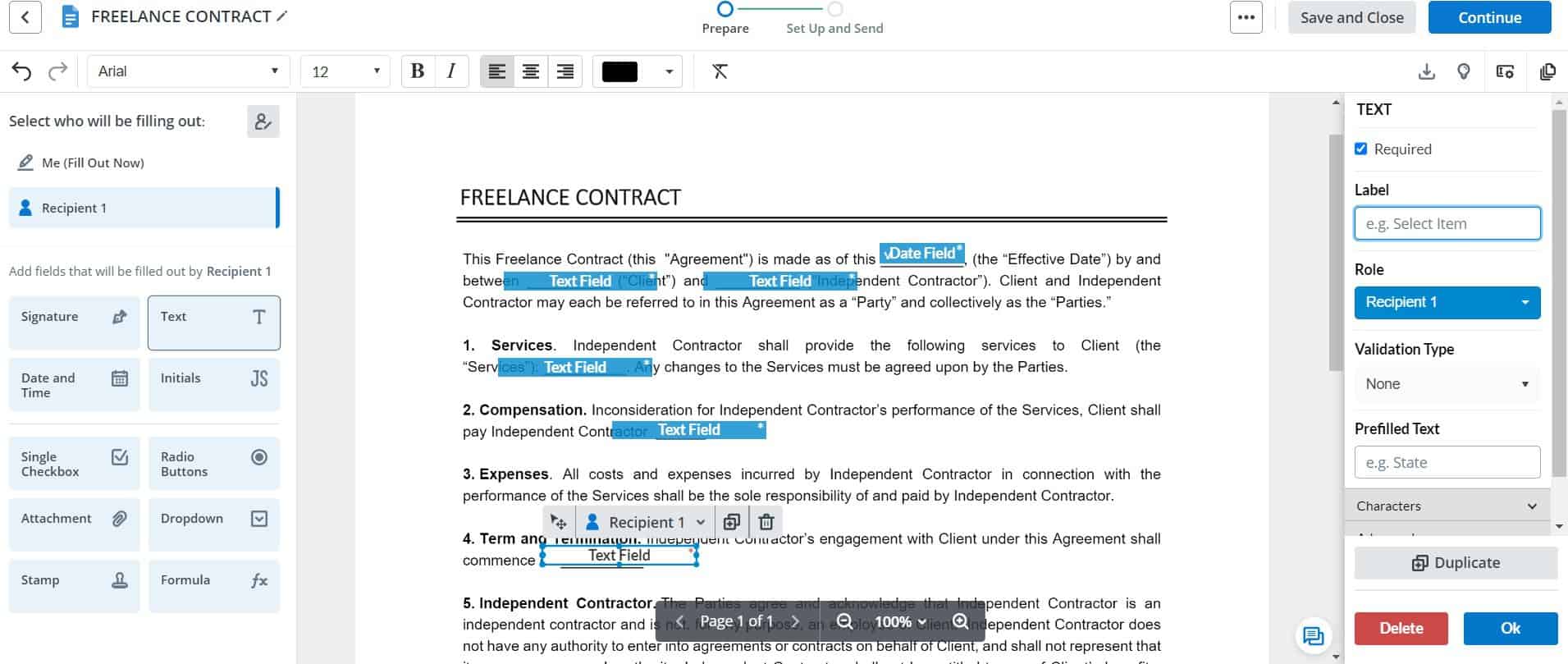 The features are similar to DocuSign's. You can add areas for the recipient to fill out, a date and time, checkboxes, initials, and more. But compared to DocuSign, I think signNow is a lot easier to use. They have a convenient drag-and-drop tool, and you can adjust the size of your fields. DocuSign has the same feature, but the backend looks weird.
I'm only seeing the option to add branding via logo upload. It's difficult to find the logo upload area, but I found it using signNow's support.
Document Sending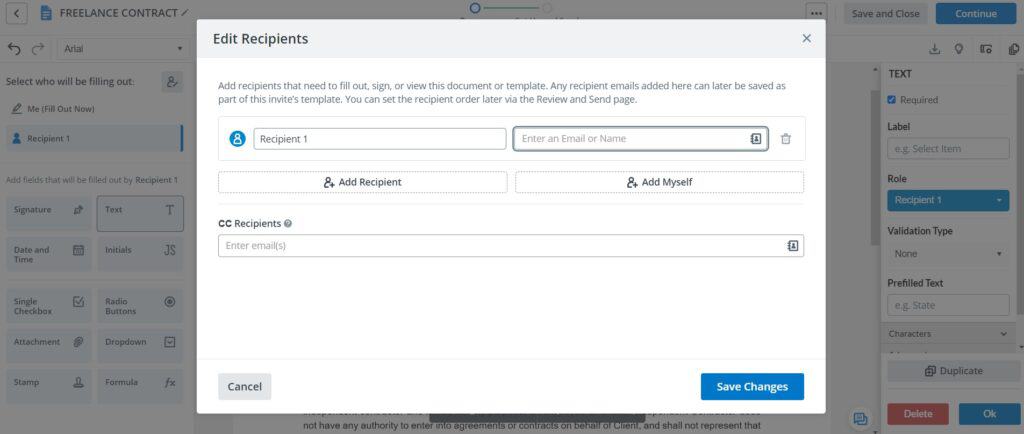 Sending an invite to edit a document is pretty self-explanatory. On the template, you can add recipients by clicking the outline of a person and the pen logo in the upper left corner.
Enter the recipient's name and email address, and click continue. When you're done with your document, signNow will show the recipient's name and allow you to enter a customized message. I just sent the fake document to another email I have. I received it fine with no problems.
eSignature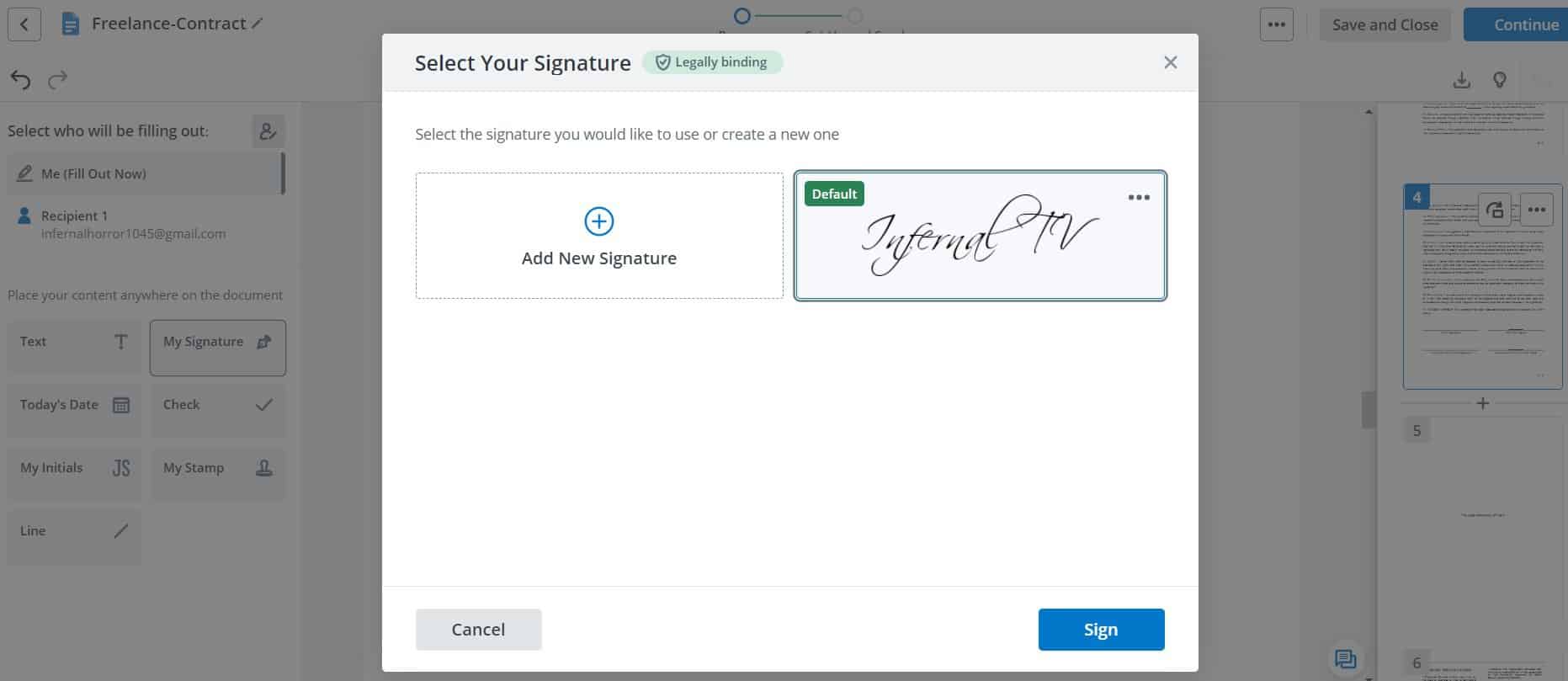 Like DocuSign, signNow gives you the option to use a premade signature or to create your own. When you first sign up, you can create a signature that signNow will save for future documents.
You can also sign a new signature with every document. To do this, go to your document and click "Me (Fill Out Now"). Under the editing tab, click the "My Signature" button. I signed mine using my cursor and mousepad. signNow also offers apps for Apple and Android if you prefer signing with your fingertip.
Verdict: signNow's document creation, signature, and contract-sending features are easier than DocuSign's, and their whole backend is far more user-friendly. The branding features are limited, but you can upload your logo to your document.
signNow Pros
Unlimited document signings and templates on the basic package
Affordable
Android and Apple app
Advanced features and integrations
Easy to use
Advanced esignature API on higher priced plans (for custom dev)
signNow Cons
Doesn't offer industry-specific features like Docusign
signNow Pricing Options
You get more for your buck when you go for signNow. Their plans are affordable and even the basic plan comes with unlimited features.
Plans
Here are signNow's plans:
Keep in mind that if you have multiple users, signNow will charge you for each user. There also may be user requirements for each plan.
Free Trial
One of the only issues I have with signNow is the free trial. Your trial only lasts for one week compared to DocuSign, where your trial lasts for 30 days. I will say that you have more access to features with the signNow free trial, whereas you're limited with DocuSign.
Verdict: Even though signNow has a shorter free trial period than DocuSign, you get more for your buck if you sign up for any of their plans. For businesses with multiple team members, signNow will charge you for each user.
Better UX + Better Pricing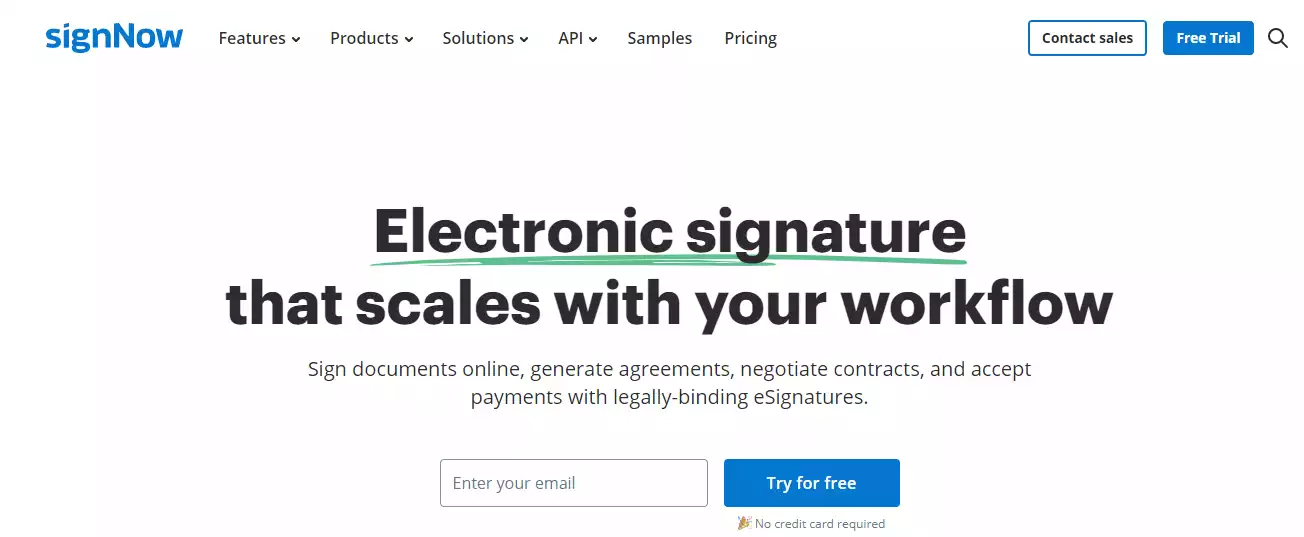 Why Go with SignNow?
If you haven't evaluated your document signing software recently, SignNow is worth a look! Easier to use, intuitive workflows, and better pricing mean it's time to dump that old document signing software for the new upstart.
Try SignNow…NOW!
We earn a commission if you click this link and make a purchase at no additional cost to you.
signNow and Docusign Competitor Options
DocuSign and signNow are both high-quality document signing tools, but there are others. Here are some of the others that I recommend.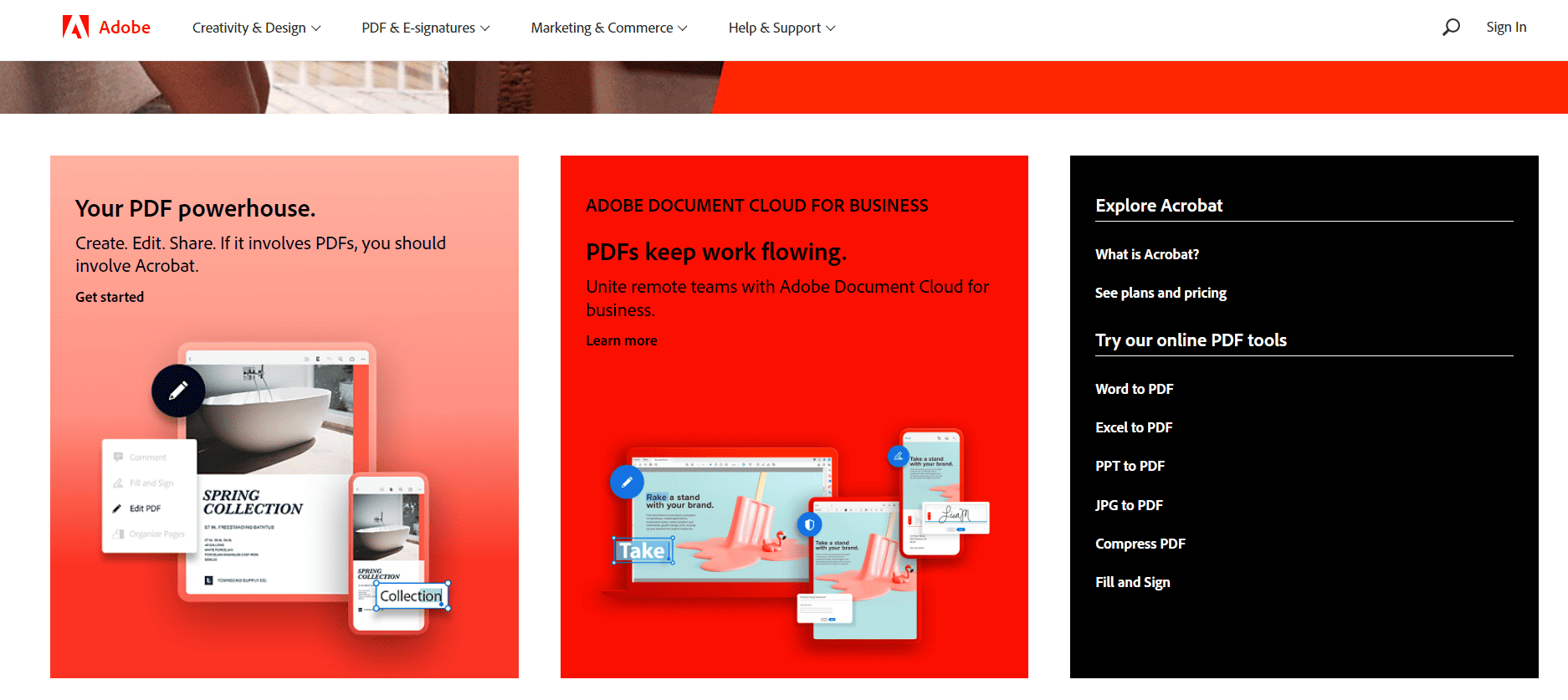 Adobe Acrobat is a program I use all the time. I've had an Adobe subscription for years and love all of their PDF features.
There are so many times when new clients send me a printed contract (ugh!). All I have to do is upload the document to Adobe Acrobat and enter my signature and other text.
With Adobe Acrobat, you access some of the best PDF editing tools that are extremely easy to use. The backend is also very simple and easy to navigate. I also love some of the features that Adobe offers compared to DocuSign and signNow, such as security.
You can also easily convert files, which is great when clients are strict about file types (this is especially true for those who review my books). Adobe is also an industry standard and a program that most of my clients and other businesses use.
At $12/month, Adobe's subscription is slightly more expensive than both programs. I recommend signNow to businesses new to document signing.
Adobe Sign Compared to Other Digital Signature Platforms: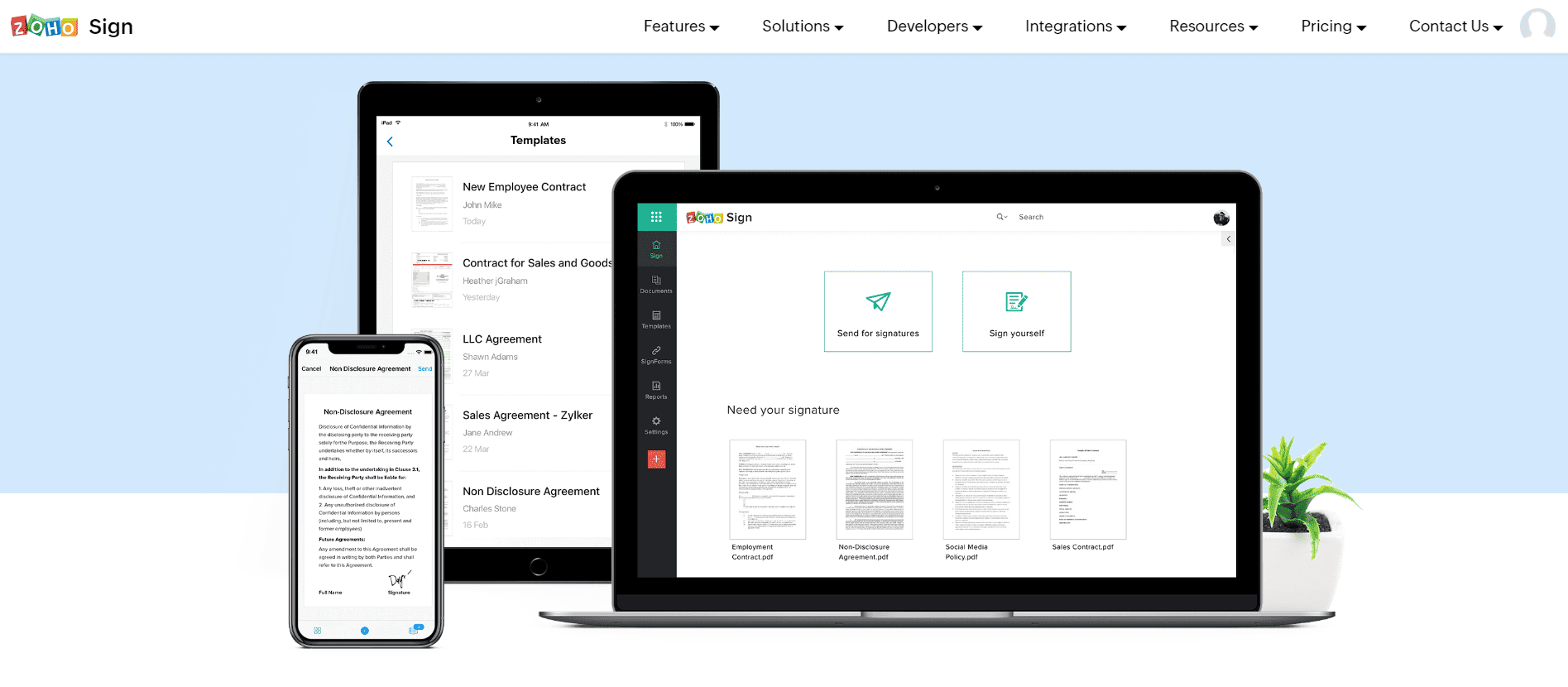 I recommend Zoho Sign for businesses that need full teams on this one program. Their standard plan is only $10/month, but users get 25 documents per month.
If you're only a one-person team like me, you can use Zoho Sign for free! Their platform reminds me of signNow–it's is easy to use, and sending documents is simple. Plus, Zoho Sign includes some impressive document tracking features.
Unlike some of these other options like DocuSign, Zoho Sign's auditing features aren't as impressive, so I don't recommend this platform to those in certain industries such as HR or finance.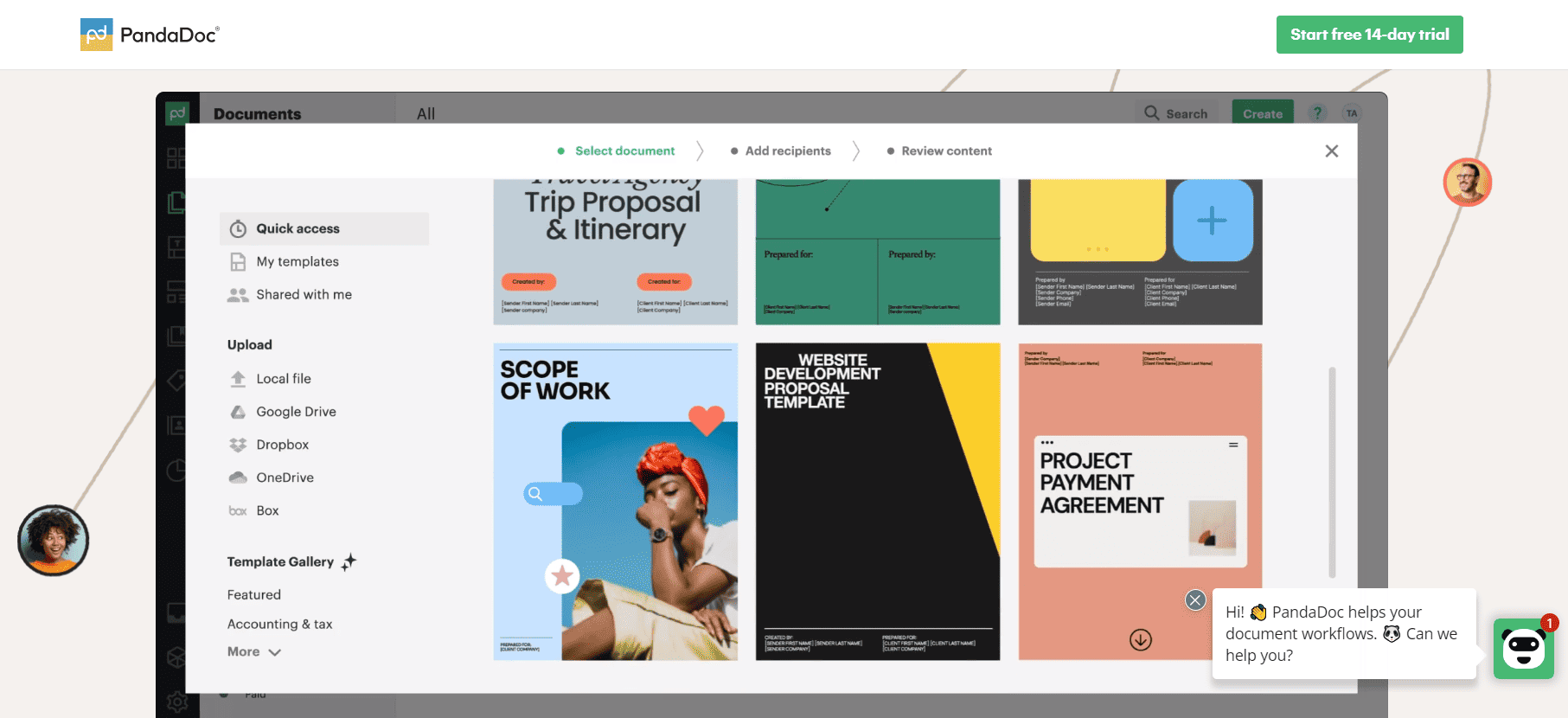 If you're looking for an eSignature platform with excellent customer service, I suggest choosing PandaDoc.
They have so many support options, from live chat to a tour of their platform. If you ever need to contact customer support, PandaDoc is very responsive.
There is a slight lag on the website, so I recommend this platform to those who occasionally need document-signing tools.
Other eSignature Solution Honorable Mentions
Here are a few others our editorial team has considered:
Better UX + Better Pricing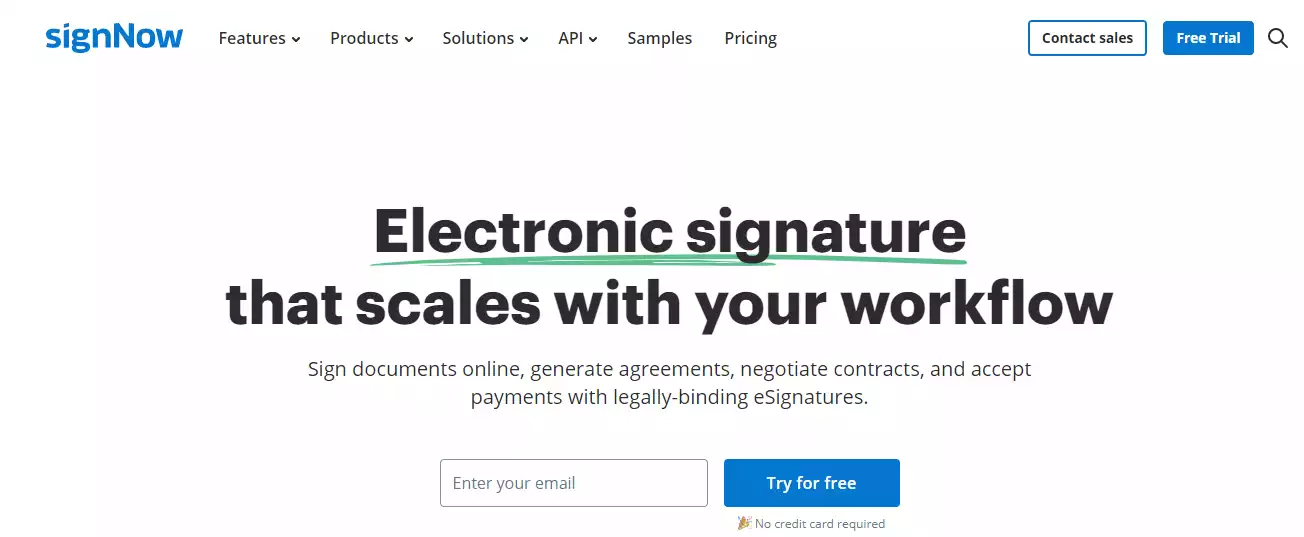 Why Go with SignNow?
If you haven't evaluated your document signing software recently, SignNow is worth a look! Easier to use, intuitive workflows, and better pricing mean it's time to dump that old document signing software for the new upstart.
Try SignNow…NOW!
We earn a commission if you click this link and make a purchase at no additional cost to you.
FAQs
Question: Are DocuSign and signNow Legally Binding?
Answer: All electronic signatures are valid and legally binding in the U.S., regardless of the program you use.
This should also be the same in other countries. With that being said, both DocuSign and signNow, in addition to all of these competitors, are legally binding. If your business is in certain industries with more security needs, I suggest checking all of these options to ensure they offer a solution for your business.
Question: I Don't Like DocuSign or signNow. How do I Cancel my Subscription?
Answer: Here are directions for both:
signNow: From your account, click on the menu and click Subscriptions. Tap "Cancel Subscription" and follow the prompts.
DocuSign: Log in and navigate to "Plan and Billing." Click "Change Plan." Scroll down and find "Close Account." Click this button and follow the prompts.
Question: Can I Edit my Document in DocuSign and signNow?
Answer: You can in signNow. I can't figure out how to edit documents in DocuSign, so I suggest editing your document in Microsoft Word or another word processor and uploading it back into DocuSign.
Docusign vs signNow: Bottom Line
I've used numerous document-signing tools in my six years as a freelance writer and in my personal life, such as purchasing my first property. I will always rely on Adobe Acrobat to sign personal documents, but I would choose signNow over DocuSign for my day-to-day business contracts.
With DocuSign, you're limited on features for its basic plan and free trial. You pay less for signNow, and their platform is packed with features. I recommend DocuSign if you need a document signing platform tailored to your industry, especially those in the real estate, finance, and insurance fields.
Better UX + Better Pricing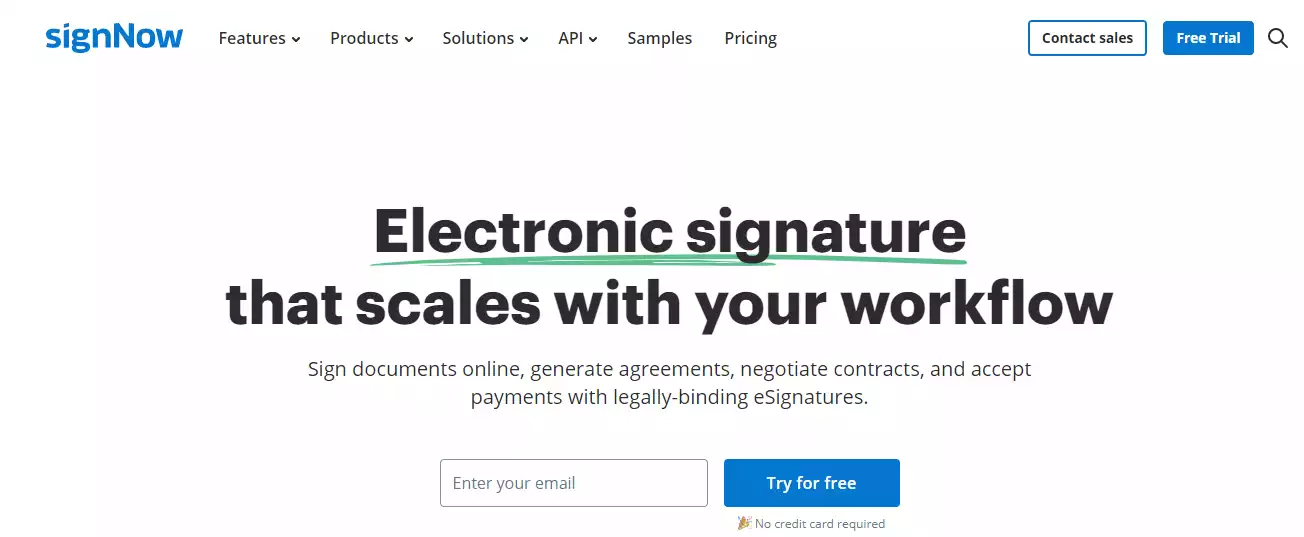 Why Go with SignNow?
If you haven't evaluated your document signing software recently, SignNow is worth a look! Easier to use, intuitive workflows, and better pricing mean it's time to dump that old document signing software for the new upstart.
Try SignNow…NOW!
We earn a commission if you click this link and make a purchase at no additional cost to you.
Other Electronic Signature Software Guides: