Last Updated on January 15, 2023 by DMEditor
Comparing Freshdesk vs Freshservice can admittedly be pretty confusing.
Why?
Ok, let me guess. You've been searching for customer service and help desk solution on Freshworks' main site only to find two seemingly ideal options, but with varying capabilities – Freshdesk vs Freshservice.
So, without further ado, let's get down to it:
Main Differences Between Freshdesk vs Freshservice
Freshdesk is a fully-fledged help desk solution for providing and managing customer service, whereas Freshservice was developed to coordinate and manage in-house IT support
Freshservice is optimized specifically for IT teams, whereas Freshdesk facilitates collaboration across all the business teams
Freshdesk targets typical online businesses that interact with their customers through a website, whereas Freshservice was built for organizations with dedicated IT departments for handling software and hardware
Freshservice has features that help you attend to employee issues, whereas Freshdesk seeks to help you solve customer problems
Freshdesk is a that offers a permanently free version of the , whereas Freshservice restricts you to a free trial
The bulk of Freshdesk users are small to medium-sized businesses, whereas Freshservice is more popular among enterprise users
Well, I must admit that this is something you don't see every day. Two very similar solutions on one platform. And here's the interesting bit – Freshworks happens to be the company that developed and distributes both of them.
Now, if you've never heard about Freshworks desk software before, it's one of the most renowned brands in the world of business applications. And more specifically, it specializes in solutions for digital marketing, project management, team management, customer service and customer satisfaction, CRM, sales management, etc. You get the drift.
So, of course, going by the company's reputation and the user reviews alone you can bet Freshdesk and Freshservice ticketing system are certainly no ordinary applications. They seem to be effective at what they do, and you can confirm this from the ratings plus reviews left by users on the web.
A quick scan through some of the popular user review platforms reveals that Freshservice and Freshdesk are quite consistent with 4 and 5-star ratings.
Good for them. But still, the user remarks won't answer the main questions here. Which of these two siblings offers the best help desk tools? And what's the difference between Freshdesk and Freshservice in the first place?
Now, tell you what. I'll help you with that. This Freshdesk vs Freshservice review compares the two siblings on the most critical aspects – overview, pricing, customer service and the main features (ease of use, ticket management, plus security).
That said, here's a brief outline of the main Freshservice vs Freshdesk differences. to get you started. But, if you really want to make a well-informed selection, I advise you to read on and unearth all the important insights.
Freshdesk vs Freshservice – Overview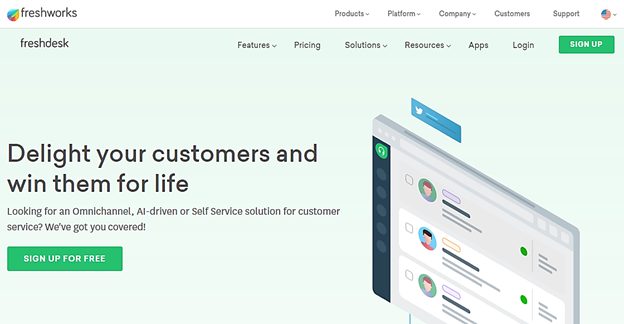 Freshdesk, in short, is an on-demand omnichannel customer support solution that not only streamlines your help desk operations, but also automates repetitive tasks, and facilitates extensive collaboration between teams.
Make no mistake though. Although it's AI-driven and it can be used to manage IT customer support, Freshdesk isn't particularly intended to be implemented like Freshservice. The reason being, it doesn't come with features that are specific to IT departments.
Instead, Freshdesk offers small-to-medium sized businesses a host of tools for managing their customer tickets. And we're not talking about just issuing replies. This software goes beyond the basics to help you filter customer tickets, assign cases to various agents, merge tickets, as well as avoid possible collisions between your support agents.
What's more, Freshdesk is capable of automating the entire ticket handling workflow. It allows you to create automation rules, and subsequently have the system prioritize your customers' tickets accordingly, assign them to the relevant agents, as well as follow up on any pending tasks.
Then to top it off, Freshdesk includes analytics tools to help you keep tabs on your customer service operations. Its inbuilt reports grant you insights into your overall performance as well as your team's activities, and the progress across all the support channels.
In the end, therefore, you get to make informed decisions about your customer service framework and its accompanying processes.
Turns out Freshservice is often mistaken for a customer service solution. But, the fact is, it isn't one. While it's admittedly a service desk solution, Freshservice isn't built to offer support to customers. Instead, Freshservice is implemented in-house to improve the level of service offered by IT departments within an organization.
The official term for that is IT Service Management or ITSM in short. Freshservice is basically all about simplifying how you handle your IT issues.
But, don't get me wrong. Freshservice isn't very different from Freshdesk. Although they have varying service structures and functions, it just so happens that the two siblings share a couple of tools.
Workflow automation functionalities, for instance, are featured on both Freshservice and Freshdesk. The same applies to multi-channel support, as Freshservice is also an omnichannel service tool.
But, over and above that, Freshservice comes with ITIL-specific capabilities for managing and controlling IT assets. More specifically, administrators get to add assets, as well as tag, track and delink them accordingly to keep tabs on both software and hardware components.
Freshservice additionally allows IT teams to collaborate extensively, which then helps them respond adequately and promptly to IT-related issues or incidents.
And speaking of which, you'll even find an "Arcade" module that gamifies your user experience on Freshservice. Your organization's IT agents can then manage tasks intuitively, after which they even earn points based on their performance.
Ultimately, you should be able to get all the resultant insights from Freshservice's inbuilt reports.
Freshdesk vs Freshservice – Main Features
Ease of Use
Freshdesk
When you set up your Freshdesk account, the system comes in the form of a very intuitive online dashboard, which provides direct access to your companies, contacts, reports, user forums, knowledgebase, social network tools, and tickets. These are essentially the principal functionalities and you'll find them on Freshdesk's left-hand menu tab.
The main dashboard window itself acts as the reporting center, complete with visual insights. You're free to sort them out based on working groups and products.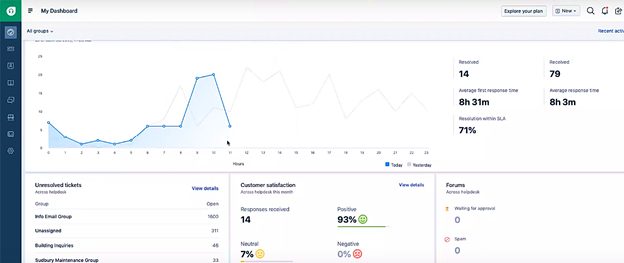 Now, the type of stuff you can track from this vantage point includes the volume of assigned and unassigned tickets, tickets on hold, open tickets, the day's due tickets, overdue tickets, plus unresolved tickets.
Besides that, Freshdesk allows you to dive into the day's insights by clicking on your visual trends graph. This should give you an idea of how your customer support operations are progressing based on indicators like the average response.
Therefore, in a nutshell, the whole thing is pretty straightforward. That means you probably won't need any onboarding. All the primary functionalities plus the system's navigation are understandable right off the bat.
But, if you'd prefer a different dashboard, Freshdesk offers quick tools for customizing your view. You could, for instance, introduce additional widgets such as bar charts and scorecards, or possibly SLA compliance analytics, and customer or user satisfaction indicators.
Freshdesk comes with a range of widgets you can choose from based on your preferred dashboard outlook. Then to achieve a uniquely personalized view, you could further customize the widgets according to parameters such as category, status, and group.
Once you've set up everything, you should have an easy time getting used to how Freshdesk works. Coordinating customer requests across all your support channels is pretty simple, as Freshdesk is capable of automatically assigning and prioritizing tasks based on your pre-defined rules.
Freshservice Ease of Use
Interestingly, the Freshservice service provider comes with an interface that you'll notice appears strikingly similar to Freshdesk's system. Both layouts provide quick access to service management tools through a left-hand rail menu bar.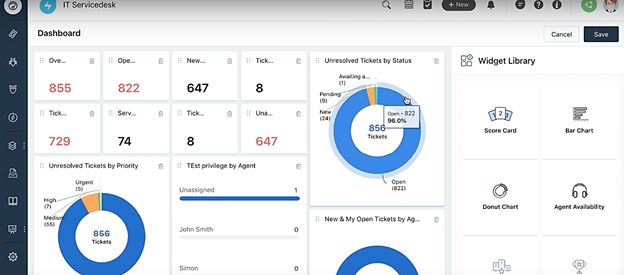 And speaking of service management, Freshservice happens to follow the same old request pipeline. The only difference is, the requests here do not come from customers. Rather, they are initiated by in-house employees who need technical IT support.
But, beyond that, the pipeline is the same as Freshdesk's. Each request is treated as a ticket, and the Freshservice system proceeds to direct them from several contact channels, after which it merges all the tickets for easy management, task allocation, escalation, and tracking.
So, in a way, the process of managing and streamlining IT support requests on Freshservice is not that different from the corresponding procedure on Freshdesk. Both systems function as a helpdesk solution with just the right tools for tracking tickets through every single stage, plus facilitating collaboration between agents, automating basic tasks, and analyzing overall performance.
The resultant metrics can be accessed directly from Freshservice's dashboard. A quick scan should give you an idea of how your IT team is performing, plus the number of tickets in different stages of the pipeline.
Another notable similarity between the two systems is the gamification feature. Yes, that's right, it turns out Freshservice comes with the inbuilt tool too. So, of course, you can cleverly take advantage of it to make the support process more intuitive and competitive.
The subsequent scoreboards are updated based on each individual's progress, with the best performers earning badges.
Freshservice vs Freshdesk Ease of Use Verdict – Draw
Overall, Freshdesk and Freshservice appear to offer their service tools through identical user interfaces. Both of them are elegantly-designed to facilitate ticket management, team collaboration, task automation, and progress tracking via dashboard insights.
The principal difference between the two systems lies in their respective user ends. Freshdesk serves customers while Freshservice deals with in-house parties.
But, all things considered, Freshservice and Freshdesk are both pleasantly easy to use.
Ticket Management Software
Freshdesk Ticket Management Software
As customer tickets start flowing in, Freshdesk allows you to manage them in either table or card view. The format you choose here depends on your personal preference. But, in the end, both formats grant you a host of management privileges like configuring ticket priority, assigning tickets to various support agents, replying to tickets, selecting multiple tickets for bulk actions, defining ticket status, etc.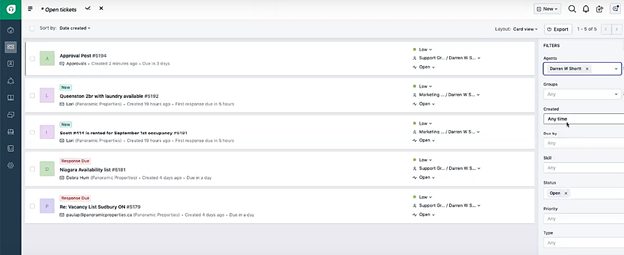 The Freshdesk Team Inbox is particularly important when it comes to coordinating tickets and tasks between team members. This collaboration tool is much more than just an area for viewing and replying to requests across multiple contact channels.
You can filter tickets based on specific parameters so you can prioritize them accordingly. It's also possible to identify certain requests based on the keywords used by customers. And with such capabilities, you should find it easy to assign tasks to the relevant expert agents.
Freshdesk further allows team members to consult each other through an in-built chat feature. And that's not all. You can also seek solutions from other teams, as well as third-party stakeholders for quick problem resolution and problem management.
In the meantime, Freshdesk will keep a log of each interaction for contextual collaboration. You'll find all of them attached to their respective tickets.
Then guess what? The collaboration here is so smooth that it's possible to eliminate redundancies. Freshdesk's collision detection feature is capable of identifying and rectifying instances where multiple agents are trying to working on the same issue.
And come to think of it, such a tool would certainly come in handy when you're working with a large team, or possibly numerous customer requests at once.
And if things get pretty hectic, you might also want to take advantage of Freshdesk's canned response tool. You can think of it as a response system that accelerates the ticket resolution process by simply generating relevant answers to common issues.
How's that possible?
Well, remember my statement that Freshdesk is AI-driven? Now, this happens to be one of those areas where the AI system comes in handy. It dives into an extensive database of possible solutions, from where it manages to quickly come up a unique but relevant answer.
Freshdesk also comes with what it calls "scenarios". These are basically automated workflows that contain multiple automation rules plus action groups. Therefore, by setting up scenarios, you can have the system automatically handling stuff like marking tickets as spam, deleting tickets, replying to requests, assigning tickets to specific agents, adding notes or tags, etc.
Freshservice Ticket Management Software
And yet again, Freshservice's functionalities are not that different from Freshdesk's. Just like we've seen with their user interface, it turns out things are not different either when it comes to ticket management (ManageEngine ServiceDesk).
Freshservice, to begin with, grants end-users a neat custom portal from where they can easily raise a problem management topic, try to troubleshoot problems via a knowledge base, request new services, receive notifications, as well as track past tickets.
The AI system even goes ahead and makes resource suggestions while a user is raising a ticket. It essentially directs users to relevant knowledge base documents they could use to resolve their issues, instead of relying entirely on the support team.
And speaking of which, the IT support team gets pretty much the same tools as Freshdesk. They can view tickets as cards or tables, collaborate, receive tickets from multiple support channels, issue canned responses to common issues, apply automated scenarios based on custom rules, etc.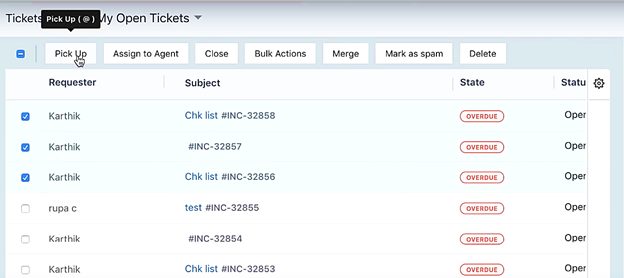 It's worth noting, however, that the support system here is specifically optimized for internal IT-related issues.
Freshservice vs Freshdesk Ticket Management Verdict – Draw
Except for a few minor differences here and there, Freshservice and Freshdesk come with the same ticket management framework. You can automate common workflows, collaborate efficiently with multiple team members, process tickets from different contact channels at the same time, etc.
So, in short, we can agree it's yet another draw between the two services.
Security
Freshdesk Security
Although Freshdesk may not have advanced security features, it adequately protects its user data. The basic security features here should be good enough for small businesses.
When it comes to data transfer, for instance, Freshdesk utilizes Secure Sockets Layer (SSL). This is a specialized cryptographic protocol that has been around for many years now, but still effective in protecting internet data communications.
That said, I guess you should be more worried about your team members since end-users present the biggest risk to system security. Thankfully, Freshdesk comes with a Single Sign-On for ultimate control of each support agent account you add to its system.
And if that's not enough, you can still tweak the authentication procedure by introducing additional password restrictions. That means you could have your support agents log into their systems using special character passwords, which ultimately expire after a pre-determined period.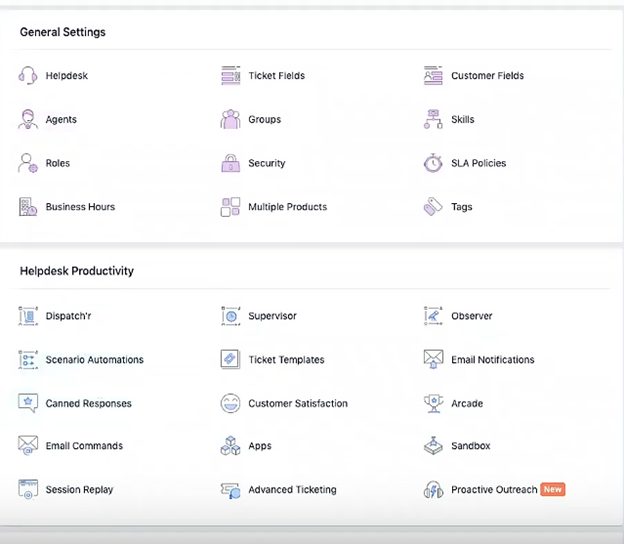 And while you configure all that, you might want to take extra precautions. Once you change the rules, Freshdesk can't revert to your previous password structure. Quite strange, I admit, but it is what it is.
Well, I'd appreciate two-factor authentication, but sadly, it turns out Freshdesk is yet to apply it. But then it makes up for that with IP whitelisting, custom email servers, HIPAA compliance, plus multiple data center locations.
Freshservice Security
Well, if you think Freshservice's security can't possibly be any different from Freshdesk's, I'm afraid you're right. The security features and protocols here are precisely the same as Freshdesk's.
But then again, maybe sharing the basic features is not such a bad thing after all. Users who choose to buy both solutions should have an easy time switching between them.
Now, as you've probably guessed already, all the data transmissions are protected by SSL. Your IT support agents, on the other hand, count on IP whitelisting and SSO to secure their accounts.
Freshservice further allows you to combine that with dynamic password protocols for extra security.
Freshservice vs Freshdesk Security Verdict – Draw
Freshservice and Freshdesk happen to use the same security measures to protect data. They both come with SSL cryptographic protocols, Single Sign-On authentication, custom email servers, IP whitelisting, as well as dynamic password rules.
Therefore, although these are just basic security features, they'll keep your data safe for the long haul.
Freshdesk vs Freshservice – Customer Service
Freshdesk Customer Service
Freshdesk is seemingly generous when it comes to customer service. And considering it's a customer service tool itself, Freshdesk provides a great example of how a typical online help desk should be implemented.
It has, for instance, managed to set up an omnichannel system that stretches from a comprehensive knowledge base to a self-service portal, plus several direct contact channels.
The knowledgebase, to begin with, provides all the resources you might need to troubleshoot any issues, as well as learn about the whole Freshdesk platform. It happens to be supplemented by the Freshdesk Academy, which offers a range of courses beyond the platform, which can ultimately make you a customer service guru.
Now, if you insist on getting in touch with technical support agents, Freshdesk has a good number of experts who can be accessed via email, phone, and live chat support channels.
It's worth noting, however, that only email is available to all users 24/7. Phone support and live chat, on the other hand, only go as far as 24/5.
The only other option is, of course, connecting with the Freshdesk community, which is fairly active across the globe.
Freshservice Customer Service
Although Freshservice doesn't completely match up to Freshdesk's customer service system, it still does a great job overall. The platform comes with a number of decent customer support options.
You can, for example, turn to its videos and webinars for tutorials on various tools. Otherwise, the Freshservice knowledge base comes with an array of helpful resources about the entire platform.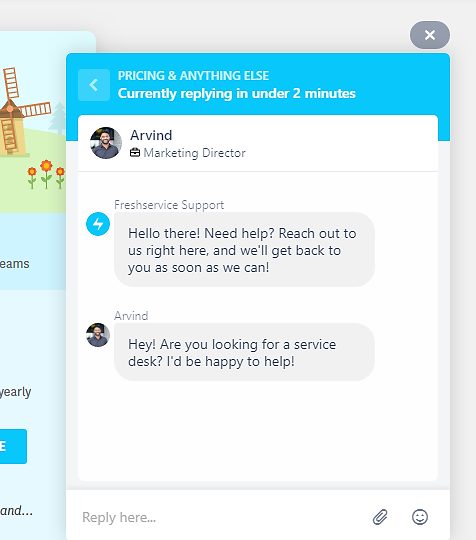 And if you ever need to get in touch with the technical support team, Freshservice offers customer support via live chat, phone, and email.
The solution is further backed by a strong community of users. You're free to consult them about anything regarding Freshservice.
Freshdesk vs Freshservice – Pricing

Sprout: Freshdesk's Sprout package is completely free of charge. It comes with basic Freshcaller integration, 24×7 email support, community forums, knowledgebase, Freshdesk for Android, Freshdesk for iOS, DKIM/DMARC, single sign-on with SAML, multiple data center locations, single sign-on, public portal customization, embeddable solution articles, embeddable contact form, email to knowledge base self-service, private knowledge base, public knowledge base, default dashboard, contextual collaboration with Freshconnect, basic Facebook channel, basic Twitter channel, automation that run on ticket creation, quick actions, tags, dynamic placeholders, public and private notes in tickets, and shared canned responses.
Blossom: The Blossom package costs $19 per agent per month when billed monthly, or $15 per agent per month when billed annually. It supplements the features on the Sprout package with advanced Freshcaller – Freshdesk integration, Freshchat – Freshdesk integration, 24×5 phone support, cloud telephony integration app, email marketing, and CRM apps, access to app gallery, custom email servers, API access, custom domain mapping, merge contacts, custom contact and company fields, appearance customization, advanced article filtering, automatic article reordering, auto-suggest solutions, save reports, export reports, helpdesk in-depth report, dependent fields in ticket forms, custom ticket fields, and custom status.
Others include advanced Facebook channel, advanced Twitter channel, business rules management through SLAs, event-triggered workflow automation, time-triggered automation, add reminders on to-dos, summary app, custom ticket views, occasional agents, integrated game mechanics, filtered search, one-touch scenarios, agent collision detection, personal canned responses, sort ticket conversations, undo send, and multiple shared inboxes.
Garden: The Garden package costs $35 per agent per month when billed monthly, or $29 per agent per month when billed annually. It combines the features on the Blossom package with inbound caller ID, voicemail transcription, call masking, advanced call queues, click to call, number porting, purchase local/toll-free numbers, basic reporting, integrated FAQs, SmartPlugs, assignment rules, triggered messages, customer context, message channels, customer chat widget, 200k monthly unique visitors, and custom apps.
Other notable features include time tracking and invoicing tools, advanced password policy for agents and customers, customer 360, customer journey, multilingual knowledge base, frustration tracking, community forums self-service, article versioning, automatic sitemap generation, timesheet summary report, satisfaction survey report, agent and group performance, linked tickets, escalation emails for SLA violation, SLA reminders, satisfaction surveys, ticket templates, and time tracking.
Estate: The Estate package costs $65 per agent per month when billed monthly, or $49 per agent per month when billed annually. It combines the features on the Estate package with Multiple SLAs and timezones, enterprise reporting, portal customization, custom roles, and ticket assignment automation.
Forest: For $125 per agent per month when billed monthly, or $109 per agent per month when billed annually, the Forest package combines the features on the Estate package with extendable API rate limit, HIPAA compliance, IP whitelisting, sandbox, and skill-based ticket assignment.

Freshdesk vs Freshservice Frequently Asked Questions
What is the use of Freshdesk?
Freshdesk is a cloud-based service and customer support software application with multiple support channels available, including live chat, email, phone, and social media, you can help customers through their preferred communication method.
Is Freshservice ITIL compliant?
Freshservice is an ITIL aligned service desk solution that is aligned with best practices and ITIL processes such as incident, problem management, change, release and asset management.
What is ITIL compliance?
ITIL compliance refers to the level of conformance to the Information Technology Infrastructure Library (ITIL), a system of standards developed by the British Office of Government Commerce (BGC).
Freshdesk vs Freshservice – The Ultimate Verdict
I believe we can now settle this Freshdesk vs Freshservice debate once and for all.
One thing we can all agree on at this point is that although Freshdesk and Freshservice share some common features, they have different functions.
Freshservice, to begin with, is indeed an ITSM software that's optimized specifically for IT departments. They essentially use their ticketing and automation capabilities to remotely manage (remote monitoring) their company's hardware systems and software tools.
Employees and other asset stakeholders simply raise support tickets through a Freshservice-created portal, which are then picked up and resolved by IT teams. Therefore, at the end of the day, Freshservice manages internal IT system expectations.
In contrast, Freshdesk is pretty effective when it comes to managing customer expectations. It provides a host of customer service tools, allowing businesses to promptly resolve their customer requests across multiple channels simultaneously.
So, in all fairness, there's no real winner here as Freshservice and Freshdesk are basically the same, but with varying purposes. Plus, they are both adequately effective and dependable in their respective industries.
Running a Customer Service Team? Customer service teams will find the advanced omnichannel helpdesk features on Freshdesk to be very helpful.
Running an IT Support Service Team? IT service teams would be much better off leveraging ITSM capabilities on Freshservice.
What type of team do you have?
Further reading: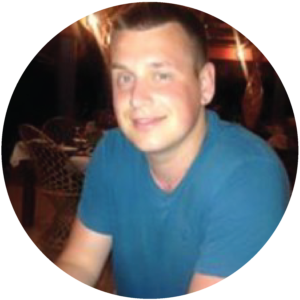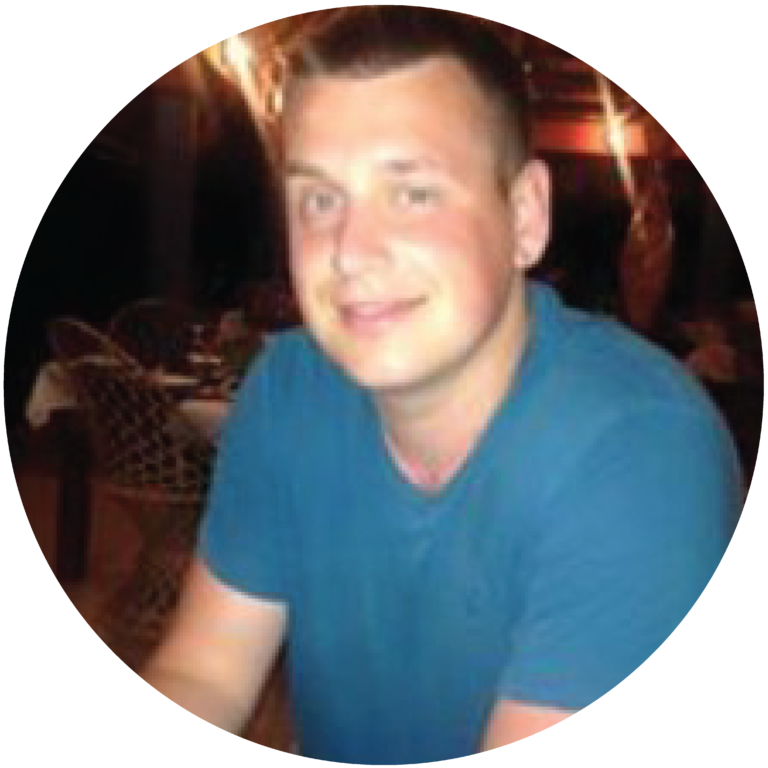 Latest posts by Ewen Finser
(see all)