Last Updated on June 11, 2022 by DMEditor
If you've been using Podium for customer interaction management, but aren't completely satisfied, this is the article for you.
There are many things to like about Podium. They helped pioneer the field of high-touch digital interaction management. If you are looking to win more customer reviews (or prevent poor ones), seek customer feedback to improve your service, or even just handle seamless payments, Podium can be great.
The most complaints I've heard about Podium are largely around their opaque pricing structure, relying on custom quotes and upsells. They also offer a wide array of product use cases, some of which you may not need.
In short, there are more transparently priced and more specific platforms out there worth considering.
These are the best Podium alternatives that we tried:
1. Most Similar to Podium: NiceJob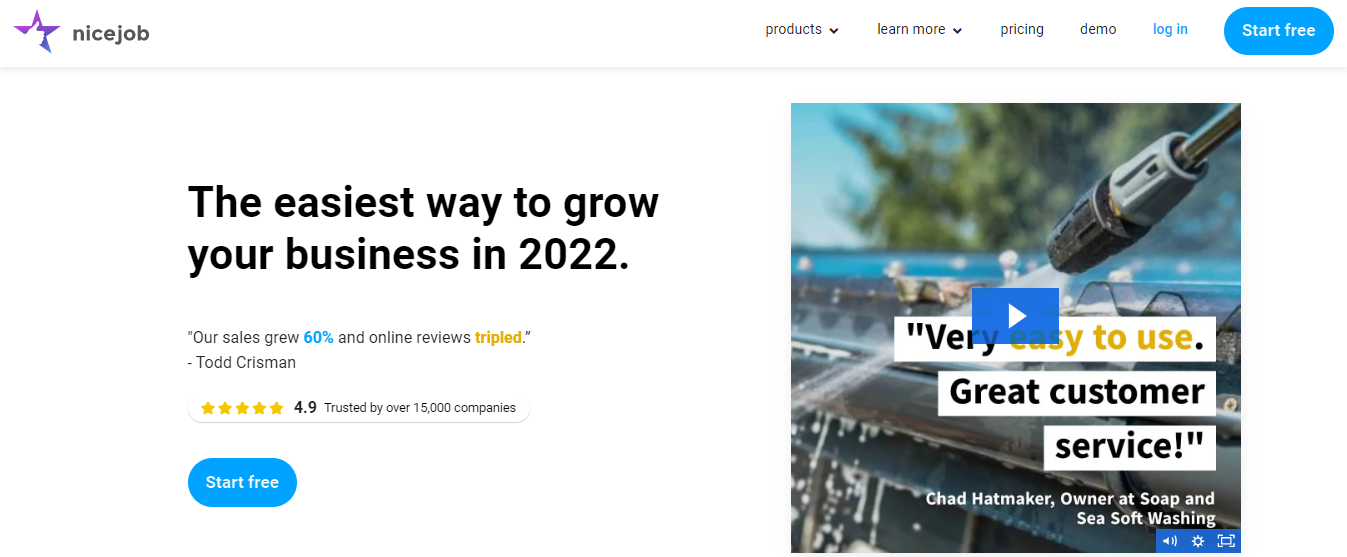 Summary: NiceJob is Podium re-imagined for a more scalable, user-friendly, and more transparently priced. It's definitely my go to recommendation for reputation management and customer engagement.
NiceJob Advantages
Free 14 Day Trial period (standard plan features)
Much more transparent pricing upfront compared to the quote-based Podium pricing consults
In-depth FAQs , knowledge base, and forums for support and implementation ideas
Video demos and documentation
More in-depth social media and social media analytics tools
Better experience for small businesses compared to Podium (which is more large enterprise-focused)
NiceJob Disadvantages
No Android app (yet)
Newer, with less track record compared to Podium
More limited large enterprise features
NiceJob Pricing: NiceJob offers a customer-based pricing tiered plan with breakpoints for 1-2500 customers, 2501-5000 customers, 5001-9999 customers, and finally a tier for 10,000+ customers.
2. Best Level Up Solution: JivoChat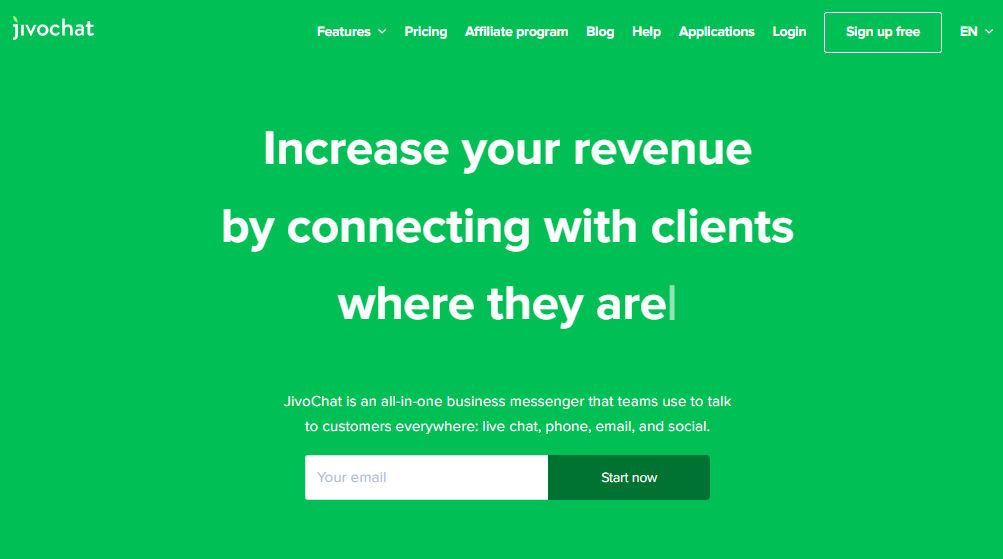 Summary: If you feel like you've outgrown Podium, JivoChat is a great next step up for mid-sized enterprises looking for a true messenger solution & all-in-one chat dashboard across platforms.
JivoChat Advantages
Core features built around a robust messenger option
Free plan supports up to 5 agents before paid pricing scales up
Integrates with every major chat platform (WhatsApp, Facebook Messenger, Telegram, Instagram)
Advanced event-based chat triggers
More of a mid-sized company solution (compared to Podium as an early-stage option)
Includes service quality ratings, but ADDS has more history and data searchability
Real time chat analytics across teams
Syncs with most major CRM solutions
Dedicated Sales and Service chatbot functionality
Transparent premium pricing at $19/user per month (no opaque pricing and "quotes" like Podium)
Better and wider integrations with third-party platforms
Supports 10+ languages outside of English
Comes with a built-in CRM if you prefer to keep things in one view
JivoChat Disadvantages
Not strictly built to solicit reviews and feedback like Podium
JivoChat Pricing: JivoChat has a basic free plan for up to 5 agents, then $19/agent (or user) per month after that.
3. Best Pure Chat Alternative: LiveChat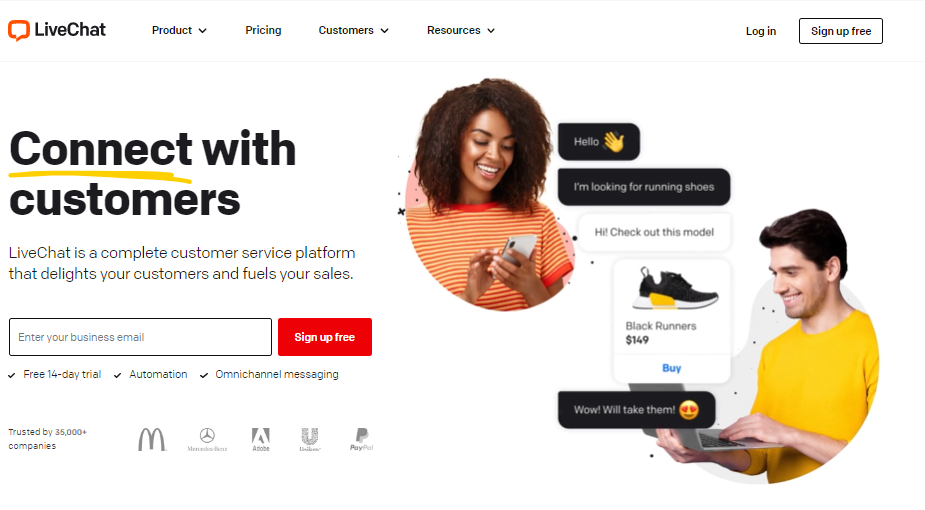 Summary: If what you need is mainly a good live chat interface, LiveChat has Podium beat.
Pure chat functionality for real-time customer support
Extensive FAQs and forums for best practices and templates
24/7 live customer support reps (unlike Podium)
In-depth knowledge base and wiki
Video training modules for implementation
Transparent and upfront pricing tiers (no sales "quotes")
No in-person training or physical premise implementation support (unlike Podium)
Limited pure reputation management features
LiveChat Pricing: LiveChat pricing starts at $16/month for the Starter Plan, then $33/month for the Team Plan (advanced customization and chat history), $50/month for the Business Plan, and finally custom pricing for an Enterprise Plan.
Related Reads:
4. Best Full Support Desk: FreshDesk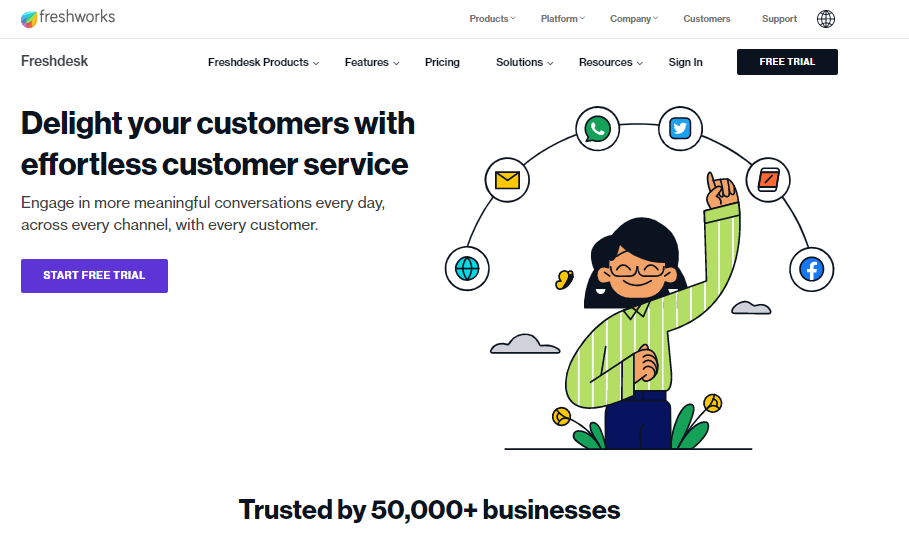 Summary: While not necessarily a reputation management solution, FreshDesk offers many of the key features enabling high customer readings and feedback. They have an excellent suite of fully integrated tools (FreshService, FreshChat, FreshWorks CRM), so you can add on in an easy modular way, adding only what you need, when you need it.
FreshDesk Advantages
Freshdesk offers many options for handling engagement operations collected through chosen channels. This makes it easy to compare data

Clients and agents will find it easy to use the interface

Securely protect customer information and confidential data

The knowledge management feature of the website is very simple to use and quite elegant.

It integrates well with other software

It is easy to delegate tasks.
FreshDesk Disadvantages
It is tedious to format emails.

To create custom reports, users must have a lot of knowledge and training.

It would be nice to have additional price levels.
FreshDesk Pricing: Freshdesk offers a 100% Free Trial Plan here, then the paid plans get started at $19/month per agent Blossom Plan, then up to $45/month on the Garden Plan (includes performance reporting, time tracking), then $69/month on the Estate Plan (custom rules, round-robin routing), and finally $125/month for the Enterprise level plan. All of the plans offer significant discounts if booked annually (versus monthly contract).
Related Reads:
5. BirdEye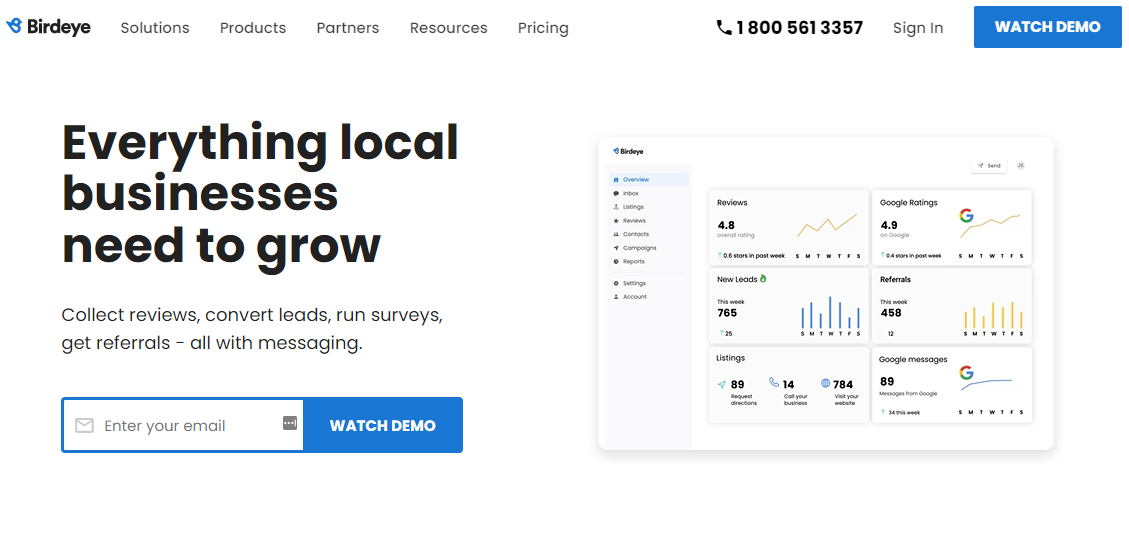 Summary: BirdEye is another newer entrant into the reputation monitoring and management space, with many more advanced real-time solutions compared to Podium.
BirdEye Advantages
BirdEye offers a fully-featured real-time live chat functionality, whereas Podium does not
More in-depth reporting and analytics features compared to Podium
Larger bulk messaging SMS functionality
Better listing management features
Better web chat tool vs feedback collection
BirdEye Disadvantages
Less responsive customer support compared to Podium
Not built to collect payments or as a point of sale system
BirdEye Pricing: Requires some basic info to generate a customized quote, but generally follows Standard, Professional, and Premium plans.
So What's the Best Alternative to Podium Overall?
There are a few specific use cases that I would like to highlight:
Further Reading on Chatbots & Feedback Systems: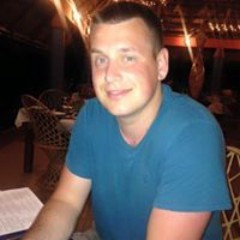 Latest posts by Ewen Finser
(see all)
Get 40% OFF for 3 Months