Last Updated on January 15, 2023 by DMEditor
In our WeVideo review we will discuss advanced features, pros, and cons of this video platform.
Have you ever heard of WeVideo?
Well, if you haven't, it's a robust, easy-to-use, and cloud-based editing and video creation platform.
'Why would we need a tool like that?' We hear you cry.
Well, this stat alone speaks volumes: 64% of shoppers purchase something after watching a branded video!
That's powerful stuff. So, in light of that, we're going to review WeVideo to help you decide whether it's the right fit for your video marketing venture.
Does that sound good to you? Great. During this review, we're going to reveal the good, the bad, and everything in between about this tool. So, continue reading to find out more.
Who's WeVideo?
WeVideo online video editing boasts as many as 30 MILLION registered users (making it one of the world's leading video editor tools and video creation platforms).
Yes, you heard correctly.
Editor's Choice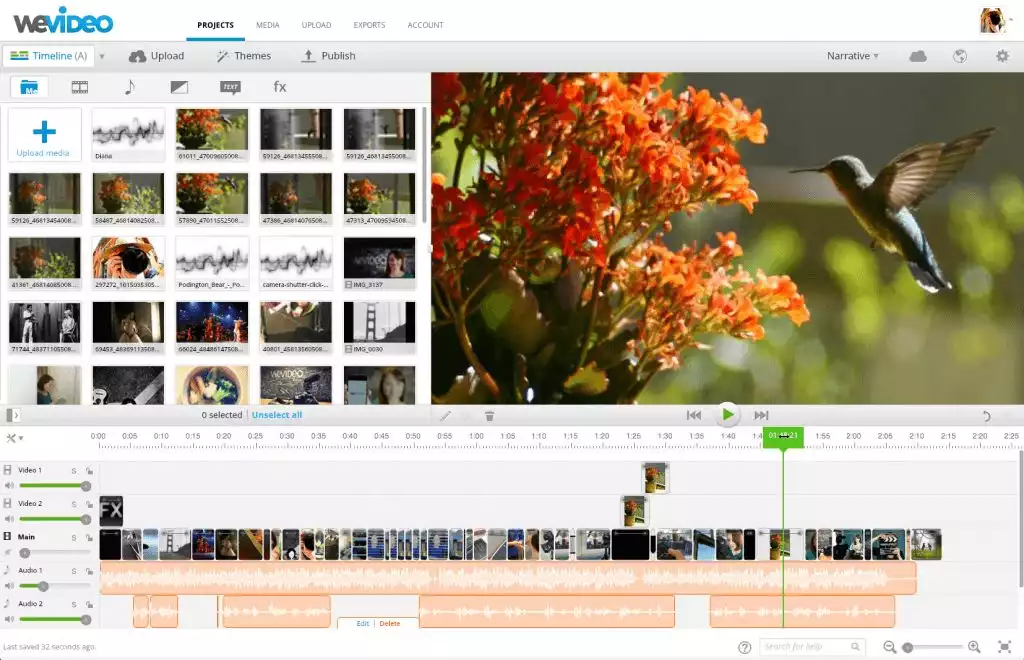 Do you WeVideo?
We do! Versatile, easy-to-use and 100% cloud based, WeVideo is our TOP PICK here, and for just a fraction of the cost of other video editing tools.
Try Wevideo First
We earn a commission if you click this link and make a purchase at no additional cost to you.
The short answer is everybody.
According to their website, there's virtually no demographic that WeVideo doesn't accommodate to. Here are just a few of the types of customer WeVideo serves:
Companies
Solopreneurs
Hobbyist video editors (editing)
Students
Educators
Media companies and agencies
WeVideo's video editing and video creation solution is incredibly accessible. It doesn't matter whether you want to use it on your desktop or from a mobile device, it's entirely up to you. This makes it a viable option for both those wanting to edit videos from the comfort of their home, or entrepreneurs needing to publish content on the run.
Either way, WeVideo app users can capture, video edit, crop video, view, storyboard and share their work within minutes. As we've already alluded to, you can store video content using the cloud app, seamlessly working on online video creation (video maker) projects. This is what allows you to access your work from anywhere, from any device.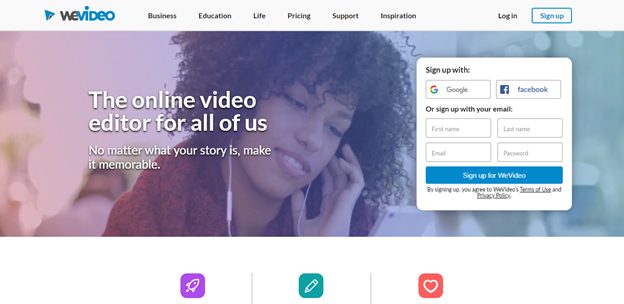 WeVideo Review: Its Main Features
WeVideo provides users with a ton of fabulous WeVideo features. These work wonders for helping you produce professional-looking videos with ease. Let's explore them in a little more detail…
Stock Images and Clips
WeVideo provides a ton of stock footage and images. In fact, there are as many as over one million commercially-licensed video clips, pictures, and music for you to choose from. This comes as part of WeVideo's paid-for Professional and Business plans. Gone are the days where you had to shell out for stock content every time you created a fresh video.
Color Correction Video Editing Software
WeVideo boasts numerous color correction editing tools including:
Brightness
Contrast
Saturation
Hue adjustments
WeVideo has everything you need to make basic adjustments. But, if you're serious about color correction, WeVideo probably isn't the solution for you.
A Cloud-Based Program
Again, as we've already said, WeVideo is a cloud-based solution. Not only does this empower you to work on the run, but it's also easy to collaborate with colleagues and friends. It's quick to invite other users to upload additional footage and edit your current work.
To kickstart a new collaboration, all you have to do is copy a link from WeVideo's dashboard and send it to your friend or colleague. Alternatively, you can search for other WeVideo users and add them directly — a bit like Skype.
Some users complain that there's a lack of editing tools for teams working on the same project. Once collaborators join a project, each editor gets its own custom version of the timeline to make their edits. So, rest assured, you won't accidentally overwrite one another's work. But, it's still challenging to pull together to produce a single video (especially if you're all working at the same time).
There's no need to back up your work using a USB stick and pass it around from editor to editor, or to transfer work from your computer to a tablet. Instead, you just add your work to the cloud to back it up (cloud storage). Not only is this convenient, but you can kiss goodbye to worrying about data corruption resulting from faulty hardware. Rest assured, you'll never lose your saved edits with WeVideo!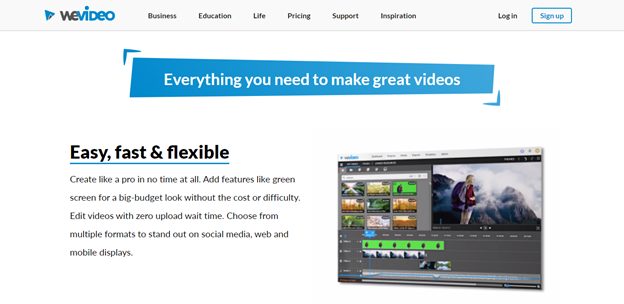 Export Your Work
Once you're done video editing your work. Great! It's now time to export your work.
You'll be pleased to hear, it's easy to upload footage from WeVideo onto YouTube (and other video platforms) directly. There's no need to download your video file and then re-upload it to YouTube. WeVideo does all that for you.
It doesn't matter what paid-for plan you opt for, you can publish your videos directly onto a variety of networks. In addition to YouTube, you can upload your work to:
Vimeo
DropBox
Facebook
Twitter
Google Drive
DailyMotion
But, if you upgrade to the 'Unlimited' plan, you'll also be able to upload videos to FTP, Wistia, and Vidcaster directly from the WeVideo's dashboard.
Editor's Choice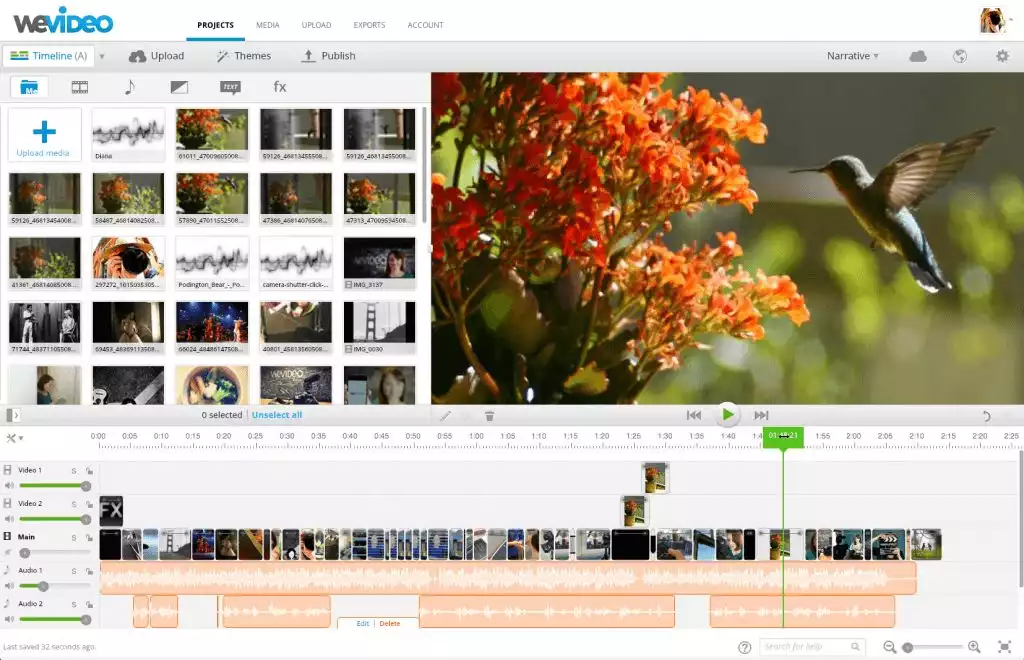 Do you WeVideo?
We do! Versatile, easy-to-use and 100% cloud based, WeVideo is our TOP PICK here, and for just a fraction of the cost of other video editing tools.
Try Wevideo First
We earn a commission if you click this link and make a purchase at no additional cost to you.
Other Video Editing Features:
For your ease, we've listed all the other WeVideo features.
Please note, what you're entitled to depend on the paid-for package you opt for. So, be sure to bear that. But for now, this should give you a broad idea of what WeVideo has to offer:
You can download all edited video footage to your computer
WeVideo Jumpstart Technology
Premium quality editing features
Motion titles (including holiday season-themed ones)
A green screen editing tool
A voiceover tool
A slow motion feature
Screencasting
You can sync work with a variety of platforms (iOS, Android App and Web)
Email support
You can create both square and vertical videos
You can opt to export audio track only
Social media marketing options
Optimized export options
Frame rate flexibility
You can create your own templates for your videos
Collaboration and sharing tools (collaborative video)
Other management tools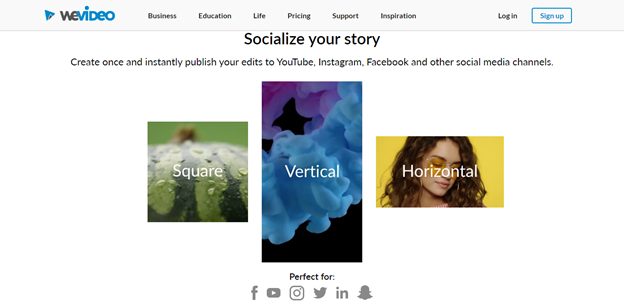 WeVideo Review: The Advantages
Okay, now that we've covered all of that, let's take a look at some of WeVideo's perks:
It's Easy to Use
Once your video is uploaded, and in WeVideo's editor, the editing experience is nothing short of intuitive. It offers incredible ease of use. There's a video timeline with a 'drag and drop' functionality, and multiple tracks.
You just 'pick up' the content you want to add to the timeline and pop it down wherever you please. It's also pretty simple to trim your clips and add transitions. To cut the video, just drag the edges inward or outward, simple, right?
Side note: WeVideo's titling functionality is also superior in comparison to its competitors. To add a title, drag one of WeVideo's text templates to either the 'Graphics' or' Effects' track.
Then select the title in the preview window. It's from there that you can modify the text with advanced text editing.
Once you're happy with the copy, just click the FX button. This populates a choice of fonts to choose from. You can also edit the size, colour, and positioning of the text. That's in addition to bold, italics, and underline options.
There are no project settings. This might be an issue for some, but for newbies, this just makes the video editing process that bit easier. As such, all projects are automatically set at the maximum pixel for your paid-for plan. The export size is also dictated by the payment plan you've opted for (but, more on that in a bit). All projects have an aspect ratio of 16:9. Consequently, if you're working with 4:3 footage, you'll see letterboxes along the edges.
If you've ever used any kind of video application before, you should pick up WeVideo's dashboard in next-to-no time.
Transitions and Sounds
WeVideo offers users a rich selection of soundtracks. With just a few clicks, you can add background music to your video. You can also opt to fade your audio in and out of your footage. You control the volume of your audio tracks, again, just use the rubber band controls.
WeVideo also boasts over thirty effects for you to apply to your video, including dream, emboss, blur, sharpen, and zoom — just to name a few! That's in addition to over 50 kinds of transitions. You can add transitions within seconds just by dragging your chosen transition between the two target clips.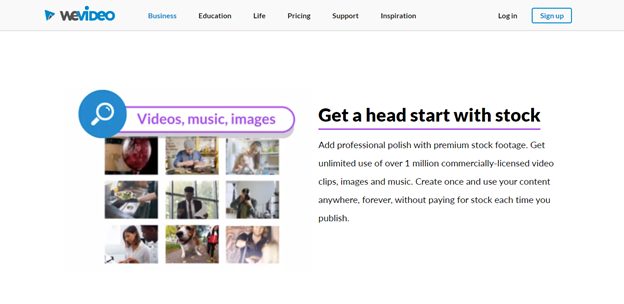 Other Features Worth Noting
WeVideo lets users add simple frames to their clips. You can also insert text bubbles — just like the kinds you see at the end of YouTube videos.
You Can Upload Different Media File Types
You can upload virtually any file type to WeVideo. Apparently, they can handle as many as 26 different types of audio/video/ image formats. So, there's a good chance you'll be able to use WeVideo to edit your content.
The Video Editing Software Wizard Tool
Instead of tediously dragging single files to your timeline, you can use the video editing tool wizard!
This comes in especially handy for creating slideshows. It's a breeze to collect and sequence images, you have full control over how long they appear and your picture transitions.
Top-Notch Customer Service
WeVideo's customer service is pretty impressive.
For starters, they have a fabulous self-help centre. You can head over there and swot up on all kinds of topics and FAQs (and tutorial resources). For instance:
How to use the WeVideo editor
How to create a video
How to playback your video
Solutions to common technical hiccups
Billing and payment queries
You get the idea!
There's also a collection of "Getting Started" videos. This series is definitely worth taking a look at if you've never used WeVideo before. They provide you with all the info you need to create your first movie. You can also use this page to get in touch with their customer support team directly. Just ping over your query via the contact form, and they'll get back to you reasonably quickly.
You can also follow WeVideo on:
Facebook
Twitter
YouTube
LinkedIn
Google+
It's a wise idea to follow a couple of these accounts. That way, you'll be sure to stay up to date with all the latest news and WeVideo developments.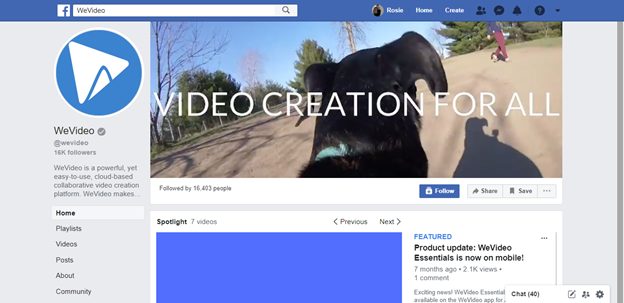 WeVideo Review: The Video Editing Drawbacks
Although being a cloud-based video editor has its perks, it does have a couple of drawbacks. Namely, you have to process raw footage through the online video editor. You could have hours of raw footage you need to access just to create a five-minute video.
So as you can imagine, this takes ages. You don't need us to tell you that the majority of us have slower upload than download speeds. The consequence? You could be waiting for hours to upload your video before you even start the editing process.
But, in fairness to WeVideo, they've created a seamless integration with Dropbox. So, if you upload it to that platform first and then head to WeVideo, you can upload your footage much quicker. The same can be said of any other cloud-based file storage service.
If you've used a smartphone to shoot your footage, you can automatically upload it to Dropbox. You shouldn't have to do anything to kickstart this process. Users report that uploading a gigabyte of footage from Dropbox took them less than ten minutes — that's not bad!
Another drawback is that WeVideo's free option is watermarked. So if you're using this editor for business purposes, you'll have to shell out for one of their paid-for packages…That's providing you want to create and publish professional-looking content.
It's been said that WeVideo's Ken Burns transition effect is pretty limited. Although you can select the focal point of the pan and zoom, you don't have any control over the starting and stopping points, OR whether you zoom in or out.
Unfortunately, WeVideo doesn't boast an auto-save function. This means having to remember to save your work as you go, which is a bit of a drag! But, again, in WeVideo's defence, when you attempt to return to the dashboard, it prompts you to save any unsaved changes. The same goes for when you try to close WeVideo's application without saving.
Yes, these are handy safety nets to have, but you won't be protected if the program crashes or if your internet goes down. You could lose everything!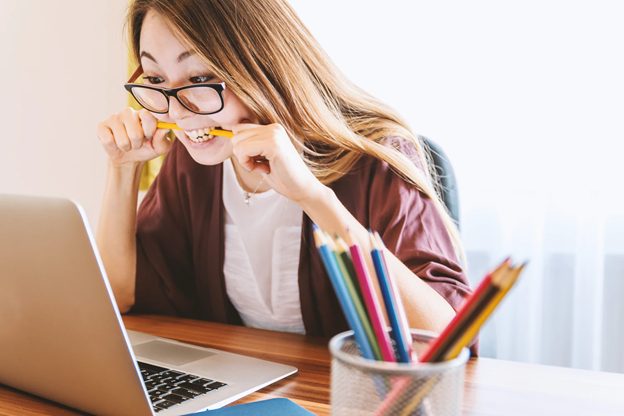 How Much Will WeVideo Video Editor Set You Back?
WeVideo offers users a choice of packages, including a free version and four paid-for bundles for individuals and businesses.
Below, we're going to break them down in a little more detail:
As we've already mentioned, you can use WeVideo for free (on a single-seat license, no free trial restriction). But the maximum resolution of your videos is only 480p for video editing. Plus, you're limited to just one GB worth of online storage. Not to mention, you can't export more than five minutes 'value for money' of watermarked video a month.
To say their free package is insufficient for business would be an understatement. But, it's an excellent resource for seeing whether you like the feel of their dashboard!
This bundle is best for those wanting to create slideshows and compilations of their home videos. It's ideal for taking captured memories and creating something a little more special.
This is what you'll get for your money:
A single-seat license
You can publish a maximum of 30 minutes worth of footage a month
720p HD resolution
Access to premium editing features on desktop, iOS (iPhone), and Android devices (Android App).
You can insert motion titles
You can create either square, vertical and horizontal videos
This bundle is best for a hobbyist video editor with a passion for video content. Just like the 'Power' plan, you'll also get a single seat license, and everything else included in that bundle, in addition to:
Being able to publish an unlimited number of videos
4K Ultra HD resolution
Access to VIP video processing and support
If you're an entrepreneur or a video marketer, listen up because this is the package for you.
You'll get everything in the previous two plans as well as:
Premium quality business motion titles for amazing videos
Additional social marketing options
Unlimited access to one million pieces of commercially licensed media.
This is best suited to small businesses and marketing teams in larger enterprises.
Access to a team license, this includes three seats
You can create your own video templates
Access to collaboration and sharing tools (for collaborative editing)
Other management tools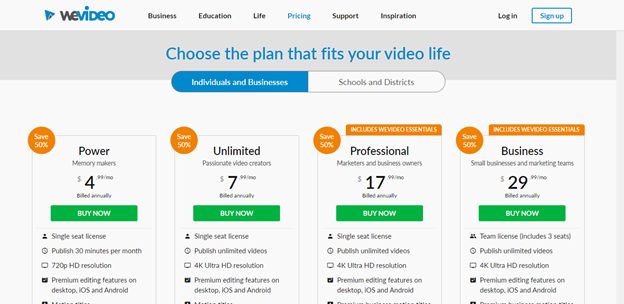 How Do You Get Started with WeVideo?
It's worth noting that WeVideo is a browser-based Flash app. It works fine for video editing with both Windows and Mac computers. But, you should expect one or two crashes — which can be frustrating when you're working on more significant projects.
Once you launch WeVideo, you'll be taken straight to their dashboard. To the left, you'll see tabs for 'Projects.' Then on the right, there are boxes for:
Project videos
Project media files
Project exports
Project members
What's a Project Video?
In short, this is what you create in the timeline. As such, for each project you have, you can upload multiple media files.
If you're working with a friend or colleague, you'll see everything you've contributed to the project in the 'project media box.' So, you can keep the other content you've uploaded to WeVideo private from your colleagues. You'll also see all the editors registered to collaborate on the project with you.
Okay, so now you've uploaded a fresh video, you'll then be directed to WeVideo's movie editor. This utilizes a standard three-window configuration. Here you'll see libraries of audio and special effects situated in the upper left of the screen, a preview window to the right, and your timeline towards the bottom.
As you scan the top of the movie editor, you'll notice a variety of buttons. These take you through the various stages of the project.
For instance:
Adding videos
Inserting still images
Adding audio and audio file integration
Using transitions
Entering text and other graphics
Projects come with six tracks, but you can add more if you need them. As we've said, to add content, just drag it from the media window and drop it in the desired track on your timeline.
You should note: To add titles and animations, you have to place them on the 'Graphics' or 'Effects' tracks — not the Video/Image track.
Any video clip that you drop into the track above the 'Video/Image' one, shows up in a picture-in-picture box. You can easily edit the clip from here. You can move the box around, rotate, flip and resize it. Not to mention, there's the option of adding a border and/or a drop shadow to your work.
To control the transparency of your footage, use the rubber band controls. This should create a layered effect.
Okay, so now you've finished adding content to your timeline,
WeVideo will near-on automatically stream a low-resolution version of your work inside of your internet browser.
When you're happy, these lower-quality versions are then sent to the cloud for final rendering. It's at this point the final render quality is improved. Some users don't like editing their work using an inferior-quality video. BUT, what this does mean is that you can make the most of WeVideo even with a relatively low-power computer. You shouldn't have to put up with the annoying lag associated with editing HD files on desktop apps.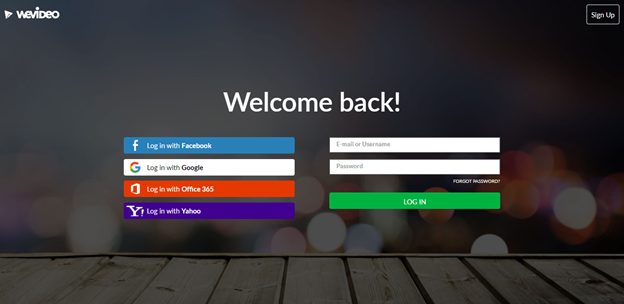 FAQs
Question: How to remove the watermark on WeVideo?
Answer: The only way to remove the watermark on WeVideo is by subscribing. I know this might not be the thing you wanted to "hear" but this is the only way to make videos with it.
Question: Is WeVideo good for YouTube?
Answer: Yes, WeVideo is good for YouTube or creating videos you want to keep for yourself or as part of an online family library where you will store all the videos you want to rewatch over and over again. They offer free music that is licensed and you can use with your premium account, you can also use images or other videos and you can choose whether you want it to be square, vertical or horizontal.
Question: Is WeVideo better than iMovie?
Answer: WeVideo is better than iMovie in so many different ways, including being it easier to use, having compatibility with other platforms as well, and of course, having more features than iMovie.
Question: Is WeVideo easy to cancel if I don't need it anymore?
Answer: Yes, WeVideo is very easy to cancel through the main page, without any nerve-wracking waiting for support, or email confirmation. Once you cancel the subscription, you will still be able to use the software until the date you made the purchase.
WeVideo Review: What's the Verdict?
Editor's Choice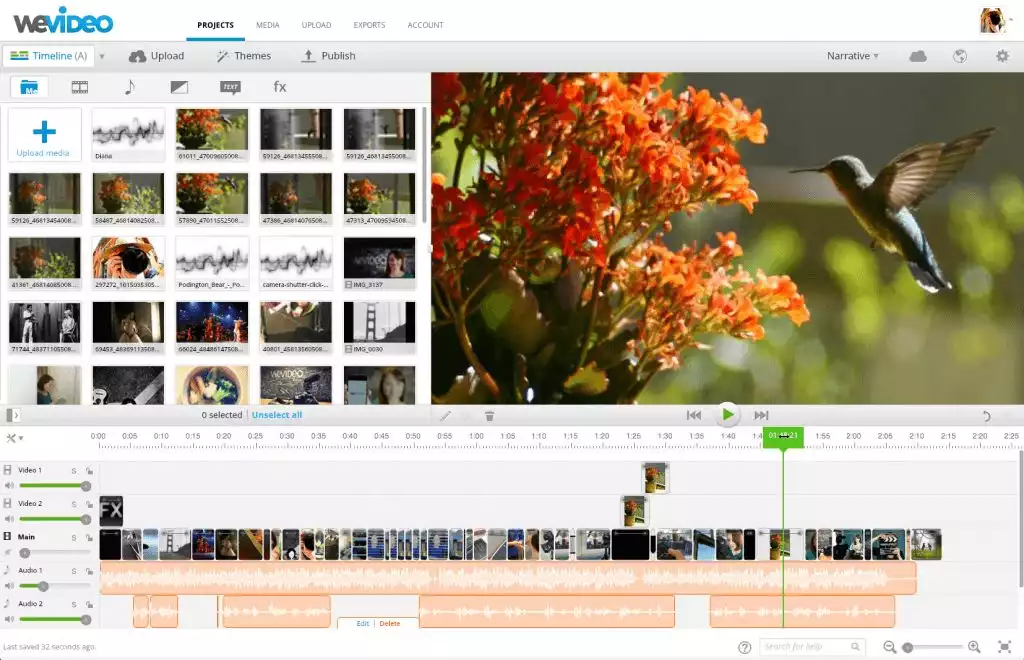 Do you WeVideo?
We do! Versatile, easy-to-use and 100% cloud based, WeVideo is our TOP PICK here, and for just a fraction of the cost of other video editing tools.
Try Wevideo First
We earn a commission if you click this link and make a purchase at no additional cost to you.
As video editors go, WeVideo is pretty good. As we've already said, their free plan is very limited, but it's definitely worth using the free WeVideo account to get a feel for the software layout and functionality of the editor. It doesn't cost you a dime, so you have nothing to lose by giving it a go.
But, what makes WeVideo software stand out from the crowd is their vast selection of licensed music, video clips, and images. With the upper paid-for plans, you can peruse millions of pieces of content and use them in your videos. This is an incredible resource to have!
We also love that WeVideo is cloud-based, so for entrepreneurs, this comes in very handy. You can access your work from any device from anywhere without any difficulty.
All in all, WeVideo is ideal for newbies. You don't need any experience video editing to use this solution. Their interface is intuitive and straightforward to use, so you'll get to grips with it in next-to-no time.
Have you ever used WeVideo software? If so, we'd love to hear how you got on with this program? Does it provide great ease of use? Would you recommend it to a friend? Let us know in the comments box below, we would love to hear all about your experiences!
Here are some other related video editing app and software articles you may be interested: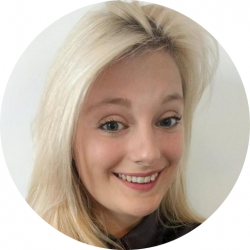 Latest posts by Rosie Greaves
(see all)