Last Updated on October 13, 2022 by DMEditor
Find out which tool is better with a detailed comparison of SocialOomph vs Hootsuite.
These days, content marketing and social media management go hand in hand. With so much to consider and to plan ahead of time, it can be a challenge to stay on top of things (especially when your business requires you to do a million other things!)
Seriously, who has the time to trawl through Facebook and Twitter all day every day? Answer: No one.
Which is why you need the help of a trusty social media management tool. These enable you to run all your social media pages from the convenience of one dashboard. You'll save a ton of time and effort scheduling content and working out which posts best resonate with your audience.
This then begs the question, which is the better software; SocialOomph or Hootsuite?
Well, you're in luck, because we're going to compare these two fabulous programs here in this review. Hopefully, the info below gives you a better feel for which is better for your business.
Sound good? Great! Let's get to it.
SocialOomph vs Hootsuite Features Showdown
SocialOomph is a Canadian company offering users a suite of tools for entrepreneurs and social media managers looking to boost their productivity. With over a decade's worth of experience behind them, they certainly know a thing or two about getting the most out of your social media activity.
You may have heard of the brand, TweetLater.com, don't let that confuse you. Up until 2009, SocialOomph focused on providing productivity solutions for Twitter users. However, after that, they rebranded themselves to appeal to entrepreneurs using a plethora of social networking platforms.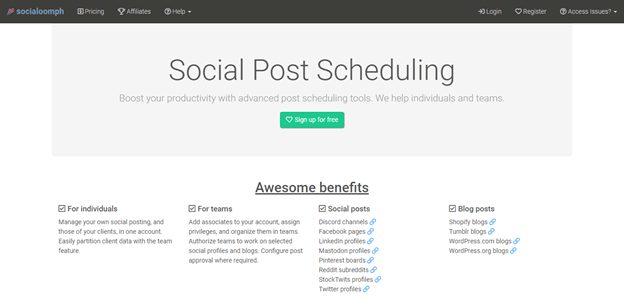 Hootsuite is another social media management system that enables you to launch and manage your social media marketing across an array of networks. Similar to SocialOomph, entrepreneurs benefit from handling numerous marketing campaigns via one dashboard. Trusted by more than 800 of the Fortune 1000 companies, it's safe to say Hootsuite's a reputable brand.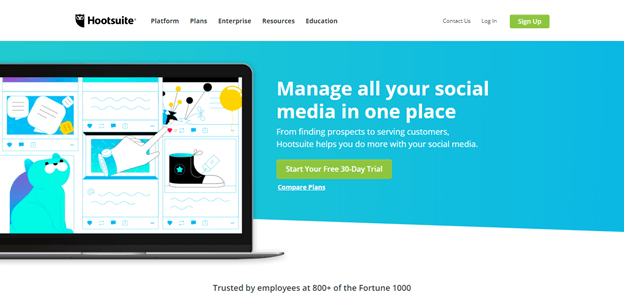 1. Social Media Feeds
If you're basing your choice of platform on the amount of social media feeds you can connect to, Hootsuite is the solution for you.
Although SocialOomph integrates with the following –
WordPress
Facebook
Pinterest
Reddit
StockTwits
Shopify blogs
Tumblr blogs
Twitter
LinkedIn
Mastodon
Hootsuite takes this one step further by allowing you to integrate with Google+, YouTube, Flickr, Tumblr, Foursquare, Mixi, and more!
2. Analytics
Any social media management tool worth their salt provides the essential metrics you need to analyze the success of your social media strategy. You'll be pleased to hear that both Hootsuite and SocialOomph offer these features. However, the extent of SocialOomph's analytics is somewhat more detailed in comparison to Hootsuite.
3. Auto-Response
If you want to provide your social media following with an auto-response when they ping you a message, SocialOomph is the software for you. Unfortunately, at the time of writing, Hootsuite doesn't offer users anything like this.
4. Retweet and Mention Notifications
When it comes to providing real-time notifications of your Twitter mentions and retweets, SocialOomph has the advantage. You'll get an update every time you get a Twitter interaction so you can respond promptly.
This works wonders for engaging with your audience and building a rapport with your following. Unfortunately, Hootsuite doesn't offer its users anything like that.
5. Mobile Apps
With Hootsuite, you can make use of their tools via one of their apps for smart devices. Whereas, SocialOomph only enables you to access your stats and analytics through their website. As such, Hootsuite is the better option for entrepreneurs on the run.
6. Customer Service
SocialOomph was one of the very first brands to utilize Twitter API, so to say they're knowledgeable on the subject would be an understatement. This is one of the many reasons why they're able to offer their clients top-notch customer service. Don't just take our word for it, according to ZenDesk their customer service falls within their top 5% of companies!
However, you should be aware that SocialOomph doesn't offer customers support over the phone, live chat or social media. So, if these are your favorite forms of contact, you're out of luck. But, don't write-off their email communications; users report receiving incredibly quick and informative responses.
Alternatively, you can search for your own answers using their self-help center. The resources and advice over there are pretty exhaustive so you're bound to find the answers to your burnings questions!
Hootsuite is also said to offer excellent customer support to its users. You can contact them via e-mail, telephone, social media, and snail mail (but seriously, who writes handwritten letters to customer support teams?!).
For us, having access to support over the telephone and social media gives Hootsuite an edge over SocialOomph when it comes to the quality of their customer service.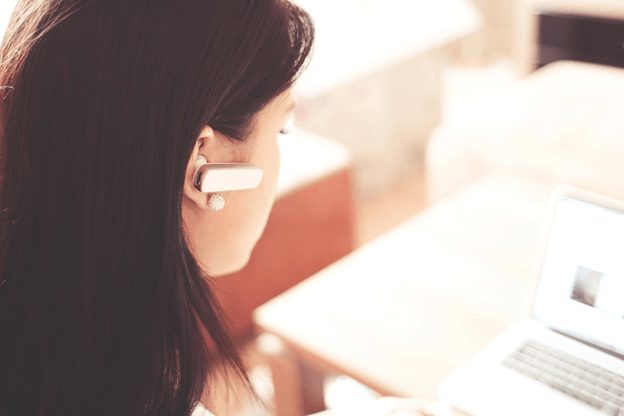 How Much Will HootSuite and SocialOomph Set Me Back?
SocialOomph vs Hootsuite: Pricing Comparison
SocialOomph offers you four payment plans, so there's a good chance you'll find something to suit both your business needs and your budget.
1. The Personal Suite (Free Plan)
It almost goes without saying that SocialOomph's free plan offers you the least in terms of features. However, it's great for getting to grips with the platform without committing any of your hard-earned profits!
With this plan you can do and access all of the following:
Connect one of your social media profiles
Utilize basic posting features
Schedule as many posts as you like
Publish three posts an hour
Access to customer support
However, you just get access to the personal area (i.e., you can only manage your own social media presence, not that of your clients).
2. Advanced Suite ($15 per month or $162 annually)
This is the cheapest of all SocialOomph's paid plans.
In addition to all the features in the free plan, you'll also be entitled to:
Access to team areas. However, you can only assign one team, and you'll be the sole associate
Connect to one blog
Access to one RSS feed for sourcing posts
The use of one content queue
Access to all posting features
You're limited to sixty posts an hour (per social media profile and blog)
3. Professional Suite ($25 per month or $270 a year)
This bundle takes things up a notch. In addition to everything listed in the previous payment plan, you'll also get to:
Connect your account to ten social media profiles
Connect your account to five blogs
The use of five RSS feeds to source posts
Access to five content queues
One webhook
You also have the choice of purchasing the below add-ons, which you're unable to do with the lesser payment plans:
For $10 a month you can connect five extra social media profiles
For $10 a month you can connect five other blogs
For $10 a month you can use five extra RSS feeds
For $10 a month you can add five extra content queues
For $5 a month you access an additional webhook
4. The Business Suite ($55 a month or $594 a year)
Last but not least, this is the most expensive package, and as you'd expect, the most comprehensive. You'll have access to everything you get in the professional suite in addition to being able to:
Connect to as many as twenty social media profiles
Connect to ten blogs
Access to ten RSS feeds to source posts
Access to ten content queues
The use of SocialOomph's post review and approval system so you can ensure nothing goes live without your say so!
You also have the option of the below upsells, which aren't available to other payment plans:
You can add an extra associate to your account for $35 per month, and for $5 per month, you can add a new team.
You should note: you can assign an 'associate' to numerous teams.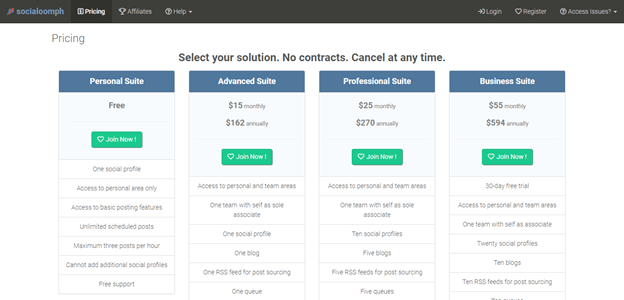 A Few Things to Bear in Mind
With all of SocialOomph's packages, you're entitled to a 30-day self-service refund. They won't ask you any questions or pressure you to stay if you want to cash-in your refund request, that's it!
You can also make the most of their 30-day free trial where you can explore any of their paid packages. That way you judge for yourself whether the upgrade's worth your money!
You can cancel your monthly subscription at any point, you're not locked into any lengthy contracts.
Hootsuite
HootSuite offers users five payment plans to choose from. What you get for your money (which is pretty decent value!) is detailed below:
1. The Free Plan
Interestingly, HootSuite's free plan allows you to connect more social media profiles than SocialOomph's cheapest paid-for bundle, the 'Advanced Suite.'
You're entitled to integrate as many as three social media handles! However, like anything you get for free, it's understandably not without its limitations – you can only schedule 30 posts, and only one user can access the account.
2. The Professional Plan (£25 per month)
This is Hootsuite's cheapest paid-for plan and relatively similar to SocialOomph's. You can:
Connect up to ten social media profiles
Enjoy unlimited automated scheduling
Get access for one user
Make the most of a free 30-day trial
Get access to key performance metrics
An ad spending limit of £400 a month (if you want to boost your posts).
3. The Team Plan (£99 per month)
This is where the price really jumps up- especially when you compare what you get for a similar amount of money spent on SocialOomph. The real value hinges on whether you need to register additional team members to your account.
With the Team Plan, you can have up to three users, if that's something you'll need, it's worth its weight in gold. If not, you're better off with SocialOomph's Business Suite as this also allows you to connect up to 20 social media profiles.
For your reference, the Team Plan includes everything in the professional plan, plus:
Three registered users
The ability to send your team messages
Custom analytics
Exportable reports
An ad spend limit of £1,600 a month (if you want to boost posts)
4. The Business Plan (£520 per month)
The price massively increases and with good reason. You'll get everything included in the Team Plan in addition to 24/7 support should you need it, and the ability to connect up to 35 social media profiles. There's also an ad spend limit of £4,000 a month.
You'll also get access to:
Flexible approval workflows
A one hour's 1-on-1 onboarding session
Five social media certifications
5. The Enterprise Plan
This is more of a bespoke approach tailored to suit the precise needs of your business. You can accelerate your social media results by giving teams advice, training, advanced analytics and support that they need to be genuinely fruitful. Prices for this package vary.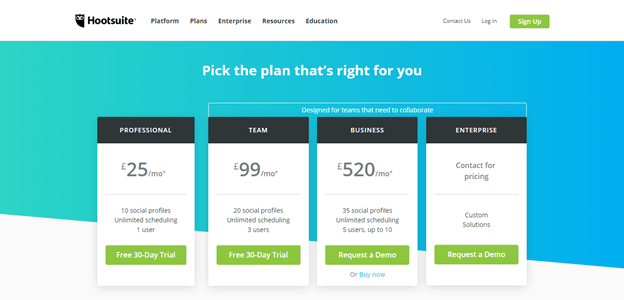 Hootsuite vs. SocialOomph: Features
SocialOoomph
From the convenience of one dashboard, you can manage and separate your own social posting to that of your clients- if you have a team to help you with this, even better! You can add workers to your account and assign them various privileges to ensure confidential info remains private. You can also add tags to all your content to help you and your team locate them quickly and easily.
SocialOoomph allows you to organize your staff into teams and assign them to work to complete across your various social media platforms and blogs. You can also ensure you approve your posts before anything goes live – this is especially handy if you're in the process of training someone up!
Moreover, you can craft posts for both your social media networks and blogs by using RSS feed entries; you can even filter your search using keywords to streamline the process. While we're on the subject of optimizing your content, it's worth noting you can upload your posts in bulk to either schedule or add to your content queue.
You should be aware: Unfortunately, images and videos can't be uploaded in bulk- but who knows? Maybe this will change in the future?
We also love that SocialOomph offers users access to something called 'self-destructing posts' this is where your blog or social media posts erase themselves after a set period of time. That way you avoid confusing readers with outdated and irrelevant info.
SocialOomph also has a function called 'post-flood control' this helps makes sure you don't 'flood' your social media profiles by posting too much. These publishing limits allow you to keep your followers engaged without coming across as 'spammy.'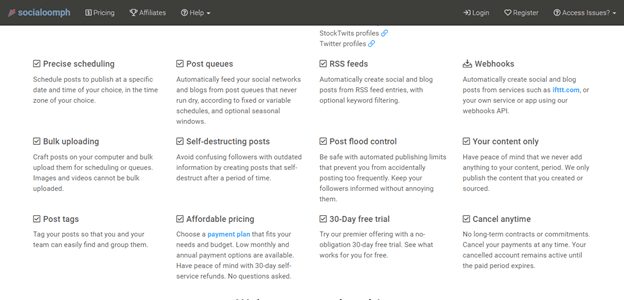 Hootsuite
Hootsuite makes it easy to save time while still managing to keep your social media presence active. You can quickly find, schedule, and publish compelling social media content to share with your audience.
You can also boost your best performing content from Hootsuite's dashboard by analyzing the data reports based on real-time social media analytics. There's also an option to follow topics relevant to your business that are trending on social media, so you can stay ahead of the game and respond quickly to these developments.
If you want to make teamwork more manageable, then Hootsuite also gives you access to flexible assignment and approval workflows. Not to mention, you can also protect your brand from hackers and other cyber criminals by utilizing their social media security features.
Last but not least, Hootsuite has partnered with as many as 250 tech partners and apps, meaning you can discover new tools to make your work and social media output even better!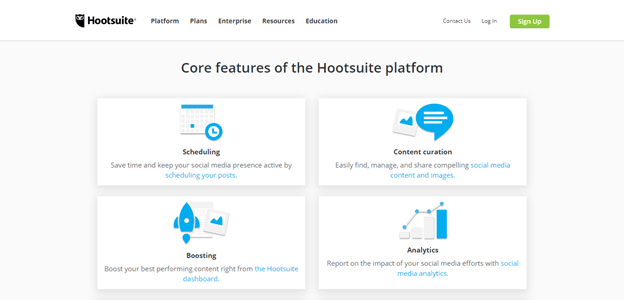 SocialOomph vs HootSuite: Final Thoughts
All in all, your choice of software mainly comes down to whether you want features like auto-response and real-time notifications when someone retweets or mentions you on Twitter. If that sounds like you, then SocialOomph is the ideal solution.
However, if your priority is managing a vast variety of social media platforms from the convenience of a mobile device, opt for HootSuite.
Really and truly, both these programs are great, so you can't go too far wrong.
Have you ever used SocialOomph or Hootsuite? If so, we'd love to hear your thoughts and experiences in the comments section below. Speak soon!
Here are some other related articles you may be interested in: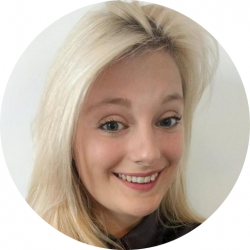 Latest posts by Rosie Greaves
(see all)