Last Updated on November 24, 2021 by DMEditor
Are you looking to ramp up your social media strategy, website traffic, and lead generation campaigns by choosing the best of Buffer vs Tailwind?
Bottom Line Up Front: But if you are serious about improving your Pinterest strategy as well as your Instagram strategy, and do not need a single solution for everything social, you might find Tailwind more fulfilling and offer value for your investment. In short, my choice is DEFINITELY to go with Tailwind here.
You probably are interested in finding out the best Pinterest scheduling tool around. Or, you may be wanting to increase your Instagram engagement and lead more traffic to your website.
Here's why these suggestions may be right on the money:
While both are some of the best social media scheduling tools around, Tailwind is dominantly Pinterest focused and Buffer has a Pinterest scheduler to boost as well. Also, both can help you schedule Instagram posts to the exact minute when you want to engage your Instagram followers.
Choosing the best social posts schedulers can impact any one of these goals. According to Tailwind, the average number of Pinterest posts works out to 28. Buffer recommends pinning fresh pins at least 5 times a day.
So, if you want to become visible and not only attract but retain more organic visitors to your site, you might want to pin close to 28 times in a day… perhaps more?
To help you with that, find below a comparison of Buffer vs Tailwind to find out all the important points you need to know to easily, conveniently and speedily get the best social media scheduling tool suitable to your needs.
But first…a background check of the two social media management tools.
Tailwind vs Buffer: Overview
Tailwind is a complete Instagram scheduler and Pinterest management tool because it is designed to help you automatically pin, repin, and schedule your Pinterest posts at the best times—according to its research on the best times to post on Pinterest.
It does that by hitting 5 benefits with a set of scheduling tools we will discuss further in this post. Plus, you can take up Tailwind's free trial to learn how Tailwind works as a social media management platform/scheduling tool.
On the other hand, Buffer is also a complete social media management tool. Unlike Tailwind which focuses on just Pinterest and Instagram, with Buffer, you can also schedule social media posts to automatically post on Facebook (Groups, Pages, and Profile), Twitter, LinkedIn, and Google+ on top of Pinterest and Instagram—saving you the time and money you need to manage busy accounts.
And there is also Buffer for email.
Important to note is that Tailwind is both a Pinterest-approved Pinterest Marketing Developer Partner and official Instagram Partner badged for Community Development.
Why that is important is because it assures you the approach Tailwind uses to pin on Pinterest is approved by Pinterest. This is the major reason that saw BoardBooster shut down on June 27, 2018, after four years as one of the best Tailwind alternatives.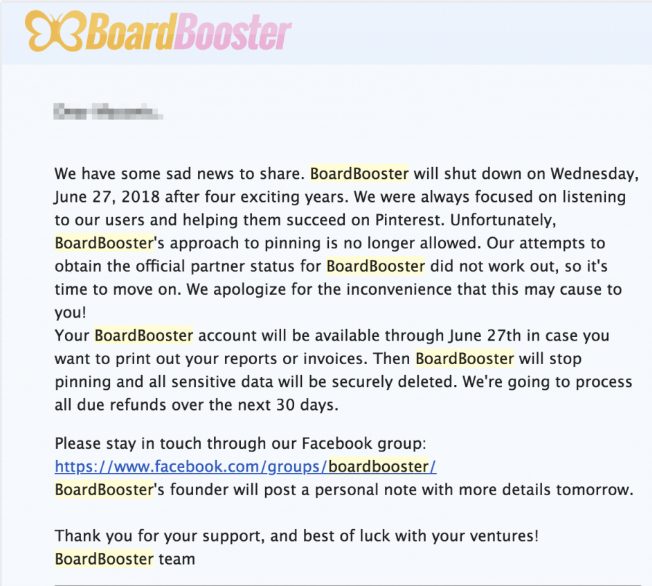 So, if you are still out looking for the best BoardBooster alternative between Buffer and Tailwind, this post is for you too.
Like Tailwind, Buffer will help you schedule posts and analyze each post's performance from one place. But it makes a leap further by scheduling posts in more social media platforms than Tailwind.
How to Use Tailwind vs Buffer
Here's the detailed breakdown of both IG and Pinterest scheduling tools to help you make the best decision to boost your social media strategy.
1. Set Up and Getting Started
Getting started with Tailwind is a breeze. You can sign up with your Instagram or Pinterest account in seconds. And you do not have to pay upfront because Tailwind offers a free trial that is not based on time as usual.
Instead, Tailwind will let you pin up to 100 pins for free.
With Buffer, the Free Forever plan does not include Pinterest scheduling instead offering Facebook, Twitter, LinkedIn and Google+ support. Buffer for Pinterest is available through the Pro plan, which you can try for free within 7 days.
So this Buffer vs Tailwind comparison is technically a showdown between Buffer Pro and Tailwind Plus plans and beyond.
Both program's interfaces are easy to work with and neat, so you'll find your way around in no time—almost intuitively.
2. Customer Support
And if it proves a little demanding, here's what else you can do to ease your learning curve.
Tailwind provides online support via an FAQ section on its website, a phone number and email address for more specialized cases. You can also connect with Tailwind on 8 social media networks including Facebook, Twitter, and Pinterest and ask for help.
Better yet, you can its YouTube channel avails a number of videos you can use to learn how to use Tailwind from scratch to pro in little time. Enterprise customers get several options that are custom made to their specific cases.
With Buffer, you'd get chat support via Twitter. It also provides an FAQ section on the official site, as well as Twitter and Instagram marketing guides to help kickstart your campaign.
If you want to learn how to create, schedule and post to social media with Buffer Publish for Business, you can also tune in to a Buffer webinar (on site) on Wednesdays at 11 AM EST or 4 PM if you are from the UK.
Moreover, you can watch Buffer Reply to learn to engage your audience every Thursday at 11 AM EST or 4 PM in the UK.
Overall, customer reception is well-handled in both cases—although most of the time you will not need it. That simple.
3. Tailwind vs Buffer: Special Features
Between Buffer and Tailwind, which platform has the best social media scheduling tools you need?
Something we noticed about Tailwind…
The basic plan, the Plus Plan which kicks in immediately you are done with the free trial run, will only allow you to either pin posts to Pinterest OR Instagram feed.
That is an important detail to grasp if you expect Tailwind to handle Instagram scheduling as well as Pinterest automatic posting simultaneously—because as the fine print indicates, it won't.
You have to choose which account is more important to you—whether you are subscribed to the Plus plan or Pro plan.
That out of the way, how about splitting this into two, no?
Tailwind or Buffer: Which is the Best Pinterest Scheduling Tool?
Tailwind started out as a dedicated, Pinterest-only social media scheduling tool while Buffer did not include Pinterest scheduling until more recently. And the disparity shows in the details.
Tailwind packs a couple of indispensable scheduling tools for Pinterest (on top of the official Pinterest approval).
Tailwind Special Features and Benefits
You can use Buffer or Tailwind Chrome, Safari and Firefox browser extensions to schedule pins and repins directly from within Pinterest (on a desktop).
Once installed, you can hover your mouse over an image on any website or blog. A "Schedule" button on the bottom right corner of the image will pop up to indicate you can click on it to add it to your Tailwind Pinterest queue.
For Buffer, the button will pop up from the bottom left side of that image, calling you to "Share Image". You can easily work with vertical images as well.
Here's the deal with Tailwind here.
While you can use either Buffer or Tailwind to customize the time and date you'd like your pins to post, Tailwind goes a step further.
And while the Buffer blog can help you decide on the best times to post on Pinterest based on its overall users' database, Tailwind will recommend the best times for pinning based on your previous posts' engagement statistics—not what works for everyone else but precisely when your specific audience seems to check out your posts, like, comment, and repin them the most.
That is powerful and, literally, on-point of Tailwind.
And speaking of repins…
You can re-schedule popular pins to a later date and time when using either Buffer or Tailwind. You can choose the time and day of the re-schedule down to the minute, too.
You can find out which pins have the most repins or highest engagement levels by clicking into your Tailwind or Buffer analytics pages—or read about both in the Analytics section below.
However, Tailwind and Buffer both will let you know which pins you already post to avoid duplication and boring your audience to tears will the same feed. Plus, you can use either program to set pinning intervals in-between posts.
Now, when using the browser extension to add to your queue, the scheduled pin will automatically show up on the first, empty slot in your calendar. That is the case whether you are using Buffer or Tailwind.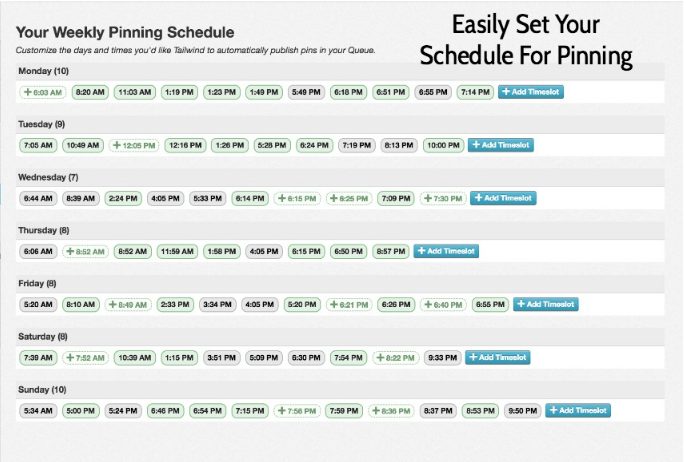 Unlike Tailwind, Buffer sets no monthly limit to the number of pins you'd like to schedule in a month when you choose its Pro plan—although you can only pin 100 pins at a time.
You are only allowed up to 400 posts per month when using Tailwind's Plus plan, which works out to about 13 pins a day—16 pins less than the average pin rate on Tailwind but likely sufficient for most bloggers, marketers and small businesses on Pinterest.
It becomes an issue if you have a bunch of boards and need to update all of them—since the Pinterest algorithm prefers fresh content. In fact, if you have more than 13 boards to freshen up with new pins, you'd have to upgrade your Tailwind subscription plan to Pro.
Here's the twist, though:
When you choose an annual plan, Tailwind will lift the monthly limit and you can schedule however many you want. That's what you get with Buffer without having to upgrade to an annual plan.
Here's what else that means:
You can set your Tailwind (Annual) or Buffer (monthly on Pro) queue and forget it for several days, take time out for other engagements you might have, and then come back to re-queue another round.
Let's do the math here, shall we?
If you can only pin 100 pins at a time, and you want to compare to Tailwind (meaning we take 13 as the maximum number of posts you'll want to do in a day) then you'd be able to schedule Pinterest posts for almost 8 days straight.
If you plan on taking a vacation or taking a social media sabbatical without pulling the plug on your audience for more than 8 days, you may be concerned. Also, keep in mind that Buffer includes other social media network posts in the plan, meaning you may have to settle for less than a week if you schedule Facebook posts, Tweets, and LinkedIn posts in the same plan.
However, once a couple of pins go out, say 45, you can top up your Buffer queue with a similar number to hit 100 once again.
That means you do not have to worry about the seemingly shorter time, although you'll not want to go too far without recharging the queue.
With Tailwind, you can take off on a month-long sabbatical and still have your Pinterest audience engaged while you are away, although you'd need a separate social media management platform to feed audiences you have on other social media networks.
Your choice.
When using Buffer on a browser, once you click on "Pin It", you'd need to add a board, fill in a search engine-friendly description, and choose a schedule for that pin right away.
However, Tailwind will let you save the pin in draft mode. That means you do not have to do the above right there and then. And that can help you streamline your workflow by only focusing on adding more pins to your draft.
Then you can come back later to fill out all the details in a separate, planned-for session. Or you can let your SEO or content creators handle the descriptions.
Tailwind will also let you upload a pin to multiple boards in a few clicks which Buffer can't do just yet.
If you wish to save more time by bulk-uploading images, Tailwind will help you do that in a few seconds.
But while Buffer will help you upload images to its queue, you would have to upload each image at a time—not to mention have to add details like the board, schedule and description there and then for each—which can be time-consuming if you quite a catch of Pinterest worthy stills to pin or repin.
That would be most concerning if you are uploading images from services such as Dropbox, Drive, Instagram, Canva, and Facebook. More about that in the Integrations section below as well.
And if you've thought about enrolling help…
Tailwind will let you enroll just one other user, probably your social media manager, with a Plus plan.
If you need more people logging into your Tailwind to propel your Pinterest strategy, you'd have to shell out more to upgrade to Tailwind Pro which allows up to 5 contributors (4 more apart from yourself).
Also, notice that the Pro and Plus plans cater for just one website domain (that is, per Pinterest account).
What are Tailwind Tribes, you ask?
Tribes are Pinterest group boards like Triberr for Pinterest.
You can either create your own Tribe and invite others to join in and start sharing their pins in the groups so you and other members can repin them, or you can join an existing Tribe to boost your repins rate.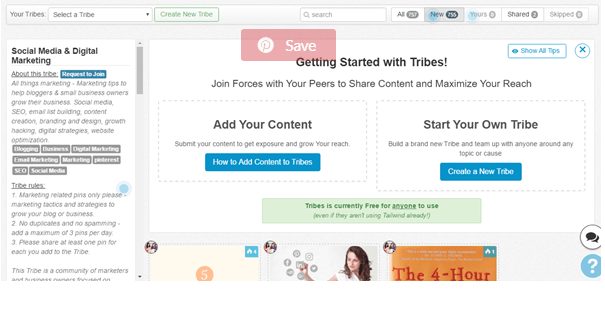 Tailwind Tribes help you take advantage of the sharing aspect of social media. So if you share others' pins they are likely to share yours with their audiences as well. And that can have a viral aspect similar to sharing stuff on Facebook, Twitter or LinkedIn
Tailwind is still testing this feature, so it's still in Beta mode, but worth mentioning because it is thoughtful and essential now that we have had a run with it.
It is basically a visual search engine for Pinterest.
You can use it to find pins that relate to your own pins. The more original pins you post on Pinterest using Tailwind, the more suggestions of related pins you'll get. You can then decide to repin the suggestions ion your account.
This is particularly handy because if you find it tough to pin more than 10 pins a day to raise your chances of falling in favor with Pinterest's algorithm in terms of ranking based on your Pinterest engagement level.
What Buffer does provide is an RSS Feed you can source quality blogs from to enrich your treasure trove of pins.
Now compare Tailwind special features with what Buffer has to offer.
Buffer Special Features and Benefits
The first and most visible value-point is you can use Buffer Pro to schedule social media posts to 10 social media networks. That includes Facebook, Twitter, Instagram, LinkedIn, Pinterest, Google+, Tumblr, and more.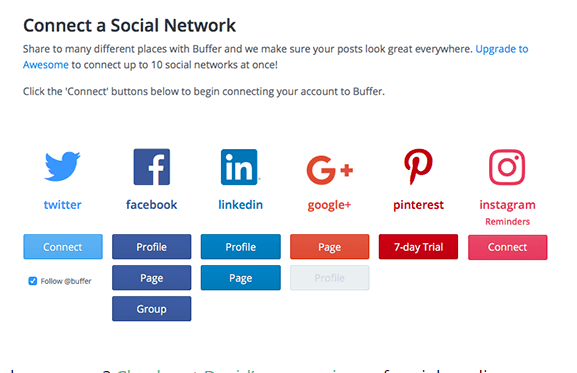 That straight out classifies Buffer as a comprehensive social media management platform while Tailwind qualifies as a top Instagram and Pinterest scheduling tool.
In fact, Viraltag, Hootsuite, and CoSchedule are the best Buffer alternatives based on this feature compared to Tailwind—now that BoardBooster is dead.
And there are a ton of top Pinterest tools you can use as part or complete Tailwind alternatives.
If you like to publish text pins, then you'll prefer Buffer for Pablo. The tool is an image editing tool you can use to create text images for both Instagram and Pinterest without leaving the Buffer ecosystem.
So instead of having to leave to create such an image on Canva or another platform, you can choose from the 50,000 images available on Pablo, 25 fonts, and resize images to make your posts pop.
You can also share the text images you create via any social platform—and Buffer integrates with most of them.
Automatically Add URL Sources
Buffer also lets you shorten URLs and include them in your posts. But you'll probably want to edit the source URL showing up in the description field.
Buffer vs Tailwind: Which is the best Instagram scheduling tool
It is pretty much the same story here as using Tailwind or Buffer for Pinterest.
The thing to keep in mind, though…
If you already have a Tailwind for a Pinterest account and then register for Tailwind for Instagram app, the company will structure your billing/plans so that both accounts, payments, and features start to run in tandem.
Also, watch out that you save the right pin to the right board or draft when using your browser's extension.
Analytics
Tailwind uses Pin Inspector to help make sense of the figures, trends, and whatnots on the dashboard.
From the tool, you can see your favorite statistics such as which pins are most popular (so you can repin them), when most repins and engagement indicators fire through the roof (so you know the best times to pin it), and so on.
You can tell how many people repined your pins over a specific period and even compare the growth to another period. While Buffer offers "basic analytics", Tailwind provides insightful statistics that include a 30-day history to munch on.
Buffer can do that too, but not as well.
The major difference is that Tailwind will let you view analytics per pin while Buffer will only let you view the overall performance of your pins.
Integrations
But if you need to rev up your analytics drive, you can integrate Tailwind or Buffer with a compatible third-party application or Zaps to get started.
For example, you can tag Google Analytics on to of Pinterest.
Tailwind can integrate with Hootsuite if you want to cover up for its almost single-network focus on Pinterest. That way you can get the best of Tailwind and still incorporate the best of Buffer—the ability to post to different social media platforms.
That's just an example. But you can choose more Tailwind integrations or Buffer integrations from their respective pages.
Pricing
For the most part of this Buffer vs Tailwind comparison, you've probably noticed you'll need to pay up for Buffer Pro to effectively compare Buffer to Tailwind (Plus).
What's more?
If you still want to be able to cancel your Tailwind subscription at any time without incurring a loss, you can sign up for the month-on-month Tailwind Plus for bloggers and other small businesses (less than 25 people). But it will cost $14.99 per month compared to $9.99 per month when you commit to the annual plan by paying up just under $120 in advance.
Enterprise can reach out to Tailwind for custom packages, though.
Check out the Tailwind pricing page to get even more details here.
Buffer Pro starts off at $15 per month for a host of features. If you are a small business and want a scalable plan, Buffer might be your best start.
You can see the details below or on the Buffer pricing page here, too.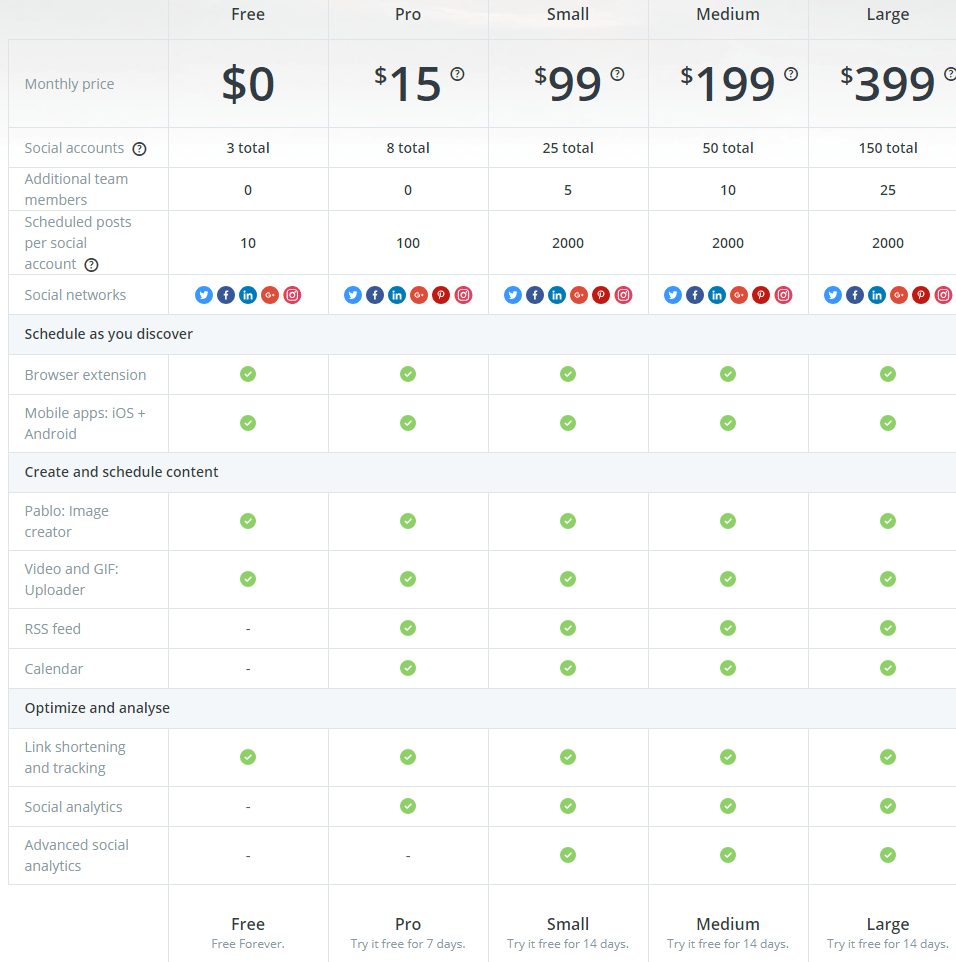 To cut to the tape, if you want a comprehensive social media management tool, you might find Buffer to be most ideal.
Buffer lets you schedule posts to at least 10 social media accounts and platforms depending on your plan (includes the Instagram tool for scheduling).
If you want Pinterest included, you will find it if you opt into the Buffer Pro plan—not included in the free plan.
Buffer is a social media management "swiss army knife".
Bottom Line: But if you are serious about improving your Pinterest strategy as well as your Instagram strategy, and do not need a single solution for everything social, you might find Tailwind more fulfilling and offer value for your investment. In short, my choice is DEFINITELY to go with Tailwind here.
What's experience with these two, and would you like to share it in the comments section below?
Other Social Media Management Options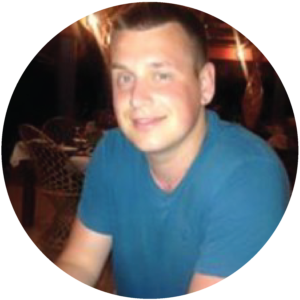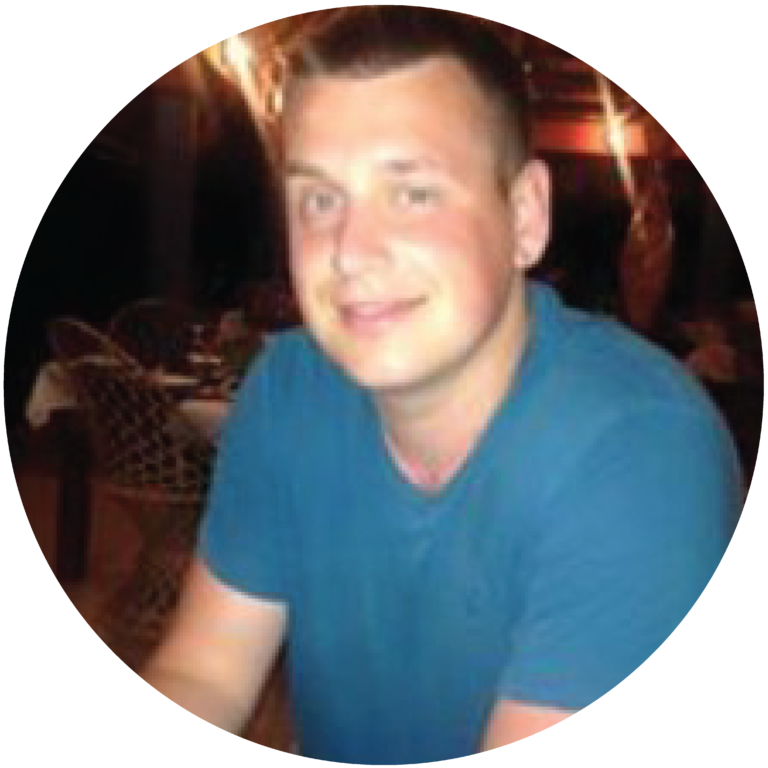 Latest posts by Ewen Finser
(see all)
Get 40% OFF for 3 Months