Last Updated on July 19, 2023 by Ewen Finser
I have experienced firsthand what goes into building an online business. It is hard work and not for the faint of heart. There is more to it than just a pretty website – that is only the beginning. If an online business is going to succeed, it must be built upon a solid customer base.
As an online business owner, I quickly realized how important customers are. But I also realized how difficult it is to acquire and keep customers. Fortunately, I found that the world of online business has been gifted with ingenious resources to help with all my customer management needs. And this is where Carts Guru comes in.
The purpose of this article is to share my thoughts on Carts Guru and give you some insight into this customer management software. I want to give you information on all their positive and not so positive aspects. With this information, you can decide whether or not they can benefit your online business. So, if you're ready to get your customer base solidified, let's talk about Carts Guru.
Carts Guru Review – Bottom Line Up Front
Feel free to read the entirety of this article, but if you want a quick sum up, here are my thoughts on Carts Guru.
It makes customer campaigns easy

It is integral for reducing abandoned shopping carts

Its customer support is superb

Its website is slightly difficult to navigate
The History of Carts Guru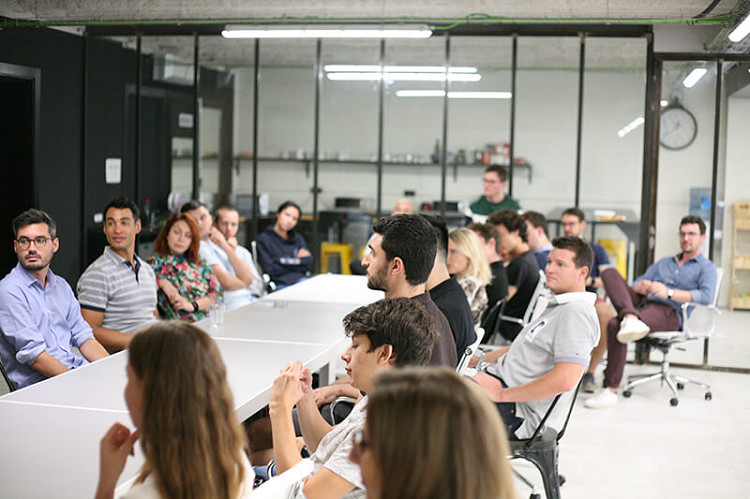 Before you take the big step of joining forces with a company, it is a good idea to learn a little bit about its history. When it comes to Carts Guru, you'll be pleased to find a company built with stability, experience, and vision. This company was the creation of friends, David Laloum and Maxime Pruvost. They started it in 2017 as an answer to the problem of abandoned carts that their e-commerce clients regularly faced.
After seeing the frustration that these carts created, they knew they needed to help the world of online business marketing – and they realized they had the knowledge to do so.
After two years in the business, it was obvious that these friends had created something worthwhile. By 2019 they had received over €2M in funding and were working with over 1000 clients around the world. Their team of creatives had swelled to 36 and they had two offices, one in San Francisco and one in Barcelona.
Now, they are a stable enough business that they can tweak their system while innovating for the future of online marketing.
What Does Carts Guru Do?
Carts Guru was designed to reduce the number of abandoned carts on e-commerce shopping sites through a host of retargeting strategies. Abandoned carts are those carts with items placed inside them but never brought through the checkout process.
To reduce the number of abandoned carts on a shopping website, Carts Guru provides a system of e-mails and Facebook or text messages to reengage the customers who abandoned a cart. This strategy of re-engagement can convert over 20% of abandoned carts into sales.
Not only does Carts Guru provide this re-engagement technique, but it also provides a system that identifies non-identified visitors. A non-identified visitor is someone who has previously made an account with an online shop but when visiting the shop, they did not log in to their account.
Carts Guru provides the online shop with the ability to identify these visitors and engage with them to build a relationship and encourage a sale.
With Carts Guru, online businesses can build, sustain, and maintain their customer connections. These connections are critical for the survival of online businesses. Without a solid and loyal customer base, an online business can easily go under. Carts Guru provides the technology and marketing tools to keep companies relevant and open.
How Does Carts Guru Operate?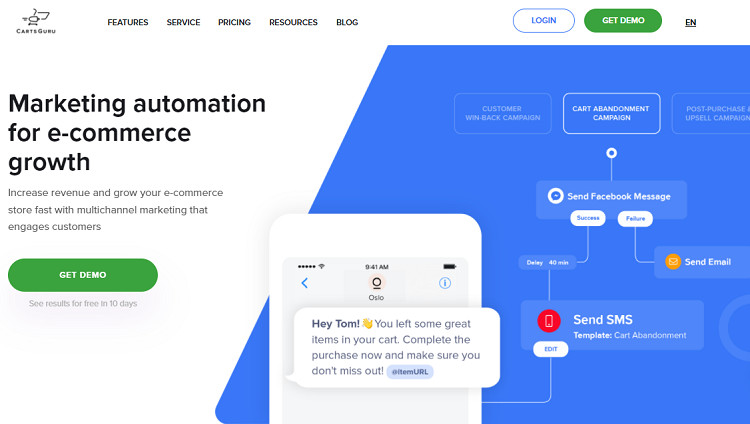 This software is designed to come alongside a working website and incorporate marketing campaigns that increase customer connections. These campaigns include e-mails and Facebook or text messages. Campaigns can be geared toward any type of customer, including those who:
Create an account but do not log into it as they shop

Place items in a cart but leave without making a purchase

Make a purchase and might be interested in additional items offered on the website

Made a purchase but have not visited the website for an extended period of time
Campaigns are customizable to fit each shop's needs with options to use a template or create a campaign from scratch. Shop owners have control over the type of message sent (e-mail, text, etc.), when a message is sent, and what the message looks like.
Shop owners who are uncertain of how to create a campaign or which type of campaign will work for their needs can rest assured that Carts Guru has their backs. The system includes a dashboard that highlights a shop's sales metrics, allowing the shop owner to make informed decisions.
And if this resource is not enough, shop owners can choose from three levels of expert e-commerce services available. These are yearly services that include:
The Basic Service
This is the perfect service for shop owners who know a bit about e-commerce and marketing but still want advice from experts. With this service, a shop owner has access to help create three campaigns and some strategic recommendations.
The Pro Service
This service level is optimal for most shop owners because it provides the right amount of help for every endeavor. With this service, a shop owner has access to help create 6 campaigns, 4 newsletters, 2 performance reviews, and 4 e-commerce events, plus more.
The Premium Service
This service is there for those shop owners who don't have the time, resources, or experience necessary to market their business.
With this service, a shop owner is basically hiring a marketing staff that will help create an unlimited number of campaigns, 4 performance reviews, 10 newsletters, and 8 e-commerce events, plus more.
What Does Carts Guru Cost?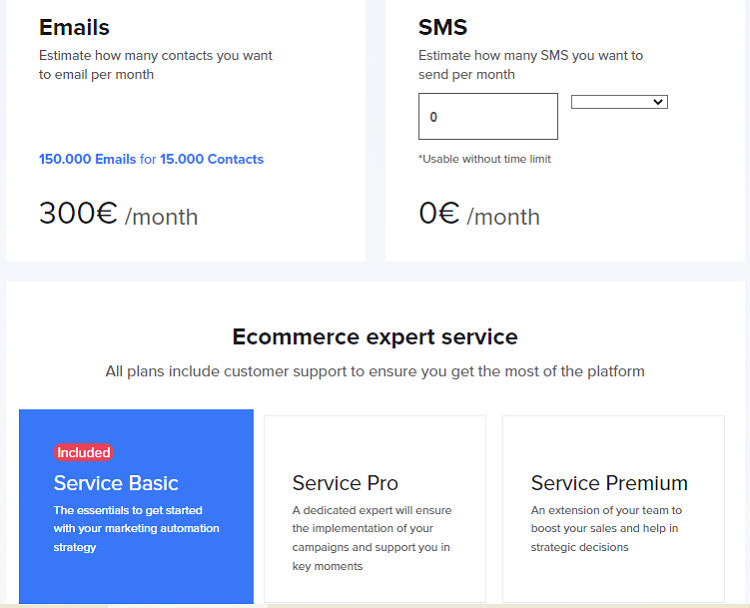 I can tell you all about the benefits of using Carts Guru, but unless you know what their services cost you, you cannot make a decision. Ultimately, the cost of using this service is dependent upon your needs. Pricing estimates are made depending on how many e-mails, contacts, Facebook, and text messages you need to maintain, as well as, what type of expert e-commerce service you prefer.
The base rate is $300 a month for sending 150 e-mails and maintaining contact with 15,000 customers. This rate will increase if you select more services. If you have any questions about the cost of the services you need, I recommend that you ask for a free demo.
How to Decide if Carts Guru is Right for You
Selecting a marketing service is a big decision for your business. You want to invest in only the things that will produce positive results, otherwise, you will lose time and money.
You may be interested in Carts Guru, but not sure if it is exactly right for you and your business. If this is you, then let me share the steps I take before making a business decision of this caliber.
Have I Done the Necessary Research?
First, I write out a checklist of the things that need improvement in my business, e.g., more sales, customer growth.

Next, I look at a variety of options that will resolve the issues my business faces, e.g., more employees, better sales offers.

Then, I ask a lot of questions and experiment with different resources so I understand what services suit my business and its needs best. Here are three questions I consider before making any purchase:
Can I Afford to Go Without this Service?
My company may not be facing any issues that this service is designed to resolve, so I don't need it.
Or, perhaps, I may be able to create a solution of my own that is less expensive, less time-consuming, or more appropriate for my business than the service offered. If either of these is the case, then I don't need to spend my money on the service.
Is this Service Going to Make my Life Easier?
Essentially, I want to know if this service will help me or make me miserable when I use it. If I spend money on something, I want to be sure that I get good customer support, I'm able to understand how the service works, and I'm capable of using it without a big struggle.
Is the Skill Offered by this Service Something That is Better Done In-House?
In this case, we're talking about online marketing and customer acquisition. Before I pay for a service, I want to know if it would be better for me to create an in-house marketing position to work on these types of projects.
For this, I will need to consider the pros and cons of hiring an employee versus paying a yearly rate to a service company.
Finally, choose a personalized solution. Don't opt for the most popular or settle for the least expensive – get what you want and what you need.
The Key Features of Carts Guru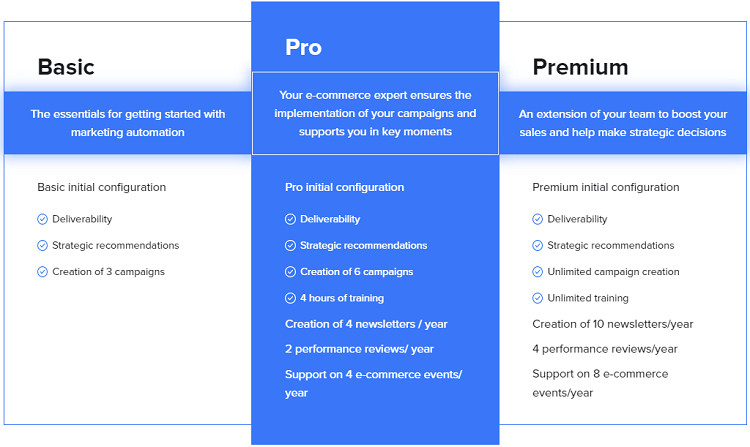 Its services are customizable depending on a business's size and needs

Its campaign templates are well designed and easy to use

It is a growing company that keeps innovating and thinking of the future of online marketing

It offers a free 10-day demo of its services

It provides users with graphs and workflow charts to assist with customer retention and acquisition

It offers expert e-commerce support
Pros of Carts Guru
Over 1000 online businesses use and love this service

It is a customizable service

It has a proven record of helping businesses reengage with customers

It has great customer service
Cons of Carts Guru
Uploading contacts can be slow

Customizing e-mails is not possible with a template
Recommended Alternatives
While I have a lot of good things to say about Carts Guru, you may still be wondering if it is right for you. For those who are still undecided, I say it is time to consider some alternatives. Once you see what other marketing services are available, you may get a better sense of whether or not Carts Guru is what you need.
CartStack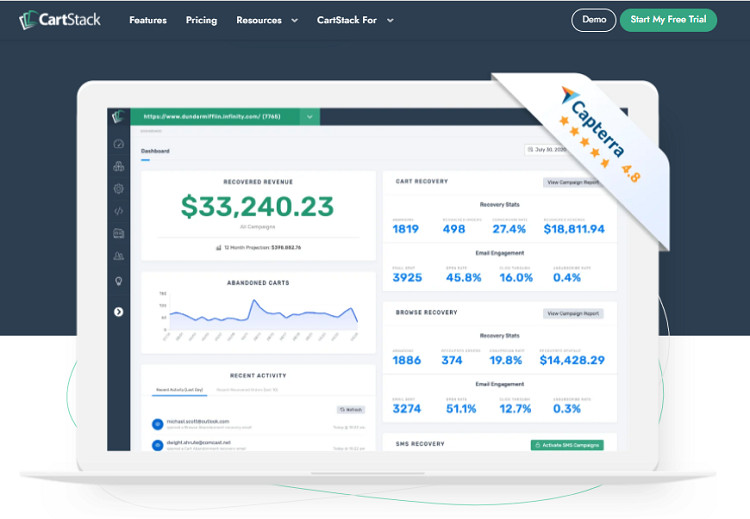 This service is very similar to Carts Guru. Its main focus is to reduce the number of abandoned carts businesses experience, but it does more. It is also designed to engage with new customers and to recommend products to former customers.
Cart Stack offers three plans with a variety of service features. The pricing for their services will depend on which plan you select and which of their features you require. I think Cart Stack is an excellent alternative to Carts Guru and it may be a better fit for some business owners. Since it offers a free demo, it is a good idea to try that and compare it to what Carts Guru offers.
Whatso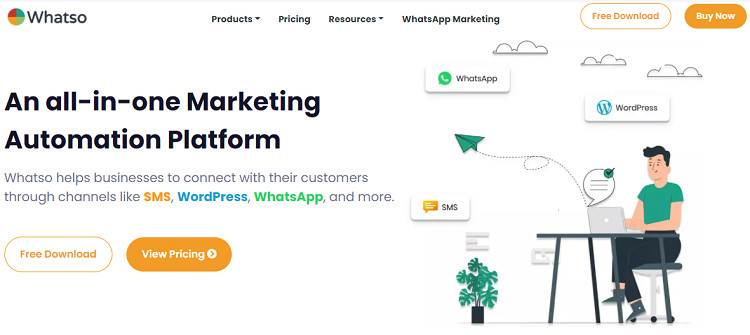 This service is provided by the makers of WhatsApp and is closely connected with the popular messaging service. Most of its customer contact is made through WhatApp and text messaging, but most service plans offer unlimited messaging throughout the day.
Whatso offers six plans ranging in price from $39 for a standard plan all the way up to $129 for a 6-in-1 package.
For those business owners who need to save money and don't need a lot of prettily designed marketing campaigns, this is an excellent option. Personally, this is not a service I would use since it does not offer enough high-quality marketing tools and designs.
Salesforce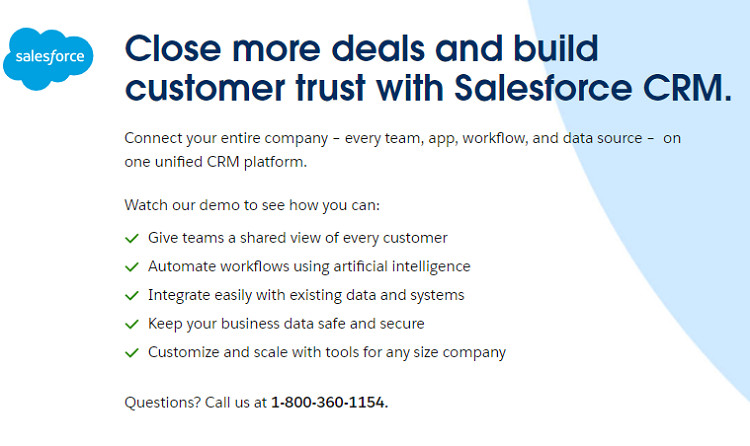 This service is very intricately designed so that no customer will slip through. If a business wants to engage with its customers in a relevant and functional manner, then choose this service.
Salesforce offers four plans ranging in price from $25 to $300. They all include e-mail integration and the Salesforce Mobile app. To understand which plan is best for you, you will need to speak with a customer service team member and try their free demo.
This is an alternative that I would be interested in trying out sometime. It has a lot of good reviews and offers much of what I would need.
Where to Purchase Carts Guru
If you've decided that Carts Guru is the right marketing service for you, then head over to their website, Carts.guru.
FAQs
Question: Why Is It More Important to Keep Customers Rather Than getting New Customers?
Answer: You may be wondering why there is more focus on customer retention than on new customer acquisition in online marketing. The reality is, most businesses make it because they follow the 80/20 rule. An explanation of this rule is that 20% of a business's customers produce 80% of a business's income. With stats like this, every business is going to strive to build a solid customer base before expanding.
Question: Does Carts Guru Track Customers Via Cookies?
Yes, this is one of the ways Carts Guru identifies the different types of shoppers who visit an online store.
Question: Does Carts Guru Handle Spam or Phishing Attacks?
The Carts Guru support team is well aware that bad actors exist on the internet so they are constantly monitoring possible spam or phishing attacks. Unfortunately, this means that those businesses who use their services must be aware of how their e-mail campaigns are received or rejected.
Too many bounced e-mails send up red flags to the Carts Guru support team. If Carts Guru senses that one of their customers is spamming people, they will disable that customer's account. Fortunately, for customers of Carts Guru who are genuinely trying to get their business working but are struggling with their e-mail campaign, there is help. Carts Guru is there to help their customers tweak their campaigns and reduce the amount of bounced e-mails they receive. This, in turn, will keep the customer's account active both in the business world and in the Carts Guru system.
Concluding Thoughts
My intention for writing this article is to give you my thoughts specifically on Carts Guru, and why you might want to use it for your business endeavors. I, personally, love the services they offer and how they do business. Carts Guru gets a wholehearted recommendation from me.
Hopefully, you have found a lot of answers to your marketing questions by reading this article and are now able to make that important decision for your business. Whichever way you decide to go, may your endeavors be successful.