Last Updated on April 23, 2023 by Ewen Finser
The global system integrations market size is forecasted to reach $708.747 billion by 2026. The increased demand for automation systems is one of the major factors driving the growth of integrations. Among the top players in this industry are systems and applications that integrate with NetSuite.
Oracle NetSuite is a leading cloud-based business management suite for companies of all sizes. It provides a unified suite of business applications that allows organizations to manage business functions in a single system.
While NetSuite is already a robust solution, the more it connects with other solutions, the more value it offers. Integrating NetSuite with other systems can help reduce expenses, increase productivity, enhance efficiency and give clients more value for their investment.
Below are some of the best NetSuite integrations to leverage:
ADP Workforce Now
Benefits of NetSuite Integrations Systems and Applications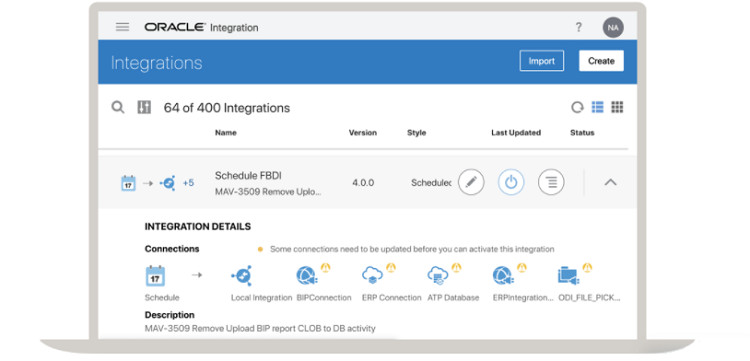 The primary benefit of connecting NetSuite with other systems is to enhance workflow efficiency. Integrating NetSuite with third-party applications ensures that your organization can access information without switching between tools.
Research by Anderson Frank suggests that about 68% of NetSuite users use the tool because of its ability to integrate their ERP and CRM tools into one cloud package.
Other advantages of linking NetSuite with other tools include:
Reducing Data Errors
There is a high risk of inputting information into the wrong system for businesses that use multiple platforms and systems. Integrating NetSuite with applications such as Google Suite and Dropbox can ensure that your organization has access to accurate and up-to-date data at all times without errors.
Improving Productivity
Streamlined data flow within the entire business process helps employees focus on work rather than having them use time switching between tools for information. Integrating data from different systems also ensure that employees can access data from a single source, fostering faster responses and more efficient work.
Automating Manual Processes
Daily business activities such as order processing and invoicing require manual data entry. Integrating NetSuite with other applications can increase automation, reduce errors and improve efficiency.
Improved Order Management Processes
Integrating NetSuite with third-party applications makes processing customer orders easier. Customers can place orders through your online store, and the integration you set up will take care of the rest by sending data to your NetSuite system for inventory, accounting, and finance.
Improved Customer Experience
A seamless omnichannel integration between your online store and NetSuite means that customers can order products or services seamlessly. An integration that provides customers with real-time order status updates ensures that they are in the loop regarding their orders.
Best NetSuite Integrations to Leverage
The ability of systems and applications to connect with NetSuite helps the platform become more attractive for companies. Below is an in-depth look at some of the best integrations organizations can leverage:
1. HubSpot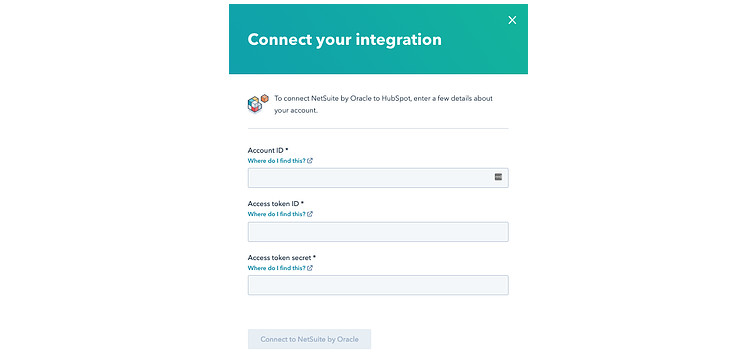 HubSpot is a leading inbound marketing automation platform that offers integrated marketing and sales solutions. It helps users generate more leads, convert prospects into customers and build long-term relationships with their clients.
Integrating NetSuite with HubSpot allows users to manage their entire marketing and sales process in one system. The integration can help organizations better understand their existing customers and identify new prospects by automatically syncing data between the two platforms.
Users can win valuable reporting and automation capabilities once they convert their leads to customers. They can also monitor the performance of their marketing and sales process and gain insights into campaign ROI.
Benefits of a NetSuite HubSpot Integration
Below are some of the benefits you can expect from a NetSuite HubSpot integration:
Instant access to HubSpot data

Ability to control the entire sales and marketing data in HubSpot

Access to lead intelligence on one unified platform

Reduced data-processing errors

Closed-loop reporting showing evidence on the return on investment (ROI)
HubSpot integrates with NetSuite CRM, allowing users to access all relevant customer information in one place. Users can access data on leads alongside their sources, activity, Geography, and website. Another notable feature is the HubSpot-NetSuite e-commerce integration. You can leverage HubSpot's social media tools to monitor your brand's reputation and stand out in the highly competitive eCommerce sector.
2. Salesforce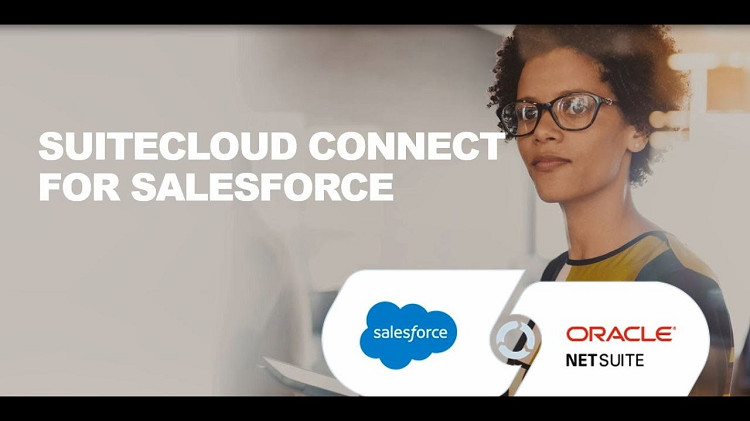 Salesforce is a leading CRM platform that helps businesses grow by managing customer relationships and driving sales. It provides a holistic view of customer information, journey, and the entire sales pipeline.
Organizations can efficiently nurture relationships with customers and identify upsell opportunities with such information. While some users can benefit from Salesforce on its own, integrating it with NetSuite allows them to enjoy more benefits.
Notably, NetSuite has its own comprehensive CRM platform, allowing users to manage sales and customer service from within the same system. But users can get even more out of NetSuite with a Salesforce integration.
NetSuite integrates well with Salesforce. The integration allows users to access customer information, business processes, and data from a single source. Users can manage their entire sales process on the NetSuite dashboard from lead management to close.
The essence of the integration is to improve cash flow and streamline business processes. Both NetSuite vs Salesforce have distinct value propositions, but together they can help users simplify their business.
Benefits of Salesforce NetSuite Integration
Below are some of the main benefits you can achieve with this integration:
Streamlined processes

Lead generation

Increased productivity

Improved customer experience

Access to essential customer information

Improved efficiency and cashflow

Reduced data entry errors
Companies can conveniently align their teams by giving them access to crucial sales and finance data. This ability reduces silos and provides a unified view of customer information. Users can also improve collaboration by sharing data within their team, reducing errors, and improving productivity.
Implementing workflow automation also allows users to focus their time on more critical tasks, such as growing your business. Salesforce brings forth many functions to help you automate key business processes.
3. Shopify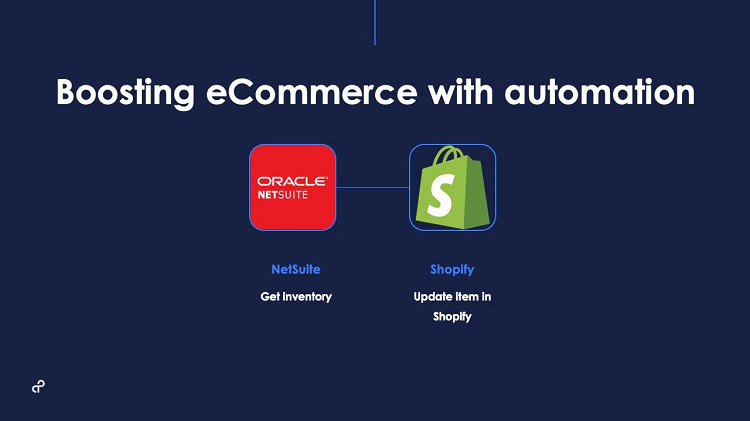 Among the many eCommerce platforms available today, Shopify is a leading solution that enables users to create beautiful stores and sell products online. Shopify has an extensive built-in feature set that allows users to create beautiful content and seamlessly manage their entire process, from seeking product opportunities to closing the transaction.
Integrating NetSuite with Shopify allows users to unleash more benefits. It enables data synchronization, creating opportunities for users to manage their entire process seamlessly. Order management is fluid with the Shopify NetSuite integration. It allows the importation of billing information from the Shopify marketplace to NetSuite, allowing a faster and more accurate order to cash process.
The support for multiple warehouses adds to the convenience of the integration. Businesses benefit from real-time access to the inventory in all their warehouses. They can easily track items, quantity, and fulfillment status.
Benefits of Integrating Shopify with NetSuite
The following are some of the key benefits that users can achieve through this integration:
Efficient inventory management

The streamlined order management process (Across POS)

Faster data synchronization

Consistent customer experience across channels

Improved business analytics

Improved warehouse management

Better insight into CRM data
Streamlining invoice generation has never been easier. Integration with Shopify allows users to send invoices directly from NetSuite, helping them reduce errors and generate accurate reports on time.
Remember, you can integrate multiple Shopify accounts to the same NetSuite account. The self-service board will give you complete visibility, allowing you to control your business entirely. Any changes made on one Shopify account will sync with the others, ensuring that everyone has a unified customer experience at all times.
4. ADP Workforce Now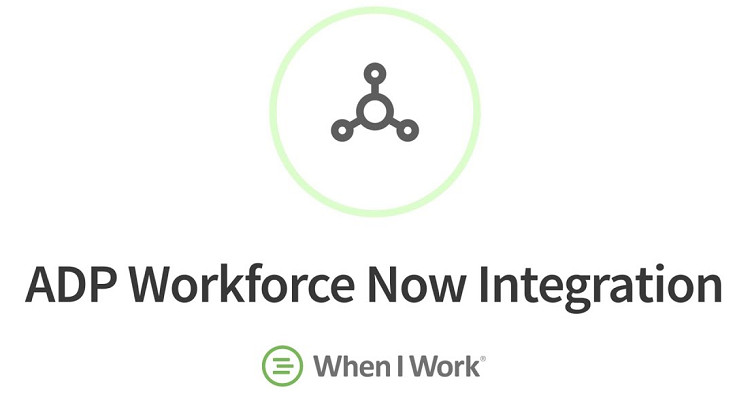 The ADP Workforce Now is a cloud-based solution that enables businesses to manage their complete workforce life cycle. It brings together all the essential automation tools needed to streamline your operations and empower your managers with accurate forecasts, deadlines, and notifications.
Connecting NetSuite to Workforce Now allows businesses to get more out of their workforce management system. The integration brings together rich and detailed data that helps managers improve the customer experience and increase productivity.
Features of Integrating NetSuite with Workforce Now
Below are some of the key benefits that businesses can achieve through this integration:
Improved workforce visibility

Increased productivity

Detailed insight into customer information

Improved collaboration across HR, IT, and finance teams

Improved business analytics
The Workforce Now integration with NetSuite helps businesses improve collaboration across teams by providing access to the same data. Users can increase productivity by taking advantage of features like time tracking, scheduling activities, and approvals.
Payroll processing is efficient and accurate when working with the Workforce Now NetSuite integration. The solution offers a single source of truth that ensures your employees get their paychecks on time, every time. The support for multiple currencies adds to the convenience of the integration. Multinational businesses can manage all their payrolls in one place without worrying about conversions or accounting for exchange rates.
5. Freshdesk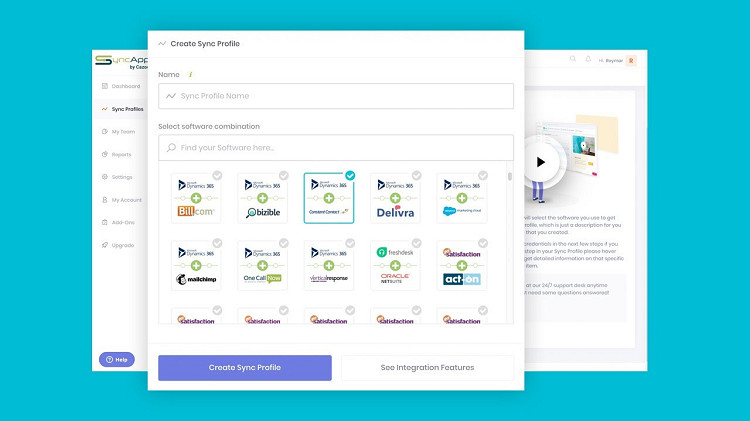 Freshdesk is a cloud-based customer support solution businesses use to manage and organize their communication channels. The intuitive interface allows clients to search for answers, view real-time notifications, and directly chat with customer service representatives.
Integrating NetSuite with Freshdesk allows businesses to manage their support tickets in one place. The solution integrates seamlessly with NetSuite, enabling users to efficiently assign and resolve issues from NetSuite's dashboard.
The integration simplifies support ticket management, enabling support agents to resolve customer issues faster while working in the NetSuite interface. What's even better is that all the processes are cloud-based, so you can track your tickets and collaborate with team members from anywhere.
Benefits of Integrating NetSuite and Freshdesk
Below are some of the benefits businesses can achieve when integrating NetSuite with Freshdesk:
Ability to leverage feedback

Faster issue resolution

Real-time data synchronization

Increased customer retention due to improved customer service

Efficient collaboration with NetSuite team members
The Freshdesk NetSuite integration ensures that customers can find answers to their questions quickly and easily. By personalizing customer experiences and streamlining communication, businesses can build long-lasting relationships with their clients.
NetSuite Integration Options
NetSuite has two primary options for integration:
Native integrations

Hand coding
Native Integrations
NetSuite offers pre-built integrations that enable users to connect with third-party systems and applications. Native integrations are essentially pre-built macros that allow users to set up triggers and actions within the NetSuite system. The macros allow users to pull, push and create data in different systems without writing code.
Hand Coding
Users can build custom integrations using NetSuite's development tools if a pre-built integration isn't available. While hand-coding is more time-consuming and costly than using pre-built integrations, it offers more control over the solution.
It also allows users to design their solutions according to their specific business requirements and processes.
NetSuite Integration Methods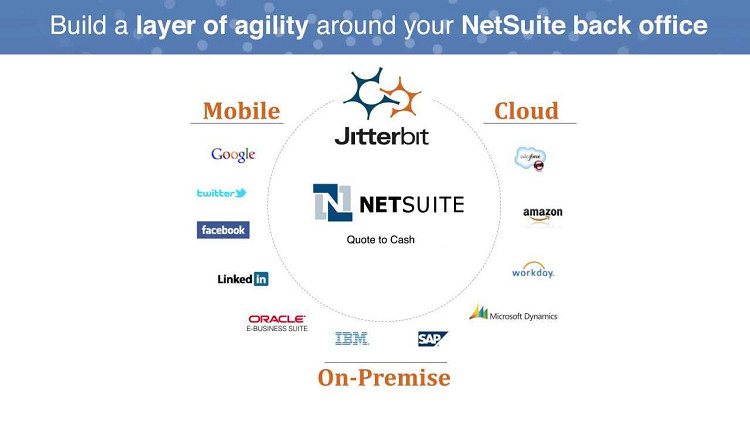 Hybrid architectures are becoming increasingly popular in today's digital world. With the growth, the need to integrate business applications also increases. There are different methods of integrating your preferred business applications with NetSuite
1. SuiteTalk
SuiteTalk is a web-based communication layer that enables you to integrate NetSuite's ERP, CRM and e-commerce solutions easily. Built outside the NetSuite ecosystem, SuiteTalk allows developers to use any language to generate objects either in .Net or Java.
However, the language should support the SOAP standard and the lightweight REST integration. It allows users to delete, add, retrieve, or update the NetSuite database.
2. SuiteScript
SuiteScript is a powerful, lightweight integration language that runs inside the NetSuite database. It's NetSuite's scripting language that allows developers to create custom objects.
SuiteScript is essentially a language similar to JavaScript. Developers can leverage the language to customize the behavior of a page and provide dynamic debugging.
3. RESTLets
RESTLets is a type of NetSuite script that operates over HTTP. It enables you to securely integrate NetSuite with other applications through secure web services without writing code. RESTLets interact fast with data, allowing you to automate dataflows between NetSuite and other systems.
4. SuiteLets
SuiteLets is, in essence, an extension of the SuiteScript language. Developers can create SuiteLets that extend or augment the functionality of suites built-in native HTML or SuiteScript. SuiteLets ensure ultimate flexibility and control, allowing you to create custom modules that suit your business requirements.
FAQs
Question: What Systems Integrate with NetSuite?
Answer: Some of the systems that integrate with NetSuite are Salesforce, WooCommerce, Shopify, ADP, and Freshdesk. Businesses can integrate these systems with NetSuite to access their sales, marketing, and customer service data. In addition, admins can automate workflows and make changes to their business processes.
Question: What are the Benefits of Integrating NetSuite with Other Systems?
Answer: Systems integrations between NetSuite and other applications allow businesses to reduce manual tasks. By comparing customer information from different sources, users can deliver more personalized experiences. In addition, they can leverage data from other systems to gain insights into their business.
Question: Does Workday Integrate with NetSuite?
Answer: NetSuite integrates with Workday, a cloud-based human capital management software that enables companies to manage their finance, HR, and payroll. By integrating NetSuite and Workday, businesses can reduce employee turnover and automate HR processes to increase efficiency.
Question: Is NetSuite Compatible with Shopify?
Answer: NetSuite is compatible with Shopify. By integrating NetSuite's suite of cloud-based e-commerce solutions with Shopify's e-commerce platform, businesses can directly access orders and inventory data from multiple sales channels. Moreover, users with more than one Shopify account can manage them from a single NetSuite account.
Best Netsuite Integrations to Leverage: Conclusion
The best NetSuite Integrations to leverage are those that seamlessly integrate with your current infrastructure, meet your business requirements, and can be easily maintained. The best integrations include HubSpot, Shopify, Salesforce, ADP workforce, and Workday.
While some integrations may require a bit of customization, these allow seamless integration between NetSuite and other applications.