Last Updated on August 9, 2023 by Ewen Finser
If you are trying to figure out of Beehiiv lives up to the hype, you are in the right place.
I've been publishing digitally for 10+ years and have tried all the major email marketing platforms over the years. When "newsletters" became a thing with the rise of Substack, I tried them out too. We even have our own newsletter for this blog on Beehiiv and a separate marketing newsletter on Substack.
I've also published on WordPress, actively use MailerLite for our starter sites, and use ConvertKit for our larger audience established media companies. All this to say, I've know them all!
I even use many of them for different use cases. When Beehiiv popped up, I was immediately intrigued because it promised to be more than Substack, but still offered a dedicated value proposition for newsletters as a content medium. Of course, I wanted to test it out.
In this Beehiiv review I'll share the key selling points for me, what drawbacks I identified, and how I ultimately settled (or didn't) for specific brands we operate.
What Exactly is Beehiiv?
Beehiiv is a platform that emerged in 2021, facilitating content creators to build, nurture, and monetize their newsletters effectively. The brainchild of Benjamin Hargett, Tyler Denk, and Jacob Hurd, Beehiiv has gained a reputation as a creator-centric platform.
Especially striking is the platform's user-friendly interface and the comprehensive toolkit it offers for newsletter creation, distribution, and monetization. It's no surprise that the platform has been adopted by several prominent creators and has shown great promise as a potent tool for content creators.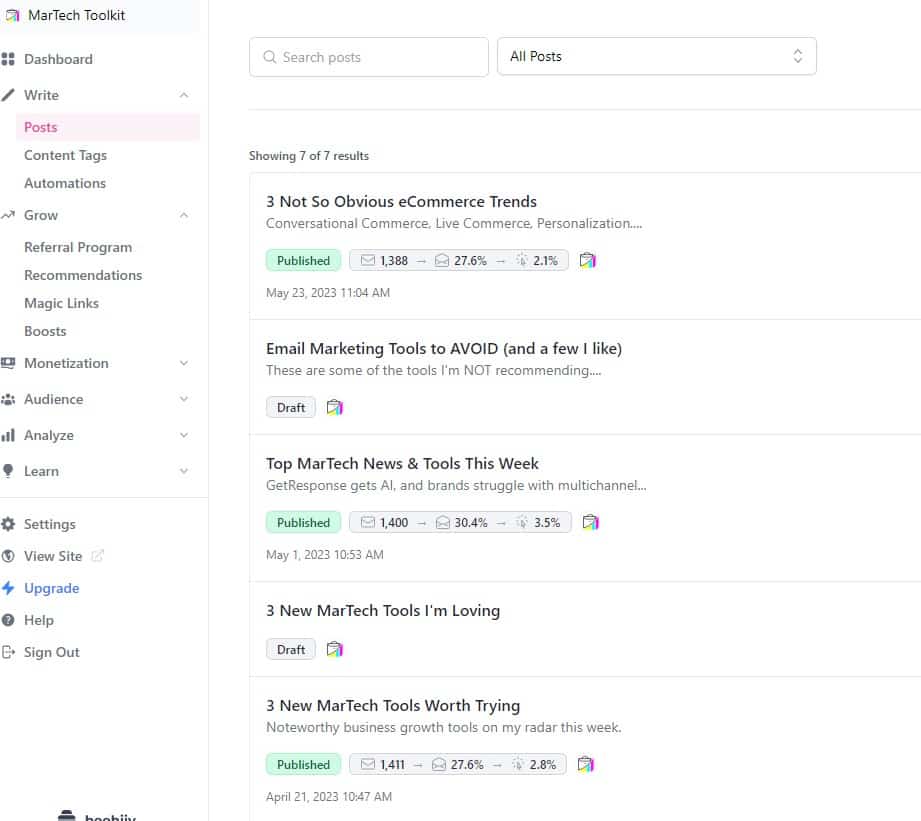 Diving into Beehiiv's Key Features
Beehiiv's toolkit is packed with features that empower creators to design, distribute, and track the performance of their newsletters. Here's a closer look at some of its primary offerings.
Intuitive Email Newsletter Editor
The heart and soul of any newsletter platform is its editor, and Beehiiv doesn't disappoint. It provides a clean, minimalist editor that bears a strong resemblance to popular content management tools like Notion. The editor supports a range of elements, including text, quotes, links, images, and more. Plus, on a premium plan, you can introduce advanced elements such as HTML snippets, referral program buttons, polls, and paywalls.
Customizable Template Designs
Beehiiv grants granular control over your newsletter's appearance, allowing you to create a unique and engaging theme. You can adjust fonts, colors, spacing, and backgrounds, tailoring your template to align with your brand identity.
Web Hosting for Newsletters
Beyond sending emails, Beehiiv also provides SEO-optimized web hosting for your newsletters. This website acts as a repository for your previous posts and a platform for visitors to subscribe to your newsletter. If you're on a free plan, your website will be hosted on a Beehiiv subdomain. However, with a premium plan, you can use your custom domain and remove Beehiiv branding.
Advanced Audience Segmentation
Beehiiv enables you to segment your audience in three ways: static, dynamic, and manual. This allows you to tailor your communication as per the preferences of different segments, thus enhancing the personalization of your newsletters.
Premium Subscriptions
Beehiiv empowers you to monetize your content by creating premium subscriptions. You can set up a paywall for exclusive content access and charge a subscription fee of your choice.
Referral Program
Word-of-mouth advertising is a powerful growth engine, and Beehiiv enables you to leverage it with its built-in referral program. You can incentivize your existing subscribers to promote your newsletter and reward them for their efforts.
Partner Program
Apart from the referral program, Beehiiv also offers a partner program. This program allows you to earn a 50% commission for 12 months for every new paying customer you refer to Beehiiv.
Advanced Analytics
Beehiiv provides a user-friendly analytics dashboard that provides real-time data on your newsletter's performance. These insights can help you understand your audience better and tailor your content strategy accordingly.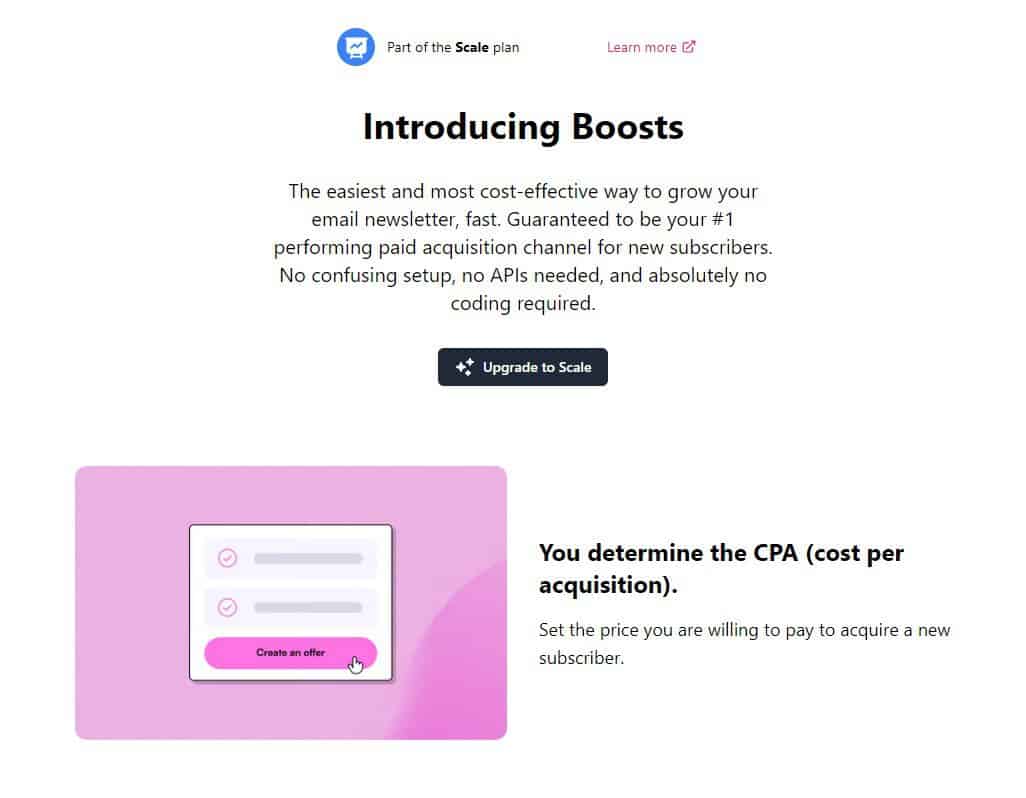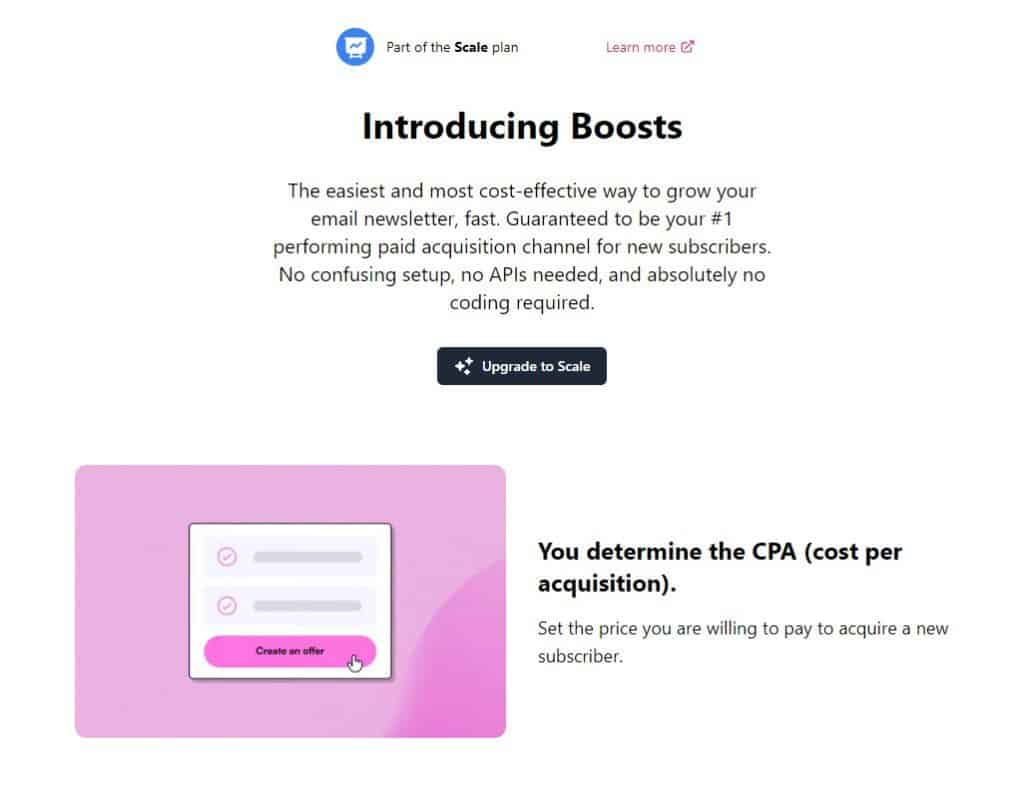 Pricing Plans: A Closer Look
Beehiiv offers four pricing tiers: Launch (free), Grow, Scale, and Enterprise.
The Launch plan allows up to 2,500 subscribers and unlimited sending. The Grow plan, priced at $49 per month (billed annually), provides access to premium subscriptions, polls, and A/B testing tools for up to 10,000 subscribers.
The Scale plan, at $99 per month, offers a referral program, 3D analytics, priority support, and more for up to 100,000 subscribers. The Enterprise plan caters to larger newsletters, with pricing available upon request.
Weighing the Pros and Cons of Beehiiv
Beehiiv certainly offers a compelling package of features, but like any tool, it's not without its downsides. Here's a brief rundown of the platform's strengths and weaknesses.
Pros
Creator-centric platform

Intuitive and user-friendly interface

Advanced customization options

Premium subscriptions for monetization

Referral and partner programs for growth

Advanced analytics for informed decision-making
Cons
Limited integrations

No email automation

Limited chat support

Most of the best features are premium (require monthly recurring subscription)
Beehiiv vs Substack
Beehiiv in many ways is a direct response to both the success AND limitations many creators experienced with Substack.
With this in mind, here's how I see the tradeoffs between these two platforms:
| Features | Beehiiv | Substack |
| --- | --- | --- |
| Audience Reach | Beehiiv is relatively new and has a smaller user base. | Substack has a large, established reader base (organic discovery). |
| Ease of Use | Beehiiv offers a user-friendly interface. | Substack is known for its simplicity and ease of use. |
| Email Distribution | Beehiiv has robust email distribution capabilities. | Substack's email distribution is reliable and timely. |
| Subscriber Management | Beehiiv allows detailed subscriber management. | Substack provides basic subscriber management tools. |
| Monetization | Beehiiv offers various monetization options. | Substack focuses on a subscription-based model. |
| SEO Friendliness | Beehiiv has SEO options but they may be limited. | Substack is similarly position for SEO. |
| Customization Options | Beehiiv provides extensive design customization options. | Substack is more focused on content, less on design. |
| Analytics | Beehiiv has more detailed analytics. | Substack provides basic analytics. |
| Integration with Platforms | Beehiiv can integrate with various platforms. | Substack has limited integrations available. |
| Cost Effectiveness | Beehiiv has a fixed monthly pricing structure. | Substack takes a 10% fee from subscription revenues. |
As you can see, Beehiiv offers more of a true software as a service platform, with some deeper features in exchange for a monthly fixed fee. That said, Substack is purely success driven in that they make money only when publishers make money, otherwise providing a completely free service.
Personally, I see some logic to STARTING with Substack for the organic discovery options as you build subscribers, then migrating to Beehiiv once you have 1000+ subscribers and can exceed the monthly fee.
Other Beehiiv Alternatives
You can check out my full assessment of the current newsletter platform marketplace here, but these are the top Beehiiv alternatives that I have on my radar:
Substack: An email newsletter service that offers a simple way to monetize newsletters. It provides an easy platform for writers to publish and distribute their work.
MailerLite: A comprehensive email marketing solution with a user-friendly interface, robust automation, and a range of customizable templates.
ConvertKit: Aimed at professional bloggers, ConvertKit offers various features like email sequences, automation, tagging, and more.
Ghost: Ghost is actually a full fledged CMS, but is a CMS built with newsletter creators in mind. Great if you want more control of your platform and audience.
Mailchimp: One of the most popular email marketing platforms, Mailchimp offers a wide range of features, including email automation, analytics, and CRM tools.
Medium: Medium has had a few lives and various peaks and valley's when it comes to popularity, but it's currently a good distribution platform to gain traction and attract eyeballs.
Final Verdict on Beehiiv
To be blunt, I do think Beehiiv is the best newsletter platform out there right now.
Its user-friendly interface, expansive feature set, and flexible pricing plans make it a worthwhile consideration for anyone venturing into the newsletter space.
While it has some limitations, such as the lack of email automation and limited integrations, the platform's overall strengths outweigh these shortcomings. Moreover, considering its relatively young age, we can expect Beehiiv to evolve and improve over time, potentially addressing these limitations. Therefore, if you're in the market for a newsletter platform, Beehiiv is a viable contender worth exploring.
Ultimately, the best way to determine if Beehiiv is the right fit for you is to try it out. With its free Launch plan, you can explore the platform's features at no risk and decide if it meets your needs.