Last Updated on August 11, 2023 by Ewen Finser
If you are looking for a good alternative to vidIQ, you are in the right place.
I've personally tried all of the video optimization tools as we've looked to grow our YouTube presence in the last few years.
VidIQ is a really good option. I currently have an active subscription. BUT, it's not without limitations, which is why I'm still ALSO subscribed to their top competitor (spoiler: it's TubeBuddy). There are some other great alternatives with specific strengths compared to vidIQ as well.
But first, why even looking for a vidIQ alternative to begin with…
Why Might vidIQ Not be Enough?
There area a variety of reasons you might be here, but these are the top weaknesses I see with vidIQ:
TL;DR: Best Alternatives to vidIQ
To cut right to the chase, these are my top vidIQ alternatives:
Morningfame

tubics

Vudini

Tubular Labs

CRAIDE

SocialBlade
1. TubeBuddy: A Comprehensive YouTube Channel Optimization and Growth Tool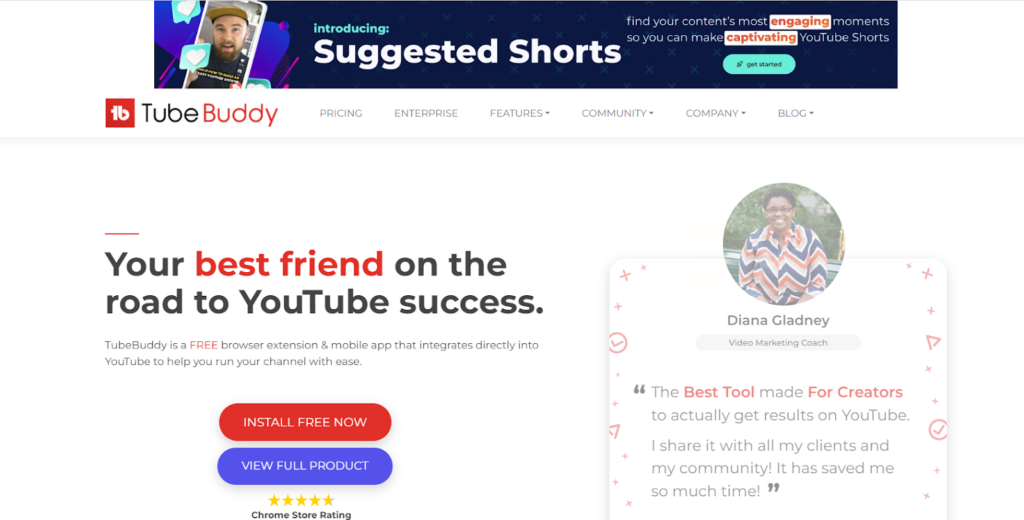 TubeBuddy is a powerhouse in the realm of YouTube channel optimization, offering an impressive array of features that can significantly enhance your channel's performance.
As a browser extension, it provides you with a suite of tools, including keyword research, bulk editing, A/B testing, and analytics reports. TubeBuddy allows you to track changes made to your videos in real-time, offering insights into how quickly these modifications impact performance.
Amongst TubeBuddy's most prominent features are:
Comprehensive keyword research and analysis tools that help boost your content's visibility and increase views and subscribers.
Workflow automation capabilities that eliminate the need for manual, repetitive tasks, thanks to its handy bulk processing tools.
Audience engagement tools, including canned responses for quick replies to common questions and comments, and comment exportation for bulk analysis.
Additional features like A/B testing and retention analysis that vidIQ lacks, enabling you to make data-driven changes to your content that drive more views and subscriptions.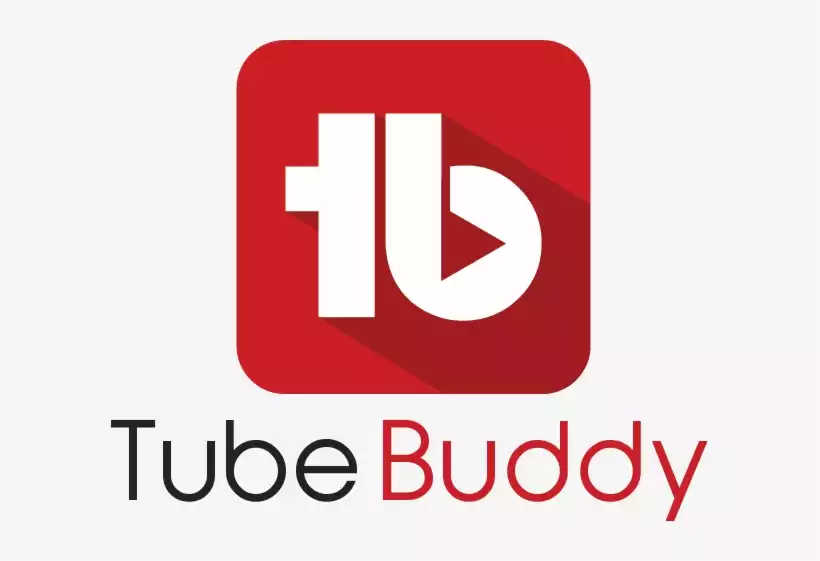 I Prefer TubeBuddy
I'll admit that I didn't really "get" the need for channel management tools initially. How hard can it be? Boy was I WRONG. TubeBuddy brings it all together with best in class analytics, bulk processing, and kick ass video SEO optimization!
Get TubeBuddy Free
We earn a commission if you click this link and make a purchase at no additional cost to you.
Key Features of TubeBuddy
SEO and Keyword Research
TubeBuddy's keyword explorer tool offers detailed insights into search volume, competition, and relevance, helping you identify the best keywords for your videos. With this information, your videos become more discoverable in YouTube's search results.
Moreover, TubeBuddy's tag research tool helps YouTube's algorithm understand your video's content, increasing the chances of appearing to viewers interested in the tagged topics.
Bulk Find, Replace & Append
TubeBuddy's Bulk Find, Replace & Append feature enables creators to modify their videos' descriptions across their entire channel, such as inserting a new social profile or replacing a hyperlink.
A/B Testing Tool
TubeBuddy's A/B Testing tool allows you to experiment with different elements such as thumbnails, titles, descriptions, and tags. By using this feature, you can optimize your video's performance based on real-time data.
Best Time to Publish Tool
TubeBuddy's Best Time to Publish feature provides creators with recommendations for when their audience is most active. By publishing videos during these peak hours, creators can increase their chances of reaching more viewers and driving engagement.
Retention Analyzer
TubeBuddy's Retention Analyzer is a comprehensive tool for measuring and analyzing video performance. It provides creators with insight into viewer behavior, helping them maintain viewer engagement and improve content creation.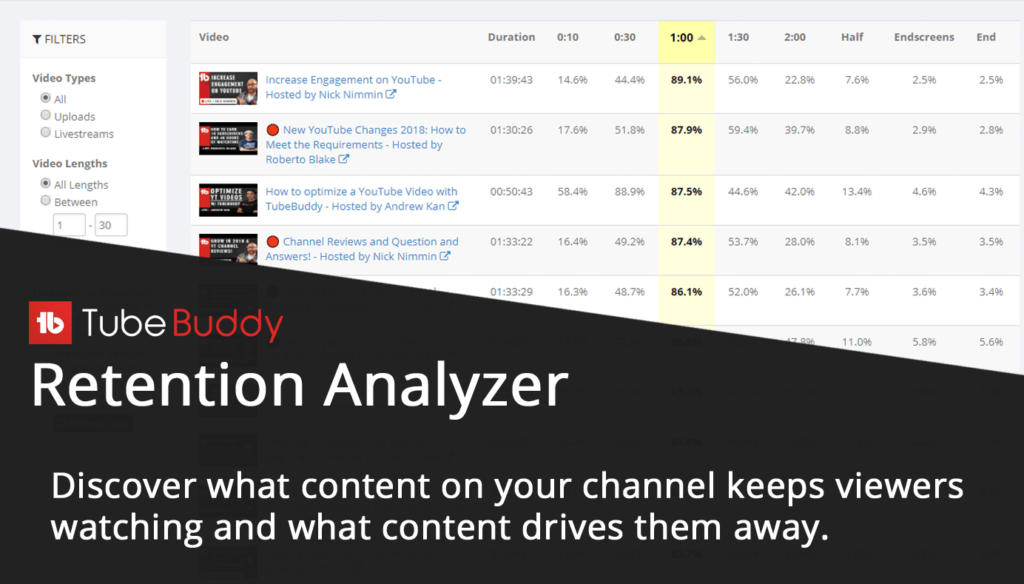 Auto Translator
TubeBuddy's Auto Translator and Tag Translator features allow you to translate your video titles, descriptions, and tags into multiple languages, enabling you to reach a global audience.
Brand Alerts
With TubeBuddy's Brand Alerts feature, you can monitor new videos, playlists, and channels related to your brand, providing a comprehensive overview of your brand's discussion on YouTube.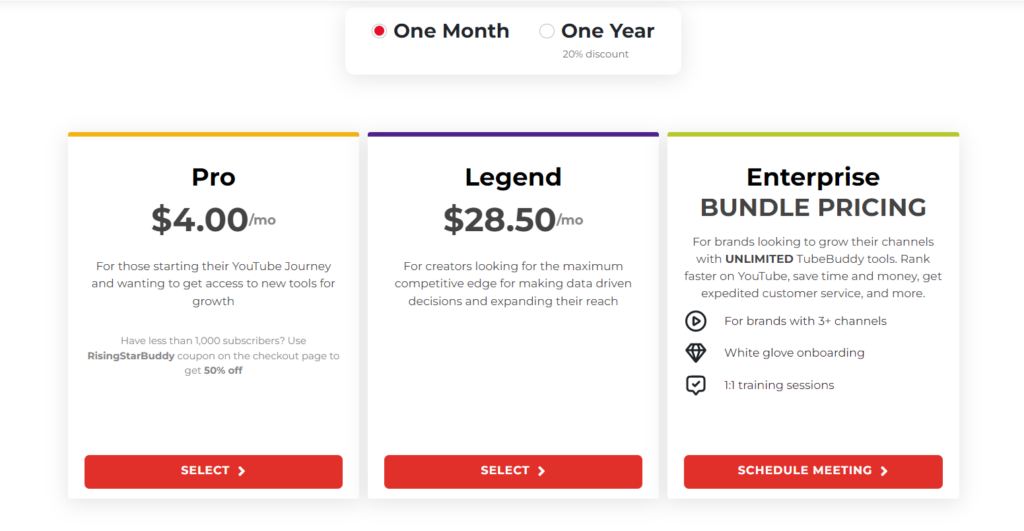 TubeBuddy Pricing
TubeBuddy offers three pricing plans: TubeBuddy Pro, Legend, and Enterprise. With prices starting at just $4.00/month on a monthly plan and $3.20/month on a yearly plan, TubeBuddy is an affordable option for users of all levels. YouTubers with fewer than 1,000 subscribers can even get a 50% discount on their monthly subscription. You can view the full pricing breakdown here.
Further Read: vidIQ vs TubeBuddy & Top TubeBuddy Alternatives
2. Morningfame: An Affordable YouTube Optimization Tool
Morningfame is an inexpensive tool designed to help YouTube content creators optimize their videos for improved search rankings and increased viewership. It provides comprehensive guidance on video optimization through a systematic approach.
Key Features of Morningfame
Topic search: Morningfame's topic search feature uses data to suggest video ideas based on users' interests, helping users determine whether a topic is worth the time investment for content creation.
Keyword research: MorningFame's user-friendly YouTube keyword research tool offers the option to input a seed key phrase or a top-performing video URL to receive suggestions for upcoming videos.
Video optimization: Morningfame's optimization feature allows users to edit their video's metadata, including the title, description, and tags. However, it does not offer A/B testing or retention analysis tools, making it less suited for users seeking advanced SEO tools and data-backed suggestions for future content creation.
Morningfame Pricing
Morningfame operates on an invite-only basis, with two plans starting from $4.90/month (monthly plan) to $3.90/month (yearly plan). You can see the full pricing info here.
3. tubics: Ideal for Enterprise YouTube Channels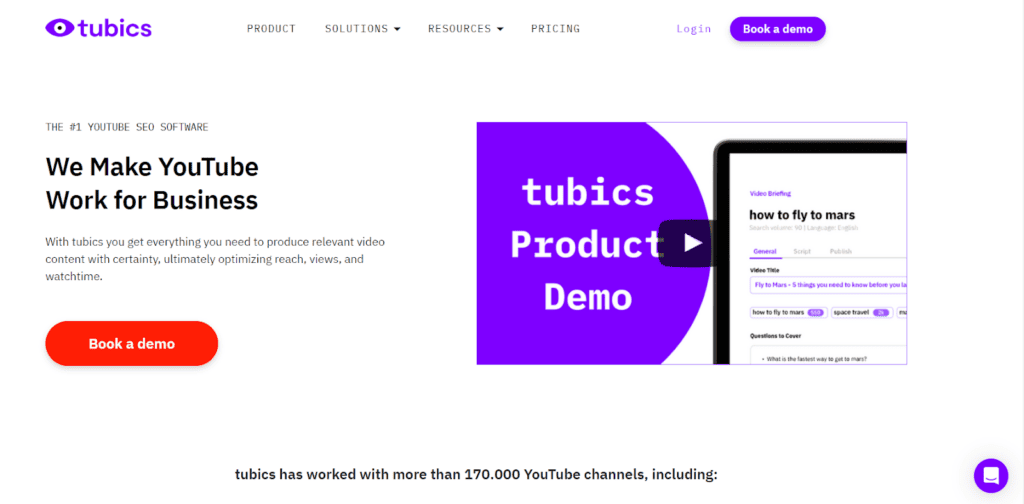 tubics is a YouTube optimization tool that provides businesses with analysis and recommendations to boost their YouTube video traffic and views. Its user-friendly dashboard and optimization workflows simplify video marketing tasks and enhance efficiency.
Key Features of tubics
Topic research: tubics' topic research feature provides content creators with tools to generate video topics using keywords. It provides essential metadata such as search volumes, projected monthly views, competition density, and the probability of a specific video ranking on Google.
Optimization: tubics' tag generator tool provides easy access to a library of suggested tags, titles, and descriptions tailored specifically for videos based on keyword research and competitor analysis.
Reporting: tubics stands out from its competitors by integrating with Google Search Console to provide unique video ideas and topic suggestions. Users who connect Tubics with their Google Search Console account can receive weekly insights and suggestions for enhancing their YouTube video's visibility in search results.
tubics' Pricing
tubics' pricing plans start at $99 per month, making it more suitable for larger businesses, enterprises, or creators who already have a substantial presence on YouTube. It offers a 7-day trial for $7 to allow users to try it out.
4. Vudini: Ideal for Local SEO on Both Google and YouTube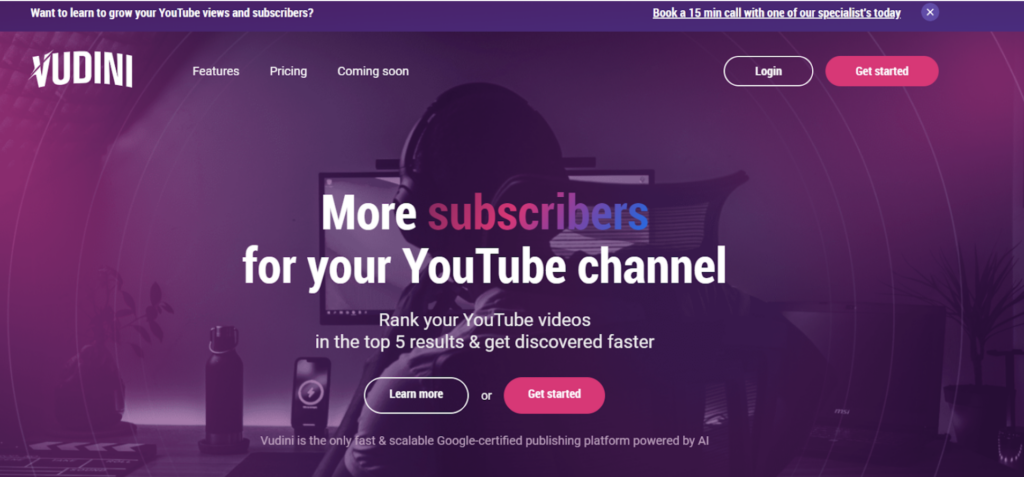 Vudini is a video SEO platform that helps brands and content creators acquire customers through YouTube and Google. It uses advanced machine learning algorithms to analyze video metadata and accurately predict the success of videos on various platforms.
Key Features of Vudini
Content optimization: Vudini's publishing and optimization feature includes automatic optimization of content across different channels for high performance.
Geo-targeting: Vudini offers a geo-targeting feature, making videos easier to discover by local viewers.
AI title & description generator: Vudini's RankAI tool uses advanced technology to analyze provided keywords and generate optimized content, titles, descriptions, and tags based on the data it obtains.
Vudini's Pricing
Vudini offers three different subscription plans with an increasing number of features starting from $9 per month up to $199 per month.
5. Tubular Labs: Best for Agencies and Media Companies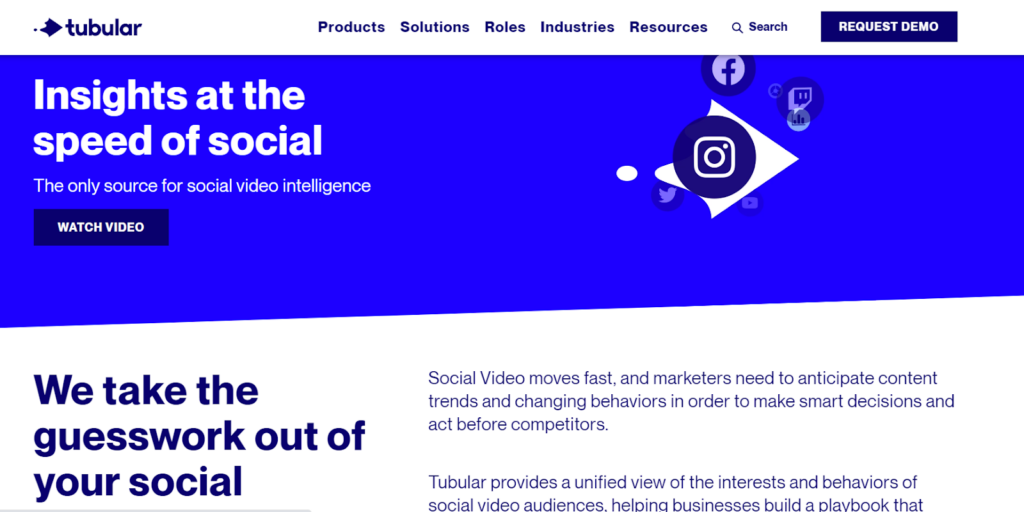 Tubular Labs provides powerful video marketing, analytics, and audience measurement solutions to large brands, enterprises, and agencies. It's an ideal vidIQ alternative for those who need in-depth insights into their YouTube channel performance.
Key Features of Tubular Labs
Video intelligence: Tubular offers users the ability to create customized lists, reports, and dashboards to prioritize important metrics and monitor performance trends.
Audience intelligence: The "Audience Also Watches" feature on Tubular enables creators to analyze their audience's interests and discover potential content ideas while also identifying patterns in viewing habits.
Creator comparison: The Tubular platform allows users to easily access and filter various creators and their content, including influencers, media companies, and brand channels.
Tubular Labs Pricing
Tubular's pricing is not publicly available. Users can request a demo here.
6. CRAIDE: Best for Free Tag Generation and Extraction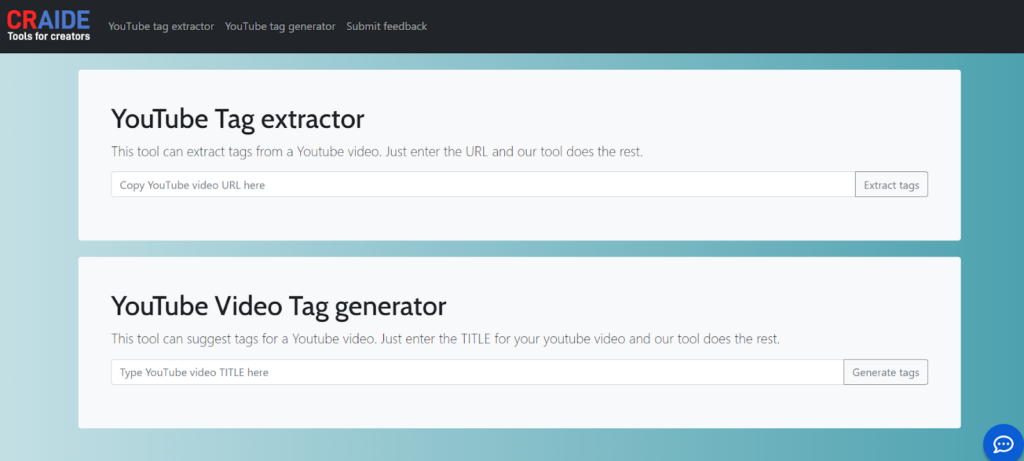 Craide offers free online tools that help YouTube creators improve their videos' SEO with tags.
Tag Generator – YouTube tags generator is a free tool that allows you to easily generate SEO-optimized YouTube tags/keywords for your video.
Tag Extractor – The CRAIDE YouTube Tag Extractor tool is a handy way of extracting and revealing these meta tags associated with any public YouTube video.
CRAIDE Pricing
CRAIDE is a simple online tool that is free to use, even without signing up.
7. SocialBlade: Best for Analytics on Multiple Social Media Platforms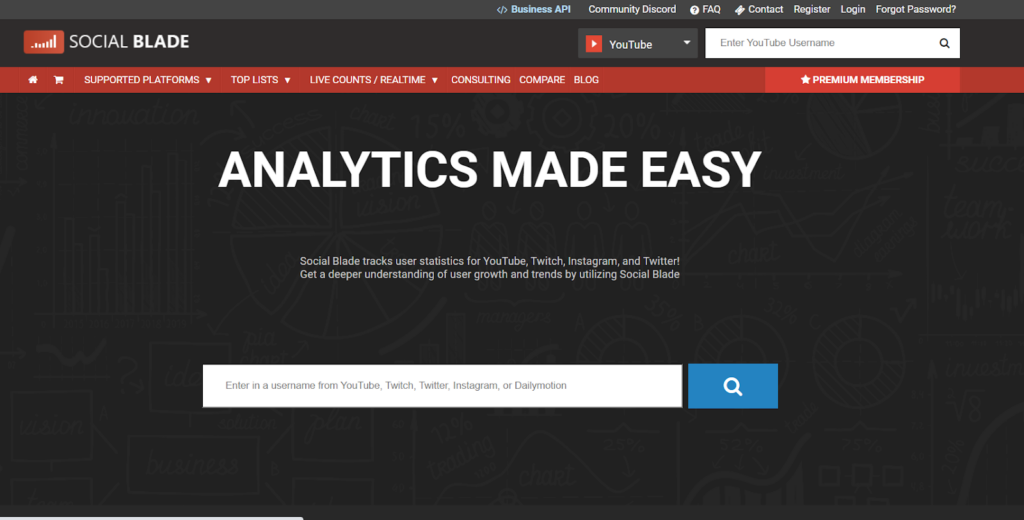 SocialBlade is a great alternative to vidIQ for small business owners who need analytics and statistics tools that work across all their social media accounts. However, it does not provide optimization tools for YouTube channels beyond these metrics and insights.
The full range of social media platforms that Social Blade currently covers are:
YouTube

TikTok

Trovo

Twitch

Twitter

StoryFire

Instagram

Facebook

Dailymotion

DLive

Mixer
SocialBlade Pricing
SocialBlade does not offer a free version of its tool. It has four pricing plans – Bronze, Silver, Gold, and Platinum – ranging from $3.99 per month for the lowest-priced plan to $99.99 for the highest.
Wrapping Up: So What's the best vidIQ Alternative?
My take is that TubeBuddy easily stands out with its comprehensive set of advanced tools for channel optimization and growth.
It offers everything you need in a single, inexpensive subscription, including comprehensive keyword search, analytics, and suggestions; multiple bulk processing tools; an A/B testing tool for different titles, end screens, and other variable elements of your videos; and much more.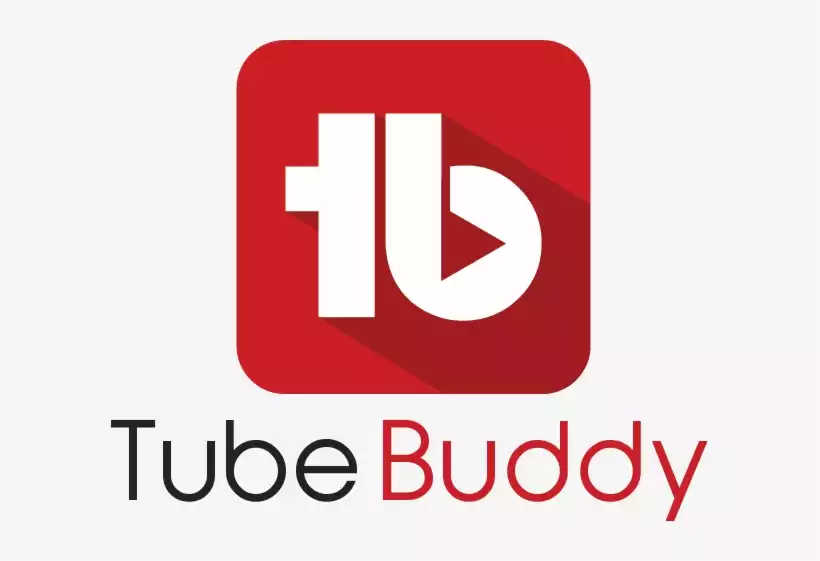 I Prefer TubeBuddy
I'll admit that I didn't really "get" the need for channel management tools initially. How hard can it be? Boy was I WRONG. TubeBuddy brings it all together with best in class analytics, bulk processing, and kick ass video SEO optimization!
Get TubeBuddy Free
We earn a commission if you click this link and make a purchase at no additional cost to you.