Last Updated on April 22, 2023 by Ewen Finser
The minutiae of human resource management can be hard to keep track of, regardless of the size of your business.
ADP vs Workday are cloud-based platforms designed to provide human capital management services.
Both platforms have thousands of successful businesses in their client list, including Fortune 500 companies. However, which one is best for your business?
After a bit of digging, I have created a comprehensive review so you can make an informed decision.
My Bottom Line Up Front: Both ADP vs Workday have vast functionalities, which is why they're among the best human resource platforms big companies use. Their management capabilities make them among the best remote work tools for your business. However, ADP provides a lot more functionality and is more scalable compared to Workday. The fact that it can be used by small and medium-sized businesses makes it a better platform.
Main Differences between ADP vs Workday
The main differences between ADP vs Workday are:
ADP has multiple solutions for small and medium-sized businesses, whereas Workday is designed for large businesses.
Workday has a straightforward user interface, whereas ADP's multiple offerings make using it quite challenging.
ADP provides solutions for managing outsourced HR, whereas Workday does not have such provisions.
Workday's customer support is accessible to all users, whereas the level of support from ADP depends on the price plan.
Best Starter Solution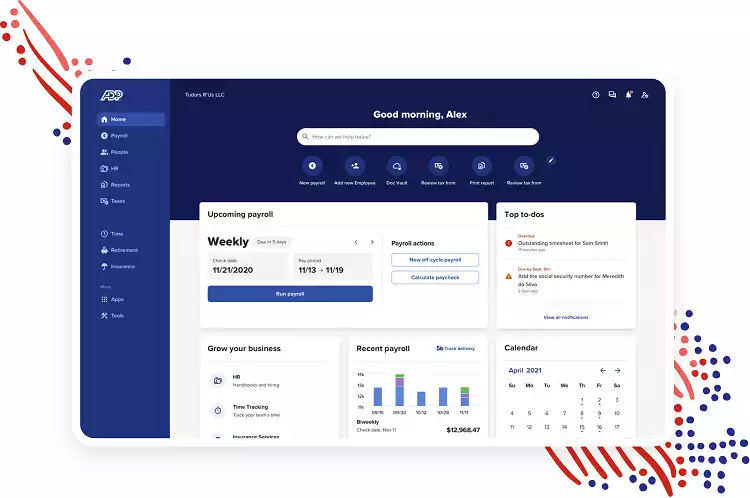 Why Go with ADP?
Put Simply, ADP is incredibly user-friendly, with a scalable pricing model for small (but growing) businesses. No getting "priced out" at certain growth tiers. For most businesses, a standard ADP implementation provides more value.
Find Your Plan
We earn a commission if you click this link and make a purchase at no additional cost to you.
What is ADP?
ADP (Automatic Data Processing) is a human resource technology used by over 900,000 businesses across the world. The platform automates HR functions like recording working hours, payroll, and retirement.
Companies like Amazon, Ferro Corporation, and United Community Bank use the platform's various functionalities in their operations. ADP has been recognized as one of the World's Most Admired Companies by Fortune for 15 years consecutively, with leading market share.
What is Workday?
Workday is software designed to automate the human management activities of an enterprise. The platform is cloud-based and handles the financial and human resource aspects of running a business. Workday is preferred by medium-sized and large businesses that want to reduce the cumbersome nature of talent acquisition, management, and Workday payroll. The platform is used by companies like Bank of America, Netflix, and Puma.
ADP – Main Features
Talent Management
ADP helps companies acquire and keep the talent they need. The recruiting and hiring feature is incredibly useful to a company, helping to create good job descriptions that will attract top talent.
The platform helps companies create mobile-friendly sites that provide interested candidates with updates about suitable positions. It also vets applications, resumes, and candidates using both the company's and employment law frameworks.
ADP creates onboarding modules specifically tailored to each new hire. Employees will experience the company's culture and interact with their new colleagues from the get-go to ensure onboarding is painless for all parties involved.
To ensure low talent turnover, ADP has tools that create learning and growth opportunities for each employee. Performance data ensures everyone is performing at the highest level, and compensation tools ensure you don't have pay gaps.
Time & Attendance Management
Effective time management ensures a company doesn't waste its resources, and ADP's time & attendance tools guarantee this.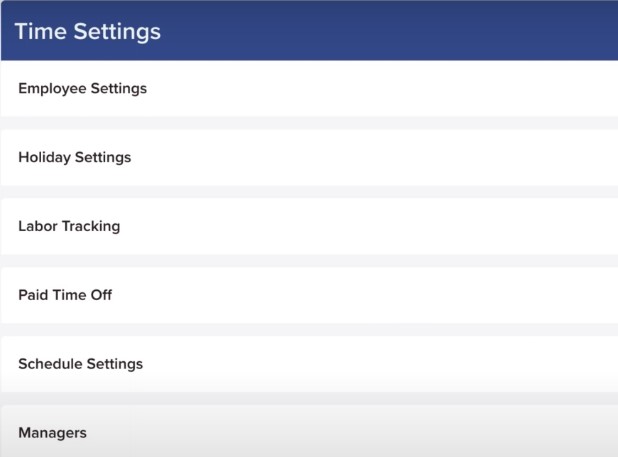 The time and attendance software allows HR personnel to create and post-work schedules online, so everyone has access to it. It also simplifies the alignment of time-off and vacation requests. A useful dashboard helps keep track of employees' performance, including lateness, absenteeism, and overtime.
Employees can clock in from their phones or computers, which means even remote work can be easily managed. The ADP TIme Kiosk uses facial and voice recognition to track employees' shifts and breaks.
The time and attendance software easily integrate with the payroll system. This makes the process of providing compensation faster and more accurate. Employees can access time, attendance, and pay information even from a mobile.
Payroll Management
Handling payroll activities is one of the HR functions made simpler by ADP. The payroll software can be integrated with your business's time tracking and ERP software for seamless management.
ADP's payroll software is fully online, but the employer and employees can access it even through mobile. It automates the disbursement of payment and benefits, reducing the errors that would be incurred in a manual process.
This software handles tax compliance, making the necessary deductions for payroll taxes. You can also set it up to make flexible payments to employees, automating advances and overtime payments. ADP has two price plans for the payroll software. The Small Business Payroll is designed for small businesses with less than 50 employees, and the Mid- and Large Business Payroll for companies with thousands of employees.
Benefits Management & Benefits Administration
ADP's Benefits & Insurance software helps your company attract and keep top talent. The software can help you create an employee benefits administration scheme that puts your company ahead of the competition. ADP is affiliated with ADPIA, whose licensed professionals can help you obtain group health insurance that is perfect for your employees. The established relationships with insurance agencies ensure you pay competitive rates.
The system can be integrated with your company's payroll, automating the deduction of insurance premiums. You also get priority integration with insurance providers so you can keep track of enrollments, renewals, and any changes to insurance status.
You can also use ADPIA's recommended providers to insure your company and staff against injuries, property damage, and casualties. The simple integration ensures you manage those expenses more efficiently. The Benefits software also helps you plan for your employees' retirement. You can set up 401(k), Simple IRA, and SEP-IRA for your employees to pay them for the future.
ADP's retirement planning is award-winning for its dedication to educating employees about future planning. Your staff will receive Financial Wellness lessons to help them plan for their futures.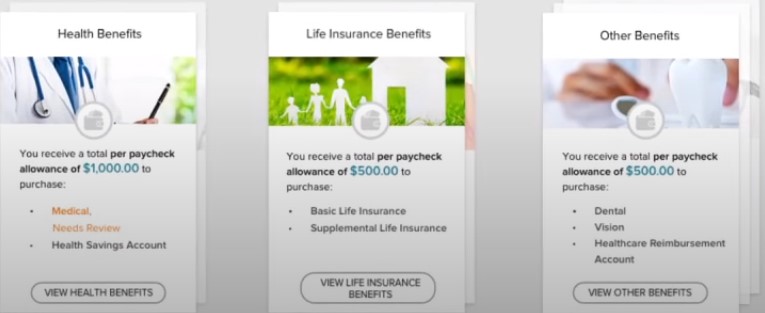 ADP's Benefits Management capabilities ensure your employees feel safe and protected, which increases their productivity and engenders loyalty to the company.
Tax & Compliance
ADP understands that payroll tax laws can be difficult to keep track of. This is the reason for the SmartCompliance system, which automates a lot of the payroll tax functions your company has to deal with. The system keeps up-to-date with federal, state, and local payroll tax laws. It updates your compliance whenever any changes are made, so your company does not incur punitive measures.
SmartCompliance can be integrated with most payroll systems, which makes it easier to use without changing to ADP Payroll. You can set up automatic filing for taxes in your jurisdiction so your taxes are never submitted late. The system reduces compliance errors. It also provides quarterly reports so any mistakes can be noted and fixed, making your company's reconciliation efforts that much easier.
SmartCompliance also provides advanced analytics, forecasting your company's tax liabilities so you can adequately plan for them. Your tax obligations will also be compared to your competitors' so you can find ways to reduce them.
Outsourcing Management
Organizations often have to outsource some of their functions for improved cost and HR management. ADP recognizes this and makes it easier to find outsourced human resources. ADP's outsourcing feature helps you decide which functions you can contract out to other organizations. The platform then handles recruitment, payroll, and HR management for those functions.
This feature frees your company to focus on important strategic issues. It also saves you time and money that would be spent on the recruitment process, ensuring compliance with employment laws, and insurance and benefit management.
Your company can take advantage of ADP's professional employer organization (PEO) program to develop a long-term relationship that saves you money while getting the best talent in the market.
PEOs from ADP can help small, mid-sized, and large businesses with certain tasks. This can be anything from payroll to administrative tasks. ADP's swift assistance and relationship with a PEO ensures your business runs seamlessly with the right talent in place.
Workday – Main Features
Human Capital Management
Workday's Talent Management software lets you pick candidates whose skills your company needs. Using AI, the platform screens candidates whose capabilities will propel the organization's growth. Your company can also diversify its workforce with Workday. The platform ensures you have access to a wide pool of candidates and helps improve the inclusivity culture of your company.
Workday has a Compensation & Benefits tool that helps you create the right payment structure for each employee. Providing the right wages, bonuses, and lifestyle benefits for your staff ensures you do not lose them to competitors.
Part of talent management includes creating opportunities for people to learn and grow. Workday's Talent Management system creates gigs and mentorship opportunities that help employees network and learn from other experts in their field.
Financial Management
Workday's financial management system goes beyond automating transaction management. The platform provides detailed reports that go a long way in ensuring your company's finances are ready for the future. The machine learning technique used by the system tracks and records all transactions. It also alerts you of any errors and makes recommendations for correction.
This system's transaction recording is invaluable for financial auditing and risk management. The insights provided are a great way to maintain stakeholders' confidence and invite new investors into the business.
Adaptive Planning
Regardless of your company size, Workday's adaptive planning feature will help you maintain its effectiveness and growth. The system allows each department to make plans based on their needs. The accounting team will benefit from the budgeting, scenario planning, and reporting capabilities of the system. The HR department can anticipate skill gaps and plan on how to fill them way before the gaps become a problem.
Operational planning is also enabled on the system. Departments can plan for production, projects, and marketing programs. Sales management is also made possible, ensuring that your company always makes profits.
Spend Management
Procurement is made easier by Workday. The platform's spend management software automates supplier selection, ensuring you get the best quality materials at the best prices.
The software also automates contract management, keeping accurate records of the thousands of documents generated during supplier relations. Supply expenses are also tracked, with insights provided to ensure your spending policies are solid.
Workday's inventory management system optimizes your internal supply chain. Goods are replenished before they run out, and the quantities ordered are managed to eliminate obsolescence.
Payroll Management
Workday takes over a lot of the grunt work of payroll management. The system automates schedule creation, time and attendance tracking, and labor management.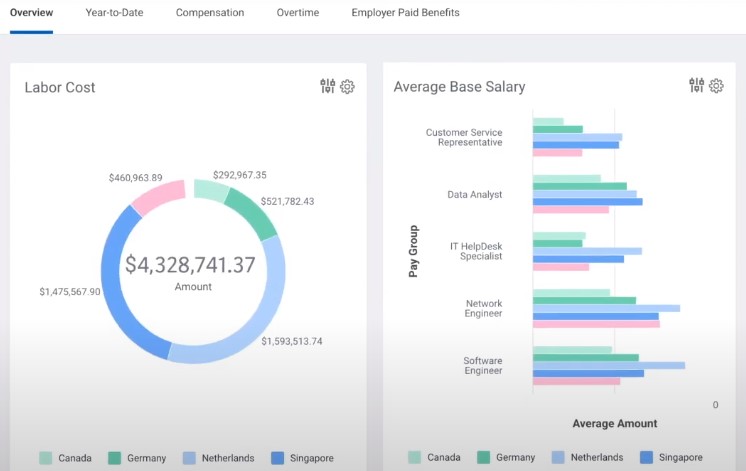 Any transactions made by the HR department are automatically recorded on the payroll system. Employees can also track their compensation on mobile apps connected to the system.
The payroll system allows HR professionals to view activities on the general ledger whenever they need. Any discrepancies are noted and can be corrected, which makes the auditing HR process easier.
ADP vs Workday – Analytics
ADP
Each system on ADP has an analytics panel that lets you keep track of key metrics.
The HR system employs various tools that ensure you have up-to-date information at your fingertips. The time & attendance system provides managers with reports on employee performance that help in decision-making to improve productivity.
The tax compliance system contains insights into your tax liabilities and performance. The talent human resource management system gives you the employee data you need to create compensation and career growth plans for all your staff.
Workday
Just like ADP, Workday gives you access to a reporting dashboard for each subsystem. The analytics provided contain visually appealing graphs and statistics that are updated in real-time so users are always aware of what is going on.
The reports provided by Workday greatly minimize errors, making it easy to reconcile data. They are incredibly useful for maintaining oversight of your workforce, suppliers, materials, and finances.
ADP vs Workday – Integrations
ADP
ADP integrates with many systems responsible for recruiting, accounting, payroll, time and attendance, and ERP. This means you do not have to switch out platforms that work well for your business and replace them with ADP's software.
Popular ADP integrations include GoodHire, ClockShark, Oracle, Quickbooks, Slack, and Microsoft Teams. You can find a list of ADP integrations here. The platform also has a Marketplace that contains hundreds of apps that will make HRM easier.
Workday
Workday has several native integrations. The business process framework allows you to seamlessly integrate your current systems into the Workday system.
The platform also has a list of connectors that make the integration process easier. You can also use the Workday API to integrate systems that pre-built Workday integrations do not cover.
ADP vs Workday – Customer Support
ADP
ADP provides multiple options for customer support. Answers to the most common questions can be found in the Support Questions section.
If you decide to log into the system, the type of support you receive depends on if you use the platform as an employee or as a company administrator. Employees have to choose which type of support they need to proceed.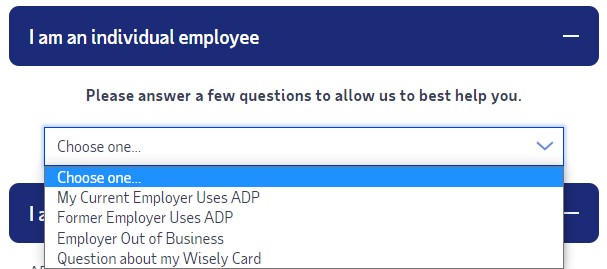 The same goes for company administrators who want to fix system issues with the ADP software their company uses.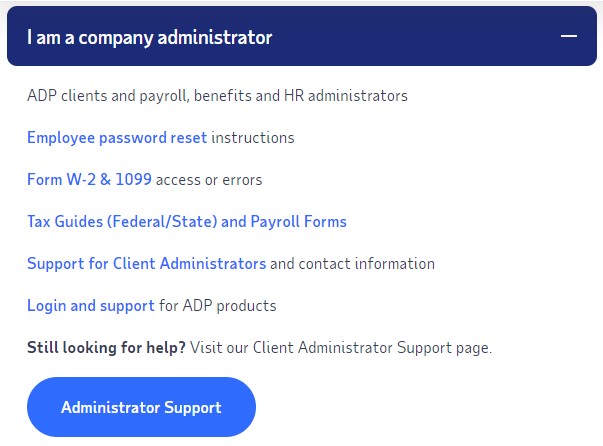 Workday
Workday offers customer support in two ways:
24/7 customer agent support
To access the latter, you have to fill out a form, providing details of the issue you're facing. An agent will be in touch either via phone or online when you're logged into your account.
ADP vs Workday – Pricing
ADP Pricing
ADP is designed for small, mid-sized, and large businesses. The solutions the platform offers depend on the size of your business.
Small Business Plans
Over 800,000 small businesses use ADP for payroll and HR functions. Plans in this segment are designed for businesses with less than 50 employees. There are 4 tiers from which a business can choose.
This tier is ideal for small businesses who want help with basic payroll and tax compliance. Some of the benefits in this tier are:
Computer and mobile app payroll
Direct deposit
General ledger
Tax filing
Onboarding
Employee discounts
Reporting
This tier gives small businesses all the benefits of the Essential Payroll package and:
Check signing
State Unemployment Insurance
Labor Law Compliance
Background checks
ZipRecruiter
In addition to benefits from the previous plans, this package offers:
HR HelpDesk
Employee Handbook Wizard
HR Tracking
HR Training
In addition to benefits from the previous tiers, this package offers:
Enhanced HR HelpDesk Support
Enhanced Employee Handbook Support
Employer & Employee Training
Live Marketing Advice
Legal Assistance
Mid-Size Business
Businesses with 50 to 999 employees also get 4 tiers to choose from depending on the functions they want to automate.
This is the basic package for payroll automation. It also includes elements of tax compliance. Some of the benefits include:
Payroll dashboard
Pay adjustments
Error detection alerts
Expert tax filing
General ledger interface
Custom report builder
In addition to Payroll Essentials benefits, this tier includes:
Onboarding
Enhanced HR tools
Cloud-based record keeping
The Hiring Advantage plan provides the benefits of previous plans and also includes:
The Performance Plus plan adds the following benefits to the Hiring Advantage plan:
Performance Management
Compensation Management
Large Business Plan
This is a cloud-based system designed to automate each aspect of your company's Human Capital Management. The platform is easy to integrate and can be used by companies across country borders.
Since this platform is designed for companies with more than 1,000 employees, ADP offers customized prices for it. The full benefits of this plan are:
Talent management
ADP Workforce management
Payroll
Benefits management (Benefits Administration)
Compliance
ADP DataCloud
Adaptable Tech
Privacy and security
Best Starter Solution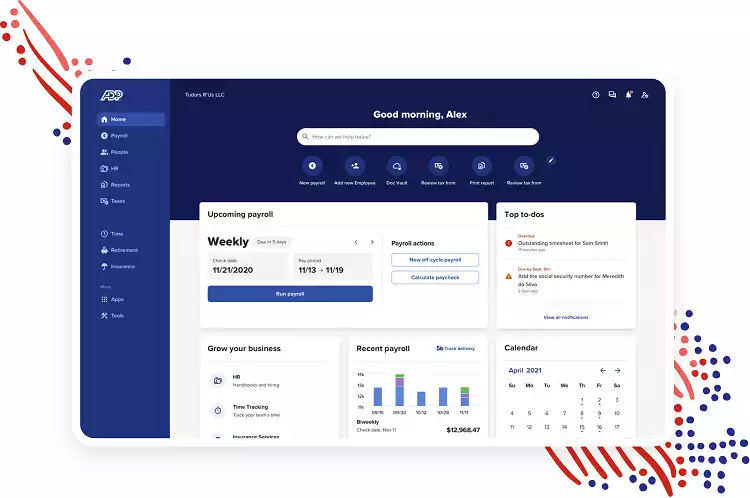 Why Go with ADP?
Put Simply, ADP is incredibly user-friendly, with a scalable pricing model for small (but growing) businesses. No getting "priced out" at certain growth tiers. For most businesses, a standard ADP implementation provides more value.
Find Your Plan
We earn a commission if you click this link and make a purchase at no additional cost to you.
Workday Pricing
Workday's pricing is customized for each business. You will have to fill out a form with some business information. A sales agent will be in contact to provide you with information about the price.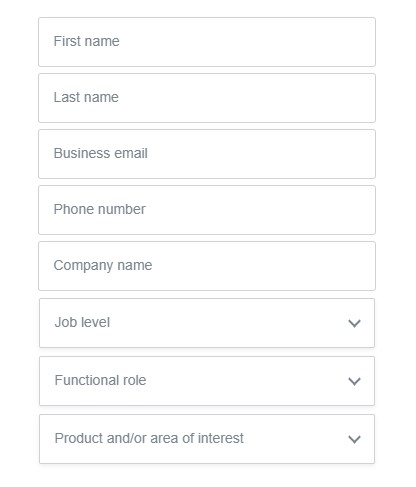 ADP vs Workday Alternative Options: Other Companies Like Workday & ADP
Zenefits
Zenefits is an HR tool that takes care of staff onboarding and workforce management. It contains HR solutions for small businesses, making its functionalities similar to ADPs.
You can find a comparison of the two in our Zenefits vs ADP article.
Netsuite
NetSuite is a popular HR and payroll platform provided by Oracle. It combines multiple functionalities into one so you can manage multiple factors from one platform.
Read this Netsuite vs Workday piece to see if it's a good fit for you.
Insperity
Insperity is another alternative that handles HR, payroll, and risk management for businesses. Its functionalities were pitted against ADP in this Insperity vs ADP comparison.
FAQs
Question: How can my staff access ADP or Workday?
Answer: You can set up Employee Access for free on ADP. Employees with access can view up to 3 years of their pay statements. You will get an alert for any change made on an employee's account.
Workday has a platform called Workday Everywhere that provides employees access to different dashboards. Workday Everywhere can be used on Microsoft Teams, Slack, and similar workspaces.
Question: Does ADP or Workday have mobile apps?
Answer: Yes, both ADP and Workday have iOS and Android apps for employees. These allow staff to log in their hours when working remotely, access their payroll and other information, as well as leave feedback for their colleagues.
Question: Do I need a system overhaul to use ADP or Workday?
Answer: No. You can select which functionalities from ADP and Workday you need and purchase them directly. The integration options for both platforms, including APIs, ensure you can keep working with systems you love.
Verdict: ADP vs Workday – Which is Better?
Once your business has a few staff under its umbrella, simplifying HR is one of the first things you'll want to do.
ADP and Workday are renowned platforms for this function. The trust thousands of businesses have in the platforms is proof of their excellence. Depending on the size of your business, you can't go wrong with either platform.
Best Starter Solution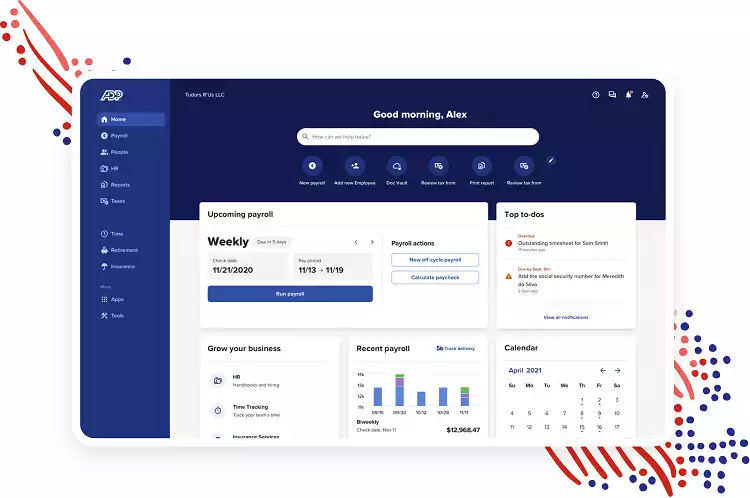 Why Go with ADP?
Put Simply, ADP is incredibly user-friendly, with a scalable pricing model for small (but growing) businesses. No getting "priced out" at certain growth tiers. For most businesses, a standard ADP implementation provides more value.
Find Your Plan
We earn a commission if you click this link and make a purchase at no additional cost to you.
Further Reading Payroll Processing & HCM Software: