Last Updated on June 1, 2023 by DMEditor
Typeform has been around for a while and is among the market leaders, but is it the best form builder out there?
This is the question I had when I started embeded forms on some of our websites. What I quickly realized is that the right form builder VARIES considerably depending on your objective. While some form builders CAN do it all, others are more specialized and do it BETTER.
So with this in mind, what are the best alternatives to Typeform? See below!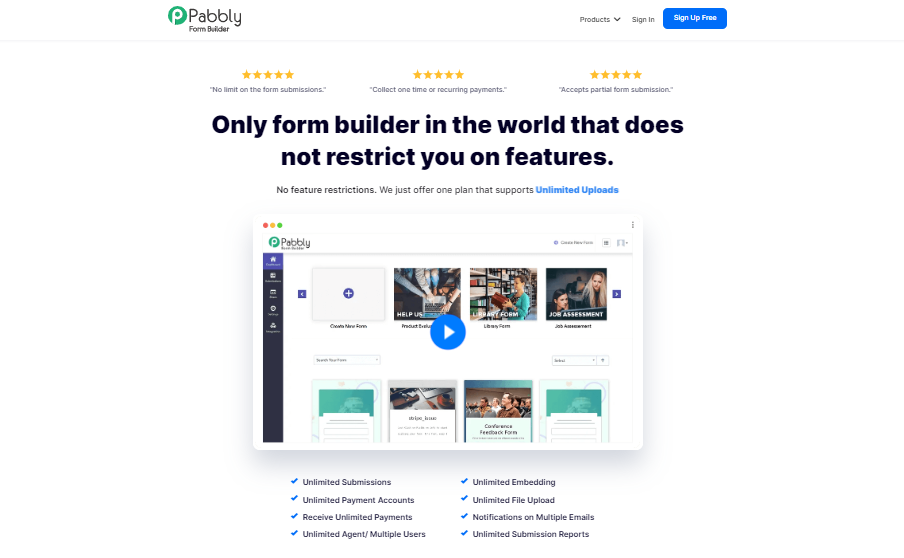 Summary: Pabbly Form Builder (formerly known as FormGet) might not be the largest form builder by market share, but I personally LOVE it. Intuitive design elements, plenty of integrations, and a simple price structure for an all-inclusive feature set.
While form builders selling "unlimited licenses" for insanely high prices might sound good in theory, Pabbly will actually save you more in the long run with a pay-per-form model (most businesses really don't need more than 1 or 2).
Pabbly Form Builder Advantages
Excellent lead capture forms
Super straight-forward transparent pricing structure ($15 per month, per form)
Unlimited features, no upsells or FOMO
Conditional logic
Plenty of pre-built templates to get a form live quickly
Part of their larger product ecosystem (Pabbly Email Marketing and Subscription Billing)
Integrates seamlessly with Pabbly's payment and subscription software (optional add-on)
Integrates with WordPress, most major email marketing tools, Stripe, Google Analytics, Salesforce
Pabbly Form Builder Disadvantages
Subtle pushes to use Pabbly's other services, including their email marketing platform and payments service
Relatively new to the market
Pabbly Prices: Pabbly offers a simple per form pricing stucture, just $15 per month per form, use only what you NEED.
2. Best for WordPress: Ninja Forms

Summary: For my WordPress sites, Ninja Forms historically has been my default. Marrying seamless integration with an easy to use interface, Ninja Forms big selling point is how easy it is to implement for normal "non-techie" WordPress site managers.
Ninja Forms Advantages
Integrates seamlessly with WordPress
Fully customizable pricing plans (design your payment plan based on desired features)
Extremely easy to quickly create professional looking forms with drag-and-drop builder
Additional control over CSS elements (if you want it)
Excellent support documentation
Money-back guarantee
Many email integrations, including Mailchimp, Constant Contact, Compaign Monitor, ConvertKit, etc…
Payment integrations, including PayPal Express, Stripe, Recurly.
Ninja Forms Disadvantages
Only works with WordPress sites
More expensive than peers like Gravity Forms
Limited analytics data beyond forms starts and completions
Does integrate with ALL third-party apps on the base plan
Ninja Forms Prices: $99 per year for Personal Plan (single site, more limited features and integrations), $199 per year for Professional plan (2o sites), $499 for Agency plan (unlimited sites).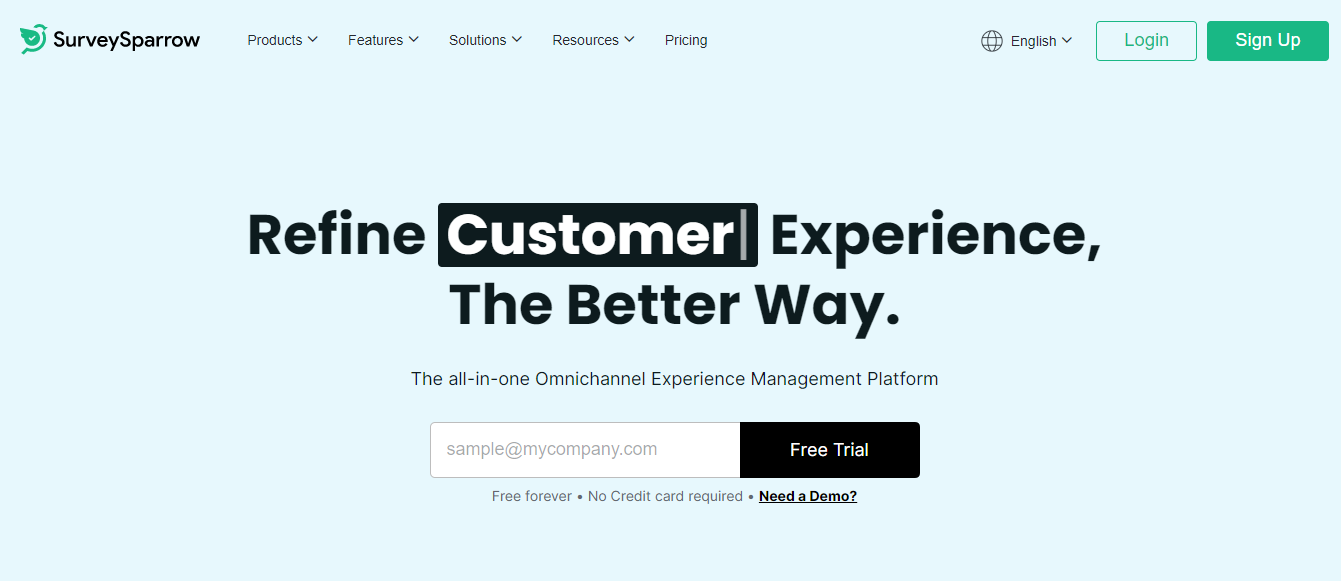 Summary: SurveySparrow is perhaps the least well-known, but I was thoroughly impressed with it's ability to craft beautiful surveys in minutes at almost half the cost of Typeform.
SurveySparrow Advantages
Many use cases, including Academic Research, Customer Satisfaction, Employee Engagement, Market Research, and Website Feedback
Embed widgets available for ALL modern CMS systems
Ability to embed via Email
Ability to send via text message
Recurring survey features for continuous feedback
Chatbot software functionality
Templates available for frequent use cases (including Customer Satisfaction, Employee Satisfaction, Student Feedback, Lead Generation, Exit Interview, and Post Event surveys)
Phone support is available (unlike Typeform)
Better reporting capabilities
Less expensive pricing (compared to Typeform)
Better overall technical support
SurveySparrow Disadvantages
Not as many integrations with third-party tools
No free API usage
SurveySparrow Prices: The standard survey packages start at $19/month for 1000 responses per month, $49/month for unlimited responses (and enhanced features, $149/month for all premium features, and an "Elite" custom package for large enterprises (custom quote).
4. Best Quiz Builder: Fyrebox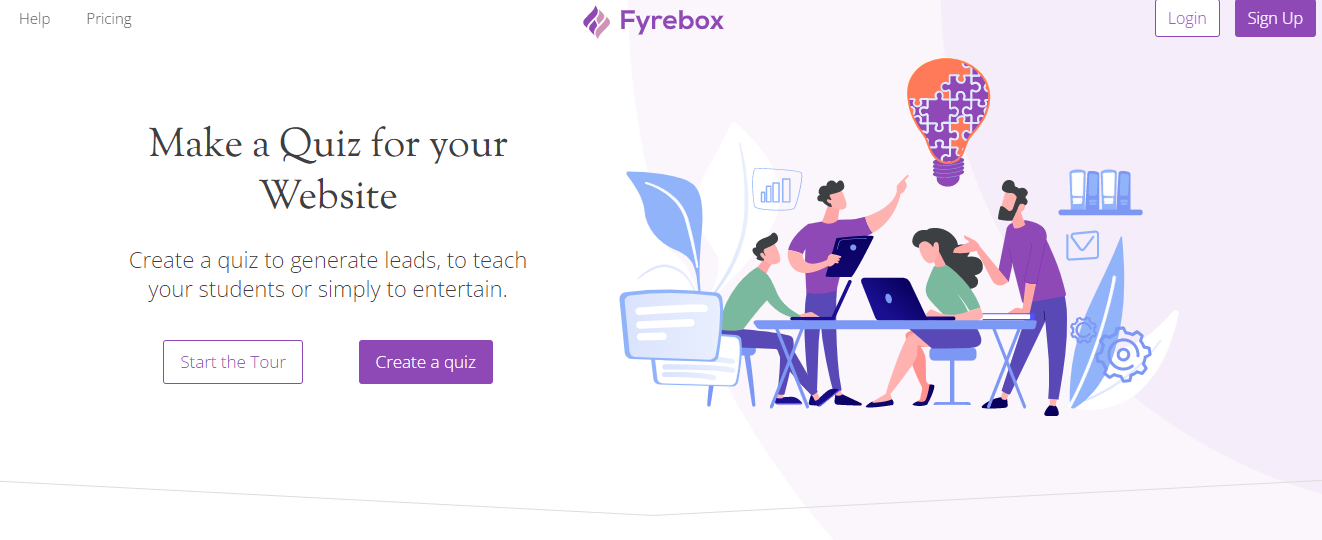 Summary: Fyrebox is an intriguing new quiz builder that is a breeze to use and integrates with most major ecommerce and CMS platforms, all for an affordable price.
Fyrebox Advantages
Easy to use, intuitive quiz builder
300+ third-party application integrations (including Zapier integration)
EXCELLENT Shopify app for seamless integration
Seems to be built with eCommerce stores in mind (Shopify, BigCommerce, etc…)
FREE basic version
Fyrebox Disadvantages
Still working out some (infrequent) technical glitches
Relatively new player with limited track record compared to Typeform
Fyrebox Prices: After the Free Version, starts at $19/month Standard Account, $39/month Pro Account, and $69/month Team Account (multiple sub-users).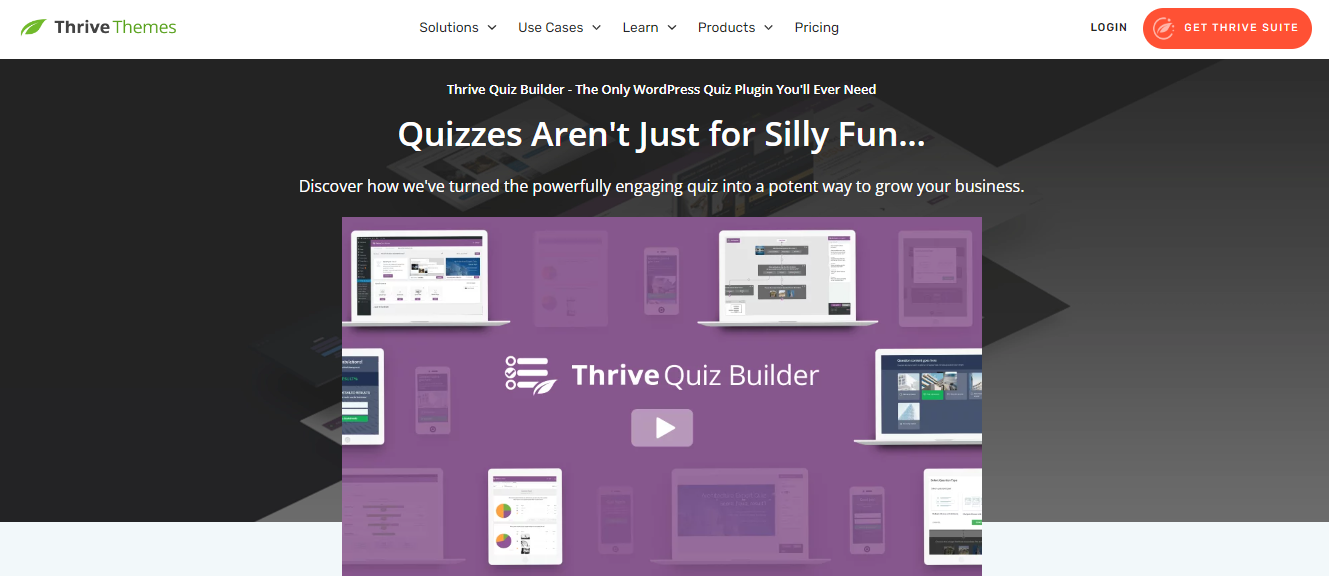 Summary: Thrive has a long history in the internet marketing space, perhaps best known for their Thrive Themes and Thrive Architect WordPress page building. However, their Thrive Quiz Builder has slowly been developed into one of the better (and easier to use) quiz builders on the market.
Thrive Quiz Builder Advantages
Seamlessly syncs with the rest of the Thrive ecosystem as an add-on module
Built exclusively for WordPress
Available as a stand-alone tool OR included with an annual Thrive Themes membership
Includes dozens of "ready-make" templates with logic pre-built for different use cases
Visual workflow for quiz building
Built-in A/B testing functionality to optimize quizes
Thrive Quiz Builder Disadvantages
Expensive if purchased as a stand-alone, in-expensive if you are a Thrive Themes member
Only works for WordPress
Thrive Quiz Builder Prices: Single site license is $67 (one-time), 5 license pack is $97, and 15 license pack is $147 (one-time fee). All of these stand alone purchases include 1-year of support.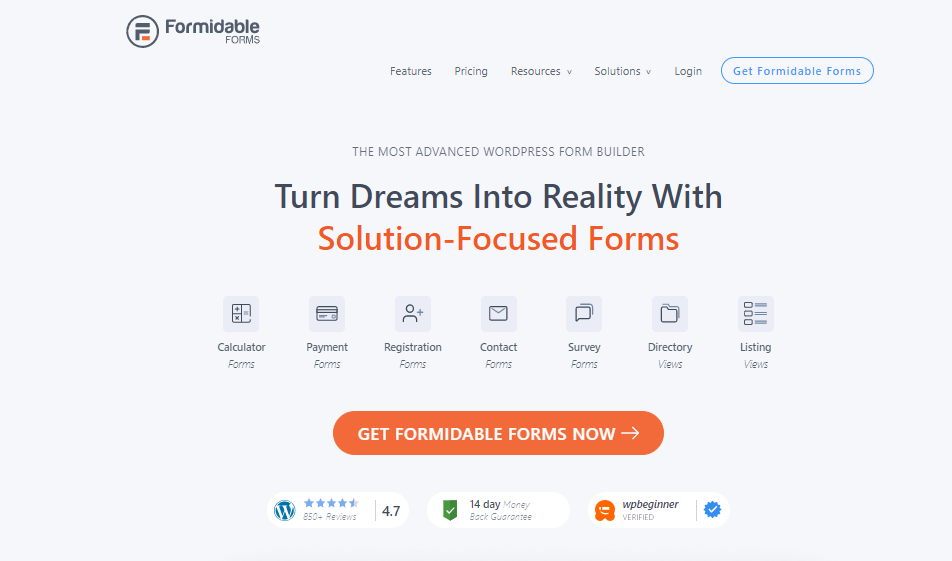 Summary: Formidable Forms offers an easy-to-use visual form builder, but with highly advanced customizations and flexibility. You can create basic forms, but Formidable extends forms into directories, calendars, and dozens of specific use cases. The API integration plays nicely with MANY different platforms as well.
Formidable Forms Advantages
Plays well with others (not just another WordPress form builder)
Works closely with WooCommerce and ActiveCampaign as featured integration partners
Works as a payment form or calculator as well
Conditional logic
Ability to accept file uploads
Elegant front-end data display options
Specialized quiz builder module
Integrates with leading CRMs
14 day money back guarantee
Formidable Forms Disadvantages
Formidable Forms Prices: Prices start at $99 per year for the Basic version, then $199 per year for the Business version, and finally $399 for the Elite version.
Summary: A much less expensive alternative to Typeform, specifically built for WordPress. Gravity Forms is a great option to encourage user generated content and create multi-step forms with conditional logic.
Gravity Forms Advantages
Great option for WordPress, integrates smoothly
Able to edit forms fully with CSS
Better value for the money, relative to Typeform
Excellent customer support and technical documentation
Yearly license instead of monthly recurring subscription
Gravity Forms Disadvantages
Has a few historical problematic security issues (six been fixed, but still burned some users back in 2015)
Somewhat pricy for the unlimited site tiers
No built-in A/B testing
No in-depth native reporting tools
Gravity Forms Pricing: Gravity Forms starts out at $59 per year for 1 site, $159 per year for 3 sites, and $259 per year for unlimited sites.
8. SurveyMonkey

Summary: SurveyMonkey is a well-known and long-tenured form response tool. If you've capped out the capabilities of Typeform and need more automation and data analytics, it's worth taking a hard look at SurveyMonkey.
SurveyMonkey Advantages
More robust data analytics, easily create filters, charts, and crosstabs for deeper insights
Focus on surveys (not just forms) to better generate customer or audience insights
Market leader in the forms and direct response digital marketing, publicly traded (ticker: SVMK)
Huge library of third-party integrations, tried and tested by many enterprise level companies (so these generally work well)
SurveyMonkey Disadvantages
A bit overkill for basic questionnaires and response forms
Can get very pricey, quickly
Forces you into annual billing which means it's more of a risk if it doesn't work out
SurveyMonkey Prices: SurveyMonkey has Team Plans starting at $25/month per user (billed annually) and a $75/month per user plan. Confusingly, they ALSO offer "Individual Plans" but pricing starts at $32/month (billed annually), then $99/month and finally $119/month. The main limitation here for the Individual Plan tier is 1) users and 2) the number of responses you can receive.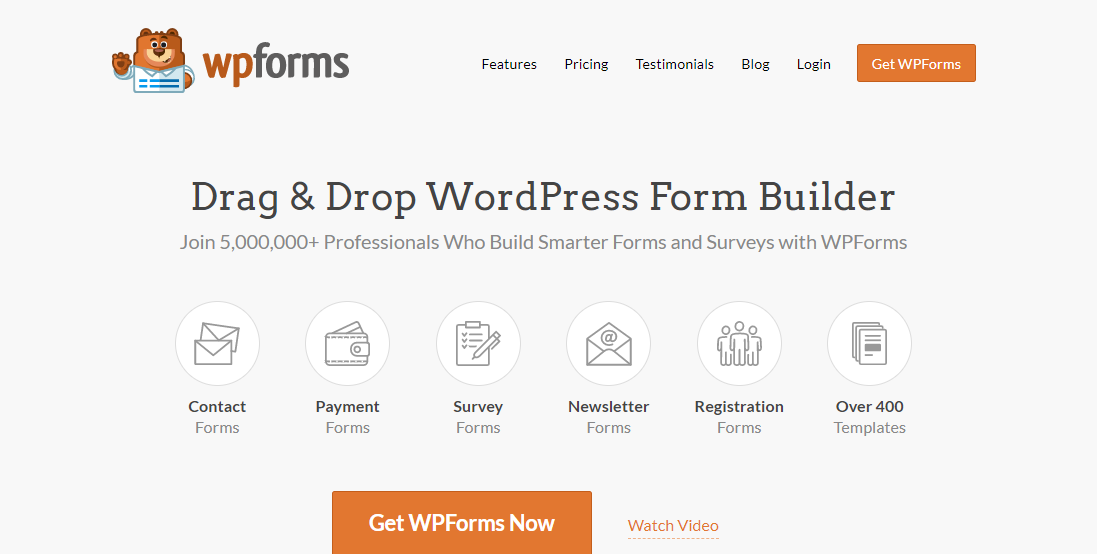 Summary: If you are on WordPress, WPForms is another option to check out along with Ninja Forms but with a slightly more cost-effective yearly pricing scheme.
WPForms Advantages
Super easy to use drag-and-drop form builder
Built expressly for WordPress
Starts at just $39/year for 1 site license, which is generally quite affordable compared to peers
Plenty of third-party integrations to popular email marketing suites, sales platforms, and CRMs
Scalable add-ons, pay for what you need, when you need it
WPForms Disadvantages
Only compatible with WordPress CMS
Could use some additional data analytics views
WPForms Prices: WPForms gets started with a single site license at $39/year for the Basic Plan, then $99/year for the Plus Plan (3 sites + some advanced automations), $199/year for the Pro Plan (5 sites + advanced automations + conversion tools), and finally $299/year for the Elite Plan (unlimited sites + all the features in lower plans + premium integration partners).
10. Best Large Enterprise: Formstack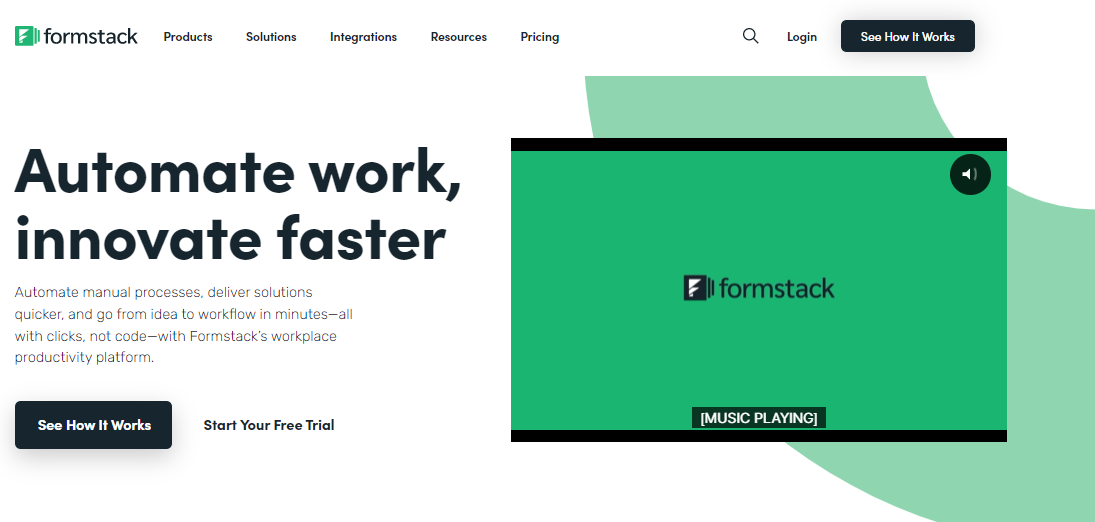 Summary: Formstack is a great Typeform alternative for larger organizations that rely heavily on forms as a part of their everyday business. Formstack is Typeform, but scalable across an entire enterprise with the types of features required to level up form utilization, data collection, and analytics.
Formstack Advantages
Formstack has hundreds of templates to choose from, much more selection than Typeform
Formstack supports HIPPA and other data privacy best practices at the Enterprise tier (great for healthcare oriented organizations)
More 3rd party integrations with 200+ options versus just 50+ for Typeform
Ability to import forms from other platforms
Compatible with most payment processors
Ability to feature discount codes
Built-in A/B testing
Includes a native Salesforce app integration
Formstack Disadvantages
Formstack is fairly expensive for a form builder, with entry level price points at $59/month
Not a great option if you infrequently use forms
Formstack Prices: Formstack as a 4 tier pricing plan, largely based on users, usage, and storage.
Starter Plan: Starts at $59/month, 1 user, up to 20 forms, and 1000 form submissions.
Teams Plan: Starts at $99/month, 5 users, 100 forms, and 10,000 form submissions.
Pro Plan: Starts at $249/month, 10 users, 1000 forms, and 100,000 submissions.
Enterprise Plan (Custom Pricing): Adds SSO, HIPPA and other security / privacy functions, includes all of the Pro Plan features.
11. Best Application Form: FormAssembly

Summary: FormAssembly is perhaps the most diverse form builder of the bunch, with the ability to create almost every form imaginable. It's a bit more technical than some of the other options presented, but could be the perfect solution for a large-enterprise organization looking to custom a precise form solution.
FormAssembly Advantages
100s of integrations, including a powerful Salesforce connector
PCI DSS security capability (for collecting payments)
Offers a dedicated "Compliance Cloud" plan for HIPPA and security sensitive enterprises
Similarly, offers a "Government Cloud" option if you are (or work with) a government agency
24/7 customer support via email, phone, and chat support mediums
Excellent for form driven mid to large enterprise sales organizations
FormAssembly Disadvantages
Very expensive, with the base plan at $89/month for one user
Might be unnecessary for small marketing teams or infrequent form users
FormAssembly Prices: FormAssembly offers 5 core pricing plans.
Professional Plan at $89/month per user
Premier Plan at $224/month per user (Salesforce integration)
Enterprise Cloud (custom pricing)
Compliance Cloud (custom pricing)
Government Cloud (custom pricing)
Final Form: So Which is the Best Typeform Alternative?
Alright, so I've given you a BROAD overview of all of the Typeform alternatives. But if I had to pick just one, which would I use?
The answer is that I would choose one of the following based on this criteria: