Last Updated on May 2, 2023 by DMEditor
If you're after a WordPress hosting service, you might be wondering what the difference is between Kinsta vs DreamHost. They both look pretty similar on the face of it, and if you're unfamiliar with some of the more technical terms, you may be feeling pretty lost on how to choose between the two.
The bottom line upfront: We like Kinsta the best in terms of ease of use, but you may find DreamHost to be more wallet-friendly.
We've tested both platforms so you can figure out the best hosting for your website. Keep reading to find out our thoughts on UX, security, migrations, pricing, and more.
Main Differences Between Kinsta vs DreamHost
The main differences between Kinsta vs DreamHost are:
Kinsta takes care of a lot of the migration process for you, whereas DreamHost's basic plan requires a bit more work
Kinsta has a pretty simple learning curve, whereas DreamHost has a steeper learning curve
Kinsta may offer better speeds depending on location, whereas DreamHost doesn't always offer top loading speeds
Kinsta has fairly simple analytics, whereas DreamHost offers customizable reports
Kinsta is on the pricey side, whereas DreamHost offers affordable monthly plans
Kinsta offers a free demo, whereas DreamHost doesn't
Kinsta makes it really easy, even for total newbies, to migrate from WordPress. If you want this taken care of by DreamHost, you do have to commit to the more expensive price plans. However, this is counterbalanced by DreamHost offering lower monthly costs.
Kinsta is a little more reliable in terms of consistent loading speeds, plus it has an easier learning curve than DreamHost.
DreamHost does have customizable monthly reports, as well as a large library of tutorials for all aspects of the platform.
Kinsta vs DreamHost – The Similarities
There are some similarities, too:
Both offer excellent security
They have similar customer support
They both offer 1-click staging
Let's take a look at them both in more detail!
What is Kinsta?
Kinsta is a hosting provider. It offers excellent technical support, fast loading speeds, and great security measures against potential attacks.
What is DreamHost?
DreamHost is a hosting provider. It offers migration for WordPress websites, as well as email, domains, and professional services (like design, marketing, and SEO – but these come at an extra cost).
Kinsta – The Main Features
Here's an overview of the main features of Kinsta.
Dashboard/UX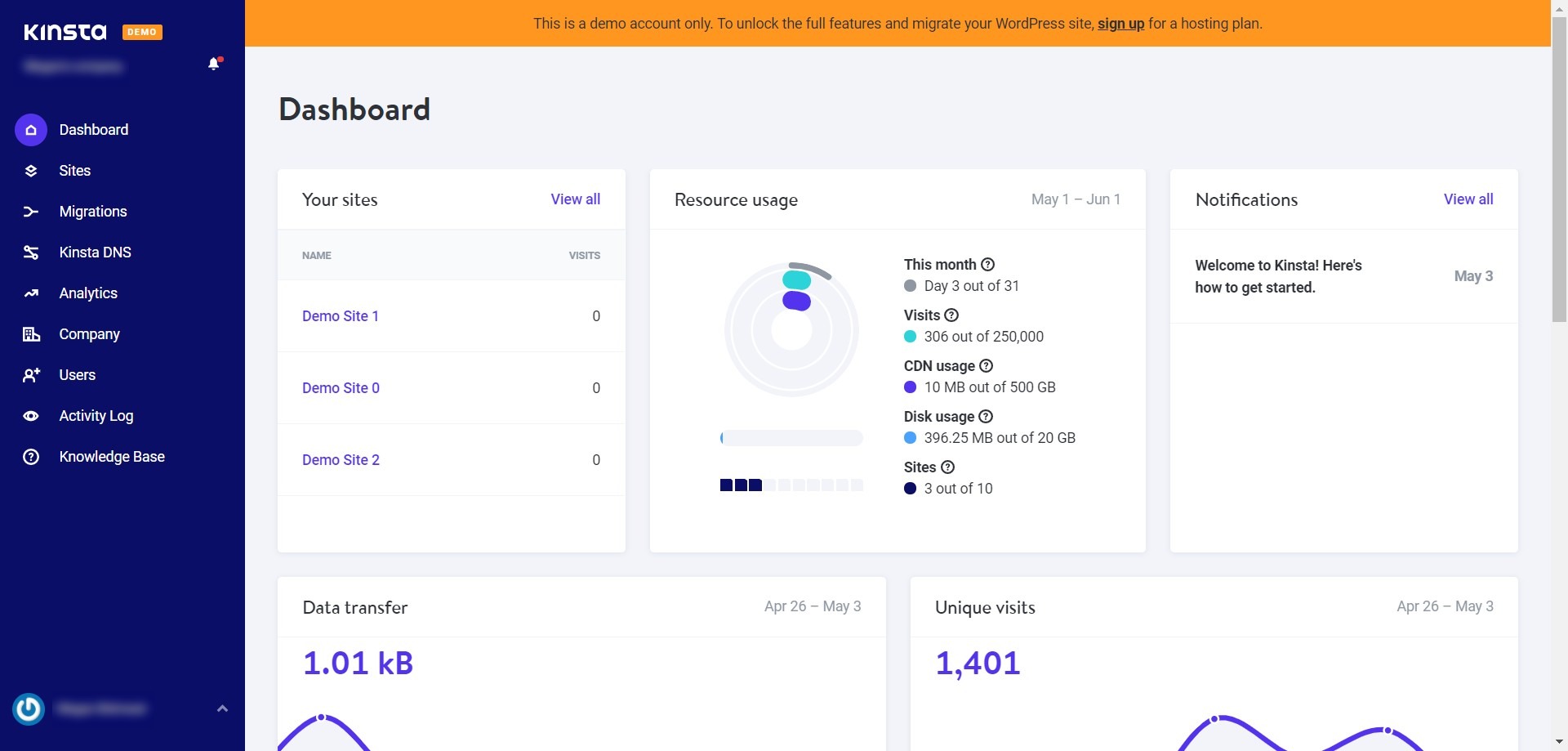 It's easy to sign up for a demo account with Kinsta, and you don't need to connect your website right away. This means you can have a look at how the platform works without committing to using it.
Overall, the UX is very good. It's simple to navigate, it looks clean and uncluttered, and the dashboard shows all the vital information you need to know at a glance.
Architecture
Kinsta uses Nginx, PHP 8.0, LXD software containers, and MariaDB. What does this mean? It means that it uses the most stable and up-to-date technology. This means that your sites will load quickly, and you shouldn't have to worry about your site going down unexpectedly. You can switch between PHP 8.0, 7.4, and 7.3 with a single click, which means you can choose the version that supports your chosen third-party plugins.
You can choose a server that is geographically close to your visitors. Kinsta uses 25 Google Cloud Platform data centers, which should ensure a fast loading time for your visitors.
Security
Security is incredibly important. Kinsta has a secure firewall, powered by Cloudflare. This, along with continuous monitoring, DDoS protection, and SSL support means that your site should be safe from attacks.
If this all sounds like an alien language to you, DDoS protection stops denial-of-service attacks. These attacks overwhelm a server with a flood of traffic, which can cause websites to go down. This can take a long time to repair, so having something in place to protect you is important.
SSL stands for Secure Sockets Layer. It's a basic technology that safeguards sensitive data as it is sent between two systems, and it's essential if you sell products online or store personal details.
Continuous monitoring helps to prevent cyber attacks by stopping them in their tracks. Any suspicious activity within the network that may suggest a security breach is immediately taken care of.
Staging and Migrations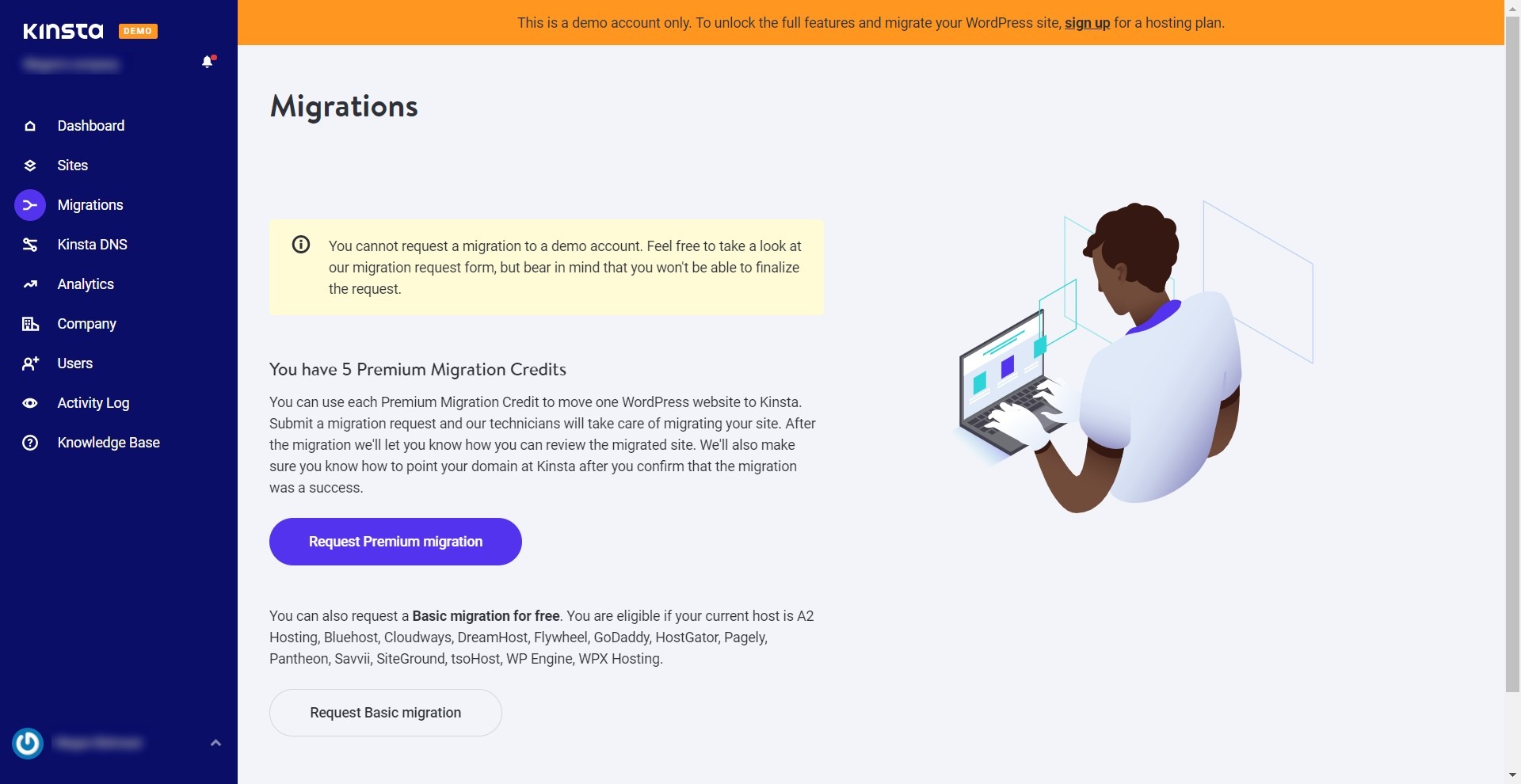 Kinsta ensures that there will be no downtime during migration. As far as anyone browsing your website will be able to see, everything will be running smoothly as normal, even mid-transfer. Kinsta assigns a temporary domain to your migrated site, checking everything other before going live.
You are eligible for free basic migration if your current host is one of the following:
A2 Hosting
Bluehost
Cloudways
DreamHost
Flywheel
GoDaddy
HostGator
Pagely
Pantheon
Savvii
SiteGround
tsoHost
WP Engine
WPX Hosting
You will also have some Premium Migration Credits. Each credit allows you to move one WordPress website to Kinsta. You will have to submit a migration request, and then the technicians will take care of everything for you. They'll also give you clear instructions on how to point your domain at Kinsta to make sure everything runs smoothly. Kinsta is WordPress expert, so they'll be able to help even if you're not very tech-savvy.
Each WordPress install will have its own staging environment. This means you can play around with plugins and code without worrying about breaking your 'live' site. This may allow you to be more experimental! You can push these changes to go live with one click.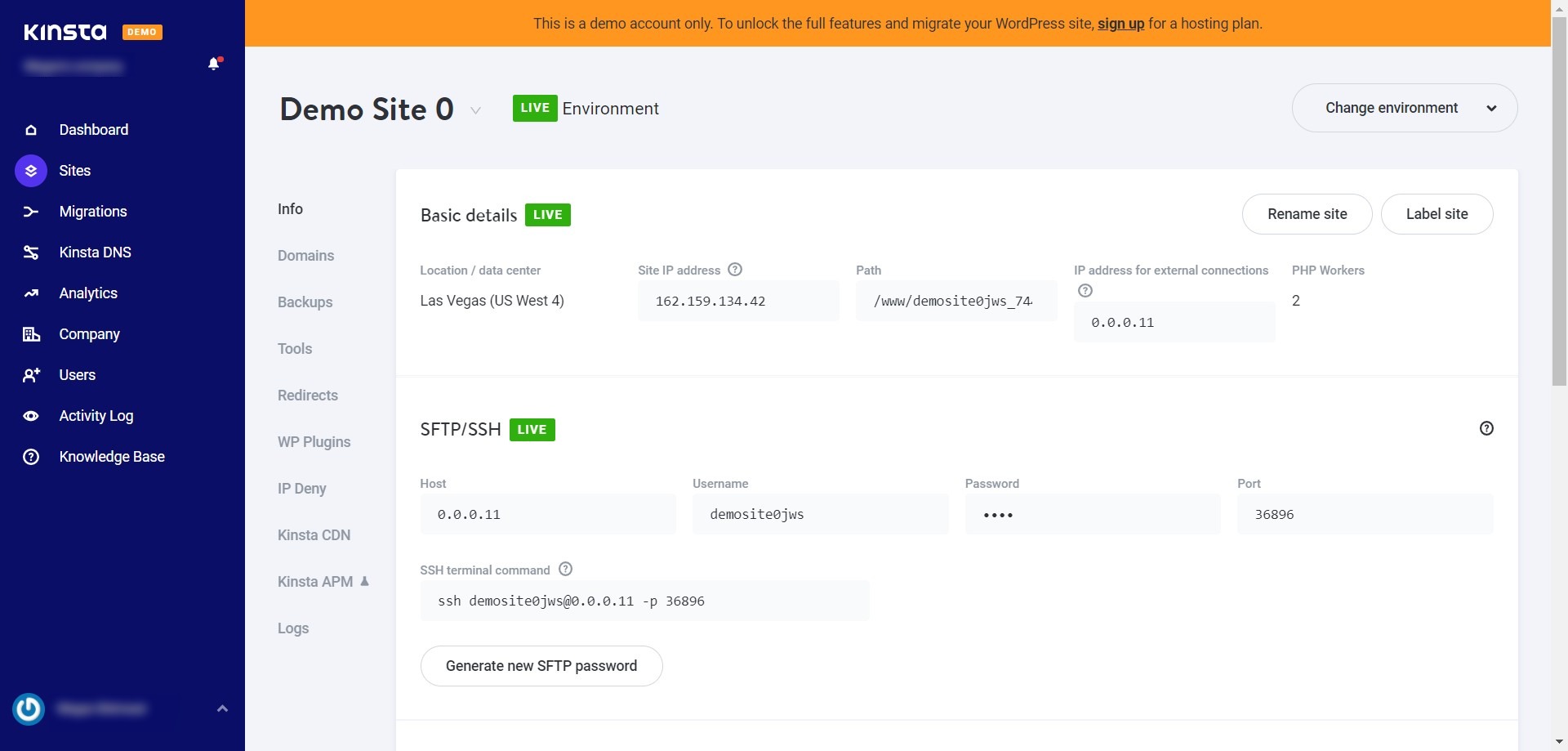 You can view detailed information about each site, and it's fairly simple to navigate.
Analytics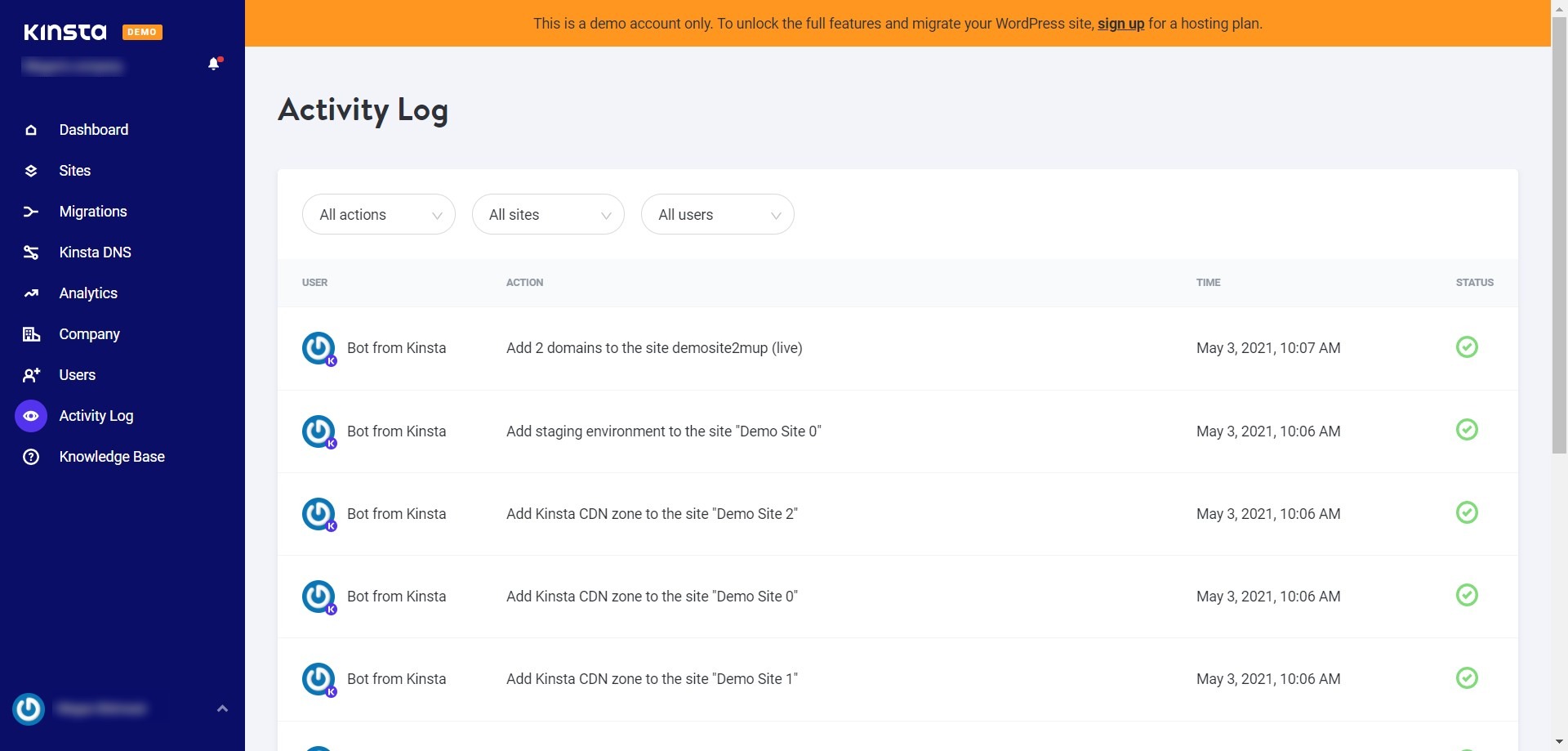 Kinsta has an activity log, which gives you a detailed breakdown of all actions taken on your sites. You can filter these by action, site, and user.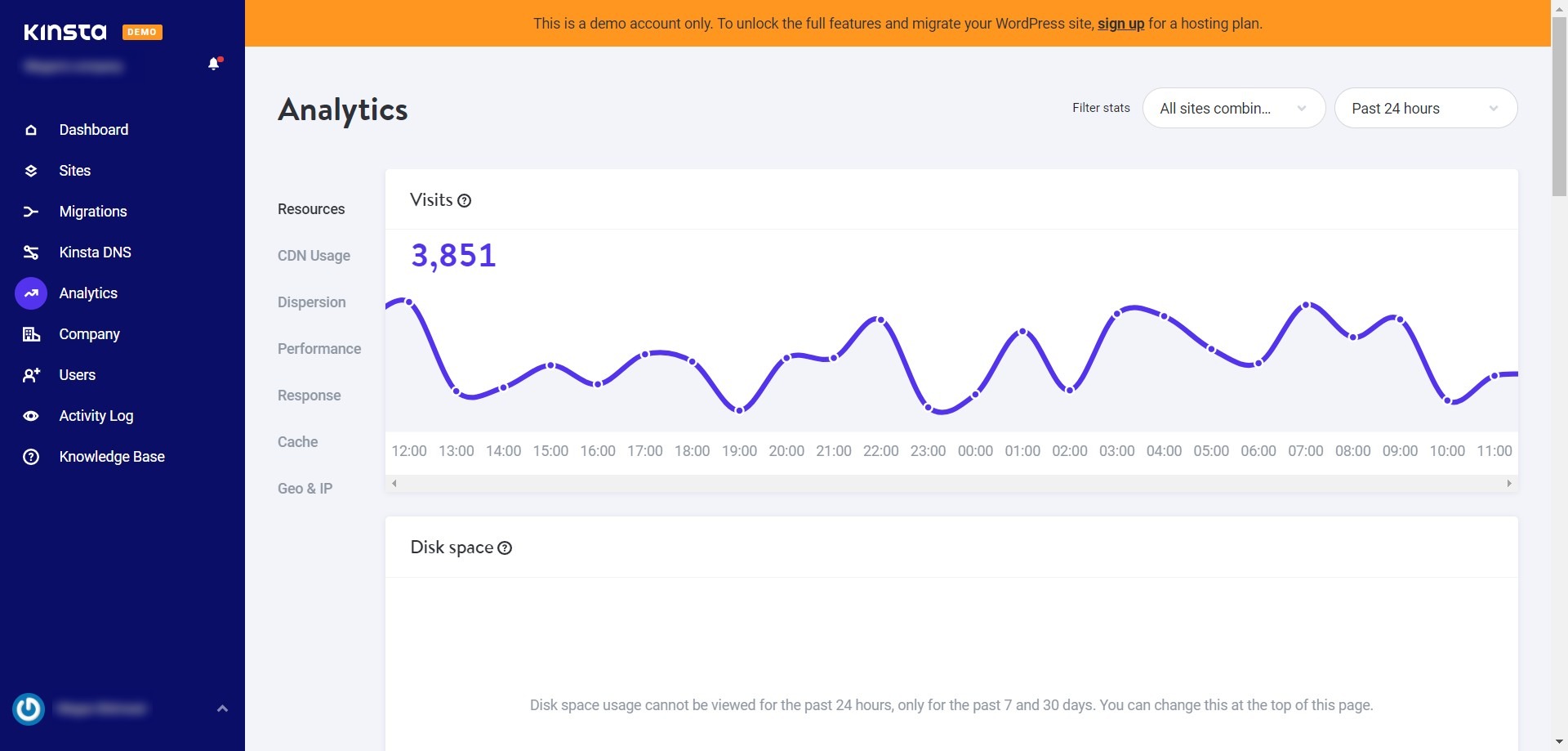 The analytics dashboard is easy to navigate. You can view a detailed breakdown of resources, CDN usage, dispersion, performance, response, cache, and geo & IP. These can be filtered by sites and time period.
DreamHost – The Main Features
Now let's see how DreamHost compares!
Dashboard/UX
DreamHost doesn't offer a free trial, unlike Kinsta. This is a shame, as it prevents new potential users from being able to try it out before they commit to a payment plan. They often have sales, and as you can cancel at any time, you can have a look around without spending too much (but more on that later).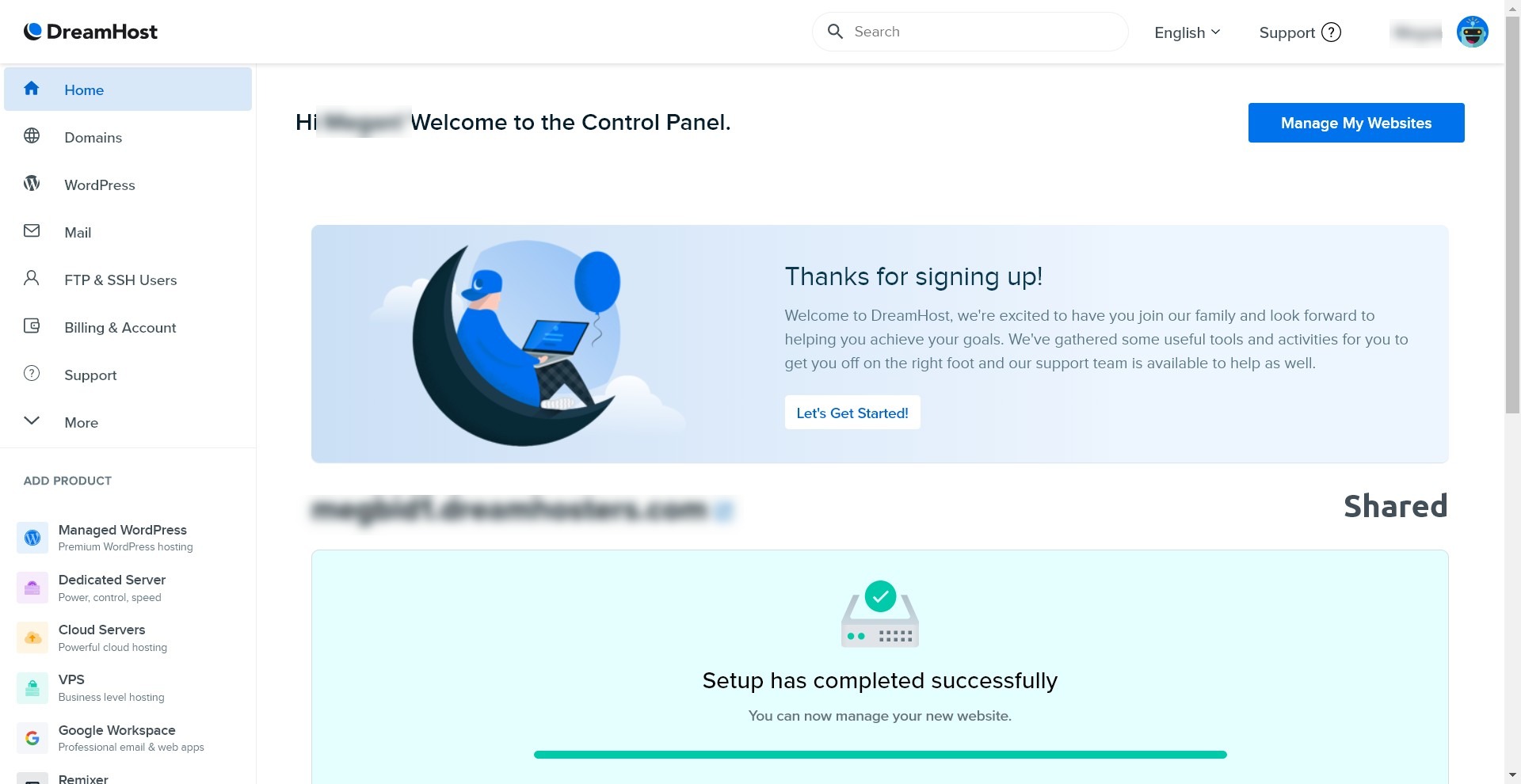 It has a pretty easy, intuitive interface, with a clean design and minimal clutter. It is a little more 'hands-on' than Kinsta, and it has a steeper learning curve. There are more terms to learn, and a few more steps involved in each process (for example in the migration process).
Architecture
DreamHost uses:
PHP 8 (only on shared servers)
PHP 7.4
PHP 7.3
PHP 7.2
It also uses Apache rather than Nginx and offers similar results to DreamHost in terms of speed.
DreamHost has data centers in the US and doesn't use Google Cloud Platform data centers. Depending on the volume of traffic to your site, this may have an impact on how quickly your pages load. DreamHost's speeds can vary, so if lightning-fast loading times are a priority, you may want to consider Kinsta instead.
Security
Security at DreamHost is great. It offers malware removal, which performs weekly scans for malicious code, bad permissions, and out-of-date software. This stops any potential issues in their tracks before they can develop. As it uses Apache, it uses the industry-standard firewall, which is excellent for security.
Staging and Migrations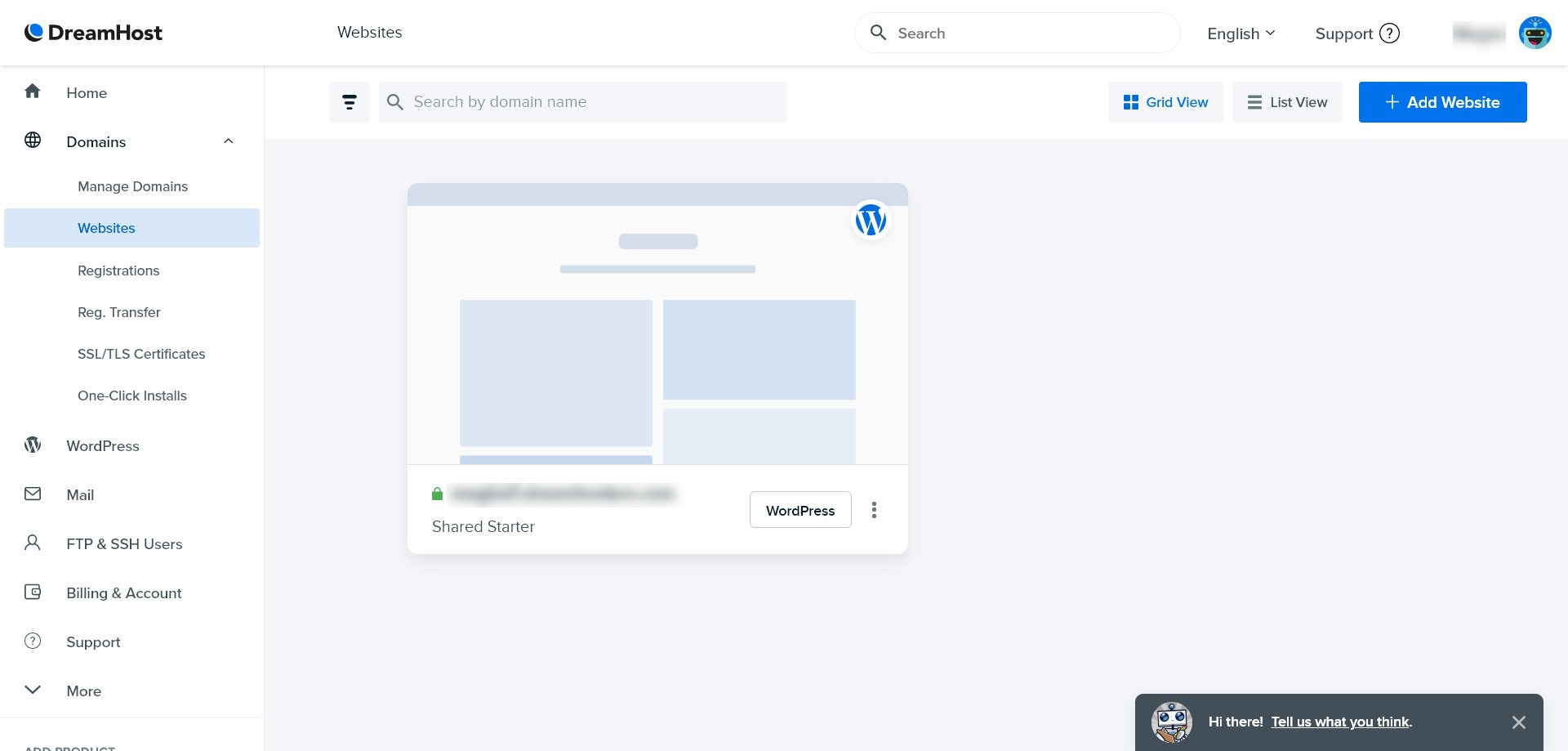 DreamHost allows you to see a grid view of all your sites, so you can easily find the one you're looking for if you manage multiple sites.
It offers automated migration for WordPress. Unlike Kinsta, this isn't taken care of for you – there are a few steps involved. You have to install their migration plugin, generate a migration key, and then review your site before it goes live. It's a fairly simple process, and DreamHost offers videos and tutorials for each step. They are WordPress experts, so if there is an issue, their in-house team can offer help and support (more on that shortly).
DreamHost also offers WordPress staging, which means you can play around with your website before making changes. This does involve a few more steps than Kinsta on the basic plan. Higher price plans include 1-click staging, which makes things easier.
Analytics
You can access some statistics for each of your websites via DreamHost, depending on the plan you have chosen. You can automatically generate monthly reports on traffic which can be customized to include the information you need the most.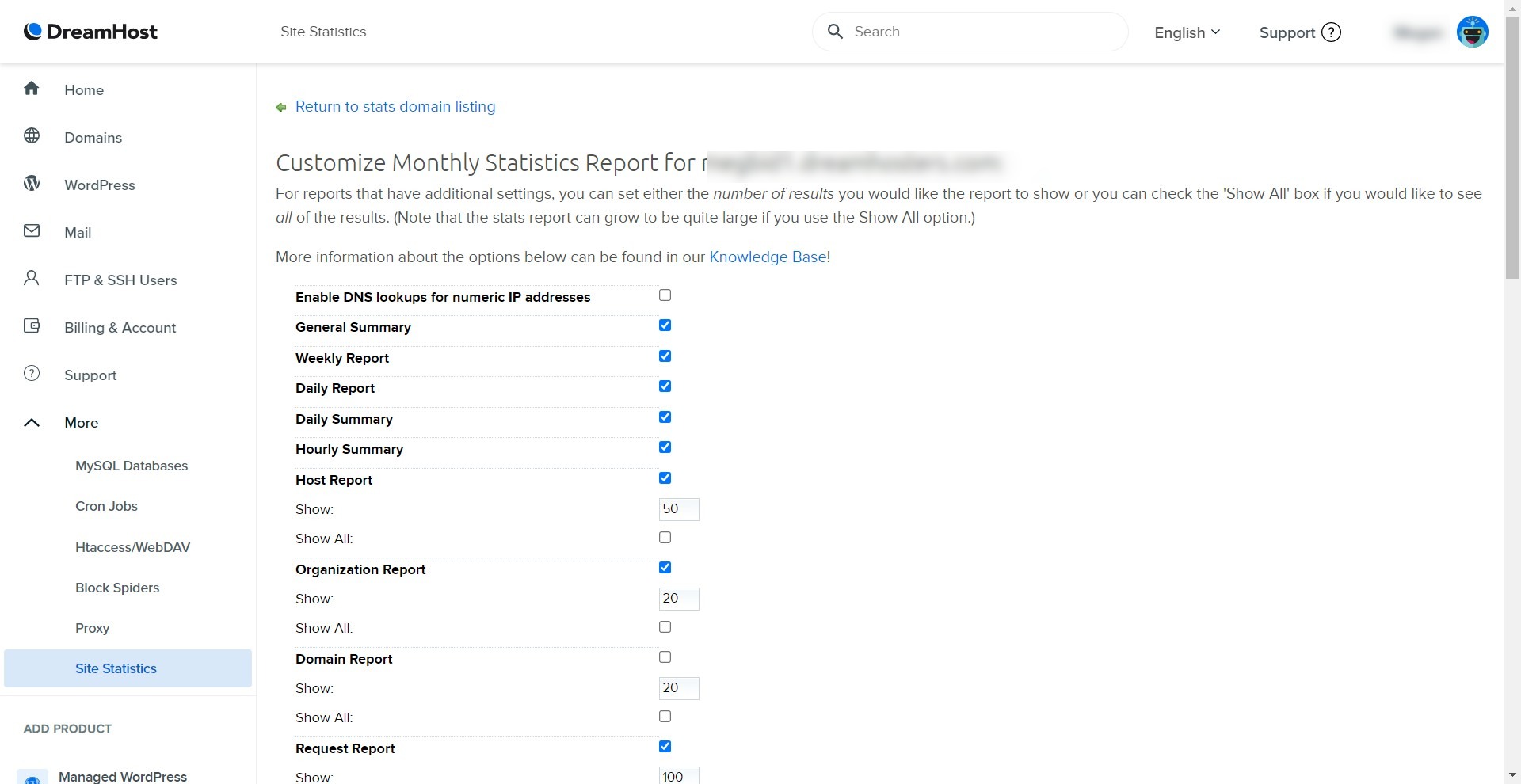 Kinsta vs DreamHost – Support
Let's see how they stack up in terms of customer support.
Kinsta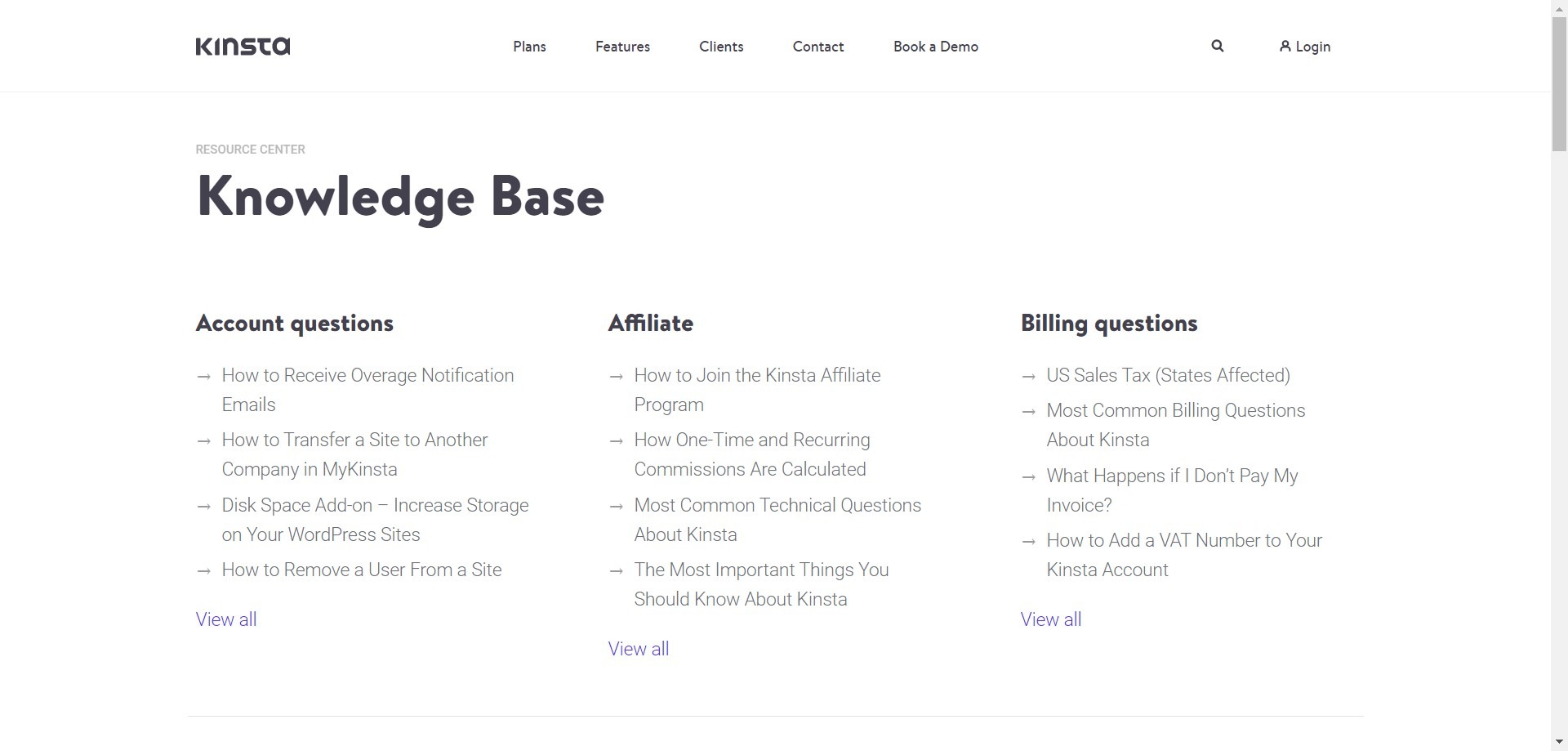 Kinsta has a knowledge base to answer basic questions about migration, site setup, and tools and features.
They use an online messaging system for support, which means you can contact them at any time. I have to say that I found the customer support team to be extremely quick to respond. They're also very helpful and approachable, and I believe they are one of the best in the industry when it comes to reaching out for assistance.
That being said, the only downside is that all assistance must be done online as they don't offer phone support, so you will be dependent on them getting back to you quickly online.
DreamHost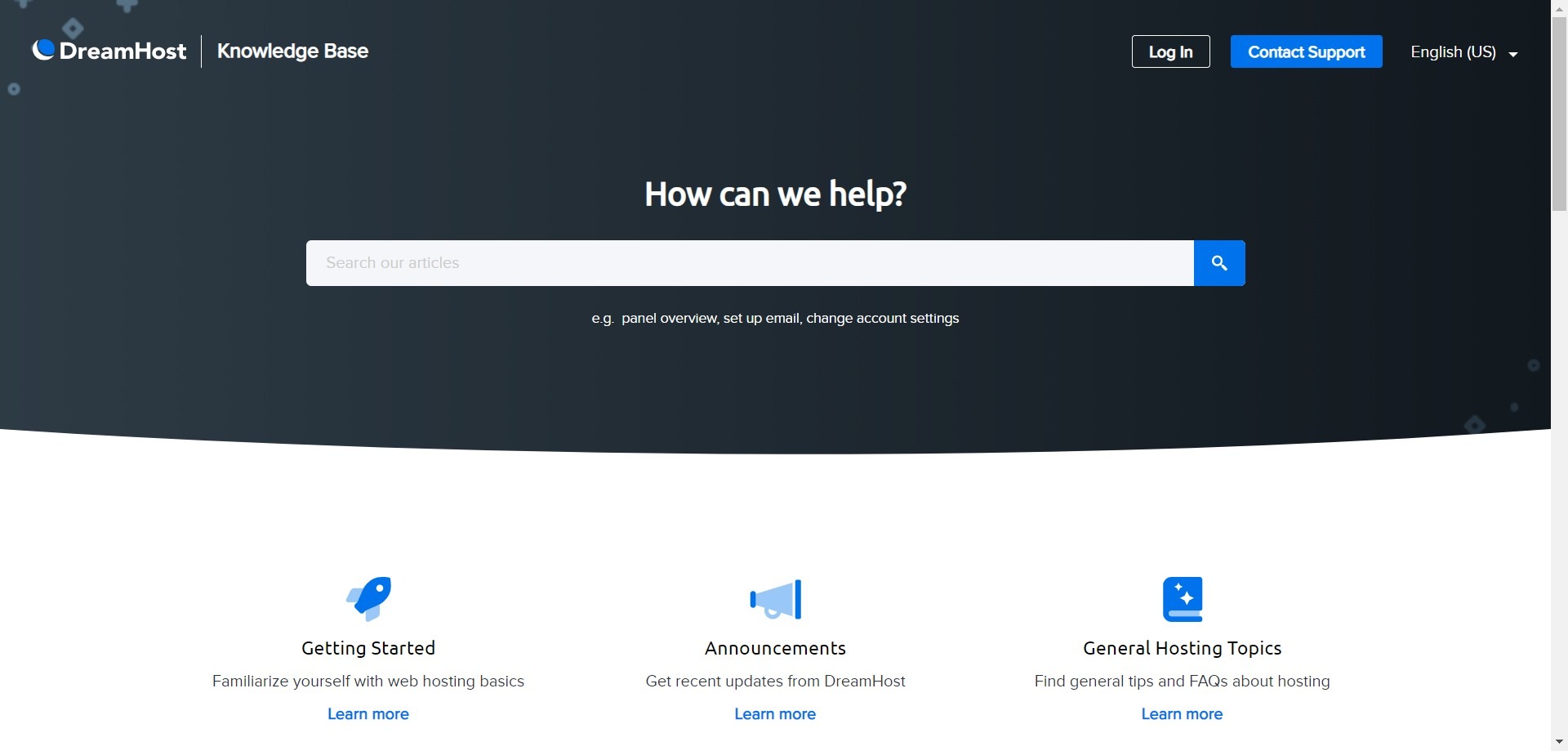 DreamHost offers a wide range of tutorials, tips, FAQs, and updates. This means that even if you're a beginner, you should be able to find a step-by-step guide to help you learn the platform.
They state that they offer 24/7 in-house support, but in reality, this isn't always the case. Chatbots help to fill in some gaps, but you may be waiting for a while to get a team member to get back to you.
Kinsta vs DreamHost – Pricing
So, how do they compare with pricing?
Kinsta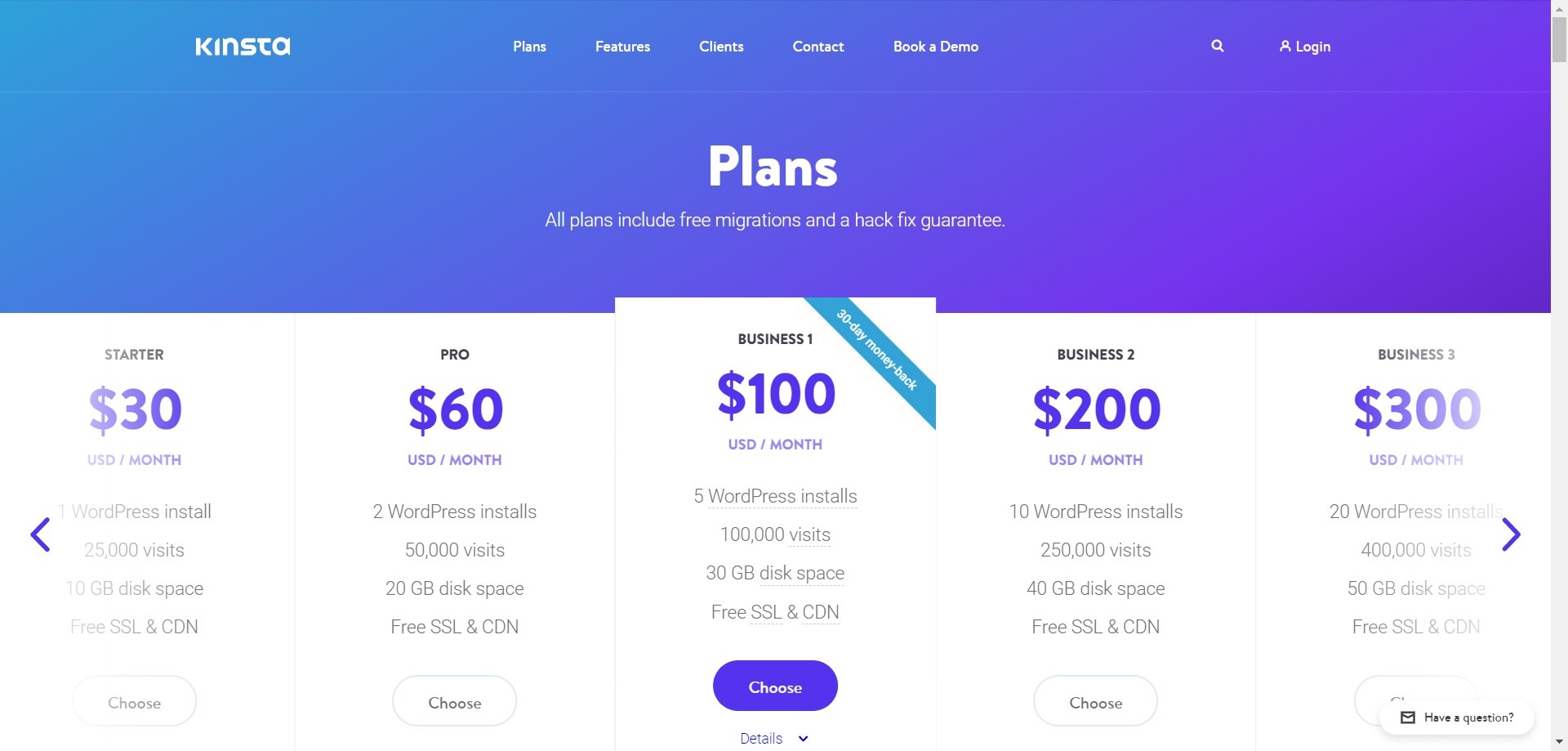 There are several plans to choose from:
Starter – $30/month
1 WordPress install
25,000 visits
10 GB disk space
Free SSL and CDN
Pro – $60/month
2 WordPress installs
50,000 visits
20 GB disk space
Free SSL and CDN
Business 1 – $100/month
5 WordPress installs
100,000 visits
30 GB disk space
Free SSL and CDN
Business 2 – $200/month
10 WordPress installs
250,000 visits
40 GB disk space
Free SSL and CDN
Business 3 – $300/month
20 WordPress installs
400,000 visits
50 GB disk space
Free SSL and CDN
Business 4 – $400/month
40 WordPress installs
600,000 visits
60 GB disk space
Free SSL and CDN
Enterprise 1 – $600/month
60 WordPress installs
1,000,000 visits
100 GB disk space
Free SSL and CDN
Enterprise 2 – $900/month
80 WordPress installs
1,500,000 visits
150 GB disk space
Free SSL and CDN
Enterprise 3 – $1,200/month
120 WordPress installs
2,000,000 visits
200 GB disk space
Free SSL and CDN
Enterprise 4 – $1,500/month
150 WordPress installs
3,000,000 visits
250 GB disk space
Free SSL and CDN
You can sign up for a free demo to try it out before you choose a plan.
DreamHost
Now let's check out the pricing plans offered by DreamHost.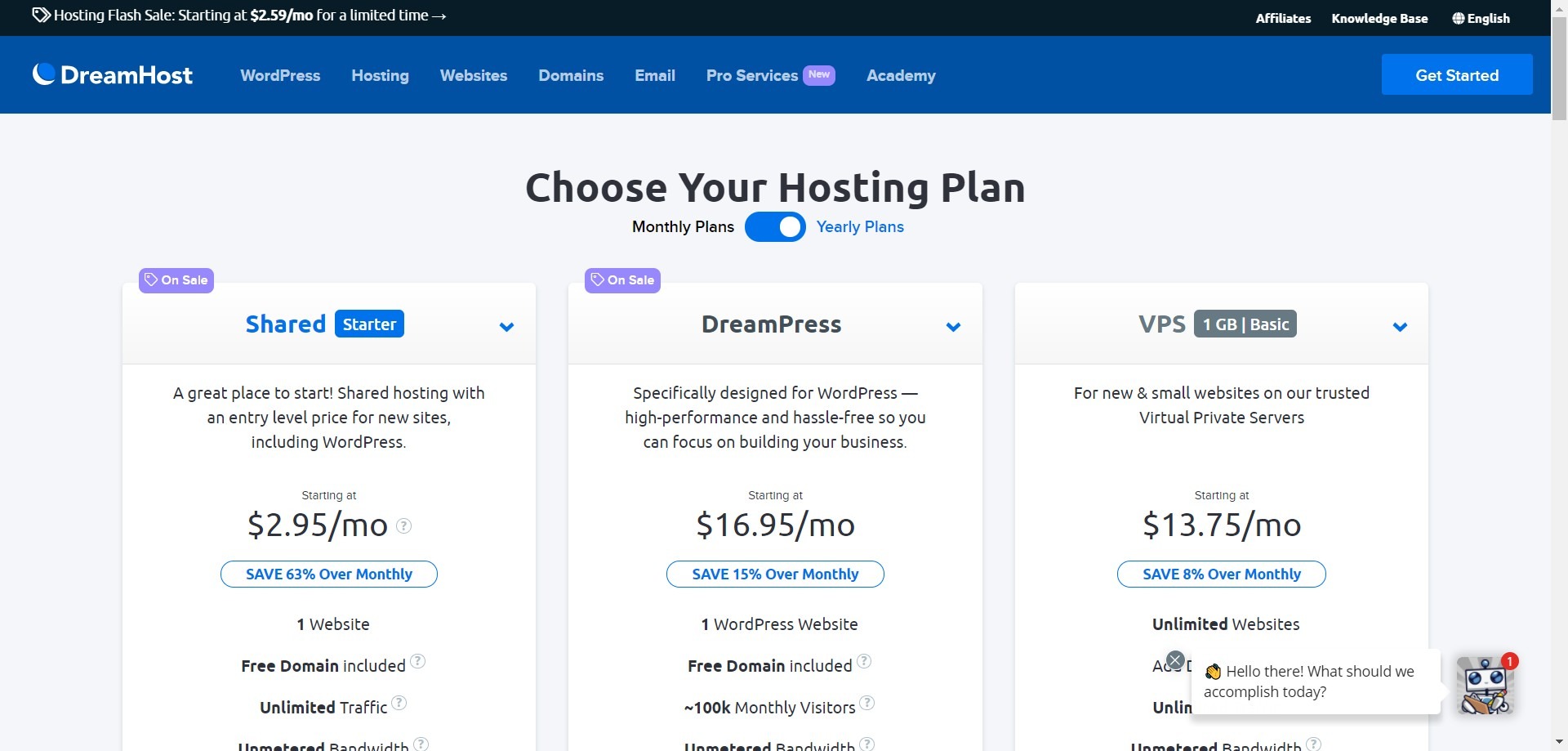 Shared Starter – $2.95/month
1 website
Free domain
Unlimited traffic
Unmetered bandwidth
Fast SSD storage
WordPress pre-installed
Free SSL certificate
WP Website Builder
Free automated WordPress migrations
DreamPress – $16.95/month
1 WordPress website
Free domain
100k monthly visitors
Unmetered bandwidth
30 GB SSD storage
WordPress pre-installed
SSL certificate pre-installed
Unlimited email
WP Website Builder
Free automated WordPress migrations
Jetpack (WordPress plugin) pre-installed
1-Click Staging
VPS – $13.75/month
Unlimited websites
Add domains easily
Unlimited traffic
Unmetered bandwidth
30 GB SSD storage
1-Click Install WordPress
Free SSL certificate
They don't offer a free trial, but their plans can be canceled at any time, so it makes it a little more affordable to try out the Shared Starter plan. You can find out more on their Pricing Plan page.
Kinsta vs DreamHost – Pros and Cons
Now let's take a look at the pros and cons of both.
Kinsta
Pros
Good UX, clean layout
Very fast speeds
Security is excellent
Staging and migration is simple
Lots of experienced technical support
Cons
Quite steep in terms of pricing (depending on your needs)
No phone support available
DreamHost
Pros
Clean layout
Great security
Migration is simple to do manually
Experienced WordPress support
Lower price point than Kinsta
Cons
Difficult to get hold of support at certain times of the day
Steeper learning curve than Kinsta
Frequently Asked Questions
Here are some of the most commonly asked questions about Kinsta and DreamHost:
Question: Are there any alternatives I can try?
Answer: There are a few alternatives to try:
BlueHost – BlueHost is a web hosting service that offers hosting for a variety of platforms, not just WordPress. It has a great customer support and fast page loading speeds. You can find out more in our Cloudways vs BlueHost comparison.
NameCheap – NameCheap is a web hosting service offering free migrations. It's pretty affordable too. You can find out more in our NameCheap vs BlueHost comparison.
WP Engine – WP Engine is a WordPress hosting service. It manages over 1.2 million websites, and it has a lot of tools and features. You can find out more in our WP Engine vs Flywheel comparison.
Question: What integrations do Kinsta and DreamHost offer?
Answer: Here's a quick rundown of the integrations they offer:
Kinsta
– WordPress
– Google Cloud Platform
– Shift
– Desktop.com
– Cloudflare
DreamHost
– WordPress
– WooCommerce
– Google Analytics
– Comet Backup
– BigCartel
– G Suite
Question: How can I cancel my plans with Kinsta or DreamHost?
Answer: It's pretty straightforward. You can cancel either by going to the Dashboard area, and it just takes a few clicks.
To Sum Up … Which is Better?
In my opinion, Kinsta is the better option in terms of ease of use. Migration is really simple, there's not much of a learning curve, and it's better for beginners. Plus, the speeds may be slightly more reliable, which is important if you're running a very busy site.
Their customer support is also second to none, which can be a massive help, especially when dealing with sensitive technical issues. However, if you do only have a lower budget to work with, it's worth checking out DreamHost. It still offers great speeds and security, it just has a slightly higher learning curve to grapple with.
If you use either platform, let us know in the comments – we'd like to hear your experiences!