Last Updated on January 11, 2023 by DMEditor
Here is a little background.
You have worked hard to get your site to the top of the various search engines and are attracting many unique visitors who are consuming our content in the five-to-six-figure pageviews range.
Bottom Line Up Front: Here's my high level conclusion…
You cannot afford to have your site crashing when demand for what you have to offer is so sky-high. You are making money and not just deciding what type of products or monetization plan to roll out to your interested audience.
At this point, you know you need the fastest, most reliable web hosting service of the year.
If you feel like delegating a chunk of the site administration tasks that come with owning a busy website or blog with dozens of plugins, security concerns, performance updates, and other technical issues, choosing the best-managed web hosting service provider reads more like it.
However…
It would be unfair to compare WP Engine vs Rackspace without mentioning that the two are not direct competitors. Neither are both in the same league of top web hosting services of 2020; with the likes of 1&1, Siteground, Dreamhost, Bluehost, and Hostgator. WP Engine and Rackspace are way up the major league standings.
What are we saying?
Let's get started.
Comparison of WP Engine vs Rackspace Managed Web Hosting Services
Despite their specialty differences, both WP Engine and Rackspace have a lot in common, which puts them in the same area of comparison for this post for various features.

Go With WP Engine for WordPress
Epic support, blazing fast speeds, optimized for WordPresss. This is the host I use for our large WordPress sites. It's a bit more expensive, but worth the faster site speeds AND hands-on support.
View Hosting Plans
We earn a commission if you click this link and make a purchase at no additional cost to you.
Target Audience
WP Engine is the top managed web hosting provider for WordPress — managed WordPress hosting. Started in 2010, the only focuses all its techy power to serving WordPress webmasters. If you know a passionate WP user, then they know about WP Engine.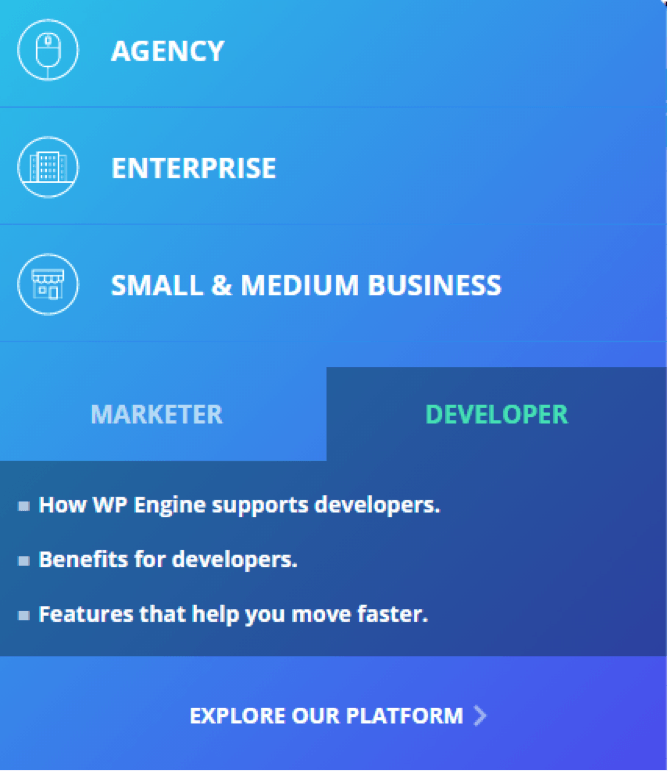 WP Engine services aimed at its target audience
On the other hand, Rackspace was and still is, the top cloud-hosting solutions provider. Rackspace counts 50% of the Fortune 500 companies on its clientele roster, for example.
They provide an all-inclusive web hosting service; from website hosting to ecommerce management to email hosting, site security, and database management. Some people feel that an all-in-one web hosting provider is a jack of all trades and a master of none.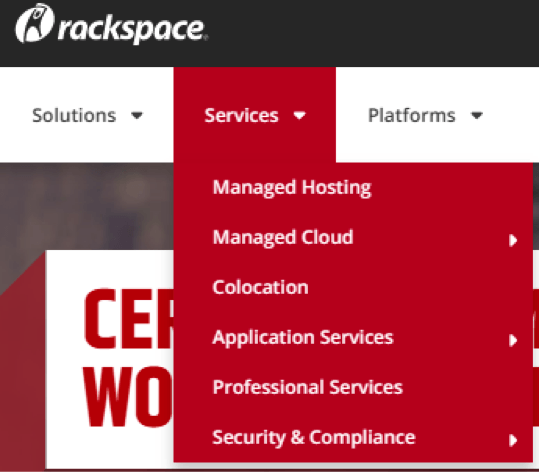 Rackspace services aimed at the medium and large business markets
But Rackspace is best known for its leadership in Gartner Magic Quadrant for cloud-enabled, managed web hosting service. Rackspace leads other industry players such as Amazon Web Services and Google's Cloud Services in this regard.
Both managed web hosting vendors generally target the medium and large business clientele. As will be evident in the features section, both offer a ton of features at higher prices than other managed web hosting providers.
Many of these features are best utilized by active to very active website owners and are not exactly ideal for novice bloggers, marketers and so on. The latter would find more suited service in the company of WP Engine alternatives such as Pagely or Rackspace alternatives such as Siteground—a subscriber may not see any value for money or worthy ROI with a low-traffic, yet to be monetized website or blog.
WP Engine vs Rackspace: Uptime and Speed
Both hosting services offer reliable uptime with each scoring a genuine 99.99% uptime score from various clients and against various industry benchmarks.
On its part, Rackspace has maintained this score since 2005, just to show how unlikely Rackspace clients are to suffer from haphazard website crashes — even when you receive a sudden spike in inbound traffic at any one point.
They do have an impressive uptime throughout, but no uptime guarantee like WP Engine does. Instead, Rackspace uses dedicated servers to help pull up these numbers. Also, you will get a System Status Page, where you can check your server(s) status around the clock.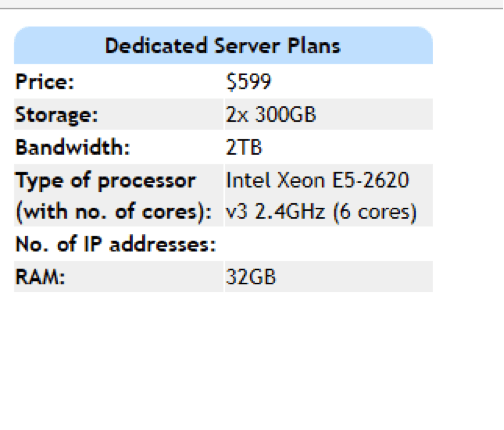 Rackspace dedicated servers
WP Engine takes uptime and crisis management to another level, though.
If you happen to suffer downtime, and it qualifies as a genuine hiccup coming from their end (read the Service Level Agreement), they promise to return 5% of your monthly fee for every hour their service will be down.
WP Engine servers are wholly dedicated to serving WordPress websites. That translates to WP Engine offering perhaps the fastest managed web hosting services across the board—even when Rackspace outdoes AWS and Pair Networks.
At the heart of the supersonic performance is WP Engine's EverCache, its caching software for WordPress. It is an aggressive caching tool and the fact that WP Engine pampers its entire architecture with it improves loading speed, a key search engine optimization factor especially if you run a service website or an ecommerce site.
You can almost always expect a Time To First Byte (TTFB) of less than one second. This is the time it takes a browser to receive the first byte of data from the server when you request an URL. And a low TTFB can make you significantly more money by allowing your visitors to get what they want on your site fast and hassle-free.
Customer Support and Expertise
But much better than the uptime guarantee is the top-notch customer support that WP Engine offers for every plan. WP Engine's is simply one the best support teams in the business if not the best.
For example;
You can reach out to a WP Engine customer representative with a query to help you address a WP issue that's making your site appear blank. And instead of just referring you to a third-party plugin from the WP marketplace, the customer rep will sign in to your WP site and do a bit of coding on your behalf to rectify the problem. That good.
This is just one example. One example that makes WP Engine such a huge hit with webmasters who prefer a managed web hosting provider that will take a load of technicalities from their day-to-day. WP Engine happens to hire WordPress experts that can get down and dirty to wipe out the problem from the greasy backend of things for you, whether you are a beginning WP master or a veteran.
You can reach them via email, ticketing system, and live chat as well by phone all around the clock. They also have an online presence in the form of blogs, how-to articles, documentation, and video on their YouTube channel.
How fast are WP Engine customer support replies?
The WP Engine support ninjas receive calls almost instantly. Live chat support engages in a snap—at least most of the time. You can expect thorough replies whichever mode of support you choose.
There is a caveat, though:
You will not get as much love if you take up the base WP Engine plan that costs just under $30/month. At that tier, expect email support around the clock and live chat between 8 AM and 8 PM CST. You would have to upgrade to a higher plan to receive phone support, though.
With Rackspace, you can expect nothing short of top-tier customer support all around the clock—whether you are a customer or just poking around to learn more about Rackspace services or their managed web hosting feature to compare with WP Engine's.
Their Fanatical Support, coined from the firm's HQ location, is arguably only second to WP Engine'—arguably being the key word there.
All Rackspace web hosting plans get phone, email, live chat, and ticketing system support 24/7/365. Expect email replies in less than 20 minutes, most of the time. You will not be restricted to calling the Rackers like WP Engine does—and the responses are usually remarkably thorough and actionable.
You can find further help to master Rackspace hosting in the depths of the documentation, articles, resources, videos (YouTube), and API and developers support page, as well as an ever-expanding Rackspace online community through their forum.
However, you do not want to expect the Racker team to sign in to your backend area to code some issues off your site because most of the time they don't—only when push comes to shove and they have to jump in to save your online property.
The strongest link for that last bit in the Rackspace support strength is its huge team of certified IT experts.
From Joomla to Drupal, WordPress and PHP to Ecommerce and Windows-based server solutions, Rackspace has an army of over 3000 hosting engineers, over 1000 Amazon Services Certified Engineers and another 1000+ strong congregation of Microsoft-Certified Engineers—always a call, live chat, ticket or email away.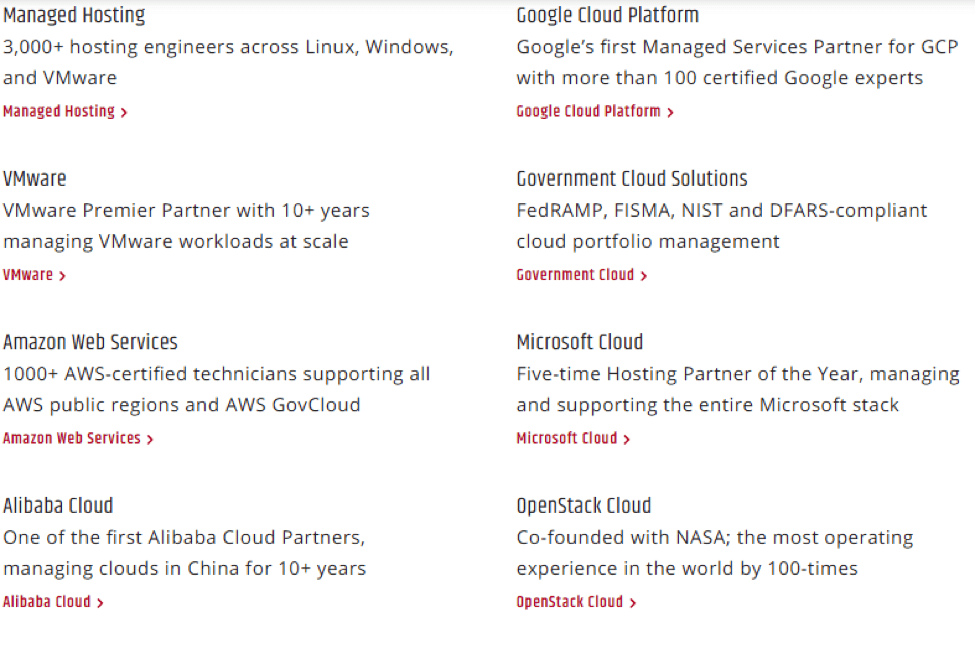 For small to large businesses that need professionals handling their web hosting, Rackspace offers a world-class team.
You probably noticed the Rackspace vs WP Engine customer support bit of this comparison guide is quite huge. That should say a ton about the weight of emphasis both WP Engine and Rackspace put into their respective customer support engines.
Rackspace vs WP Engine Features Comparison
WP Engine vs Rackspace vs InMotion features comparison courtesy of Finances Online
When it comes to business web hosting features offered by WP Engine and Rackspace, disparity shovels in pretty quick. That is primarily because, as mentioned earlier, Rackspace is an all-in-one managed hosting provider with an emphasis on managed cloud hosting solutions for medium to large agencies and enterprises.
On the other hand, WP Engine is a dedicated managed WordPress hosting firm, so the bells and whistles each offers will defer drastically depending on what you are looking for in the best web hosting provider for your business.
Also, each offers attractive features in separate plans, and features are tied to the type of plan you choose.
Here are the pricing plans both offer, so you can see it for yourself:
Rackspace Pricing vs WP Engine Pricing
WP Engine Pricing Plans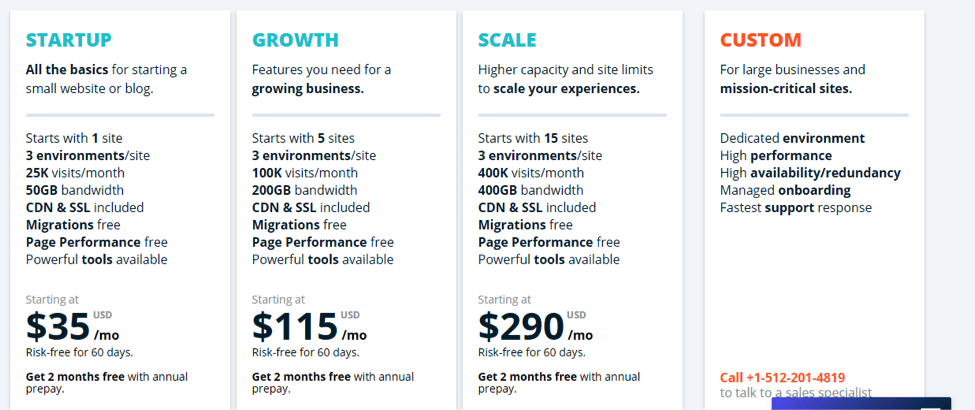 WP Engine Pricing tiers and features tied in each plan
Rackspace Pricing Plans
To find the best Rackspace hosting deal, you will need to know exactly what you want from them. They offer over a dozen solutions, services, and platforms—which can feel overwhelming to new users looking around the Rackspace site.
WP Engine recently revamped its website and not only managed to bring a sleek new design but also an easy to navigate and use the site for even complete beginners—that is the opposite with Rackspace.
And perhaps the wide array of hosting services they offer could make it tough for Rackspace hosting to create a more intuitive and easy to follow homepage and entire site.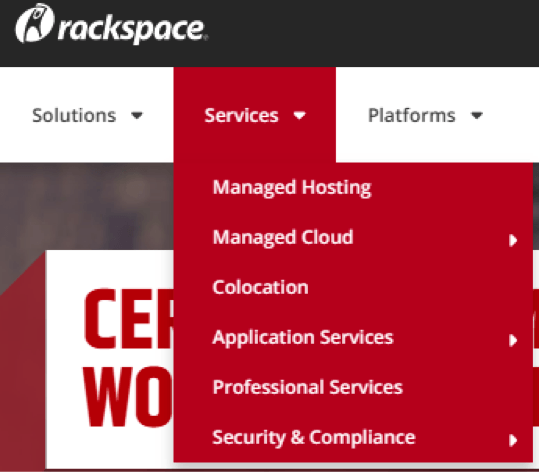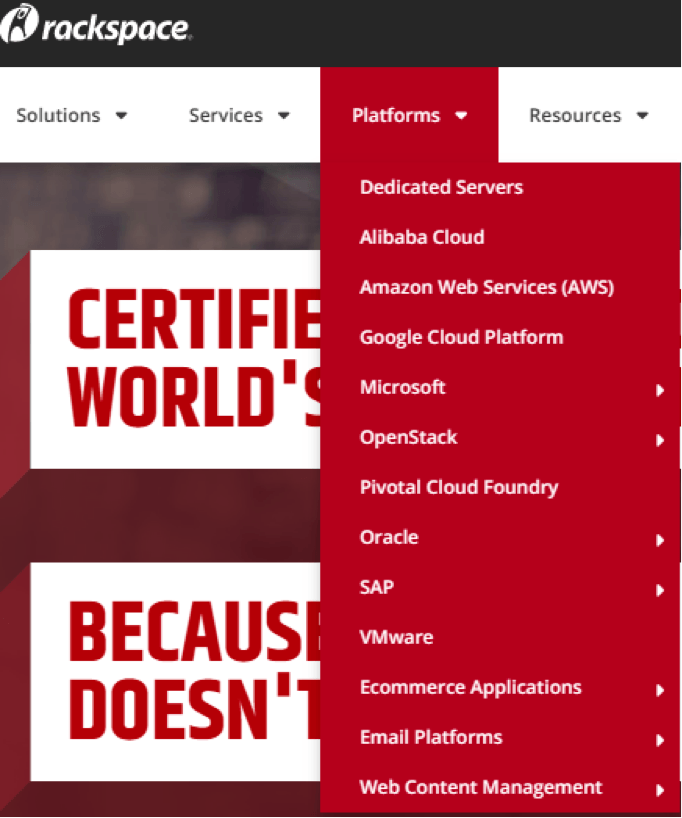 Rackspace services and supported platforms.
It can all feel a little overwhelming for anyone who is not the IT department.
WP Engine does a better job by spreading out this infographic instead, although of course, they have only one service to talk about: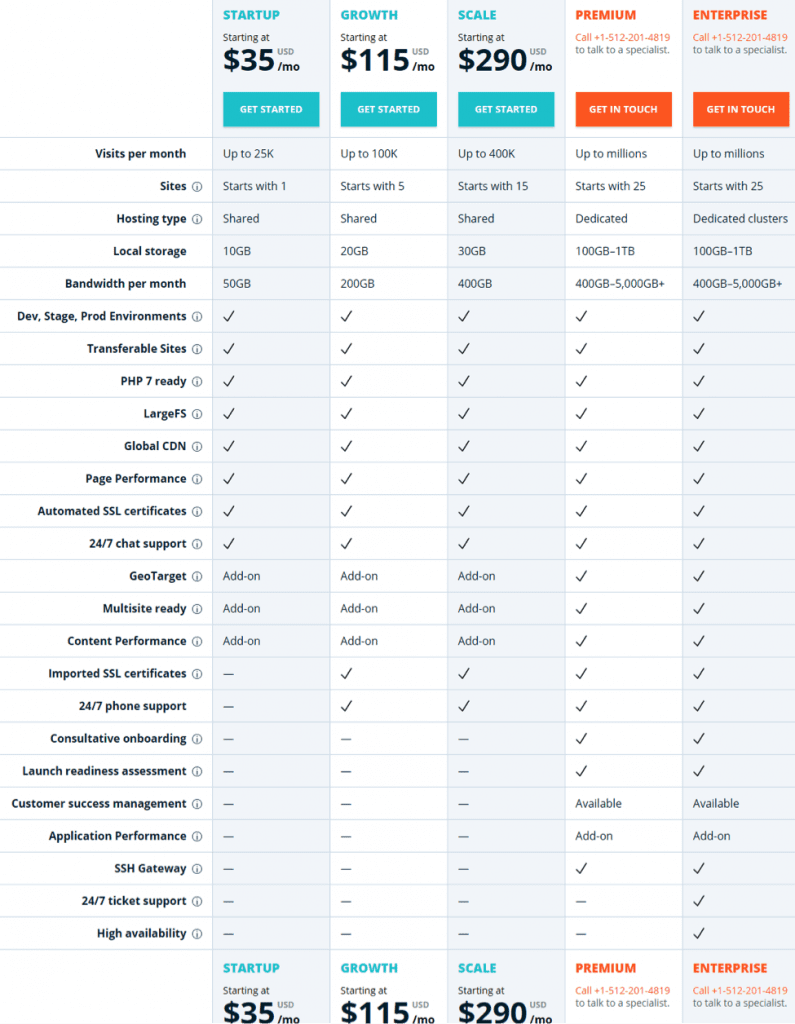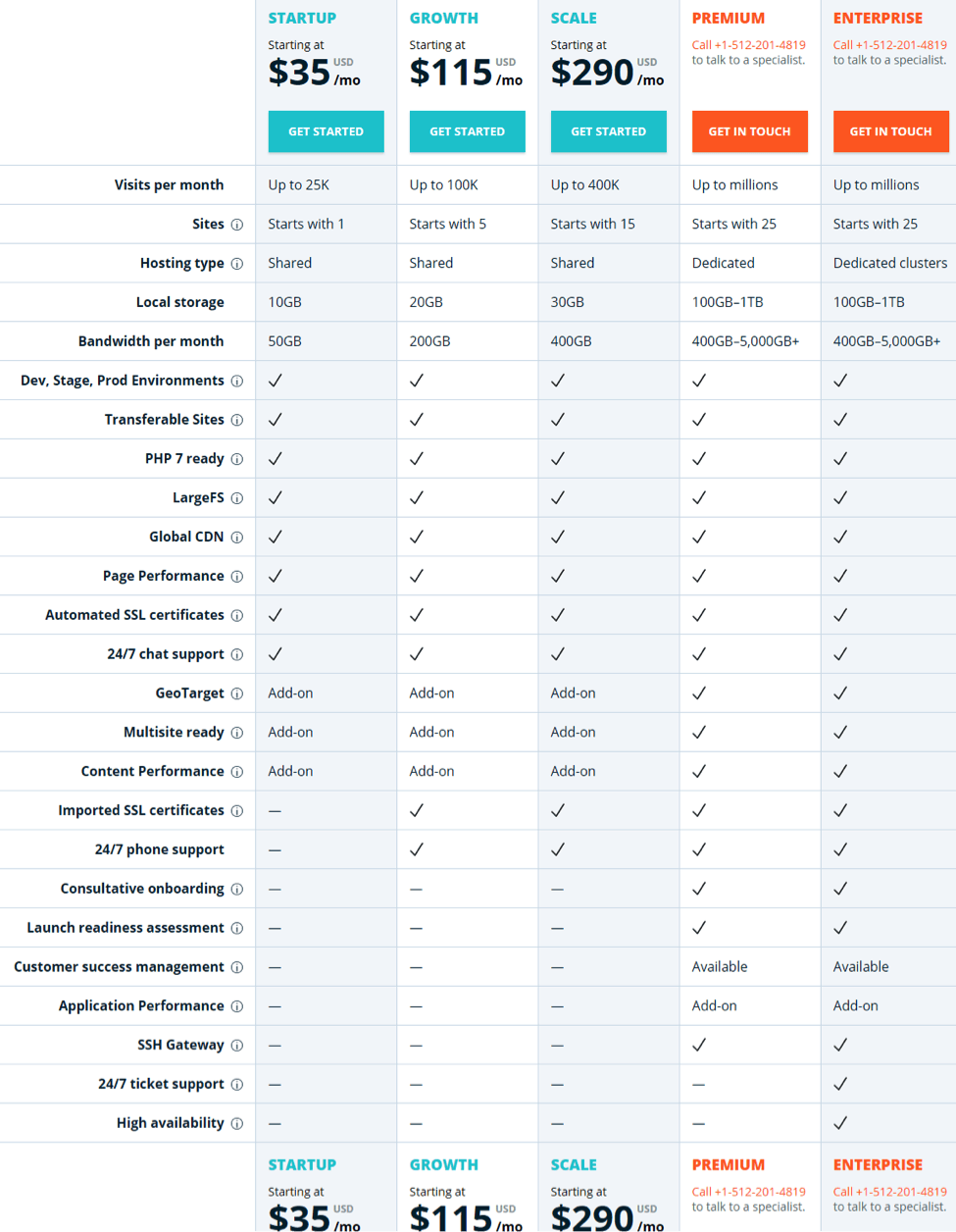 WP Engine features and pricing
Site Security
Both WP Engine and Rackspace have at one point or another been compromised by hackers, but each has developed solid mechanisms over the years to counter data violations or compromises.
WP Engine partnered with internet security firms, Securi and SocTheory to scan all member sites for malware. That happens automatically. And once a malware is caught and removed, a notification is sent to you to let you know what was going on underneath your nose. The in-house vulnerability detection tool scans through servers, databases, infrastructure, and applications.
WP Engine popularly has a list of WP Engine banned WordPress plugins. The disallowed WP plugins list includes some of the best plugins for WordPress such as Broken Link Checker — for various reasons.
For setting up an HTTPS//SSL Certificate, WP Engine provides a link in the dashboard for you to buy one from a third-party provider. That is not the case with Rackspace and many other web hosts around.
Overall, expect WP Engine to ensure you have the latest updates to keep your site secured and working fast and efficiently.
With Rackspace, security groups on a cloud network are allowed. That means you can worry less about the security of your cloud hosting and other hosting interests you may have with them at any point in time.
Backup
Along with site security, Rackspace has its servers in different locations around the world, including in European locations, Japan, and the US. It will also help you back up your site's data daily—the same as WP Engine.
In case your site encounters a problem that threatens to derail it, you can choose to recover data backed up by Rackspace and WP Engine after rebooting the server. You can also call technical support to help you recover your data. If you prefer to use a backup plugin, you can use cloud-based service, CodeGuard or BackUpDaddy.
The best thing about WP Engine's backup and recovery feature is that it is a one-click affair—one-click CDN. You will not need to search around for what to do next or call technical support to get your site back up and running.
Another thing is WP Engine offers a migrate plugin for WordPress that users wanting to move from other WP hosting providers can easily move to their platform. You can choose to do that yourself or contact WP Engine support to help you settle in.
Moreover, WP Engine offers staging capability. This is where you can make iterations to your site in a live environment without your visitors knowing what's happening in the backend. Their interactions with your site will not be affected, either.
The one-click staging feature by WP Engine makes it easy to create an emulation of your site where you can try on any changes you might like to see live but without the risk of corrupting your site or throwing up errors that make your site inoperable or, much worse, crash.
Rackspace Cons vs WP Engine Cons
Neither Rackspace nor WP Engine is perfect.
For example, when you use WP Engine:
They do not support native email hosting
The base plan does not offer phone support
WP Engine Overage charges may cause you to pay extra in monthly fees
You will not be able to use some of the best WP plugins—possibly for flimsy reasons
WP Engine recently purchased StudioPress (Genesis Framework) for elegant out of the box designs
Restrictions on the number of characters to name a site
Some Rackspace cons include:
If you fail to cancel a server you are not using, you will still be obligated to pay for the monthly charge for using that server no matter how long you have left it idling
Rackspace could do more to improve its user interface and site navigation—it feels a bit clunky for newer clients and overwhelming to those that are new to managed web hosting
Rackspace managed hosting costs a premium—in the triple figure ranges, starting at $499
WP Engine vs Rackspace: Conclusion

Go With WP Engine for WordPress
Epic support, blazing fast speeds, optimized for WordPresss. This is the host I use for our large WordPress sites. It's a bit more expensive, but worth the faster site speeds AND hands-on support.
View Hosting Plans
We earn a commission if you click this link and make a purchase at no additional cost to you.
For the best managed web hosting services, Rackspace and WP Engine are on top of their game, providing an array of fast, reliable, and secure architectures, databases, websites, and profesionnal grade data centers. But each has its strong points and weak links.
BOTH hosting solution choices are MUCH better than typical shared hosting services, just to be clear.
If you want an all-in-one managed web hosting provider, a vendor that can be your technology partner in business and that provides exceptional, around the clock technical support, Rackspace might your best option — ahead of AWS, Google's cloud hosting services (although much cheaper), and Pair Networks.
On the other hand, if you are searching for the best managed WordPress hosting service that will include top-notch support, robust speeds, uptime and updates for your WP sites, WP Engine could be your best choice. They offer a 60-day trial offer with money-back guarantee, so you can go ahead and test them before signing to a long-term commitment.
Would you like to share a thought about this WP Engine vs Rackspace comparison or have a related hosting hack to contribute? Over to you in the comments section below.
Further Reading on Hosting Providers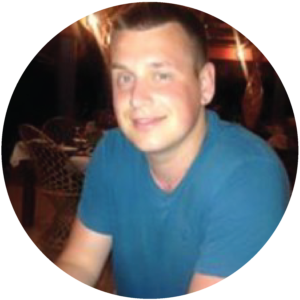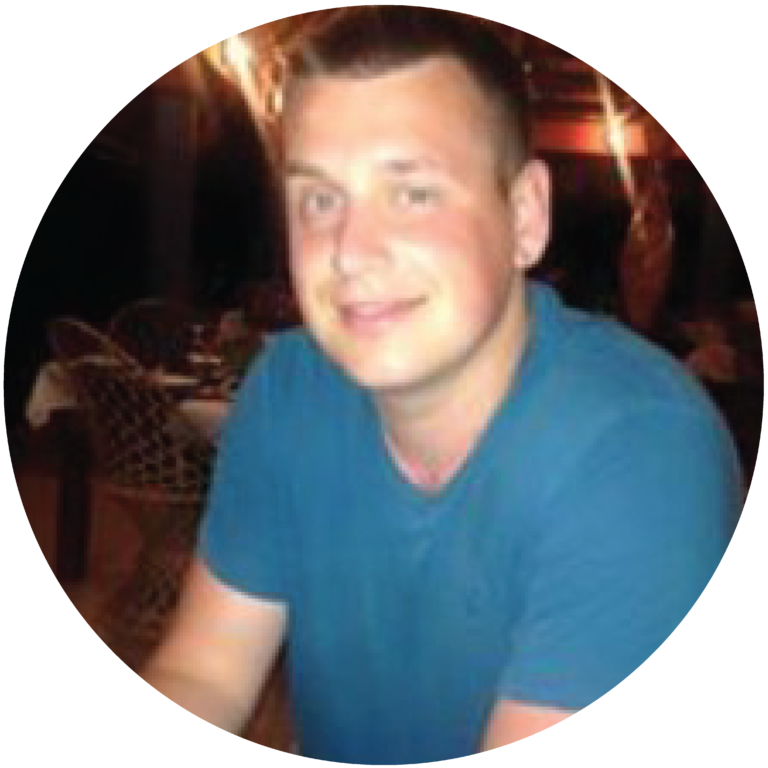 Latest posts by Ewen Finser
(see all)