Last Updated on July 13, 2023 by Ewen Finser
Webinar marketing is on the rise. It is developing into an influential means to deliver valuable content to a target audience. Online meetings are increasingly effective at improving audience engagement and encouraging loyalty.
Accordingly, dozens of webinar software services are opening business every other month.
You may be wondering how to sell your services with a webinar tool. How do you increase attendee engagement?
Or, how to demonstrate your expertise to your target audience.
Choosing the best webinar software or automated webinar tool for the job can help you do that and then some. But, with so many webinar and video conferencing services online, it can be overwhelming to choose.
My Bottom Line Up Front: If you are simply looking for a collaboration video conferencing tool for business presentations and soft pitches, GoToMeeting is the best option here. However, if you have a webinar specific sales funnel, WebinarJam is the conversion rate king.
So how about starting with just two great options; WebinarJam vs GoToMeeting.
Main Differences Between WebinarJam vs GoToMeeting
The main differences between WebinarJam and GoToMeeting are:
GoToMeeting is primarily geared towards business collaboration, whereas WebinarJam is intended entirely for internet marketers
GoToMeeting has mobile apps for iOS and Android, whereas WebinarJam is only web-based
WebinarJam offers more in-depth webinar sales funnel analytics, whereas GoToMeeting is fairly limited
This post examines and compares the differences between GoToMeeting and WebinarJam. The goal is to determine the best webinar platform for you.
How does that happen?
By reviewing key areas of each webinar service; the 7 factors to consider when choosing the best webinar company in 2022:
Customer Service
Engagement
Live Streaming Calls-to-Action
Analytics & Reporting
Integrations
Collaboration Tools
Pricing
But before we dig in, what about starting with an overview of both online meeting services, so it's clear what's on offer in either case?
Launched in 2004, web-based GoToMeeting is one of the pioneers in the webinar and online video conferencing industry.
You can either join a meeting or start one, yourself.
LogMeIn Inc now owns GoToMeeting (after buying it from Citric, the company that now owns product management tool, Trello). And the company recently released GoToMeeting 5.0.
Besides, the system will auto-record the entire webinar meeting tool, and then store it in the cloud for future replays. So not only do you get to replay your recordings, but you can also avoid holding new webinars to discuss the same thing in the near future—saving you money in a webinar solution production costs.
GoToMeeting services also include desktop sharing services (screen sharing). Check it out: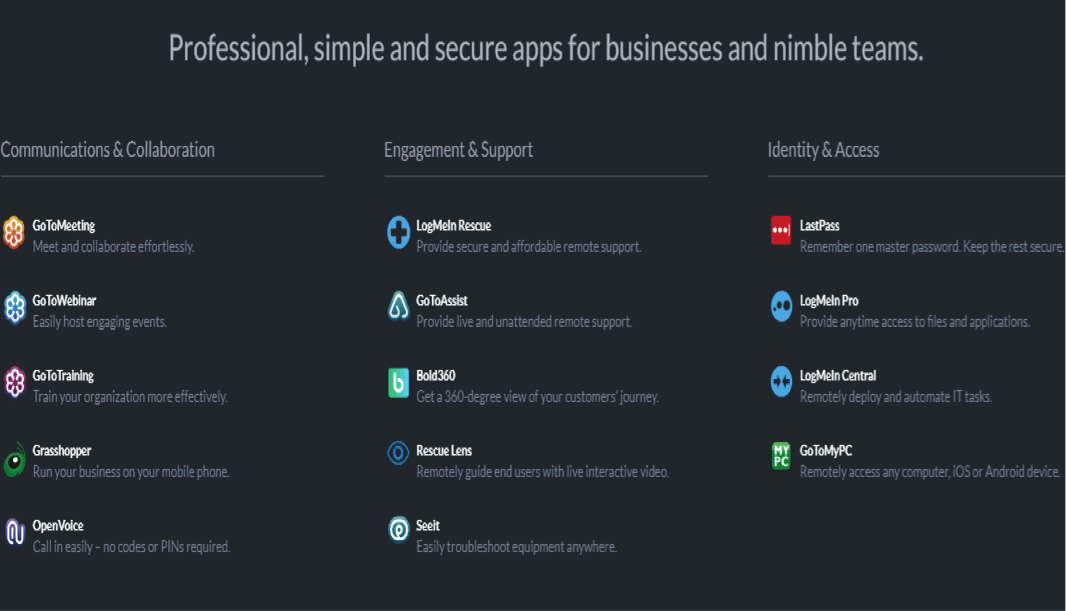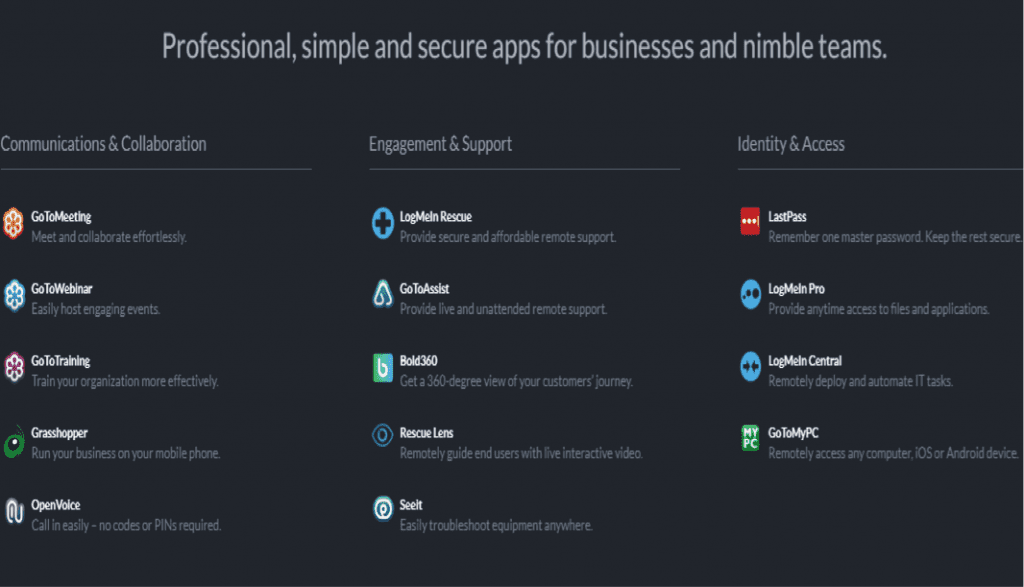 GoToMeeting Services
This is a newer kid on the block. WebinarJam provides webinar broadcasting, event streaming and live casting services to solopreneurs and organizations that need them.
It is ideal for different industry players including marketers, academics, and bloggers.
The online meeting tool is built upon the latest web technologies like Flash, RTMP and WebRTC to ensure users can use WebinarJam services on regular internet browsers. Users do not need to download the software into their PCs to use it—unlike the case with GoToMeeting.
WebinarJam also auto-records webinars using their sister-site, EverWebinar, and stores them in the cloud if you wish.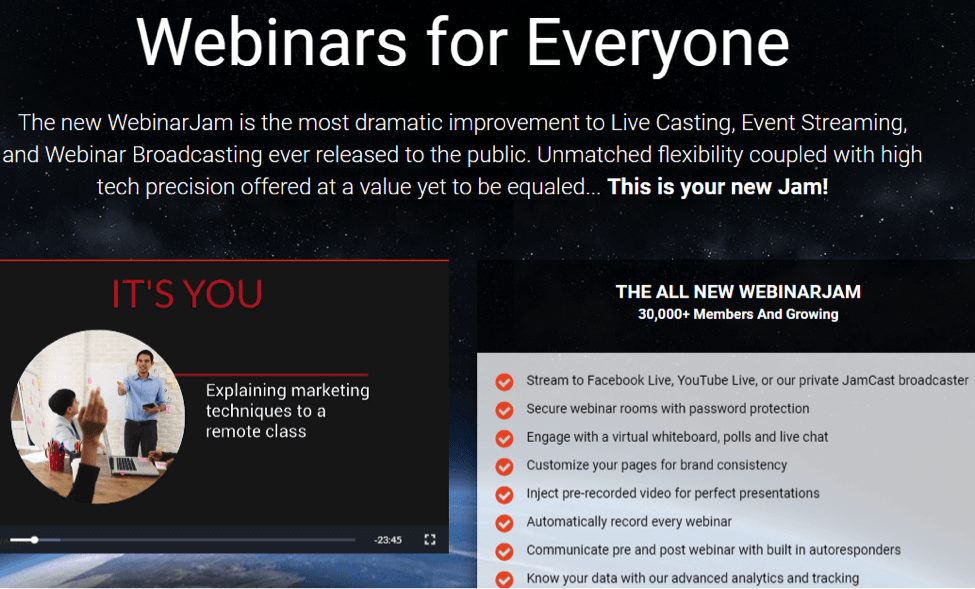 WebinarJam vs GoToMeeting Features
Customer Service
Signing up and setting up an account with either service is a breeze.
For example, it can take under 5 minutes to start a webinar from scratch with WebinarJam.
GoToMeeting provides an online training portal, where organization representatives or individual signees can learn how GoToMeeting works. While the base plan does not provide phone support (and the Pro does), GoToAssist provides both live and unattended customer support.
Paid support is also available via LogMeIn Rescue.
Will you be needing any of the help?
You just may. GoToMeeting is reliable but the user interface could use a refresher to make it look like it's received an update in the current decade. But it works and depending on how you like it, aesthetics might not matter that much to you.
WebinarJam also recently updated its webinar platform to an even more intuitive, fast and fluff-free webinar solution. However, you can still find support around the clock, almost every time via online guides and video tutorials on the landing page. Its support staff is also helpful and solves issues fast.
Both services have reliable uptime, powerful online meeting infrastructure, and equipment to help produce high-quality webinar marketing content.
Webinar Hosting Engagement
What is engagement in the webinar, desktop sharing, and online web conferencing services arena?
Here's the deal:
You want your webinar attendees to engage the panel of interviewees or panelists you invite. You want them to actively ask meaningful questions and add to the meaningful conversation you are hosting, especially during the Q&A section.
But not all webinar programs can support that. Yet increasing webinar engagement will boost your conversion rate. What about WebinarJam and GoToMeeting?
To start off, with WebinarJam you can use virtual whiteboards, live video streaming and chats, polls, show your face, device screen or both face and device screen. So you can engage participants with live demonstrations right off the screen, empowering them to follow your lead.
GoToMeeting supports mobile webinars, where users can easily listen to the webinar session while on the go. Yet, attendees can not only use Android and IOS mobile devices to do that, but they can also use PC, Mac, Chromebook, and Linux computers.
Still, the webinar platform helps participants to use telephony services to call in and make a contribution or ask questions.
Webinar Notifications and Reminders
In the weeks and even hours leading up to the live online meeting, you can set WebinarJam's autoresponder tool to send email reminders to your target audience. You can also use SMS, voice and social media channels to reach out.
Even better, you can use a pre-event countdown page to inform potential attendees when the webby is due. And you can set the page to automatically or manually display the number of seats left, number of attendees present and so on.
The autoresponse feature can also help you follow up on contacts that attended the webinar to get timely feedback so you can improve future events. Or you can follow up on attendees that are yet to convert but show potential.
Still, you can use the autoresponder feature to follow up on converted attendees that you can upsell to.
Collaboration Engagement
To further boost engagement, you can add pre-recorded video (automated webinar), images and presentation slides into WebinarJam powered online meetings. No need to use PowerPoint or Keynote for presentations.
Still, you can turn any of your webinar participants into a presenter using Spotlight with just a few clicks. This can work especially well if you want to shed light on a demonstration of how you helped them, which is golden for social proof.
As for GoToMeeting, you can easily pass the mantle to an attendee using Hand Over Control by letting them take over the keyboard and mouse functions mid-webinar.
The participant could be a satisfied client or raving fan. Making him/her a presenter can help you give others a live testimonial—proof of what you can help others accomplish as well.
Social/Instant Messaging
With its advanced chat functions, you can use WebinarJam to moderate comments before they can appear on the webinar's public feed. In fact, you can privately reach out to a participant or a panelist behind the live event. That can be vital for making clarifications, moderating, and sending private messages.
Still, you can push the webinar to Facebook Live and YouTube to make the event even more accessible and engaging.
GoToMeeting also boosts webinar engagement in several unique ways.
You can use Drawing Tools to direct attendees' attention to specific sections of your presentation/illustration screen.
Still, you can launch live polls in an ongoing webinar. That way, you can give participants the power to express their needs and concerns mid-webinar. The platform supports up to 25 HD video feeds per session.
And you can use the snappy feedback to fine-tune your webinar value messaging to those needs.
That would not only endear you to them and keep them engaged for the rest of the webinar but it would increase your chances of converting more attendees into customers or subscribers.
Also, with GoToMeeting, you can personalize a webinar's presentation and colors to match your branding, inducing familiarity and trust as well as blooming your professional image.
And while some WebinarJam users have complained about audio and video delays that can snarl up to 10 seconds, both GoToMeeting and WebinarJam offer remarkably crisp video and audio quality. The latter has a sleeker user interface but GoToMeeting does work well, too.
Live Calls-to-Action
In fact, with its video conferencing and collaboration tools, GoToMeeting allows users to chat with people outside their company. The tool then helps transition those people and the ones inside the company into one meeting in an instant.
Moreover, Smart Meeting Assistant makes it simple and easy to search through transcripts of your recorded webinar so you can share them with your target audience at any time.
Like WebinarJam, GoToMeeting also makes it easy to add promotional videos and demos mid-webinar to boost your conversion rate as a marketing tool. But with WebinarJam, you can add CTA buttons that your attendees can actually click on, find your offer, and convert.
GoToMeeting vs WebinarJam: Webinar Analytics and Reporting
Although both online meeting services provide each webinar's data, WebinarJam is particularly meticulous here.
You can use it to find out how many people visited your site before signing up for the webinar. Then you can establish how many of those registered, showed up, remained through the event, clicked on a CTA, and even those that watched replays.
You can even find out how long attendees stayed on your webinar. Then you can use the information to figure out how to make your live webinars worth their while.
Integrations
WebinarJam's automation tool comes with the capability to tap into various CRM, shopping cart and email marketing integrations to benefit you.
It does that by sending particular behavior tagging information across several platforms. Such integrated platforms include email marketing automation services such as Infusionsoft, ActiveCampaign, Aweber, and Ontraport, landing page platforms like GetResponse, and dozens of more tools by supporting Zapier.
With GoToMeeting, you can integrate with almost similar platforms such as Salesforce Sales Cloud, VisitorTrack, Microsoft Office 365, and more since it supports Zapier.
With a Google Calendar integration (like with Google Meet), you can also invite attendees to your webinar from a document, email or another messaging form. It also ships with built-in support for Cisco Webex, Lifesize and Polycom devices.
Collaboration Tools
Which is the most effective online video conferencing software with collaboration tools?
You'd be limited to co-hosting a webinar with up to 6 panelists with WebinarJam's base plan. However, unlike GoToMeeting, which supports up to 5,000 attendees (enterprise plan), WebinarJam does not impose any limitations on how many people you can host per online seminar. You can invite as many as 10,000 attendees to one webinar.
GoToConference support rooms allow up to 10 people to participate in an HD video call. And like WebinarJam's online meeting sessions, you can present one panelist at a time or have everyone share the screen equally with a click.
Still, GoToMeeting's collaboration tools make it easy to co-edit documents and invite others to set up, start or join a meeting. Anyone can call in via the GoToMeeting mobile app. Further, you do not have to disconnect a call in order to handover meeting control to a participant. It will just switch in an instant.
Unlike WebinarJam, GoToMeeting also integrates without Slack. That means you can use Slack's project, task management, online collaboration and communication tools to your advantage.
If you are looking for a webinar platform with collaboration features, GoToMeeting could be a good start.
Pricing
WebinarJam's one-tier pricing plan offers the choice between paying a year's subscription upfront or thrice a year.
Take a look: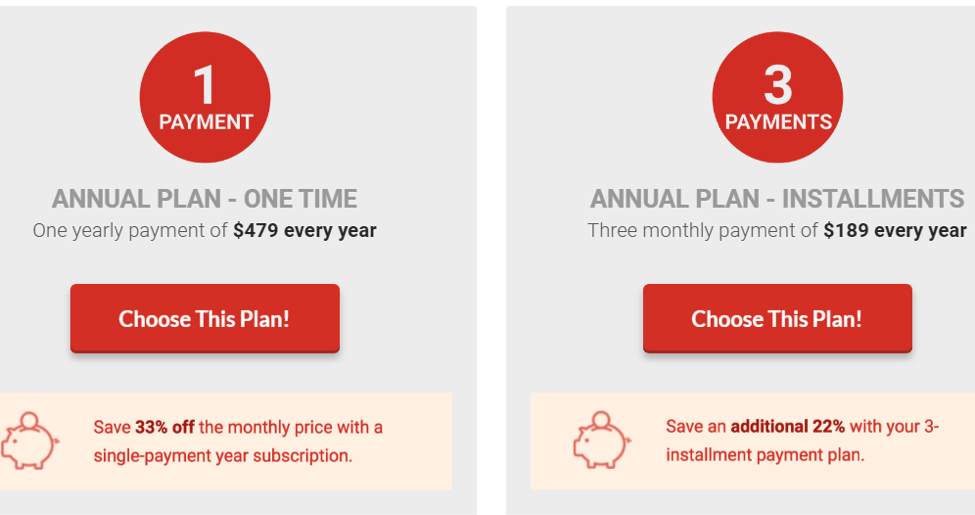 You will not get a free trial here. Instead, WebinarJam offers a 30-day money back guarantee as follows:
On the other end, GoToMeeting has three pricing plans to choose from, each with a selection of unique benefits for different application scenarios. You can test the most ideal plan for your needs by taking advantage of its 14-day trial offer (with up to 50 attendees).
Check it out: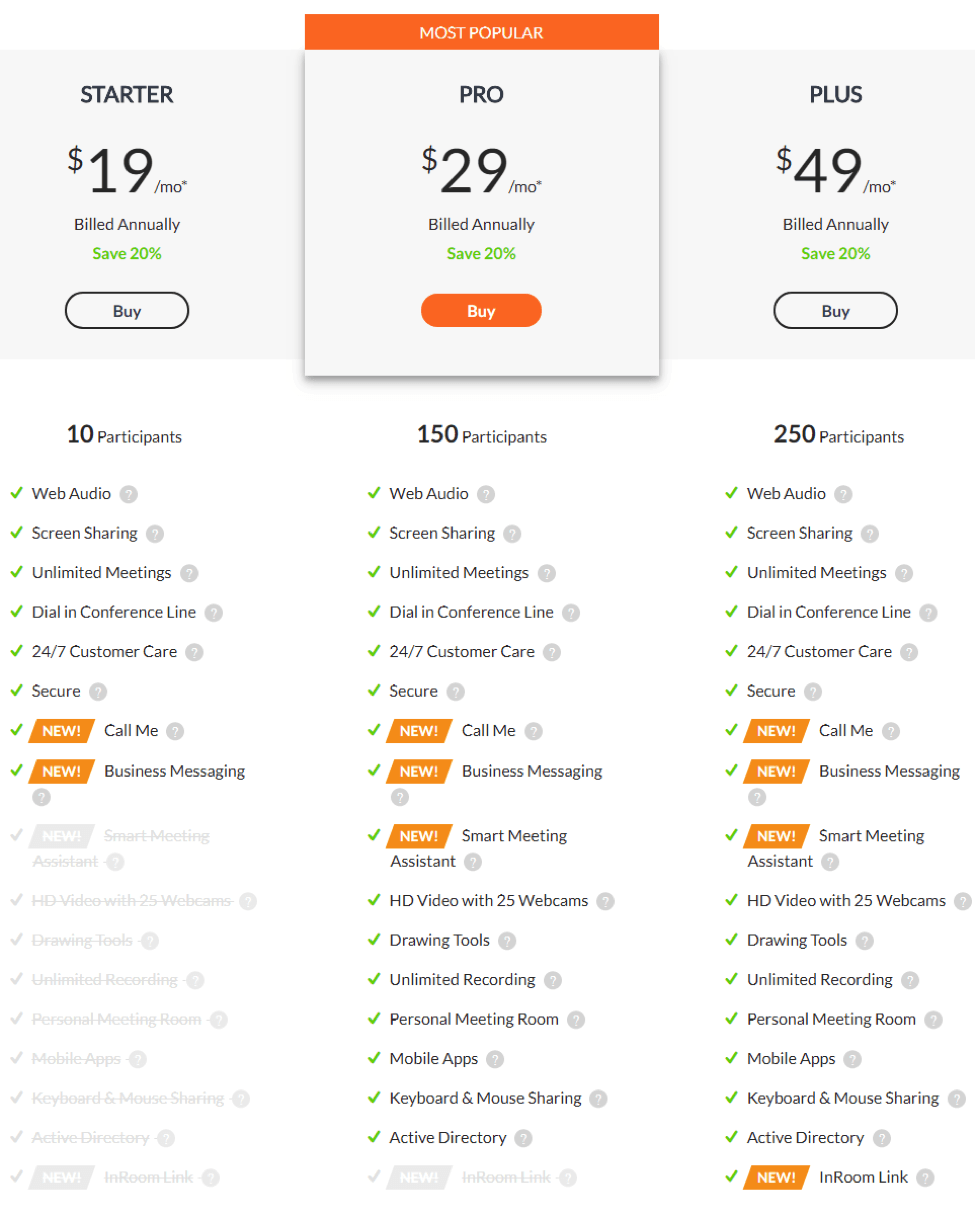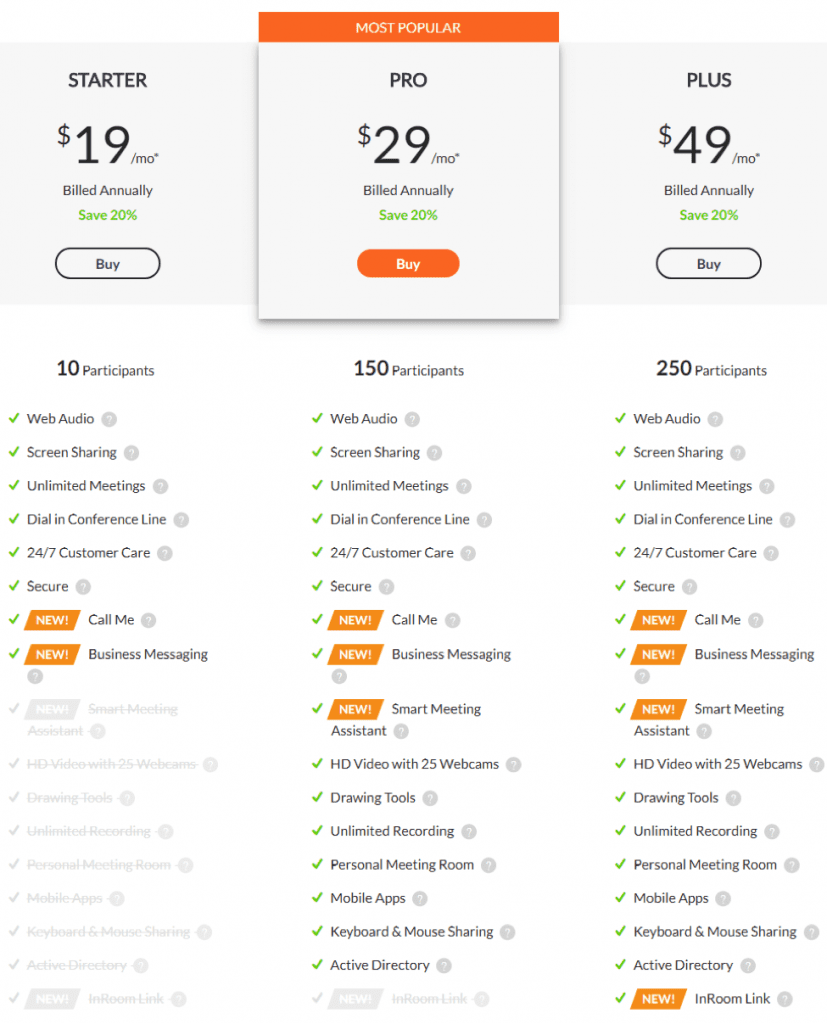 GoToMeeting features
WebinarJam vs GoToMeeting: Conclusion
Each webinar software offers a selection of standard and unique benefits that can help you achieve your goals in terms of successfully holding online meetings. But then again, the choice of the best webinar platform for your organization can only be made by you in consideration of your specific needs.
However, if you need a feature rich, web-based meeting software with powerful collaboration tools, GoToMeeting could offer the better start. It even supports social collaboration, task management and calendar integrations from Facebook, Slack and Google Calendar respectively. But if you prefer your tools sleek and super simple, you might be tempted to pass over.
GoToMeeting is also the go-to solution for video conferencing (whether remote work or sales workflow). While some users complain it contains a lot of fluff, it is because the platform is more targeted at larger operations rather than freelancers and tiny startups.
On the other hand, WebinarJam is excellent if you want to boost your conversion rate mid-webinar by displaying clickable call-to-action buttons. It is also one of the best GoToMeeting alternatives for ease of use and aesthetic appeal.
Anyone can set up an account and start a webby in under 10 minutes. It has awesome customer service and training material in case you need a help getting started, too. Also, compared to many WebinarJam alternatives, it is cost-effective when paid annually.
Still, only you can decide what works for you best. With the 14-day trial and 30-day money back guarantee up on offer, you can experiment to find the best webinar software between WebinarJam and GoToMeeting.
My Bottom Line: If you are simply looking for a collaboration video conferencing tool for business presentations and soft pitches, GoToMeeting is the best option here. However, if you have a webinar specific sales funnel, WebinarJam is the conversion rate king.
Further Reading on Live Webinar & Evergreen Webinar Tools: