Last Updated on July 13, 2023 by Ewen Finser
In our post, we are providing you with an in-depth comparison between WebinarJam vs EasyWebinar. Both provide the tools you need to create and host live and pre-recorded webinars, promote your content, and improve engagement.
If you're a B2B company selling services and software online, webinars could be your secret weapon.
Not only can they be an engaging self-service resource for customers, but they can also assist with lead generation and customer acquisition. You could even utilize webinars to offer a smoother client onboarding experience.
Bottom Line Up Front Summary: These are both GREAT webinar options compared to mainstream solutions, however, we prefer the Always-ready rooms and Panic Button pushing that make WebinarJam the best option for most users. That said, if you want to CUSTOMIZE your webinar rooms with your own user requirements or branding, go with EasyWebinar here.
Main Differences Between WebinarJam vs EasyWebinar
The main differences between WebinarJam vs EasyWebinar are:
WebinarJam doesn't provide a free trial, whereas EasyWebinar does with its 14-day free trial period.
WebinarJam only provides a yearly subscription, whereas EasyWebinar gives users the choice of signing up for either an annual or monthly subscription.
WebinarJam is cheaper, whereas EasyWebinar's payment tiers are more expensive.
WebinarJam caps its attendees at 5,000 with their highest-tier plan, whereas EasyWebinar can host up to 6 million attendees on a live webinar (for a custom quote).
WebinarJam only provides ticketed support, whereas EasyWebinar's higher payment plans offer phone and dedicated customer care
WebinarJam offers a 'panic button' and an 'always-ready room', whereas these features aren't available with EasyWebinar.
Whatever your reasons for using webinars, one thing's for sure: your audience will appreciate the interactive training.
On top of everything we've just said, webinars can also be used, amongst other things, to:
Build credibility within your industry
Demonstrate your product or software
Provide in-house training
Grow your email list
Sell digital and physical products.
This then begs the question: which platform's best for hosting webinars?
This is where this review comes into play.
So, we've taken the liberty of assessing both of these webinar solution providers for you, so you can see at a glance which software better suits your needs.
Let's dive in!
WebinarJam vs EasyWebinar: The Similarities
Both integrate with Youtube and Facebook Live.
WebinarJam and EasyWebinar both allow you to host unlimited webinars.
They boast similar features for engaging attendees and scheduling automated webinar recordings.
Both providers enable you to design sales pages with registration links.
Both allow you to invite other presenters to speak on your webinar.
Looking to compare more alternative webinar options? Check out these solutions here GoToMeeting vs GoToWebinar [2020]: Which Is The Best?, WebinarJam vs GoToMeeting, and Webex vs GoToMeeting [2020] Which Is the Best Tool to Use?
WebinarJam vs EasyWebinar: About WebinarJam
If you're after a flexible and reliable webinar hosting service, WebinarJam is a good option. A large number of businesses use it as part of their online marketing campaigns. It also provides an innovative live streaming solution to audiences in their thousands. Webinars can be sent directly to Facebook Live, Youtube Live, and private Webinar Jam networks.
Webinar Jam supports multiple languages and is compatible with all operating systems. It also runs on all internet browsers and mobile devices.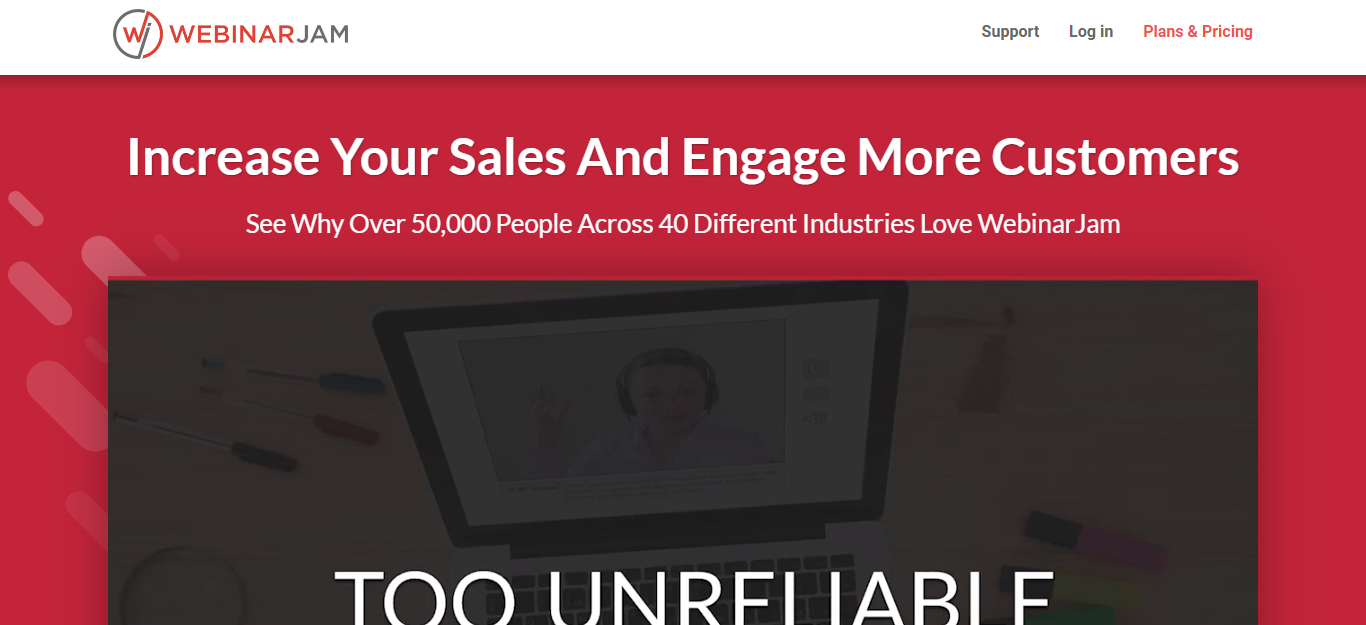 WebinarJam vs EasyWebinar: About EasyWebinar
EasyWebinar is another reliable webinar platform. They make it easy to host and organize live and automated webinar recordings (Evergreen Webinar). The brand prides itself on being 'wildly easy to use' for entrepreneurs who want webinars to build the backbone of their business.
EasyWebinar supports up to four different speakers. On top of that, you can also invite participants to present on your webinar. In this way, EasyWebinar enables you to engage with your community and build a relationship with your audience.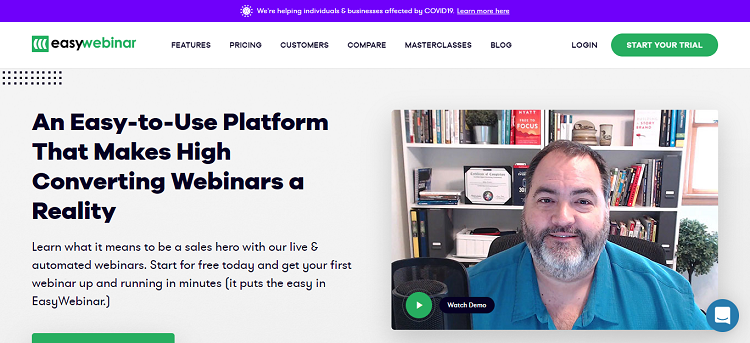 Webinar Jam vs EasyWebinar – Their Core Features Compared
Let's start with WebinarJam…
WebinarJam offers all the features you need to start securely hosting webinars online – core features include:
Attendee Engagement:
Livechat. You can communicate with attendees via group chats, private comments, highlighted comments, sticky announcements, and more.
Attendee Spotlight. You can encourage live testimonials and interactive discussions by bringing attendees onto your virtual stage.
Handouts. Effortlessly share pdf files to download during the webinar – tasks, homework, reading materials, etc.
Polls and Surveys. Quiz your audience or quickly get an opinion with a survey. This feature comes in handy for learning more about your attendees and getting them to engage with your content.
Drawing Board. Hand-draw images, diagrams, and notes directly on your slides to enhance your webinar presentation.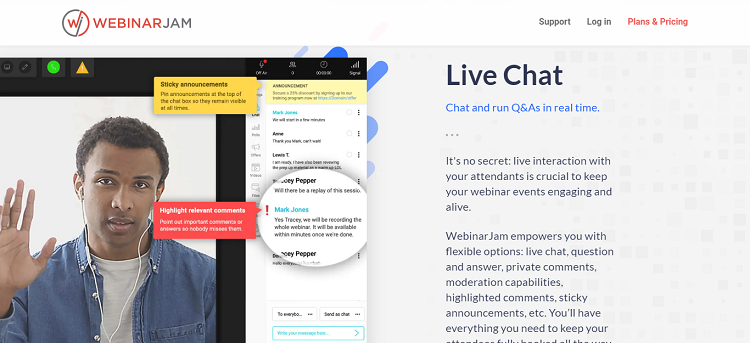 Manage your webinars:
Build responsive sales pages with the Page Builder. There are plenty of professional-looking templates you can use to maximize registrations and push conversions.
Flexible scheduling allows you to run webinars whenever you need them.
Create Paid Webinars by plugging in a payment gateway. You can use WebinarJam's password-protected rooms to secure the content.
Show Active Offers during your webinars to make it easier for customers to purchase your products and/or services.
Inject Video. You can use pre-recorded videos in your live webinars and run the whole presentation on autopilot.
Automated Webinar recordings: Record your webinars and share them using the Replica replay feature. This mimics everything that happened in the live chat rooms.
Advanced Control
With WebinarJam's higher-tier plans, you'll gain better control over your presentations. The Enterprise plan gives you access to the Control Center, where a member of your team can supervise and direct the whole webinar from a separate room. That way, your presenters can focus on teaching and entertaining their attendees.
On the Professional plan, you get access to 'always-ready rooms and the 'Panic Button.' The latter allows you to click a button should you experience lag, a frozen screen, or any other technical errors. This transfers you and all your live attendees, to a fresh, new room where the webinar can continue uninterrupted.
Always-ready rooms remain open to anyone with the necessary registration link. As the name suggests, attendees can join this room anytime. This is handy if you're hosting recurring webinars attended by the same people. Simply get your regulars linked up, and they can join whenever.
EasyWebinar promises no-delay streaming with no latency and high-quality picture. You can include up to four presenters in each webinar, and you'll access to HD screen sharing and high-quality audio with TrueVoice technology. This facilitates noise reduction and high bandwidth streaming, even if two people speak at the same time.
To engage with your audience, you can also:
Use Livechat. Easily communicate with attendees and see what they're thinking.
Use Presentation Media. Upload and share slides during your presentation. You can maintain the chat and camera functions at the same time.
Turn Attendees into Presenters. This is great for Q and A style webinars and entering into more in-depth discussions with attendees. EasyWebinar will find their camera and audio and get them set up quickly.
Poll your Audience. Use the polling feature to ask questions and get feedback in real-time.
You can also stream evergreen, pre-recorded webinars that give the same feel as a live presentation. All live webinars can be repurposed into an automated sales funnel for lead generation and sales purposes. There are more than nine scheduling options to get pre-recorded webinars out to your audience – so you're bound to find something that suits you!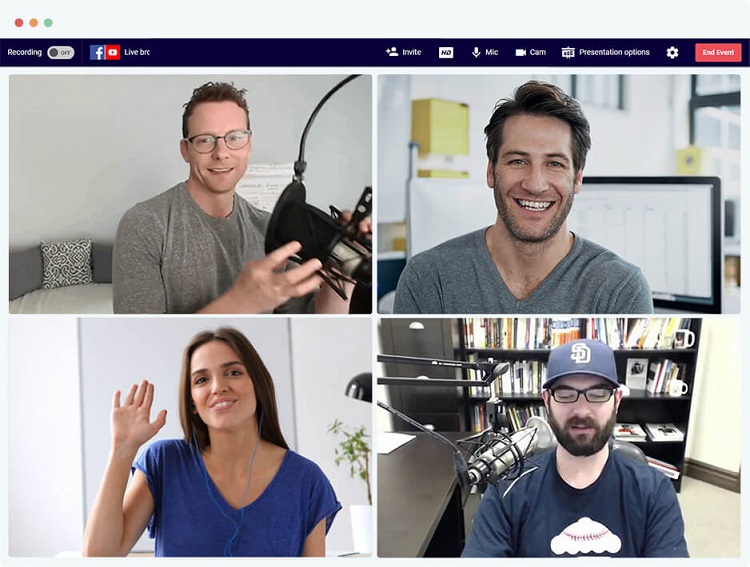 Advanced Analytics and Reporting
These tools provide an insight into how well your webinar performed, both for live and automated sessions. See who showed up, how long they stayed, and if they clicked on any offers.
Advanced analytics highlight how many events individual users have attended and how many questions they've asked.
You can also export this data, chat history, and contact lists.
Software Tool Customization Options
You can customize your webinar page or landing page to reflect your brand – but you don't have to start from scratch. You can use one of EasyWebinar's out-of-the-box templates.
Customization options include:
Registration embedding
Customize your registration page with your choice of logo, colors, and fonts.
Create a custom 'thank you' page, or assign whatever page you want as the post-registration URL.
WebinarJam vs EasyWebinar Pricing
There are three pricing tiers – all of which are annual subscriptions. Each plan allows you to host an unlimited number of webinars.
The Basic plan is the cheapest and most limited package.
You can only have two presenters in any given webinar.
Webinars can run for a maximum of two hours.
Attendee numbers are restricted to 500.
But, for many businesses, this will serve the majority of their needs…especially if they're just starting out with webinars.
You'll get access to the following features:
Live chat
Attendee spotlight
Automated recording
The Page Builder
An email & SMS system
Flexible scheduling
Active offers
Polls and surveys
Handouts
Paid webinars
Video injections
The drawing board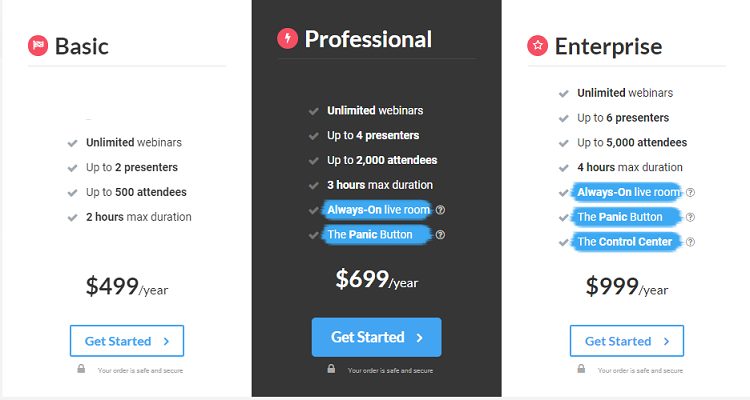 The Professional plan supports up to four presenters and 2,000 attendees. You can run webinars for as long as three hours. In addition to everything in the Basic plan, you also gain access to:
The Panic Button. This is an emergency button you can activate if the webinar room freezes or you lose connection. When pushed, it redirects all your presenters and attendees to a new room where the live broadcast will continue.
Always Ready Rooms. These are webinar rooms with the same registration details for recurring live-streams. This allows attendees to jump into the session at any time.
On top of the above features, with the Enterprise plan, you can host 5,000 attendees and six presenters with a maximum webinar run time of four hours.
You'll also get access to the Control Center. From here, your staff can moderate and manage the event from a separate room, so you can focus on what you do best, presenting webinars.
EasyWebinar Pricing Plan
EasyWebinar offers three pricing schemes you can pay for either monthly or annually (with yearly billing you'll save some money). There's also a 14-day free trial available.
The Standard plan includes all you need to get started hosting webinars. But, you're limited to 100 live attendees
Other features at this level include:
Unlimited live attendees with the YouTube Live integration
You can host unlimited automated webinars
Access to the Elite Webinar Mastery Foundation course
A one-on-one onboarding call
Access to the EasyCast Facebook Live and Youtube Live streaming tool
Access to live chat support with EasyWebinar's customer support team.
With the Pro plan, the live attendee limit is raised to 500. Also, in addition to the features included with the Standard program, you can:
Use custom fields on your registration pages
Access phone support
The Enterprise plan is intended for more substantial businesses using webinars as a core marketing and training tool. The live attendee limit is lifted to 2000, and you can host unlimited attendees with your automated webinars when you pay annually.
Additional benefits include:
Access to the full Elite Webinar Mastery Program course. This is a comprehensive training package, comprising of four core modules that cover hours of training. This is an excellent resource to use as you embark on becoming a webinar expert.
A concierge/dedicated account representative. They'll help you audit your webinar funnels and provide VIP priority support.
You should note: If you run live conferences or summits, you can reach out to EasyWebinar's Enterprise team to discuss using their live engine to host over 6 million attendees.
Webinar Tool Customer Service
WebinarJam offers a documentation Wiki on its site for training. They also have a Facebook community where you can discuss webinar strategies with other users. If you want to talk with a human rep, you'll have to submit a contact form on their website.
Easy Webinar offers different levels of customer support, depending on your chosen plan. With the Standard tier, you get access to live chat support. However, with the Pro plan, not only do you get live chat support, but you can also talk with a customer service rep over the phone. Lastly, with the Enterprise plan, your dedicated account rep will handle all your customer support queries.
On EasyWebinar's website, they also provide support documentation, including start-up guides, onboarding lessons, and tutorials on how to use live feature integrations like YouTube live.
WebinarJam vs EasyWebinar: Their Pros and Cons
First up, WebinarJam…
WebinarJam
The Pros:
You can host an unlimited number of webinars
WebinarJam's pricing is more affordable than some of its competitors
WebinarJam allows you to host way more live attendees than its competition at a much lower price (2,000 are unlocked with its Professional plan, whereas EasyWebinar only permits this number attendees with its most expensive tier).
The 'always-on' live room and 'panic button' are unique features that add an extra level of security and provide a more professional service for you and your audience to enjoy.
Webinar duration times are generous, even with their most basic plan.
The Cons:
WebinarJam's payment plans are inflexible – you're forced to sign up for a yearly subscription, there's no monthly option.
WebinarJam's customer support is limited, allowing only for submitted tickets with no option for phone or live chat support.
You're restricted to the extent you can customize your landing pages. There are few design options you can use to ensure your pages look on-brand. You're better off designing your own landing pages using other tools.
WebinarJam's tracking and analytics features aren't as robust as some of its competitors.
EasyWebinar
The Pros:
EasyWebinar allows you to handle entire webinar funnels from the convenience of one platform. You can host everything from landing and registration pages to webinars, to post-webinar thank you pages.
The webinars you run will boast high-quality audio and video.
There's a 14-day free trial available
Access to flexible, monthly pricing plans
As you upgrade, you'll unlock better customer support – where you get access to a dedicated rep, live chat, and phone support.
Webinar training is provided with their Standard plan.
The Cons:
The attendee count for live webinars is capped at 2,000 with their Enterprise plan, and their threshold for the Standard program, at 100, is very low.
EasyWebinar is expensive for what you get. Its competitors offer higher attendee caps and more features at lower prices.
EasyWebinar only supports a maximum of four presenters. This is true even for their Enterprise plan, which limits the size of the communal webinars you can host.
WebinarJam vs EasyWebinar FAQs
Is EasyWebinar Secure?

EasyWebinar ensures all traffic and media between their own and DOLBY's service is encrypted with industry-standard protocols. All media communicated between the client and the server uses standard protocols encrypted with 128 bit AES. Additionally, all API traffic is transported via an encrypted HTTPS connection.
Can WebinarJam and EasyWebinar Support Large Numbers of Attendees?

WebinarJam is confident they can handle large volumes of viewers. While its Enterprise plan is capped at 5,000, they note that they've been able to host around 11,000 simultaneous webinar attendees using their platform.

EasyWebinar boasts an even higher level of confidence, claiming they can handle up to 6 million attendees! This, they've tested using EasyWebinar's live engine and offer their uncapped services to enterprises running live conferences and summits. If this is of interest to you, you'll have to contact EasyWebinar directly to receive a custom quote.
Do I Need Video Hosting to Run Automated Webinars?

With both WebinarJam and EasyWebinar, you don't need video hosting to run automated or live webinars. Instead, their Live Engines and YouTube Live integrations can transform live events into automated webinars. All of which are hosted by the providers.
Can I Try Out WebinarJam's Services for Free?

WebinarJam doesn't have a free trial. It does, however, provide a 30-day guarantee. If you don't like their service after thirty days or don't feel it's a good fit, you can get a full refund.
WebinarJam vs EasyWebinar – Which is Best for Running Online Webinars?
Both WebinarJam and EasyWebinar boast an impressive set of features when it comes to webinars! Their pros and cons are almost equal, with their advantages making up for the drawbacks the other suffers from.
If you want more design flexibility, EasyWebinar offers more in the way of advanced customization features. However, if it's value for money you're after, WebinarJam has the edge. You can unlock more attendees and unlimited webinars at an earlier pricing tier, and access nifty features that EasyWebinar doesn't offer, such as the Panic Button or Always-ready rooms.
Bottom Line Summary: These are both GREAT webinar options compared to mainstream solutions, however, we prefer the Always-ready rooms and Panic Button pushing that make WebinarJam the best option for most users. That said, if you want to CUSTOMIZE your webinar rooms with your own user requirements or branding, go with EasyWebinar here.
Do you have experience hosting webinars online? Or, are you thinking of switching to either WebinarJam or EasyWebinar? Let us know in the comments below which you'll go for!
Further Reading Webinar Software, Webinar Marketing, and Video Conferencing: